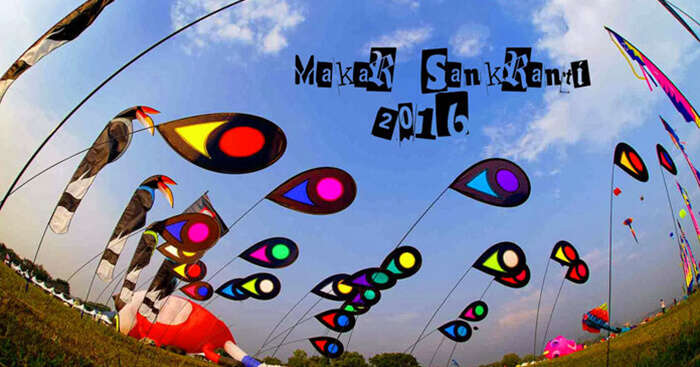 New year, a fresh start and hence new resolutions. How about something away from the normal – a resolution to be an eyewitness to some of the richest and most spectacular celebrations of culture, traditions, and art?
Enrich yourself with the kaleidoscopic culture and traditions of our nation, as we bring you the best of celebrations surrounding the best festivals of India. For starters, try being at these winter festivals in India to be celebrated in 2019. Even when November-December are gone, don't regret much. The coming months have a lot more to offer to the culture-hungry!
Harvest Festivals Of India
Agriculture is the main economy of India and famers are thebackbon of this country. This is why we give immense importance to our crops and have even dedicated festivals. Here are the festivals of the winter season in India:
1. Lohri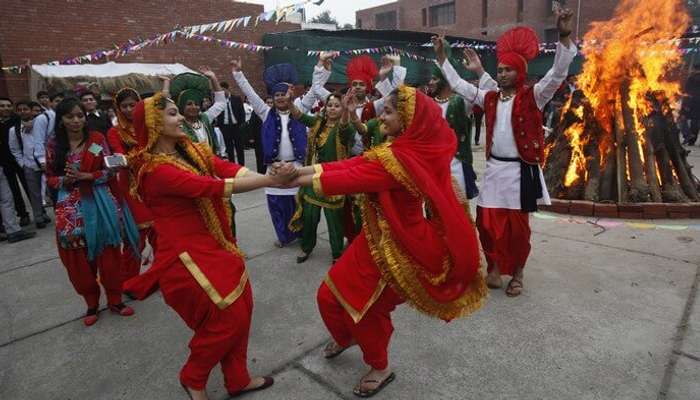 When: 13th January 2019
Now, this one is a 'must attend'. One simply can't miss the colors, celebrations, dance, music, and pomp of Lohri. Also known as Gurmukhi and Sanmukhi, it is the harvest festival of the Punjab state of India. It is also believed that it is a commemoration of the winter solstice – shortest day and the longest night. One of the best festivals celebrated in the winter season, Lohri is marked by a bonfire where the entire family gathers, worships and then celebrates the spirit of togetherness. There is music, there are colors, and there is dance – all putting up a spectacular show of rich traditions of Punjab.
---
Looking To Book A Holiday Package?
Book memorable holidays on TravelTriangle with 650+ verified travel agents for 65+ domestic and international destinations.
---
2. Bihu Magh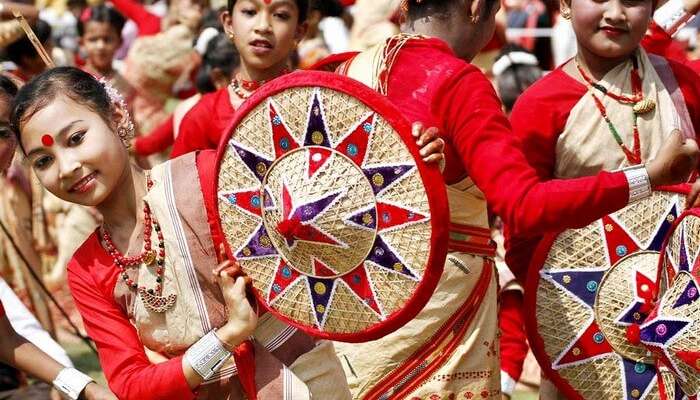 When: 15th January 2019
So, January translates to magha in the Lunar calendar and the people of Assam in India welcome their harvest by celebrating Bihu. One of the best festivals of winter seasons, it would be only fair to say that it is the Assam celebration of Sankranti, just lasting for a week. The highlights of this festival are feasts and bonfires. Makeshift huts made of bamboo and thatch leaves are erected to prepare the food for the feast. The festivities also include traditional Assamese games like Takeli Bhonga(pot breaking) and buffalo fighting.
Must Read: Top 10 Summer Festivals In India You Shouldn't Miss In 2019
3. Makarsankranti and Gujarat Kite Fest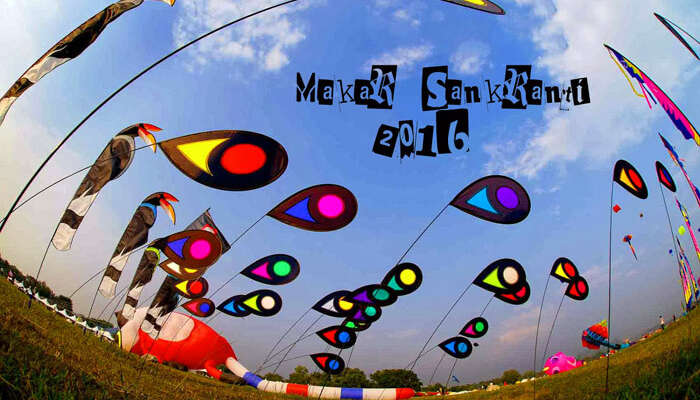 When: 14th January 2019
With the new harvests coming home, the Hindu farmers in India celebrate the changes in Solar movements. Makar Sankranti marks the transition of the Sun into the zodiac sign of Capricorn(Makara rashi). In Gujarat and some other places, it is also celebrated as the kite festival where big, bright and colorful kites take up the skies to welcome the believed arrival of spring in India, making it a prominent addition to the list of winter festivals in India.
Suggested Read: 13 Most Spectacular Festivals In March In India
4. Thai Pongal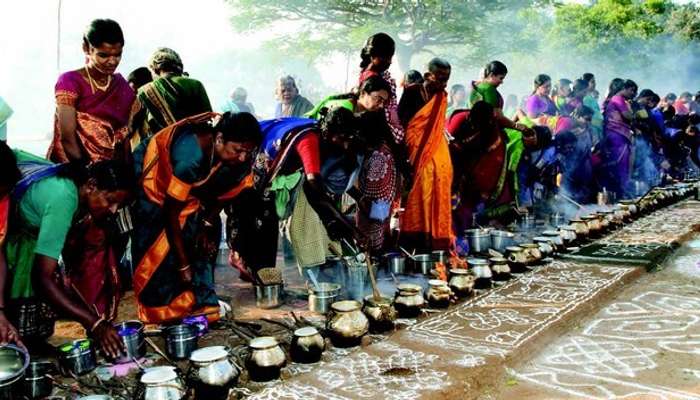 When: 14th January 2019
After Bihu in the east, sankranti in the centerl and the west, and Lohri in the north, Pongal is from the South of India. Since this also is a harvest festival, the reasons behind celebrations are pretty much the same as that of the Bihu and Sankranti. Besides, it's a 4 days long festival highlighted by the traditional sweet dishes, rangolis and boat races. It is one of the most revered festivals celebrated during winter in India.
Cultural Fests In India
India is a country with rich culture and heritage and each Indian state has a role to play in it. Enjoy good music, dance, and art at these fests in India.
5. Nagaur Fest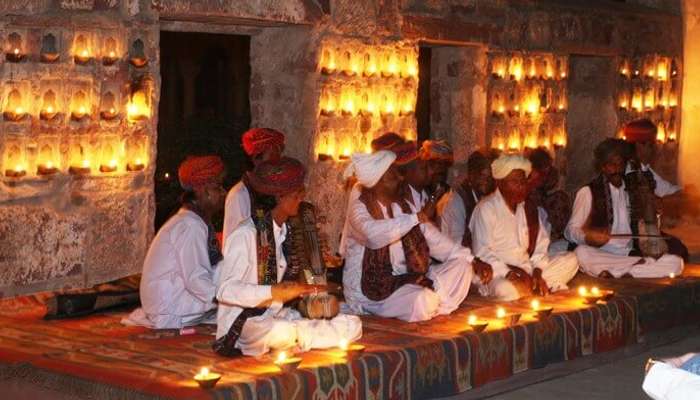 When: 22nd to 25th February 2019
So what if you missed the Pushkar fair of November. The Nagaur fest, also known as Ramdeoji Cattle Fair is the second largest cattle festival in India and one of the most vibrant festivals celebrated in winter season. As massive as 80,000 cattle are exchanged in this festival while they are clad in colorful and ethnic Rajasthani clothes at one of the most vivid festivals of winter seasons. Besides, not a single day at the fest is sans music and dance. The colorful folk dances and songs of Rajasthan take the extravaganza to a whole new height. The fair also organizes activities like tug of war, camel races, bullock races, juggling, puppetry, cockfights, campfires, and storytelling. It is another of the festivals celebrated in India during winter.
---
Planning your holiday but confused about where to go? These travel stories help you find your best trip ever!
Real travel stories. Real stays. Handy tips to help you make the right choice.
---
6. Jaisalmer Desert Fest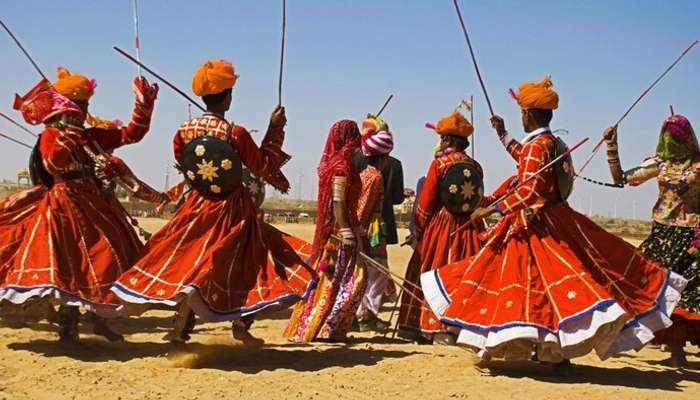 When: 17-19 February 2019
Another one on the list of winter festivals in India is the Jaisalmer Desert Fest, a complete cultural extravaganza. It was started to attract foreign tourism on the sands of Thar and has flourished rightly so. The 4 day long festival witnesses the maximum footfall of foreign revelers and tourists amidst the most explicit display of Rajasthani folk, culture and traditions. The highlights include turban tying competition, moustache competition, folk dances, camel rides, and authentic Rajasthani cuisine.
Suggested Read: India's Most Insane Music Festivals
7. Bikaner Camel Fest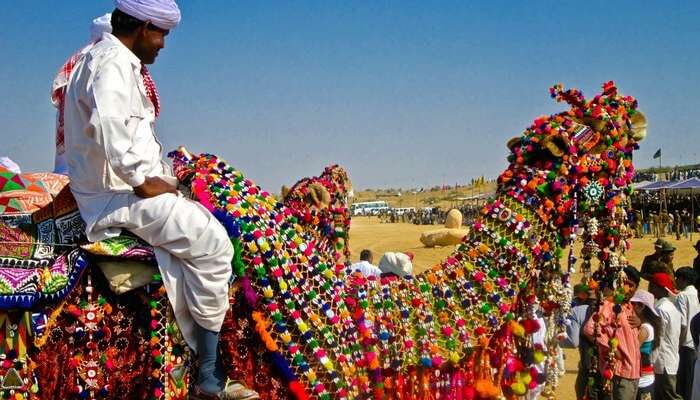 When: 12th and 13th January 2019
Camel races, camel milking, fur cutting, camel dance, camel bands, camel beauty pageants and mouthwatering traditional Rajasthani cuisine — Bikaner camel fest is the most colorful animal festival in India. Kicked off by a march of brightly adorned camels from Junagarh fort, it centers all its actions in the Polo Ground near the fort during the most prominent winter season festivals.
8. Manali Winter Carnival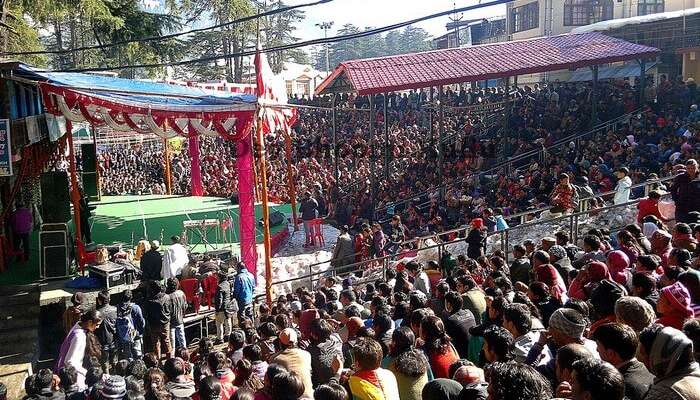 When: 2nd to 6th January 2019
Fun, festival, joy and jubilation – this is what the organizers of Manali Winter Carnival bank upon. Organized for the first time in 1977, this celebration of Himachali culture and winter sports has seen many a changes and has evolved into a fantastic carnival, thus making it to the list of winter festivals in India. Folk performances, cultural competitions and winter sports like skiing and skating on snow has made this carnival in Manali a much sought after carnival in India. So much that it is the best time and the most happening place to try skiing in India.
9. Kutchh Rann Mahotsav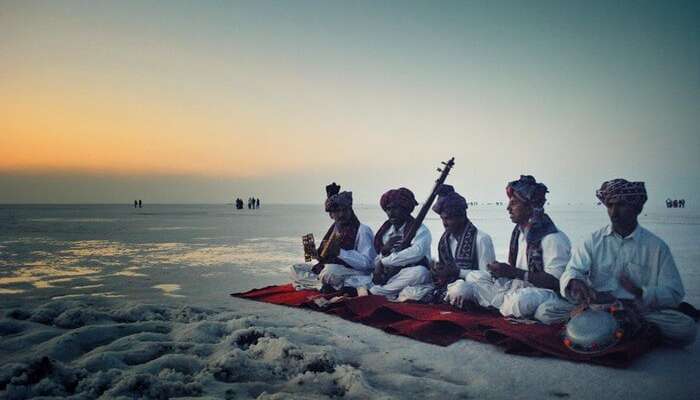 When: 1st November 2018 to 20th February 2019
"Kutch nahin dekha to kuchh nahin dekha" — this tag line of the Rann Mahotsav in Kutch of Gujarat sums up the values of this festival. Spread over almost three months and some 7,000 sq miles of white sand, this is among the best festivals celebrated in winter season and the celebration of Gujarati folk and culture is just epic. 400 luxurious tents to stay in, vast expanse of white sand to enjoy the serene moonlit nights and live cultural performances along with authentic Kutchhi cuisine – one can't ask for more. It is one of the most popular winter season festivals in India.
Suggested Read: 10 Famous Festivals In Gujarat Celebrated With Joyous Fervor
10. Goa Carnival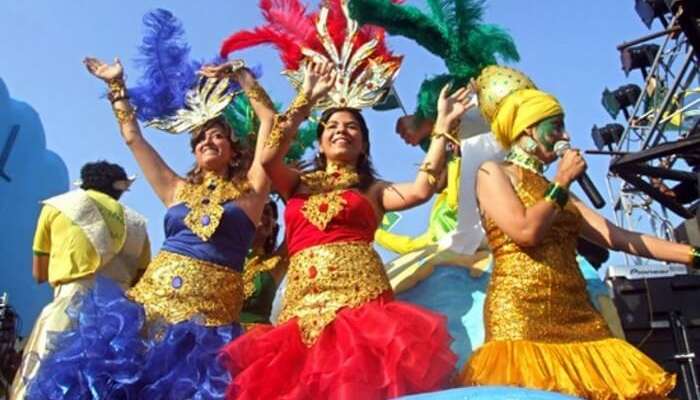 When: 2nd-5th March
What is a carnival for if it does not involve revelers from all castes, creeds, communities and colors and genders? This one, with a past of some 300 years, got its modern version in 1961. Initially celebrated by the Portuguese, the Goa carnival is one of the best winter season festivals and has taken place in every Goan home. Singing, dancing, feasting, guitar strumming, acrobatic performances, clowns, fire performers and what not – the Goa carnival is a nonstop festivity of some 72 hours. But this is not the only fun Goan fest; there are some absolutely crazy festivals in Goa you must attend!
11. Konark Dance Festival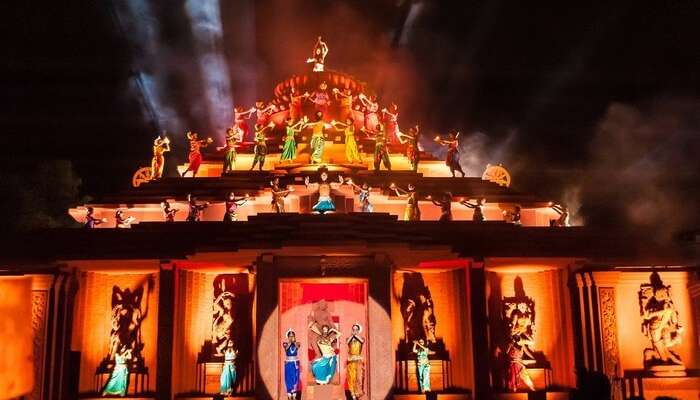 When: 19-21st February
In the backdrop of Konark Sun temple, this mega event in the temple city of Orissa hosts dancers from all over India. The festival is a celebration of the rich classical and traditional dance forms of India. The performances are organized under the sky on the Chandrabhaga Beach and almost all the major classical dance forms of India — Manipuri, Kathakali, Bharatnatyam, Odissi, Chao, and Kuchipudi feature among the main performances. An exclusive crafts fair is organized to promote the traditional handicrafts and sculptures from south India.
And if you have missed the Nov/December highlights of the year bygone, here is what you may like to plan for towards the end of 2017:
12. Mount Abu Winter Festival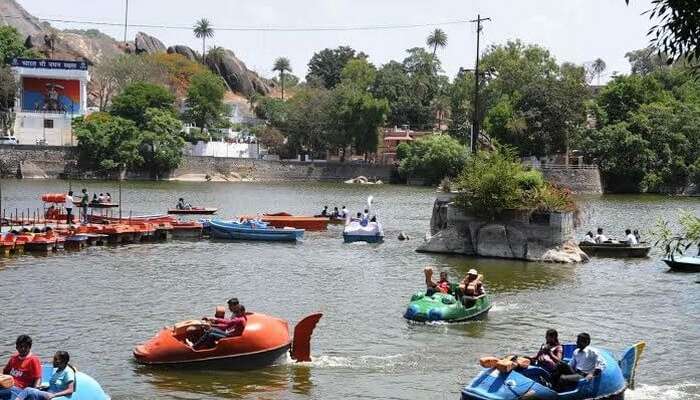 When: TBA
Away from all the royalty of Rajasthan, in the serene hills of Mount Abu, is this 3 days long celebration of India's cultural diversity. It is a milieu of folk music and dance, live concerts, fireworks, fire performances, fairs, and a food fest. With a footfall of some one lakh revelers every year, The Mount Abu Winter festival gets its performers from all over India.
Suggested Read: 15 Famous Festivals Of India To Bring Your Life Into A State Of Exuberance
13. Hornbill Festival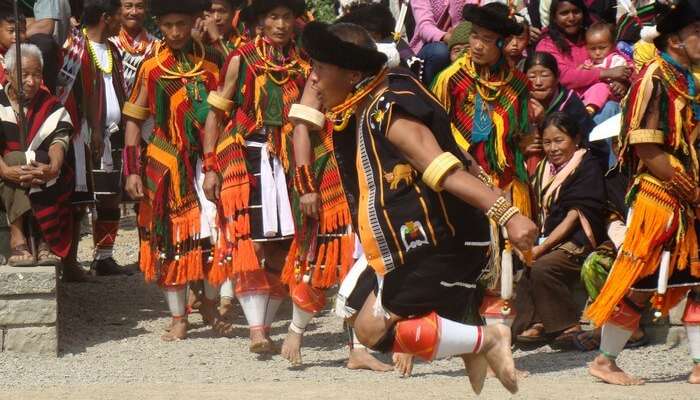 When: 1st to 10th December 2019
In the extreme east of Indian Territory, Nagaland celebrates cultures and traditions of some 16 resident tribes of the state. The Hornbill festival is a perfect fusion of music, dance, food and color. Amidst the serene green valleys and rustic mountains, this festival named after the state bird, is a surprise for many with the diversity of events it hosts. Drum beats, folk songs, performances of war dances, head hunting rituals, car and bike adventures, fashion shows, and the very popular chilli eating contest — Hornbill covers all for a carnival sort of revelry. To know more about the best of winter season festivals, see here.
14. Magnetic Fields Festival of Rajasthan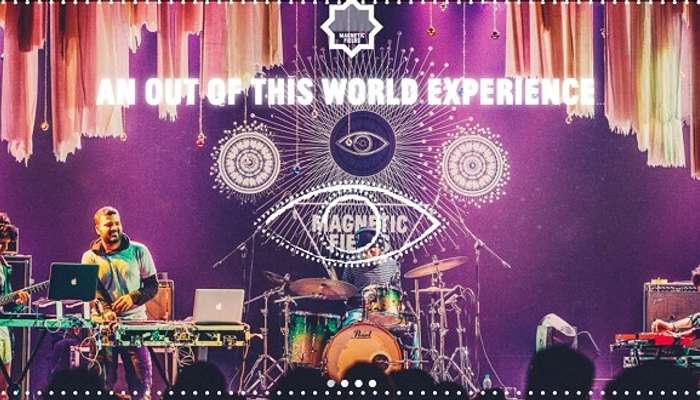 When: TBA
Music with every possible blend of royalty– this is Magnetic fields Festival of Rajasthan. This music festival is held in a 17th century palace-turned-hotel in Shekhavati and is among the most vibrant festivals celebrated in winter season in India. Accommodations in palace suites with antique furniture, alternative and electronic dance music to groove to, pop up parties, morning yoga sessions and an array of food stalls to keep you from all the other distractions of world, the Magnetic fields festival truly holds you firm while you are here.
15. December Music Festival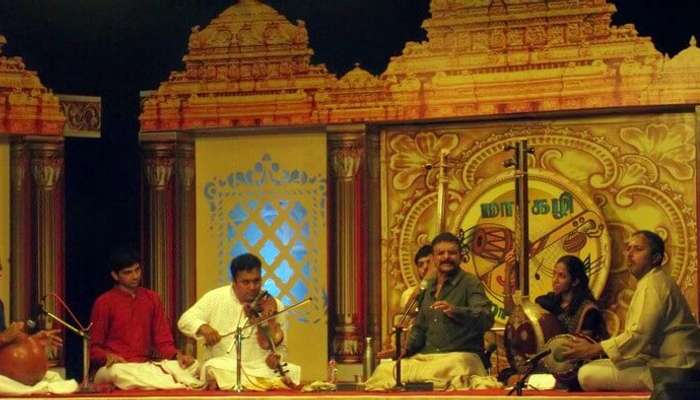 When: 15th December onwards every year
So this is a month-long celebration of finest South Indian music and dance. Started in 1929, this is among the quirkiest festivals of winter seasons and is locally known as Kutcheri Session and most of the concerts are held in the most pleasant months of Chennai – December and January. The main attractions of the fest are instrumental and vocal Carnatic music while the traditional performances are spread across various locations in the city.
Further Read: 15 Festivals In January In India That Put A Celebratory Start To The New Year
You are lucky to be living in India. Every fest is a chance to plan a trip and have a new experience. This is just a part of what India has in store for a culture lover. Plan a trip and explore these winter festivals in India, and stay tuned till we bring you the other list of festivals to attend during Indian summers.
Frequently Asked Questions About Winter Festivals In India
Q. Which Indian festivals are celebrated in December?
A. Hornbill Festival in Assam, Magnetic Fields Festival in Rajasthan, December Music Festival are some of the fests occurring in the month of December.
Q. Which festivals come in the spring season?
A. Holi, Baisakhi, and Easter come in the spring season.
Q. Which festival is celebrated in the rainy season?
A. Onam is celebrated in the rainy season in the month of August and September.
Q. Which festival is celebrated in the summer season?
A. Baisakhi is celebrated in the summer season.
---
Looking To Book An International Holiday?
Book memorable holidays on TravelTriangle with 650+ verified travel agents for 65+ domestic and international destinations.
---
Comments
comments