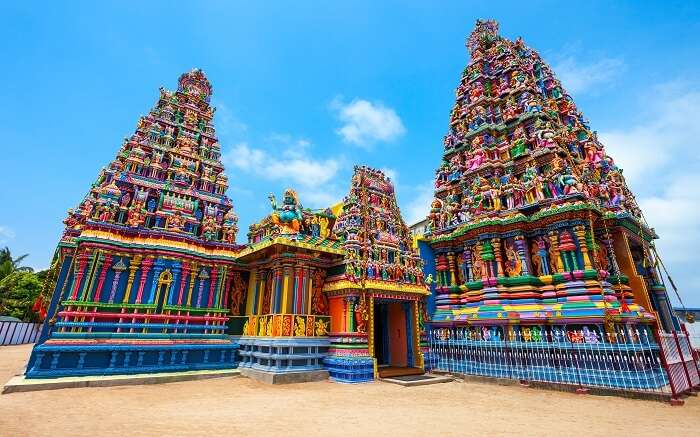 Colombo, the capital of Sri Lanka is a city steeped in history. The age-old port serves as a gateway to both the local residents and foreign tourists. The rich heritage of the city is immensely inspired by the colonial architectures and old bazaars.
The profusion of dense forests, serene beaches, and picturesque landscapes makes it stand apart from other tourist spots in Sri Lanka. This is not it, there are some gorgeous temples in Colombo that belong to religions including, Buddhism, Christian, Zoroastrianism, Hinduism, and Muslim. And this will give you some insight into the culture of Colombo.
Temples that fill you with positivity and peace
1. Gangaramaya Temple Colombo
2. Sri Dalada Maligawa
3. Isipathanaramaya temple
4. Vajiraramaya Temple in Colombo
5. Sri Kailawasanathan Swami Devasthanam
6. Sri Ponnambalam Vanesar Kovil
7. Koneswaram temple
8. Maviddapuram Kandaswamy Temple
9. Sri Kailawasanathan Swami Devasthanam Kovil
1. Gangaramaya Temple Colombo

It is one of the prominent places of worship that comes under the list of Buddhist temples in Colombo. The temple comprises of cluster of contemporary architectures. This shrine is deemed as an important landmark in Sri Lanka and it can be easily accessed through various modes of transport such as train, private bus and cabs. It is one of the famous temples in Colombo that is frequently visited by foreign tourist from across the globe.
Situated besides the lake of Beira, the shrine houses a museum as well as a library. In addition, the authorities of the temple run established charity organizations and educational institutions.
Must Read: Colombo In May 2022: What It Is Like To Explore Sri Lanka During This Time Of The Year
2. Sri Dalada Maligawa

Sri Dalada Mailgawa which is often referred to as the 'Temple of the sacred tooth relic' is situated at Kandy in Sri Lanka. The temple got its name after the sacred relic of the tooth of Lord Buddha was brought by the archaeological team. There is a common belief amongst the local residents that this sacred relic has a played a pivotal role in influencing the political scenario in Sri Lanka.
Whosoever preserves this relic would have complete authority over the country. It is yet another famous temple in Colombo which should be included in your itinerary.
Suggested Read: 9 Unique Museums In Colombo That'll Let You Live Its History On Your 2022 Trip
3. Isipathanaramaya temple

Isipathanaramaya temple is believed to be one of the oldest and sacred Buddhist temples in Colombo. There are different modes of local transport available from other cities located at Bentota in order to reach this shrine. One will be amazed by the beautiful Buddhist icons, figurines and intricate carvings embedded on the walls of the interiors. It is an epitome of excellent craftsmanship with mural paintings crafted by Maligawe Sarlis during the period between 1920-21.
This temple would guarantee a unique experience since it features frescoes that disseminate a sense of warmth and comfort in the minds of every art enthusiast.
Suggested Read: 43 Most Beautiful Places In Sri Lanka You Must Visit In 2022
4. Vajiraramaya Temple in Colombo

Vajiraramaya Temple is a prominent Buddhist temple where people frequently visit to seek blessings and offer prayers to Lord Buddha. They also regularly conduct classes on 'Buddhism' which is targeted at the youngsters. The shrine was erected by an eminent monk named 'Sri Vajiraramaya Maha Nayaka Thera', hence the name.
5. Sri Kailawasanathan Swami Devasthanam

Sri Kailawasanathar Swami Devasthanam is one of the leading and oldest Hindu temples in Colombo dedicated to two major deities namely 'Lord Ganesha' and 'Lord Shiva'. Owing to its religious significance, this temple serves as the primary venue for hosting an important harvest festival 'Thai Pongal' held annually.
6. Sri Ponnambalam Vanesar Kovil

Image Source
Sri Ponnamabalam Vanesar Kovil is a major Shiva temple in Colombo situated adjacent to parts of
Kochchikade in the city of Colombo. This shrine was beautifully constructed with intricate carvings and black stones. Staunch believers of Lord Shiva often pay a visit to this temple to attend the daily rituals performed by the priests. Mass influxes of devotees throng the shrine on Fridays where special pooja/rites are conducted.
Suggested Read: Top 15 Food Paradises of Sri Lanka To Visit On Your Next Trip In 2022!
7. Koneswaram temple

Koneswaram temple, which is literally termed as 'Dakshinakailasha', is situated in the western part of Sri Lanka. It is one of the famous Hindu temples in Colombo perched atop a rocky promontory encompassed by sea on either side. This complex is revered as a sacred pilgrim spot which had previously undergone severe damages during the seventeenth century. The Portuguese razed major parts of the buildings to the ground. However, this historical monument remains as a gruesome reminder of the past. The shrine got its name from the Holy deity Lord Shiva.
8. Maviddapuram Kandaswamy Temple

Maviddapuram Kandaswamy Temple is yet another famous pilgrim spot, which is dedicated to Lord Murugan. The shrine is beautifully embellished with columns and a massive gopuram. For many years, certain restrictions had been imposed wherein only elite members of the society were allowed to enter and worship the deity.
9. Sri Kailawasanathan Swami Devasthanam Kovil

Sri Kailawasanathan Swami Devasthanam Kovil is strategically located in heart of the city. It is one of the major pitstops during your trip to Colombo. It is an ideal spot to escape from the hustle and bustle of the city. Both interiors and exteriors are beautifully adorned with colorful frescoes.
Further Read: Sri Lankan Cuisine: 12 Dishes That'll Make You Want To Visit Sri Lanka
A visit to Colombo would be incomplete without paying a visit to some of the above-mentioned places of worship in Colombo.
People Also Read:
Sri Lanka On Budget Budget Trip To Sri Lanka From India Dambulla Cave Temple
---
Looking To Book An International Holiday?
Book memorable holidays on TravelTriangle with 650+ verified travel agents for 65+ domestic and international destinations.
---