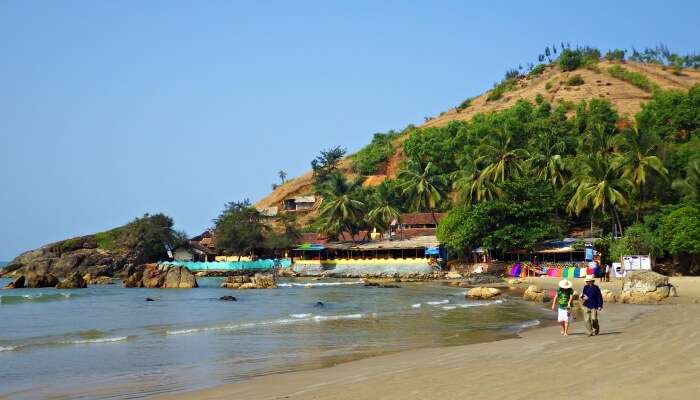 Gokarna is located in a religiously pious area between the Gangavali and Agnashini and is well known for performing important rituals due to its history and belief. The city has derived its name from a crucial holy animal in the Hindu religion and means 'ears of the sacred cow'. It attracts a lot of tourists because it is a beautiful beach city and witnesses a lot of religious Hindus coming in every year, owing to the importance it holds to perform rituals. Temples thus constitute a big part of the city. Some famous temples to visit in Gokarna are:
10 Best Temples In Gokarna
Gokarna is home to a number of ancient temples, may of them being atleast 1500 years old.  Though time has worn out most of the structures of the temples, their reverence still remain strong. Here are some of the most popular temples in Gokarna: 
Sri Mahabaleshwara Swamy Temple Gokarna
Maha Ganapathi Temple
Sri Bhadrakali Temple
Mallikarjuna Temple – Sri Ramachandrapura Math
Shree Someshwara Temple
Mahalasa Temple
Kotiteertha Temple
Shree Pattevinayak Temple
Shree Uma Maheshwar Temple
Shree Kalbhairav Temple
1. Sri Mahabaleshwara Swamy Temple Gokarna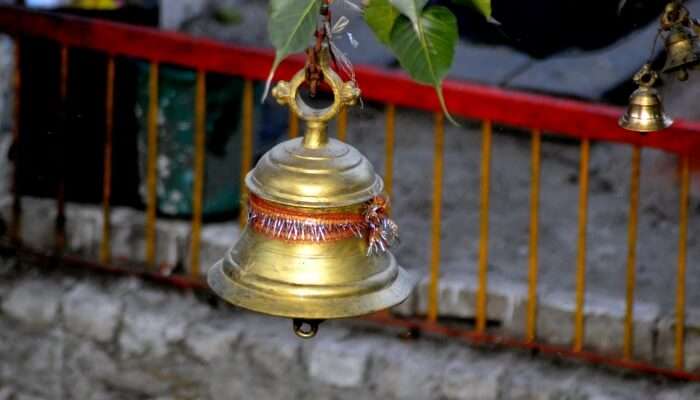 This temple is one of the most famous temples in Gokarna in lieu of its religious importance in the Hindu scripture. It is considered one of the seven places of salvation, i.e., Mukti Kshetras in Karnataka. Many Hindus perform obsequies, i.e., death rites, for their dearly departed here and is therefore named such so as to give them salvage from what they believe are the tangles of the outer world.
It is one of the most beautiful temples in Karnataka, and is believed to be surreal and appealing to the extent that it defies Pranalinga, which means 'the reality of God can't be captured by the mind.' Legend says that Pranalinga, also known as Atmaling or Shiva Linga, was perforce placed in Gokarna by demon King of Lanka, Ravana, who carried it from Mount Kailash in the Himalayas. The Mahabaleshwar Temple Gokarna timings are quite stringent, so visiting in the below mentioned hours is essential.
Location: Kotiteertha Road, Kotiteertha, Dandebagh, Gokarna, Karnataka- 581326
Timings: 6:00 a.m.- 12:30 p.m. and then 5:00 p.m.- 8:00 p.m.
Suggested Read: 10 Best Homestays In Gokarna For A Stay Amidst Beauty & Bliss
2. Maha Ganapathi Temple

It is located near the famous Mahabaleshwar temple and caters to a massive number of visitors every day. It is dedicated to Lord Ganesha, and the legend says that He tricked Ravana, who was carrying a Shiva Lingam, to drop it there where the temple now stands.
It is known for its spiritual, calming ambiance and a scenic backdrop where its located. It is one of the Gokarna mandir that witness a great Dravidian architecture.
Location: Gokarna Beach Road, Car Street Road, Dandebagh, Gokarna, Karnataka- 581326
Time to visit: 5:00 a.m.- 12:00 p.m. and then 4:00 p.m.- 9:00 p.m.
Suggested Read: 10 Water Sports In Gokarna: Delve Into Unlimited Fun Activities
3. Sri Bhadrakali Temple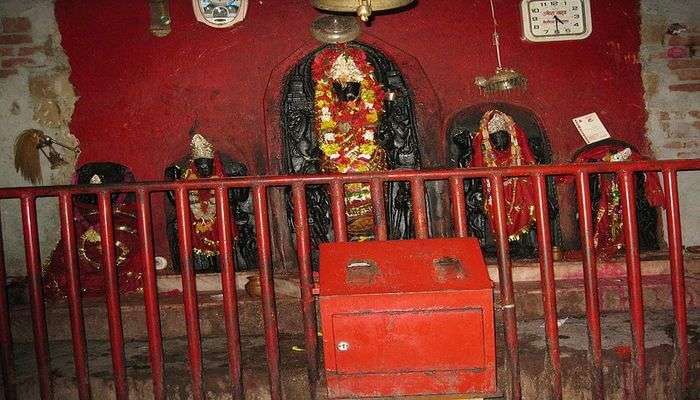 It is believed that the holy trinity of Gods, Brahma, Vishnu, and Shiva created a feminine warrior called Durge to defeat the all-powerful demon Vetrasur, who had conquered all the three lokas. She was re-christened as Bhadrakali to protect the town of Gokarna with the blessings and powers gifted to her by various Gods.
The Gorkana mandir is known to be made in tribute to the Goddess and stands tall, depicting the power and influence still on the people. It is within a walking distance from the town center and Shree Shankara Narayana Temple, which makes several visitors come every day and make it one of the most famous temples in Gokarna.
Location: Main Road, Gokarna, Karnataka- 581326
Time to visit: 5:00 a.m.- 12:00 p.m. and then 4:00 p.m.- 9:00 p.m.
Suggested Read: 15 Best Places To Visit In Gokarna For A Harmonious Vacay In 2022!
4. Mallikarjuna Temple – Sri Ramachandrapura Math

What makes this one of the must-visit temples among all Gokarna temple Karnataka is the history it traces back to. The stone inside the temple states that the temple was donated by Kind Jayakesh in 1144. It has a brilliant architecture that is bound to leave you awestruck, especially considering that it was built so long ago. It is one of the grandest temples in Gokarna that has such a beautiful and robust structure. Its is one of the popular places to visit in Gokarna. 
Location: Ashokavana Road, Gokarna, Karnataka- 581326
Time to visit: 6:00 am to 7:00 pm
Suggested Read: 5 Best Hotels In Gokarna For Offbeat Travelers
5. Shree Someshwara Temple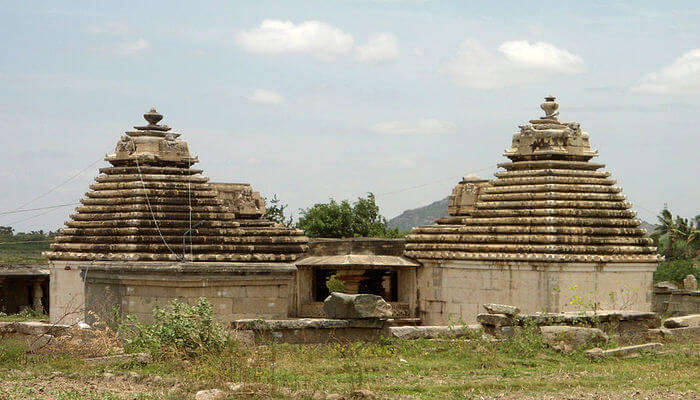 Considered by ASI as a national treasure, this is another Gokarna Shiva temple built by the Cholas and expanded by the Chalukya kings and thus has the 14th-century structure. It resembles the Somesvara temples in Bangalore to a considerable extent, but the detailing is more refined here. With a massive structure and pillared building, it has 'Garbhagriha' and 'Kalyana Mandapa' inside, and the general style of carving and other intricacies is that of mammoths, elephants, lions, and dwarfs.
Location: 15, Dandebagh, Gokarna, Karnataka- 581326
Time to visit: 6:00 a.m. to 12:00 p.m. and again from 5:30 p.m. to 9:00 p.m.
Suggested Read: Visit These 26 Tourist Places In South India During Summer Of 2022
6. Mahalasa Temple

Also known as Shri Mahalasa Siddhivinayak Temple, this 150 years old temple was built with a small idol of Sri Siddhivinayak. The temple was later dedicated to the Kuladevata and reconstructed entirely in 2000. Located within close proximity to the main city bus stand, the temple sees a large number of devotees from nearby cities. 
This beautiful temple come to life during festivals with vibrant decorations and rituals and is the best time to visit this Gorkana temple. 
Location: Gokarna Road, Madangeri, Karnataka

Time to visit: 6:00 am to 9:00 pm
Suggested Read:7 Ancient Temples In Tirupati For Your Quest For Peace And Knowledge In 2022
7. Kotiteertha  Temple

Kotiteertha, also known as the Temple Pond is one of the unique temples in Gokarna wherein colorful temples are surrounded around a holy pond and devotees take a dip into the pond before heading to the temples. 
Spreading across 6 acres of land,  this beautiful pond is surrounded by temples on one side and residences and monasteries on the other; all lined up along the narrow lanes and the tall coconut trees create a picturesque view.  
Location: Kotiteertha, Gokarn, Karnataka 

Time to visit: 12:00 am to 12:00 pm
Suggested Read: Visit These 6 Temples In Chikmagalur To Rejuvenate Yourself
8. Shree Pattevinayak Temple

This offbeat temple in Gorkana is located in south-east Kotiteertha facing the Shree Vishweshwar Vittal Temple. Though the temple sees very few visitors, most of them being devotees of Lord Ganesha who come here to seek blessings and spend some spiritual time.  
The temple is similar to Maha Ganapati temple but is slightly smaller in size. The temple features an idol of Lord Ganesha with 4 hands which were installed by the monks. Lord Ganesha is also called the 'Chintamani Vinayaka' and is believed to ease out our worries and sorrow. 
Location: NA

Time to Visit: NA
Suggested Read: Visit These Sacred Temples In Guruvayur For A Wholesome Vacation In Kerala!
9. Shree Uma Maheshwar Temple

Shree Uma Maheshwar shrine is located on the top of Shatashrunga Mountain and is guarded by Kudle Beach and Om beaches in Gokarna from both sides. It is one of the popular attractions near Gokarna and is dedicated to Lord Shiva and his wife Goddess Parvati. 
The best way to reach the temple is to do a 15 min hike to the top of the mountain or a trek from the Gokarna town.  The temple offers a stunning view of the Indian Ocean which is one of the highlights of this  Gokarna temple Karnataka.
Location: Near Om beach, Gokarna

Time to Visit: NA
Suggested Read: Visit These Temples In Shirdi To Rejuvenate Yourself & Seek Blessings
10. Shree Kalbhairav Temple

Shree Kalbhairav Temple is among the few Kalbhairav temples in India and is located on the southern banks of river Kotiteertha.  Going by the legends, Bhairava in a fit of rage disembodied Lord Bhrama but soon fell into repentance and came to Gokarna to find solace and settled here. 
The temple marks this anecdote and houses a statue of Bhairava seated on a granite platform with a figure of a snake and a footprint below it. 
Location: Kotiteertha, Gokarn, Karnataka

Time to Visit: NA
Further Read: Visit These Temples In Puri For A Historical Tour Of This Pilgrimage Site In 2022
With the promise of religious fulfillment, it is indeed imperative that you visit these temple in Gokarna, which is why is an important city in terms of religion in regard to Lord Shiva and Ganesha, specifically. Being located between two river mouths, it is also a picturesque place with a lot more to admire than just a spiritual and religious experience on your blissful vacation in Gokarna in 2022.
Disclaimer: TravelTriangle claims no credit for images featured on our blog site unless otherwise noted. All visual content is copyrighted to its respectful owners. We try to link back to original sources whenever possible. If you own the rights to any of the images, and do not wish them to appear on TravelTriangle, please contact us and they will be promptly removed. We believe in providing proper attribution to the original author, artist or photographer.
Please Note: Any information published by TravelTriangle in any form of content is not intended to be a substitute for any kind of medical advice, and one must not take any action before consulting a professional medical expert of their own choice.
Frequently Asked Questions About Temples In Gokarna
Are there other things to do in Gokarna?
There are five beaches, namely Gokarna beach (filled with pilgrims mostly), Kudle beach, Om beach, Half-moon beach, and Paradise beach. Kudle and Om Beach are known to hold the most tourists on a regular basis.
Why are Kudle Beach and Om beach in Gokarna famous?
Kudle is in the shape of a perfect C while and is known for yoga, trekking, and surfing. Om, on the other hand, is shaped like the religious symbol Om. Both beaches claim to peak the best view at the sunset time.
---
Looking To Book A Holiday Package?
---