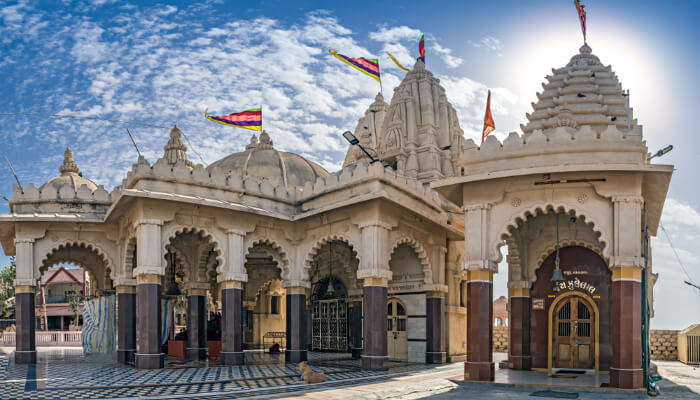 An ancient town in the state of Punjab, Jalandhar holds a significant cultural and religious value that attracts thousands of tourists and pilgrims every year who come to visit the plethora of pilgrimage sites in this city. If you're looking to seek blessings and going on spiritual journey then visit these 7 pristine and serene temples in Jalandhar that are without a doubt the most peaceful and holy places in Punjab. Jalandhar is an ancient city in Punjab that is home to many holy shrines and historic landmarks that reek of history and culture in its every nook and corner. A trip around this city will involve too many sightseeing attractions, historic monuments, artifacts, and temples to visit that you'll be spoilt for choice.
With many religious and historically important places, Jalandhar was the capital of Punjab before Chandigarh was formed, known for its culture-driven values this city has several places to visit and explore from shopping to sightseeing that will make you want to come back to this beautiful city.
Temples In Jalandhar
Jalandhar is an ancient town that brings together devotees from all across the country who come to experience the serenity and old-world charm of this city. The old structure of these temples and ancient architecture is what intrigues the travelers the most. Visit these famous temples in Jalandhar on your tour to Punjab and soak in the calm vibes of this ancient town.
1. Devi Talab Temple
2. Gurudwara Talhan Sahib Ji
3. Tulsi Mandir
4. Geeta Mandir
5. Gurdwara Chhevin Padshahi
6. Shiva Temple
7. Sodal Mandir
1. Devi Talab Temple

This is one of the best temples to see in Jalandhar. Situated in the heart of Jalandhar, this temple is believed to be more than 200 years old. Dedicated to Maa Durga, Devi temple is the most prominent structure of Jalandhar that attracts several devotees who come to worship here from all across the country. One of the prime attractions of this temple is an old tank which is considered to be sacred by many Hindu devotees, it also offers a serene backdrop against the majestic and ancient temple.
Location: Devi Talab Mandir, Tanda Road, Shiv Nagar, Industrial Area, Jalandhar, Punjab 144004
Must Read: 5 Best Water Parks In Jalandhar To Escape The Heat This Season Like A Pro!
2. Gurudwara Talhan Sahib Ji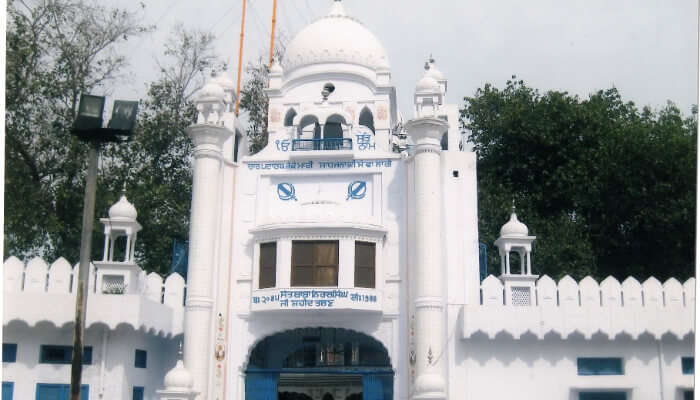 This Gurudwara is famous for its annual Shaheedi Jor Mela (fair) which is held in the memory of Shaheed Baba Nihal Singh, this fair is a big attraction in Jalandhar and the white marble backdrop of this Gurudwara offers a serene environment so you can stroll around in peace and absorb the calmness of this place.
Location: Gurudwara Talhan Sahib, Jalandhar Ludhiana Road Near, Jalandhar Cantt, Talhan, Punjab 144010
Suggested Read: Visit Rangla Punjab In Jalandhar To Relish The Culture Of Punjab
3. Tulsi Mandir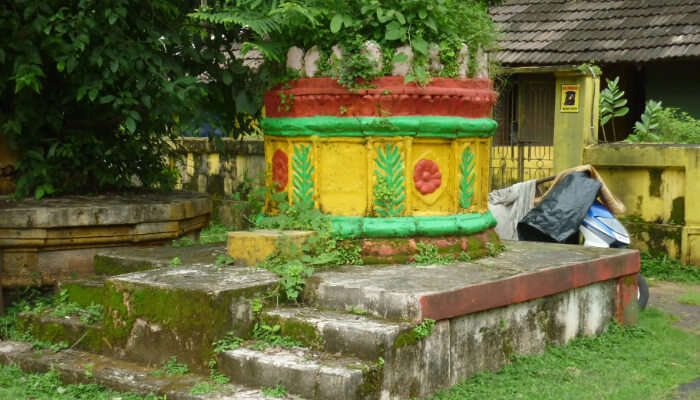 Tulsi Mandir is the ancient temple of Vrinda, wife of Jalandhara, in the Kot Kishan Chand locality. This ancient temple that was built in the memory of Vrinda Devi, the wife of demon king Jalandhara has a tank that according to the locals was used by the Jalandhara for bathing purpose. The white intricate design on the entrance with intrigue you and the serene locality will soothe your soul.
Suggested Read: 13 Places To Visit In Jalandhar To Experience The True Beauty Of Punjab
4. Geeta Mandir

Dedicated to Lord Krishna and Radha, this famous temple in Jalandhar, Punjab that is located near Nikku Park, another major attraction that you can visit while touring the city of Jalandhar, The main attraction of this temple is the idol of the Radha Krishna that attracts a large number of devotees every year who come to pay their respects.
Suggested Read: 8 Restaurants In Jalandhar Where You Are Guaranteed To Have A Good Time
5. Gurdwara Chhevin Padshahi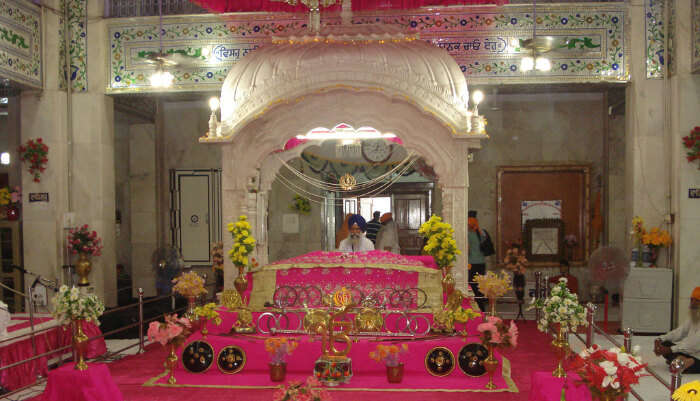 Located in the village of Basti Sheikh in Jalandhar, the Gurdwara Chhevin Padshahi is an important religious landmark that holds a significant cultural value. The Gurdwara Chhevin Padshahi is built at a place where Guruji address Muslim holy saint popularly known as Sheikh Darvesh.
Suggested Read: 8 Most Spine-Tingling Things To Do In Punjab For A Fun-Jabi Trip!
6. Shiva Temple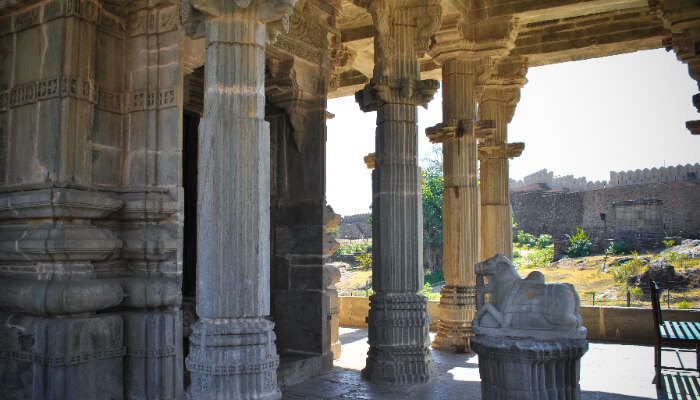 Located in Gur Mandi in Jalandhar, this temple is famous for its blends of Hindu – Muslim architectural design elements and is one of the famous temples of Jalandhar. The temple was built by the Nawab of Sultanpur Lodhi and the main shrine of this temple is built in the style of a mosque whereas the other part resembles the Hindu architectural style of a temple. The detailed architecture gives a vibe one of the historical temples in Jalandar.
Suggested Read: 12 Places To Visit In Punjab To Witness The True Beauty Of The State
7. Sodal Mandir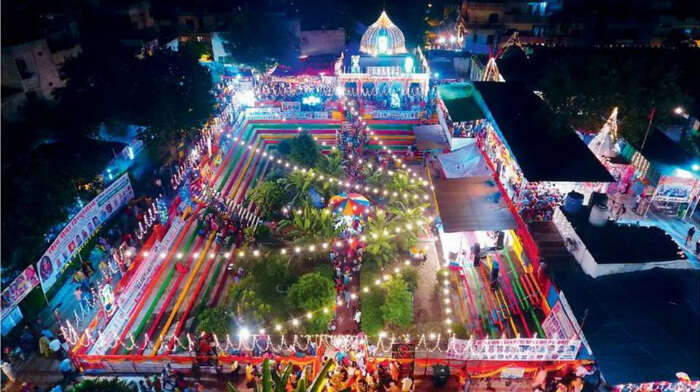 Located near the Devi Talab temple on Sodal road, this temple is dedicated to the Lord Sodal. The major attraction of this temple is the idol of Baba Sodala and the popular beliefs say that if Baba Sodal is worshipped with a true heart then whatever you wish for will be fulfilled. A popular temple in Jalandhar, many devotees come from various parts of the country to worship here.
Further Read: 10 Festivals Of Punjab You Must Experience To Get The Real Essence Of The Rich Culture
We hope that list sufficed your reason to visit the temples in Jalandhar that exude that absolute calm and serenity that one needs to clear their minds. Seek your blessings and make sure you add these temples in Jalandhar to your itinerary for a blissful holiday experience in Punjab.
Disclaimer: TravelTriangle claims no credit for images featured on our blog site unless otherwise noted. All visual content is copyrighted to its respectful owners. We try to link back to original sources whenever possible. عاوز لعبه الديناصور If you own the rights to any of the images, and do not wish them to appear on TravelTriangle, please contact us and they will be promptly removed. We believe in providing proper attribution to the original author, artist or photographer.
Please Note: Any information published by TravelTriangle in any form of content is not intended to be a substitute for any kind of medical advice, and one must not take any action before consulting a professional medical expert of their own choice.
Frequently Asked Questions About Temples In Jalandhar
Where is Jalandhar situated?
Jalandhar is a quaint, little city located in the Indian state of Punjab. It is approximately 144 kilometers away from Chandigarh, the capital of Punjab and Haryana.
How many gurdwaras are there in Jalandhar? بطاقة اونو
There are approximately 50 small and big gurudwaras located in Jalandhar. The famous gurudwaras in Jalandhar are Gurudwara Talhan Sahib Ji, Gurdwara Chhevin Padshahi, and Gurudwara Nauvi Patshahi.
Is there any temple in Jalandhar that is dedicated to Lord Krishna and Radha?
Yes, the Geeta temple located in Jalandhar near the Nikku Park is a temple that is dedicated to Lord Krishna and Radha. The main attraction of this temple is the breathtakingly beautiful idol of Radha Krishna that appeals to all the devotees of the God out there.
What is the best time to visit Jalandhar?
The best time to visit Jalandhar is during the months from January to March, when the temperature hovers around 10 degrees Celsius during the day but falls down immensely to 6-4 degrees Celsius during the night.
How can I reach Jalandhar from Delhi?
Jalandhar is well-connected with all the major cities of the country, making it extremely easy to visit. By Air, the nearest airport is the Amritsar Airport that is located approximately 75 kilometers from Jalandhar. Amritsar airport is well-linked with other parts of the country. By rail, one can simply get off at the Jalandhar railway station that lies on the Amritsar-Delhi railway line. By road, one can take a private cab or board a local/private bus from Jaipur, Delhi, Amitsar, Jammu, Chandigarh, and other places.
What is Jalandhar famous for?
Jalandhar is a city in Punjab that is known for its sports industry and manufacturing of those sports products that were used in the international sporting events such as Asian Games, Commonwealth Games, and many others.
How many temples are there in Jalandhar?
There are approximately 30 temples in Jalandhar that attracts devotees from all over the country. The essence of spirituality in these temples is like no other destination.
What all temples should I visit in Jalandhar?
There are numerous temples in Jalandhar. Some of the must-visit temples in Jalandhar are Tulsi Mandir, Devi Talab Temple, Geeta Mandir, Shiva Temple, Sodal Mandir, and many others. انواع البوكر
{
"@context": "https://schema.org",
"@type": "FAQPage",
"mainEntity": [
{
"@type": "Question",
"name": "Where is Jalandhar situated?",
"acceptedAnswer": {
"@type": "Answer",
"text": "Jalandhar is a quaint, little city located in the Indian state of Punjab. It is approximately 144 kilometers away from Chandigarh, the capital of Punjab and Haryana."
}
}
, {
"@type": "Question",
"name": "How many gurdwaras are there in Jalandhar?",
"acceptedAnswer": {
"@type": "Answer",
"text": "There are approximately 50 small and big gurudwaras located in Jalandhar. The famous gurudwaras in Jalandhar are Gurudwara Talhan Sahib Ji, Gurdwara Chhevin Padshahi, and Gurudwara Nauvi Patshahi."
}
}
, {
"@type": "Question",
"name": "Is there any temple in Jalandhar that is dedicated to Lord Krishna and Radha?",
"acceptedAnswer": {
"@type": "Answer",
"text": "Yes, the Geeta temple located in Jalandhar near the Nikku Park is a temple that is dedicated to Lord Krishna and Radha. The main attraction of this temple is the breathtakingly beautiful idol of Radha Krishna that appeals to all the devotees of the God out there."
}
}
, {
"@type": "Question",
"name": "What is the best time to visit Jalandhar?",
"acceptedAnswer": {
"@type": "Answer",
"text": "The best time to visit Jalandhar is during the months from January to March, when the temperature hovers around 10 degrees Celsius during the day but falls down immensely to 6-4 degrees Celsius during the night."
}
}
, {
"@type": "Question",
"name": "How can I reach Jalandhar from Delhi?",
"acceptedAnswer": {
"@type": "Answer",
"text": "Jalandhar is well-connected with all the major cities of the country, making it extremely easy to visit. By Air, the nearest airport is the Amritsar Airport that is located approximately 75 kilometers from Jalandhar. Amritsar airport is well-linked with other parts of the country. By rail, one can simply get off at the Jalandhar railway station that lies on the Amritsar-Delhi railway line. By road, one can take a private cab or board a local/private bus from Jaipur, Delhi, Amitsar, Jammu, Chandigarh, and other places."
}
}
, {
"@type": "Question",
"name": "What is Jalandhar famous for?",
"acceptedAnswer": {
"@type": "Answer",
"text": "Jalandhar is a city in Punjab that is known for its sports industry and manufacturing of those sports products that were used in the international sporting events such as Asian Games, Commonwealth Games, and many others."
}
}
, {
"@type": "Question",
"name": "How many temples are there in Jalandhar?",
"acceptedAnswer": {
"@type": "Answer",
"text": "There are approximately 30 temples in Jalandhar that attracts devotees from all over the country. The essence of spirituality in these temples is like no other destination."
}
}
, {
"@type": "Question",
"name": "What all temples should I visit in Jalandhar?",
"acceptedAnswer": {
"@type": "Answer",
"text": "There are numerous temples in Jalandhar. Some of the must-visit temples in Jalandhar are Tulsi Mandir, Devi Talab Temple, Geeta Mandir, Shiva Temple, Sodal Mandir, and many others."
}
}
]
}
People Also Read
Temples In Mumbai Temples In Vadodara Shiva Temples In India