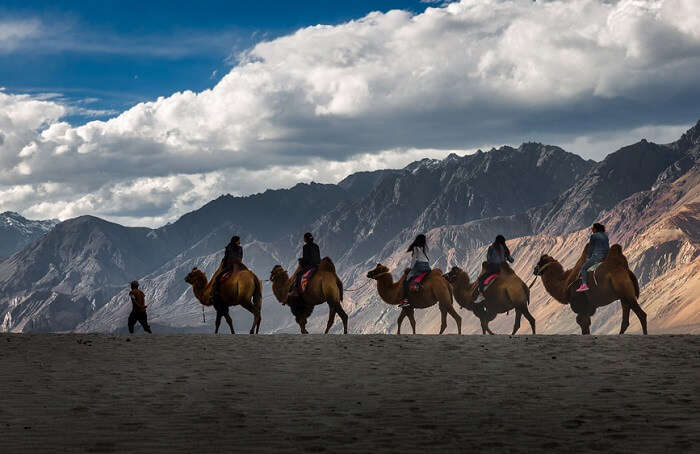 The landscape with a stunning view is located in the north of Ladakh. This is a hotspot for trekkers and adventure enthusiasts. It is approximately 120 Kms from the Leh town and is known for its breathtaking landscape. The Shyok river, the lovely walking trails, camping, and exploring these beautifying landscapes is what trekkers and people visit this valley for. There are many things to do in Nubra valley through which you can see nature's best color palette coming together. The snow capped mountains against the backdrop of the blue sky and surrounded by green pastures is a view unforgettable.
8 Things To Do In Nubra Valley
Here is a list of the best things to do in Nubra valley that will give you an amazing experience of staying there. Take a look!
1. Take A Camel Safari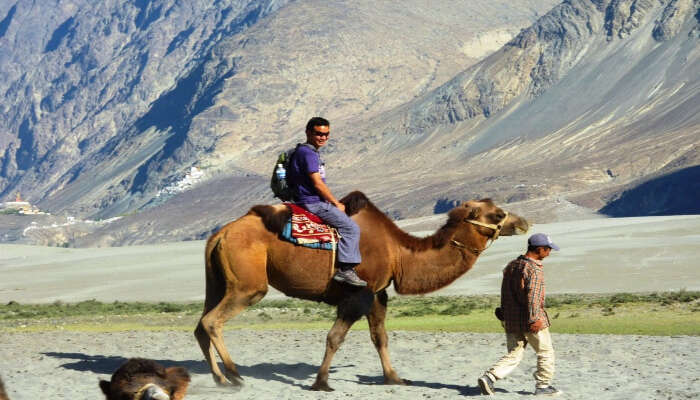 Valley of Flowers is one of the most beautiful places in the Nubra Valley. You can choose from a few safari packages available. Enjoy a camel safari in this fascinating valley and take a moment to sync into the stunning view and the surrounding landscapes of this valley. The transport facilities are not that well developed in this valley and this is the best option to take to experience the beauty of the valley.
Route: Hunder to Turtuk
Timing: 9.00 am – 12.00 pm, 3.00 pm – 6.00 pm
Must Read: 5 Adventure Sports In Ladakh For A Thrill 2020 Vacay In The Hills!
2. Panoramic View Of The Panamik Village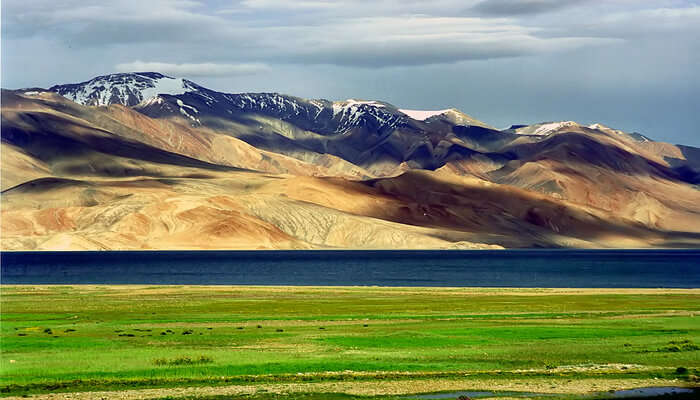 This village connects to the Silk Route which was once used for trading with Tibet. It leads to the Siachen Base Camp and is a place to visit for its therapeutic hot springs. The village gives a stunning view of the mountains. You can take a trekking route to the scenic Ensa Gompa and shop for stunning Pashmina Shawls, carpets, and many other Kashmiri and Tibetan items. Public transportation except trucks is not available in this village. There are no hotels and you have limited options for homestays which have basic amenities.
How to reach: Via Khardung La Pass
Famous for: Sulphur hot springs
Suggested Read: How To Welcome The New Year In Ladakh For A Unique And Joyful Start To 2020
3. Visit The Holy Lake Yarab Tso, Leh Ladakh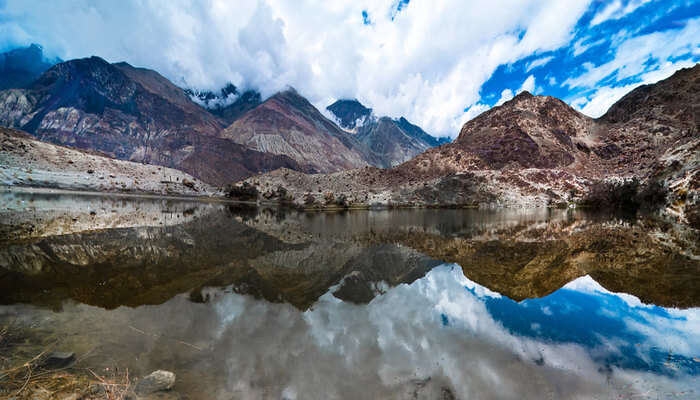 This is the hidden lake located near the scenic Sumur Village. The lake is picturesque and enchanting. It has crystal clear water and is surrounded by spectacular rocky landscape. For those who are looking for calm and solitude can spend some quiet time here taking pictures and exploring this place. Only experienced trekkers can take this trail.
Locals consider this lake to be the holiest and you are advised not to wash your feet in the sacred waters of this lake. You can sit on the rocks and take a look at the surrounding view of the lake. You can breathe the clean air that is unpolluted and experience harmony that this place brings.
Best time to visit: July to September
How to reach: by taxi from Leh, by hiking from Panamik Village
Suggested Read: 12 Festivals Of Ladakh In 2020 That Celebrate The Life In The Valley
4. Samstanling Monastery For Enchanting Landscapes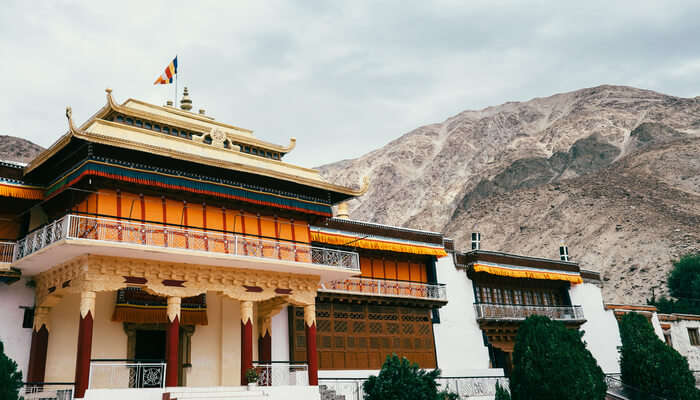 It is located in Sumlur Village and is one of the oldest monasteries in the region. A ride to this monastery is a scenic route with prayer flags, bushes, golden mountain ranges, and turquoise skyline. You can visit this monastery to take a look at their murals and architecture. It is 124 kms from Leh.
It was established in the 18th century. This is a beautiful monastery which was built in gold, red, and white. It is maintained by 50 monks who are served daily. It is surrounded by beautiful surroundings and has beautiful interiors.
Best time to visit: June to September
How to reach: Via a local bus or taxi from Sumur Village
Suggested Read: 31 Places To Visit In Leh Ladakh For A Spell Binding Vacation In The Year 2020
5. Visit The Beautiful Hunder Village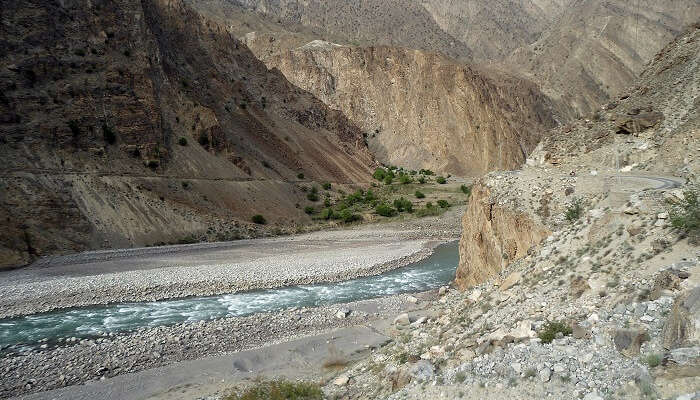 This is a scenic village in the middle of a desert. It is a few kilometers from the Diskit district and is known to be the cold desert that got famous for its sand dunes. It is closer to the Saichen glacier and is located at a higher altitude. This is the only desert that is located at a higher altitude. The Bactrian camels which are native to this region have two humps. You can take a camel safari in this place for 2 hours and explore the village.
You can also explore the forest areas and spot medicinal plants for which these forests are famous for. There are guest houses as well as private hotels where you can stay when you reach this village. It has one of the oldest monasteries in the region for which it is famous. There are also a few places which provide basic meals.
Best time to visit: June to August
Suggested Read: Our Ladakh Itinerary For 7 Days Will Help You Plan Your Trip Like A Pro
6. Zanskar River Rafting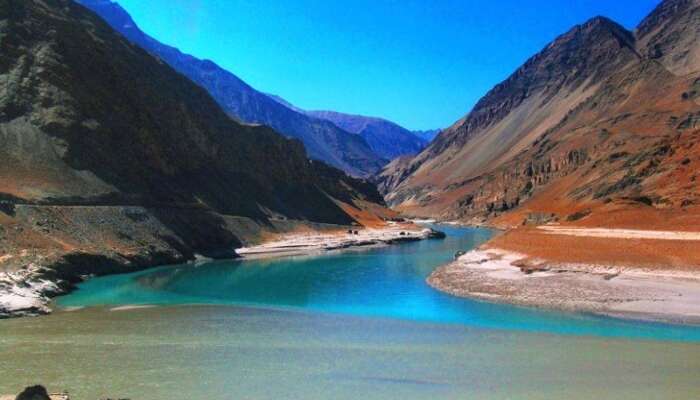 River rafting is popular in this area. As you enjoy this activity you will pass through many scenic areas, get a view of the villages and small towns during your ride. You can select the distance you want to raft as per your accessibility.
Activities available: Rafting and camping
Weather: 12-15 degrees in the day, 3-4 degrees in the night
Suggested Read: Ladakh Itinerary Of 9 Days: This Amazing Trip Took Us To The Best Of Leh Ladakh
7. Cycling In Villages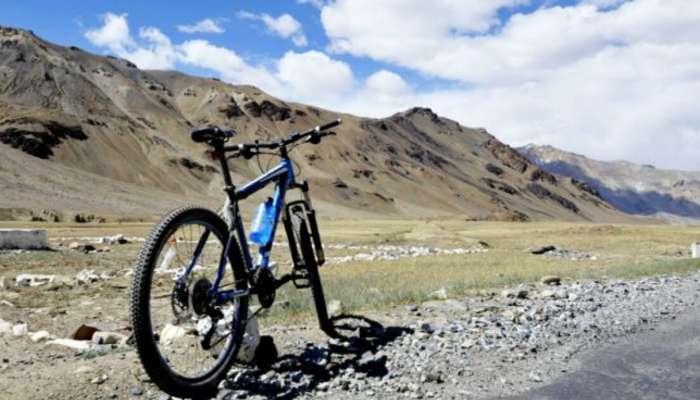 You can enjoy the panoramic and scenic views during your cycle rides. The Silk Route is a popular route for cycling enthusiasts. There are many tour groups which arrange for these cycling tours in this area. You can view the blue sky, gorgeous cliffs, rocky mountains, get a chance to see the snow leopard, and view many more farming villages.
Cycling routes: Khardung – Diksit, Diksit-Hunter, Khar- Turtuk
Suggested Read: Our Honeymoon For 5 Days In Ladakh Was A Perfect Blend Of Bliss & Adventure
8. Khardung La Pass Adventure Tour
This place is of historic importance. It is surrounded by beautiful landscapes and is one of the most popularly visited landmarks amongst adventure enthusiasts. It has scenic valleys, colorful prayer flags, and is a place where materials were transferred to China during World War II. This is the closest town to Leh that connects to Manali and Srinagar. This place is great for mountain biking.
Best time to visit : May to October
Further Read: Leh Ladakh With Kid: A Journey We'll Cherish For A Lifetime
Nubra Valley is worth the visit for its solitude, scenic areas, and breathtaking views. It is favourite amongst adventure seekers as there are many adventure activities available in this area. Shutterbugs who love nature photography, this place is your heaven. So, plan a trip to Ladakh and enjoy!
Frequently Asked Questions About Things To Do In Nubra Valley
Q. How to reach Nubra Valley?
A. There are two routes from Leh that reach Nubra Valley. One is from Leh to Khalsar and the other is from Srinagar to Leh. The most common route is the Leh to Khalsar to reach Nubra Valley. Srinagar to Leh is one of the scenic routes you can take as you will pass through many mountain ranges and scenic routes.
Q. How long can you stay in Nubra Valley?
A. You can visit a few places and return the same day back to Leh. It takes up to 3 days to explore the valley and its scenic villages. This is a popular place for camping, trekking, mountain biking, and river rafting. 
Q. What are the places to visit near Nubra Valley?
A. Pullu, Phyang, and many other remote villages which can be visited near Nubra Valley. You must remember that a few places here have no accommodation or any other facilities. They are vast scenic lands but you cannot stay overnight.
Q. Things to keep in mind when visiting Nubra Valley?
A. Carry a torch with extra batteries. Always stay hydrated. Carry a lot of energy foods. Keep all of your IDs and documents with you in a safe place. Do not rely on mobile and keep a hardcopy of all of your contact lists. Keep a first aid kit and auto repair kit handy.
Q. Are there pubs and lounges in Nubra Valley?
A. A few hotels might have bars in Leh. Most of the camps and eating joints are in Leh. You can enjoy a great view and other facilities at camps, resorts, and hotels in Leh.
Comments
comments