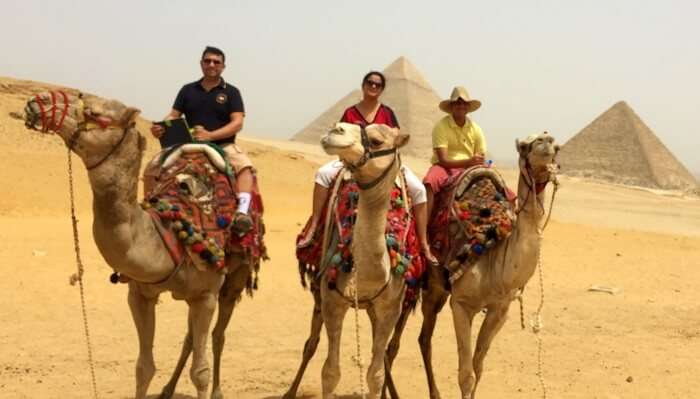 Egypt had long been on Shivani's mind. The mystical monuments, bizarre pyramids, Arabian towns, aromatic spice souks, and the famous Nile had been calling out to her for long, beckoning her to this lovely country. And when she finally got a chance to explore this Middle Eastern beauty with her son and husband, she planned her trip to Egypt from India in a way that would allow her to enjoy it to the fullest! See what all she did on her trip to make it memorable.
Egypt is a fascinating country and unlike any in the world. I have always wanted to see those Arabian deserts and enchanting pyramids with my own eyes. But the reviews of the country and the people kind of put me off. However, I did not let that damper my yearning to visit. I decided to go ahead with my trip and experience for myself what all this beautiful country had to offer, and boy am I glad that I did!
I chose to travel via TravelTriangle since they let me customize my itinerary and let me deal with the agent directly, something not many travel firms offer. The agent constantly kept me updated with the progress on my trip and I had nothing to worry about.
If you're skeptical about taking that trip to Egypt yourself, let me bust a few myths about this wonderful country so that you can have the best of experiences there.
Details Of Shivani's Trip To Egypt From India
Trip Type: Family Trip
Trip Cost: INR 73,500/-
No. Of People: 3
Trip Duration: 8 Nights 9 Days
Inclusions: Airport transfers, visa, sightseeing, entrance tickets, English speaking driver cum guide
Exclusions: Breakfast, lunch, dinner, accommodation, airfare, visa, travel insurance
Our Customised 9 days Egypt Tour From India Itinerary
Day 1: Arrival at Cairo | Giza Light And Sound Show
Day 2: Cairo City Tour
Day 3: Flight Transfer From Aswan
Day 4, 5, 6: Cruising
Day 7: Temple Tour – Amun Ra, Karnak, Luxor | Flight Transfer To Aswan
Day 8: Full Day Tour Of Alexandria
Day 9: Departure
Why You Should Definitely Visit Egypt – Myths Vs Reality
Here are a few myths and misconceptions about Egypt that I came across on my trip to Egypt from India. Given below them are my experiences that prove none of these preconceived notions about Egypt are true:
MYTH 1: "The People Of Egypt Are Not Friendly"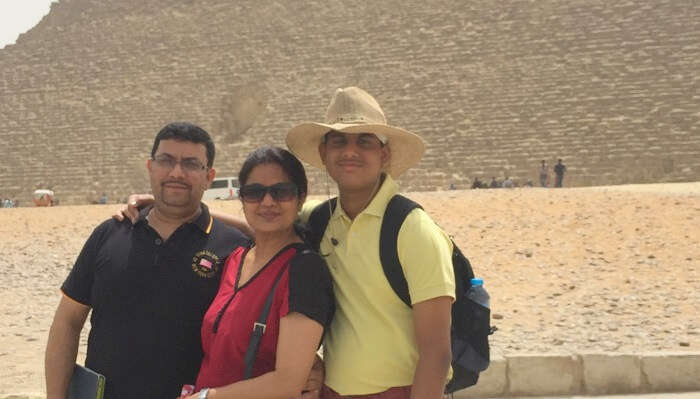 I discovered that the locals of Egypt are some of the friendliest and most helpful folk in the world. People are extremely nice and hospitable. Whether it's a shopkeeper in a general store or someone walking down the street, they would totally stop by to help you with whatever you need. The natives of Egypt are also very trustworthy people, and you're least likely to be conned during your trip to Egypt.
Must Read: Egypt Wildlife: 8 Best Natural Reserves Of Egypt To Attract Every Wildlife Lover
MYTH 2: "Don't Shop In Local Markets"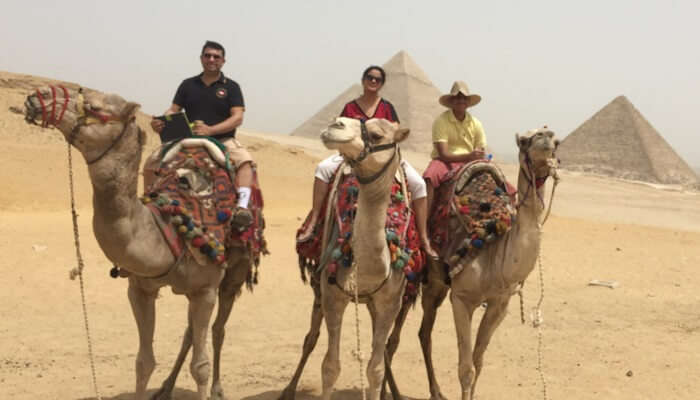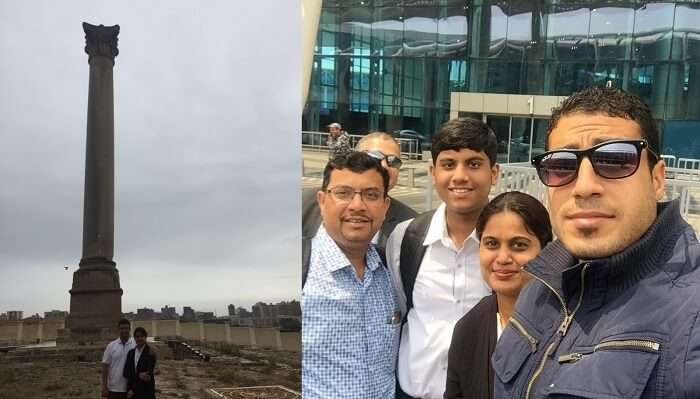 The true essence and joy of shopping in Egypt lie in its local bazaars and souks. You haven't truly experienced this place if you haven't visited any of its bustling shopping streets brimming with the most authentic Middle Eastern goods and handicrafts. We had been told that shopkeepers in these local markets quote ridiculously high prices, do not let you bargain, and do not offer quality products. None of that is true.
You'll find people selling authentic merchandise in the markets and souks of Egypt that are very much open to bargaining. Besides, it's their sole means of livelihood, and most of the craft items, clothes, handbags, food, home decor items, and souvenirs you buy here are handmade, which is why the prices tend to be higher than what you get elsewhere. But you'll find it all to be worth every penny you spend.
We ourselves ended up buying a variety of beautiful souvenirs and gift items from these markets in dirt cheap rates. We also bought the local 'namkeen' – packets of roasted seeds of fruits like watermelons, pumpkins, and sunflowers that are salted and spiced.
Suggested Read: 12 Festivals In Egypt 2021: Experience The Vibrant And Buoyant Festivals In Egypt
MYTH 3: "Dress Conservatively. Your Arms And Legs Should Be Covered"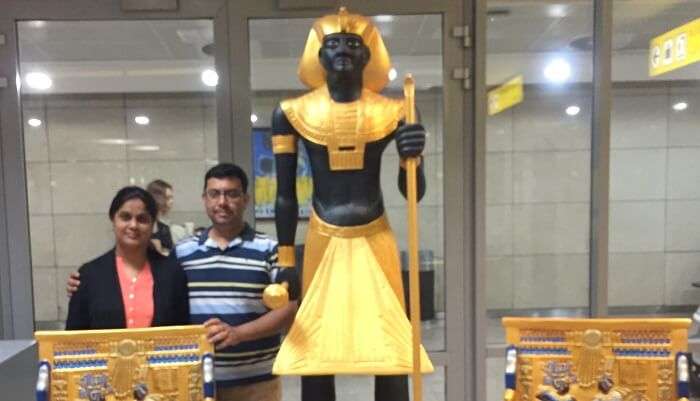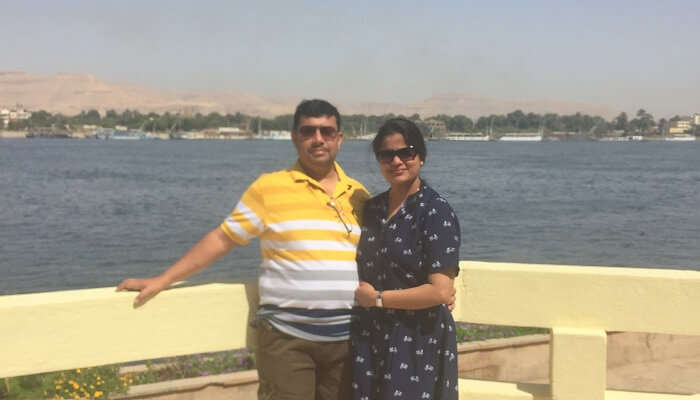 We could find a number of tourists roaming around wearing hot pants and sleeveless tops, and none of the locals were raising an objection against travelers who were not covered from head to toe. Nowadays, people are very open to wearing whatever they want in these Middle Eastern nations without being looked down upon or ridiculed in public. One should, however, cover their legs, arms, and heads before entering any holy place such as a mosque.
Suggested Read: Shopping In Egypt: 13 Places To Shop In The Country In 2021
MYTH 4: "Book A Hotel Near Popular Attractions Like The Sphinx"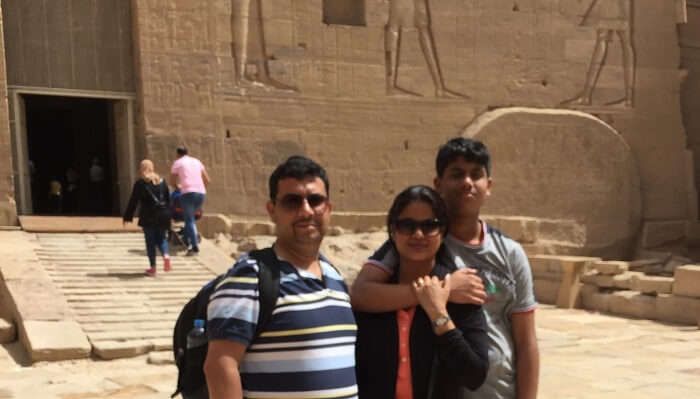 On the contrary, one should always book a hotel that lies within the city limits. This way, you'll be closer to a lot of facilities like grocery stores, pharmacies, vehicle rentals, and restaurants to help you in times of need. Staying in a hotel in the middle of the desert offering nothing other than gorgeous views of the Sphinx and the pyramids will not do you any good in case an emergency arises. Plus, they're also pretty expensive!
Staying in or near the city will allow you to see more than just the famous tourist attractions, and you can explore Egypt more like a local than a tourist.
Must Read: 7 Most Popular And Best Places To Visit In Luxor Egypt For A Perfect Escapade in 2021
MYTH 5: "Egypt Is Just About Barren Deserts, Lofty Pyramids & Camel Rides"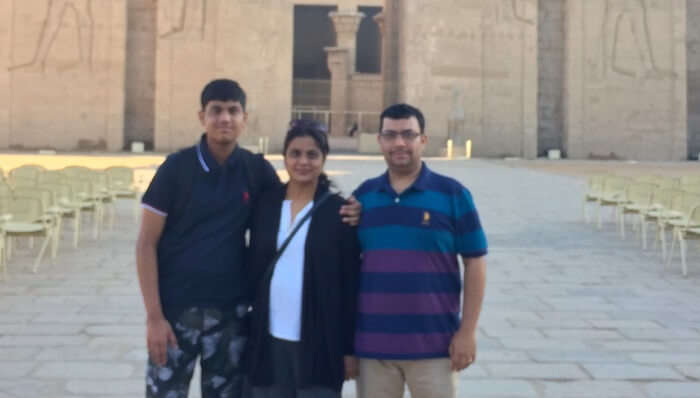 No sir! There's so much more to this country than meets the eye. Scholars and history geeks will totally love being here, owing to the treasure trove of knowledge and wisdom it provides to its visitors. From the Light and Sound Show at the Sphinx and the Giza pyramids to the informative and guided tour of the Egyptian Museum, you'll be surprised by how much you will end up learning here.
My son was fascinated with Egypt's history, museums, and even mummies. He was constantly taking notes throughout our Egypt tour. He was super ecstatic about visiting the Aswan Dam that he had been studying about for weeks, and the pictorial representation of the construction of this dam that he found near this attraction itself helped him gain in-depth knowledge about the same.
Seeing the pyramids and learning how they came into being was the most exceptional experience of my trip. The Egyptian Museum didn't tell us about them as much as the Light & Sound Show did. The geometrical dexterity from every angle was simply mind-blowing, and it made us wonder how the people who built it had this kind of a technology thousands of years ago!
Suggested Read: 6 Things To Do In Giza That'll Keep You Hooked In Egypt
MYTH 6: "You Won't Find Good Vegetarian Food In Egypt"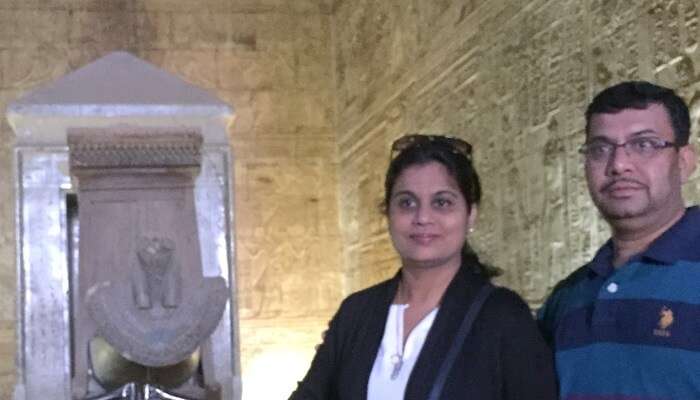 The other thing we came across on our trip to Egypt from India is that the food of Egypt is very similar to that of India. So, there's no reason for Indian travelers, even vegetarians, to be afraid. The spices are also more or less the same. In fact, much of India's exotic spices are imported from Egypt. You'll find good outlets and vendors making delicious Shawarmas and Falafels almost at every corner, two of Egypt's most famous dishes that have now turned into my favorites!
Whether you're a vegetarian or a non-vegetarian, you'll totally love the food options in Egypt during your Egypt tour from India. And the best part – good Egyptian cuisine at pocket-friendly rates won't be hard to find.
Suggested Read: 12 Must Visit Places In Egypt In December 2020 That You Should Explore Right Away
Some Egypt Travel Tips For A Hassle-Free Holiday
Don't go by what people say about Egypt. Experience it for yourself and you'll be surprised!
Give more preferences to local markets and souls for shopping rather than malls. You'll only find the actual local produce of Egypt, including pretty souvenirs, in these markets.
While buying stuff from local craftsmen in bazaars, bargain only to a certain extent keeping in mind that the items you're buying are their sole means of income.
Take a guided tour of the Egyptian Museum.
Keep yourself hydrated at all times. Egypt weather is quite dry, so one needs to drink plenty of water and apply generous amounts of moisturizer before stepping out.
What To Pack For Egypt Trip
Universal travel adaptor & a powerbank
Some over-the-counter medications
A hat, scarf, and a Bandana
Loose-fitting clothes
Sunblock or sunscreen lotion to avoid UV rays
Tissues or to-go toilet tissues
US Dollars for visa entry
A pair of solid walking shoes
Our Experience With TravelTriangle
We owe a big thanks to TravelTriangle for making our holiday experience an unforgettable one. We would like to make a special mention of the commendable services provided by the agent in Egypt. To begin with, from the moment we exited the Cairo airport to when we were escorted back to it, he was constantly there. Extremely efficient, polite, helpful, and cooperative, he made sure we had a smooth hotel check-in, used to help us with our bags, was always on time for our pickups and drops and had helped us get our visa. And there was no language barrier, so we could easily communicate with him. Our trip to Egypt from India couldn't have been this mus fantastic if it was not planned by them. Kudos to them.
Further Read: Recently Opened Egyptian Long Distance Hiking Trail Will Give You Hiking Goals
Didn't this intrigue you to book your own escapade to Egypt and unravel its mysteries? Well, we got you just the thing you need for the same – customized itineraries crafted by experienced agents to help make your vacation as comfortable and memorable as possible. And once you're back from your trip to Egypt from India, don't forget to write to us about your incredible holiday experience!
Common Queries We Had While Planning Our Holiday
We had quite a few doubts while we were planning our trip. Now that we're back from our trip to Egypt from India, we would like to answer them to help you book yours smoothly.
Do you know any interesting facts about Egypt?
The pyramids were, by far, the most interesting aspect owing to their geometrical accuracy that just blew our minds. We learned a great deal about the interesting history of Egypt and the origin of the Giza pyramids at the museum and the Light & Sound Show. Even the temples of Luxor and the city of Alexandria had a curious history that can put one in a trance. In fact, everything about this marvelous country was intriguing, no matter where we went.
What is the most common food in Egypt?
We could find Shawarmas and Falafels at every nook and corner. Other than this, roasted salted seeds of fruits like pumpkin, sunflower, and watermelon seemed to be the favorite snack of all Egyptians. You could easily find them in all grocery stores across Egypt.
What is the best time to visit Egypt?
The best time to visit Egypt is ideally from November to April. We had visited in April and it was already starting to get warmer. The air is very dry during this time, so make sure you carry plenty of water as well as keep your skin moisturized regularly.
How much should an Egypt trip cost?
Overall, our trip cost us around 1 lakh per person, including the stay, shopping, transfers, and other tidbits. For a trip of 9 days to cities like Cairo and Aswan, the ideal Egypt trip cost from India should be between 3-5 lakhs depending on your choice of accommodation and modes of transit.
How should female tourists dress in Egypt?
Females are recommended to dress modestly in Egypt. They can wear sundresses with leggings and denim with non-revealing tops. Also, they must keep a scarf with them as there are some tourist attractions where they would need to cover their heads.
What is the coldest month in Egypt?
January is considered as the coldest month in Egypt when the temperature is about 14°C.
Comments
comments