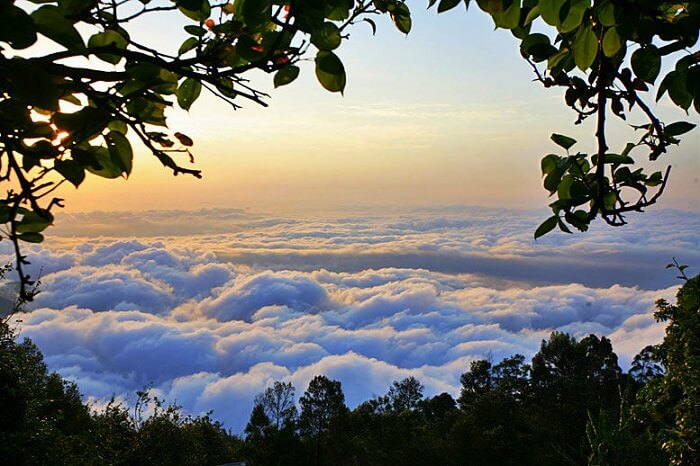 A bouquet of red roses, a box of assorted chocolates, a romantic dinner date, a long drive, and watching the sun go down, are few things that come to one's mind when it comes to the cliched ways of Valentine's day celebration in India. And in case you are saying, been there done that already, then why not do something different this time?
Away from the crowded, congested, and concrete jungles of urban India, head to these romantic and reserved locations that are not only serene, scenic, and secluded, but are made perfect in isolation.
14 Places For Valentine's Day In India In 2019
Here is the list of stunning places you should definitely explore with your lover on Valentine's day in India. Take a look!
14. Chorla Ghat – The Goan Gem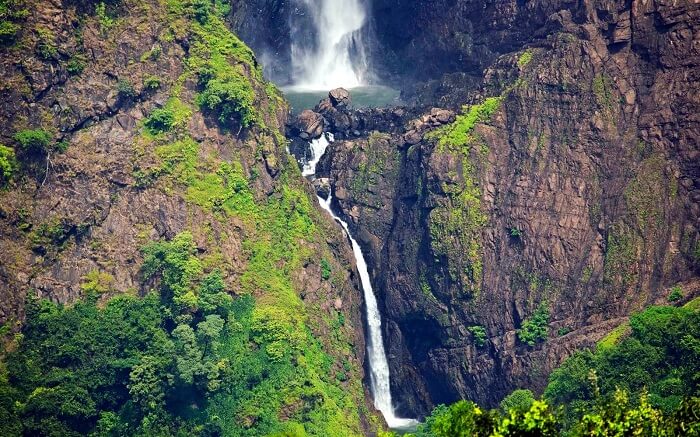 Serving as the conflux of Goa, Maharashtra, and Karnataka, Chorla Ghat is one of the best birdwatching sites which is also a great spot for valentine's day celebration in India. Surrounded by lush tropical forests and rising as an eco-friendly destination, head to Chorla Ghat on a long romantic drive and spend some quality time with your special one in the lap of nature!
Nearby Attractions: Harvalem Waterfall, Bicholim, Arvalem Cave, Vazira Shakira Falls, and Anjuna Dam
Location: State Highway 4, Goa-Maharashtra-Karnataka Border
Nearest Airport: Belgaum – 60 kms
Nearest Railway Station: Thivim – 50 kms
Suggested Read: Valentine's Day In Goa: Here's How You Can Make It An Unforgettable Affair With Your Beloved!
13. Gandikota – The Indian Grand Canyon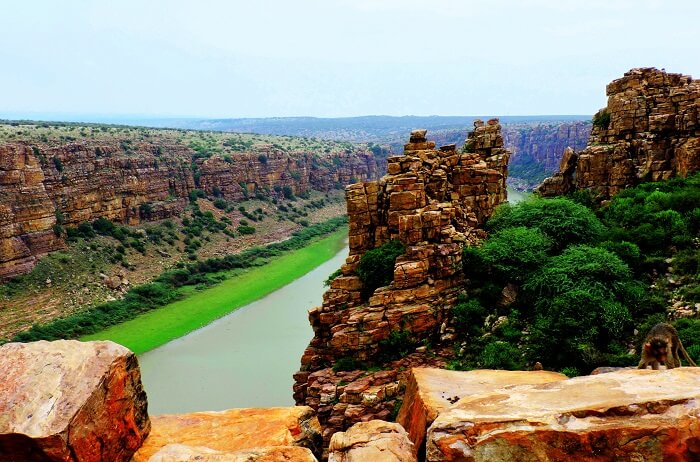 Considered to be one of the most secluded places to visit on Valentine's day in India, Gandikota is the country's very own grand canyon. Perched on the banks of Pennar River, this canyon stands tall as a witness to the powerful Pemmasani Dynasty that ruled Gandikota in ancient times. Encircled by the Erramala Ranges and with Pennar flowing through the gorge, the beautiful landscape of Gandikota is worth a quiet escape with your better half on Valentine's Day.
Major Attractions: Gandikota Fort, Granary, Raghunatha Swamy Temple, Charminar, Kathula Koneru, and Gandikota Reservoir
Location: Kadapa, Andhra Pradesh
Nearest Airport: Tirupati Airport – 220 kms
Nearest Railway Station: Muddanur – 26 kms
12. Janjehli Valley – For Those In Pursuit Of Peace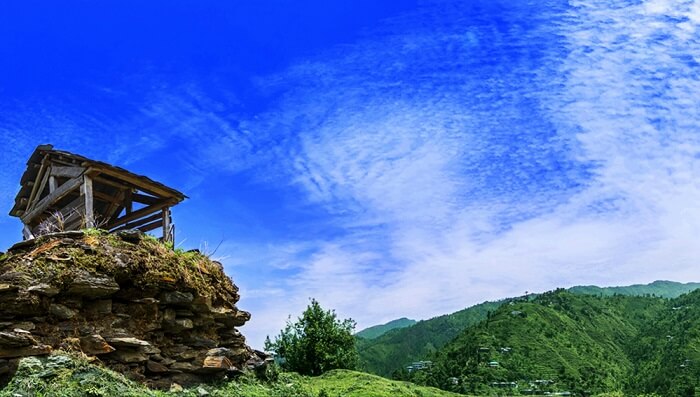 Located at an altitude of about 2150 meters, Janjehli is an old, rustic, and a quaint little town in the heart of Mandi District in Himachal. History of Valentine day in India has it that taking your beloved to a place which is surrounded by rising mountains, gorgeous valleys, rolling hills, and picturesque landscapes is by far one of the most romantic things to do on this special day. And when it comes to peace and tranquility, Janjehli Valley fits the bill perfectly.
Nearby Attractions: Shikari Devi Temple, Kamrunag Temple, Shaily Peak, and Chindi
Location: Mandi, Himachal Pradesh
Nearest Airport: Jubbarhatti – 75 kms
Nearest Railway Station: Joginder Nagar – 56 kms
11. Khimsar – The Gateway Of Thar Desert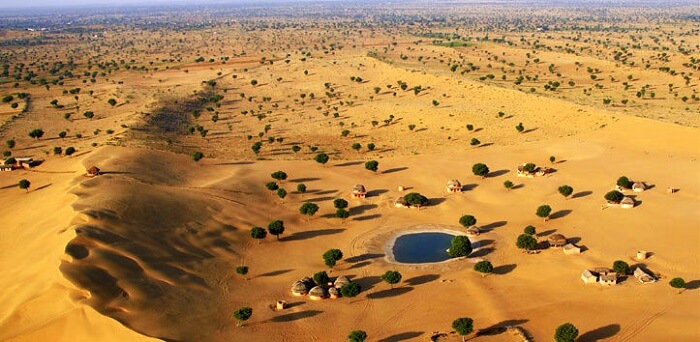 An epitome of its cultural heritage, Khimsar is one of the lesser known tourist places near Jodhpur which is renowned for its age-old settlements and huge sand dunes. Located near the small establishment of Khinwsar village, Khimsar serves as the gateway to the Great Thar Desert which also happens to be one of the best and offbeat places for Valentine's day celebration in India.
Major Attractions: Khimsar Dunes Village, Khimsar Fort, Osian, Dhawa Doli Wildlife Sanctuary, and Sacchiyamata Temple
Location: Nagaur, Rajasthan
Nearest Airport: Jodhpur – 92 kms
Nearest Railway Station: Jodhpur – 80 kms
Suggested Read: 15 Tourist Places Near Jodhpur That Are Worth Extending Your Vacation In Rajasthan!
10. Laitmawsiang – An Unique & Unspoilt Park
Located at a distance of just 50 odd kilometers from the scenic Shillong, Laitmawsiang is a hidden gem in the treasure chest of Meghalaya. For those who're looking forward to fun places to go on Valentine's day, or may be for a day's trip, the unexplored park of Laitmawsiang happens to be an ideal site. Encompassing of a spread of orchid flowers, serene pools, cascading waterfalls, and more of such natural wonders, Laitmawsiang happens to be Meghalaya's best kept secrets so far.
Major Attraction: The Garden of Caves
Location: Mawsynram, Meghalaya
Nearest Airport: Shella Airport – 23 kms
Nearest Railway Station: Mirza – 77.5 kms
9. Lohaghat – A Step Closer To The Himalayas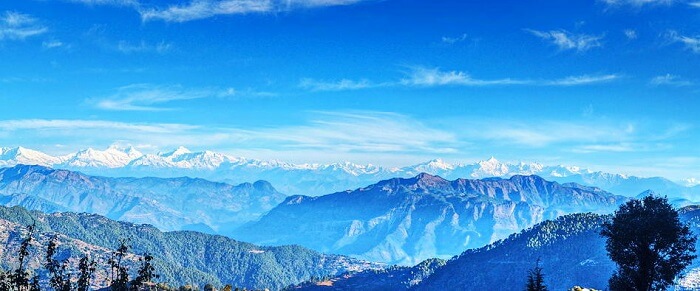 Planning a date amidst the snow-capped mountains? Sounds like a plan! And for a perfect execution, get going to the ever-charming paradise of Lohaghat that is one of the most romantic places to go for Valentine's weekend with the Himalayas in the backdrop. Located at a distance of just 7 kilometers from the mighty Abbott Peak, spend this Valentine's day amidst the pleasant weather Lohaghat and treat yourself to the picturesque vistas of green landscapes!
Major Attractions: Abbott Mountain, Advaita Ashram, Nagnath Temple, Vanasur Ka Kila, and Champawat
Location: Champawat, Uttarakhand
Nearest Airport: Pantnagar Airport – 160 kms
Nearest Railway Station: Tanakpur – 60 kms
8. Loktak Lake – The Lush Floating Lake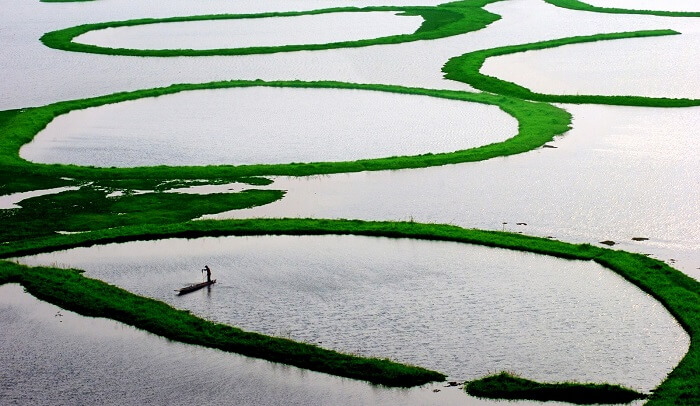 The list of romantic places for Valentine's day celebration in India is not complete without mentioning the natural marvel of the floating Loktak Lake. Located in the quiet town of Moirang and apart from being the largest freshwater lake in the entire Northeast, Loktak Lake also happens to be the only floating national parks in the world. Rich in flora and fauna, and a proud home to more than 230 species of plants, a visit to the Loktak Lake is sure to make your Valentine's day a hit this year!
Major Attractions: INA Museum, Loukoipat Ecological Park, Ningthoukhong Gopinath Mandir, Ibudhou Oknarel, and Loktak Folklore Museum
Location: Moirang, Manipur
Nearest Airport: Imphal Airport – 36 kms
Nearest Railway Station: Dimapur – 215 kms
Suggested Read: 15 Valentine's Day Traditions Around The World That Make The Day Of Love Special
7. Maithon – The Hidden Gem Of Jharkhand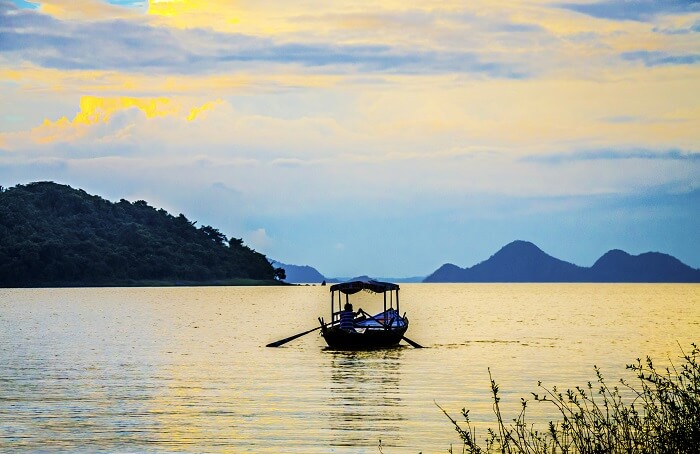 Image Source
Much famed for its unique location, Maithon is a small town in the Dhanbad district of Jharkhand which is renowned for offering the most quixotic sunset views. Overlooking the Barakar river, Maithon is set in the heart of the coal belt of India which is off-lately gaining much popularity among the travelers as a rising weekend getaway. Famous for its massive dam and serving as a great picnic spot, experience the most romantic sunset this Valentine's day while experiencing the thrills of boating in Maithon.
Major Attractions: Kalyaneshwari Temple, Maithon Dam, Deer Park, the Spoon Island, Kaali Pahadi, and Maithon Hydel Power Plant
Location: Dhanbad, Jharkhand
Nearest Airport: Kolkata Airport – 231 kms
Nearest Railway Station: Mugma Railway Station – 9 kms
6. Maravanthe – The Road Less Traveled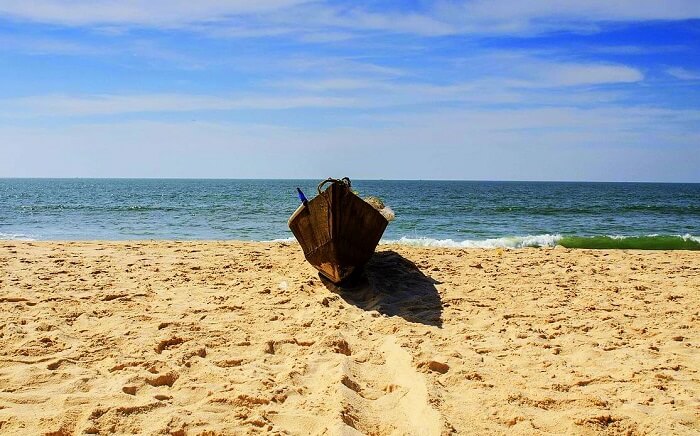 Embarking on NH 66 which is located at a distance of about 55 kilometers from the city of Udupi in Karnataka, takes the travelers to the most perfect spot for Valentine's day celebration in India – the Maravanthe. A beautiful town which is also a home to the most cleanest beach in Karnataka, Maravanthe is a gem that adds the much needed charm to the Konkan coast.
Major Attractions: Maravanthe beach, Gude Mahalingeshwara Temple, Padukone village, Kodachadri Hills, and Kodi Beach
Location: Kundapura, Karnataka
Nearest Airport: Mangalore – 112 kms
Nearest Railway Station: Kundapur – 18 kms
5. Poovar – God's Own Island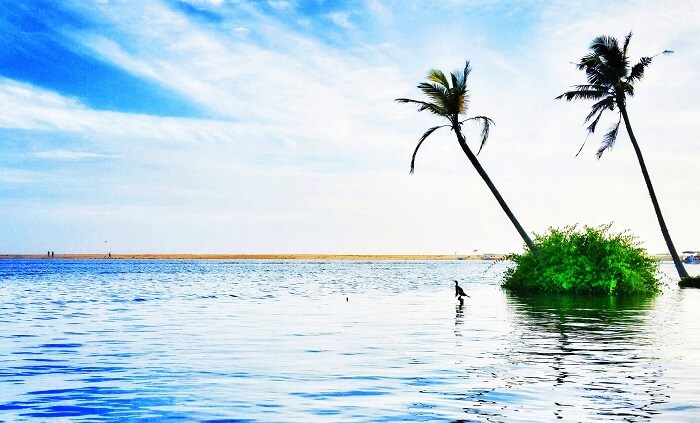 If Kerala is God's own country, then Poovar is God's own private island amidst the bustling backwaters. While every second traveler flocks to the much-hyped destinations of Munnar, Alleppey, and Thekkady, many remote places in Kerala go unnoticed and unexplored. Having said that, Poovar Island is one such gem of Kerala that is yet to be explored to its fullest potential. High on nature, and low on human intrusion, Poovar would be the perfect choice for couples to relax and rejuvenate as a part of their Valentine's day celebration in India.
Major Attractions: Aazhimala Siva Temple, Neyyar, Backwater Cruise, Poovar Beach, Kuzhipallam Botanical Garden, and Elephant Rock
Location: Trivandrum, Kerala
Nearest Airport: Trivandrum – 38 kms
Nearest Railway Station: Trivandrum – 27 kms
Suggested Read: 15 Best Places to Propose This Valentine's Day
4. Shivanasamudra – Home Of Majestic Waterfalls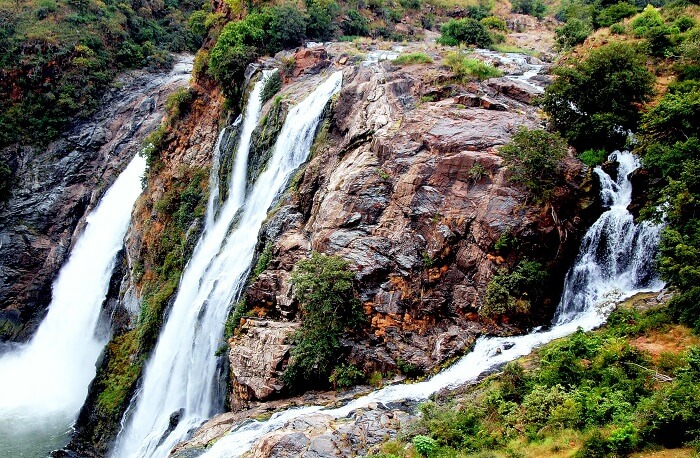 A land dominated by the mighty waterfalls, Shivanasamudra serves as one of the best places for Valentine's day celebration in India, and relish the true charm of nature in South India. Located in the Mandya district of Karnataka, Shivanasamudra is a tiny little town perched on the banks of Kaveri River. Popular for its gigantic waterfalls and ancient temples, Shivanasamudra is famed for one of Asia's first Hydroelectric power stations as well.
Major Attractions: Gaganachukki Falls, Bharachukki Falls, Ranganathaswamy Temple, Ganalu Falls, and Alpine Wineries
Location: Mandya, Karnataka
Nearest Airport: Mysore – 77 kms
Nearest Railway Station: Mysore – 77 kms
3. Tarkarli – The Marvel Of Maharashtra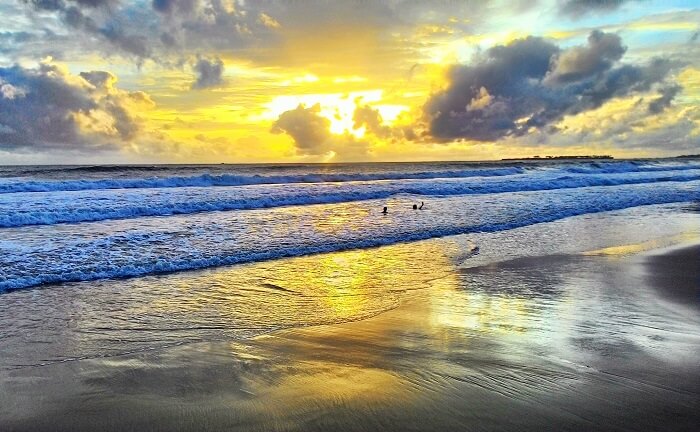 Image Source
Want to spend this Valentine's day by the beach which is unaware of the city clutter? Head to the quixotic beach of Tarkarli which is located on the pristine shores of Arabian Sea. Encompassing of soft white sands and crystal clear turquoise waters, indulge in everything romantic at the famous Tarkarli beach which is famous among the travelers for watersports. Also, its quiet backwaters make it one of the best places for Valentine's day in India.
Major Attractions: Sindhudurg Fort, Tarkarli Beach, Chivla Beach, Kolamb Beach, Padmagad Fort, and Devbagh Beach
Location: Malvan, Maharashtra
Nearest Airport: Dabolim – 80 kms
Nearest Railway Station: Kudal – 45 kms
2. Theog – A Lost Paradise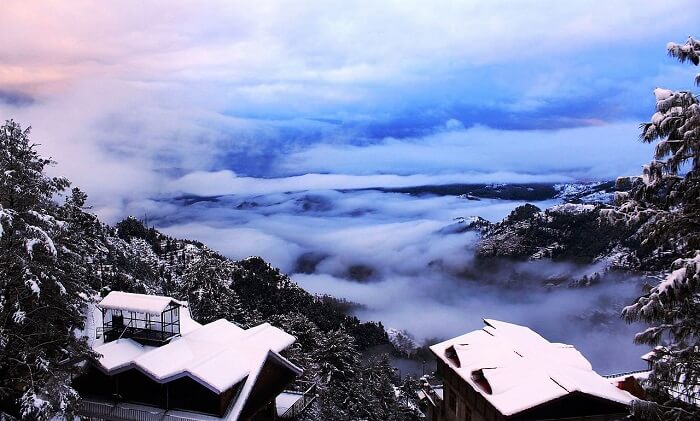 Image Source
Chances are high that you might not have heard about this place until now but Theog happens to be the most treasured gems of Himachal Pradesh. A heavenly storehouse of surprises which is laden with snow on all sides, Theog is the closest place to heaven that the travelers in search of romantic places to visit on Valentine's day in India, can get. Located at a distance of just 32 kilometers away from the main city of Shimla, lies a beautiful paradise which is perfect for couples!
Major Attractions: Hatkoti, Fagu, Tattapani, and Banthia Devta Temple
Location: Shimla, Himachal
Nearest Airport: Jubbarhatti – 45 kms
Nearest Railway Station: Shimla – 30 kms
1. Vattakanal – Up & Close With Heaven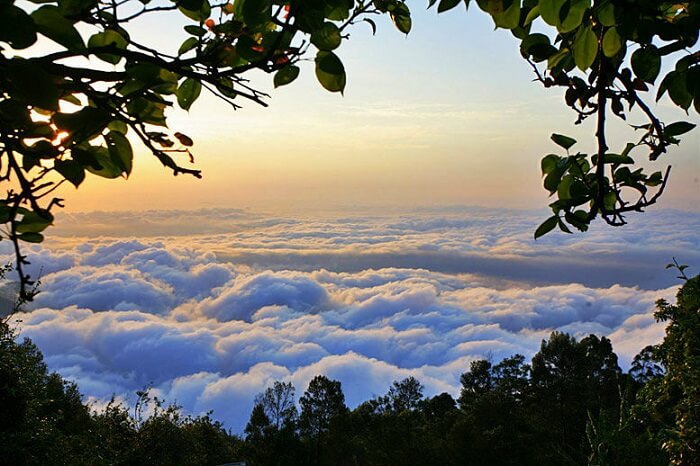 Image Source
Falling in love with the picture already? Well, the reality is far better than what it looks. Literally translating into a 'Little Israel', Vattakanal has all the capabilities of transporting you into heaven with its charm. For those who've been planning to spend this Valentine's day in the company of just each other, Vattakanal offers all the privacy, peace, and quiet in the world to make the occasion just about perfect for you. And we're pretty sure you wouldn't mind the company of few clouds!
Major Attractions: Dolphin's Nose, Karuna Farms, Vattakanal Falls, and Vattakanal Conservation Trust
Location: Kodaikanal, Tamil Nadu
Nearest Airport: Madurai – 120 kms
Nearest Railway Station: Kodaikanal – 80 kms
Further Read: 15 Best Valentine's Weekend Getaways In India For A Sweet Escape With Your Love!
Mesmerized by the charm of these places already? Get going to many of such amazing places with TravelTriangle's romantic India tour packages that you can customize to suit your interests and travel plans. Let TravelTriangle plan your holiday while you embark on an unforgettable, hassle-free, and a romantic journey this Valentine's Day!
Comments
comments