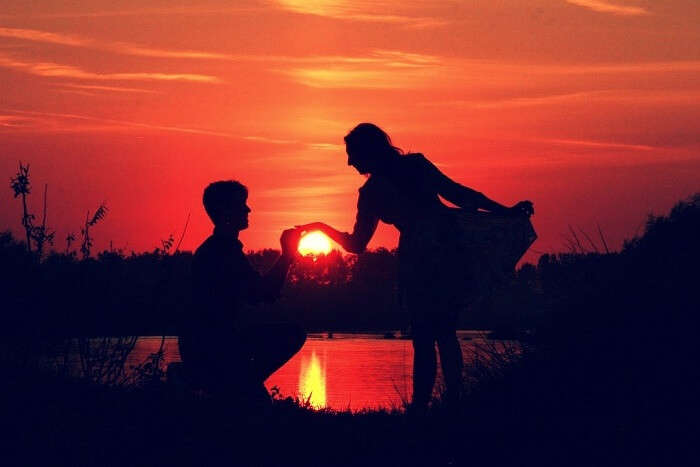 People who've been there and witnessed it, would agree without a second thought that there's a lot more to experience in the ever-vibrant city of Bangalore beyond its charming weather. And one such occasion is that of the Valentine's day in Bangalore when the whole city comes alive to showcase the emotion of love which comes to it naturally.
So if you've been looking forward to do something new to charm your soulmate, make note of these ten best experiences that will let you celebrate the day of love in a new light!
10 Experiences For Valentine's Day In Bangalore
Here is a list of top things that you can do for Valentine's Day celebration in Bangalore. How would like to spend this special day with your better-half?
10. Pick Your Favorite Valentine's Day Special Events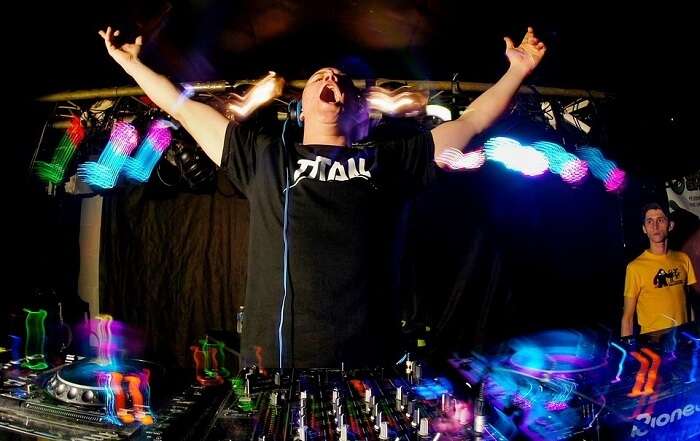 For the love of being together, the vibrant city comes up endless live shows, performances, couple workshops, and events so that the couples can make the most of the Valentine's day in Bangalore. Be it full-day event, a special event at the posh hotels and restaurants, or a far-away escapade, get going to these romantic places in Bangalore to express your love to your one and only!
Valentine Day Specials In Bangalore
i) Special Full-Day Event
Event: Love Nest Valentine's Day Special With DJ OM JIZABJA
Location: Silver Oak Resort, Bangalore-Doddaballapur Road, Near Yelahanka, Rajankunte, Bengaluru
Timings: 11 am onwards
Entry Fees
Stag Female: INR 1,600 | Stag Male: INR 1,800
Couple (Normal Entry): INR 3,000 | Couple (VIP Entry): INR 4,000
ii) Bollywood Night
Event: Valentine Special Bollywood Night At Tilt Gastropub
Location: #99, Ground Floor,4th B Cross, 5th Block, 1st Main Rd, Koramangala Bangalore
Timings: 8 pm onwards
Entry: FREE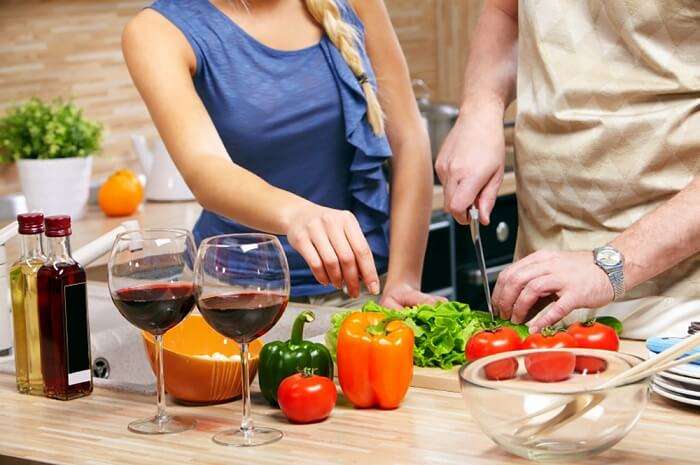 iii) Live Music
Event: Valentines Day Special ft. Neethusha Live At Hard Rock Cafe
Location: Bengaluru Hard Rock Cafe, 40, St. Marks Road, Near Anil Kumble Circle, Bangalore
Timings: 8.30 pm to 11.30 pm
Entry Fees (Entry + Cover)
Stag Female: INR 1,000 | Couple: INR 1,000
VIP Entry: INR 2,500
iv) Cook Together
Event: Couples Cooking Workshop By The Bubble Room
Location: 215, 39'A'cross, 9, Main Jayanagar, 5 Block, Bangalore
Timings: 11.30 am to 7 pm
Entry: INR 3000 per person
Must Read: These Best Resorts In Bangalore For Couples Offer Love, Luxury, And Old World Nostalgia
9. Let The Nature Make The Day Special For You

Be it the hills, the refreshing greens, waterfalls, or the offbeat escapades, the Silicon Valley of India encompasses numerous romantic places in Bangalore for couples to be just by themselves. Blessed by surreal beauty, the nature getaways in and around Bangalore are perfect for you to venture out on a day filled with love!
Nature Escapes In Bangalore: Nandi Hills, Anthargange, Shivagange, Savanadurga, Chikballapur, and more.
Suggested Read: 10 Comfortable Holiday Homes In Bangalore For An Ultimate Stay Experience
8. Gear Up For Celebrating Love Like The Royalty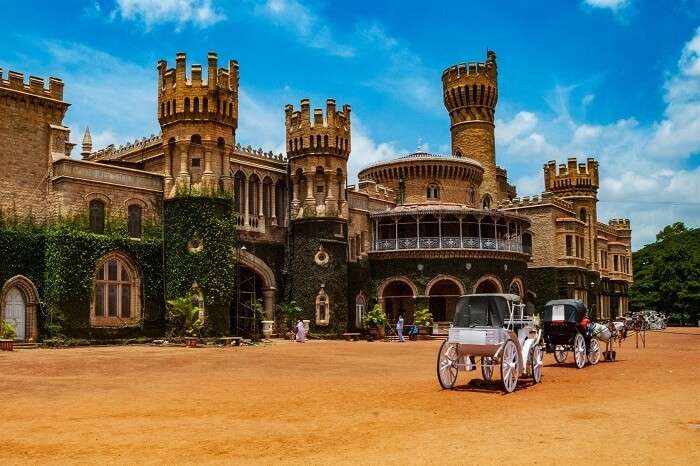 No other occasion can serve the purpose better than celebrating the Valentine's day in Bangalore by visiting the mesmerizing Guttahalli Palace and revel in the charm of royalty. From walking through the lush gardens of the royal courtyard to enjoying a ride in the carriage, feel nothing less than a king and a queen of your own kingdom.
Must-Visit Attractions: Tipu's Palace, Bangalore Palace or the Guttahalli Palace, and Devanahalli Fort.
Suggested Read: 58 Fabulous Places To See In A Day Around Bangalore
7. Take A Wine Tour With Your One & Only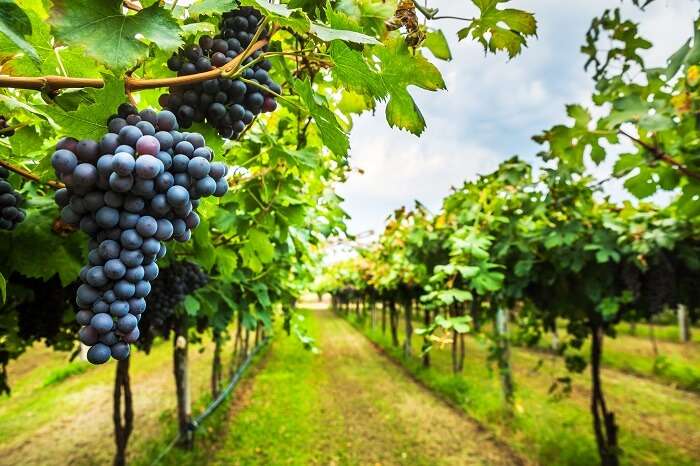 Though Sula vineyards in Nasik have blown everyone's mind in North India, the garden city of Bangalore is a charmer too when it comes to vast landscapes of the surreal vineyards. Walkthrough the vineyards, sip on your favorite wine, and learn more about how wine is made till the time it ages so perfectly on an enriching wine tour in Bangalore. You can also enjoy a stay at some of the best luxury resorts in Bangalore near the vineyards for an enriched experience. Enjoy the fun of grape stomping activities to enjoying a scenic drive through these lush vineyards, wine tours are one of the greatest hits of all the Valentine events in Bangalore.
Famous Vineyards In & Around Bangalore: Nandi Hills wine tour, Wine Tour With Barefoot Grape Stomping at Grover Zampa vineyards, SDU Vineyards, Alpine Vineyards in Mysore, and more.
Suggested Read: 8 Best Places To Visit In Bangalore In May To Enjoy The City Of Gardens!
6. Do Not Miss Out On The City's Pub Crawling Scenes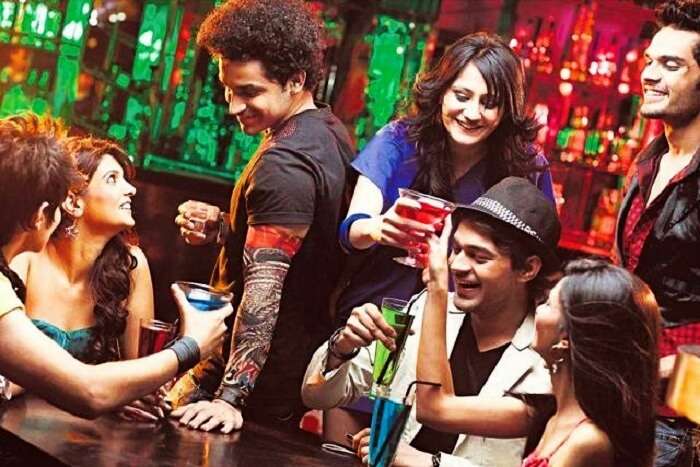 In search of the best Valentine party in Bangalore? The key to enjoying an awesome night with your soulmate is to experience the famous pub crawling in Bangalore. While the couples can indulge in bar hopping and dance the night away at various nightclubs, singles can also be a part of the crawl and gear up to mingle with new people for new beginnings this Valentine's day! There are also some pub-style Bangalore cafes that offer classic cocktail menus with mouth-watering delicacies.
Famous Pubs In Bangalore: The Crawl Street, Black Rabbit, Toit Brewpub, Big Pitcher, and Puma Social Club.
Suggested Read: 15 Picture-Perfect Pre-Wedding Photoshoot Locations In Bangalore In 2022
5. Be Spoilt For Choice At A Couple Spa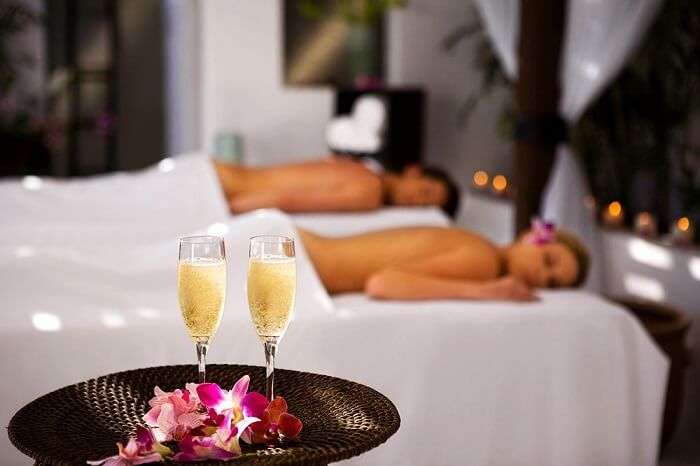 No way surpasses the charm of a couples' spa especially when it comes to celebrating Valentine's day in Bangalore. From a lavish milk bath to the aromatic oil massages, and from the luxuries of a chocolate body scrub to refreshing body wraps, rejuvenate your mind, body, and soul with your soulmate by your side and indulge in the best of spa therapies in Bangalore.
Famous Spa Experiences In Bangalore: The Palms Spa in Benson Town, Jiva Spa in Ulsoor, O2 Spa at multiple locations in Bangalore, SPA.ce The Spa in Cunningham Road, Indiranagar, and Whitefield, Soukya in Samethanahalli, and the White Mantra in Rustam Bagh.
Suggested Read: List Of 32 Best Cafes In Bangalore For A Wonderful 2022 Vacation
4. Experience The Magic Of A Candlelight Dinner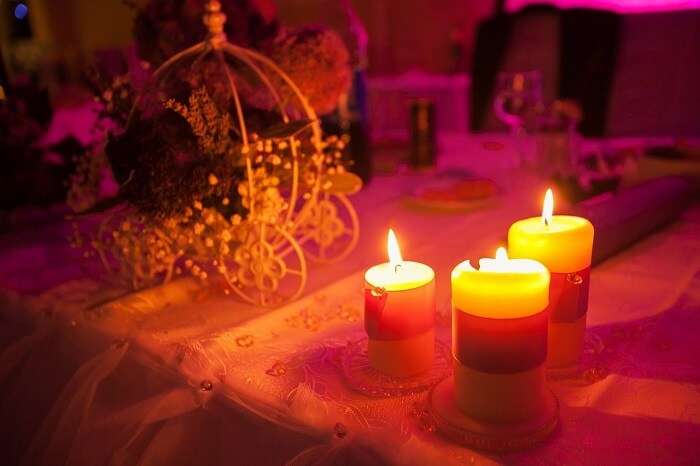 How can one miss out on the Valentine day dinner in Bangalore when it comes to the most romantic experiences in the city? Be it under the stars or at a stunning rooftop, be it a private poolside dining or luxury dining at a 5-star hotel, there is no dearth of romantic restaurants in Bangalore to experience the most special candlelight dinner with your better half.
Romantic Restaurants In Bangalore: The Persian Terrace, The Tao Terraces, Rim Naam Oberoi, Bricklane Grill, and more.
Suggested Read: 25 Best Restaurants In Bangalore For Every Occasion, Budget & Cuisine, Just For You!
3. Celebrate Love At India's First Underground Cave Resort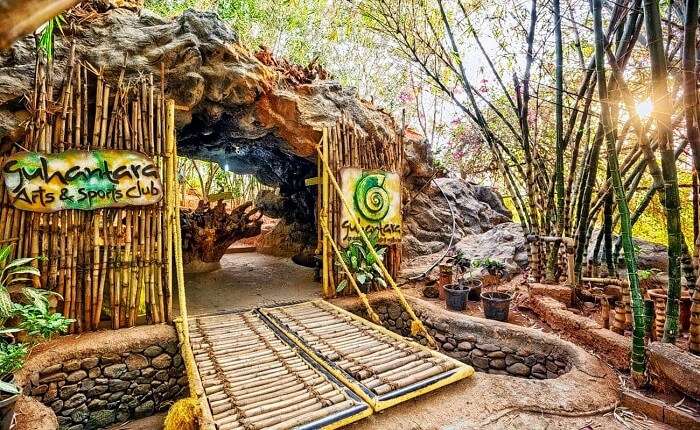 Though we don't know how cavemen used to celebrate Valentine's you can surely experience how it feels to live inside one. Located in the southern district of Bangalore, Nowkal Palya in Kaggalipura is a proud home to the country's first-ever underground cave resort of Guhantara. Without having to sacrifice the luxuries of a lavish lifestyle, stay at this resort to celebrate Valentine's day in Bangalore in the most unique and offbeat way!
Location: Sy. No. 177 & 177/18, Off Kanakapura Main Road, Nowkal Palya, Bangalore South Taluk, Kaggalipura, Bangalore
Phone: 097409 98982
Distance From Bangalore: 35 kilometers
How To Reach: One can reach the resort via road by taking the NICE Bangalore-Mysore Expressway.
Suggested Read: Stay At These 8 Homely Cottages In Bangalore On Your Sweet Escapade In 2022
2. Drive To These Romantic Places For A Day Out With Your Love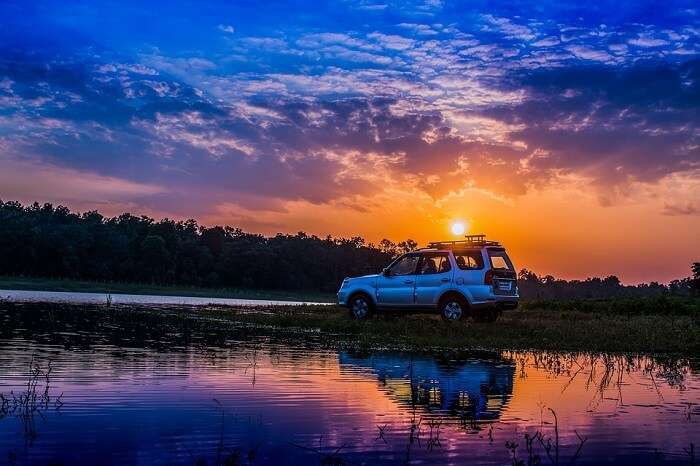 Naturally blessed with quixotic places in and around, Bangalore is utterly romantic inside out. And what can be more romantic than hitting the scenic roads of the Garden City on a romantic drive with your partner? From the lush greenery of the coffee plantations in Coorg to a lovely nature escape in Wayanad, take the love of your life to the most romantic weekend getaways near Bangalore and go for Valentine's Day celebration in Bangalore.
Romantic Places Near Bangalore: Horsley Hills, Ramanagara, Nandi Hills, Yelagiri Hills, Bheemeshwari, Madhugiri, Hogenakkal Falls, Mysore, Coorg, Chikmagalur, Yercaud, Hampi, Gokarna, and more.
Suggested Read: 6 Exotic Villas In Bangalore That Offer The Most Luxurious Experience In 2022
1. Feel The Love In The Air With Romantic Hot-Air Ballooning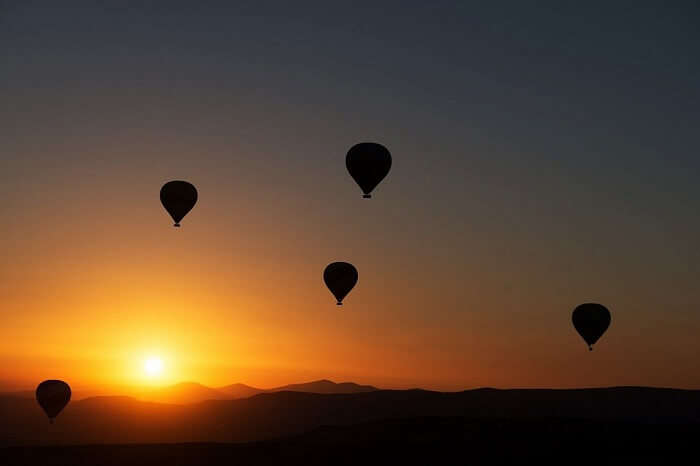 Last but not the least, feel the love in the air by romancing up in the air as you choose to celebrate Valentine's day in Bangalore with a surreal hot-air balloon experience. Up in the sky and amidst the floating clouds, celebrate love in a new light as you witness the mesmerizing sunrise with your one and only! It is also one of the most adventurous ways to explore the best places in Bangalore.
Location: Jakkur Aerodrome, Opp Renault Showroom, Basaveshwara Nagar, Bellary Road, Bangalore
Timings: 5.30 am to 7.30 am
Phone: 095914 46996
Suggested Read: Coorg Trip From Bangalore: A Pocket Guide For Your Next Getaway!
Top 5 Valentine's Day Events In Bangalore
Check out how you can make your Valentine's Day special in Bangalore and spend some amazing time. If you are single then you need not worry as not all the events listed here are meant for the couples. Dig in to see the treasure!
1. Whattay Brew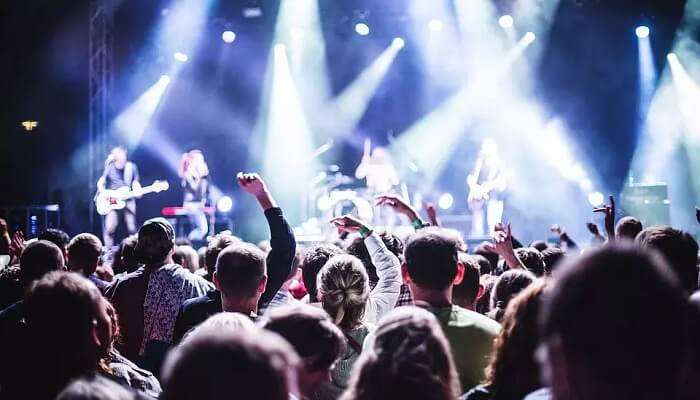 If you are checking out the best place to celebrate Valentine's Day in Bangalore then look no further than Whattay Brew. It is calling all the couples for some endless fun and a night full of dance and music. The place will be equipped with a DJ (Techno/Bollywood/Retro) which will play all the top numbers for you to groove on with your partner. Apart from this, you will be served amazing concoctions and beautiful delicacies.  It is definitely one of the best places to enjoy Valentine's day events in Bangalore. This place is also one of the best nightclubs in Bangalore.
Location: Kanakpura Road, Paramount Gardens, Jyotipuram, Bengaluru, Karnataka 560062, India, Bangalore, India
Timings: 7 pm onwards
Suggested Read: Live The Bangalore Way: 10 Fun Places In The Silicon Valley For An Ultimate Whoopee
2. CloudNyn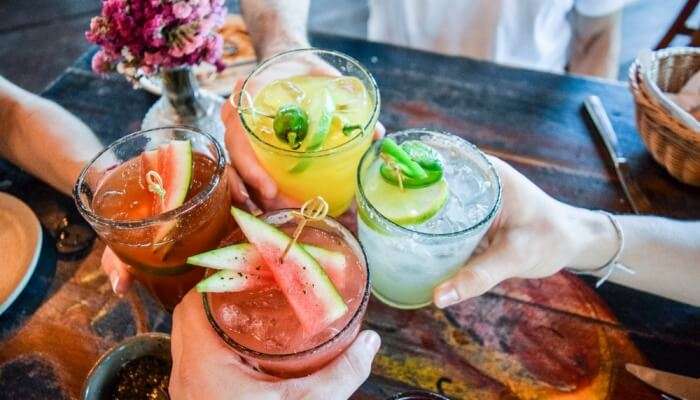 CloudNyn calls all the romantic people out there to spend some quality time with their loved ones. From tasty delicacies to DJ, CloudNyn is offering a lot to the guests. Be ready to dance on some romantic numbers with your partner and make it a special night for each other. The best part about this place is that it is offering free entry to couples till the clock turns 9 pm. You better hurry if you want to attend one of the best Valentine's Day events in Bangalore, that too, for free. It is also a top-rated place for a romantic escape with your partner that you will never forget.
Location: Kanakpura Road, Paramount Gardens, Jyotipuram, Bengaluru, Karnataka 560062, India, Bangalore, India
Timings: 8 pm – 1 am
Suggested Read: New Year Parties In Bangalore (2022): 28 Top Venues
3. The Leela Palace

If you are single but want to make your Valentine's Day special in Bangalore then you must head to The Leela Palace for the biggest Anti-Valentines Party for Singles. The best part about this event is that they will be offering free drinks to ladies (till 10:30 pm) and that a photoshoot will also be arranged. So, you not only have fun at the party but also go back with some amazing pictures for memories. This also makes it one of the best places to observe Valentine's day celebration in Bangalore.
Location: 23, Level C, The Leela Palace, Old Airport Road, Kodihalli, Bengaluru, Karnataka 560008, India
Timings: 8 pm – 12 am
Hurry before you miss out on the limited passes that are only available at the venue!
Suggested Read: 5 Picnic Spots In Bangalore That Are Perfect For A Quality Time With Loved Ones!
4. The Hub

Get ready to make your dreams come true and watch the most romantic movie of Bollywood or Hollywood (whatever your choice) with your partner. Sunset Cinema Club calls all the romantic couples for a perfect date night for Valentine's Day celebration in Bangalore. You will get an ideal ambiance on the newest rooftop cinema that consists of comfortable mattresses, personalized headphones, and amazing lights.
Location: Hub, The Hub, 84/85 infantry Road, Bangalore, India 560001
Timings: 8 pm (Titanic – 14th Feb), 8 pm (DDLJ – 15th Feb)
Suggested Read: 8 National Parks Near Bangalore: Plan Their Exploration For A Date With Nature
5. Soho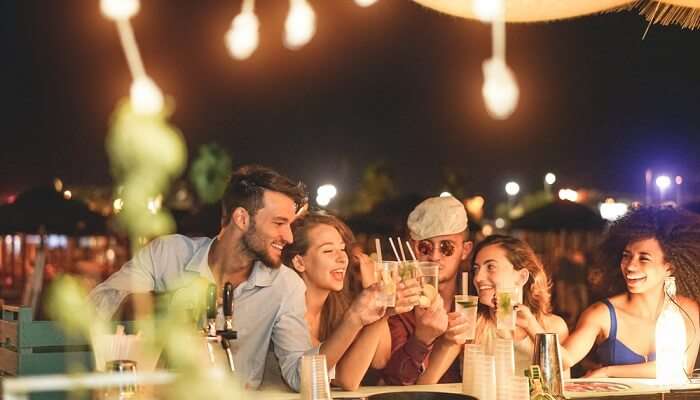 On 14th February, not only Soho celebrates Valentine's Day but it also celebrates its anniversary month which is why the tempo of celebrations is always high. It welcomes its guests with a pumped-up mood and the ambiance is great. Moreover, the shooters are on the house for ladies till 10:30 pm and couples can get unlimited beer for INR 699 between 8 pm to 10 pm. The list of discounts and offers does not end here. You will find more offers for the day and goodies too. This just made Soho the best place to celebrate Valentine's Day in Bangalore.
Location: SOHO Pub 'n' Grill, Gandhi Bazar, Bangalore, India 560004
Timings: 8 pm
Further Read: Top 14 Lakes In Bangalore: Find Your Favorite Spots To Create Perfect Memories
So what are you waiting for? Plan a special day for your loved one with these romantic experiences, celebrate Valentine's day in Bangalore and create cherishable memories forever. Do something different this Valentine's Day and head to Bangalore to celebrate with your loved one in a stylish way!
Frequently Asked Questions About Valentine's Day In Bangalore
Is it safe to enjoy Valentine's day events in Bangalore amidst the Covid-19 pandemic?
Yes, it is perfectly safe to visit these places as the place has a relatively low number of cases. But don't take our word for it: check up on the latest travel advisory, Covid-19 measures, and the number of cases before your departure. It is safer to undertake solo travel or with a small group of people to somewhere that is not overly crowded at the moment.
What is a Pub Crawl?
Pub Crawl is a famous guided activity in Bangalore wherein a group of people go bar-hopping and exploring various nightclubs in the city, visit various restaurants, and dance the night away!
Which are some of the most romantic getaways from Bangalore?
Mysore, Nandi Hills, Coorg, Hogenakkal Falls, Chikmagalur, Hampi, Gokarna, and Yercaud are some of the most beautiful and romantic getaways from Bangalore that are perfect for celebrating Valentine's day amidst all the peace and quiet.
What is there to do on Valentine's day in Bangalore?
There are several things that couples can do to celebrate Valentine's Day in Bangalore. One can explore romantic places in the city, go pub crawling, opt for a couples spa or go for a date night.
Are parking services available at Valentine's Day venues in Bangalore?
Most of the Valentine's Day venues in Bangalore offers parking as well as valet services to the guests. You can confirm it before booking your tickets or buying the passes.
Do Valentine's Day venues in Bangalore offer bar/alcohol services?
Most of the venues offers bar/alcohol services if they have a liquor license. On the other hand, some of them do not offer hard drinks and provide amazing mocktails to the guests.
What are the entry charges per person for Valentine's Day party?
The price range of different venues depends on various factors like the number of guests, air-condition, and other services offered. The charges can range between INR 550 to INR 2,500 which includes all the food and beverages.
How can I take a look at Valentine's Day venues before booking?
Most of the venues post pictures of the halls on their website where the celebration is going to occur. Apart from this, you can also visit any of these places to check out the venue of time allows.
How far is Coorg from Bangalore?
Coorg is located at a distance of about 260 kilometers from the city of Bangalore. There are many ways to get to Coorg including a road trip, train travel, or a quick bus ride from central Bangalore.
People Also Read:
Valentine's Day In Delhi Valentine's Day In Goa Valentine's Day In Mumbai