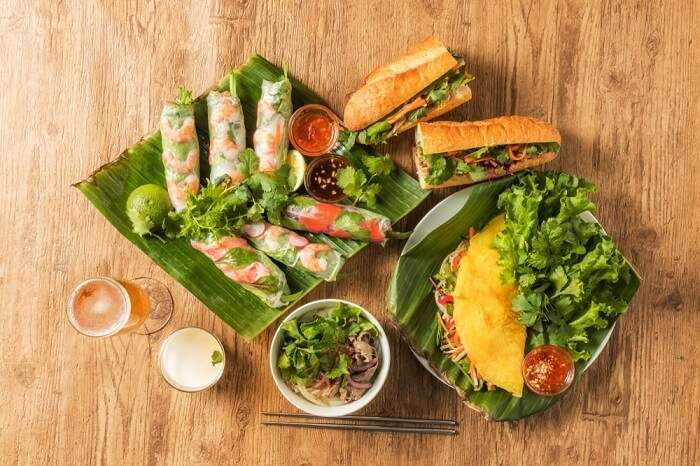 If Vietnam is known for its remarkable landscapes and cultural complexities, Vietnamese Food is an amalgamation of exciting flavors and contrasting textures. If there is any South East Asian Country which tops the chart in the culinary scene, it is Vietnam. Vietnamese cuisine is often made from simple ingredients resulting in complex yet exciting flavours.

Geography has a great role to play in the diversity and variety in Vietnamese dishes. While north is influenced by Chinese flavours, central coastline is known for is use of herbs and complex techniques. The taste and variety in Vietnamese food has made the country an epicurean hotspot.
If you haven't tried these Vietnamese dishes, you are missing out a lot on food scenes.
Top 10 Vietnamese Food Items You Are Missing Out On
1. Banh mi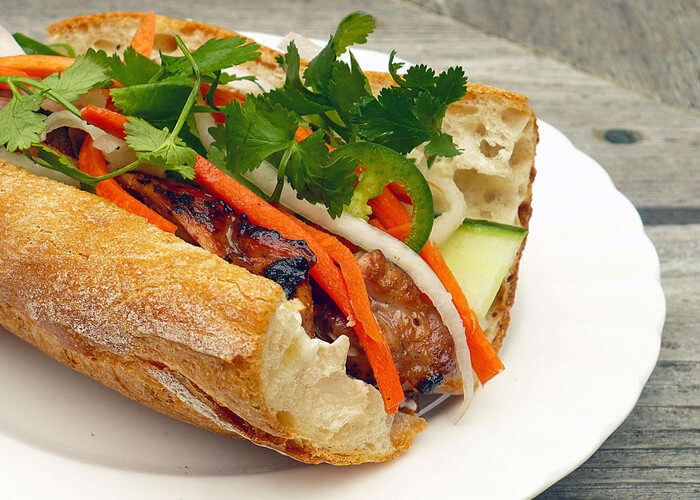 A typical Vietnamese fresh sandwich, Banh mi is a fusion of juicy chicken and pickled vegetables seasoned with pepper mayo, chilli sriracha, and soy. In Vietnamese language, Bahn means bread and mi is for wheat. The baguette has an influence from France when Vietnam was under colony. It is a popular Vietnamese street food bursting with fresh flavours from France and Vietnam.
Best Place: The Banh My Queen, Hoi An
Suggested Read: Vietnam Nightlife Guide: 15 Places For Experiencing The Best Of Nightclubs, Bars, Shopping & More
2. Banh xeo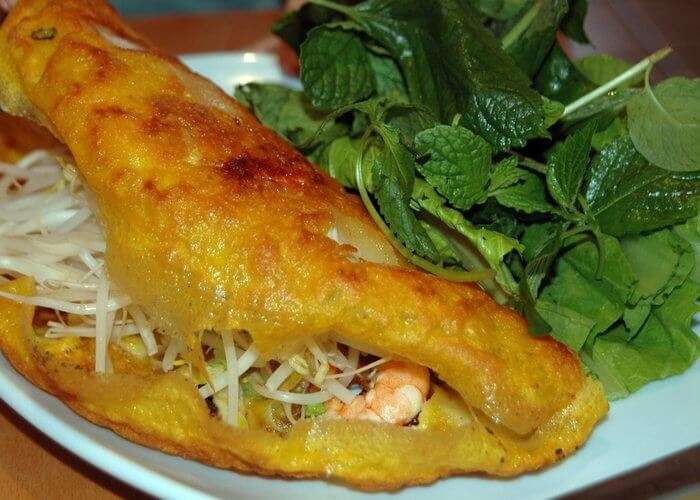 A Vietnamese counterpart of Indian Dosa, Banh xeo is a savoury fried pancake filled with pork, shrimp, mung beans, and sprouts. It is translated to sizzling pancake because of the sound it makes when the rice batter is poured on the griddle. The savour rice batter pancake is full of fresh flavours and crunch from the beans. The traditional Asian recipe is served with chilli sauce across all Vietnamese restaurants.
Best place: Banh Xeo Muoi Xiem, 204 Nguyen Trai S.t
3. Goi cuon – Vietnamese Spring Rolls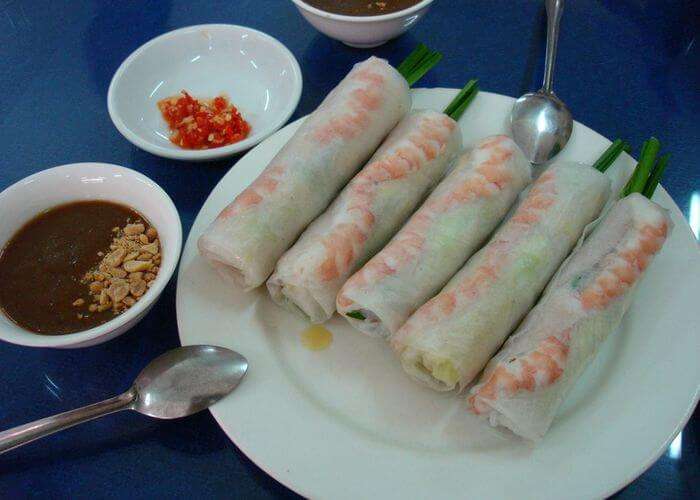 Contrary to Chinese spring rolls which are fried, Goi Cuon are translucent spring rolls made from traditional rice paper called banh trang. The fresh greens, coriander, and meat (generally pork or crab). The right way to eat these spring rolls is to dip every bite in the peanut-rich sauce with a side of lettuce salad. The delicious Vietnamese street food is available on road-side stalls all over the country.
Best place: District 7, Saigon
Suggested Read: The Controversial VietJet To Connect Vietnam & India By Direct Low-Cost Flights!
4. Pho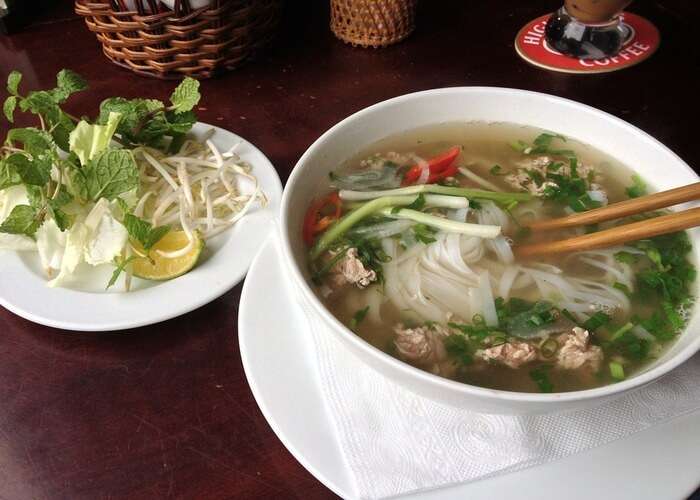 How can your trip to Vietnam be complete without trying the national dish? Pho, pronounced as 'fur', is basically a clear soup made up of noodles, herbs and beef or chicken. A popular street food in Vietnam, the people of this country runs of Pho. Though you will find variations in its preparations throughout the country because of the cultural influences.There are popular chains all across the world serving this wholesome Vietnamese food.
Best place: Gia Truyen, Hanoi
5. Goi Ga Bap Cai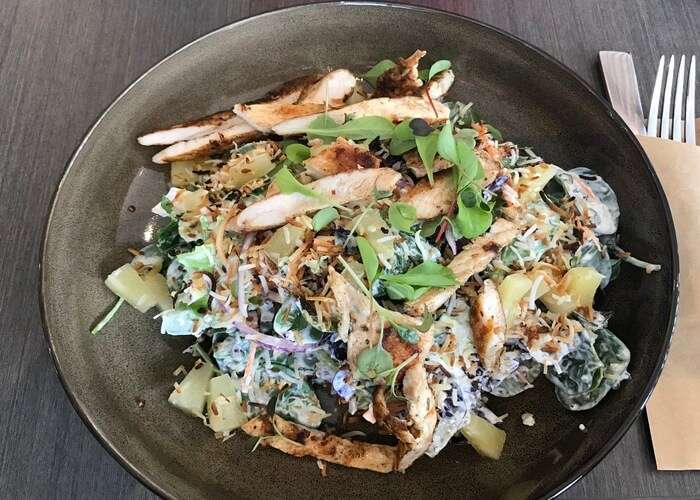 Goi Ga is a popular refreshing Vietnamese Salad which is traditionally served on special occasions. The hand shredded chicken and julien cabbage are tossed with mint and freshly squeezed lemon juice which bring about a refreshing flavour. The crushed peanuts provide the saltiness and crunch to the salad. One bowl of this ambrosia for lunch will keep you filled for the rest of the day.
Suggested Read: How To Pull Off A Solo Trip To Vietnam And Cambodia At An Incredibly Low Budget
6. Com Tam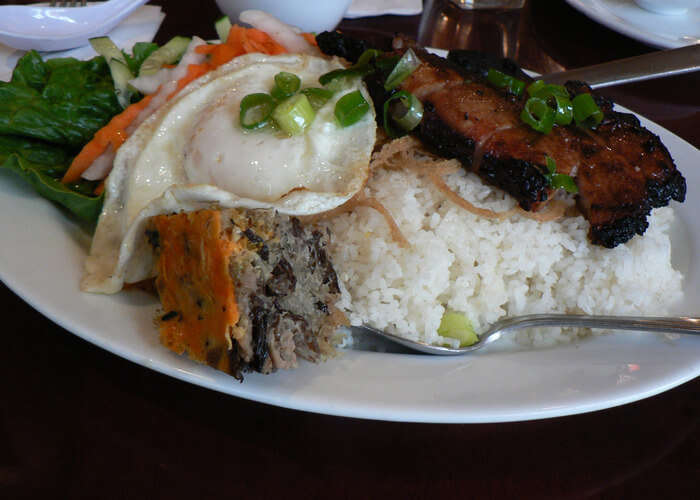 Another famous dish on Vietnamese food list, Com Tam is a broken rice dish served with a plethora of things on the side -barbecued pork, fried egg, prawn paste cake, and authentic fish sauce. The slow-cook-fast-serve meal is served is a popular item on the menu of Vietnamese restaurants. This gastronomical delight is a popular lunch dish that will definitely make you drool.
Best Place: Look for the stalls that goes by 'Com Tam' in Ho Chi Minh.
Suggested Read: Vietnam In Summer: 10 Amazing Places Every Traveler Should Visit
7. Cha ca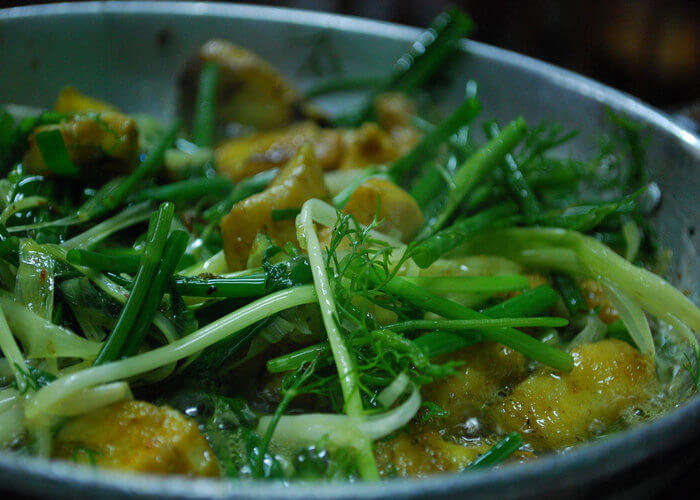 A delicious delicacy for the sea food lovers, Cha Ca is one of the most iconic Vietnamese dishes. Cha ca, or the fish cakes, are sauteed in goodness of butter and dill with spring onions which is then served with rice noodles and sprinkle of peanuts. The dish is full of interesting ingredients. It has got herbs, saltiness from butter, crunch from peanuts, and obviously the fish cakes. This Vietnamese food item is full of flavours and a popular culinary delight.
Best place: Cha Ca La Vong, Ho Chi Minh City
Suggested Read: Top 10 Vietnam Beach Resorts For A "Living In The Moment" Holiday
8. Mi Quang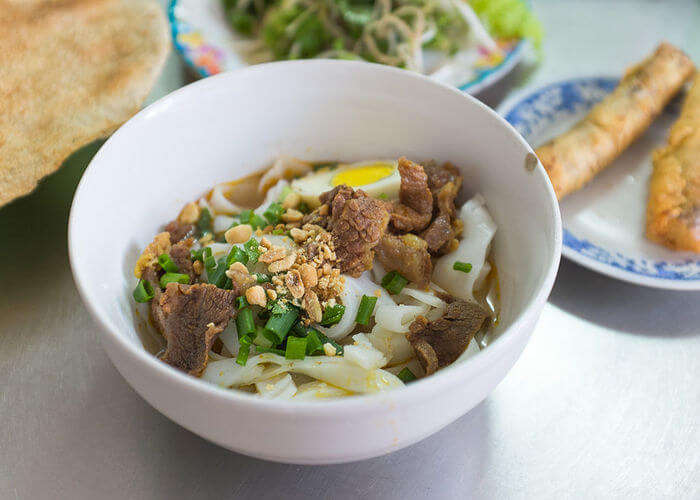 Mi Quang is a popular lunch item in Vietnamese food which is recognised all around the country. It was originated in Quang Province of Vietnam. Hence, the name. It is a noodle dish prepared with rice noodles, beef, veggies, and broth. Unlike Pho, the broth of Mi Quang is strongly rich in flavours and used in just a little quantity. It is of cultural importance among Vietnam dishes and is served on various family occasions.
Best place: Thanh Cao Lau Street, Hoi An
9. Nom hoa chuoi

Finally, a vegetarian delight. Mon hoa chuoi is a salubrious banana flower salad made with goodness of shredded veggies and a punch of chilli and lime. It is a great meat-free option for vegetarians and salad lovers. Vietnamese salads are so refreshing and flavorful made from an assembly of simple ingredients.
Suggested Read: 20 Best Beaches In Vietnam For Some Sun, Sand & Surf!
10. Cao Lau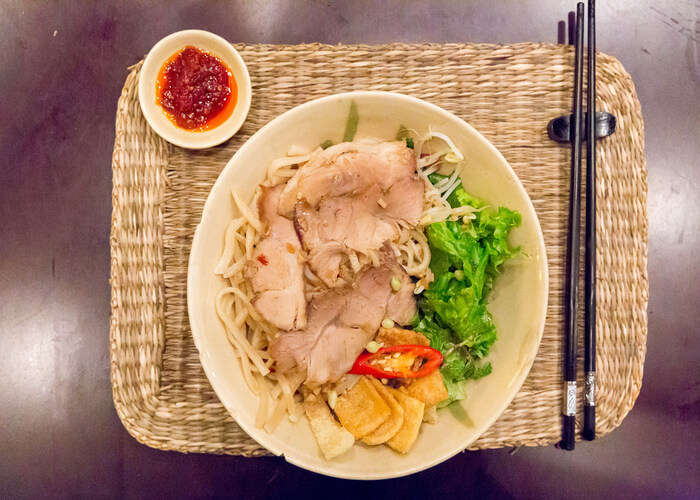 A Hoi An delight, Cao Lau is another remarkable Vietnamese food item from Central Vietnam. It is made from thick rice flour noodles, bean sprouts, and pork rind- croutons drowned in a broth flavoured with mint and star-anise. This dish is found only in Hoi An since it is was invented here. If you want to taste the real flavours of Vietnam, Cao Lau is the best way to experience the cuisine.
Best place: Than Cao Lau, Hoi An
Once you try the Vietnamese cuisine, it will become your most favourite. Plan your Vietnam Tour Packages with TravelTriangle and explore this amazing South East Asian country.