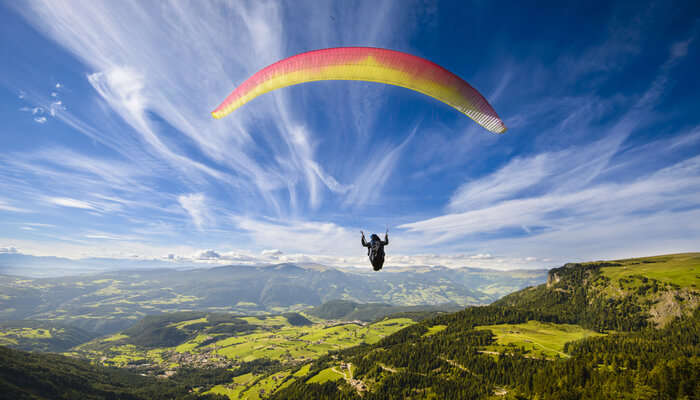 Hyderabad is one of the fastest-growing cities in India. Apart from being a hub of IT, it also offers some amazing places and soul-stirring experiences that you will remember forever. Some of the best places to visit in Hyderabad are Charminar, Golconda fort, Chowmahalla palace and more. If you crave for something more, then, try adventure sports in Hyderabad. There are many options that will leave you spoilt for choice.
Best Adventure Sports In Hyderabad
This list provides you with the list of best adventure sports in Hyderabad Telangana.
One can make use of this list to have a great time at Hyderabad.
1. Go Karting

Go Karting has become one of the most popular sports in India. Many love to indulge in this sport over a weekend. This is one of the best sports to compete with your friends. There are many good go-karting tracks in and around Hyderabad. The tracks are well maintained and they are equipped with trainers and marshals. There are different types of go-karts like single, double and it is priced based on the type of kart and track. One can also hire the tracks for rent on an hourly basis.
Location: Runway 9
Price: Starts from INR 250 for 6 laps
Must Read: 7 Resorts In Hyderabad Where You Can Plan You Lavish Getaway This Year!
2. Rock Climbing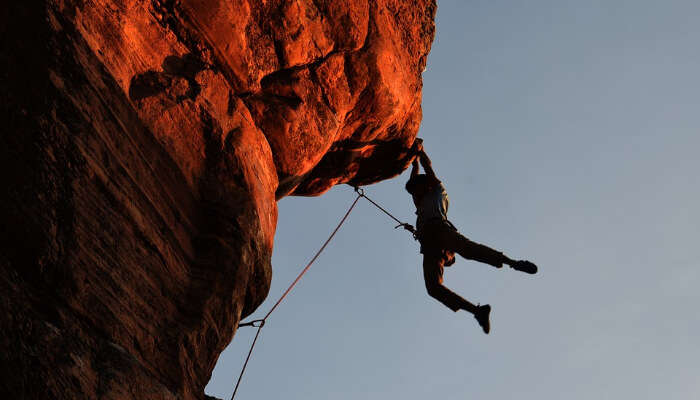 If you are a mountaineer inside your heart but at the same time, you are afraid to scale the huge mountains, then Rock climbing should serve as the key. An artificial set up is made of the rocks in the indoors where the climber is provided with special suits for climbing. The climbing is made easier and more exciting by wearing the right pair of shoes for climbing. Rock climbing is one of the best adventure sports in Hyderabad for the immense popularity it has been gaining for the past few years.
Location: Prasads IMAX
Price: Starts from INR 400 per person
Suggested Read: 10 Resorts Near Hyderabad For Couples For The Most Romantic Time Together
3. Bungee Jumping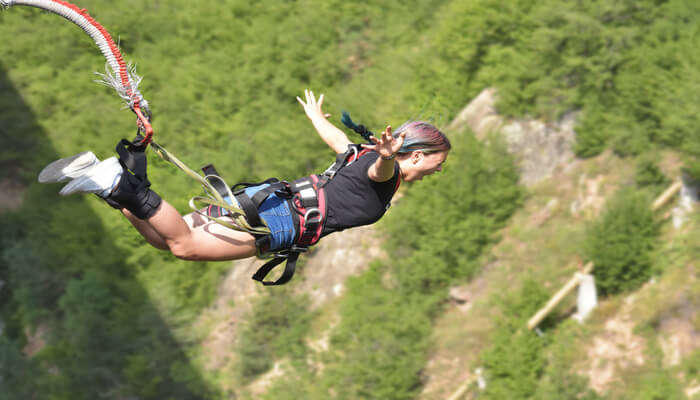 Bungee Jumping is a great sport to try to get that adrenaline rush. This sport became quite famous abroad before it came about in all the major amusement parks in India. There are many bungee jumping spots in some of the renowned tourist spots in natural habitats. But many are afraid of bungee jumping in the natural habitat. The bungee jumping parks in the indoors are a great way to unwind oneself at the weekends. The artificial set up of bungee jumping assures a lot of safety to the jumpers. There are also safety nets which are spread underneath to ensure that none gets hurt.
Location: Leonia
Price: Starts from INR 2000 per person for two days
Suggested Read: 23 New Year Eve Parties In Hyderabad 2022 You Should Not Miss!
4. Laser Tag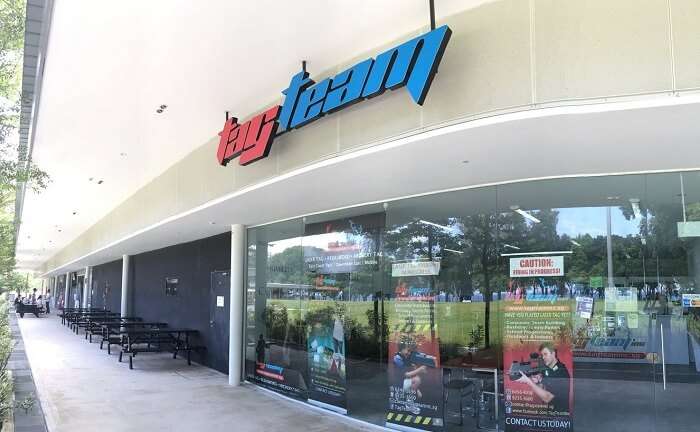 Spending some time in the dark by wearing infrared vests that emit the rays surrounded by neon lights is an amazing experience. A player can be a part of the team and he has to defend his team by targeting the opponents. The handheld infrared ray emitting guns creates an illusion of firing at the opponents. This is one of the most sought-after games by today's youngsters who like Virtual Reality. One can spot a lot of video game fans in places offering Laser tag activity.
Location: SVM Mall
Price: Starts from INR 300 for 3 hours per person
Suggested Read: 10 Honeymoon Places Near Hyderabad For A Short Romantic Escape In 2022
5. Zorbing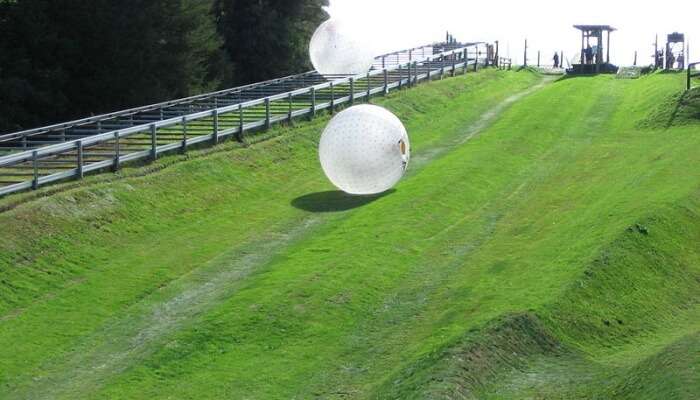 Zorbing is one of the recent adventure sports that has been the talk of the town in Hyderabad. It involves getting inside an orb and rolling downhill or any flat surface. It is way too exciting as one rolls inside the orb and could not differentiate the sky and land surface. One can spend about 45 minutes inside an orb. One need not fear of breathing issues inside an orb for the inner chamber is designed in such a way that it allows air to seep in. There are also options for aqua zorbing in Hyderabad which is way more thrilling. Zorbing is undoubtedly one of the best outdoor adventure sports in Hyderabad.
Location: Shilparamam
Price: Starts from INR 700 for 1 hour per person
Suggested Read: 13 Best Beaches Near Hyderabad For A Relaxing 2022 Vacation With Your Loved Ones!
6. Trekking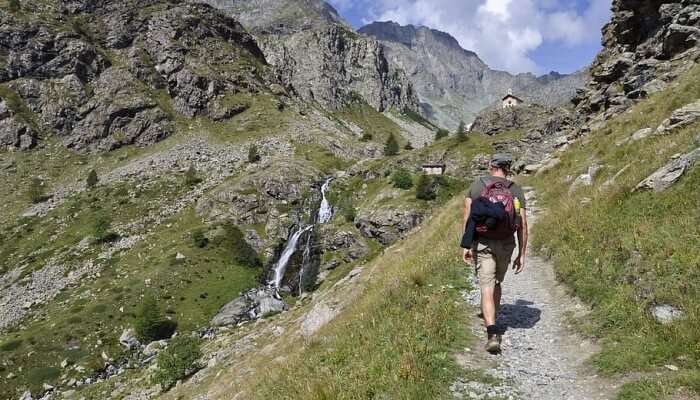 Trekking involves exploring the unexplored. Trekking can be completed in a day or half a day; all these depends on the location. Trekking helps one to bring out the adventurous zeal inside them. Trekking is one of the best activities to try out in the hills and other rough terrains outside Hyderabad. That too Hyderabad is filled with a lot of hills and other mountainous regions. There are also some terrains maintained by private owners. Trekking is a lot more fun than hiking as it is done in terrains that are not man-made. One can also enjoy a very cool climate in the hills.
Location: Medak Fort
Price: One needs to pay a certain price to the trekking organiser
Suggested Read: 25 Best Resorts In Hyderabad For Couples To Relax And Rejuvenate In 2022!
7. Boating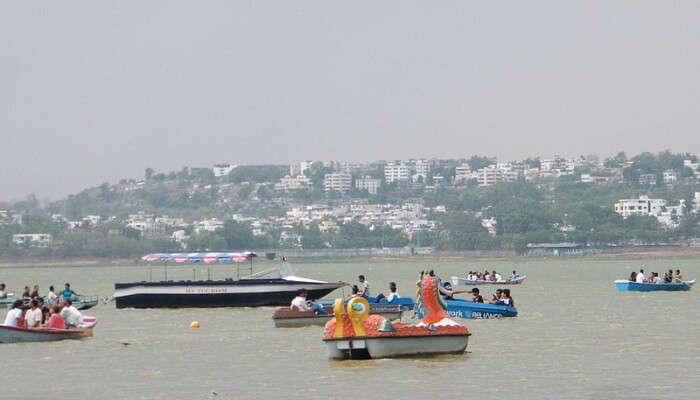 There are many places for adventure sports in Hyderabad. Boating is one of those adventure sports which is not too risky and can be enjoyed by the whole family. Hyderabad is filled with many parks. There are natural lakes as well as artificial lakes inside the parks. The Hussain Sagar Lake which has a large and tall Buddha Statue in the middle of the lake is a startling attraction. Boating is also offered at parks at fewer rates. There are huge boats inside the parks that can take an entire family at a time for a ride in the lake. If you are looking for adventure sports to enjoy with the whole family despite the age group, one should prefer boating.
Location: Lumbini Park
Price: Starts from INR 250 per person for a ferry ride
Suggested Read: 10 Haunted Places In Hyderabad With Real Ghost Stories For Spooky Trips In 2022
8. Paintball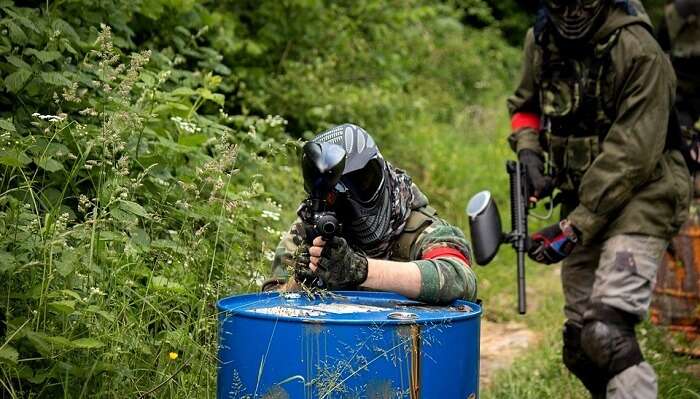 Paintball is one of those adventure games that gives a simulation of being on a battlefield. One can engage in this game with their friends. The players can split themselves into teams and then choose to attack the other team. The real set up of battleground and the dressing equipment provides an amazing feel.
Location: Odyssey Wonder
Price: Starts from INR 400 for 5 hours per person
Suggested Read: 14 Gorgeous Waterfalls Near Hyderabad That You Can Visit In 2022 For A Jaw-Dropping Experience
9. Kayaking

Kayaking is a great activity if one enjoys paddling the waters. The boats are mostly driven by motors. The boats are large and are made of metal. The kayaks are mostly flat bottomed and are filled with air, one has to wear all the life jacket before getting into the kayak for a ride in the waters. One need not fear of tipping from the kayaks as it is designed in such a fashion. The kayaks cannot take in too many people at a time and are designed purely for adventure. Kayaking is done in still waters. There are many freshwater reservoirs in Hyderabad which allow for kayaking.
Location: Kotpally Freshwater Reservoir
Price: Starts from INR 500 per person
Suggested Read: 39 Charming Tourist Places Near Hyderabad To Visit On A Weekend In 2022
10. Surfing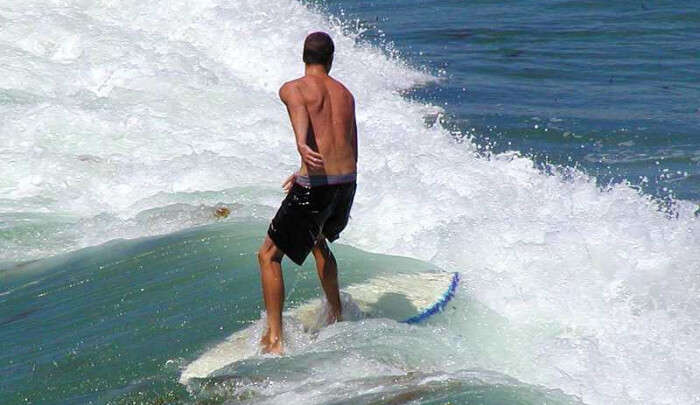 If you want to feel the waves but you are stuck in a place like Hyderabad, you need not worry as there are many adventure parks that provide you with the feel of surfing in the waves. The waters are maintained very clean and surfing boards are provided for rent. The specially designed pools create artificial waves that give you the ultimate pleasure of water splashing all over you. The intensity of the waters is quite high and one needs to learn to balance well.
Location: Leonia
Price: Starts from INR 2000 per person for two days
Suggested Read: Delve Into The Nightlife In Hyderabad At These 21 Exquisite Clubs And Bars
11. Paragliding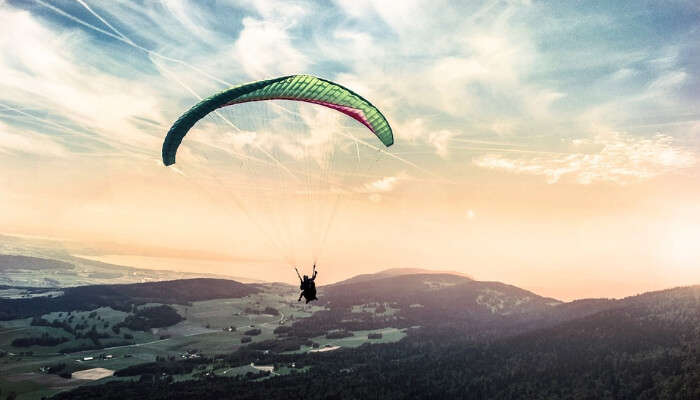 Paragliding is one of the best adventure sports in Hyderabad. One can take the ride with the right attitude. Paragliding involves taking a jump into the air by launching from the foot. The fabric structure of the paraglider makes it float in the air. The cost of the equipment is not too high. Paraglider gives more thrill than the parasailing as paraglider depends totally on the preparedness of the seeker. The first-timers need not worry as they are accompanied by trainers. The lifeguards are provided to the players.
Location: Banjara Hills
Price: Starts from INR 1000 per person
Suggested Read: 55 Fascinating Places To Visit In Hyderabad In 2022 To Witness The Rich History And Glory!
12. Sailing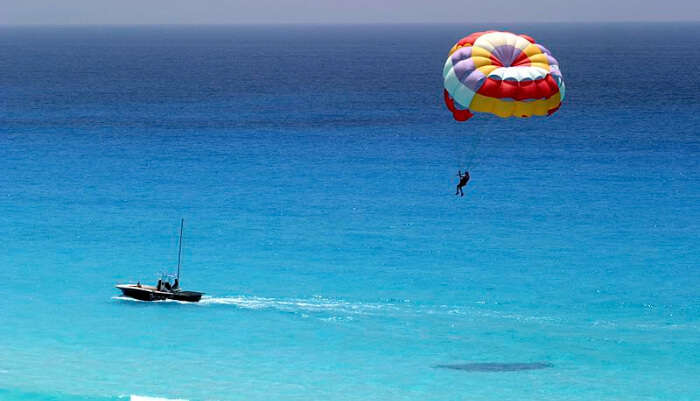 If you wish to bring out the sailor in you, then you must take the rides in the waters of Hyderabad. Yachts provide the ultimate feel of riding in the seas while even taking a ride in still waters. There are few yacht clubs in and around Hyderabad which give you this unforgettable experience.
Location: Hussain Sagar Lake, Boat's Jetty, Sanjeevaiah Park, Necklace Road 500004 Hyderabad
Price: Starts from INR 1000 per person
Suggested Read: 20 Famous Temples In Hyderabad To Visit In 2022 For Peace And Spiritual Quest
13. Shooting

You might have enjoyed shooting balloons at a beach when you were a kid, but as you grow, you would want to indulge yourself in some real-time precision shooting. There are many shooting arenas in and around Hyderabad that enhance your shooting skills. The guns are loaded very well and are aimed at the precision layered target. The shooting activity is priced very reasonably. Though one might not master the art of it in the very first instance, one will soon learn the tactics of it with practice.
Location: SAAS Shooting Range
Price: Starts from INR 1000 per person for training
Suggested Read: Camping Near Hyderabad: 7 Spots To Reconnect With Yourself In 2022!
14. Ziplining

Ziplining is the activity where one is tied to a cable and is transported from one point to another. Helmets and other safety measures are undertaken to facilitate safe zip lining. This is one of the top adventure sports in Hyderabad. The presence of this kind of adventure sports is found mostly in the hilly region. One need not travel that long to enjoy all of this. Hyderabad itself offers many adventure sports like these.
Location: The Great Hyderabad Adventure Club
Price: Starts from INR 1000 per person
Suggested Read: 12 Most Happening Holi Parties In Hyderabad In 2022
15. Rock Walking

This is the adventure sport for those who are not fond of rock climbing. The ones who are not fit enough for rock climbing can choose to take a walk around the rocks. The rock climbing can be performed indoors but rock walking cannot be performed indoors. These kinds of walks are conducted with a motive to save the rocks.
Location: Golconda Hills
Price: It doesn't have a price
Further Read: 15 Mesmerizing Hill Stations Near Hyderabad Waiting To Be Explored In 2022
Hyderabad, the place where history resides has now been transforming itself as well. With the fast-paced evolution, the city now boasts of many things that are the result of modernization even the adventure sports. There is hardly any adventure sports that Hyderbad doesn't have. So, plan a trip to Hyderabad, give your adrenaline rush a chance and taste the adventure in the best way possible.
Frequently Asked Questions About Adventure Sports In Hyderabad
Why one should try adventure sports in Hyderabad?
Hyderabad is one of the fastest-growing cities in India with a large youth population. These youth are always open to challenges and tasks. The adventure sports are designed keeping these expectations in mind. This is one of the biggest reasons to try out adventure sports in Hyderabad.
Are people very interested in trying out adventure sports in Hyderabad?
Yes. The number of different adventure sports priced at fewer rates shows that people are way too interested. There is a huge crowd on the weekends.
Are there different kinds of adventure sporting locations in Hyderabad?
Right from bungee jumping to kayaking, there are different kinds of adventure sports locations. They are all located in spacious areas.
Are the adventure sporting places equipped with all safety measures in Hyderabad?
The adventure sporting places have all the required sporting measures. The places are filled with trainers and other safety gear.
What are some of the steps one must follow before trying out adventure sports in Hyderabad?
Depending on the sport, one must not take too much of oily food. One must also not consume too much water before trying out adventure sports.
Are the adventure sports in Hyderabad priced very high?
The prices are based on the days and times of the week. Overall, the prices are not too high.
How good is bungee jumping in Hyderabad?
The places designated for bungee jumping in Hyderabad is located in a very safe and scenic location. The surrounding makes it never to miss adventure sport in Hyderabad.
Are the waters in Hyderabad fit for adventure sports like Kayaking?
The waters are maintained clean. The waters also do not get flooded except during heavy rains. This makes the waters very much fit for adventure sports like kayaking.
---