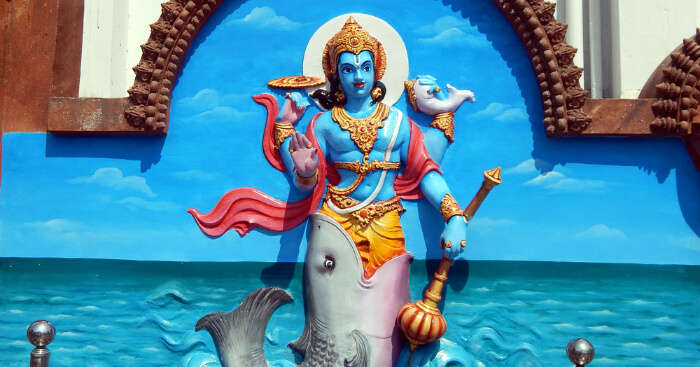 Hyderabad, the capital city of Telangana is a major IT hub. The city has always been famous for its rich history and delicious food. It is also home to some of the most mesmerizing temples like Ratnalayam Temple, Pedamma Temple, Sree Adinatha Jan Temple etc. Those who are in search of peace in the crowded and busy city must pay a visit to one of these temples in Hyderabad. Learn the culture, the rituals, and experience the divinity of this incredible city through its temples.
10 Top Temples In Hyderabad
Here is a list of a few divine temples in Hyderabad. Visit a few of these temples at Hyderabad on your next trip there for inner peace and serenity. There are temples in Hyderabad for marriage purposes too. Read on, to know more about these temples there.
Jagannath Temple
Birla Temple
Ratnalayam Temple
Shyam Temple
Venkateswara Swamy Temple
Karmanghat Hanuman Temple
Sri Gnana Saraswati Temple
Keesaragutta Temple
Pedamma Temple
Sree Adinatha Jain Temple
1. Jagannath Temple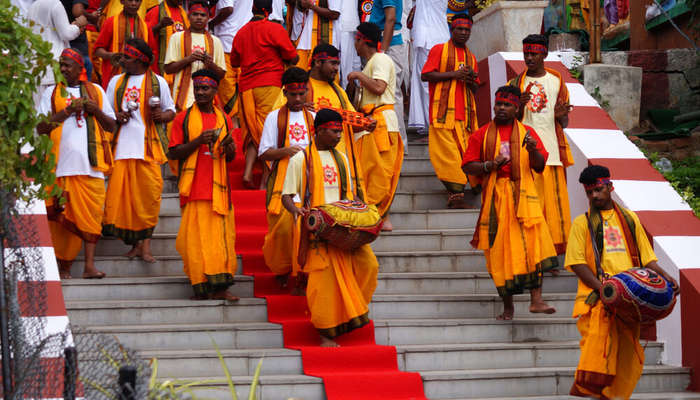 Jagannath Temple, constructed by Odiya community, is located in the beautiful locality of Banjara Hills. Boasting of modern architecture and design, this is one of the most famous temples in Telangana. Dedicated to Lord Jagannath- an incarnation of Lord Krishna, this temple also comprises of idols of Lord Balarama and Subhadra. Plus, there are small temples inside the main premises, dedicated to Lord Shiva, Parvati, Hanuman, and Ganesh. The temple was constructed as a replica of Jagannath temple of Puri and the stone carvings inside the temple and 70 feet high Shikhara are surely sights to behold. Festivals like Ratha Yatra is celebrated with great grandeur and vibrancy.
Opening hours: 6 am to 11 am and 5 pm to 9 pm
---
South Weekend Holiday Packages On TravelTriangle
A trip to South India has a lot to offer – from tranquillity of forests to charm of sizzling beaches and from lost kingdoms to chills of a hill station. Visit Kerala, Coorg, Ooty, Mysore, or Kodaikanal. Book holiday packages inclusive of airport transfers, cab, resort, sightseeing, and meals.
---
2. Birla Temple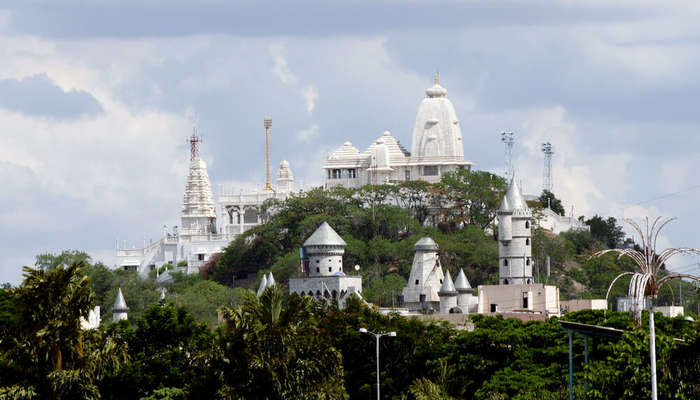 Situated on 280 feet high Naubat Pahad, the Birla temple is one of the most beautiful and most visited temples in Hyderabad city. The temple was built in 19th and is dedicated to Lord Venkateshwara of Tirumala. The white marble structure, sprawling premise, beautiful sculptures and stone carvings of Gurbani and various teachings of esteemed saints, not only fascinate spiritual visitors but has made this place one of the major tourist attractions of Hyderabad. Along with the main shrine, the temple has other idols of Lord Ganesha, Brahma, Saraswati, Vishnu, Shiva, and Hanuman. Owing to its hilltop location, the temple offers mesmerizing views of Hyderabad city and Husain Sagar lake.
Opening hours: 7 am to 12 noon and 3 pm to 9 pm
Suggested Read: New Year Eve Parties in Hyderabad For A Remarkable Entry Into 2020
3. Ratnalayam Temple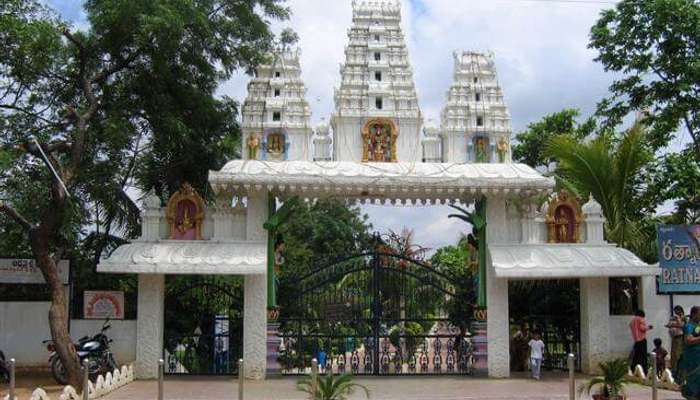 Image Source
Devoted to Lord Venkateswara, Goddess Padmavati, and Goddess Andal, Ratnalayam is one of the most famous temples near Hyderabad. This is an age-old temple where Shanku, Chakram, and Namam are structured in the form of fountains. But what attracts maximum tourists here is the fountain showcasing the heavenly scene of Lord Vishnu resting on Adishesha with his wives. The temple comprises of Yagashala, Kalyana Katta, Pravachanam Hall, a huge manicured garden and a fascinating sculpture of Lord Krishna dancing on Kalindi-the poisonous snake. Devotees are often seen chanting Vishnu Sahasranam in the central hall of the temple.
Opening hours: Weekdays from 6 am to 12 noon and 4 pm to 8 pm. Weekends and holiday: 6 am to 1 pm and 4 pm to 9pm.
Suggested Read: 15 Fascinating Places To Visit In Hyderabad Of Rich History, And Everlasting Glory!
4. Shyam Temple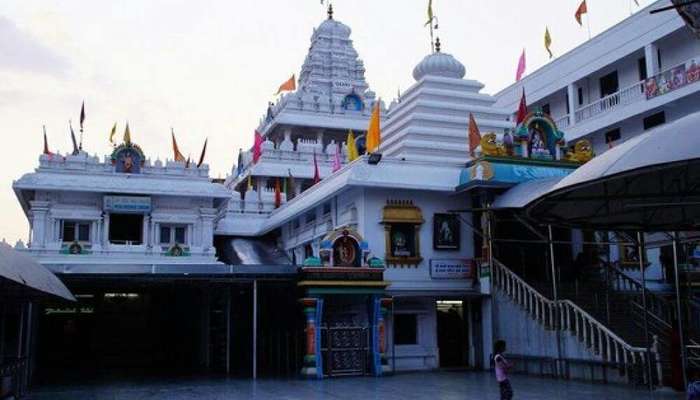 Image Source
Popular as Shri Kanchi Kamakoti Peetham Shri Shyam Baba Mandir, this is another age-old temple in Hyderabad. This temple is dedicated to Lord Shyam- an incarnation of Krishna. The beautiful temple architecture, stone figurines and paintings allure tourists throughout the year, but maximum footfall of devotees is witnessed during special festivals like Janmashtami and Raas Leela, when the temple authority organises night long bhajans.
Opening hours: 6 am to 12 noon and 4 pm to 8:30 pm
5. Venkateswara Swamy Temple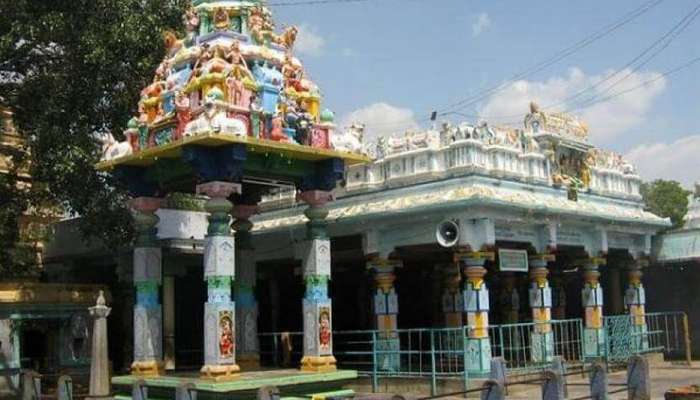 Popular as Chilkoor Balaji, this is one of the most revered Venkateswara Swamy temples in existence in India. Located by the banks of Osman Sagar, Venkateswara Swamy is one of the oldest temples around Hyderabad. Approximately 75 thousand to 1 lac devotees visit this temple in a week and the most unique feature of this temple is that it does not accept any monetary donation. Venkateswara Swamy Temple is also called as 'passport Balaji' or "visa Balaji" as people believe that all wishes regarding passport and visa procedures and overseas travel are fulfilled here.
Opening hours: 6 am to 1 pm and 6 pm to 9 pm
6. Karmanghat Hanuman Temple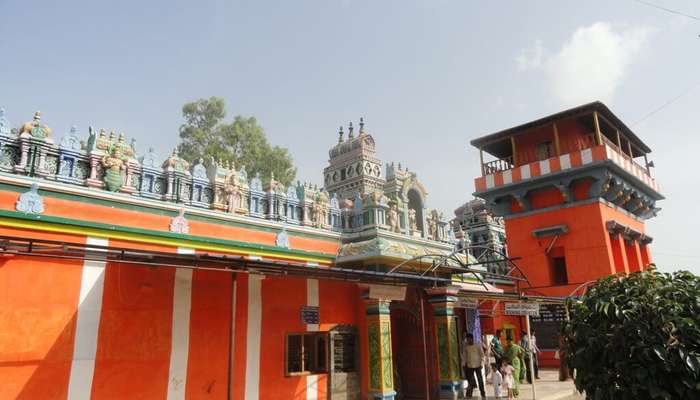 Image Source
Built in 12th century, by Kakatiya King Prataparuda, Karmanghat Hanuman Temple is another vinatge temple in Hyderabad. Karmanghat Hanuman Temple is of great significance amongst Hindu community, as people considered Hanuman ji temple as 'sankat mochana' or resolver of all troubles and challenges of life. This is undoubtedly one of the mystical temples in the city and features small temples of Lord Rama, Goddess Durga, Jagannatha, Saraswati, Nageshwara, Vigneshwara and Nabagraha gods.
Opening hours: 6 am to 12 noon and 4 pm to 8 pm. Every Tuesday, the temples remain open from 5:30 am to 1 pm and 4 pm to 9 pm.
Suggested Read: 5 Charming Tourist Places Near Hyderabad To Visit On A Weekend
7. Sri Gnana Saraswati Temple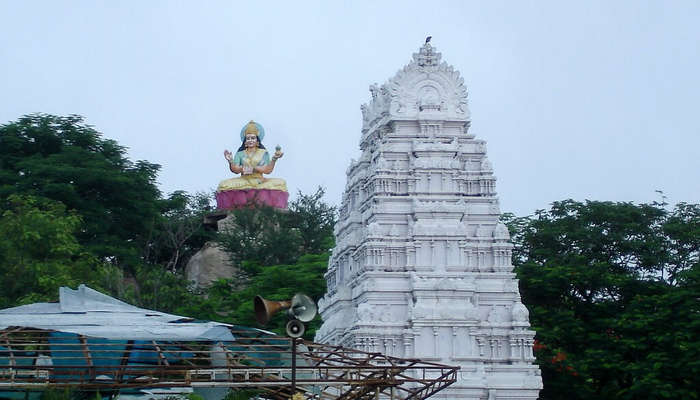 Image Source
Honored as a popular Saraswati temple in Hyderabad, Sri Gnana Saraswati Temple is another must visit place in the city. This is one of the oldest Saraswati temples in India. The temple has Saraswati- goddess of the knowledge as the main deity along with Goddess Kali and Lakshmi. Located by the banks of Godavari, this temple is believed to be built by Sage Vyasa and attracts numerous visitors, especially during Vasant Panchami. Sri Gnana Saraswati Temple is famous for Akshar abhyasam ritual. This is the ritual of the formal introduction of the child into the world of education. Akshar abhyasam is performed daily, but people consider Vasant Panchami as an auspicious day to perform this ceremony.
Opening hours: 4 am to 12 noon and 2 pm to 8:30 pm
8. Keesaragutta Temple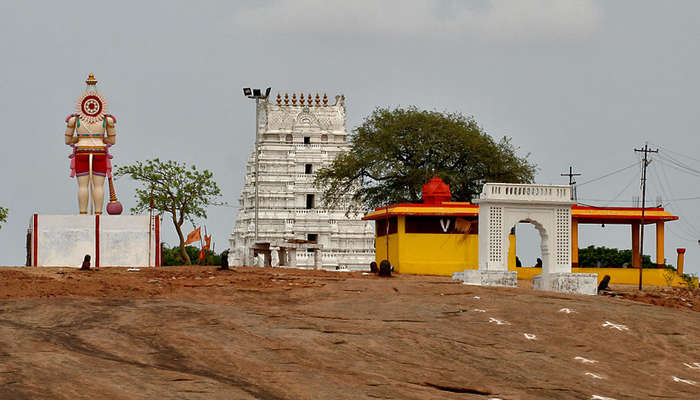 Image Source
Keesaragutta Temple or Ramalingeshwara Swamy Temple is a serene place, ideal for those looking for inner peace and joy. As one of the famous and most visited Lord Shiva temples in Hyderabad, this place pulls thousands of devotees every week. The temple is located on a hilltop and is known for marvelous architecture, murals and paintings. Along with the main idol of Lord Shiva, one can also worship Goddess Bhavani and Siva Durga in this temple. Shiva Ratri is the main festival here, but Ram Navami, Hanuman Jayanti, Shiva Kalyanam and Ramalingheshwara Brahmotsavam are celebrated here with great pomp and glamour.
Opening hours: 6 am to 12:45 pm and 3 pm to 7: 30 pm.
9. Pedamma Temple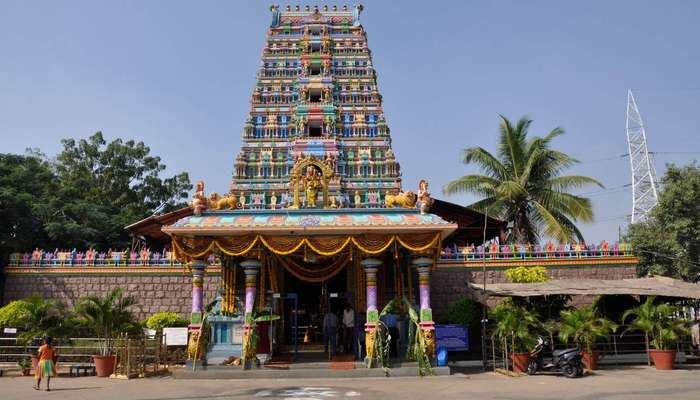 Image Source
The list of famous temples around Hyderabad include Pedamma Temple, which means supreme mother in local language. This is the most famous temple amongst the local people, where they worship Santhan Laxmi (Goddess Laxmi sitting on lion) as the presiding deity of the native villages near Hyderabad. The colourful gopuram, main sanctum, prayer hall, murals and sculptures attract not only devotees but other tourists as well, round the year, but the best time to visit this temple is during Bonalu festival and Ratha Saptami, celebrated in June and July.
Opening hours: 6 am to 1 pm and 3 pm to 8 pm
10. Sree Adinatha Jain Temple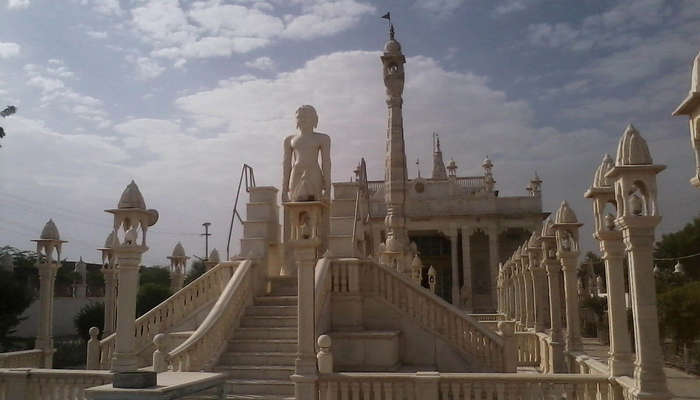 Image Source
A famous and significant Jain temple in Hyderabad outskirts is Sree Adinatha Jain Temple. Located in Kshetra, on Hyderabad-Medhak road, this ancient temple belongs to the Digambar sect of the Jain community and boasts of beautiful architecture, stone carvings, and wood carvings. The main idol of Parshvnath, made of jet black granite stone is 11 feet high and is seen in a standing posture with 7 serpent hoods. Other attractions of this temple are a column of Man-stambh or dignity and model of great teerth Sammed Shikharji. The temple also offers dharamshala like accommodation with cozy rooms and pure Jain food options.
Opening hours: 6 am to 9 pm
Further Read: Famous Temples In South India That Are A Perfect Amalgamation Of Art & Divinity
Excited about visiting the famous temples? If yes, pack your bags and book your trip to Hyderabad with TravelTriangle. The city will offer you a lot more than just peace and spirituality!
Frequently Asked Questions About Temples In Hyderabad
Q. What is Hyderabad famous for?
A. Hyderabad was ruled by Qutub Shahis, Mughals, and the Nizams and hence this place is famous for its historical monuments, religious places, museums, and planetarium, lakes, parks, and gardens. Hyderabad is also famous for its food delicacies and shopping.
Q. What is the famous food of Hyderabad?
A. Biryani is one of the most popular dishes of the city and is called by the name Hyderabadi Biryani which was originated in the kitchens of Nizams of Hyderabad. Other than that dishes like Hyderabadi haleem, phirni, boti kabab, qubani ka meetha, mirchi ka salan, pesarattu dosa, likhmi, nihari are some of the must-try dishes.
Q. What can be shopped from Hyderabad?
A. Hyderabad is famous for its souvenirs as well and if you are visiting this place do check out Hyderabadi Pearls, lac bangles, bidri work, traditional weaves & fabrics like pochampally sarees and kalamkari, khada dupatta, and mangoes.
Q. What is the ideal time to visit Hyderabad?
A. The best time to visit Hyderabad is from October to February when the weather is quite pleasant and the days are a bit cloudy.
Q. Is Hyderabad safe for tourists?
A. Hyderabad is considered as the safest city in India and the modern Hyderabad is pretty westernized and women-friendly.
Q. What are the famous temples to visit in Hyderabad?
A. Shyam Temple, Shri Jagannath temple, Sri Peddamma temple, Birla mandir, Karmanghat Hanuman Temple are some of the famous places of worship in Hyderabad.
Q. What are the weekend getaways from Hyderabad?
A. Places like Warangal, Bidar, Guntur, Kurnool, Mahabubnagar, Gulbarga, Karimnagar are some of the perfect weekend getaways from Hyderabad.
---
Looking To Book A Holiday Package?
Book memorable holidays on TravelTriangle with 650+ verified travel agents for 65+ domestic and international destinations.
---
Comments
comments