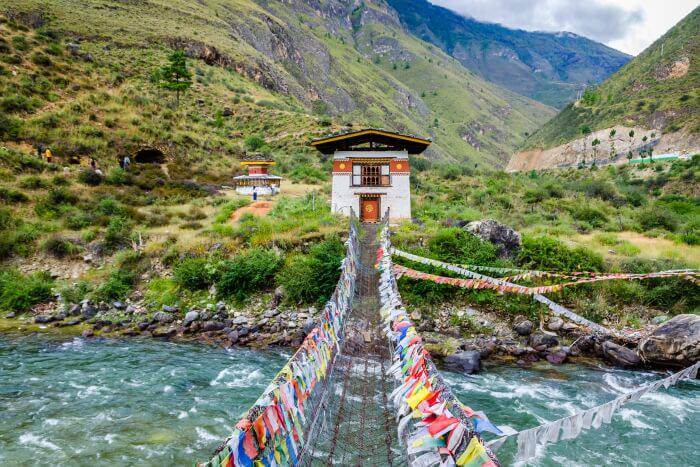 Bhutan, known as the 'Land of Thunder Dragons', is a sovereign country in South Asia. The landlocked country is located in the southern foothills of the Eastern Himalayas and is bordered by the People's Republic of China in the north and India in the south, east, and west. The tourism industry is one of the most dominant industries of Bhutan. Bhutan has attracted world travelers for its captivating beauty, serenity, and vibrancy.
Also, rich in cultural diversity, Bhutan is also known for the famous festival of Tshechu that happens around the year in various places. The temperature is also another factor that draws tourists to the country. However, the climate is quite varied due to the vast altitudinal differences and influence of the monsoons. So, it is a great idea to visit Bhutan in March to June, because it is the time when the spring season is in, the valley is blooming and the weather is just perfect.
Why Visit Bhutan In March?
Bhutan can be explored and enjoyed the most in March and October. The Kingdom of Bhutan consists of high and steep mountains and deep valleys that are crisscrossed by networks of swiftly flowing rivers. 'Gangkhar Puensum' in Bhutan is one of the world's highest unclimbed peaks, and it is about 24,981 feet in height. Considering March is one of the best times to visit in Bhutan, let us see what Bhutan offers its tourists during that time of the year.
The Bhutanese have a strong sense of respect towards nature, and they greatly believe in conserving nature. A significant step taken by Bhutan towards the development of the environment are banning the use of plastic bags and stressing on the use of cotton bags to keep the environment clean and free from non-biodegradable products.
Bhutan Weather In March
It is quite difficult to accurately state the general climate of Bhutan temperature in March, due to its variations in altitude and seasons. Usually, the time from June to September sees rainfall in Bhutan. The temperature in South Bhutan especially becomes hot and humid. The temperature of Bhutan in march in the day can go up to 25 degrees and fall to 15 degrees at night sometimes. The span from mid-September to end of November sees autumn. One can spot snowy peaks far away at higher altitudes. The period from late November to early March is coldest.
The time of spring from March end to early June is one of the best times to explore the colorful country of Bhutan. Bhutan weather in March is warm, sunny, and quite pleasant. The trees regain the lush green color, and beautiful flowers bloom and grow during this time. The temperature in the day is generally around 20 degrees, but at night it again becomes relatively cooler. So, it is better to carry clothes according to the extremes of temperature.
10 Best Places To Visit In Bhutan In March
Are you planning your vacation to Bhutan and looking for the best places to explore here in this mesmerizing country? Bhutan not only greets you with its charm and picturesque beauty, but the locals of the area also extend their friendly hands to welcome you. Visiting Bhutan in March can leave you with the best experience. Here are the 10 best places to visit in Bhutan in March.
Taktsang Monastery

: For Trekkers

Thimphu

: Must-Visit Place In Bhutan

Paro

: Admire The Natural Views

Phuentsholing

: The Gateway Of Bhutan

Mongar & Lhuntse

: Admire The Rural Beauty

Bumthang Valley

: Explore The Four Valleys

Wangduephodrang: Attractive Landmark Of Bhutan
Phobjikha & Gangtey Valley

: For Splendid Landscapes

Haa Valley

: Famous For White & Black Temples

Punakha

: For Historical Buffs
1. Taktsang Monastery: For Trekkers
Also known as the Tiger's Nest in Paro, Taktsang Monastery is considered to be the holiest place in Bhutan. The monastery stands on a high elevated granite cliff and was mainly established for the purpose of meditation. The monastery is placed on a rocky ledge with a drop of almost 800m and overlooks the beautiful valley and river of Paro and the river.
The famous story that revolves around the monastery is that in the latter half of the 8th century, the second Buddha named Guru Rinpoche meditated at the location where the monastery stands now. It is said that he was transported to that location on the back of a tigress. Thus the name the, 'Tiger's Nest.' Despite the visit by the tourists, the monastery still functions on a regular basis. The weather in Paro, is quite pleasant during the day, while the nights are cool. This is surely one of the most visited places to visit in Bhutan in March.
Suggested Read: Burning Lake: A Pocket Guide To Soak In Absolute Tranquility In Bhutan's Religious Site!
2. Thimphu: Must-Visit Place In Bhutan
Thimphu is a charming delightful, capital city, which is nestled in the Himalayas with the mesmerizing sights of the Chuu River flowing through it. It was first elected to be the capital city in the year 1961. The city homes approximately a lakh of inhabitants along with the Royal family. Other than the traditional Buddhist flavor, Thimphu has museums, landmarks, and markets.
Explore the city on foot especially if you are there on a Sunday. Each Sunday is called the pedestrian day. You may capture the locals dressed in their national dress and also many hipsters in fashionable outfits. The blend of traditional and modern lifestyle in Thimpu attracts travelers to go out of their regular tour itenary and spend some time here to experience the culture closely.
Suggested Read: Sakteng Wildlife Sanctuary: Wander Into The Wild In Bhutan
3. Paro: Admire The Natural Views
Paro town sits in the Paro valley district of Bhutan, and extends from the junction of the rivers – Paro Chhu and Wang Chhu at Chuzom till Mt. Jomolhari. One of the widest valleys in the Kingdom of Bhutan, Paro Valley is covered has highly fertile soil. It remains covered with rice fields during the crop season, making the view just breathtaking.
The historic town of Paro is decorated with several sacred spots and historical buildings built in Bhutanese style. Paro is definitely a must-visit place in Bhutan especially if you are a nature lover and someone who enjoys being in a serene environment. Paro along with Jakar and Punakha together make the golden triangle of awe-striking tourist spots in Bhutan.
Suggested Read: Backpacking In Bhutan: A Thrilling Experience For All The Travelers
4. Phuentsholing: The Gateway Of Bhutan
Phuentsholing is a small commercial town with a clean environment and one of the best places to visit in Bhutan in March. The town is located at right at the foothills of the Himalayas. Being a border town, this place has come to be a spot for the interaction of different ethnic groups including Bhutanese, Indian and Nepalis.
The major tourist attractions of Phuentsholing are Crocodile Breeding Center, Amo Chuu, Kharbandi Goemba Monastery, Zongtho Pelri Lhankhang temple, Chukha Hydrothermal Project. Phuentsholing is popularly known as being the gateway to Bhutan. Phuentsholing is an excellent combination of hustling city-life and peaceful town.
Suggested Read: Bhutan In November: Which All Exciting Experiences To Add To Your List
5. Mongar & Lhuntse: Admire The Rural Beauty
Mongar is located on a hilltop lies in eastern Bhutan. The Mongar Dzong is the last built Dzong in Bhutan made in the 1930s. Mongar Dzong is traditionally built where no nails or drawings were used. Lhuntse is located at the height of 1460 m. Lhuntse is an isolated and rural district with plenty of raw, natural, and rural beauty. The Kurtoe region in Lhuntse is the ancestral place of the Royal Family of Bhutan. Both the places offer some of the most visually appealing sights of the Himalayas.
Suggested Read: The Only Guide To Zhemgang In Bhutan You Need Before Your Nepal Trip
---
Planning your holiday but confused about where to go? These travel stories help you find your best trip ever!
---
6. Bumthang Valley: Explore The Four Valleys
Bumthang Dzongkhag comprises of four main valleys, namely – Ura, Chumey, Tang and Choekhor. Choekhor Valley being the largest of all is often addressed as Bhumtang Valley. Bhumtang is also called the spiritual heart of Bhutan. You will find ancient and precious Buddhist sites here. Bumthang valley at the height of 2,600 meters has some of the oldest temples in Bhutan. Jakar is the main town of the Bumthang Valley and is filled with apple trees and many temples. This place is definitely a tourist's delight.
Suggested Read: 8 Homestays In Paro For A Taste Of Bhutanese Charm Amidst Tranquility
7. Wangduephodrang: Attractive Landmark Of Bhutan
Wangduephodrang is situated in the south of Punakha at the confluence of Chhu and Tang Chhu rivers. It is the second largest district of Bhutan. The place has rich pastures and vegetation. The area is famous for fine and excellent bamboo products, stone and slate carvings. The Wangduephodrang Dzong on the hilltop is an attractive landmark. The Dzong is open for visitors at the time of Wangduephodrang Tsechu celebration in autumn. Parts of district extend into three national parks on different sides, including Wangchuck Centennial Park, Jigme Dorji National Park and the Jigme Singye Wangchuck National Park.
Suggested Read: Top 10 Honeymoon Places In Bhutan To Fall In Love All Over Again!
8. Phobjikha & Gangtey Valley: For Splendid Landscapes
The Phobjikha and Gangtey are glacial valleys with streams flowing through grasslands. It is one of the most spectacular landscapes in Bhutan. It is also the home to the globally endangered black-necked crane who migrate to this land in the winter. The famous Black Mountain National Park which is home to diverse species of flora and fauna is also located nearby.
Suggested Read: Bhutan Travel Tips: A Guide That Unfurls Essential Bits Of Info For Tourists!
9. Haa Valley: Famous For White & Black Temples
Haa Valley is a relatively new spot, but a must-visit destination in Bhutan. The destination is known for its natural virgin beauty. There are also many temples and forts in Haa Valley. Lhakhang Karpo and Nagpo or the famous White and Black temples, the unique temple of Shekhar Drak, Tagchu Goemba, an old temple and Dobji Dzong a massive five-storied fortress on the hilltop are some of the popular attractions of Haa valley.
Suggested Read: Visit These 53 Tourist Places In Bhutan To Change Your Worldview!
10. Punakha: For Historical Buffs
Punakha is a breathtaking destination in Bhutan. The place is also a significant one because many Bhutanese historical events took place there. Punakha is also considered the heart of Bhutanese culture. Punakha is located near the Dochhula Pass and offers a plethora of natural magnificence. It also served as the capital of Bhutan during the 17th and the 18th century.
10 Best Things To Do In Bhutan In March
Attending a traditional festival in Bhutan is one of the things that you must experience in Bhutan in March apart from exploring the must-visit destinations in Bhutan. Paro Tshechu in March and Gomphukora Tshechu Festival in Bhutan in March end are the two marvelous colorful Bhutan March festivals you can witness in the country.
The highlighted concept of any Tsechu Festival is the Cham dance, where monks wear fearsome masks and elaborate bright costumes and perform energetically backed by traditional music. Trying Bhutanese cuisines such as Ema Datshi and Red Rice is a must thing. If you are a non-vegetarian, you can also try Paksha Paa and Jasha Maroo. Warm your chilly morning with a cup of hot Suja or Bhutanese Butter Tea.
Trekking: Capture The Panoramic Sights
Rafting: Adventurous Expedition
Attending Festivals: Vibrant Ambiance
Rock Climbing: For Daring Minds
Kayaking: Glance The Nature
Camping: Relax Amid Nature
Fishing: Silent Hours
Bird Watching: Chirping Environment
1. Trekking: Capture The Panoramic Sights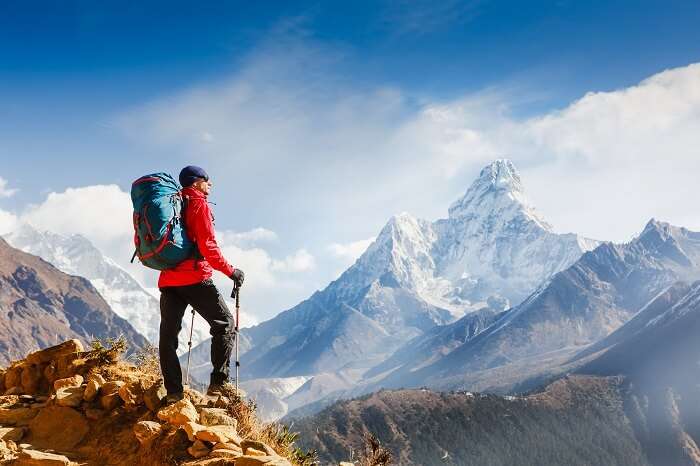 Weather in Bhutan in March is apt for witnessing some amazing views of snow-clad mountains and green valleys as everything comes to life after the winter season. Whether you are an expert or a beginner at this activity, you will find a range of peaks for trekking in Bhutan. Some of the treks might be difficult and they may test your physical fitness while others are like exploring plains at your own pace. This is one of the best things to do in Bhutan if you want to interact with the locals and know hidden factors about this place.
Suggested Read: Hiking In Bhutan: 9 Alluring Trails Every Hiking Enthusiast Should Walk On!
2. Rafting: Adventurous Expedition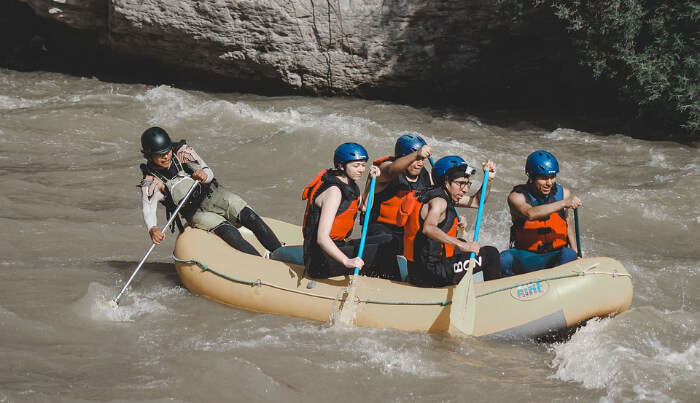 If you are planning a Bhutan tour in March then you must indulge in rafting as the weather is perfect for indulging in this activity. If you are new to this activity then there cannot be a better place than Bhutan to try it as the flow of the river is not strong and rapid instead, it will be gentle flow so that you can admire the beauty also. A trip to Bhutan with your friends definitely calls out for a thrilling activity like this. 
Suggested Read: Neha's Family Trip To Bhutan Will Be The Perfect Motivation To Take A Break And Enjoy Amidst Nature!
3. Attending Festivals: Vibrant Ambiance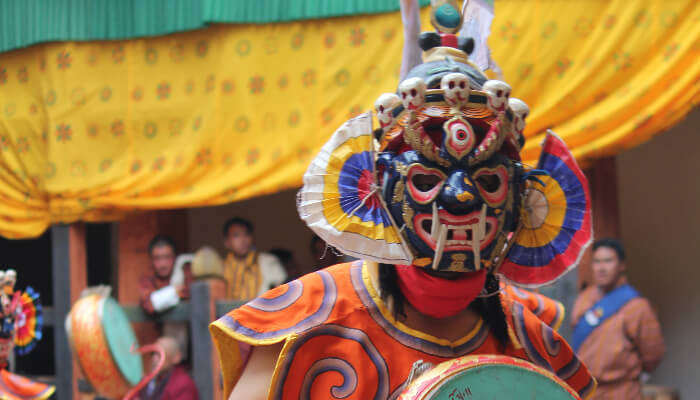 Bhutan in March calls out for attending the colorful and vibrant festivals of the country. There are few festivals that are organized in this month of the year and one of them is the Punakha Festival when all the locals get together and celebrate it. Apart from this, there are other celebrations in March like Talo Tshechu Festival and Jomolhari Mountain Festival. You can make the most of the your trip by attending one of these festivals in Bhutan and live like locals for a day. 
Suggested Read: Bhutan In June: A Must Read Guide Before You Visit This Charismatic Nation
4. Rock Climbing: For Daring Minds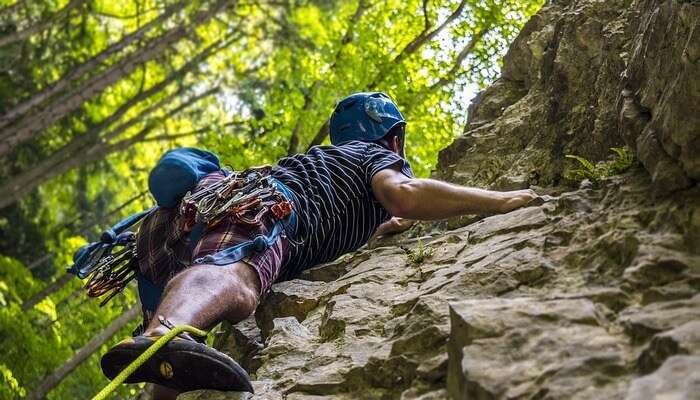 Now, the most challenging activity that you can opt for in Bhutan in March is rock climbing which tests your strength. The first time rock climbing was introduced in Bhutan was in 1998 by Vertical Bhutan Climbing Club. The rock where you get to try this activity is popularly known as Nose. There are several routes that take you the final destination and you can choose from them depending on your strength. Some of the routes are called Reach N Preach, Easy Peasy, and Dead Man Walking. The name of the routes might interest you to take up this activity!
5. Kayaking: Glance The Nature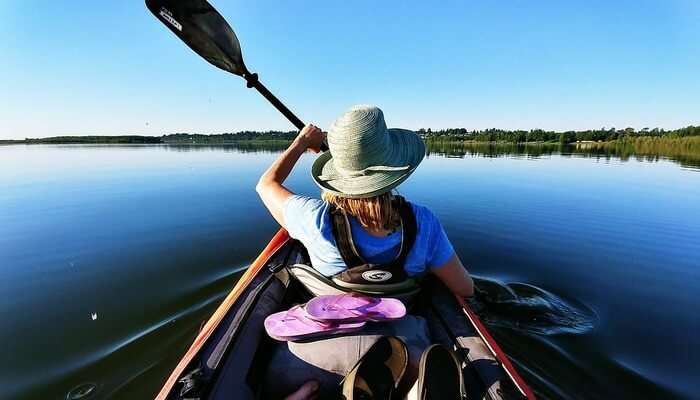 Another one counted in the best things to do in Bhutan in March is Kayaking which is a perfect sport for adventure fanatics. If you are thinking of Bhutan tour with your friends then this activity must form a part of your itinerary. There are six main rivers in Bhutan where both beginners and experts can opt for this activity. From strong to slow currents, you will get a range of flow to choose from for your adventure sport in Bhutan.
Suggested Read: Bhutan In August: Explore The Himalayas On A Budget
6. Camping: Relax Amid Nature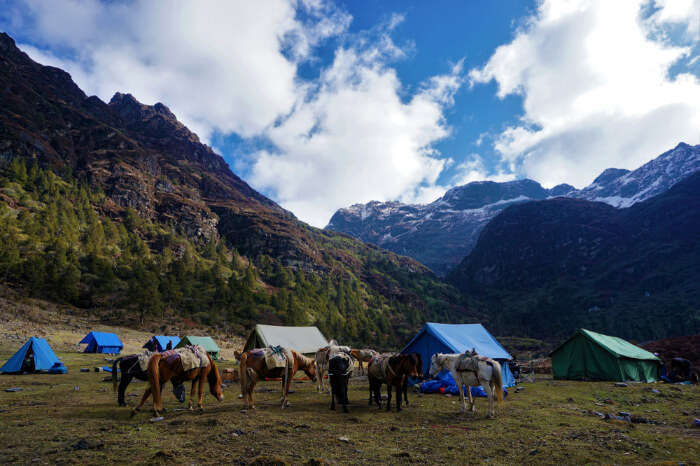 If you are the kind of person who likes to relax amidst nature then you must try camping in Bhutan which will let you sleep in the lap of nature. Imagine waking up to a view of the Himalayas! Who would want to miss such an experience on the trip to Bhutan? You can also witness a mesmerizingly beautiful sunset and sunrise while camping. To add to this, you can also go and explore the trekking trails nearby at your own pace. 
Suggested Read: Bhutan In April: A Guide To Visit This Beautiful Place In April
7. Fishing: Silent Hours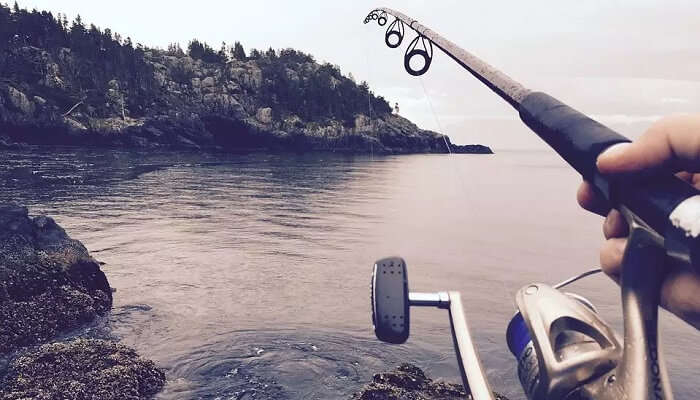 Another amazing activity offered by Bhutan is fishing amidst the calming waters. The mystical land and lakes of Bhutan are rich in fauna which is why the country offers a fishing tour as an activity. You will find a range of fishes here that you might not have seen before. The most common types of fishes that you will find here are brown trout and snow trout. But before that, you will have to seek permission first for fishing any of the lakes or rivers of Bhutan. 
8. Bird Watching: Chirping Environment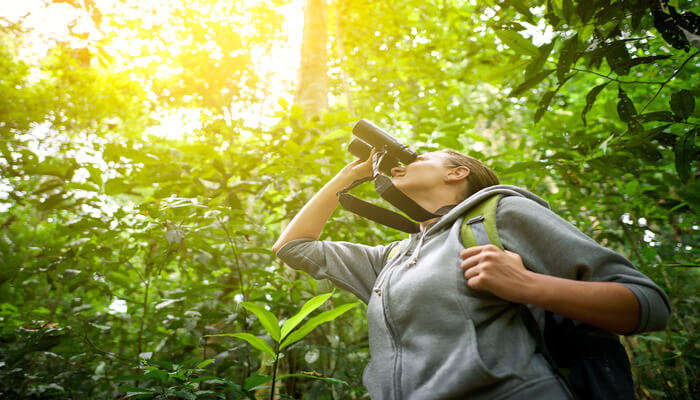 If you are a bird lover then Bhutan does not disappoint you as the country is gifted with nature beyond expectation and it has preserved all the beauty. The country boasts of a plethora of colorful birds that add to the beauty of nature. With around 600 species of birds in the country, it is nothing less than a paradise for bird lovers. So, make sure that you indulge in this activity in the month of March in Bhutan. 
Further Read: 10 Fascinating Places To Visit In Phuentsholing On Your Trip To Bhutan
Bhutan is the happiest country in entire Asia and is on the eighth position under the list of happy countries of the world. Add Bhutan to your bucket list and set out for a life-changing event. The most beautiful kingdom of the Himalayas will leave you spellbound and awestruck. Make sure that you explore these places and indulge in the top activities in Bhutan in March. 
Disclaimer: TravelTriangle claims no credit for images featured on our blog site unless otherwise noted. All visual content is copyrighted to its respectful owners. We try to link back to original sources whenever possible. If you own the rights to any of the images, and do not wish them to appear on TravelTriangle, please contact us and they will be promptly removed. We believe in providing proper attribution to the original author, artist or photographer.
Please Note: Any information published by TravelTriangle in any form of content is not intended to be a substitute for any kind of medical advice, and one must not take any action before consulting a professional medical expert of their own choice.
Frequently Asked Questions About Bhutan In March
Which is the best month to visit Bhutan?

October to December are the ideal months to visit Bhutan.

What clothes should be worn in Bhutan in March?

If you are visiting Bhutan in March, you are recommended to wear warm clothes that are comfortable too. In case of footwear, soft-soled but sturdy shoes are better. It is better to carry lightweight woolens instead of thick ones. But heavy cottons are great for summers.

How much does a trip to Bhutan cost?

You can plan a trip Bhutan within as low as INR 12,500 cost.

Is Bhutan safe to visit?

Bhutan is a safe country. Bhutan's decision to use Gross National Happiness (GNH) in place of GDP to measure development is one of the factors that indicate the same. But, tourists are recommended to consult the travel agents for a smooth travel experience.

Does it snow in Bhutan in March?

There are rare chances to see snow in the month of March as Bhutan receives snowfall till February. But you might able to see frozen snow in the early days of March if you are lucky enough.

Is March a good time to visit Bhutan?

There should be no doubt in the fact that March is one of the best months to visit Bhutan as the temperature is moderate to explore almost any tourist attraction as well as to indulge in several activities.

What is the temperature in Bhutan in March?

The average temperature in Bhutan remains between 14 degrees Celsius to 23 degrees Celsius. The country welcomes you with a cool breeze and a bit of sunlight which is perfect for sightseeing.

What is there to do in Bhutan in March?

As March is the perfect time to explore Bhutan, there is a lot to explore there. Moreover, you can indulge in almost any of the adventure activities offered in Bhutan. You can add more fun and excitement to this trip by attending some of the festivals that are held in the month of March.

Is it safe to go for camping in Bhutan in March?

Yes, it is completely safe to go for camping in the month of March in Bhutan.

What are the most adventurous things to do in Bhutan?

The following are the most adventurous activities to indulge in Bhutan:
1. Trekking
2. Rafting
3. Attending Festivals
4. Rock Climbing
5. Kayaking
6. Camping
7. Fishing
8. Bird Watching
---
People Also Read: