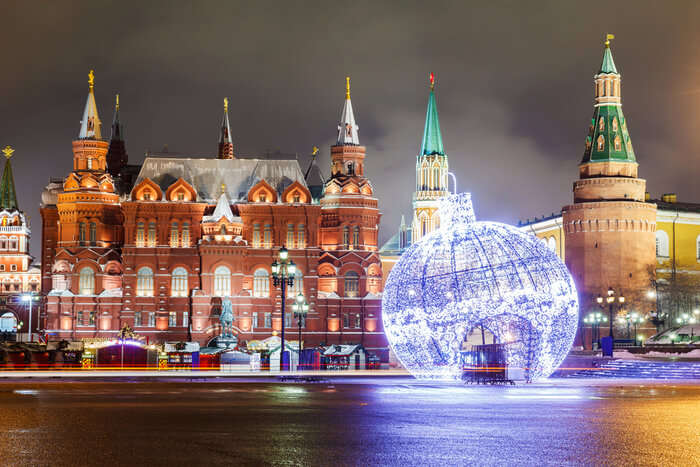 Moscow is the most populous city in Russia and is also its capital city. Millions of tourists visit Russia and Moscow is the top tourist destination in the city. Moscow has over 13 million people and is a great choice for tourists to visit in the summer months as well as in winter. Christmas in Moscow is truly beautiful as Moscow often gets snowfall during the holiday season. The festive mood is in the air and there are many tourist attractions in the city during Christmas. Moscow is a major world city and a major political and economic capital in the Eastern European region.
Weather In Moscow During Christmas
If tourists want to enjoy a white Christmas in Moscow, they have to look at the average temperatures and weather conditions in the area during Christmas. The average temperature in Moscow is usually below freezing during Christmas and snow is a routine event during this time. Wearing thermal clothing and warm clothing is essential and packing such clothing items for a Christmas in Moscow makes sense.
When Is Christmas In Moscow
Christmas in Moscow is celebrated on 25 December but according to the Gregorian calendar which falls in the first week of January. Christmas is observed throughout Russia and the Russian Orthodox Church plays a critical role in this celebration. There is a festive mood, many tourist attractions, and the celebration is something tourists enjoy when they visit Moscow. The following are some of the tourist's attractions for people visiting Moscow during Christmas:
Must Read: 10 Interesting Things To Do In Moscow: Trekking, Opera, And More
Christmas Attractions In Moscow
Here are the things you should look out for on your trip to Moscow during the month of Christmas:
1. "Journey into Christmas" Festival in Moscow
Journey into Christmas is an annual event that starts on 22 December in Moscow kicking off a series of events related to Christmas during the holiday season. This Christmas festival is spread over 30 venues in Moscow and tourists can enjoy different types of events in the city. The journey into Christmas festivals has many events like shows, theatres, and art classes. Moscow is the perfect Christmas destination as thousands of lights are put up across the city especially in central areas like areas around the Kremlin, and popular spots like Tverskaya Ulitsa and Tverskoy Bulvar.
Suggested Read: New Year In Moscow 2019: Spend Your New Beginnings At These 9 Best Places in The Capital!
---
Europe Holiday Packages On TravelTriangle
Explore the most beautiful places to visit in Europe, from Paris to the Venice canals and from the Greek islands to the Swiss alps. Book customized packages by expert agents on TravelTriangle. Inclusive of airport transfers, cab, resort, sightseeing and meals. Best holiday experience Guaranteed. Book Now
---
2. Ice Theatre at Novopushkinsky Public Garden
Would it not be fun watching performers waltzing on the ice rink? You must have seen ice hockey games but this is something unique. Moscow is a prodigy in ice ballet performances. Ice ballet performances of famous plays like The Nutcracker, Swan Lake, and Cipollino are one of the most popular tourist attractions in the city during Christmas. These are legendary ballets that have made Moscow famous all over the world.
Suggested Read: 10 Best Hotels In Moscow That Redefine Luxury Like None Other!
3. Moskva Fair On Tverskaya Ploshchad
Christmas in Moscow is not complete without the Christmas fairs in the city. There are many Christmas fairs in the city Moskva Fair on Tverskaya Ploshchad. There are hundreds of stalls that appear at these fairs selling Christmas items, food items, and they also include some recreational stalls especially for children visiting these fairs. There are also many stalls that sell souvenirs and special items that Russia is known for at these fairs and are very popular with tourists visiting Moscow.
Suggested Read: Moscow Nightlife: For A Lively Vacation In The Russian City That Never Sleeps!
4. Kremlin Russian Christmas Market
Moscow's Christmas markets are famous all over the world. Christmas Markets in Moscow are visited by tourists and locals and there are some great stalls at these markets. With the Kremlin as a majestic backdrop, the Red Square Christmas Market is a wonderful choice for tourists. This market sells souvenirs, Christmas decorations, Matryoshka Dolls, and Khokhloma painted toys. The market is spread out around skating rinks which are enjoyed by a large number of people while visiting this market.
Suggested Read: Shopping In Moscow: 10 Top Places That Will Make You Believe The City Is As Classy & Chic As Milan
5. Red Square Christmas Tree
Christmas Trees are an essential part of the celebration of Christmas. The main Christmas tree in Moscow is placed in Red Square every year and this is a truly spectacular tree with decorations and lights making it a major tourist attraction during Christmas at Moscow. The tree is usually chosen by experts every year and the main Christmas tree has to be of a specific height and diameter and needs to be aesthetically beautiful. Every year there is a different theme for the decorations of the main Christmas tree in Moscow. Christmas Trees are put up all over the city around 20th December every year. Hundreds of places throughout the city put up Christmas trees all over Moscow
6. Christmas Restaurants in Moscow
One of the main tourist attractions in Moscow is the traditional Russian cuisine served during Christmas at Moscow. There are many great restaurants in the city to enjoy. Restaurants like Streat, Uhvat, Oblomov, and Ottopel. Other good restaurants in the city include Lepim i Varim, Severyane, and Pasticceria Don Giulio are other great restaurants in the city. You will be drooling in no time when you smell the aroma and look athe table laen with delicious Christmas special foods.
Suggested Read: 15 Fascinating Places To Visit In Moscow That Reflect The Real Russian Beauty!
7. Dorogomilovsky Market Christmas
Dorogomilovsky Market is a great market in the city and tourists in Moscow can enjoy a great time at such markets during Christmas. Tourists can experience traditional Christmas meals in Russia that include traditional delicacies like meats, kholodets, pies, pierogies, kalachi, blinis, kompots, kissel, and many types of sweet dishes. These dishes are also available at Christmas markets and Christmas fairs in Moscow and it is a great experience for tourists visiting Moscow.
8. Ded Moroz Parade in Moscow
Ded Moroz means Santa Clause in Russian. There is a Ded Moroz Parade in Moscow every year where hundreds of people dress up like Santa Clause and participate in the parade. This is a fun time in Moscow and a very popular tourist attraction in the city. It is a grand spectacle which you ought not to miss if you are traveling to Russia becuase this is a once-in-a-lifetime opportunity. You will fall in love with the colorful extravaganza during the time of festival.
Suggested Read: 10 Best Hotels In Moscow That Redefine Luxury Like None Other!
9. White Christmas in Moscow
Christmas in Moscow 2018 has a number of events planned in the year. There are ice slides near the Kremlin, beautifully decorated parks, white theatre on Kilemtovsky Lane, and skating and walking parks all over the city. The Revolyutsii Square in Moscow has giant ice slides with the view of the Kremlin which are a lot of fun for the tourists. WHy Christmas in Moscow is called white is because lakes get frozen, everything is laden with white snow and you can enjoy drinking the famous Russian Vodka during this time.
10. Magic Forest on Manezhnaya Square
The Magic Forest on Manezhnaya Square has around 300 trees and it truly feels like a walk around the forest while visiting this area during Christmas in Moscow. The famous performance of 12 Months is a part of the show at this event making it a top choice for tourists. Come, be a part of the Moscow journey at this Magic Forest happening right in the heart of the city. This winter festive decoration is something you should not miss during Christmas in Moscow.
Suggested Read: Summer In Moscow: Soak In The Mesmerizing Landscapes Of This Stunning Russian City!
11. International Christmas Theatre on Tverskaya Street
International Christmas Theatre is a great choice for tourists visiting Moscow during this time of the year and there is a list of major events in Moscow during Christmas. On the famous Tverskaya Street in Moscow, tourists can enjoy staged fairytales and really get into the Christmas mood. Come, be a part of theatrical journey during Christmas in Moscow.
12. Park Zaryadye
Tourists can enjoy a beautiful stroll at the Park Zaryadye which is lit up with Christmas lights and Christmas decorations throughout the Christmas season. Celebrations begin on December 22nd and end around 14th January next year. This is a great park to visit in the evening or night to see the lights at Christmas.
Further Read: With The Red Square Turning White, Snowfall In Moscow Hits A 100-Year High!
Moscow is a truly great city and millions of tourists visit this city. A visit to Russia during Christmas is a great option as there are many special events taking place in the city during this time. Christmas in Moscow is usually a white Christmas as it snows during this time of the year. It is a little cold in Moscow during this time of the year but the truly special Christmas in Moscow totally makes it worth it for tourists to visit Moscow during Christmas.
---
Looking To Book An International Holiday?
Book memorable holidays on TravelTriangle with 650+ verified travel agents for 65+ domestic and international destinations.
---
Comments
comments