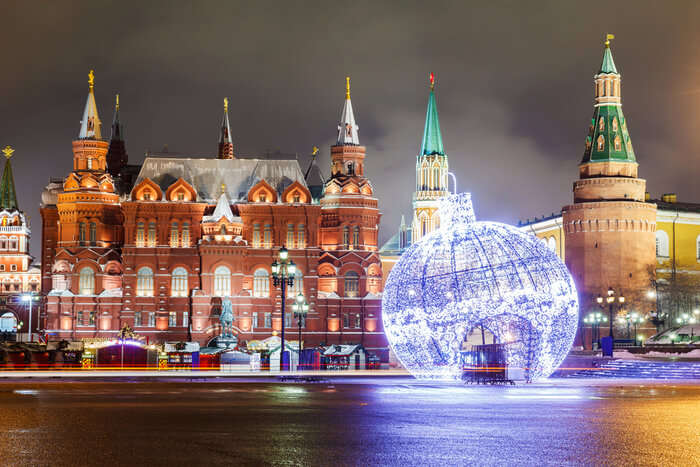 Moscow is the most populous city in Russia and is also its capital city. Millions of tourists visit Russia and Moscow is the top tourist destination in the city. Moscow has over 13 million people and is a great choice for tourists to visit in the summer months as well as in winter. Christmas in Moscow is truly beautiful as Moscow often gets snowfall during the holiday season. The festive mood is in the air and there are many tourist attractions in the city during Christmas. Moscow is a major world city and a major political and economic capital in the Eastern European region.
Weather In Moscow During Christmas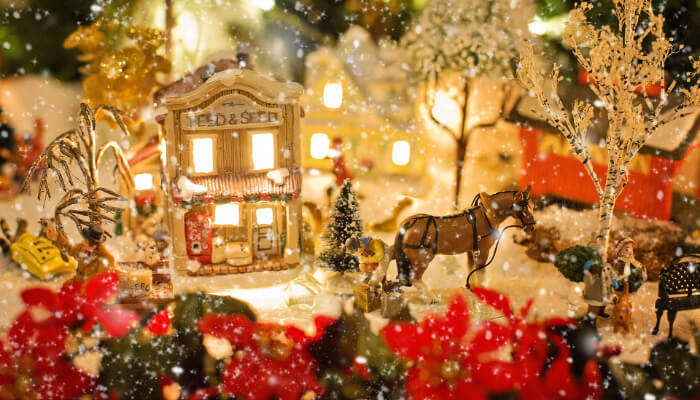 If tourists want to enjoy a white Christmas in Moscow, they have to look at the average temperatures and weather conditions in the area during Christmas. The average temperature in Moscow is usually below freezing during Christmas and snow is a routine event during this time. Wearing thermal clothing and warm clothing is essential and packing such clothing items for Christmas in Moscow makes sense.
When Is Christmas In Moscow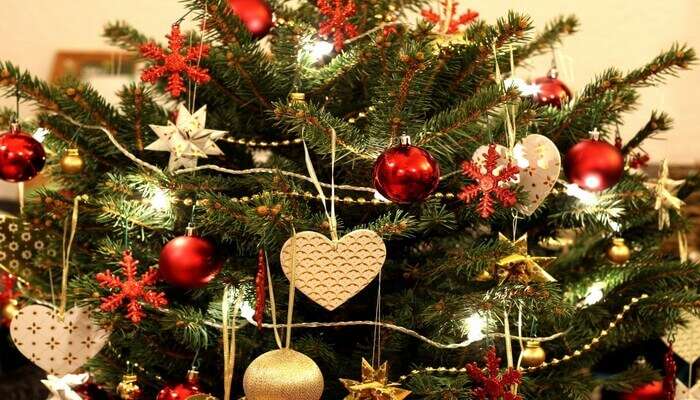 Christmas in Moscow is celebrated on 25 December but according to the Gregorian calendar which falls in the first week of January. Christmas is observed throughout Russia and the Russian Orthodox Church plays a critical role in this celebration. There is a festive mood, many tourist attractions, and the celebration is something tourists enjoy when they visit Moscow. The following are some of the tourist's attractions for people visiting Moscow during Christmas.
15 Interesting Things To Do In Moscow: Trekking, Opera, And More In 2022
12 Things To Do In Moscow During Christmas
Moscow is possibly one of the finest Christmas destinations. It is a heavenly wonder of celebrations and fun. The lights go shining and festive spirits get high. Here are the things you should look out for on your trip to celebrate Christmas in Moscow 2022:
Journey Into Christmas Festival In Moscow
Ice Theatre at Novopushkinsky Public Garden
Moskva Fair On Tverskaya Ploshchad
Kremlin Russian Christmas Market
Red Square Christmas Tree
Christmas Restaurants in Moscow
Dorogomilovsky Market Christmas
Ded Moroz Parade in Moscow
White Christmas in Moscow
Magic Forest on Manezhnaya Square
International Christmas Theatre on Tverskaya Street
Park Zaryadye
1. Journey Into Christmas Festival In Moscow

Journey into Christmas is an annual event that starts on 22 December in Moscow kicking off a series of events related to Christmas during the holiday season. This Christmas festival is spread over 30 venues in Moscow and tourists can enjoy different types of events in the city. The journey into Christmas festivals has many events like shows, theatres, and art classes. Moscow is the perfect Christmas destination as thousands of lights are put up across the city, especially in central areas like areas around the Kremlin, and popular spots like Tverskaya Ulitsa and Tverskoy Bulvar.
What's Special: The beautiful attractions of the city
New Year In Moscow 2022: Spend Your New Beginnings At These 9 Best Places
---
Europe Holiday Packages On TravelTriangle
---
2. Ice Theatre At Novopushkinsky Public Garden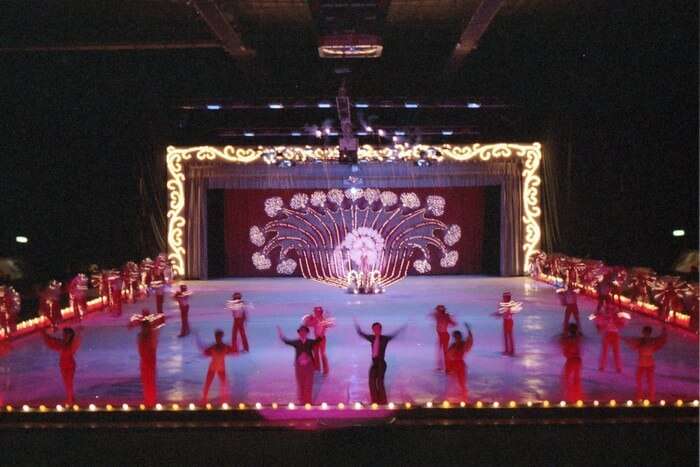 Would it not be fun watching performers waltzing on the ice rink? You must have seen ice hockey games but this is something unique. Moscow is a prodigy in ice ballet performances. Ice ballet performances of famous plays like The Nutcracker, Swan Lake, and Cipollino are one of the most popular tourist attractions in the city and much-awaited on Christmas day in Moscow. These are legendary ballets that have made Moscow famous all over the world.
Location: Moscow, Russia, 123104
Timings: 11 am to 10 pm, Mon-Fri, 10 am to 10 pm, Sat-Sun 
10 Best Hotels In Moscow That Redefine Luxury Like None Other!
3. Moskva Fair On Tverskaya Ploshchad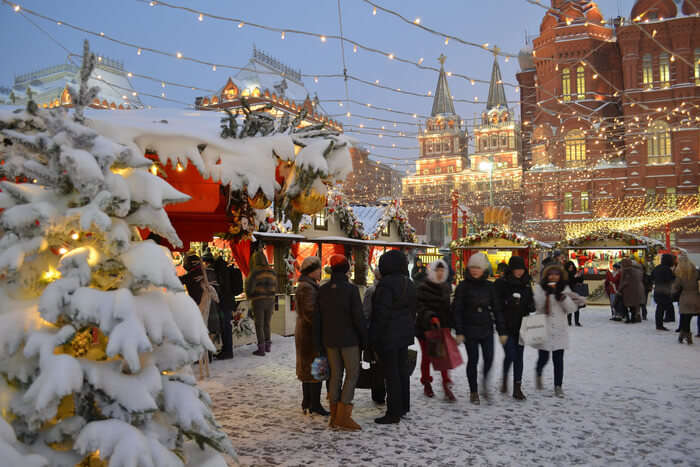 Christmas celebration in Moscow is not complete without the Christmas fairs in the city. There are many Christmas fairs in the city Moskva Fair on Tverskaya Ploshchad, but this is one of the best Christmas decorations in Moscow. There are hundreds of stalls that appear at these fairs selling Christmas items, food items, and they also include some recreational stalls especially for children visiting these fairs. There are also many stalls that sell souvenirs and special items that Russia is known for at these fairs and are very popular with tourists visiting Moscow.
Location: Moskva, Russia, 125009
Moscow Nightlife: For A Lively Vacation In The Russian City That Never Sleeps
4. Kremlin Russian Christmas Market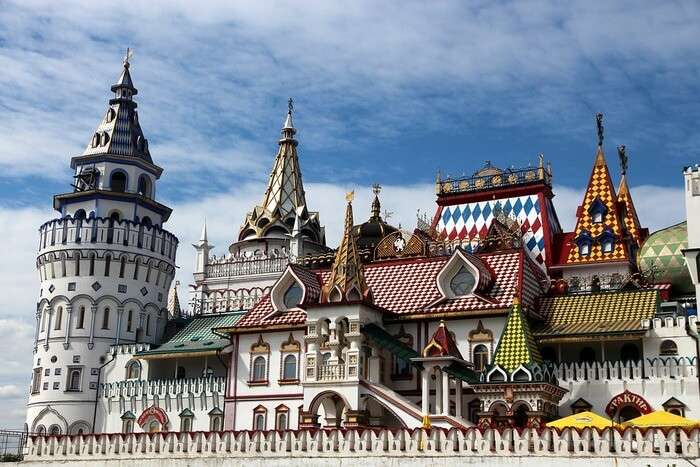 Moscow's Christmas markets are famous all over the world. Christmas Markets in Moscow are visited by tourists and locals and there are some great stalls at these markets. With the Kremlin as a majestic backdrop, the Red Square Christmas Market is a wonderful choice for tourists. This market sells souvenirs, Christmas decorations, Matryoshka Dolls, and Khokhloma painted toys. The market is spread out around skating rinks which are enjoyed by a large number of people while visiting this market.
Location: Moscow, Russia, 103132
Timings: 9 am to 5 pm
Shopping In Moscow: 14 Top Places That Will Make You Believe The City Is As Classy & Chic As Milan!
5. Red Square Christmas Tree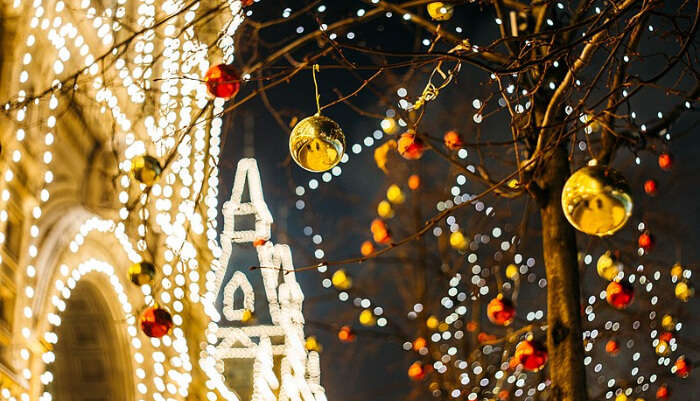 Christmas Trees are an essential part of the celebration of Christmas. The main Christmas tree in Moscow is placed in the Red Square every year and this is a truly spectacular tree with decorations and lights making it a major tourist attraction during Christmas at Moscow. The tree is usually chosen by experts every year and the main Christmas tree has to be of a specific height and diameter and needs to be aesthetically beautiful. Every year there is a different theme for the decorations of the main Christmas tree in Moscow. Christmas Trees are put up all over the city around 20th December every year. Hundreds of places throughout the city put up Christmas trees all over Moscow.
Location: Red Square, Moscow, Russia, 109012
6. Christmas Restaurants In Moscow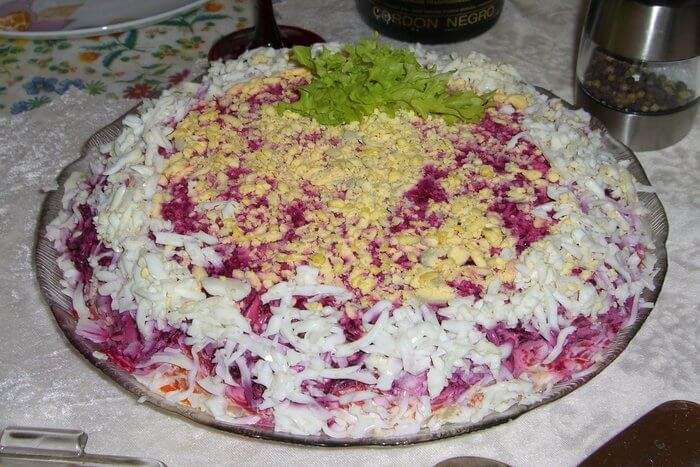 One of the main tourist attractions in Moscow is the traditional Russian cuisine served during Christmas at Moscow. There are many great restaurants in the city to enjoy. Restaurants like Streat, Uhvat, Oblomov, and Ottepel. Other good restaurants in the city include Lepim i Varim, Severyane, and Pasticceria Don Giulio are other great restaurants in the city. You will be drooling in no time when you smell the aroma and look at the table laden with delicious Christmas special foods.
What's Special: The specially-themed dishes
Russia Circle Trip: 20 Places To Visit In Moscow And St. Petersburg In 2022
7. Dorogomilovsky Market Christmas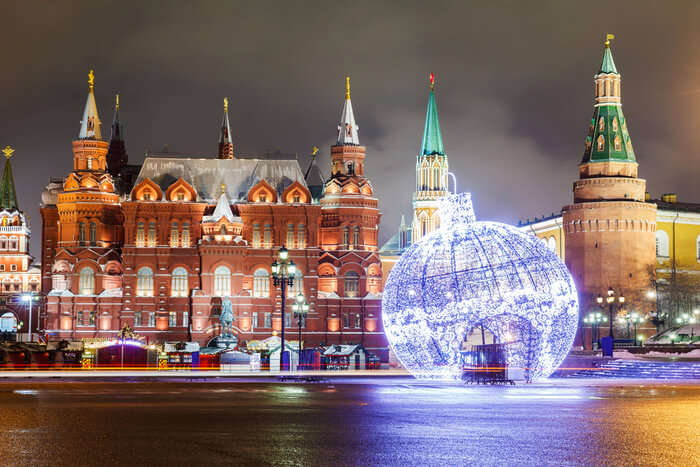 Dorogomilovsky Market is a great market in the city and tourists in Moscow can enjoy a great time at such markets during Christmas. Tourists can experience traditional Christmas meals in Russia that include traditional delicacies like meats, kholodets, pies, pierogies, kalachi, blinis, kompots, kissel, and many types of sweet dishes. These dishes are also available at Christmas markets and Christmas fairs in Moscow and it is a great experience for tourists visiting Moscow.
Location: Ulitsa Mozhayskiy Val, 10, Moscow, Russia, 121151
Timings: 8 am to 8 pm
8. Ded Moroz Parade In Moscow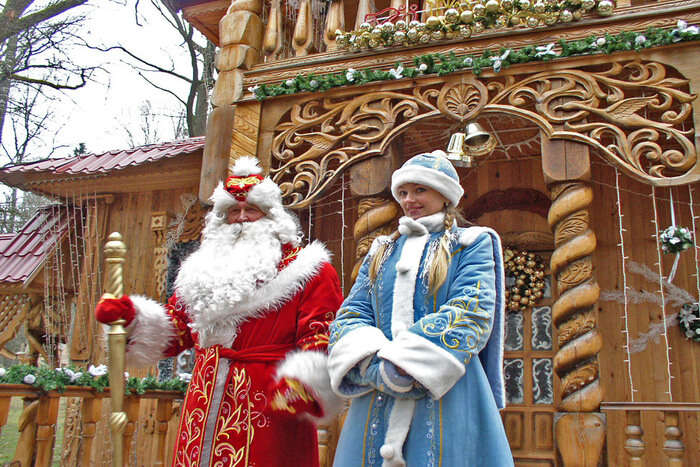 Ded Moroz means Santa Claus in Russian. There is a Ded Moroz Parade in Moscow every year where hundreds of people dress up like Santa Clause and participate in the parade. This is a fun time in Moscow and a very popular tourist attraction in the city. It is a grand spectacle which you ought not to miss if you are traveling to Russia because this is a once-in-a-lifetime opportunity. You will fall in love with the colorful extravaganza during the time of festival.
What's Special: The festive celebration of locals
10 Best Hotels In Moscow That Redefine Luxury Like None Other!
9. White Christmas Celebration In Moscow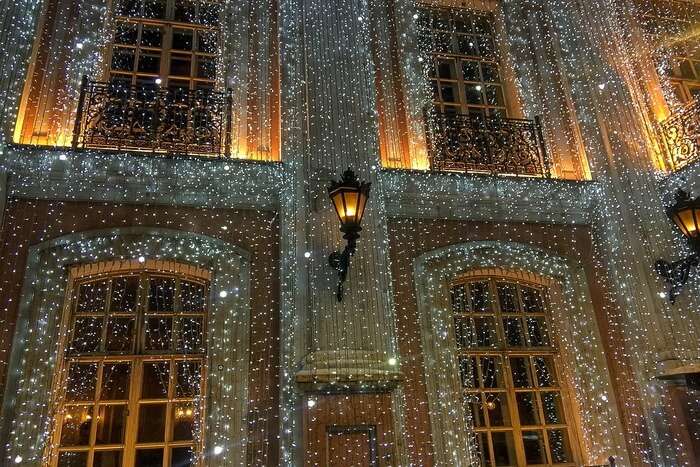 Christmas in Moscow 2022 has a number of events planned for the year. There are ice slides near the Kremlin, beautifully decorated parks, white theatre on Kilemtovsky Lane, and skating and walking parks all over the city. The Revolyutsii Square in Moscow has giant ice slides with the view of the Kremlin which are a lot of fun for the tourists. Why Christmas in Moscow is called white is because lakes get frozen, everything is laden with white snow and you can enjoy drinking the famous Russian Vodka during this time.
What's Special: The rides and slides
10. Magic Forest On Manezhnaya Square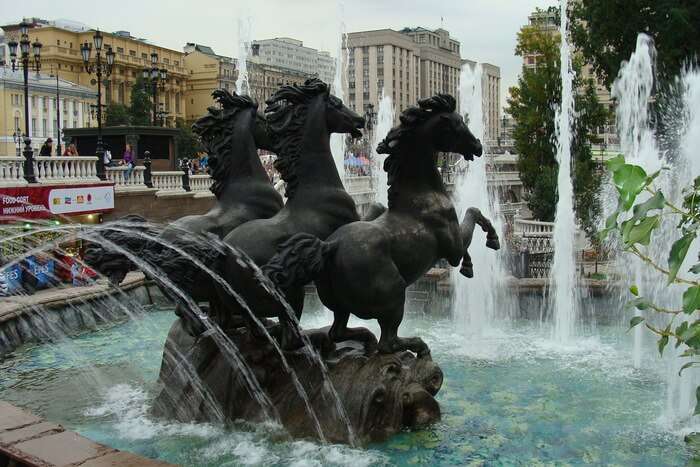 The Magic Forest on Manezhnaya Square has around 300 trees and it truly feels like a walk around the forest while visiting this area during Christmas in Moscow. The famous performance of 12 Months is a part of the show at this event making it a top choice for tourists. Come, be a part of the Moscow journey at this Magic Forest happening right in the heart of the city. This winter festive decoration is something you should not miss during Christmas in Moscow.
What's Special: The decoration in the trees
Summer In Moscow: Soak In The Landscapes Of This Stunning City In 2022!
11. International Christmas Theatre On Tverskaya Street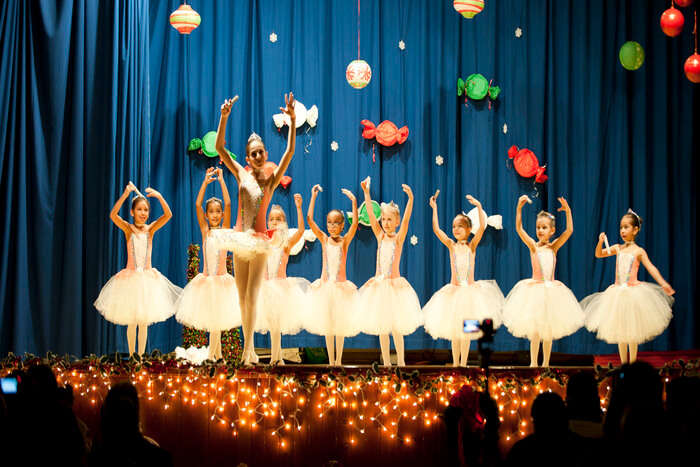 International Christmas Theatre is a great choice for tourists visiting Moscow during this time of the year and there is a list of major events in Moscow during Christmas. On the famous Tverskaya Street in Moscow, tourists can enjoy staged fairytales and really get into the Christmas mood. Come, be a part of theatrical journey during Christmas in Moscow.
What's Special: The special performances
12. Park Zaryadye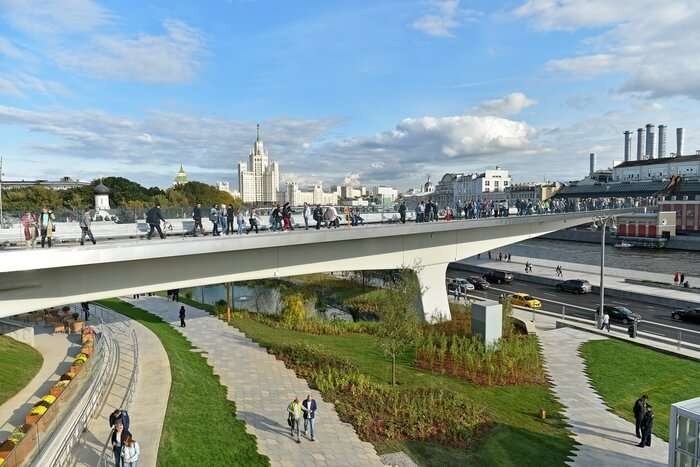 Tourists can enjoy a beautiful stroll at the Park Zaryadye which is lit up with Christmas lights and Christmas decorations throughout the Christmas season. Celebrations begin on December 22nd and end around 14th January next year. This is a great park to visit in the evening or night to see the lights at Christmas.
Location: Varvarka Street Household 6, Structure 1, Moscow, Russia, 109012
Timings: Always open
Russia Circle Trip: 20 Places To Visit In Moscow And St. Petersburg In 2022
10 Reasons Why Russia Is The Ultimate Christmas Destination
Here are some reasons that make Russia the ultimate Christmas destination and how best you can experience Moscow Christmas.
The Lit Christmas Markets
Shopping At GUM
Quirky Christmas Decorations
Having Champagne For Breakfast Is A Christmas Tradition
Experience Riding On The Bullet Train In Winter
You'll Go Bananas Over Russian Souvenirs!
You'll Love The Hospitality During Christmas
Russia Is Even More Beautiful In Winters
It's The Best Time To Enjoy Hot Russian Meals
Red Square Winter Festivities Should Not Be Missed
1. The Lit Christmas Markets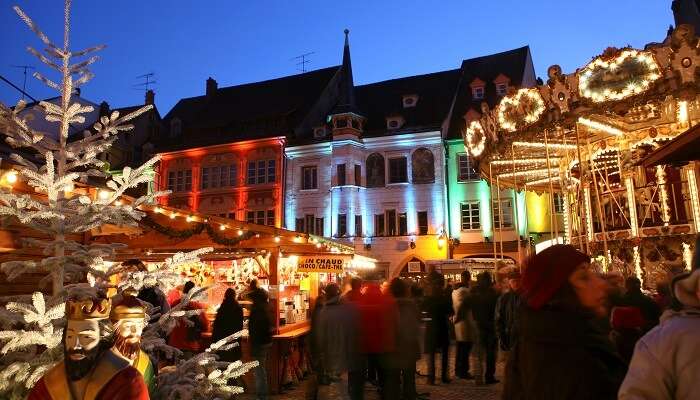 The Moscow Christmas Market 2022 is going to be an incredible spectacle and will offer some of the most unbelievable personages. You should make sure your itinerary allows you to roam around the glam and glitzy markets in Moscow or anywhere else in Russia for learning about Russian Christmas traditions, seeing the gold-red-green decor, buy unique things, and gorge on freshly baked plum cakes and cookies.
2. Shopping At GUM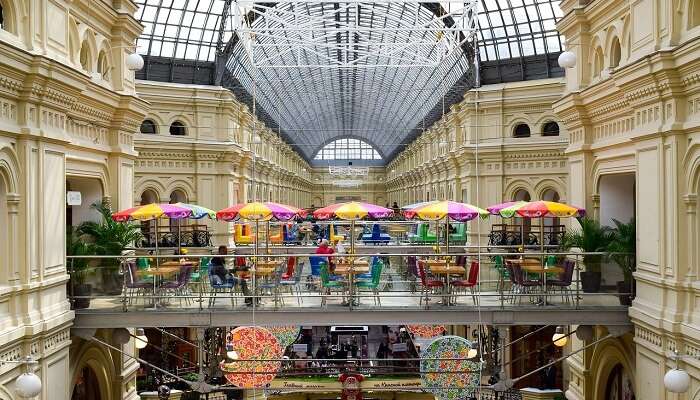 The Grand Mall (or GUM) located at Moscow's Red Square is an extravagantly decorated shopping arcade where you'll be fascinated with the Christmas decor with garlands, postcards, Christmas trees, candies, and more. But what will actually blow your mind are the awesome Christmas deals on international brands and merchandise sold here. It's the best place to find authentic, high-quality products in Russia that are not over-priced.
 7 Theme Parks In Moscow To Make Your Trip To The City Worth Cherishing
3. Quirky Christmas Decorations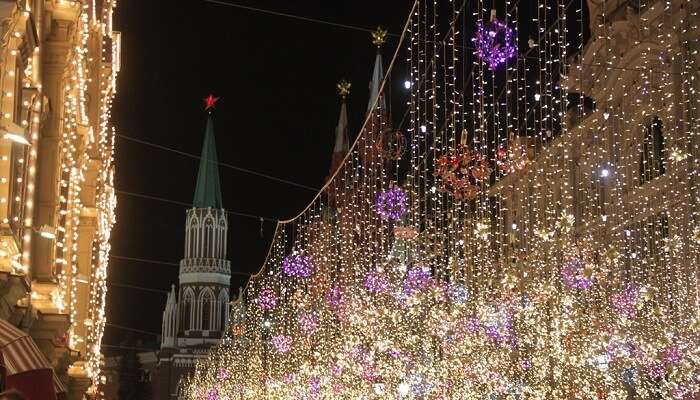 You'll absolutely love the unique and creative Christmas decorations all across Moscow. The prominent places and many small streets and cafes will be lined up with postcards as garlands, socks with candies, large Christmas trees, lights, and much more, all with a touch of Russian heritage and culture. You'll be able to find something to click everywhere you turn your head. The best time to witness the awesome Christmas decor in Moscow will be night-time when eye-warming lights will be twinkling everywhere.
4. Having Champagne For Breakfast Is A Christmas Tradition!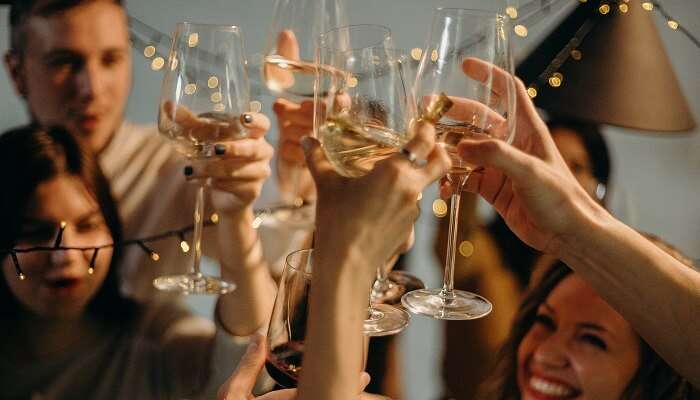 Totally bizarre, isn't it? But it's a thing in Russia and the locals strongly follow the tradition. Imagine having toast and coffee in a cafe on Christmas Eve and suddenly being served a tall and shimmering glass of Champagne! This sweet surprise will surely make your day! Throughout the Christmas holidays in Russia, people are served champagne for breakfast every year without fail. Why are you still waiting?
Indian Restaurants In Moscow: 10 Places To Eat At On Your Vacation In 2022!
5. Experience Riding On The Bullet Train In Winter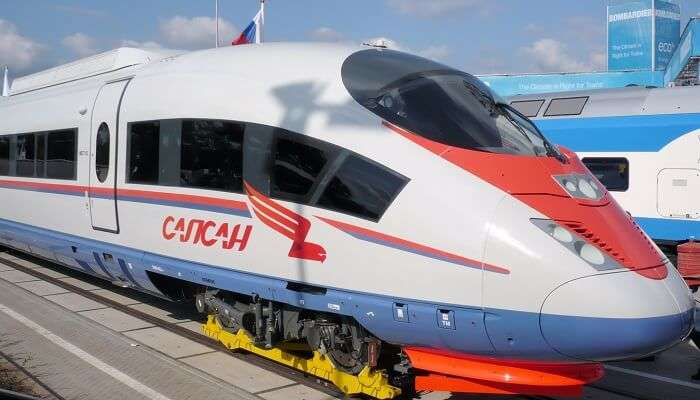 There's no better experience than riding the famous bullet train of Russia that will give you an instant adrenaline rush, and no better time to ride it than the winter season when it's not choked with tourists. The Sapsan bullet train gives you the chance to travel between the two biggest cities of Russia – Moscow and Saint Petersburg, which also happen to be the two best places to celebrate Christmas in Russia!
6. You'll Go Bananas Over Russian Souvenirs!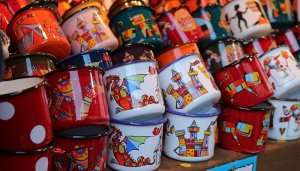 Moscow Christmas is a treat for shopaholics across the world. People from different parts of the world visit this city for the range of Christmas goodies, gifts, and souvenirs that are available here. Most of these are quirky Russian handicrafts that make excellent souvenirs for the festive season. You can grab things like Christmas balls painted with Russian stories, crystal snowflake ornaments and jewelry, crystal keychains, paper mache figurines of Santa Claus and Rudolph, pearl necklaces, babushka (Russian dolls), cute fragrance bottles, oddly shaped liquor bottles, and much more.
12 Day Trips From Moscow To Explore The Beautiful Capital City Of Russia!
7. You'll Love The Hospitality During Christmas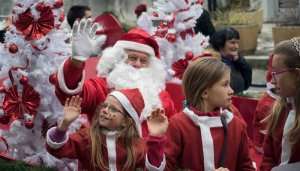 Russian people are known to be very sweet and helpful, but when you're there during Christmas, you'll actually feel that their hospitality and generosity are sort of amplified during the festive season. If you're lucky, you might even get invited to a Russian afternoon tea experience by a generous local living near you! Don't shy away from striking a friendly conversation in cafes and markets. You never know, you may end up bagging a discount on your meal or your Christmas shopping, respectively!
8. Russia Is Even More Beautiful In Winters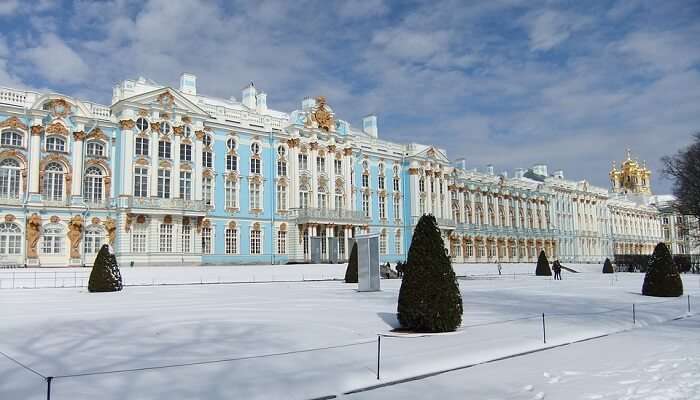 This is one of the most fabulous reasons for an avid traveler and nature lover to visit Moscow during the Christmas season. The whole city, as well as the surrounding areas and hills, turn into a winter wonderland in December, making this place ten times more beautiful than it already is! And if you add sparkling lights, lit Christmas trees, and merrymaking to this pleasing white landscape, the stunning vision will simply blow your mind!
Villas In Moscow: 7 Places That Offer Unparalleled Luxury In The Heart Of Russia
9. It's The Best Time To Enjoy Hot Russian Meals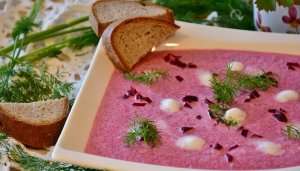 Borscht is the best kind of food for surviving the Russian winter and wintertime is the most ideal season to try borscht in Moscow, Russia. Russian cuisine is nutritious and absolutely delicious. There won't be a better time than the biting Russian winter to walk into a nice and cozy cafe and enjoy a steaming hot plate of Russian food like Borscht. And the best part is, you'll get to taste a variety of Christmas dishes like stuffed Turkey, roast beef, plum cakes, rolls, and the likes.
10. Red Square Winter Festivities Should Not Be Missed!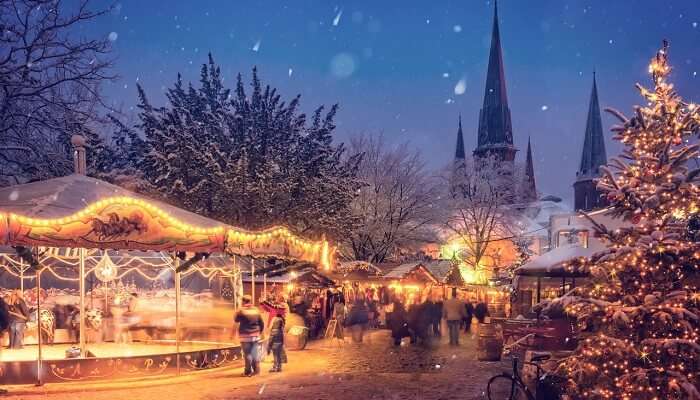 The Red Square is the Rockefeller Center of Russia – brimming with the energy and festive spirit of Christmas in Moscow. At this point, stalls open really early in the morning during Christmas time and you can do anything here from taking a stroll in the snow, watching street performances, have a cup of steaming coffee and cake, or buy Christmas trinkets and souvenirs like a babushka. It's also a great place for buying Moscow Christmas lights for decorating your Christmas tree.
With The Red Square Turning White, Snowfall In Moscow Hits A 100-Year High!
Moscow is a truly great city and millions of tourists visit this city. A visit to Russia during Christmas is a great option as there are many special events taking place in the city during this time. Christmas in Moscow is usually a white Christmas as it snows during this time of the year. It is a little cold in Moscow during this time of the year but the truly special Christmas in Moscow totally makes it worth it for tourists to visit Moscow during Christmas.
Disclaimer: TravelTriangle claims no credit for images featured on our blog site unless otherwise noted. All visual content is copyrighted to its respectful owners. We try to link back to original sources whenever possible. If you own the rights to any of the images, and do not wish them to appear on TravelTriangle, please contact us and they will be promptly removed. We believe in providing proper attribution to the original author, artist or photographer.
Please Note: Any information published by TravelTriangle in any form of content is not intended to be a substitute for any kind of medical advice, and one must not take any action before consulting a professional medical expert of their own choice.
Frequently Asked Questions For Christmas In Moscow
What does Russia do for Christmas?
Russia celebrates Christmas with just as much enthusiasm as any European or American destination, only with a little Russian touch. You'll find Christmas markets, decked up Christmas trees, people exchanging gifts and some even dressed up as Santa during this festive season in Russia.
Is December a good time to visit Russia?
December is a great time to visit Russia for those who want to witness Christmas in Russia and play in the snow.
How cold is Russia in December?
The average temperature in Moscow in December is 9°C. It ranges from a minimum of 4°C in the night time to a maximum of 13°C in the daytime.
Does it snow in Moscow in December?
Yes, you'll be able to experience snowfall in Russia in December.
What is a traditional Russian Christmas dinner?
Russians enjoy the common Christmas dinners like roast beef, hot rolls, grilled vegetables, plum cakes, and wine. You may even find Borscht as an addition to a traditional Christmas feast in Russia.
What is there to do in Moscow in December?
There's plenty to do in Moscow in December. You can play in the snow, shop at the Christmas markets, have coffee at the many decorated cafes, go ice skating, ride the bullet train, and explore the famous tourist attractions like the Kremlin.
What should I wear in Moscow in winter?
You should wear proper winter clothing in Moscow in winter since it tends to get really cold. Jackets, sweaters, scarves, hats, boots, gloves, and layers of woolens are an absolute must.
---