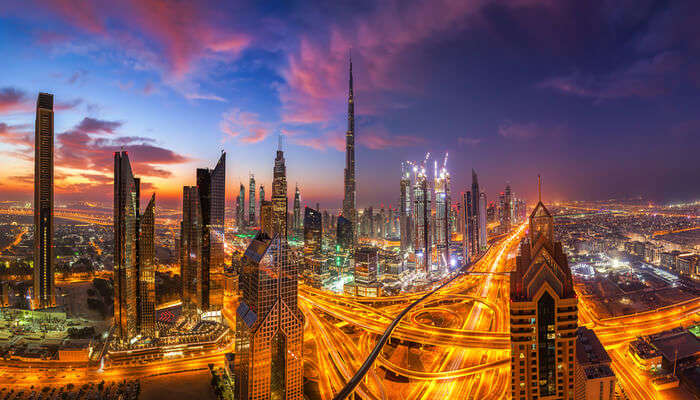 People dream to live in a city like Dubai. It is located in the United Arab Emirates and is almost famous for everything you can think of. There is nothing that you can't find in Dubai. Everyone can find something which they are passionate about in Dubai. You can find enormous shopping complexes to high modern architecture buildings and significant spiritual Mosques to a vivacious and exciting nightlife.
Visiting a place in its best weather conditions will always enhance one's traveling experience. Traveling to a place in such conditions will always give you more opportunities to explore an area in a very comforting way. Sometimes adverse weather conditions may also not let you get to some of the tourist spots. So always check and understand the weather conditions before you plan a trip to an area. Let this guide about Dubai in February help you figure out all the necessary elements!
Weather In Dubai In February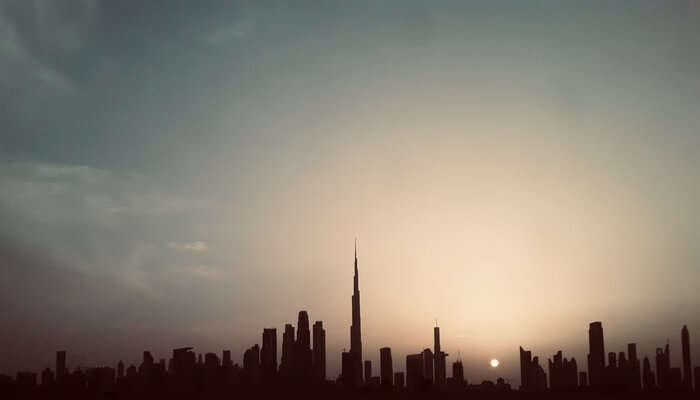 Image Source
February in Dubai is considered to be one of the best seasons or months to be visited. The weather in Dubai in February is just perfect. During the day, the temperature in Dubai in February remains around 28 °C while the evenings are comparatively cooler with the temperature hovering around 18 °C February has the most pleasant temperature in Dubai when compared to temperatures throughout the year. The days are sunny and the evenings are perfectly cool. Which enables a visitor to have a great sunny morning and explore the places, and then have a relaxing evening and a boost up for partying all night.
Best Places To Visit In Dubai In February
Dubai is known for its modern art architecture and all the adventure sports opportunity it provides. The month of February is apt to take on some new adventures in Dubai and explore the massive sand dunes while you ensure an adventurous safari in the desert. Marvel at some of the glistening views of the sea from the pristine beaches and visit the Bhurj Khalifa to witness the spectacular skyline of Dubai. Her are some of the famous places to visit in Dubai in February:
Burj Khalifa – Witness The Stunning Skyline Of Dubai
Palm Jumeirah – For A Unique Experience
The Dubai Mall – For All Your Shopping Needs
Dubai Marina – Witness The Stunning Shoreline
Atlantis The Palm – For All Things Luxury
The Dubai Fountain – A Breathtaking Spectacle!
Jumeirah Beach – For Recreational Activities
1. Burj Khalifa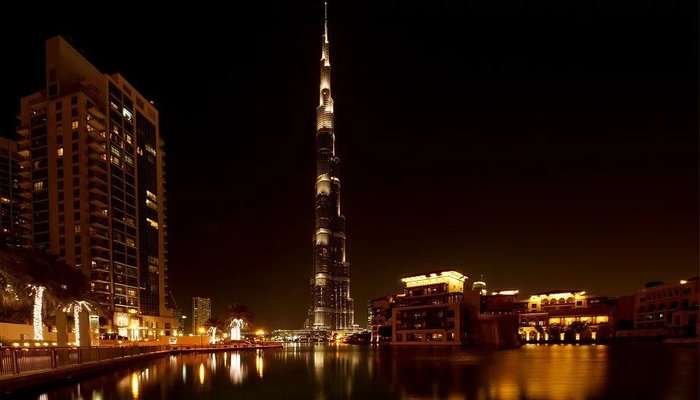 Image Source
Nevertheless starting exploring Dubai from the incredible Burj Khalifa is one of the best ideas. Dubai is known for its remarkable modern architecture, and one such significant example is the Burj Khalifa. The estimated height is somewhere around 2,700 feet. There are about two decks in Burj Khalifa that gives you two most jaw-dropping views of the city. Burj Khalifa has a whopping 148 floors. With the first view on the 124th and 125th floor known as at the top view. Then next a sky-high view known as, at the top, the sky is present on the 148th floor of the Burj Khalifa. It has a fountain in front of it which is a bit inspired by Las Vegas. Burj Khalifa has the city's best nine luxurious hotels.
Location: Downtown of Dubai, 1 Sheikh Mohammed bin Rashid Blvd, Burj Park in Emaar.
Timings: 8:30 am to 10 pm
Entry fees: At the top- Adult: INR 6,000, Child: INR 2,000; At the top, sky- Adult: INR 10,000, Child: INR 7,000
Must Read: 23 Best Places To Visit In Dubai With Family in 2022 For A Holiday Like None Other!
2. Palm Jumeirah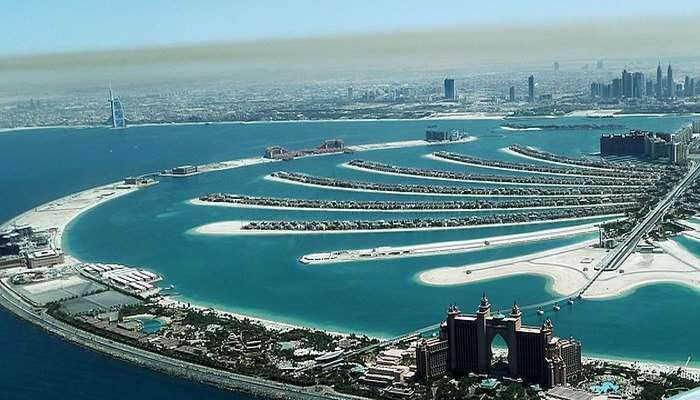 Image Source
One of the best places to visit in Dubai in February, Palm Jumeirah was an extension of Dubai when they reclaimed the land leading into extending in the Gulf of Persia. Palm Jumeirah is built on the ocean from the sand in the sea. It is legitimately built on sand that is sourced from the sea. Palm Jumeirah was hailed to be one of the first-ever development projects that were born in Dubai. When we look over the Palm Jumeirah from higher altitudes, it appears like a palm tree surrounded by a circle. The Palm Jumeirah can be distinguished into four significant parts named trunk, spine, fronds, and crescent. One enters the Palm Jumeirah from a wide trunk which helps us to reach the mainland by a bridge. There is another bridge that starts from the trunk and connects us to the spine of Palm Jumeirah. Crescent is a break waterfront it connects us to the spine through a tunnel in which vehicles can travel. Inspired by the idea of Palm Jumeirah later continuing this theme, more modern architectures were built named Palm Jebel Ali and Palm Deira. Palm Jumeirah consists of apartments, offices, retails, resorts, and villas. This leads to becoming the Palm Jumeirah Dubai's top tourist destination.
Location: Near Al Sufouh.
Timing: Open throughout the day
Price: Traveling through train one way will cost INR 400
Suggested Read: Dubai New Year 2022: A Guide For The Celebration
3. The Dubai Mall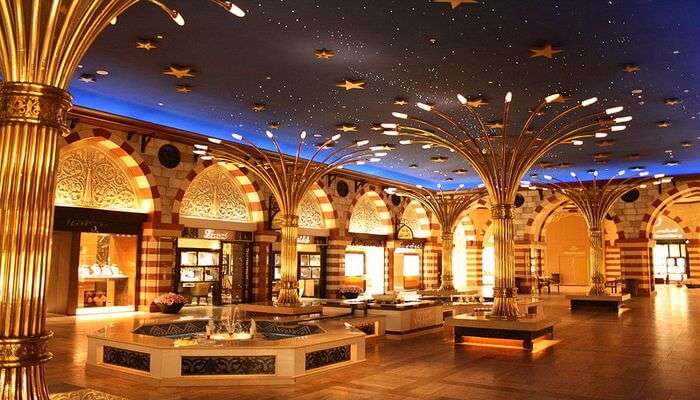 Image Source
Dubai Mall is one of the world's largest malls. It covers an estimated area of about 500,000 meter square and that makes it one of the largest malls in the world. The mall has 12000 stores in total and it is certainly one of the best shopping places in Dubai to visit.
You can find anything under the sun in Dubai Mall. There is an underwater aquarium, and the ice rink is present in Dubai Mall. The ice rink acts as an open space where thousands of people can be brought together for any significant events, parties, or gatherings. There are approximately 14,000 spots saved for parking. There are amusement sections, and children play zone area in Dubai Mall.
Location: Sheikh Mohammed Bin Rashid Boulevard, Downtown Dubai, 31166- Dubai- UAE.
Timings: It is open on Sunday to Wednesday from 10 am to 11 pm and from Thursday to Sunday at 10 am to 12 pm.
Price: Entry is free.
Suggested Read: Visit These 10 Top Art Galleries In Dubai To Feed You Mind And Soul With Ethereal Art
4. Dubai Marina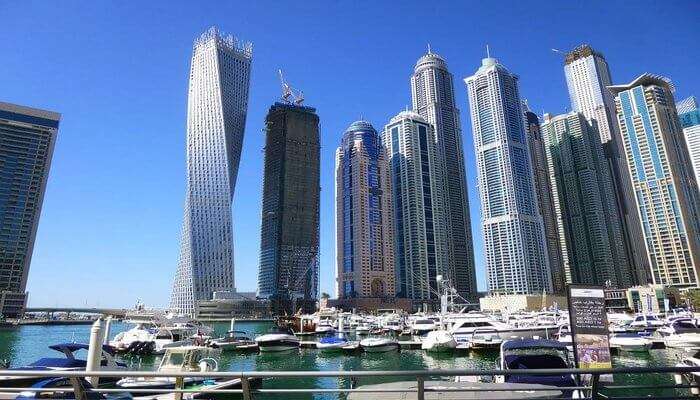 Image Source
Dubai Marina is one of the most remarkable places in Dubai. It is built on the waterfront of the Persian Gulf shoreline. There are many entertainment opportunities available in Dubai Marina. Hotels and shopping centers are upscale here. Dubai Marina is usually considered to be one of the most easily accessible spots for pedestrians in Dubai. People can go for a jog or have an enjoyable evening shopping or enjoy the best view of the waterfront and have a relaxing evening.
Location: Al Marsa Street, Dubai – United Arab Emirates.
Timings: 10:00 am to 10:00 pm
Price: Entry is Free.
Suggested Read: Bungee Jumping In Dubai: 7 Tips Every Beginner Should Be Aware Of
5. Atlantis The Palm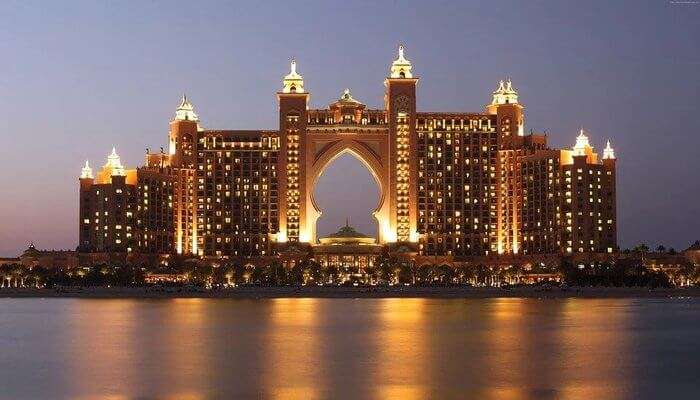 Image Source
Atlantis is the first-ever hotel that was built on Palm Jumeirah. Atlantis is a five-star resort with an underground or underwater aquarium and swimming opportunity with dolphins. Atlantis theme is based on the myth of Atlantis. It provides us with breathtaking and mesmerizing views of Arabia.
Location: Crescent Road, Dubai – United Arab Emirates.
Timings: Open throughout the day
Price: No fee charged
Suggested Read: 11 Exquisite Coffee Shops In Dubai To Get Your Soul Caffeinated!
6. The Dubai Fountain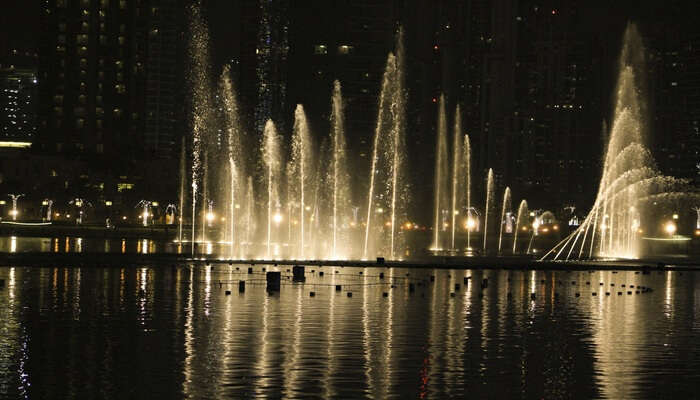 Image Source
The Dubai Fountain is one of the largest water fountains in the world, and guess where it is located? It is placed near the Burj Khalifa on around almost twenty-four acres of land. It is one of the most breathtaking -synchronized fountains in the world. The dancing fountain reaches a height of about 150 meters. It is synchronized to the best Arabic classics and different worldwide popular music numbers. California based Wet is the inspiration of the Dubai Fountain. The show starts in the evening, and the best view one can get is through Dubai Mall. This fountain is situated in the location of Burj lake. It consists of around 1.5 million lumens of light.
Location: Fashion Parking near Dubai Mall, Sheikh Mohammed bin Rashid Blvd, Dubai
Timings: Afternoon shows except for Fri – 1 pm and 1:30 pm. On Fri timings are 1:30 pm and 2 pm.
Evening shows- 6 pm to 11 pm starts every half hour.
Price: Free entry
Suggested Read: 60 Tourist Places In Dubai: Do Not Come Back Without Visiting These Marvels In 2022

7. Jumeirah Beach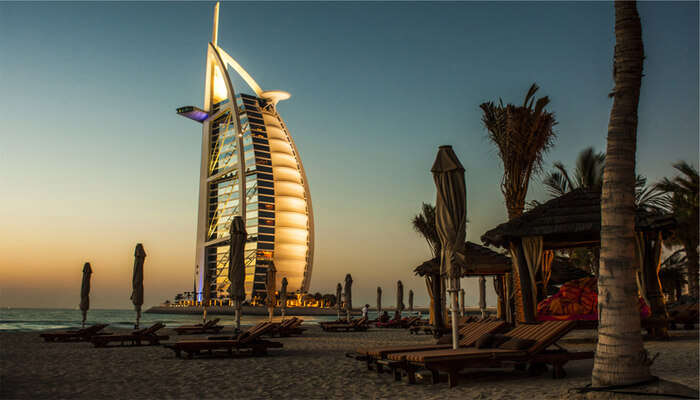 Image Source
Al Fahidi is one of the most historic locations, on whose coast, the Jumeirah Beach is situated. This spot is one of the high tourists visited places in Dubai. The white sand and clear water are just mesmerizing. The waterfront also embedded with some of the most luxurious resorts and authentic architecture like Burj Al Arab (Arab Tower) hotel, Wild Wadi Water Park, Jumeirah Beach Hotel and Burj Al Arab (Arab Tower) hotel adds grace to the lively waterfront. There are many activities and adventure sports available on the beach.
Location: Close proximity to Safa Park.
Timings: Mon-Wed and Sat: from 7:30 am to 10 pm.
Thu-Fri: 7:30 am to 11 pm.
Price: Entry is free.
Suggested Read: 10 Most Fabulous Places To Enjoy Desert Camping In Dubai In 2022
Best Things To Do In Dubai In February
There are various Opportunities and things to do in Dubai in February. The best weather conditions open more opportunities for a person to try different adventure sports, these are amongst the best things to do in Dubai for a perfect vacation in 2022. Some of the best things that a person must do during their visit to Dubai during February are:
Dubai Shopping Festival – Go Splurge!
VR Park in Dubai Mall – For All VR Fans!
Laguna Water Park – Kids Frenzy In The Water
IMG World of Adventure – An Indoor Theme Park
Spend A Day At The Beach – To Relax & Unwind
Desert Safari – For Some Adventure In The Sand!
1. Dubai Shopping Festival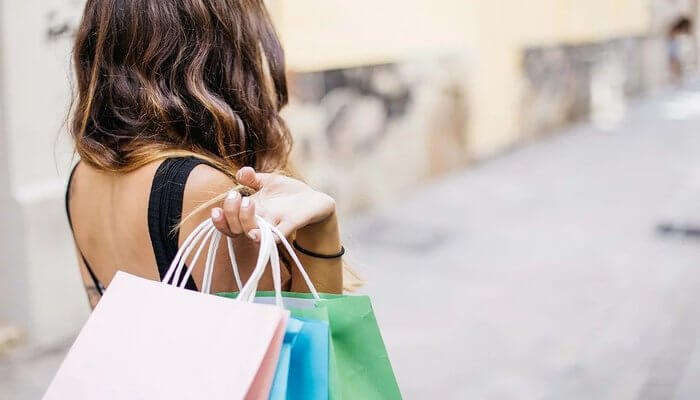 Image Source
Find some of the best things to buy in Dubai 2022 at the Dubai shopping festival is during the months between Jan and Feb. These shopping festivals have a massive discount that is up to 75 per-cent of discount on all products of every category. From furniture to clothes and even something as far-fetched as electronics is available. Every visitor to Dubai in February must visit this exclusive shopping festival.
Location: Dubai Shopping Mall.
Timings: 10 am – 10 pm
Price: Free
Suggested Read: Aquaventure Waterpark: Slides, Rides, Sharks, Sting Rays And More In Dubai
2. VR Park in Dubai Mall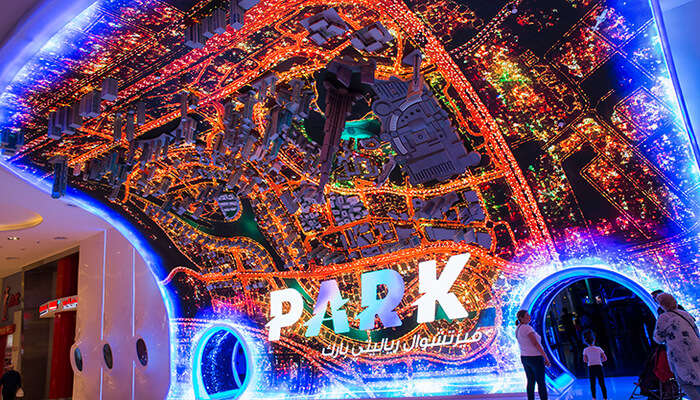 Image Source
VR park in Dubai is the world's largest VR park in the world. It is built on an area around 76,000 square feet. It's a dream come true to all the AR and VR fans all over the world. VR Park has the world's best VR gaming experience. It has approximately 150 realistic games and simulators and 15 unusual motion stimulating rides. There is a car race track in the VR park. Laserase is the Laser maze present in VR Park. Food is also a highlight of this VR Park. You can find different varieties of food from authentic home-cooked food to modern world food cuisine.
Location: The Dubai Mall, Financial Center Road, Dubai Timings: 10 am to 12 pm.
Price: Entry fee starting from 1,953 INR.
Suggested Read: Everything You Need To Know About The Transcendental Dubai Opera
3. Laguna Water Park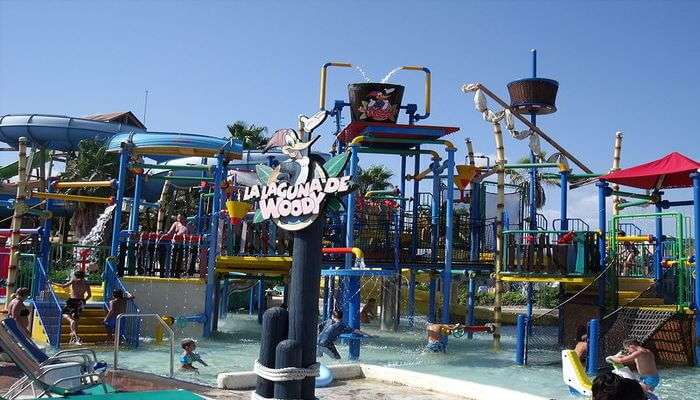 Image Source
Laguna Water Park is one of the best water parks in the world which is located on the beachfront of La Mer. There are water rides for adults and children. It is not only famous for the rides but the availability of food. Many reputed brands like Roti Roller, Zou Zou restaurant is found in the water park. People can have a relaxing day at the beachfront, by having a dip eating tasty food or just by floating in the ocean.
Location: La Mer, Dubai – United Arab Emirates
Timings: 10 am to 6 pm.
Price: 2,440 INR.
Suggested Read: Bastakia In Old Dubai: The Ancient Foundation Of The Dazzling City Of Dizzying Heights
4. IMG World of Adventure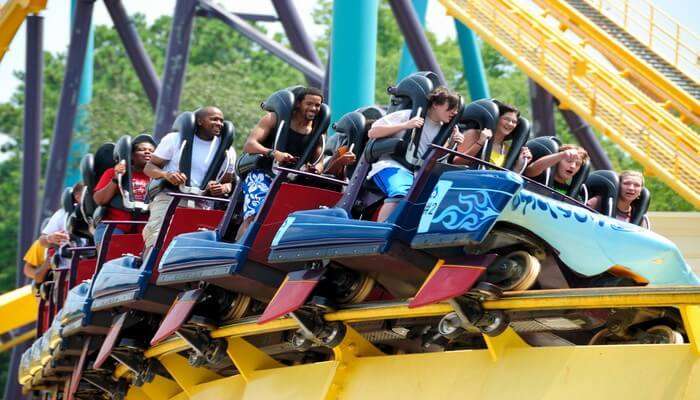 Image Source
IMG is the first-ever indoor theme adventure park built in Dubai in the year 2016. This theme park consists of almost all the cartoon or anime characters. It is built on a land of around 1.5 million square feet in area. There are different amazing rides and live shows in IMG. There are various themes based on characters like frozen and other characters from Disney, Marvel, and DC. You could also try skiing in Dubai as one of the best things to do in Dubai in February.
Location: Beside Global Village, on Sheikh Mohammed Bin Zayed Road, Dubai – UAE
Suggested Read: Nightlife In Dubai: What's In The Store For The Kind Of Traveler You Are!
5. Spend A Day At The Beach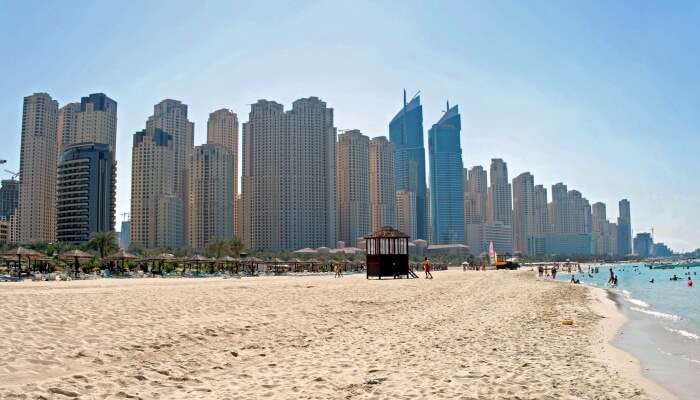 One of the favourite things to do in Dubai in February, Dubai boasts such pristine white sand beaches that leisure travelers love to visit and chill at. The stunning shoreline is dotted with chic waterfront shops, and walking tracks to enjoy the sea views and relax with your loved ones. The JBR beach gives some of the best views of the sea and Dubai. You can also visit the Black Beach and Kite Beach for a relaxing day.
Famous beaches: Jumeirah Beach, Kite Beach, Black Beach
Suggested Read: Skydiving In Dubai: An Ultimate Guide For The Adrenaline Junkies To Take That Dive In The Sky!
6. Desert Safari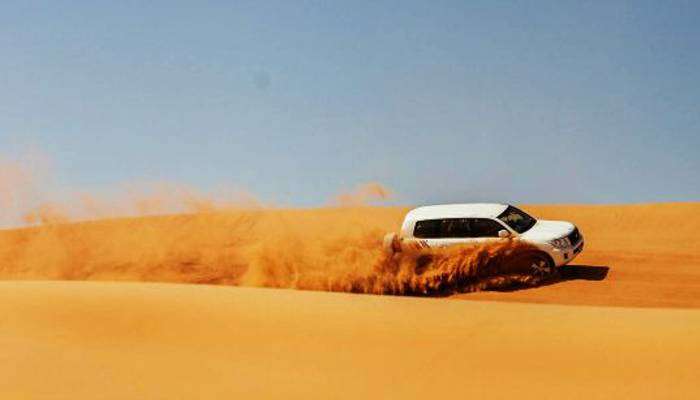 A trip to Dubai is incomplete without doing the Desert Safari and it's part of the city's one of signature experiences. The weather in February is absolutely ideal to plan a day out and explore the expansive deserts of Dubai and go on a new adventure by taking a safari. Hop aboard an ATV/quad bike or enjoy a belly dance in the midst of a desert.
Suggested Read: 26 Free Things To Do In Dubai And Experience Over The Top Luxury Without Spending A Penny In 2022
Best Places To Stay In Dubai In February
There are some of the most amazing places where one can stay on their escape to Dubai in February to enjoy a luxurious and comfortable stay in the emirates. Dubai is all about living life king size, so let's check out some of the best options for accommodation while touring the land of sheikhs. Take a look at this list of places that you can stay at!
Rose Studios
Fully Furnished Studio Apartment 1
Miss Lily's
Maison Hotel
Rove Dubai Marina
1. Rose Studios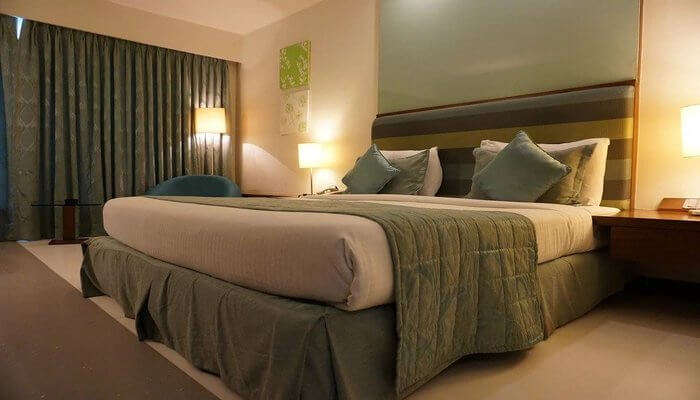 Image Source
One of the best hotels present near the beachfront in Dubai. Entirely air-Conditioned hotel with pool and gym facilities. Availability of free parking and free Wi-Fi.
Location: 19.2 km away from the center of the city.
Price: Starting from 2,090 INR per day.
Suggested Read: Dubai Marina: The One Stop Destination For Breathtaking Panorama And Unparalleled Luxury
2. Fully Furnished Studio Apartment 1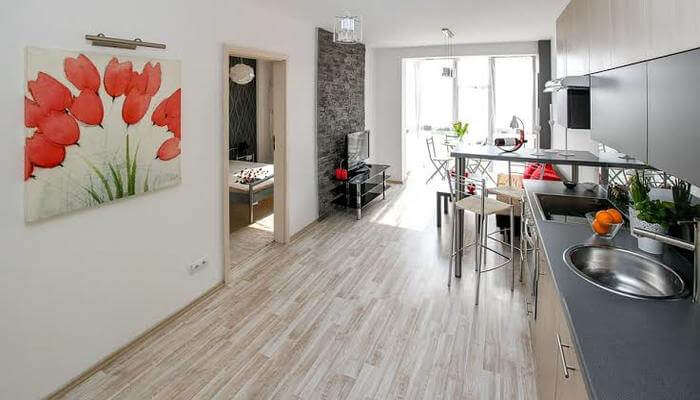 Image Source
Studio Apartment 1 is one of Dubai's best family-friendly hotels. It consists of beautifully furnished ac rooms with free Wi-Fi and a gym.
Location: Office- 2504, Media One Tower, Dubai- AED.
Price: Starting from an estimated 3,322 INR.
Suggested Read: 5 Experiences From Our 3 Days In Dubai Jaunt That Altered Our Worldview
3. Miss Lily's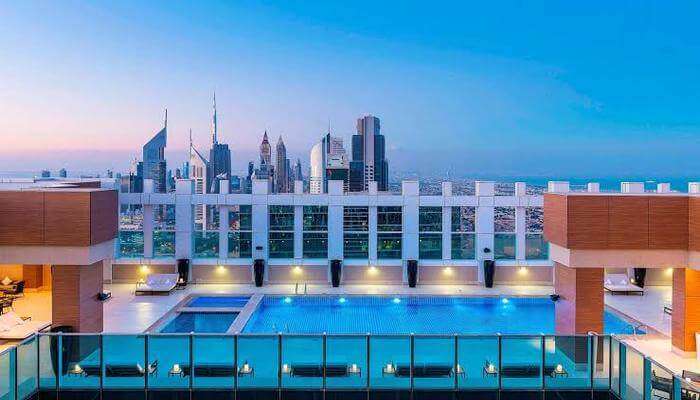 Image Source
One of the most comforting king and queen suites in Dubai are available at Lily hotel. These are entirely air-conditioned and have access over free Wifi and gym. In addition to that pool is also available at Lily.
Location: Sheikh Zayed Road, Sheraton Grand Hotel, Dubai – United Arab Emirates.
Price: Starting from around 2,794 INR.
Suggested Read: Hold On To Your Money Because Indians Can Now Shop At Dubai Duty-Free Using Rupee
4. Maison Hotel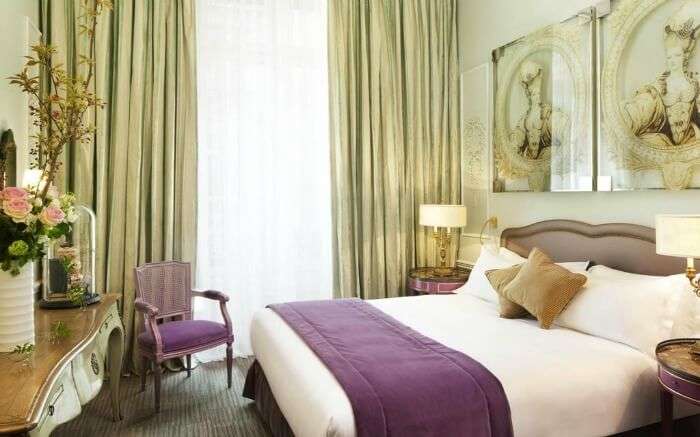 If you're looking for comfort and luxury then this is the best option. It is located 9KM from Gurunanak Darbar Sikh Temple and provides all the necessary amenities and facilities to the guests. You get a restaurant, free private parking, an outdoor swimming pool and a fitness centre. With a bar, the property also features a shared lounge, as well as a garden.
Location: Dubai Investment Park, Dubai, UAE
Price: Starting from around 3,500 INR.
Suggested Read: Top 32 Romantic Restaurants In Dubai In 2022: Dine Like The Royals!
5. Rove Dubai Marina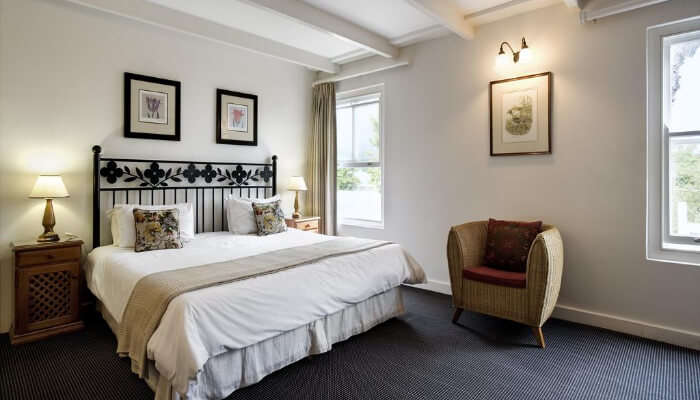 Located in Dubai's one of the most vibrant areas, it is the perfect resort for travelers who are seeking luxury. It is surrounded by high-rise building and the rooms offer splendid views of the stunning skyline of Dubai. The hotel is nearby the beach and barely a few minutes driving distance from The Palm.
Location: Al Seba Street, Dubai Marina, Dubai, UAE
Price: Starting from around 5,000 INR.
Suggested Read: 7 Awesome Reasons Why You Ought To Visit Dubai Parks & Resorts On Your Next Vacay In The Emirates
Tips For Travelers For Dubai In February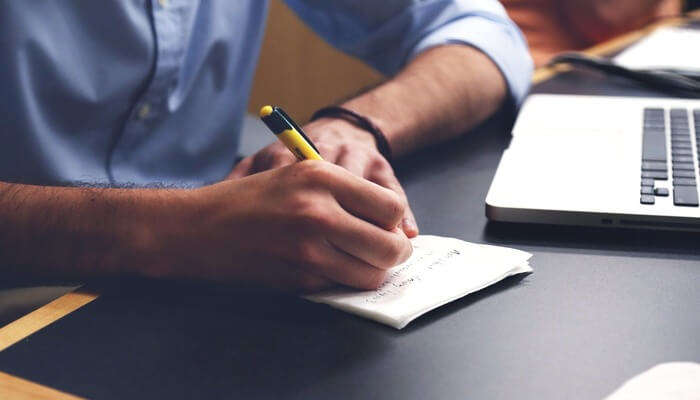 Let's have a look at some Dubai travel tips to save you time and worry to enjoy a perfect hassle-free trip to the emirates.
● Always book your tickets in advance as the tourist rate is high during this month.
● Visit the Jumeirah Beach and try adventure sports there.
● Always follow the moral codes of Dubai.
● Visit the Adventure parks.
● Boarding metro trains and cabs are the best transport facilities in Dubai.
Further Read: Dubai In September 2022: An Ultimate Handbook To Answer Your Questions Instantly!
Dubai in February is nothing less than magical. With weather so pleasant, places so attractive, and experiences so memorable, Dubai is a destination that boasts about the extravagant holidays in the United Arab Emirates. Planning a trip to Dubai can always turn out to be a great idea as there is something to do for anyone and everyone. Do visit this destination at least once in your lifetime!
Disclaimer: TravelTriangle claims no credit for images featured on our blog site unless otherwise noted. All visual content is copyrighted to its respectful owners. We try to link back to original sources whenever possible. If you own the rights to any of the images, and do not wish them to appear on TravelTriangle, please contact us and they will be promptly removed. We believe in providing proper attribution to the original author, artist or photographer.
Please Note: Any information published by TravelTriangle in any form of content is not intended to be a substitute for any kind of medical advice, and one must not take any action before consulting a professional medical expert of their own choice.
Frequently Asked Questions About Dubai In February
Is visiting Dubai in February is a good idea?
Yes, visiting Dubai in February is one of the best plans you will ever make. The weather conditions in February in Dubai are favorable to all people. And allow a person to explore every bit of Dubai without any inconvenience.
What are the average temperature ranges in Dubai in the month of February?
The temperature in Dubai in February ranges from 24°C in the daytime to 17°C during the night. This makes the weather conditions most favorable and helps us to enjoy exploring Dubai during the day and partying at night.
How do we reach Palm Jumeirah?
We can reach Palm Jumeirah by booking cabs, or even public transport is available for reaching Palm Jumeirah. Palm Monorail is the train that travels to Palm Jumeirah. The train is open from 9 am to 9 pm from the Palm Gateway Station and from 9 am to 10 pm from Atlantis Station. One way ticket from either of the stations that are from Palm Gateway Station and the Atlantis Station is 390 INR.
What sports are available in Jumeirah Beach?
Jumeirah Beach is famous for activities like adventure sports. People can get access from kite flying to jet skiing. Doughnut ride, flyboarding, and Kayaking are also available on Jumeirah beach.
Can people go on a desert safari in the month of February?
Yes, Desert safari is available during February. The desert safari is more convenient and comforting during February. As the temperature is low and less humidity is present. the start time for desert safari is 8:30 to 10 pm. The pricing of packages starts from 1,075 INR to 4,298 INR.
How much is the entry fee of the underground water aquarium in Dubai?
There are around 33,000 marine life viable in the underground water zoo in Dubai. There is a VR section that is also present in the zoo, which enhances the experience of the visitor. The price varies from 2,833 INR to 4,592 INR.
---
Looking To Book An International Holiday?
---
People Also Read:
Maldives In February Singapore In February Sri Lanka In February
Comments
comments