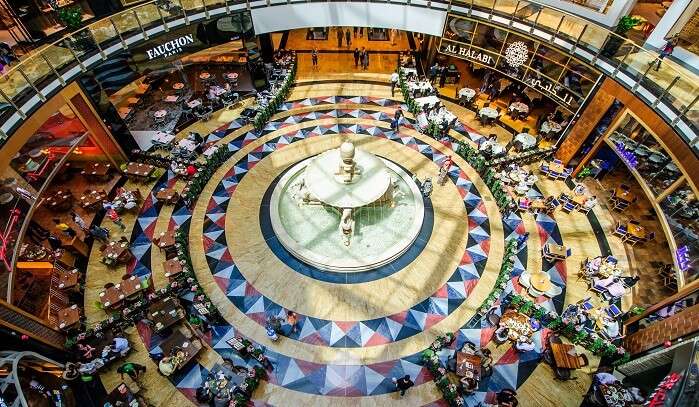 What do you say about a destination that is famous for shopping, worldwide? You don't say anything. You just bring out the shopaholic in you and go to that destination. That destination might be Dubai for you. If there was an award for the best places to shop at then Dubai would be such a strong contender. From the many places to shop at and such a wide variety of things to buy in Dubai you just have to take your pick or maybe have a bit of all of them.
15 Best Things To Buy In Dubai
Although there is no dearth of things to shop in Dubai we have decided our best picks and these are 15 souvenirs that you can or rather should bring back from Dubai.
Aladdin Lamps
Camel Milk Chocolate
Lanterns
Dubai Dates
Arabic Attar
Persian Rugs & Carpets
Lucky Stones
Oudh & Bakhoor
Hookahs
Pashmina Shawls
Kava Pots & Coffee Sets
Gold and Diamond Jewellery
Arabian Coffee
Electronic Items
Dubai Spices
1. Aladdin Lamps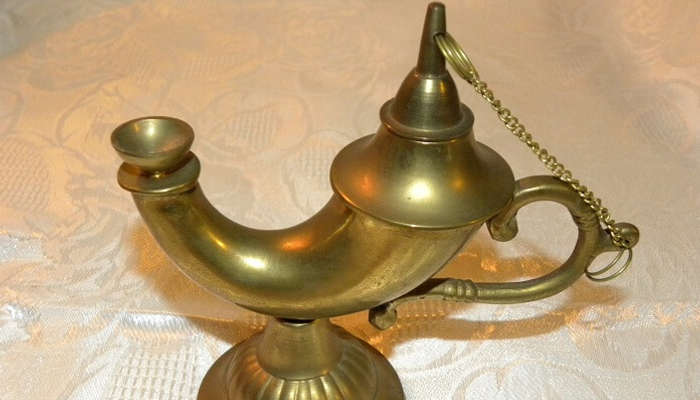 No, the genie does not come out of these. Inspired by the legend of Aladdin these brass lamps with very detailed carving are one of the best things to get from Dubai. If you are looking for something to gift a loved one then these Aladdin Lamps would be just perfect.If you are wondering about where you can find these lamps then Karma Souk and Al-Karama Market are your best bets.
Where To Buy- Karama Souq, Street No. 18b , Dubai UAE; Al- Karama Market, Dubai – United Arab Emirates
Must Read: 8 Bakeries In Dubai For Your Sinful Indulgence In Sugar And All Your Sweet Cravings
---
Dubai Holiday Packages On TravelTriangle
Travel Dubai in Luxury. Visit grand Burj Khalifa or the breathtaking Palm Islands. Enjoy Dhow Cruise, International Buffet Dinner, Dubai City Tour, Desert Safari, Ferrari World and Abu Dhabi City Tour. Book your Dubai holiday package on TravelTriangle.
---
2. Camel Milk Chocolate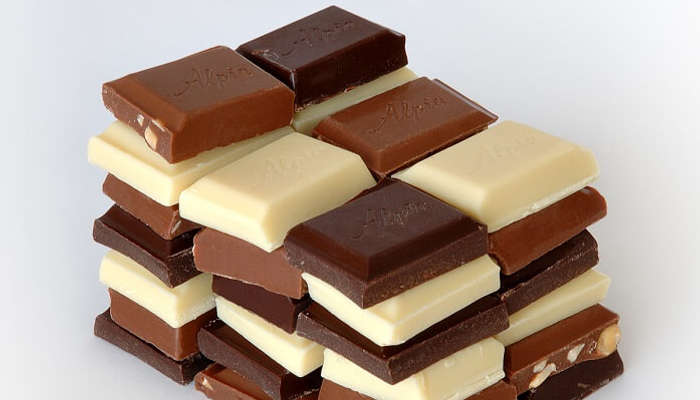 A home grown delicacy that you will absolutely love, the Camel Milk Chocolates are one of the most delicious things to get from Dubai. Initially these chocolates could only be found in Dubai but now they are being exported to Europe and other Asian countries. Al Nassma camel milk chocolate has many varieties including whole milk, macadamia and spiced (Arabia) chocolates.
Where To Buy- Al Nassma kiosks at: Dubai Mall, Burj Al Arab, Burj Khalifa and Duty free shops
3. Lanterns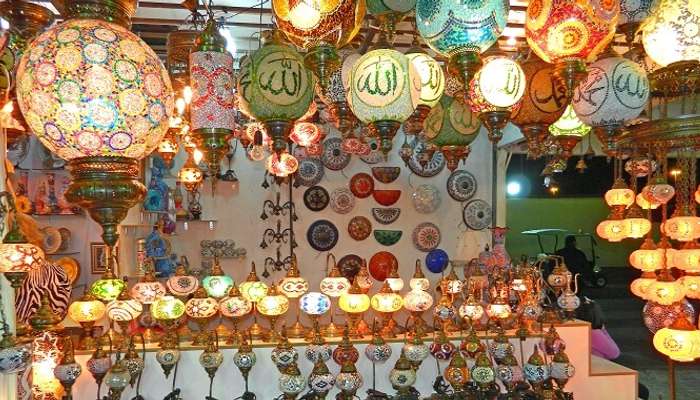 If you are looking for the best souvenirs to buy as gift items from Dubai then you should really consider lanterns. The kind of craft and labour that goes into the making of these lanterns is great and therefore they make as great gift options. A lantern with small bits of glass woven onto it would be an ideal gift and would make anyone happy and feel special.
Where To Buy- Dragon Mart,Al Awir Road, Dubai 7567, United Arab Emirates; Karama Souq, Street No. 18b, Dubai UAE
Suggested Read: 10 Most Popular Adventure Sports In Dubai For A Thrilling UAE Holiday In 2019
4. Dubai Dates (Dried Fruit)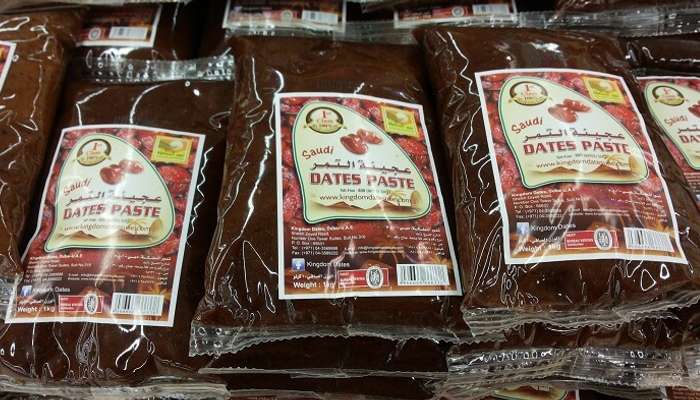 Dates are a prominent part of Middle Eastern culture and buying these as a souvenir from Dubai is ideally the best thing to do. One of the cheap things to buy in Dubai, these dates are a rich source of calcium, iron, magnesium and many other essential items and are an instant energy booster. With over 20 varieties of dates including Sokari, Kholas and Madjool these dates are very flavoursome.
Where To Buy- Dates souk at Deira Food Market for fresh dates; Supermarkets for packed dates
Suggested Read: Dubai Monuments: Blended List Of 8 Enchanting Old And New Monuments In The City!
5. Arabic Attar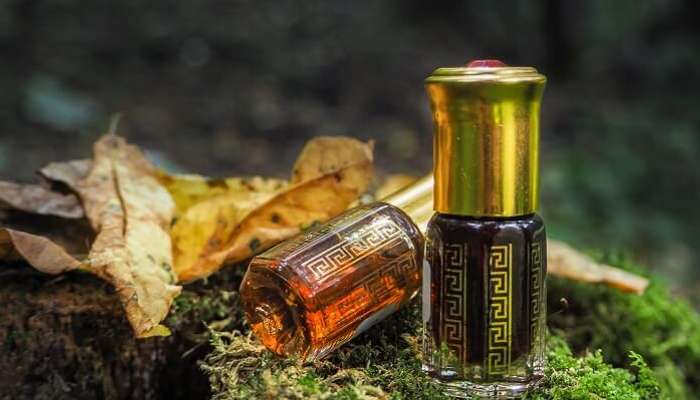 Attar or perfume oils are made by distilling flower petals in water by using pressure and mild heat. The exotic fragrance of these very strong oils are very pleasant and you will get a whiff of it whenever you walk past an Arab woman. At times spices and oils too are added and mild Sandalwood oil is used for the finishing.If you are unsure then you can go for branded options at popular shops such as Hind Al Oud and Amouage.
Where To Buy- Perfume Souk at Deira, Perfume shops in malls and the airport
Suggested Read: Food Festival In Dubai: An Ultimate Event Where You Can Just Eat, Crave & Repeat
6. Persian Rugs & Carpets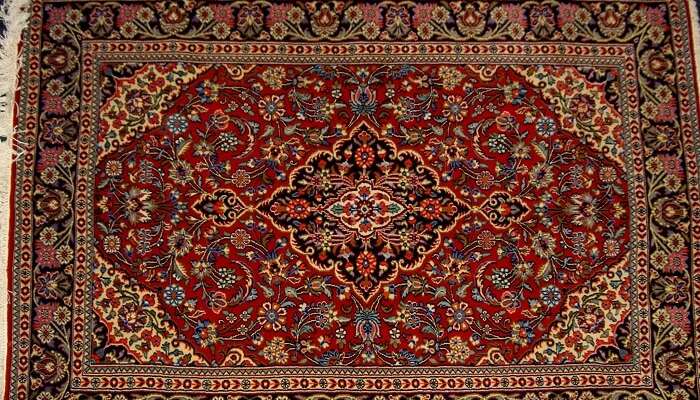 If you are not on budget and wish to invest into something beautiful and very classy at the same time then Persian Rugs and Carpets are the best choice. One of the best home decor products and very appealing with intricate designs and fine detailing, these rugs and carpets are one of the most famous things to buy in Dubai. Affordable and inexpensive rugs and carpets too are available at Dubai souks.
Where To Buy- National Iranian Carpets at Souq Madinat Jumeirah; Persian Carpet House at Souq Madinat Jumeirah, Dubai Mall, Mirdif City Centre and Souq al Bahar
Suggested Read: Mark These Churches In Dubai On Your Bucket List While You're At This Beautifully Carved City!
7. Lucky Stones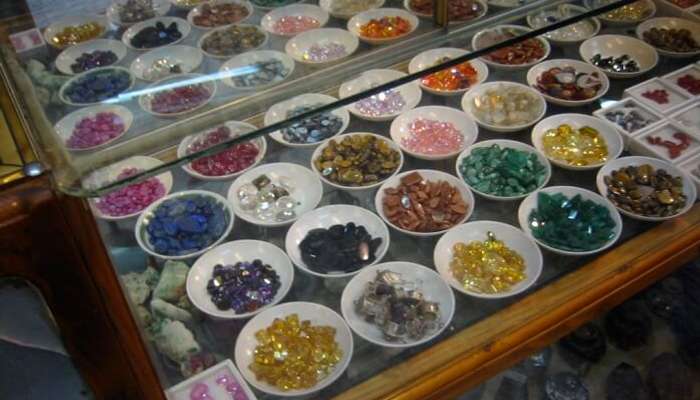 Based on your birth month, lucky stones are usually placed in gold, silver and platinum rings or pendants and are believed to bring in good luck and the best thing about buying this as a souvenir is that it is customizable and comes in many designs and everyone will be lured into buying it. The one with Arabian designs are unique and very pretty.
Where To Buy- Pearlicious in Covent Garden, Dubai Marina ; Gold & Diamond Park, Office No. 213, Building No 4, 4th Interchange, Sheik Zayed Road, United Arab Emirates
Suggested Read: Dubai In September: An Ultimate Handbook To Answer Your Questions Instantly!
8. Oudh & Bakhoor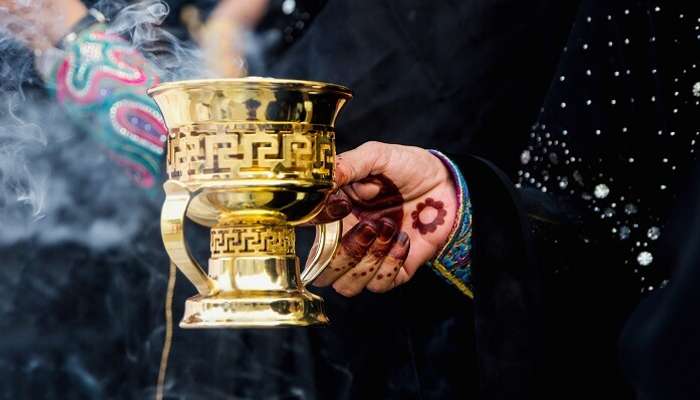 If you want to gift someone a fragrance then there is nothing better than Oudh or Bakoor. The traditional fragrance is very distinct and special. Derived from Agarwood resin, Oudh is one of the most pleasant fragrances you will ever come across and is slightly expensive. Bakhoor on the contrary, is a word for Agarwood chips which when burned gives out a very pleasing aroma and spreads very quickly.
Where To Buy- Perfume Souk at Deira for Oudh scents and oils; Perfume shops in malls; Spice Souk for Bakhoor
9. Hookahs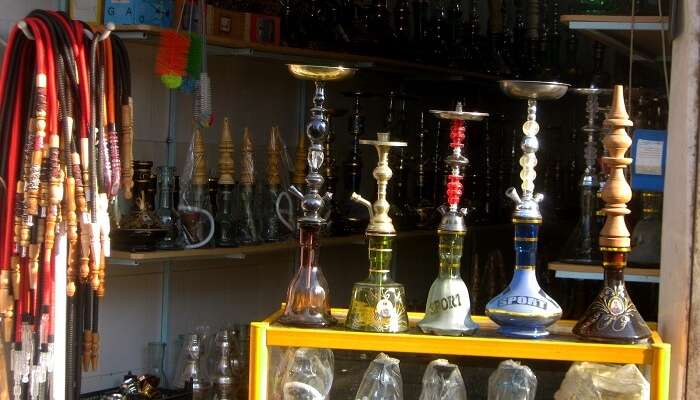 A very prominent and common item found in every Arab household, Hookah serves as something to chill and relax with and you can take these home. Dubai has shops offering some really fancy and expensive hookahs which can make for a very special and extravagant gift. Buy these as this is one of the best cheap things to buy in Dubai.
Where To Buy- Smokers' Centre outlets; Carrefour Hypermarket; Dubai souks
Suggested Read: 22 Free Things To Do In Dubai And Experience Over The Top Luxury Without Spending A Penny
10. Pashmina Shawls
If you are still not sure after browsing through all the options then maybe this is what you were looking for. Pashmina Shawls are one of the most expensive famous things in Dubai for shopping. Real Pashmina shawls are pretty expensive but they make for a perfect gift. If you are on a restricted budget then you can try the silk or viscose versions of the product.
Where To Buy- Pashmina House; Textile Souk and Karama Market
11. Kava Pots & Coffee Sets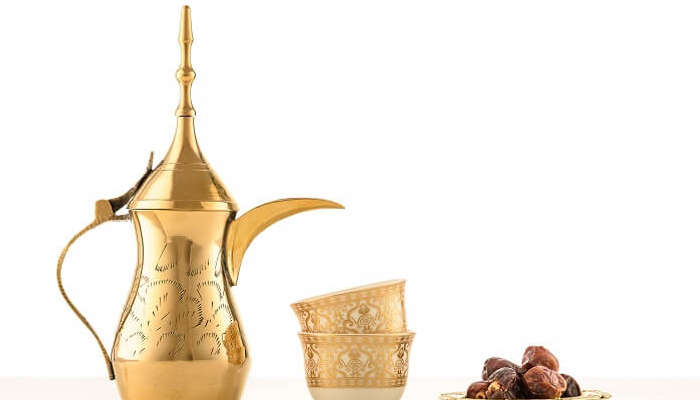 Kava is nothing but absolute pure coffee and a cup of this is as amazing as it gets. Its how locals prefer to have their coffee- black and strong. Served in fancy pots and designer cups this coffee has its own place in Arabic culture. Kava coffee pots are usually lined with gold or silver and the most precious ones have semi precious stones. These make for great gifts and are great souvenirs to take home from Dubai. This one of the best things in Dubai to buy.
Where To Buy- Dubai mall, Financial Centre Road,Downtown Dubai,Near Buj Khalifa , United Arab Emirates; Mall of the Emirates, Al Barsha 1 – Dubai – United Arab Emirates
12. Gold and Diamond Jewellery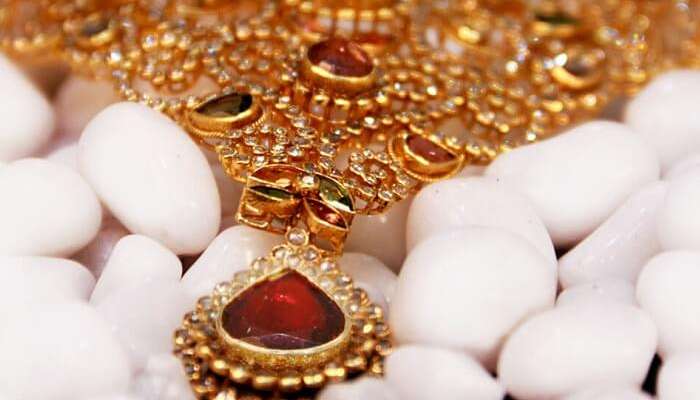 Don't forget to buy gold in the 'city of gold'! It may sound weird but as dubai is known for its gold and diamond jewellery and you must not miss out on buying an awesome gift for your beloved ones! You can buy beautifully designed gold jewellery here at quite less rates as compared to the other parts of the world.
Where To Buy- Dubai Gold Souk, Gold and Diamond Park, Joyalukkas outlets, jewellery stores
13. Arabian Coffee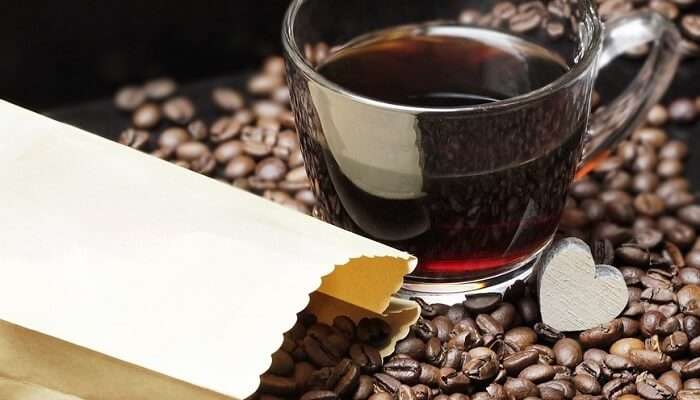 Are you a coffee lover and enjoy collecting rare coffee at your home? If yes, then you must surely visit the nearest coffee store in Dubai and grab your best coffee there. Arabian coffee is known for its strong flavour and the markets in Dubai are the perfect spots to buy them. Don't forget these loving coffee items to buy in Dubai.
Where To Buy- Dubai Coffee Museum, Dubai Souks and major supermarkets
Suggested Read: Visit These 10 Top Art Galleries In Dubai To Feed You Mind And Soul With Ethereal Art
14. Electronic Items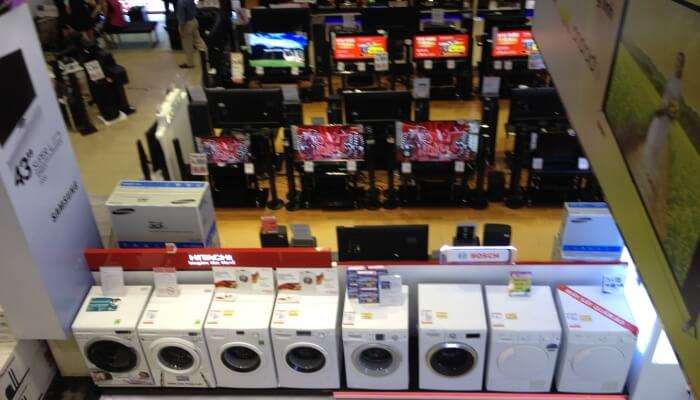 You would surely be knowing that Dubai offers your favourite electronic item at a discounted price. So don't forget to check out their amazing collections of your favourite gear or electronic item before heading back home. If you are planning a visit during festival season then you can surely grab some offer deal here!
Where To Buy- Al-Fahidi Street in Bur Dubai area, Sharaf DG store or other electronics stores
Suggested Read: Dubai In September 2019: An Ultimate Handbook To Answer Your Questions Instantly!
15. Dubai Spices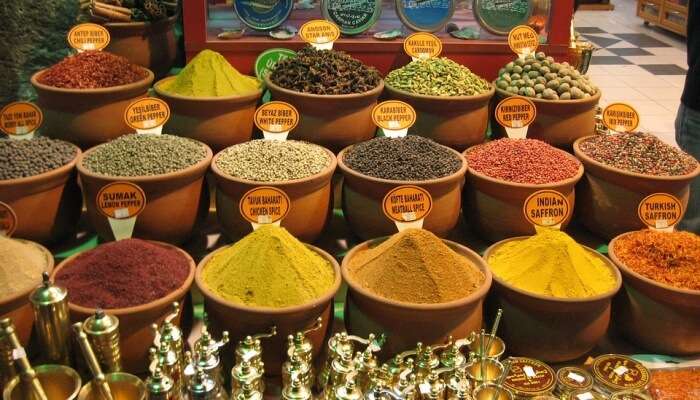 The perfect way to add the flavour of Dubai in your home is by getting the famous Dubai spices with you. These spices are full of flavours and are sold at all the local markets at an affordable price. So spice up your curries and other recipes with by getting these aromatic Dubai spices back home with you!
Where To Buy- Spice Souk, Supermarkets
Further Read: Dhow Cruise In Dubai: A Guide To The Best Way Of Touring The Bustling Emirate!
With so many things to buy in Dubai, the shopaholic in you will thank you for visiting the destination. With too many souvenirs that you would want to bring back, you would only be confused and never out of options. Excited already? Well, if you are prompted and are planning for a vacation in Dubai then browse through these customizable options and plan your vacation with TravelTriangle.
Frequently Asked Questions About Things To Buy In Dubai
Q. Which all things are cheap in Dubai?
A. The Camel Milk Chocolate, Dubai Dates, Bakhoor, Attars, Gold, Coffee, etc are some of the cheapest items in Dubai. There are many places to shop and such a wide variety of things to buy in Dubai is that you need to pick from them.
Q. What are the best things to purchase in Dubai?
A. Dubai is known to be the best place to shop for anything. Hence, there is no limit at all. You have chocolates, electronic items, and gold. These are the best things you can buy from Dubai.
Q. What can I buy in Dubai Duty-Free?
A. There are a lot of things you can buy from Dubai Duty-Free. You have cigarettes, olives, liquor, Arabic sweets, perfumes, chocolates, and dry fruits. The dates are pretty famous here. In fact, Indians can now use rupee to shop at duty free in Dubai using rupee.
Q. What currency is best to use in Dubai?
A. You can use the Dirhams at any time. US Dollar is also accepted in most places in Dubai. So, you can either get your currency exchanged here or use US dollars.
Q. Is Gold cheaper in Dubai than India?
A. Yes, that is true. Dubai is known to be a cheaper place to buy gold than in India.
Q. Is shopping in Dubai tax-free?
A. Yes, you can enjoy tax-free shopping in Dubai. That is why it is quite famous to shop here.
Q. Are watches cheaper in Dubai?
A. So in Dubai, the official retailer adds 5% of duty cost and in Gold Souk in Deira, the brand new Rolex watches are 20-25% cheaper than the international price. The second-hand watches are even cheaper.
---
Looking To Book An International Holiday?
Book memorable holidays on TravelTriangle with 650+ verified travel agents for 65+ domestic and international destinations.
---
People Also Read:
Shopping In Osaka Shopping In Busan Shopping In Azerbaijan
Comments
comments