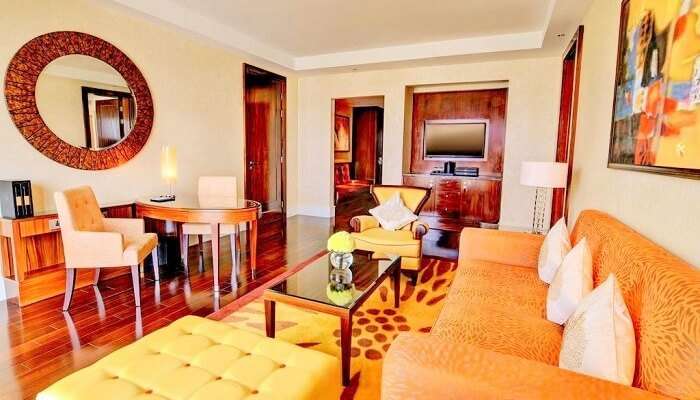 Bangalore officially called 'Bengaluru' is the capital of Karnataka. In Bangalore, a population is over 10 million. It is regarded as the third most populous city and fifth-most populous urban centers in India. It is multi-religious and reflected by its 1000 more Hindu temples and mosques. This place is religious, and it is represented by the Jewish community.
It is also famous for its gardens and nightlife. It is visited by a lot of people throughout the year and so the hotels in Bangalore are occupied by lots of people.
10 Best Hotels In Bangalore
There are plenty of hotels in Bangalore and these hotels include budget hotels to luxury hotels and romantic hotels for couples who are out for their honeymoon or for a random visit.
1. UG Royal

UG Royal Hotel comes with a budgetary price for you to stay in Bangalore. It is at a walking distance of a kilometer from the Bangalore Railway station. This hotel provides rooms that are equipped with air conditioners, full furnished, a flat television screen, wardrobe, along with a private bathroom. This hotel also provides laundry service to the guests.
The room service and general service of the hotel is quite good in general. The hotel also provides paid parking space for the guests. The nearby tourist attractions are Cubbon Park, Lumbini Gardens, Lalbagh botanical garden and botanical palace.
Location: 42, Cottonpet Main Road, Bengaluru, Karnataka 560053.
Price: INR 500/Night
Must Read: 10 Best Illuminating Museums In Bangalore Not To Be Missed Out In 2022
2. Hotel Shabari Gate

Hotel Shabari Gate is affordable with a fine budget. The hotel is known for its service and hotel quality. The hotel has large and spacious rooms, and some rooms smaller in size varying according to the budget. However, all the rooms are completely and well furnished. All the rooms have good ventilation, flat television, side tables, wardrobes, private bathrooms and some complimentary items.
The rooms in the hotel usually have a sort of soothing tone. There are three categories for the available rooms in the hotel. The hotel also provides free Wi-Fi, free parking and free doctor-on-call services. The hotel provides facilities like daily housekeeping, free cancellation service, and baggage services to its guests.
Location: Silk House, #21, NP Lane 1st Cross, Cottonpet Behind Shantla, Majestic, Bengaluru, Karnataka 560053
Price: INR 600
Suggested Read: 17 Most Popular Temples In Bangalore To Visit For A Spiritual Retreat In 2022
3. The Signature Inn

It is a concrete building with glass doors, which is 9 km distance away from Kempegowda Bus Depot. It provides necessary facilities like room service along with air conditioner, laundry services, LCD TVs, free Wi-fi, free breakfast. The prices of Signature Inn vary from Rs.1,200 to 2000 INR/ night. It includes facilities like Free parking, WiFi, 24 hours Check-in/Checkout, Complementary items and Free cancellations. It includes the amenities of a restaurant with international cuisines and lobby lounge too.
Location:479, O.T.C Road, Near Mastan Dargah, Cottonpet, Bengaluru, Karnataka 560053.
Price: INR 1,000
Suggested Read: 35 Exotic Places To Visit In December In India 2022 To Enjoy A Surreal Vacation!
4. The Leela Palace Bengaluru

Leela Palace offers deluxe rooms starting from 534 sq ft / 50 sq mt, conservatory and total premiere rooms. It also provides Royal Suites which offer living space, a separate dining room, an optional guest room, and a steam cubicle and Jacuzzi. This luxury hotel offers big 5-star rooms along with bathrooms. The rooms are aimed to be made as comfortable as any house. The Leela palace is very well-known to provide exquisite cuisine and the most comfortable stays.
The quality of service, friendly and alert staff, along with the comfort furniture offered in the rooms ensure that guests have a relaxing and enjoyable stay in the palace. All in all, it is not wrong to say that the place is worth the money.
Location: 23, HAL Old Airport Rd, HAL 2nd Stage, Kodihalli, Bengaluru, Karnataka 560008
Price: INR 15,000
Suggested Read: Street Food In Bangalore: 20 Delicacies You Can't Miss In 2022
5. The Ritz Carlton

The Ritz Carlton is a luxury hotel located 1.5 knows from the famous Cubbon Park. Deluxe room prices Rs.11,000 INR/Night. The hotel has large and beautiful rooms that comes along with a good ventilation system – large windows which gives you ample of sunlight, letting you be in touch with nature too. The windows give a beautiful insight into the picturesque surroundings around the hotel!
The rooms are well equipped with all the amenities, the room has private attached bathroom that are equally spacious. The hotel provides the facility of free Wi-fi, iPads and LCD TVs. The hotel has restaurants, bars, also a stylish lounge. It has an outdoor pool with a 24/7 spa and fitness room.
Free WiFi, parking for the guests, complimentary food, clean rooms, clean lounging places, friendly staff, prompt service are just some of the great features of this hotel.
Location: 99, Residency Rd, Shanthala Nagar, Ashok Nagar, Bengaluru, Karnataka 560025
Price: INR 19,000
Suggested Read: 20 Monsoon Getaways Near Bangalore One Must Visit For A Scenic Escape In 2022!
6. Shangri-La hotel

Shangri-La hotel is a luxurious hotel, a 14-minute walk from Bangalore Palace and Lalbagh Gardens. The hotel has stylish rooms which have a European theme along with many room accessibilities which include minibars, espresso machines, pools, Italian linens, stereos, and suites. It also offers dining tables with butler services. The hotel has access to the lounge along with complimentary cocktails that are offered to enjoy while you lounge round having light conversations, reading a book or just chilling. The restaurants have a variety of cuisines to offer which includes Italian and Asian cuisines. The hotel also has an in-built bar, a spa facility, fitness room – gym and massage centres.
The hotel is well-known for its hospitality, great services and worth for money!
Location: No.56, 6B, Palace Rd, Abshot Layout, Vasanth Nagar, Bengaluru, Karnataka 560052
Price: INR 9,560
Suggested Read: 29 Enthralling Spots For Camping Near Bangalore That Are Worth A Visit In 2022!
7. The Oberoi

This hotel is known to be the ideal stop for honeymoon couples or people looking for a romantic stay in a different place. Rooms in this hotel are arranged so well with the use of romantic candles, flowers, and lights that fill up the atmosphere with love and romance. Romantic fragrances and decorations are used in the rooms to make these more attractive to the guests. It has elegantly decorated balconies with eye-catching views of the city.
The hotel also has an indoor pool, so you can sit by the pool and relax! The hotel also offers loads of complimentary things along with great facilities. A romantic dinner can also be arranged if requested. The hotel also has a bar, lounging area, gym, and spa.
Location: 37-39, MG Road, Yellappa Garden, Yellappa Chetty Layout, Sivanchetti Gardens, Bengaluru, Karnataka 560001. It is located 7kms away from the Bengaluru Palace and 1.9 km from the center.
Price: INR 20,000
Suggested Read: 12 Amusement And Water Parks In Bangalore That Are Ideal For 2022 Summer Vacay!
8. The Zuri Whitefield

The Zuri Whitefield comes in the category of one of the most romantic hotels. This especially stands for newly wedded couples. Rooms in this hotel have balconies with beautiful scenario that makes the environment look more impressive. You can have a look of the eye-catching views of the city from the hotel. It offers a studio suite at INR 7000/night and an executive suite at INR 9000/night which offers 2 bedrooms and a living area. Club suites and premier suites range from 11,000 to 15,000/night which provide every possible comfort. The prices range from INR 5,400 to 48,000.
Location: 244, ITPL Main Rd, Maruthi Nagar, KIADB Export Promotion Industrial Area, Krishnarajapura, Bengaluru, Karnataka 560048.
Price: INR 6,500
Suggested Read: An Off The Charts Honeymoon To Bangalore, Mysore, And Coorg
9. Comfort Inn Insys

Comfort Inn Insys is one of the best hotels to stay in Bangalore in a budget. The restaurant has normal sized, spacious rooms. The rooms are well-furnished and come with a television, private bathroom, wardrobe and air-conditioner. The rooms in the hotel offer beautiful views. The hotel also has a bar, restaurant and a common room. The price of a premium single Rs. 5000+ taxes, the price of a premium double is Rs.6000+ taxes and the price of the premium triple is Rs. 7000+ taxes.
Location: 46, 1st Main Rd, Gokula 1st Stage, Nanjappa Reddy Colony, Mathikere, Bengaluru, Karnataka 560054
Price: INR 2,500
Suggested Read: A Family Road Trip From Bangalore To Paris: A Drive To Remember!
10. Hotel Ivory Tower

These are restaurants are also very conscious of their guest's best and memorable stay. They also serve their guests with little parties and get together. They have nice dining rooms and take care of the food of the people staying over there. The price of the hotel ivory tower is Rs. 4195/night which includes facilities like Free parking, Free WiFi, Food & Drink 24-hour front desk.
Location:12th floor, 84, Barton Centre, Bengaluru, Karnataka 560001. 1.6 km away from Cubbon Park and less than 1 km from Chinnaswamy stadium.
Price: INR 3,500
Further Read: Bangalore's Heli Taxis Will Fly You To & Fro The Airport From This Week
These are some of the best hotels in Bangalore which one must visit when they are planning a vacation in Bangalore. Equipped with all the facilities and best amenities, these hotels marks the best places to enjoy a relaxing holiday in Bangalore.
Frequently Asked Questions About Hotels In Bangalore
Which are the best hotels in Bangalore?
Clarks Exotica Convention, Wonderla Resort, Palm Meadows Club & The Ritz Carlton are some of the best hotels to stay in Bangalore.
Which are some of the best budget hotels in Bangalore?
Aura Inn, UG Royal, Hotel Shabari Gate are some of the best budget hotels in Bangalore.
Which are the best luxury hotels in Bangalore?
Hotel Leela Palace, Ritz Carlton, The Oberoi are some of the best luxury hotels in Bangalore.
Which are the best romantic hotels in Bangalore?
Zuri Whitefield, The Oberoi can be easily counted as some of the best romantic hotels in Bangalore.
How to pick the top hotels in Bangalore?
The best way to pick the best hotels for you in the city is to read the review of various hotels in our site. You can easily analyze and choose the hotel that suits your needs.
Why is this such a frequent change in the fares of hotels in Bangalore?
The frequency of change in Bangalore hotel fares depends completely on the number of guests and their inventory for the day.
If we book the room beforehand, is it possible to get an upgrade in the hotel room in Bangalore?
Whether or not you can get an upgrade in your room in Bangalore completely depends on the hotel's inventory for the day. The chances of getting an upgrade gets much higher if there are a lot of vacant rooms in the hotel. You can also easily check during the time of check-in that is it possible to get an upgrade!
How many guests can be accommodated by hotels in Bangalore?
Usually there are two guests permitted in one room, and sometimes there are extra charges for another person. It is unusual for a hotel to let more than two people accommodate a single room.
Which seems to be a good time to visit Bangalore?
The time between September to may seem like the ideal time to visit Bangalore. The city does not experience extreme winters and the atmosphere is not too humid– just pleasant enough to enjoy a holiday or a getaway!
Which is the best way to travel across Bangalore? Is there any metro service here?
The city is quite well connected with a very large network of public buses. The city also has metro and some of the routes are connected by metro. It is also possible to hire an auto-rickshaw or to book a cab.
---
Looking To Book A Holiday Package?
---
Comments
comments