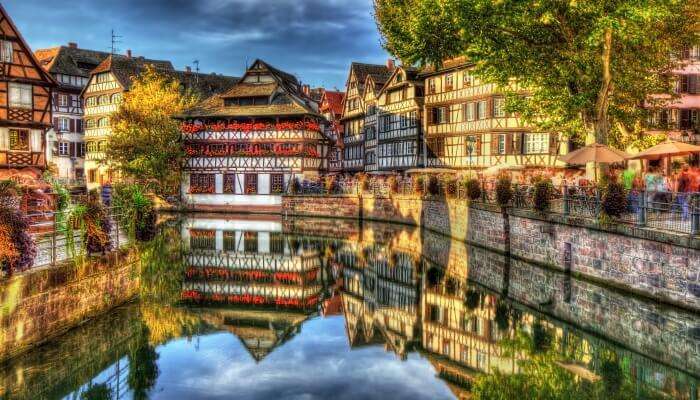 No French holiday can be complete without checking out country's incredibly charming tourist attractions. These beautiful places to visit in France have been the muse to many poets and artists, and continue to be awe-inspiring cities and hubs from tourists from all over the world.
France is a beautiful country that boasts of spectacular cities with picturesque topography, colourful culture, free-spirited people and delectable cuisine. Tick off some of the most popular European attractions first and then stay to explore the true vibe of the local towns and villages.
27 Best Places To Visit In France
To experience gorgeous France in its most authentic essence, it's important to visit these cities and spend some time there. Scroll down to know what all awaits you in this scenic land that has it all!
1. Paris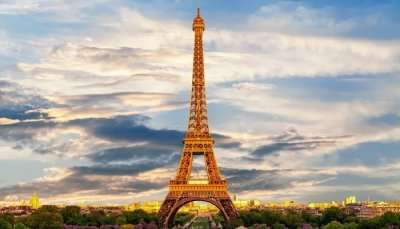 Image Credit: TheDigitalArtist for Pixabay
Eiffel Tower in Paris is the most famous tourist place in France. Paris is a significant hub of art, culture, architecture, food, and fashion. It is also the capital city and one of the most charming tourist places in France. As one of the most beautiful European cities, Paris boasts of its splendid cityscape reflecting old world charm, intersected by expansive boulevards with River Seine flowing by its side. The amazing historic monuments, museums, bustling river bank and vibrant people pull tourists from all over the world and have made Paris one of the immensely famous places in France.
Key attractions: Eiffel Tower, The Louvre, Notre Dam Cathedral, Palace of Versailles, Arc de Triomphe, and Montmartre
Must Read: 31 Best Places To Visit In Paris For A Dreamy Vacation In 2022!
2. Bordeaux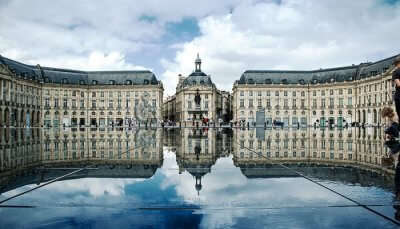 Bordeaux in France at its charming best during a stunning sunset. A 5 and half hours drive from Paris, this picturesque city of Bordeaux is a perfect to unwind and rejuvenate. Famed as a wine growing region, Bordeaux is one of the lively cities and among the important places to visit in France. Half of this port city is declared as one of the largest World Heritage Sites by UNESCO.
Known for its amazing museums, churches, cathedrals, and vintage mansions, Bordeaux attracts numerous tourists and students every year. Its amazing dining scene, spectacular coffee shops, enthralling food trucks, and incredibly good wine make Bordeaux one of the top tourist attractions in France.
Key attractions: Cathédrale Saint-André, Le Grand Théâtre, Place de la Bourse, Basilique Saint-Michel, and Basilique Saint-Seurin
Suggested Read: 21 Best Places To Visit In France In Winter 2022 For A Blissful Holiday Experience!
3. Mont Saint-Michel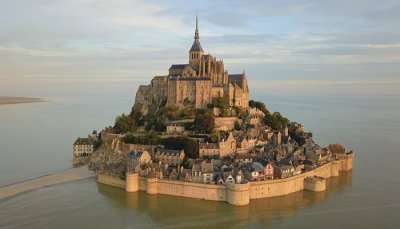 The beautiful island commune of Mont Saint-Michel is one of the most popular tourist places in France. Located in Normandy France, Mont Saint-Michel is a beautiful island commune and one of the most popular tourist places in France. Snuggled at the mouth of Couesnon River, it offers breath-taking scenic views to tourists and travelers. Enclosed by natural fortification, this island houses an age-old monastery, from where its name has been derived.
Key attractions: The Abbey, Tidal Island, Eglise Saint Pierre, The Parish Church and Museums of History, and Maritime and Ecology
Suggested Read: 11 Hostels In France That Are Perfect For A Backpacking Experience
4. French Riviera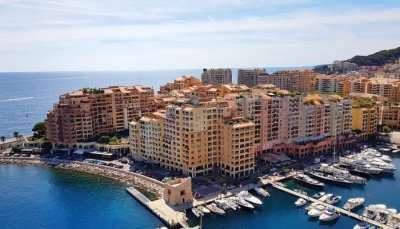 Image Credit: JimboChan for Pixabay
Situated on the Mediterranean Coast of France, French Riviera is one of the famous tourist places in France. It is known for charming scenic beauty, mesmerising shoreline, vacation retreats and health resorts.
This glamorous French destination is a popular name in the world tourism map and is best known for Cannes Film Festival, quaint perched villages, amazing perfumeries, glass blowers, and potters.
Key attractions: Eze, Grasse, Monaco, Menton, and La Colline du Chateau
Suggested Read: Honeymoon In Europe: We Wanted To Go Back In Time Without Compromising On Comfort & Luxury
5. Arles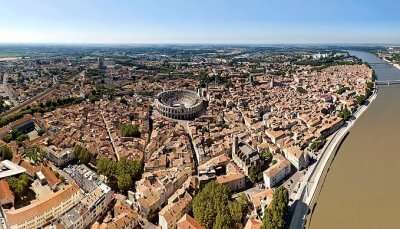 One of the must see places to visit in France, Arles is now counted as a World Heritage Site by UNESCO. It is a vintage city perched on a hillock where River Rhône bifurcates to meet the sea. This ancient city has an awesome cityscape that comprises vibrant sun baked houses, lanes, and roads.
Dotted with shops and restaurants, the city reflects old world charm in every sense. Also, the ancient city of Arles had been an inspiration for eminent painter Vincent van Gogh and many of his famous works are about the town.
Key attractions: Arles Amphitheatre, Alyscamps, Montmajour Abbey, Church of St. Trophime, Cloître Saint-Trophime, Musée Départemental de l'Arles Antique, and Fondation Vincent van Gogh
6. Biarritz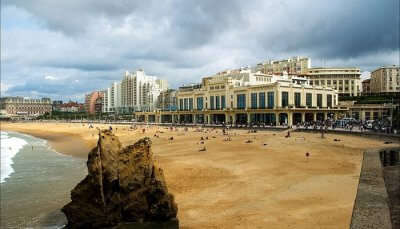 Biarritz is a perfect seaside city and an idyllic summer resort in the Basque coast of France. This crowded and popular destination is one of the top tourist attractions in France. Key attractions here are surfing activities and sizzling nightlife with happening pubs, clubs and Barrière – the marvellous beachfront Casino. The city also houses many surfing training schools and is the venue for annual surfing competition.
Key attractions: Musee Bonnat, Herri Urrats, Uhabia, Grande Plage, Musée de la Mer, Phare de Biarritz, and Rocher de la Vierge.
7. Strasbourg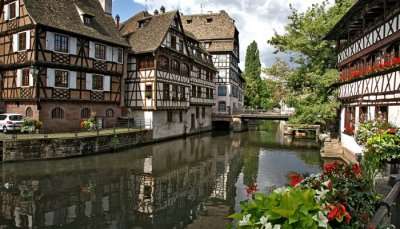 Image Credit: monikawl999 for Pixabay
Strasbourg, located near the border of Germany, houses the European parliament and is the capital city of Alsace region in north eastern France. The cityscape reflects both French and German style in architecture and structures. The famous and century old Gothic cathedral has made it one of the not-to-miss places to visit in France.
Key attractions: Strasbourg cathedral, Strasbourg Museum of Modern Art, Palais Rohan Strasbourg, Quartier des Tanneurs, Maison Kammerzell, and Eglise de Saint-Thomas. Also, do not miss the daily shows at Cathedral about astronomical clock and sweeping views of the Rhine River from part way up to its 142 m spire.
Suggested Read: Avalon River Cruising – Redefining The Way You Cruise
8. Fontainebleau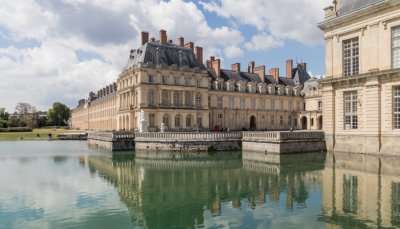 Located at 55.5 km from Paris, this marvellous town of Fontainebleau is a popular holiday retreat and one of the famous places in France. The city is surrounded by plush green forests and offers ample opportunities for trekking and rock climbing. The world famous Chateau is the most fascinating attraction of this place.
Key attractions: Chateau de Fontainebleau, Foret de Fontainebleau and Entrance to Chateau de Fontainebleau Grounds
9. Lourdes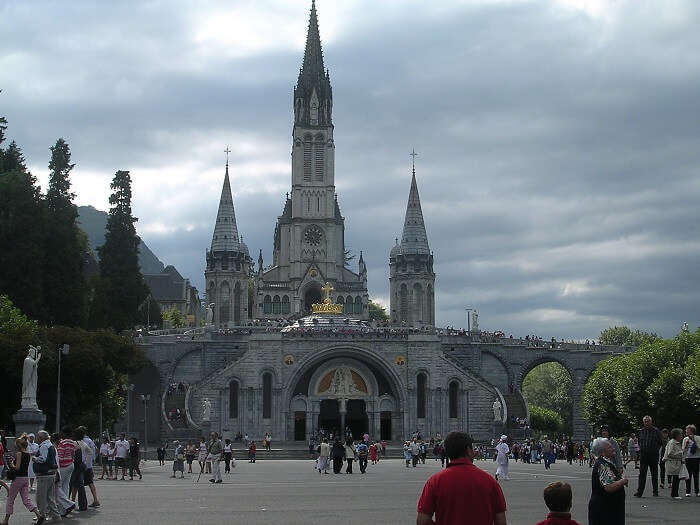 Lourdes is very significant and awe inspiring pilgrimage site, known for Our Lady shrine. Located at the foothills of Pyrenees, this market town is a must see among all the places to visit in France.
Key attractions: Rosary Basilica, Sanctuary of Our Lady of Lourdes, Ossau Valley, Jardin Massey, and Chateau fort de Lourdes
10. Lyon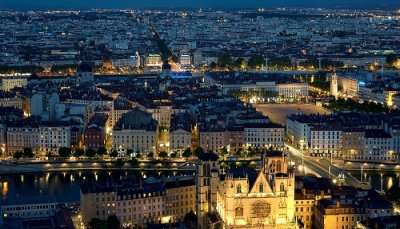 Located at the confluence of Rhone and Saone Rivers, Lyon is the third largest city and one of the popular tourist places in France. The city houses astonishing museums and palaces and has some happening pubs and clubs too. Fantastic shopping experiences and delectable cuisine are a delight for travelers.
Key attractions: Museum of Fine Arts, Vieux, Lyon Cathedral, Parc de la Tete d'Or, Palace Bellecour, Fourviere, and Basilica of Notre Dame de Fourviere
Suggested Read: 22 Best Honeymoon Destinations In Europe In Summer For A Perfect Escape!
11. Chambord
The city of Chambord has grown around the world famous Chateau, a spectacular construction of the Renaissance era. As one of the highly famous places in France, Chambord is reputed for marvellous architecture, vintage structural design, artwork, vibrant style, and interior décor of the chateau. The first floor has the main chambers of the King and his Queen. The double-helix staircase in the centre takes to the rooftop, where you can enjoy a breath-taking view of the surroundings.
Key attractions: Château de Chambord, Eglise Saint Louis de Chambord, Domaine national de Chambord, and Maison des Vinas a Chambord
12. Burgundy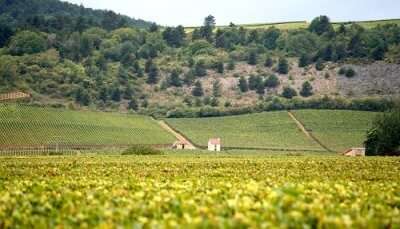 Erstwhile territory of east central France, Burgundy is one of the most picturesque and famous tourist places in France. Burgundy is characterised by plenty of crisscrossing winding canals, wine, palaces, museums, lush pastures, medieval villages and rolling green hill slopes. This stunning French countryside offering amazing and mesmerising view is one of the popular choices for complete serenity and relaxation.
Key attractions: Dijon, Nevers, Beaune, Macon, Autun, Auxerre, Vezelay, Avallon and Cluny
13. Nice
Nice is a famous mesmerising city tops the list of must see tourist places in France. This awesome seaside retreat is popular for its superb sunny climate, breathtaking scenery, and perfect blend of contemporary and medieval styling in the city's profile. The beach dotted with superb eating joints and shacks, bustling market, and marvellous architecture has made it one of the famous tourist places in France. It is the reason people flock here in large numbers, all round the year.
Key attractions: Promenade des Anglais, Vieille Ville, Russian Orthodox Cathedral, Opera de Nice, Colline du Château, Musée Matisse, Monastère Notre-Dame-de-Cimiez, Musée d'Art Moderne et d'Art Contemporain, and Jardin Albert I
Suggested Read: DO NOT Leave For Europe Without Packing These 8 Things
14. Annecy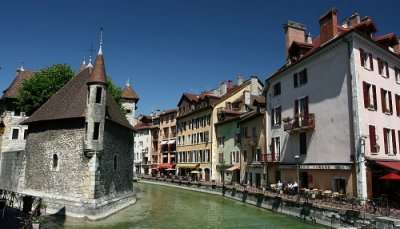 Annecy is a river town snuggled at the confluence of River Thiou and Lac d'Annecy. As one of the most famous places in France, this alpine city reflects heritage and glories of ancient days, especially in its buildings, streets, meandering canals, and vibrant houses of the old town. The city museum displays alpine furniture, various art, and sculptures of the medieval period.
Key attractions: Palais de L'isle, Chateau d'Annecy, Semnoz, Basilique de la Visitation, Thiou, La Tournette and Pont des Amours
15. Noumea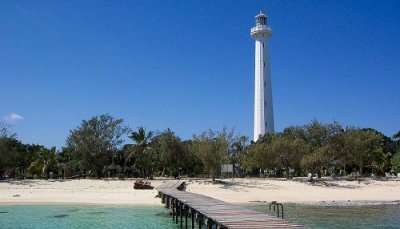 Noumea is the capital of French territory of New Caledonia, located on the mainland of Grande Terre. This is sunny and stunning beach destination that showcases perfect blend of French and Kanak style in its architecture. The coastal destination is famous for a bustling square called Place des Cocotiers, landscaped gardens, vibrant bustling shoreline, and cheerful local people.
Key attractions: Noumea Cathedral, Aquarium de Lagons Nouvelle Caledonie, Amedee Lighthouse Island, Tjibaou Cultural Centre and beaches like Anse Vata, and Plage de la Baie des Citrons
16. Lascaux Cave Paintings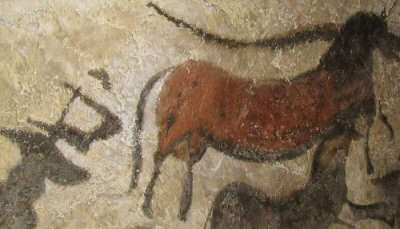 Image Source
The Dordogne region of France has incredible prehistoric sites which are just perfect attractions for history buffs and historians to explore the pages of their history textbooks in person. A part of the UNESCO world heritage site, this place contains beautiful prehistoric paintings which are some of the greatest examples of Paleolithic art in the world. Although the cave has been closed to visitors to prevent damage, there is an exact replica of the cave which can be viewed at the near Lascaux II site. Apart from this, you can also visit the Grotte de Rouffignac, which is situated in the Vézère Valley and is full of paintings of cows, horses, deer, bison, goats and the most noteworthy of all- Mammoths. There's also the Grotte du Mas d'Azil and Grotte De Niaux which has rock paintings that date from 14,000 to 10,000 BC.
Key attractions: Explore the town of Tarascon-sur-Ariège to see more sites, like the Grotte de Lombrives, Grotte de Bédeilhac, and the Grotte de la Vache.
Suggested Read: 13 Festivals In France That You Cannot Afford To Miss On Your Visit To L'hexagone In 2022
17. Rocamadour: A Medieval Pilgrimage Destination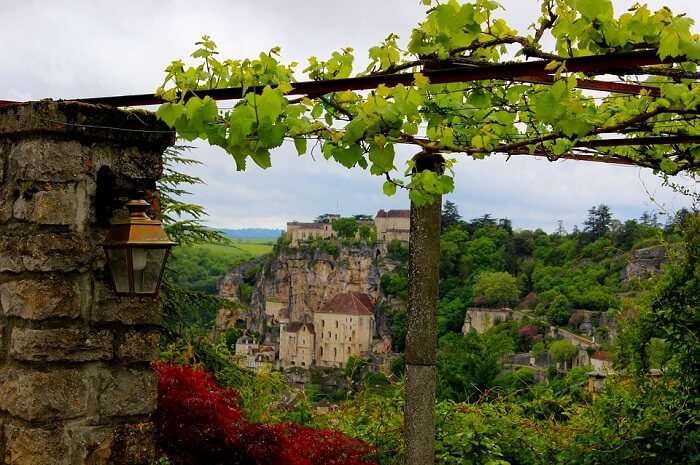 Image Credit: ID 850977 for Pixabay Situated on a sheer cliff in the Dordogne region, Rocamadour is a site which looks like it is trying to ascend to heaven. An important Christian pilgrimage site in the 11th century, only third to Jerusalem and Rome. It was an important stop on the way of Saint James route to Santiago de la Compostela, which is situated in Spain. The village has seven sanctuaries which dare back to the medieval era. The most famous of them all is the Chapelle Notre-Dame that has the figure of the 'Black Virgin', carved out of walnut wood, and is said to make miracles.
Key attractions: Visit the UNESCO-listed Basilique Saint-Sauveur, which is Rocamadour's biggest church. A little drive will take you to Limoges which is a "Ville d'Art et d'Histoire" ("City of Art and History") and Périgueux. It is a historic town and dates back to the Roman era.
18. Louvre Museum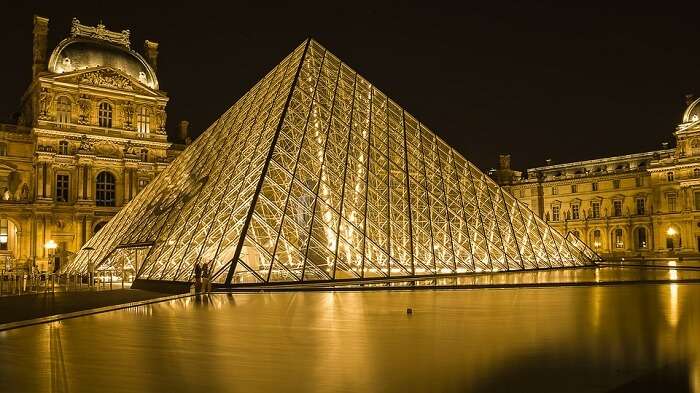 Image Credit: cuongdv for Pixabay Once a residence of France's Kings, Lourve currently is a beautiful museum dedicated to the fine arts. You will enter the venue through the courtyard of the former palace. The glass pyramid there was designed in 1917 by Ieoh Ming Pei. Visitors can feast their eyes on more than 30,000 works of fine arts which range from the antiquities to the medieval one along with European paintings dating from the 15th to the 19th centuries. It is honestly, impossible to see it all in just one visit. So it is advisable to just focus on one of the galleries like Italian Renaissance, classical sculpture, French paintings of the 17th century and more. Sign up for a three-hour walking tour to skip the lines and gain easy access to the arts.
Key Attractions: Mona Lisa by Leonardo da Vinci, the Venus de Milo sculpture, the Wedding Feast at Cana painting by Veronese, Botticelli's frescoes and Liberty Leading the People by Eugène Delacroix.
Suggested Read: French Coastal Towns: A Breathtaking Journey Along France's Mesmerizing Coastline

19. Jardin des Tuileries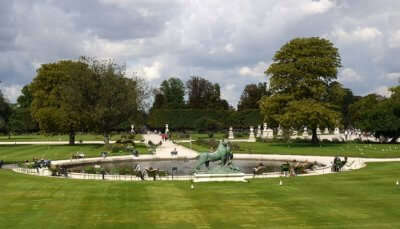 Image Source Located just beside the Louvre, is one of the loveliest and beautiful parks in Paris. It was designed by French architect André Le Nôtre who also designed the park over at Versailles. He constructed the Tuileries Gardens in a very formal and classic French style. There's also a quaint cafe restaurant there with outdoor seating.
Key attractions: Check out the decorative pools, manicured trees, and park benches.
20. Avenue des Champs-Élysées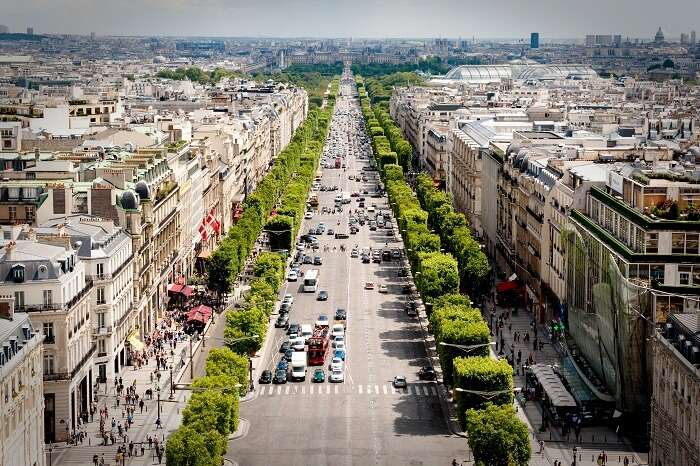 Image Source What is now a monumental Boulevard, was a desolate marshland till the 16th century. The Champs-Élysée is divided into two sections and there is the Rond-Point des Champs-Elysées at its intersection. The lower part of this venue borders the Place du Concorde, Petit Palais fine arts museum and the Jardin des Champs-Élysées. The upper part which extends out to the Arc de Triomphe is filled with restaurants, cafes, hotels shops, theatres, and cinemas. Check out the designer boutiques like Tiffany and Co, Louis-Vuitton and Cartier. There are also top restaurants here like the brasserie du luxe restaurant.
Key attractions: Check out Maison Ladurée, which is a patisserie shop and the L'Atelier de Joël Robuchon which is a gastronomic restaurant.
Suggested Read: 8 Fantastic Homestays In France That Are A Mix Of Elegance And Charm

21. Palais Garnier Opera House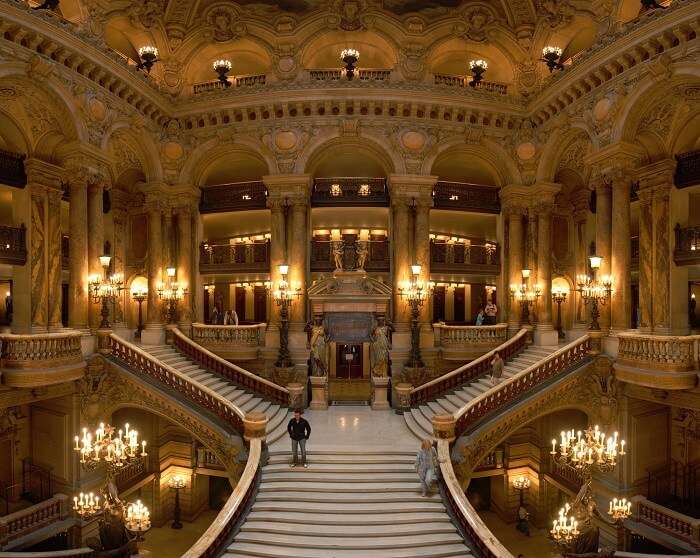 Image Source Music breathes in France and the biggest proponent of it is this venue. The Palais Garnier Opera is a notable Neo-Baroque theatre and was constructed by Charles Garnier. The venue features sculptures of the muses- Poetry, Idyll, Music, Song, Recitation, Drama and Dance. The loggia here depicts busts of renowned composers like Meyerbeer, Halévy, Beethoven, Spontini, Mozart and more. The floor plan of Garnier is a whopping 11,000 square meters and the seating holds 2,200 people.
Key attractions: Notice that at the top of the building are four gilded groups which glorify fame and poetry. See the grand foyer, marble staircases, and the lavishly gilded lamps. The opulent gold and red auditorium have a painting on its ceiling by Chagall.
22. The Bibliotèchque-Musée de l'Opera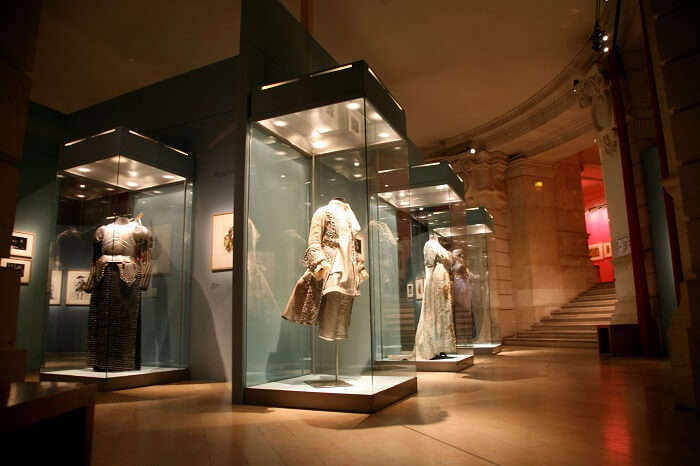 Image Source No talks about opera can be complete without visiting the Bibliotèchque-Musée de l'Opera, whose name means the Library- Museum of the Opera House. The said library and museum carry three centuries of carefully documented archives which pertain to the art of the opera. The venue hosts thematic exhibits like a presentation of Ballets Suédois which is an avant-garde dance.
Key attractions: Check out the scenery and costume drawings, paintings of the opera houses and the scale models. If possible attend a ballet or opera performance here. Taste some classic French dishes at their bookstore- boutique.
Suggested Read: Chateaus In France: Stay Amid The Majestic Structures Of The Land

23. Place de la Concorde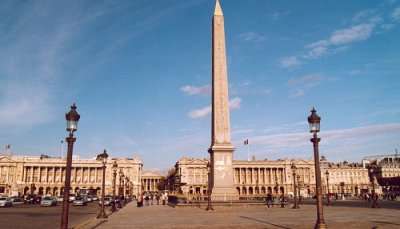 Image Source
Constructed between 1755 and 1775, this octagonal square was once the throbbing heart of Paris in the 18th century. It also witnessed too many key historical moments which includes the execution of King Louis XVI. From here, visitors can see scenic views of the route going towards the Arc de Triomphe and the Défense; they can also see the sensational path which heads to the Louvre along with the Madeleine and Palais Bourbon. At the very center of it all is a curious Egyptian Obelisk which was a gift from the Viceroy of Egypt to Charles X.
Key attractions: The Egyptian Obelisk, the panoramic 360°visions of the city's major attractions.
24. Sacré-Coeur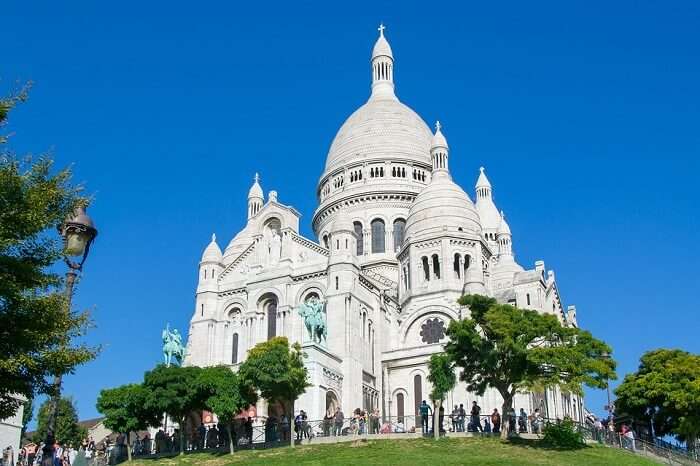 Image Source
Looking like a sensational ornamental decoration and sitting right at the highest mark in Paris; the Basilique Sacré-Coeur has an alabaster facade which is a blend of Byzantine and Romanesque styles. Inside is a mosaic of Christ with a flaming heart which gives this venue its emotional purity. The Place is a vision to behold when it is illuminated with candles as then it acts as a contrast to the somber and dark ambiance. Visitors here can spend their time on the terrace to see some splendid views of Paris. There's even a tower for getting some higher perspectives.
Key attractions: The architecture, mosaic and the panoramic views which this sanctuary offers.
Suggested Read: 10 Best Indian Restaurants In France To Get That Desi Taste In A Foreign Land

25. Quartier Montmartre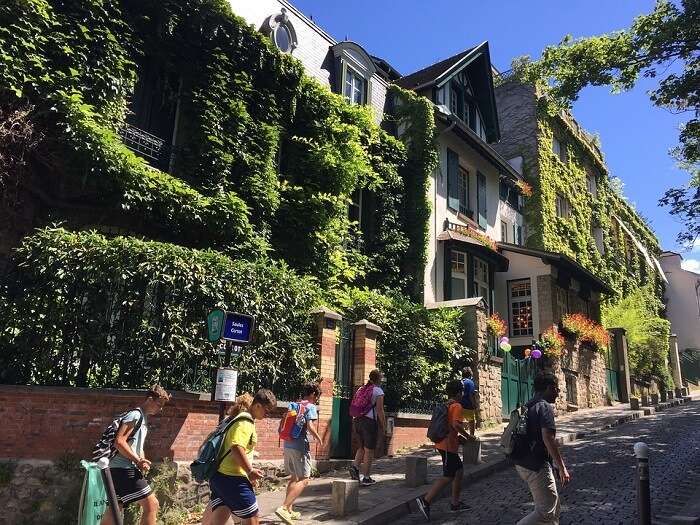 Image Credit: phooker for Pixabay What was once a quaint medieval village, is now a modern avant-garde venue which retains its old charm. The Bohemian spirit of the Montmartre can still be seen in its cobblestone streets and the charming squares, especially around the Carré Roland Dorgelès and Place du Tertre. Once the home of artists like Edgar Degas and Toulouse Lautrec during the Belle Epoque it now represents the spirit of a new age France.
Key attractions: The Espace Dali and the Musée de Montmartre. Stroll around this place to discover many unseen treasures.
26. Place de Vosges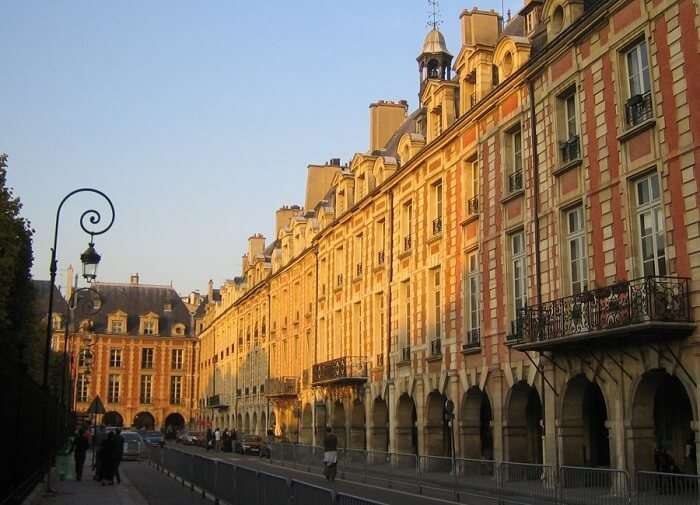 Image Source In the beautiful Marais district, lies the Place de Vosges. It is Paris's oldest public square and is laid out in a very uniform style. This square was the original model for other squares like Place de la Concorde and Place Vendôme. In days of old, it was the site for weddings, festive occasions and even for duels. Built between 1605 and 1612, the Place des Vosges was actually called Place Royale because it was filled up with aristocratic residences. The square has a harmonical symmetrical form and is lined with red houses full of beautiful stone detailing and pitched slate roofs.
Key attractions: Check out the Picasso Museum, the Mariage Frères (a tea salon) and L'As 2
Suggested Read: 10 Handy France Travel Tips You Must Make A Note Of Before Visiting L'hexagone

27. Place Vendome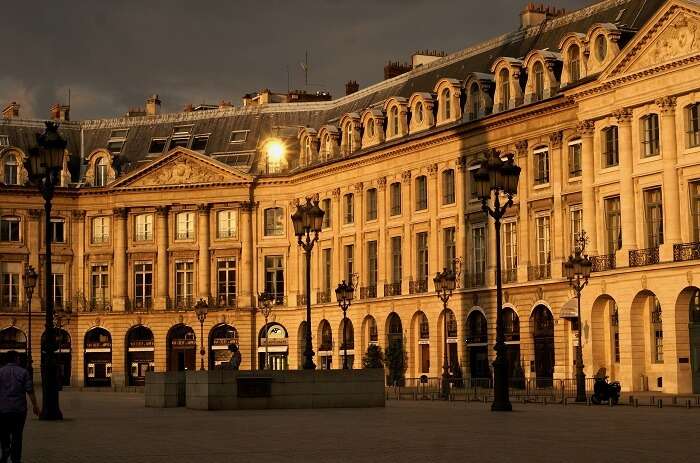 Image Source Originally called the Place Louis le Grand, the facades of the residences here were built between 1686 and 1701. Its original purpose was to house the Royal academics, the Royal library, the mint as well as a hotel for the foreign envoys. But financial issues made that certainty a dream and it was sold to new wealthy owners who built beautiful mansions complete with gardens and courtyards. It was in the Ritz Hotel itself where Ernest Hemingway resided once.
Key attractions: Check out the jewelry shops here like Chanel, Boucheron, Arpels, Van Cleef, Cartier and more. At the center is a 44-meter bronze column called Colonne de la Grande.
Further Read: 10 Most Popular Europe Trips To Plan 2022's Ultimate Escape
France is the most visited tourist destination and the opulence, luxury, and aristocracy of its monuments remind one of the cultures once prevalent. Tourists here will enjoy the sights, smells, and tastes of a world which is in the new 21st century but still retains its old-world charms. The list of beautiful tourist places in France is ready with you. Let us know when you are visiting them. So, what are you waiting for? Book your trip to France with your friends and family for an experience like never before!
Disclaimer: TravelTriangle claims no credit for images featured on our blog site unless otherwise noted. All visual content is copyrighted to its respectful owners. We try to link back to original sources whenever possible. If you own the rights to any of the images, and do not wish them to appear on TravelTriangle, please contact us and they will be promptly removed. We believe in providing proper attribution to the original author, artist or photographer.
Please Note: Any information published by TravelTriangle in any form of content is not intended to be a substitute for any kind of medical advice, and one must not take any action before consulting a professional medical expert of their own choice.
Frequently Asked Questions About Places To Visit In France
Which is the most beautiful city in France?
It is hard to choose one. France is destined to have so many beautiful places in its territory. Paris is famous for Eiffel Tower. Nice is one of the well-known French coastal towns. Bordeaux is known for its wine villages and Toulouse is known as the Pink City because of its architecture.
Where should I visit in France?
There are so many places to visit in France beside France. You could explore the charming countryside of Provence or relax by the coast in Cote d'Azur. If you are a lover of history and art, you could visit Reims for its magnificent buildings. Bordeaux is a place for wine lovers and Nice is where you can relax by the beaches.
Which is the most visited place in Paris?
Notre Dame is the most visited place in Paris visited by 13 million every year. It is followed by Louvre Museums and Eiffel Tower in terms of comparison.
Why is France such a popular destination?
The reason why France is such a popular destination is that it is considered to be one of the most beautiful and romantic places on earth. France is also known as a place of arts, culture, and history. French cuisine is another thing that puts France on the world map.
What is France most known for?
Apart from being the most romantic and passionate, France is known for its delicious cuisine, art, and literature. When you take a vacation to France, make sure you try quiche, soufflés, mousses, pâté, croissants, crêpes in the French bakeries. Visit the museums in France to enlighten yourself with French art and literature. French people are very passionate about philosophy. So, you will find many people to have a debate with.
How close is Nice to Paris?
The driving distance between Paris and Nice is 986 km. So, it is not too close to Paris.
What is France's most famous food?
Onion Soup and Souffle are the most famous foods in France. There are so many other things in French cuisine that you should try like crepes, French breads, ratatouille, Nicoise Salad, and more
How many days do you need in Paris?
You need a minimum of three days to explore Paris. It is upto you how long you wish to stay once you fall in love with this place.
---
Looking To Book An International Holiday?
Book memorable holidays on TravelTriangle with 650+ verified travel agents for 65+ domestic and international destinations.
---
Comments
comments