Protip – Pack light as you step out to wander in the unknown!
Meet Jill Paider, the Los Angeles based photographer who exactly knows how to live out of a suitcase. The photographer cum traveler has decoded the art of traveling light and traveling happy, something that's still a distant dream for most of the travelers across the globe. Jill loves traveling light and keeps her belongings in the only carry-on case.
Being a veteran traveler who has traveled to almost 100 countries, Jill Paider has penned down her experiences and has some serious recommendations for travelers which can be found in her new book, 'Carry-On Only'.
The travel photographer loves to click her adventures and make an intriguing narrative out of them. Jill was in conversation with CNN Travel, "The goal was to, part one, document it and keep a record of it for myself and, secondly, to inspire people to travel or to consider places they might not normally go."
"After so many trips you get down what you need," she says.
"Having things that will pack well, you can roll well, that are very light-density items, that still look good when you wear them."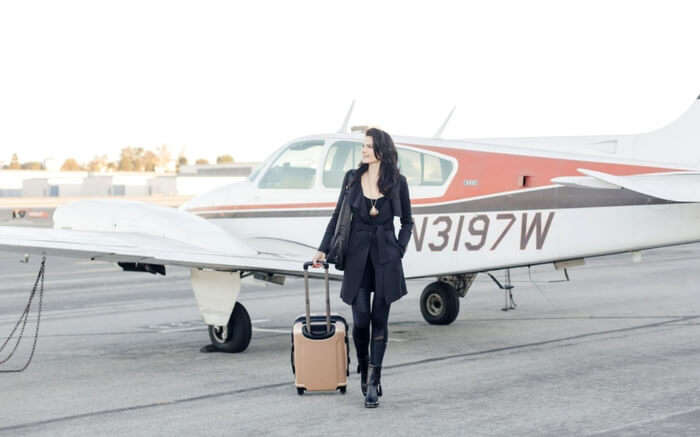 What are the packing essentials that Jill Paider relies on?
Roll the light density clothes. They still look fine when you unroll and wear them.
Pack the basic stuff. You can always buy things that you urgently need.
Pick up sarongs, and other such wearables to layer the top. They are lightweight and fit in well. Scarves and hats are vital add-ons.
Umbrella, don't forget to pack one before you leave for a trip. An eye mask, comfortable walking shoes are a must-have.
Tea and snacks, mostly for every destination, jet lag pills, basic cosmetics, and a yoga mat.
"I usually travel with a packable yoga mat that rolls down very, very small, for just doing stretches in the room," she says.
Mini versions of favorite cosmetic products or little bottles filled with the same.
Jill Paider dreamt of visiting 100 countries before turning 40 she has pulled-off efficiently. The around-the-world trip in 2011 was a huge add-on to her initiative. Traveling to the Middle East, and then the Far East was especially interesting to her.
"They were also countries that don't usually see women travelers alone, and so that kind of added an interesting aspect to it as well."
"That was the hardest carry-on only trip. It was in December and I started off in Istanbul, where it was fairly mild. But then as I moved east, I was in Vietnam, which was warmer, and then Tokyo which was colder."
She's also selective with her camera equipment. Travel tripod and the extended battery pack are her best companions. Jill chooses not to carry too many lenses with her.
"I think the biggest thing for photographers first and foremost is limiting your gear as much as possible. You really can't afford to have a regular-sized piece of equipment if you're traveling carry-on only.
She hopes to inspire travelers with her experiences with duly noted details about the time and place that she traveled to.
"It was in part to encourage and maybe inspire people to travel more, to take a risk and travel somewhere they wouldn't necessarily think of going or if they don't have a travel partner, consider possibly going by themselves," she says.
"I just think it's so important to document the day-to-day experiences of what it's like, because places change so much, so fast," she says. "Even some of the trips I did back in 2005, I was in China. Seven years later, it was a completely different place going back."
The lady continues to travel with her carry-on and intends to explore the world in her tried and tested way! It's time for aspiring travelers to take a leaf out of her book.
Further Read: 30 Cool Travel Accessories For A Smart Traveler In 2022
Comments
comments