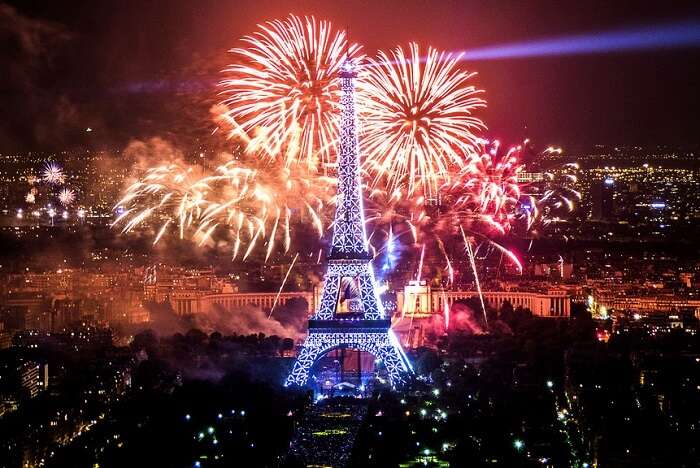 Paris is the French capital and has a lot to offer during the new years eve. Paris has an array of endless possibilities which can be explored by anyone travelling in this city. This capital city is one of the most revered destinations in the world and people flock here from every nook and corner of the world to experience New Year in Paris. There are various restaurants which offer the perfect ambience for a quiet evening, among other things. Paris has several other venues and spots being where you can experience the New Year celebrations in some of the most exciting ways. So, get ready to witness the spectacular celebrations of Paris New Year 2023.
10 Things To Do On New Year In Paris
One can see many locals setting off fireworks in this area as a mark of celebration of new years eve. Here's a list of exciting activities you can indulge in on New Year in Paris:
1. Clubbing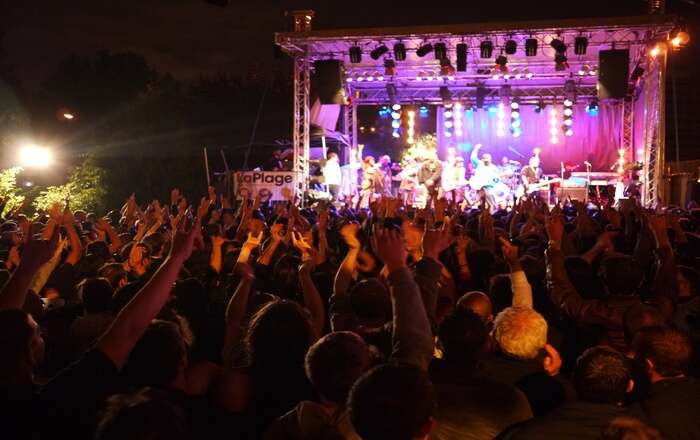 If one wants to enjoy the eve of New Year in Paris the traditional way, they can head to the famous clubbing destinations in the city like Ice Kube Bar. Clubbing is the most common way of witnessing New Year celebration in Paris. A very unique experience can be got by visiting here as everything from the serving glasses to the seating area is made out of ice. Dance to the tunes of the DJ and enjoy an array of delicious snacks while gulping down refreshing drinks from the fully stocked up bar.
Location: 3 Passage Ruelle, 75018 Paris
Duration: 2-3 hours
Timings: 4:30 PM – 12 AM
TripAdvisor rating: 4/5
Must Read: 10 Paris Markets That'll Satisfy The Shopaholic In You
---
Europe Holiday Packages On TravelTriangle
Explore the most beautiful places to visit in Europe, from Paris to the Venice canals and from the Greek islands to the Swiss alps. Book customized packages by expert agents on TravelTriangle. Inclusive of airport transfers, cab, resort, sightseeing and meals. Best holiday experience Guaranteed. Book Now
---
2. Firework Display

Elaborate and interesting light and sound show is hosted by the famous location Arc De Triomphe in Paris. The glorious historic significance of Paris is depicted in the most beautiful way through this event during the New Year in Paris 2023. Just seconds before midnight, the facade at Arc De Triomphe in Paris starts showing the countdown and as soon as the clock strikes 12, the sky gets covered in blasts of fireworks and the whole city gets lit up.
Location: Place Charles De Gaulle, 75008 Paris
Timings: 10 PM – 11 PM
Best for: Firework display
Tip: One must reach this place by 10 PM to get the most out of the experience
TripAdvisor rating: 4.5/5
3. Free Carousels Rides

Starting from Christmas and continuing till eve of New Year in Paris, one can witness many carousels playing sweet melodies throughout the many streets of Paris. These merry go rounds look pretty decorated with different coloured lights. Wooden dinosaurs, horses, elephants and other such animal artwork can be seen mounted on these carousels which are then seated upon by kids who enjoy spinning on this fun ride. This plan will definitely ensure a happy new year in Paris for you.
Suggested Read: Day Trips From Paris: Head Out To These 8 Places In 2023 For Invigorating Excursions
4. Grande Roue Tour

In Paris, New Year's Eve celebration are best witnessed at some of the landmark places around the city. Place De La Concorde region in Paris houses the largest Ferris Wheel in the world and offers spectacular views of the romantic Paris city. Famous monumental buildings and regions including Louvre, Jardin Des Tuileries, Champ Elysees and the Eiffel Tower can be viewed through a ride on Grande Roue. Both young kids, as well as adults, are welcome to enjoy this exciting experience. This beautiful Ferris wheel was brought to Paris by Marcel Campion in the year 2000 and it has been a top favourite of the tourists. Therefore know that you Paris New Year album will surely have several pictures of this stunning Ferris Wheel.
Location: Place De La Concorde, 75008 Paris
Timings: 11 AM – 12 PM
Best for: Panoramic city views
TripAdvisor rating: 5/5
5. Midnight Mass

Every religious traveller must visit the midnight mass at the Notre Dame Cathedral which is an interesting and striking event held every year on the eve of New Year in Paris. This gothic monumental structure is one of the most visited locations in Paris and displays the elaborate history of Paris in the most beautiful way. The spiritual atmosphere offered by this top tourist attraction is unbeatable and the spiritual prayers and mass during the night of new year's eve is the most exquisite event which is enjoyed by every visitor.
Location: 6 Parvis Notre Dame, Pl. Jean-Paul II, 75004 Paris
Duration: 1-2 hours
Timings: 8 AM – 6:45 PM
Best for: Religious visitors
TripAdvisor ratings: 4.5/5
Suggested Read: 10 Churches in Paris to Make You Go 'Wow'
6. Ice Skating

December in Paris is a cold season. During the winter season in Paris, many ice skating rinks open up in several locations with the one in Trocadero being the best. One can rent the ice skating gear from the many nearby rental stores for as low as 10 Euros and enjoy skating at this rink for absolutely free of cost. Catchy melodious tunes are played in the background which makes the skating experience even better. Indulging in Ice-Skating is an inseparable part of the New Year celebration in Paris. 
Location: Place Du Trocadéro Et Du, 75016 Paris
7. Theme Park

New Year's Eve in Paris for families can be enjoyed in Disneyland which is one of the happiest places in the city and must be visited for a cheerful experience New Year's day in Paris. One can make unforgettable memories at this paradise which offers many opportunities for enjoying a fun-filled holiday experience. This place features fantastic presentations and parades which are sure to make anybody want to come back here for more.
Location: Boulevard De Parc, 777000 Coupvray, Paris
Duration: 3-4 hours
TripAdvisor rating: 4/5
Suggested Read: Enjoy The Best Of Nature At These 10 Best Parks In Paris
8. New Year Meal

One can enjoy a traditional meal in some of the finest restaurants in the city for an exquisite experience on New Year day of Paris. Several restaurants in France offer traditional delicacies which are curated specifically with local ingredients by the highly acclaimed chefs. One of the most stunning restaurants in Paris is 58 Tour Eiffel which is a luxury restaurant located on the famous Eiffel tower. Enjoying the mesmerizing panoramic view of the city while relishing the delicious food items is one of the best things to do in Paris on New Year's Eve.
Location: Tour Eiffel, Champ De Mars, 75007 Paris
Duration: 2-3 hours
Timings: 6:30 PM – 9:30 PM
Best for: Couples
Tip: Make reservations in advance
TripAdvisor rating: 4/5
9. Cabaret Show

New year of Paris can be enjoyed through the several places which showcase the talent of cabaret dancers in the city. The best place out of all is the Moulin Rouge which is a well-known destination in the city famous for the highly talented cabaret dancers hosted by it. One can enjoy an evening full of glamour and elegance at this place while snacking on the highly delectable refreshments offered here. This is one of the most enjoyable things to do in Paris on New Year's Eve.
Location: 82 Boulevard De Clichy, 75018 Paris
Duration: 3-4 hours
Timings: 7 PM – 1 AM
TripAdvisor rating: 4/5
Suggested Read: 6 Lakes In Paris You Should Definitely Go For A Picnic Under The Sun
10. Light Show

Eiffel Tower is well-known throughout the world and has become the emblem of Paris. This magical tower is must visit place for any traveller irrespective of the year of travel. This intriguing indomitable structure stands tall and can be seen from almost every part of Paris. Many people expect that during the Paris New Year's Eve 2023 there will be fireworks in this area of Paris, but there is none. There is just the usual shimmer around the tower along with an interesting light show.
Location: Champ De Mars, 5 Avenue Anatole, 75007 Paris
Timings: 9 AM – 12 AM
Best for: Light show
Tip: Reach the area before 10:30 PM so that you can get a seat at the garden in front of Eiffel Tower
TripAdvisor rating: 4.5/5
7 Best Places To Celebrate New Year In Paris
There are numerous amazing places to visit in and around Paris. Here are the top places to celebrate New Year in Paris for witnessing the French style of celebraions:
Champ De Mars
Sacre-Coeur Street
Champs Elysees
Disneyland Paris
Cesar Palace
Moulin Rouge Cabaret
Wanderlust
1. Champ De Mars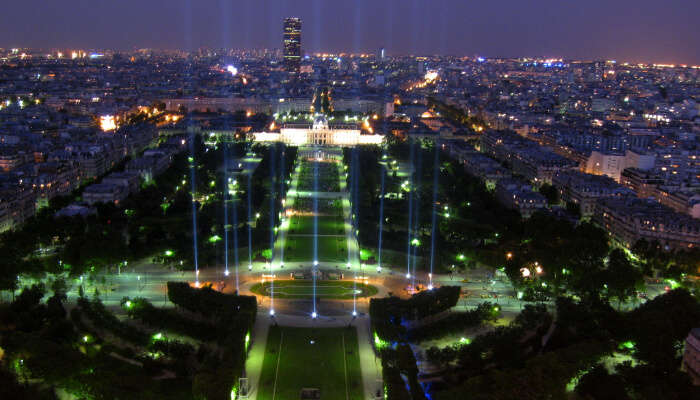 Champ de Mars is the long stretch of park that connect the popular Eiffel Tower and Ecole Militaire. Though a majority of people prefer celebrating new year at the Eiffel Tower, Champ de Mars is also a hotspot. This is where locals and travelers gather in the evening and countdown to shout 'Bonne Annee' or 'Happy New Year'.
Location: 2 Allée Adrienne Lecouvreur, 75007 Paris, France
Where To Stay: Hotel Eiffel Kingston, Hotel de la Paix Tour Eiffel, Hotel Eiffel Rive Gauche
How To Reach: Champ de Metro – Tour Eiffel is the nearest train station to reach Champ de Mars
Suggested Read: Shopping In Paris 2023: 28 Products From High-End Fashion To Classic Souvenirs
2. Sacre-Coeur Street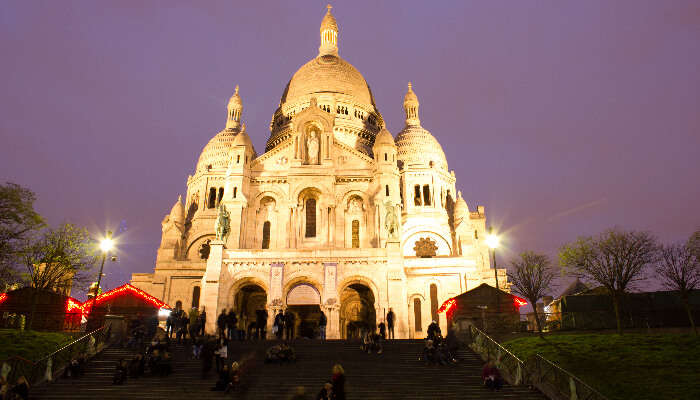 Sacre-Coeur is the common name for the famous Basilica of the Sacred Heart of Paris. The stairs and the street around this church witnesses gathering on the New Year. Though, the celebrations are often peaceful as compared to other places in paris, the fetive vibe is no less. The hill of Sacre-Coeur is one of the best spots for enjoying a panoramic view of the city and the Paris New Year's Eve fireworks.
Location:35 Rue du Chevalier de la Barre, 75018 Paris, France
Where To Stay: Hotel Montmartre Mon Amore, Timhotel Montmartre, Hotel Regyn's Montmartre
How To Reach: Chateau Rouge is the nearest subway station to reach Sacre-Coeur Street
Suggested Read: Paris In Winter: All That You Can Do In This Winter Wonderland In 2023!
3. Champs Elysees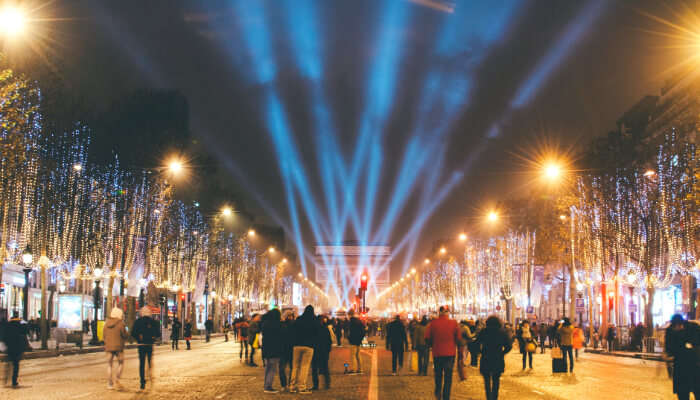 Champs Elysees is a stunning avenue in Paris that connects the Place Charles de Gaulle and Place de la Concorde. This 1.9 Km long avenue holds the landmark Arc de Triomphe. This is the venue for the popular Parisian New Year's Eve street party. One of the major highlights of this event is the wonderful midnight lightshow. There are also several Paris nightlife venues around Champs Elysees for your after-party scenes. 
Location: Champs-Élysées, Paris, France
Where To Stay: Hotel le Colisee, Hotel Delarc Paris, Hotel Beauchamps
How To Reach: Champs-Élysées – Clemenceau is the nearest subway station to reach Champs Elysees
Suggested Read: How To Spend 2 Days In Paris: A Stopover Guide!
4. Disneyland Paris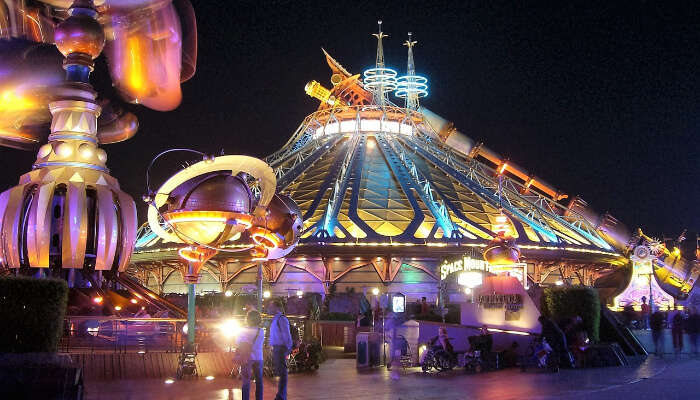 Disneyland Paris in surely one of the most exciting places in the city to enjoy with your family and friends. But New Year makes it all the more special for you to visit. Have a great time enjoying the rides and entertainment events. The celebrations start at 5pm on 31st December during which you can also be a part of a grand parade. 
Location: Boulevard de Parc, 77700 Coupvray, France
Where To Stay: Disney's Sequoia Lodge, Disney's Newport Bay Club
How To Reach: Marne-la-Valleé – Chessy train stop is the nearest station to Disneyland Paris and is just 2 minutes away. 
Suggested Read: 7 Extravagant Paris Cruises That Are One Of A Kind Experience!
5. Cesar Palace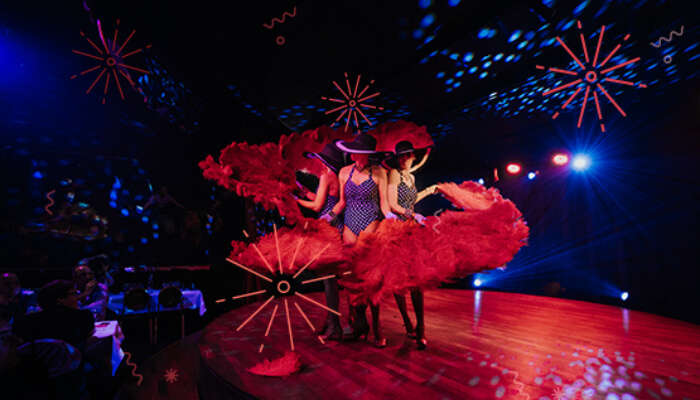 Cesar Palace is a stunning cabaret club in Paris. The grand hall at this club hosts amazing gala events for the New Year. Get ready a musical night here with your friends. Watching the spectacular live performances by artists is a wonderful way to start the year. 
Location: 23 Avenue du Maine, 75015 Paris, France
Where To Stay: Best Western Hotel, La Parizienne Hotel, Hotel Odessa Montparnasse
How To Reach: Falguiere is the nearest siubway station to Cesar Palace and is just a 4-minutes drive away.
Suggested Read: 10 Boutique Hotels In Paris For Those Choosing Experiences Over Just A Stay In 2023
6. Moulin Rouge Cabaret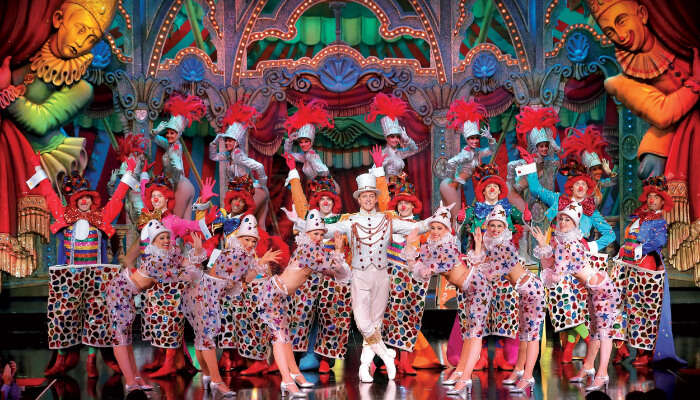 Moulin Rouge Cabaret is one of the best places to be on New Year's eve in Paris. This famous cabaret in the city hosts the grandest cabaret event, the Féerie show. Watch the stage explode with the powerful performance by 80 international artists. The music played by 60 vocalists and 80 musicians create a breathtaking ambience. The venue also has a large aquarium. 
Location: 82 Boulevard de Clichy, 75018 Paris, France
Where To Stay: Hotel Le Chat Noir, Hotel Joke – Astotel, Maison Souguet
How To Reach: Blanche is the nearest subway station to Moulin Rouge Cabaret and can be reached within 5 minutes
7. Wanderlust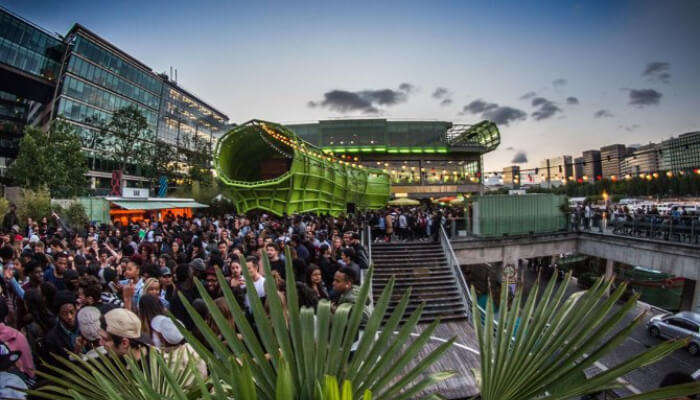 Still, wondering where to spend New Year's Eve in Paris? Wanderlust is among the top nightclubs in the city. Enter the fresh year dancing your hearts out to the tunes of globally famous DJs. Its open-air deck and spacious terrace give you a stunning view of Siene River flowing below. Come to Wanderlust for the best music, exciting vibe, good food and drinks and great company. Clearly, this is one of the best places to catch the New Year's Eve party in Paris. 
Location: 32 Quai d'Austerlitz, 75013 Paris, France
Where To Stay: Off Paris Seine, Hotel Mercure Paris, Citadines Austerlitz Paris
How To Reach: Gare D'Auterlitz is the nearest metro station to Wanderlust
Further Read: 10 Holiday Homes In Paris That Are Perfect For Your French Sojourn
There are several events happening in the city where live music by talented Dutch musicians are showcased. If you are wondering what to do and where to spend the new year in Paris, we've shortlisted a few activities which will help one live the magic of the new year in this city. Book your ticket to France now to experience the liveliness of this place.
For our editorial codes of conduct and copyright disclaimer, please click here
Frequently Asked Questions About New Year In Paris
Where should I go to Paris for New Year?
Some of the Places To Visit In Paris for New Year celebrations include:
1. Champ de Mars
2. Champs-Élysées
3. Sacré-Coeur
Will there be fireworks in Paris for New Years?
Yes, fireworks are popular during New Year celebrations in Paris. You can witness fireworks at the Eiffel Tower and the Arc De Triomphe.
How does Paris celebrate New Year?
Paris celebrated the New Year in one of the most glamorous ways. There are spectacular fireworks in different parts of the city. The whole city is lit up and there are light-shows too. You get to travel around the city on public transport for free. There are also lit parties and events organized several venues across the city.
Is the Paris Metro open on New Year's Day?
Yes, all Paris Metro lines remain open on New Year's Eve (31st December/1st January) till 2.15 am. In fact, almost all the public transports are free till 5 pm.
Can you go up the Eiffel Tower on New Year's Eve?
Yes, the Eiffel Tower remains open on New Year's Eve and it is, in fact, one of the most popular hotspots for witnessing the New Year celebrations.
Is it safe to go to Paris?
Yes, Paris is one of the safest cities for tourists. Being the most important cultural, commercial and tourist center of France, Paris has a tight security system. The police force is active and vigilant in the city.
Where can you see the fireworks in Paris?
Some of the best places to witness fireworks on New Year's Eve in Paris are:
1. Arc de Triomphe
2. Eiffel Tower
3. Sacré-Coeur
What should I do in Paris on New Year's Eve?
Here are some of the things to do in Paris on New Year's Eve:
1. Watch the light show at Champs-Élysées
2. Greet New Year to all at gathered at Champ de Mars
3. Dance at the open-roof deck at Wanderlust
4. Attend a Cabaret show at the Moulin Rouge cabaret
---
Looking To Book An International Holiday?
Book memorable holidays on TravelTriangle with 650+ verified travel agents for 65+ domestic and international destinations.
---
People Also Read: