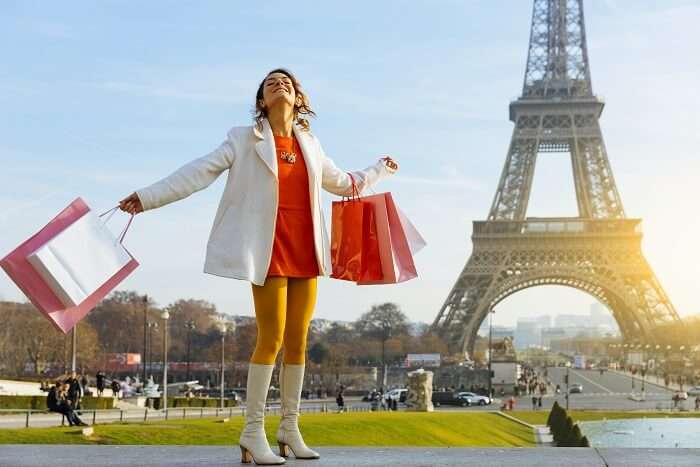 Home to all the top luxury brands and the chicest fashion in the world, the city of love definitely deserves to be on your bucket list. Shopping in Paris is the most extraordinary experience to have on a Parisian holiday, especially if you're a Shopaholic. From elegant bags to classy shoes and sassy dresses to gorgeous accessories, you will find everything that'll make you look your best from head to toe.
10 Best Places For Shopping In Paris
So, we say you start planning when to go and leave the rest on us as we'll help you with where to shop in Paris with this handy Paris shopping guide.
Boulevard Saint Germain
Rue Du Commerce
Les Halles
Le Marais
Triangle D'or
Rue De Rivoli
Saint-Ouen Flea Market
Boulevard Haussmann
Avenue Des Champs Elysées
Avenue Des Ternes
1. Boulevard Saint Germain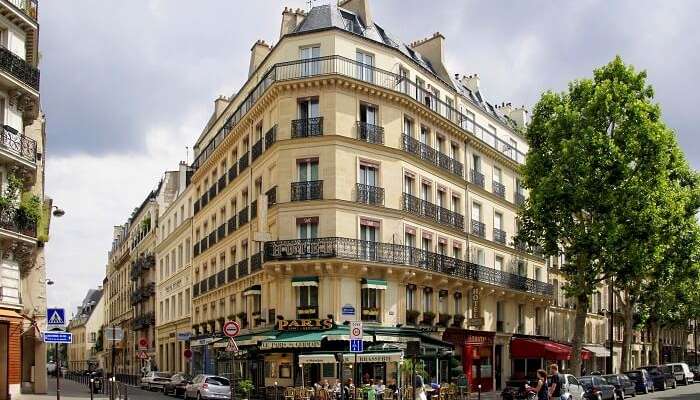 Located along the 7th arrondissement in the heart of St-Germain des Prés, the famous Boulevard Saint Germain is where you need to head for the best shopping in Paris. It starts from the Seine River and has all the great home decor shops, fashion boutiques, and gourmet food stores. And just in case you're strolling here during the summer, don't fret because the sight of lush green trees and the beautiful Parisian buildings around will add on to your experience.
What To Buy: High-end party wear, elegant home decor accessories, casual accessories, and more
TripAdvisor Rating: 4.5/5
Location: 7th arrondissement, Saint-Germain-des-Prés, Paris, France
Reviews
Suggested Read: 10 Restaurants Near Eiffel Tower In Paris
2. Rue Du Commerce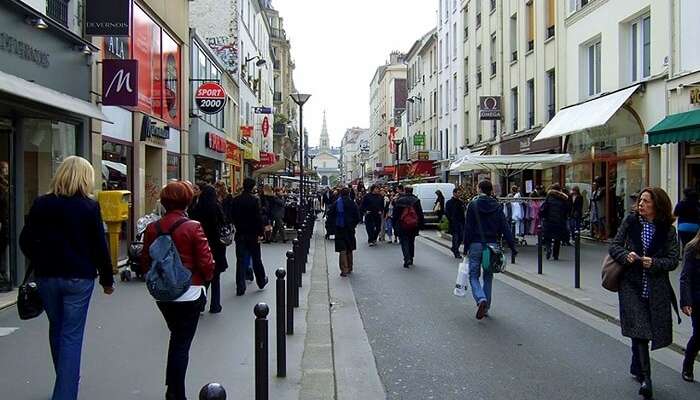 There is no dearth of places to shop in Paris, and you'll realize it the moment you step onto this beautiful shopping street. From popular brand shops to small boutiques, this place has got an excellent array of stores for the best shopping in Paris 2020. Also, there are a number of cafes and bakeries where you can stop by when you wish to give rest to your feet and a treat to your tummy. So, if you wish to take back home the latest trends in the city, don't forget to stop at Rue du Commerce.
What To Buy: Makeup, skin care products, dresses & more from Monoprix
Location: 15th arrondissement, Rue du Commerce, Paris, France
Suggested Read: 10 Most Romantic Hotels In Paris To Kindle The Spark In The City Of Love
3. Les Halles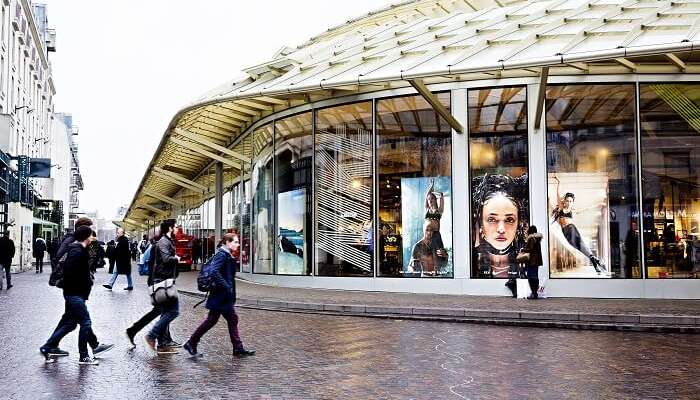 Transformed from a fruit market to a multi-level underground shopping center over the years, this place has become a hub for all the fashion lovers. If you're looking for authentic Parisian style, you can plan a visit to this place and head to the small boutiques and trendy brand stores in the center. And when you literally feel like shopping till you drop, sit and relax at one of the open-air cafes.
What To Buy: Trendy clothing from Kookai and Princesse Tam Tam, cosmetics from L'Occitane, and surf wear from Quiksilver
TripAdvisor Rating: 3.5/5
Location: Les Halles, Paris, France
Reviews
Suggested Read: 25 Best Places To Visit In Paris For A Dreamy Vacation At This French Capital!
4. Le Marais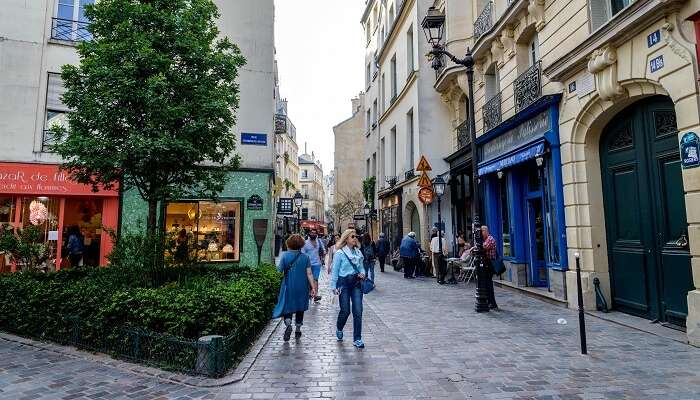 Located in the 3rd and 4th arrondissements, Le Marais is a lively neighborhood for shopping in Paris. Its trendy boutiques, vintage shops, and the classic restaurants around make it a great hangout stop for both men and women alike. While you can shop here on any day of the week, the best time to buy what you desire is a Sunday morning since most of the other places stay closed this day.
What To Buy: Vintage articles, classic hats and glasses, and more
TripAdvisor Rating: 4.5/5
Location: 3rd Arrondissement, Paris, France
Reviews
Suggested Read: A Family Road Trip From Bangalore To Paris: A Drive To Remember!
5. Triangle D'or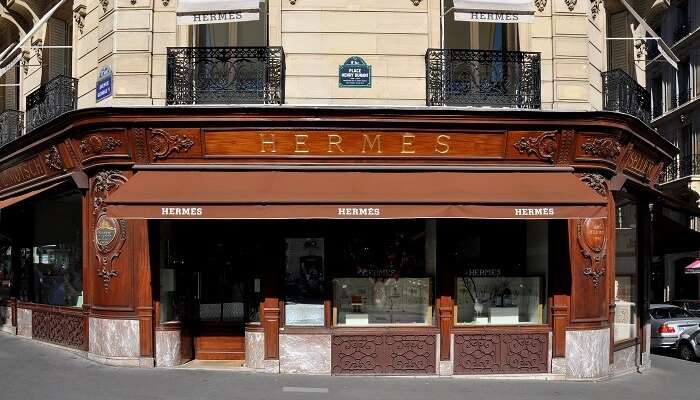 Shopping in Paris, France and not visiting the famous Triangle D'or is an absolute sin. Formed by Avenue Montaigne, Avenue George V and Rue François 1er in the 8th arrondissement, this is the best place to treat the Shopaholic in you. With the top haute couture shops, top-notch fashion brands like Dior & Chanel, and the famous designers around, this place will surely leave you smitten.
What To Buy: Designer jewelry from Bulgari, linens from Porthault Linens (Linge de Maison), perfumes from Caron's shop, bags from Louis Vuitton, and more.
Location: 8th arrondissement, Triangle d'Or, Paris, France
Suggested Read: 10 Paris Markets That'll Satisfy The Shopaholic In You
6. Rue De Rivoli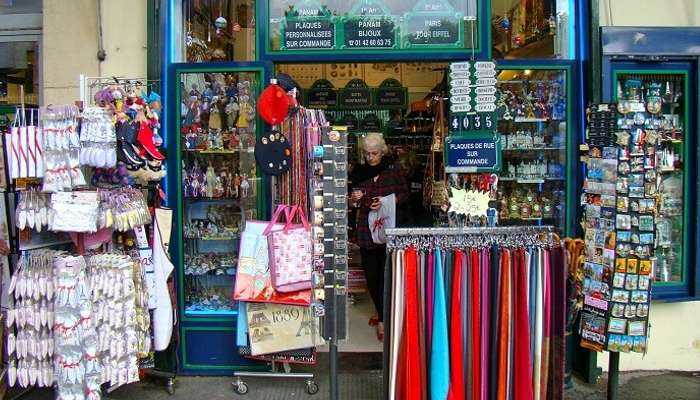 Situated along the beautiful Tuileries Gardens and the famous Louvre Museum, the Rivoli street is amongst the best shopping places in Paris. With so many stores and boutiques, it'll be difficult for you to visit every place. So, make sure you follow this Paris shopping guide and visit only the popular stores like BHV first. And when you're left with enough time, try and explore the nearby streets like Rue de Turenne, Saint-Paul Village & more for some awesome experience of shopping in Paris, France.
What To Buy: Elegant fashion wear, chic accessories, and classy shoes
TripAdvisor Rating: 4.5/5
Location: Rue de Rivoli, Paris, France
Reviews
Suggested Read: 7 Amazing Travel Hacks For Visiting Paris On A Budget
7. Saint-Ouen Flea Market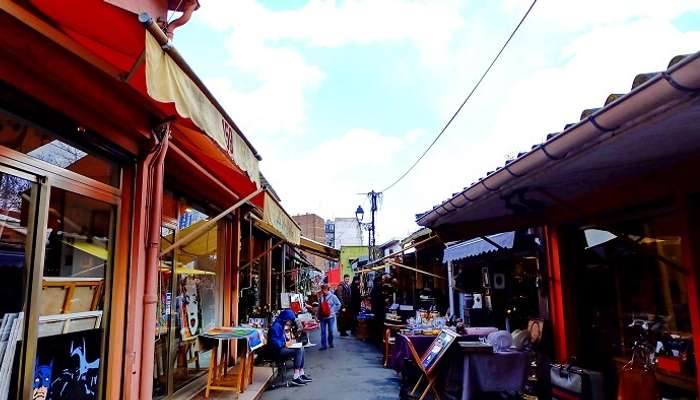 The Saint-Ouen flea market or Les Puces is Paris' largest and oldest shopping place. From antique furniture to vintage clothes, you can buy anything here without having to look at the price tags. But if this place doesn't fall in the vicinity of your hotel, don't worry. There are also many other flea markets around the city, and all of them are equally worth exploring. If you think affordable shopping in Paris is impossible, then you should come, see this place.
What To Buy: Antiques, classic shoes, and vintage clothes
Location: Saint-Ouen, Paris, France
Suggested Read: Shopping In Chicago: 7 Famous Places In The City To Splurge & Shop Till You Drop!
8. Boulevard Haussmann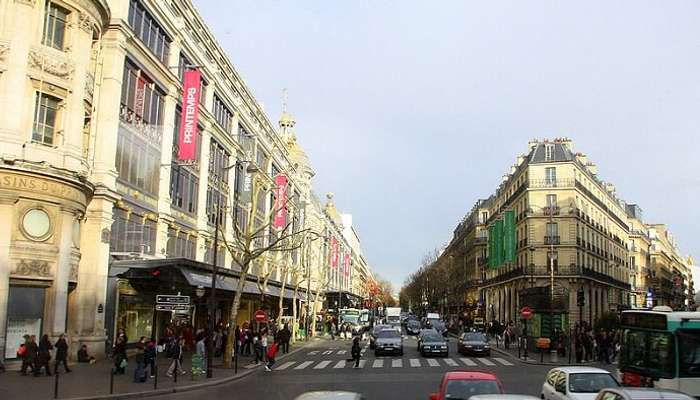 All of the best shops in Paris can be found right in the heart of the city, in the popular Boulevard Haussmann. From the famous Galeries Lafayette to the popular Printemps department store, you will come across all the high-end shops here. This is certainly the best place to visit if fashion, home decor accessories, and cosmetics is everything that is on your list.
What To Buy: Home decor essentials, high-end cosmetics & toiletries, and luxe fashion wear
Location: 8th and 9th Arrondissement, Boulevard Haussmann, Paris, France
Suggested Read: Trip To Paris – My Solo Experience In The City Of Love
9. Avenue Des Champs Elysées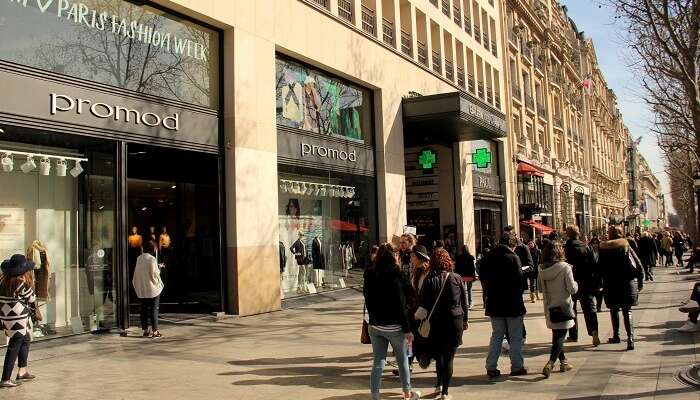 Definitely, amongst the most famous shopping areas in Paris, this avenue is one place you cannot afford to miss during your holiday in Europe. Apart from looking too pretty and illuminated at night, this place lets you shop all things chic. Be it buying high-end clothing for yourself or toys for your kids, this is where you need to be for an ultimate and true Parisian shopping experience. There is no better place than Champs Elysees for outlet shopping in Paris
What To Buy: High-end linens, chic accessories, cosmetics, and more
TripAdvisor Rating: 4/5
Location: Avenue des Champs Elysees, Paris, France
Reviews
Suggested Read: Paris In Winter: All That You Can Do In This Winter Wonderland
10. Avenue Des Ternes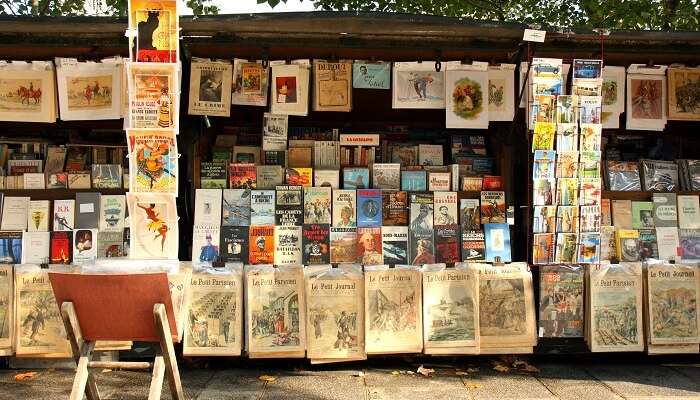 Unlike the other popular places to shop in Paris, the Avenue des Ternes located in the 17th district is a hidden paradise in the city. Books, household appliances, clothing, shoes, bags, and everything that you think of can be easily found here. So, without giving it a second thought, just pay a visit to this place and we vouch you will not be disappointed. It is one of the best places to enjoy street shopping in Paris.
What To Buy: Books, luxe clothing, kitchenware, elegant bags, and more
Location: 17th Arrondissement, Avenue des Ternes, Paris, France
Further Read: 15 Picture-Perfect Places To Visit In Paris
With this little Paris shopping guide, you will surely have the most extraordinary experience in the city of love. But to make sure that you also do not miss out on the other major experiences, customize your Europe trip with TravelTriangle! And if you know of any more awesome shopping places in Paris, let us know in the comments below.
There's nothing like shopping in Paris, especially if you're there during peak tourist season. Watch our Paris travel video to check out the bustling markets in Paris. They look nothing like you would've envisioned!
Frequently Asked Questions About Shopping In Paris
Q. How is shopping in Paris vs London?
A. Both of these cities are renowned as one of the major fashion capitals and trendsetters across the world. While London offers a lot of high-end brands and big stores located far from each other, the city of Paris offers both chic fashions in boutiques and street trends in one neighborhood. And as far as the prices are concerned, shopping is certainly a bit cheaper in Paris than in London.
Q. What are the best things to buy in Paris for souvenirs?
A. A Béret, scarfs, macaroons, champagne, postcards, miniature Eiffel Towers, and keyrings are some of the best things you can buy as souvenirs in Paris.
Q. How is shopping in Paris vs Rome?
A. While shopping in Paris often comes along with expensive price tags, shopping in Rome comes for cheap as well, but do not expect a lot of bargains. If Paris is home to all things trendy and French, Rome houses some of the finest Italian styles. All in all, both the cities offer a similar yet different shopping experience.
Q. What street in Paris is famous for shopping?
A. Out of all others, the Avenue Montaigne side street on the Champs-Elysées Avenue is quite a popular and luxurious shopping street in Paris.
Q. Where should I go shopping in France?
A. You can go shopping in any or all of the above-mentioned places in Paris, France.
Q. How should I dress in Paris?
A. There aren't any restrictions or rules regarding what one can wear in Paris. People can wear everything from jeans, dresses, to casuals while going out in Paris. One should ideally dress according to the weather. While warm clothes with boots and hats are suggested in winters, one is advised to wear light cotton clothes with a jacket or cardigan during the summer months in Paris.
Comments
comments