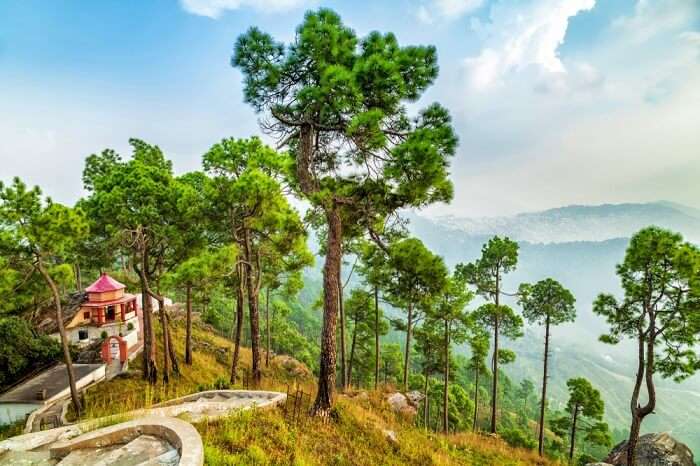 A town profusely rich in cultural heritage, exquisite wildlife, and exhilarating views of the Himalayas, it should not be surprising that there are plenty of places to visit in Almora.
Another jewel in the crown of Uttarakhand, the quaint, picturesque town of Almora makes a great destination for a peaceful hill holiday. You will feel blessed to set your eyes upon the many revered Himalayan Peaks like Nanda Devi and Trishul from the pinnacles of Almora. The deluge of centuries-old Almora temples which are a remarkable example of architecture will take you back in time. And, its invigorating air and verdant greenery are too much for the city people to take in.
Top 10 places to visit in Almora for All
If you are headed to Almora for a quiet getaway, here are a few places to visit in Almora to make the best of this peaceful town.
1. Zero Point
Get up close and personal with the snow-capped mountains at Zero Point, one of the must-visit places to visit in Almora hill station. The mountains feel so close you won't even realize your hands reaching out for them. Kedarnath, Shivling, Nanda Devi, and other revered Himalayan peaks stand in aplomb so that you can take pictures of them. One of the famous Almora tourist places, the point is located inside Binsar Wildlife Sanctuary where you can enjoy the sound of birds chirping.
Recommended: Take a pair of binoculars with you to spot the mountain peaks clearly.
How to reach: Zero Point is situated at the heart of Binsar Wildlife Sanctuary which is 33 km north of Almora. You will even have to trek for 2 km from the parking space to the Zero Point.
Timings: Sunrise till sunset
Entry Fee: INR 150 per person, INR 250 for vehicle
Suggested Read: 7 Best Resorts In Kausani That Are Perfect For A Date With The Himalayas!
---
Uttarakhand Holiday Packages On TravelTriangle
Witness the beauty of Uttarakhand and indulge in spiritual pilgrimages, adventure sports, and treks. Visit Nainital, Rishikesh, Haridwar, Auli, Jim Corbett, and more. Get best holiday deals on TravelTriangle.
---
2. Bright End Corner
When was the last time you cherished the views of dusk and dawn? If you can't even remember, head straight to the Bright End Corner in Almora from where you can enjoy the alluring views of sunrise and sunset. The sunrays splatter beautifully over the quaint town of Almora that it almost feels like a painting. There is nothing more soothing to your visual senses than the tangerine hues of the dusk and dawn. Watch the sun setting behind the lush green mountains in the evening and emerging again at the time of sunrise.
How to reach: It is just 2 km away from the city center and can easily be reached by walking.
Entry Fee: None
Timings: Open all hours
3. Jageshwar Temple
One of the treasures Almora hides in its chest is a cluster of 200 Hindu Temples all of which date back to the 7th century. Dedicated to Lord Shiva, the ancient iconic temples are built in beautiful Nagara style craftsmanship. This Almora temple, which is also the home to one of the 12 Jyotirlingas, is located along the rivulet Jata Ganga and surrounded by dense forests of oaks, pines, and rhododendrons. The whole heritage site looks heavenly after it is washed down with the rains.
Recommended: Monsoons are a spectacular time to visit these temple. Some of these temples are a big deal among the pilgrims.
How to reach: It is located odd 30 km from Almora and can be easily reached by car.
Timing: 6 AM to 9 PM
Entry Fee: None
Suggested Read: 15 Amazing Hill Stations In Uttarakhand: From The Most Popular Hill Towns To The Unexplored Ones
4. Kalimath
A historic-cum-hippie village near the town of Almora, Kasar Devi temple is dedicated to Kasar Devi and is as old as 2nd century CE. The serene environ and comeliness of Kasar Devi Village have even attracted the likes of Bob Dylan, Nehru, and Cat Steven to spend a vacation here. While the temple is popular among the pilgrims, nature and harmonious surroundings of this Kumaoni village make it one of the best places to visit in Almora which attract a lot of trekkers and tourists.
Recommended: If you are visiting Almora during Kartik Poornima which is celebrated in the month of November-December, you should visit the special 'Kasar Devi Fair'.
How to reach: It is 5 km away from the Almora city and can easily be reached through trekking.
Timings: 7 AM to 7 PM
Entry Fee: None
Suggested Read: 15 Most Beautiful Places To Visit In Uttarakhand In Winter
5. Katarmal Sun Temple
Be prepared to visit one of the prominent tourist places near Almora and this one is a rare site. Katarmal, a remote village near Almora, is surrounded with raw, uncut Himalayas and verdant greenery. Amidst this pulchritude, you will stumble upon a rare Sun temple which was built in the 9th century by the Katyuri Kings. There are even 44 small temples which surround the main temple. The whole scenery, when seen from a distance, looks charming and worth visiting.
Recommended: You can spend some time amidst nature and indulge in photography.
How to reach: It is located 12 km from Almora. You can take your car to Kosi Village and then follow a 2 km trek to the temples.
Timings: 6 AM to 12 PM, 3 PM to 7 PM
Entry Fee: None
Suggested Read: Top 15 Places To Visit In Uttarakhand In Summer To Dial Down The Heat
6. Chitai Golu Devta Temple
Most celebrated temple in the town, Chitai Golu Devta Temple is one of the important places to see in Almora. Golu Devta, who is an incarnation of Lord Shiva, a big deal among the locals and pilgrims. What is unique about this temple is that people offer animal sacrifices and bells to the deity to make their wishes come true. This is why you can see thousands of bells of every size hanging outside the temple.
Recommended: If you want your wish to come true, tie a bell in the temple.
How to reach: The temple is located 4 km from the gate of Binsar Wildlife Sanctuary
Timings: 6 AM to 12 PM, 5 PM to 10 PM
Entry Fee: None
Suggested Read: 6 National Parks In Uttarakhand That Would Please Your Eyes & Calm Your Adventurous Side
7. Deer Park
In Almora, places to visit are plenty. And, if you are a nature and wildlife enthusiast, you are going to love this place. Enjoy watching a group of deer frolicking around in the lush greenery of Deer Park. Apart from deer, you can see a myriad of other animals like leopard, Himalayan Black Bear. One of the must places to visit in Almora, this is where you can have a leisure time amidst beautiful surroundings.
Recommended: Pack a picnic lunch, your favorite book, and enjoy an afternoon picnic in the park.
How to reach: Located in Narayan Tiwari Dewai (NTD), the deer park is just 3 km from Almora city and can easily be reached by car or on foot.
Timings: 10 AM to 5 PM
Entry fee: None
Suggested Read: Tourist Places In Kumaon That You Must Check Out On Your Next Uttarakhand Retreat
8. Lakhudiyar
Located on the banks of River Suyal, Lakhudiyar is a pre-historic site where you will find interesting secrets about the Stone Age Era. Lakhudiyar translates to one lakh caves and has inscriptions and drawings in red, black, and white color on them which depict the civilization in Stone Age Era. It is a great place for Almora sightseeing if you are interested in archaeology and history.
Recommended: Spend 15-20 minutes around the site to visualize the life of men and women in the Stone Age.
How to reach: It is 10 km from Almora on Almora-Barechhina Road and can easily be reached by car.
Timings: 8:00 AM to 5:00 PM
Entry Fee: None
9. Martola
If you haven't had enough of Almora yet (which you will not, given how picturesque the place is), go visit this small hamlet near the town of Almora. The scenic grandeur of Martola will catch anyone off guard. Its well-manicured gardens and thick woodlands will tempt you to settle here forever. A jewel in the crown of Almora, it is a great picnic spot and one of the amazing places to visit near Almora to enjoy the surrounding beauty and salubrious weather.
Recommended: It may not have places to stay but it makes for a great picnic spot.
How to reach: Buses from Almora go up to Panuwanaula from where Martola is just at a walking distance.
Suggested Read: 5 Reasons You Should Take Another Trip To Nainital NOW!
10. Nanda Devi Temple
Another one of the eminent Almora tourist places, Nanda Devi Temple holds great reverence among the locals and pilgrims. Nanda Devi, the 'Destroyer of Evil' is an incarnation of Goddess Durga. The magnificent monument of Nanda Devi is decorated with a special stone and encircled by a wooden roof. Thousands of devotees come to this 1000-year old temple to seek blessings of Nanda Devi. It is one of the important places to visit in Almora.
Recommended: Attend the Nanda Devi Fair which is organized every year in September and is a big deal among the devotees.
How to reach: The temple is located in the city center and is just 9 minutes away from Lal Bazaar.
Timings: 6 AM to 10 PM
Entry Fee: None
How To Reach Almora
1. By Road
Almora is well-connected by roads to its neighboring town and major cities. It takes about 9 hours to reach Almora from Delhi. There are no direct buses to Almora. However, you can take a bus to Kathgodam and Nainital and then take a shared taxi or a local bus to Almora.
2. By Air
The nearest airport to Almora in Pantnagar Airport which is 125 km away from the city center. You can take a shared taxi or a cab to reach Almora.
3. By Rail
The nearest railway station is in Kathgodam which is 90 km away from the city of Almora. You can take a local bus or a taxi from Kathgodam to reach Almora.
Best time for Almora Sightseeing
The best time to visit Almora is from March to November. The climate is cool and pleasant with the temperature around 15-20 degrees Celsius. Even the weather in Almora in July is pleasant when you will find temperature not rising above 30 degrees Celsius. If you love winters and snow, you will love it here then. In Almora, snowfall makes the landscape even more charming and pretty.
Further Read: 15 Offbeat Places In Uttarakhand: Explore The Undiscovered Gems Of The Himalayas
Whether it is a weekend fix or a long peaceful holiday in hills, a trip to Uttarakhand in Almora perfectly fits the bill for both. Enjoy the allure and rustic charm of the sleepy town of Almora. Make sure you cover all the places to visit in Almora and Ranikhet during your trip.
---
Looking To Book A Holiday Package?
Book memorable holidays on TravelTriangle with 650+ verified travel agents for 65+ domestic and international destinations.
---
Comments
comments