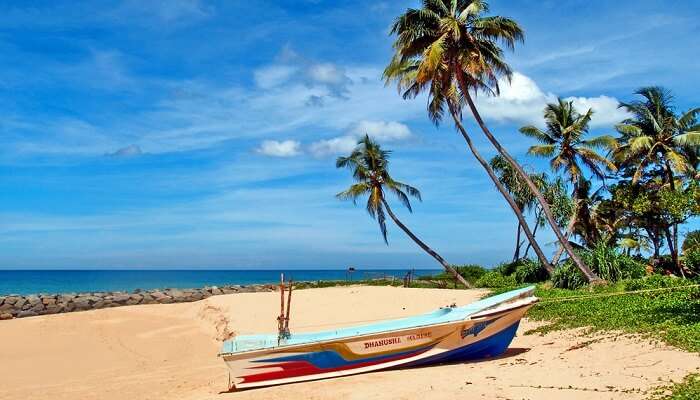 The heartland of handicrafts in Sri Lanka, Ambalangoda is one of those towns that is dedicated to the manufacturing of Sri Lankan puppets and masks. It is one of the major hubs where one can witness the unhindered form of the culture. Every traveler must visit Ambalangoda to admire one of the oldest forms of mask dancing – Sanni Yakuma & Kolam. If you planning to tick of Sri Lanka this year then you must explore these top places to visit in Ambalangoda that is deeply rooted into its culture. Take a look at these places and include them in your itinerary.
Top 5 Places To Visit In Ambalangoda
If you want to dig deep in the history and culture of Sri Lanka, then you must explore these places in Ambalangoda that will take you through the cultural lanes of the country.
1. Narigama Beach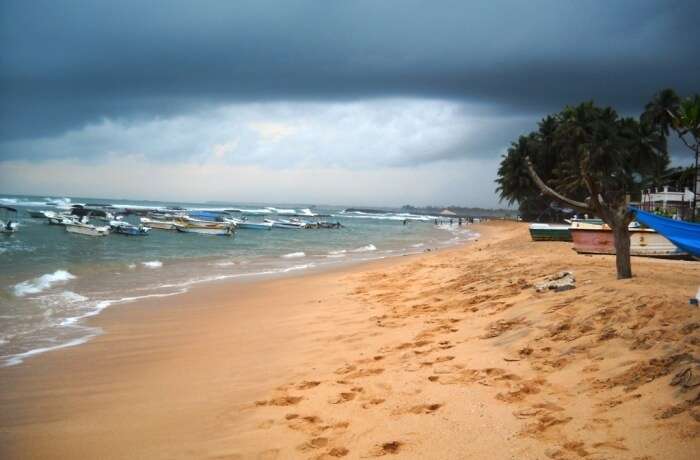 The very first on the list is the beautiful and aesthetic Narigama Beach. This is the most popular beach in the area and witnesses the maximum rush of the tourists, predominantly the entire year around. The entire beach is spread around a total distance of around 4 km and is actually an amazing surfing spot for people. It is ideal to visit the beach during the month of April. Majority of the people who have visited this place have often praised the beautiful and picturesque beauty of the sunset one can experience sitting on the beach, enjoying the orangy hues of the sunset mixing with the tranquil gush of the water.
Read More: Hikkaduwa In April 2022: A Guide To Plan A Perfect Summer Vacation
---
Sri Lanka Holiday Packages On TravelTriangle
Book your Sri Lanka trip from TravelTriangle: Inclusive of Hotels, Sightseeing, Transfers, & Meals. Best Prices Guaranteed. Get Customizable Package & Free Guidance From Destination Experts. Book Now!
---
2. Sanekvin Restaurant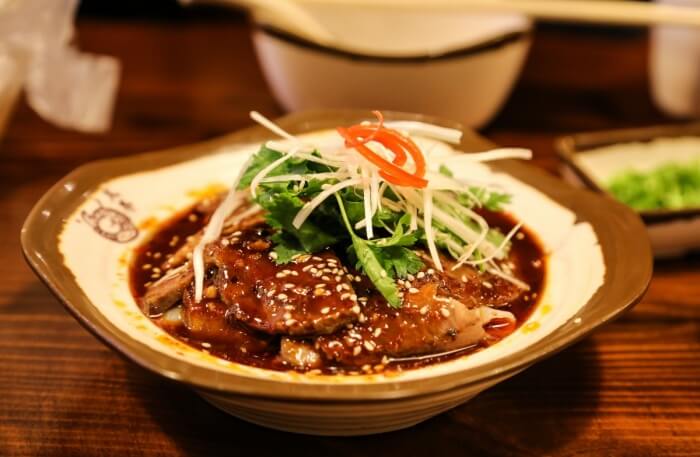 Serving variety of delicious yummy recipes for breakfast, lunch, dinner and brunch to the ever increasing guests, Sanekvin Restaurant has emerged into a diners' paradise in the Puttalam region of Sri Lanka today. It is facilitating the takeout options besides urging for reservations. As this restaurant also serves alcohol, it is popular amongst international tourists of diverse backgrounds. Most crucial factor which keeps this restaurant into limelight is that it is a one-stop place for recipes from seafood, Sri Lankan and other Asian meals choices that also include Chinese and Indian recipes.
Must Try: Brunch, Breakfast, Dinner, Lunch
Location: # 13 Galle Road, Ambalangoda 80300, Sri Lanka
Cuisine: Asian, Sri Lankan, Seafood, Chinese and Vegetarian Friendly
Cost for Two: ₹ 1000/- – ₹ 3000/-
Google Rating: 4.0/5
Read More: 10 Restaurants In Puttalam To Greet You With Sri Lankan Aroma In Each Recipe
3. Sea Turtle Hatchery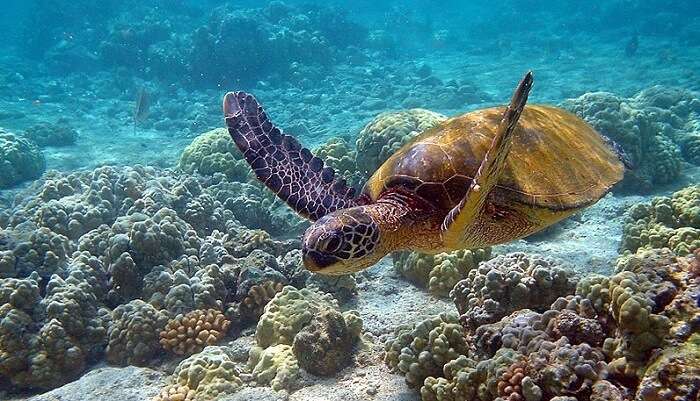 One of the best places to visit in Ambalangoda is the Sea Turtle Hatchery where you can see the strength of these small swimmers. You can opt for a tour here that lasts for an hour where you get to see several species of turtles on the different stages of life. If you are planning a vacation with your family and kids, then you must not miss this place as life about turtles can be quite intriguing for children. Moreover, there is a chance to hold baby turtles that no one wants to miss.
Location: E.K.Sunil Fernando | S.A.Rohan Chaminda, Urawatte, Ambalangoda 80300, Sri Lanka
Read More: 10 Divine Sri Lanka Churches To Visit On A Vacation In 2022!
4. Sri Vijayarama Viharaya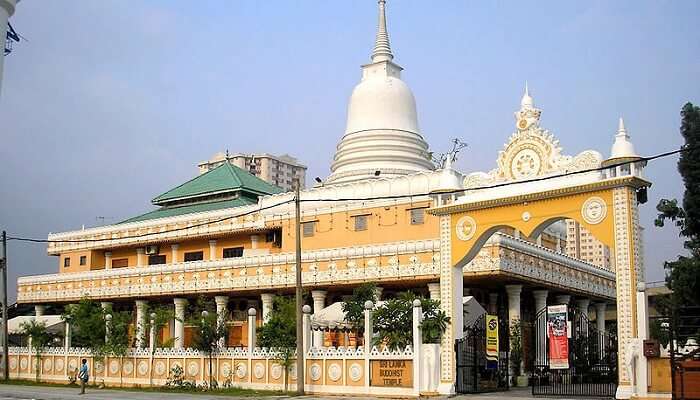 Sri Vijayarama Viharaya is an attractive Buddhist temple that can be reached by hiring a tuk tuk. The temple houses some attractive shrines along with statues. The statues of Buddha are displayed in different mudras. Moreover, you can also admire the intricate carvings done by the locals on masks. So, if you are looking for a hidden gem in Sri Lanka, then visit this place in Ambalangoda.
Location: Dhirakkanda Buddhist Temple | Dhirakkanda Mawatha,Kaluwadumulla, Ambalangoda 80300, Sri Lanka
Read More: 13 Best Places To Visit In Dambulla In 2022 That Showcase Its Spiritual And Natural Charm
5. Ariyapala Mask Museum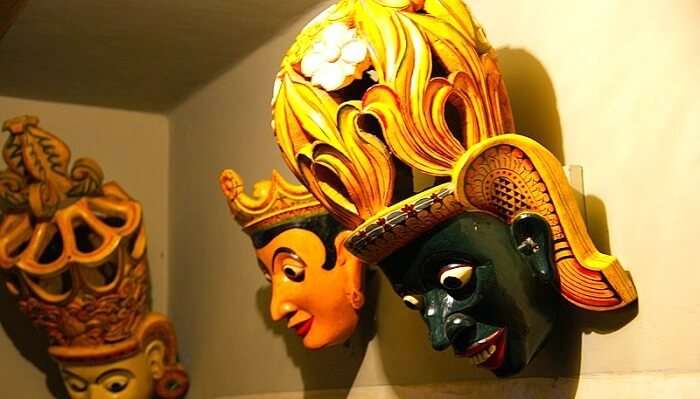 Ariyapala Mask Museum is an ultimate place to explore in Sri Lanka, especially for artists. As said before, Ambalangoda is a town that is reviving the old forms of making masks, this museum is one of those places where you can admire different kinds of masks and puppets. Falling in different price ranges, there are masks that one can buy easily without burning a hole in the pocket. You will also find a gift shop from where you can buy some gifts for your family and friends.
Location: 426 Main Street, Ambalangoda 80300, Sri Lanka
Read More: 18 Amazing And Most-Visited Sri Lanka Tourist Places For Your 2022 Trip
Among all the places to visit in Ambalangoda, you must visit these 5 tourist spots which will take you a bit deeper in the culture of Sri Lanka. And you must not forget to buy the famous handmade masks that display the Sri Lankan culture. Ambalangoda is one such town that is still working on reviving their traditions of making puppets and masks on their own. If you want to witness it yourself then head to Sri Lanka now and buy some of the masks yourself.
---
Looking To Book An International Holiday?
Book memorable holidays on TravelTriangle with 650+ verified travel agents for 65+ domestic and international destinations.
---