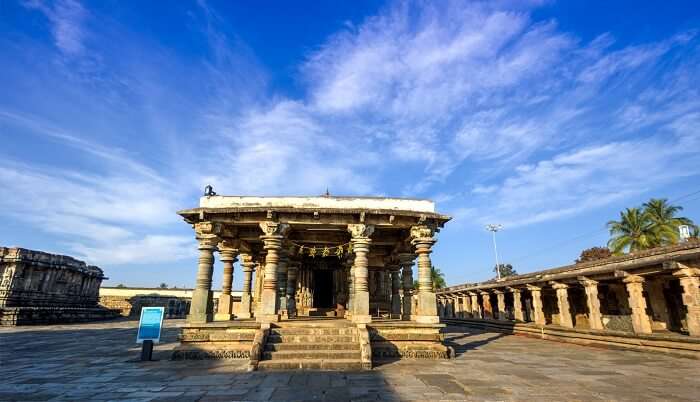 Hassan is a beautiful city as well as a district that can be found in the Mysore Silk state, that is, Karnataka. This city borrows its name from a Hindu Goddess with the name Hassanamba. Its history can be traced back to the 11th century to the Hoysala Empire and its influence is clearly depicted in the inscriptions on the monuments. The city is dotted with a number of religious spots as well as monuments giving you a perfect bunch of places to visit in Hassan. Needless to say, Hassan is an ideal place to explore for history lovers, pilgrims, as well as curious souls.
9 Best Places To Visit In Hassan
Hassan is a place best-known for its old-charm atmosphere which acts at the major crowd puller. It offers a surfeit of tourist interests that keeps you busy on your vacation days. From Jain temples to age-old monuments, there are several places to explore that'll keep you away from boredom. Let's check them out!
1. Shettihalli Church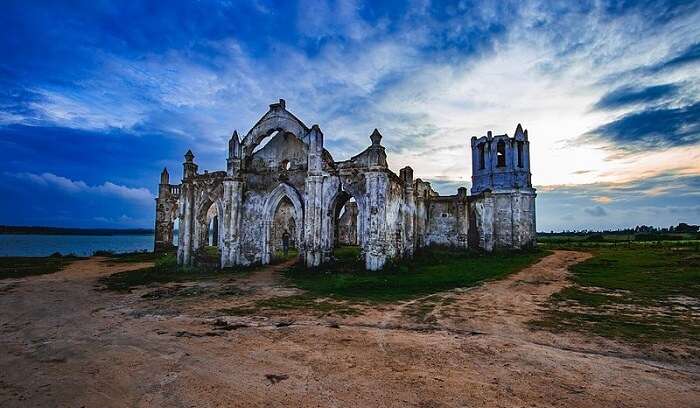 Image Credit: Bikash Das for Wikimedia Commons
Established in the 1860s, Shettihalli Church reflects the Gothic aspect with its architecture as it was constructed by the French missionaries. In the 1960s, the church started submerging in water which is why the church is also known as 'The Submerged Church' or 'The Floating Church'. To redirect the waters away from this place, Gorur Reservoir was built. All that is left now are beautiful ruins which attract tourists to this date. The unique part about this church is that every year it submerges in water in the monsoon season again. No doubt, it is among the best places to visit in Hassan for all kinds of travelers.
Location: Shettihalli, Hassan, Karnataka 573201
Timings: 6 am – 6 pm
Must Read: 21 Historical Places In Karnataka Every History Buff Should Visit In 2022!
2. Hasanamba Temple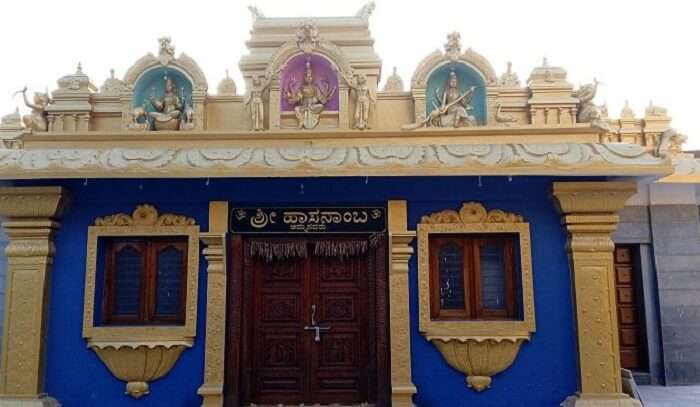 Image Credit: Kishore D. R. for Wikimedia Commons
Dedicated to Goddess Shakti, Hasanamba Temple is a unique temple that only opens for two weeks for devotees during the festival of lights, Diwali. In the form of offerings, the devotees present raw rice and light a lamp to the goddess. It is believed that the rice here never gets rotten and the lamp burns till the next time the temple opens. This temple is a beautiful Hassan tourist spot which is worth visiting at least once on the trip.
Location: Hosaline Rd, Ammeer Mohalla, Hassan, Karnataka 573201
Timings: 7 am – 10 pm
Suggested Read: 10 Best Adventure Activities In Karnataka In 2022 That Will Sweep You Off Your Feet
3. Lakshmi Devi Temple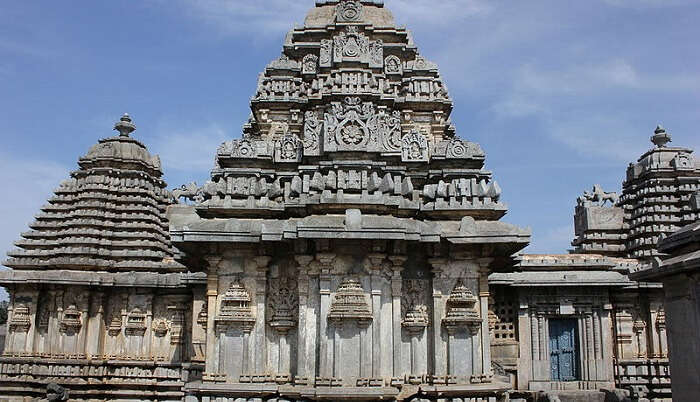 Image Credit: Dinesh Kannambadi for Wikimedia Commons
This temple was built during the reign of the Hoysala Dynasty in the 12th century and is dedicated to Goddess Lakshmi. It is constructed in the ancient Hoysala-style architecture in soaprock. The majestic temple is adorned with intricate designs, inscriptions, and sculptures that take you back to the ancient era. The showstopper is Chatuskuta wherein you will find a tower housing four shrines. If you are history buff then you must not miss a chance to visit this majestic temple which comes in top Hassan attractions.
Location: Karnataka 573216
Timings: 9:30 am – 6:30 pm (Tues-Fri, Sunday), 9:30 – 6 pm (Sat & Mon)
4. Maharaja Park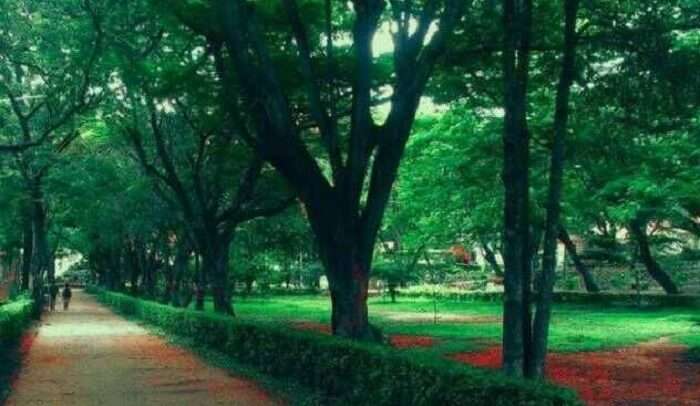 Another amazing place to explore in Hassan is Maharaja Park which is now a popular picnic spot for locals as well as travelers. It is a well-manicured park which is covered with a green layer of grass. There are many spacious walkways that are lied with green dollops of bushes and tall trees. Apart from this, there is also a separate children's playground where you can let your kids play. This makes it a perfect place to see in Hassan for families with children.
Location: Rangoli Halla, Hassan, Karnataka 573201
Timings: 6 am – 8 pm
Suggested Read: 25 Stunning Places To Visit In Summer In Karnataka For A Relaxing Retreat In 2022!
5. Gorur Dam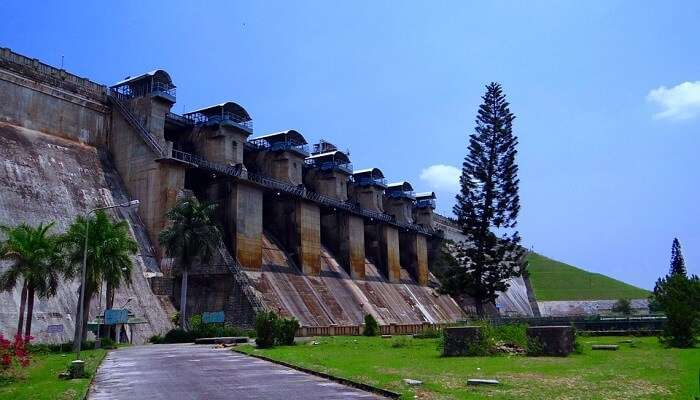 Image Credit: Bishnu Sarangi for Pixabay
Also popular as Hemavathi Dam, Gorur Dam is one of the top places to visit in Hassan for leisure travelers. It is constructed across the Hemavathi river which is surrounded by greenery from all sides. The best part about this place is that it is also crowded with many beautiful birds which acts as a magnet to birdwatchers. The dam was mainly built in 1979 for drinking, irrigation, and household chore purposes. The views from this dam are unmatchable and worth capturing so make sure that you pack your camera.
Location: Konapura, Hassan Karnataka 573120
Timings: 9 am – 5 pm
Suggested Read: Monsoon In Karnataka: Here's 15 Places You Must Visit During Monsoon
6. Ishvara Temple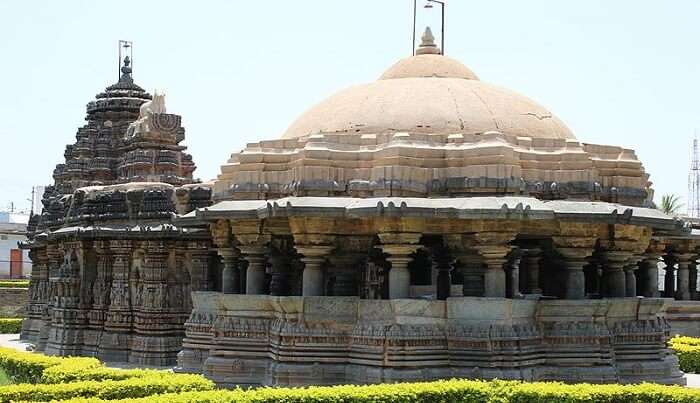 Image Credit: Dinesh Kannambadi for Wikimedia Commons
Another architectural marvel from the Hoysala Dynasty is the grand Ishvara Temple which is located in Arasikere in Hassan. It is mainly known for its intricate architecture and rich heritage that attracts several travelers from all over the state. The craftsmanship of carvings that you witness here cannot be seen at any other Hoysala structure. This famous place in Hassan is visited by numerous tourists, especially history buffs.
Location: Huliyar Rd, Muzawar Mohalla, Arsikere, Karnataka 573103
Timings: NA
Suggested Read: Karnataka Cuisine: 22 Popular Karnataka Dishes For A Flavorful Culinary Journey In 2022
7. Bhagwan Bahubali Statue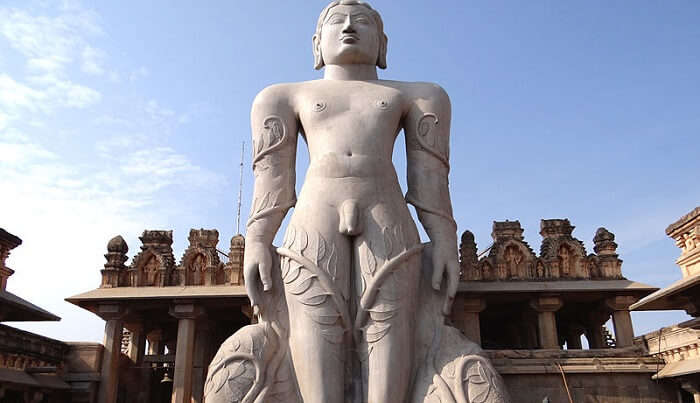 Image Credit: Ananth H V for Wikimedia Commons
A visit to the Hassan district remains incomplete without visiting Bhagwan Bahubali Statue which was constructed in 983 AD. It is a 17 meters high standing monolith statue of Bahubali, a Jain deity. As it is nestled on the Vindhyagiri Hills, this place is famous for the unmatchable panoramic views that it offers. Due to its uniqueness, the statue was awarded as one of the Seven Wonders of India in the year 2005. Needless to mention, it is among the best Hassan sightseeing places that you cannot afford to miss.
Location: Shravanbela Gola (Rural), Hassan, Karnataka 573135
Timings: 6 am – 5:30 pm
8. Kedareshwar Temple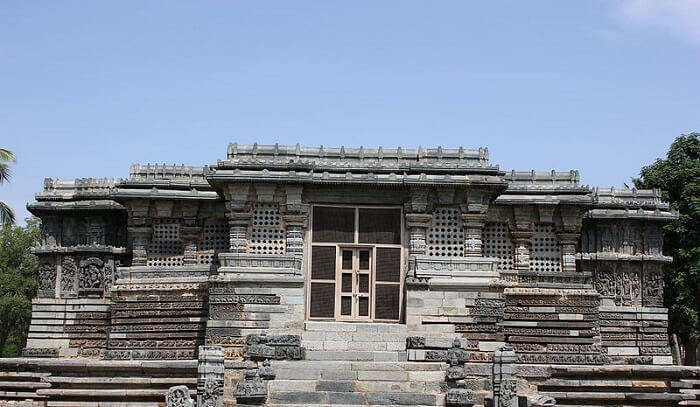 Image Credit: Dinesh Kannambadi for Wikimedia Commons
Dedicated to Lord Shiva, Kedareshwar Temple is another gem of Hassan that was built around 1220 AD by a king of Hoysala, Veer Ballala II. The structure of the temple is constructed in the old Hoysala style in a soaprock. The intricate carvings, sculptures, and relief work that depict the lives of Lord Vishnu and Lord Shiva make it stand out from the rest. This is why it is counted among the top places to visit in Hassan for all types of travelers.
Location: Watehalla, Halebeedu, Karnataka 573121
Timings: 10 am – 5 pm (Closed on Friday)
Suggested Read: 47 Best Places To Visit In Karnataka That Will Totally Knock You Out In 2022!
9. Bucheshvara Temple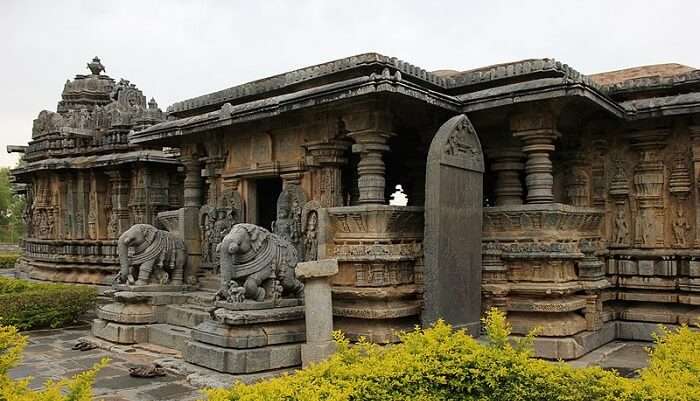 Image Credit: Dinesh Kannambadi for Wikimedia Commons
Popularly known as Koravangala Temple, Bucheshvara Temple is another temple in Hassan that is dedicated to Lord Shiva. The history of this temple can be dated back to the 12th century during the Hoysala Dynasty. This temple was built on the coronation celebration of Veer Ballala II. While exploring the temple, you will find minute carvings on the soapstone structure that stunning to look at. No doubt, it is one of the top Hassan tourist places that must be visited at least once.
Location: Korvangla, Karnataka 573118
Timings: NA
Further Read: 10 Best Adventure Activities In Karnataka In 2022 That Will Sweep You Off Your Feet
With so many places to visit in Hassan, one can never get bored with options here. From intricately-designed temples to beautiful parks, Hassan offers a lot of places to explore. Most of these places are ancient and their construction can be dated back to the 12th century when it was being ruled by the Hoysala Empire. All of these places are beautiful enough to be visited at least once. So, make sure that you plan your Karnataka trip soon and explore these places yourself.
Disclaimer: TravelTriangle claims no credit for images featured on our blog site unless otherwise noted. All visual content is copyrighted to its respectful owners. We try to link back to original sources whenever possible. If you own rights to any of the images and do not wish them to appear on TravelTriangle, please contact us and they will be promptly removed. We believe in providing proper attribution to the original author, artist or photographer.
Frequently Asked Questions about Places to Visit in Hassan
What is famous in Hassan?
Hassan is mainly famous for its age-old temples like Lakshmi Narsimha Temple, Kedareshwar Temple, and Hoysala Temples. They represent the history and cultures of Hassan very well. Hassan comprises various temples with great historical significance.
What can one buy in Hassan?
Although Hassan does not have many major spots for shopping. Having said that, the place is famous for ivory, silk, sandalwood, and handicrafts. You can also explore the local markets of Hassan to get your hands on various artifacts, etc.
Is it safe to visit Hassan during covid times?
The Government of Karnataka prioritizes public health, hence, have issued some safety guidelines such as social distancing, using face masks, applying hand sanitizers, and washing hands frequently, which must be adhered to by all visitors. Tickets should be booked online for contactless entry. Also, in some places for accommodation, visitors should provide their vaccination details for both doses for a hassle-free stay.
What is Hassan known for?
Hassan has served for the Hoysala Empire which is why it tells the tales of the then kings and rulers. The district is home to many Hoysala Temples where one can admire the inscriptions. No doubt, it is worth visiting at least once in a lifetime.
How did Hassan district get its name?
The district was named after the Goddess Hasanamba and the traces of the Hoysala Empire can be traced back to Hassan. The story of Hassan is quite popular and you can also read about it in many history books as well.
How far is Belur from Hassan?
Belur is about 39 kilometers away from Hassan which can be easily covered by a simple car ride. If you are planning to visit Hassan from Belur, then you can either commute by public transport, or by your own vehicle.
Is Hassan a suitable place to visit for families?
As Hassan is home to many family-friendly places like temples, forts, and bird sanctuaries, the place is ideal for families to visit. Not only this, but it is also a suitable place for friends and couples as well.
How many days are required to explore Hassan?
A 1-2 days tour is recommended in order to explore the major attractions in Hassan but if you want to go for a thorough and relaxing vacation, then 3-4 days are sufficient to explore the hidden gems of this place and spend a relaxing holiday simultaneously.
People Also Read:
Places To Visit In Belur Places To Visit In Sakleshpur Places To Visit In Karnataka
Comments
comments