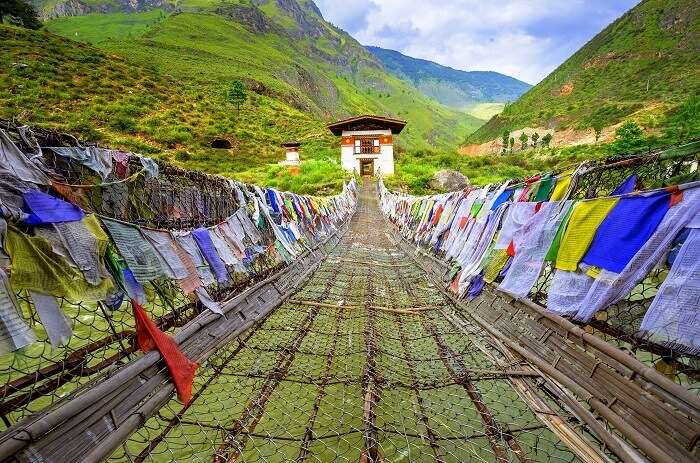 Surrounded by untainted wilderness and willow trees lining its meandering roads, Paro is a quaint little town in the picturesque Paro valley of Bhutan. This lovely town is a true Bhutanese gem with something or the other in store for all its visitors. From historic fortresses and ruins, sacred sites of monasteries, to pretty sights of apple orchards, Paro is sure to leave you beguiled on your trip to Bhutan!
15 Places To Visit In Paro
Soak in the stunning sights, engage with the locals, and learn about the fascinating tales surrounding dainty town of Paro. Here's all that you can explore here:
Jangtsa Dumtseg Lhakhang Temple
Chele La Pass
Tiger's Nest (Paro Taktsang)
Airport View Point
Paro Weekend Market
Namgay Artisanal Brewery
Zuri Dzong Fort
Rinpung Dzong Monastery
Drukgyal Dzong Monastery
Dasho Nishioka Chorten Museum
National Museum Of Bhutan
Tamchoe Monastery
Kyichu Lakhang
Dungtse Lhakhang
Dzongdrakha Goemba
1. Jangtsa Dumtseg Lhakhang Temple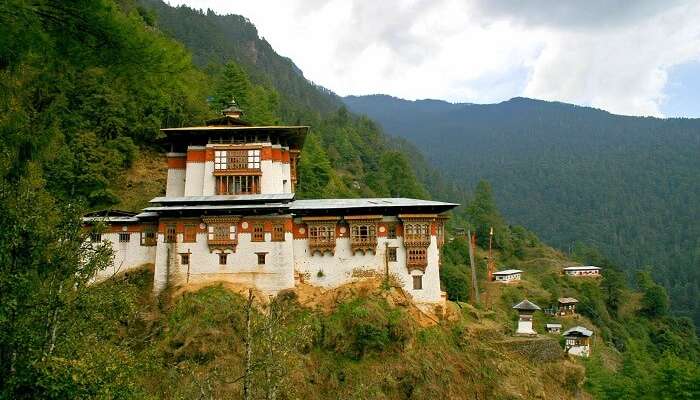 Do folktales intrigue you? There isn't just one but an endless number of folk tales attached to this Buddhist temple. A local legend says that Lhakhang was constructed to vanquish a serpentine force. Another tale says that it was erected on the head of a demoness.
Paro Sightseeing isn't complete without visiting this stupa-temple which was constructed in 1421 by the saint Thangtong Gyalpo. The uniqueness of this temple is that it is in the form of a chorten which is a rarity in Bhutan. The chorten depicting beautiful Buddhist iconography will leave you mesmerized and is among the best places to see in Paro, Bhutan.
Suggested Read: 10 Bhutan Travel Tips That Also Unfurl Essential Bits Of Info For Tourists
---
Looking To Book An International Holiday?
Book memorable holidays on TravelTriangle with 650+ verified travel agents for 65+ domestic and international destinations.
---
2. Chele La Pass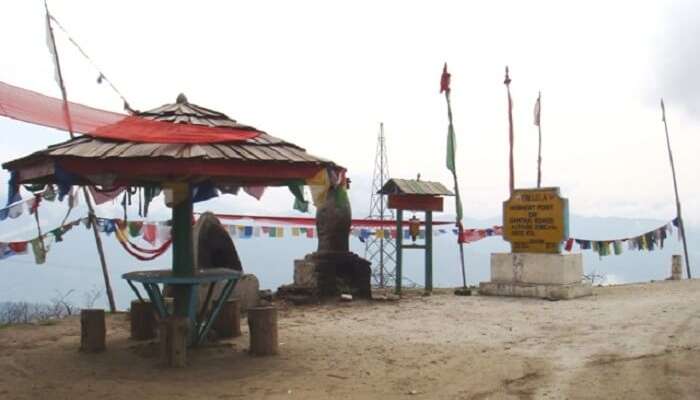 Bhutan is a land of dramatic terrain with steep mountains adorning snow-capped peaks and dainty towns nestled in its gorgeous lush green valleys. Its mountainous landscape is connected through a number of passes. Chele La, located at 3810 m above sea level is the highest road pass in Bhutan between the picturesque valleys of Paro and Haa. You can hike, ride, or drive through the thick woods of spruce and larch to reach the vantage point of the Chele La pass, which is, without a doubt, one of the most incredible places to visit in Paro. Enjoy the majestic views of Mt. Jomolhari and Mount Jitchu Drake and a complete panoramic view of both the Paro and the Haa valleys from here.
3. Tiger's Nest (Paro Taktsang)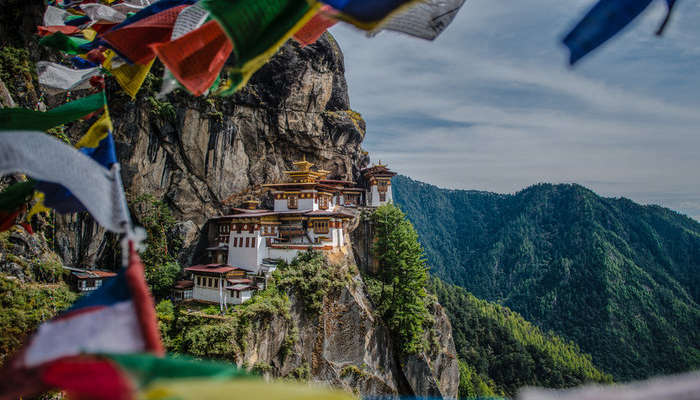 Bhutan is a land of myths and legends, and here's another one! This is amongst the top Paro tourist attractions and also the most famous attraction of Bhutan. Paro Taktsang is said to have been ordained to tame a tiger demon. Legend says that Guru Rinpoche flew here on the back of a tigress from Kurtoe Singye Dzong. The guru then meditated here and the rest you can hear from the locals as you hike or ride through the pines to this breathtaking cliffside monastery. It is a 2 km hike to the monastery. Enjoy the majestic mountain views and lush green valleys as you are drawn into the exciting tales of the 'Tiger's Nest'.
Timings:
October-March: 8:00 AM – 5:00 PM
April-September: 8:00 AM – 6:00 PM
Entry Fee: INR 500/-
Suggested Read: Trekking In Bhutan: An Experience Like None Other!
4. Airport View Point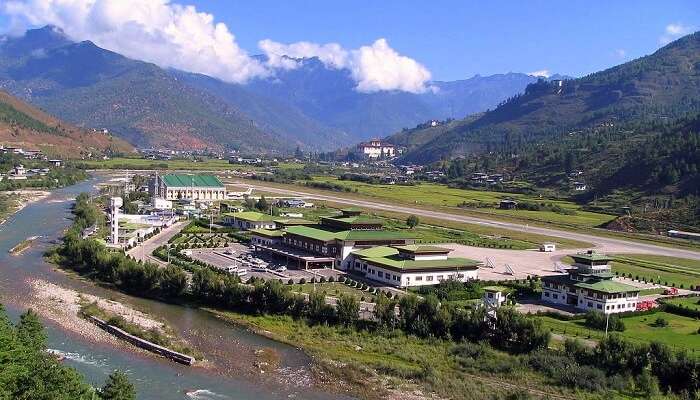 Do you know that not everyone is allowed to land an airplane at Paro? Yes, you read it right. Landing at Paro is not a piece of cake and only a few pilots are certified to land at the challenging airport of Paro. This makes the journey thrilling even before you have landed here. Enjoy the stunning scenic sights as you land at this tiny airport perched on the Himalayan ranges. And once there, head to the Paro Airport Bird's Eye Viewpoint which is one of the major Paro sightseeing points and enjoy the vistas from atop this vantage point.
Suggested Read: Hiking In Bhutan: 5 Alluring Trails Every Hiking Enthusiast Should Walk On!
5. Paro Weekend Market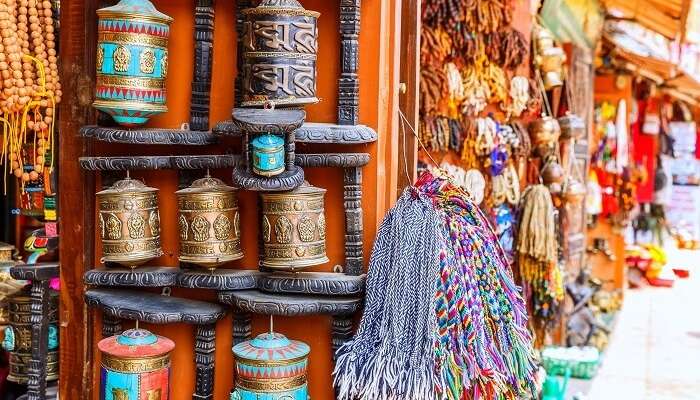 Wondering where to buy souvenirs for the ones waiting for you back home? Head over to Paro's splendid Sunday Market and find interesting keepsakes like the Kira, the traditional dresses, and the customary prayer wheels. Indulge in the local Bhutanese flavors as you come across local produce like the organic Tsirang honey, khoo (dried jellied cow skin), and chugo (dried yak cheese).
Suggested Read: Dochula Pass, Bhutan: 3 Reasons You Must Visit It
6. Namgay Artisanal Brewery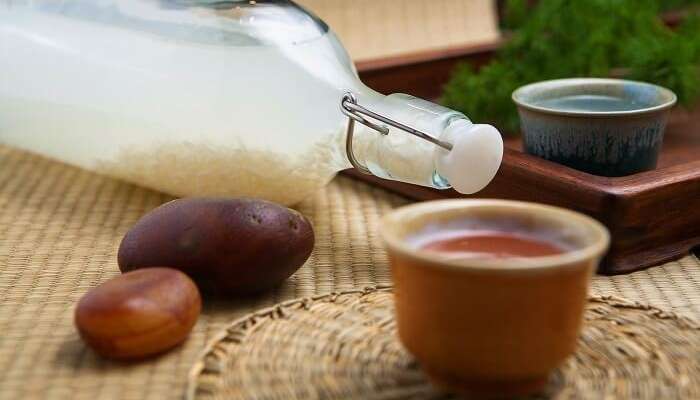 Taste Paro's local flavors at its very own microbrewery. Don't forget to try the new crafts – Bhutan Dark Ale and the Bhutan Red Rice Lager, which are now a major hit among tourists and a shift from the conventional tastes. The Bhutan Red Rice Lager is brewed from red rice obtained from the rice paddies of Paro. The Dark Ale is made from the roasted burnt grains and is a little less trippy compared to Bhutan's Dragon Stout.
---
Planning your holiday but confused about where to go? These travel stories help you find your best trip ever!
Real travel stories. Real stays. Handy tips to help you make the right choice.
---
7. Zuri Dzong Fort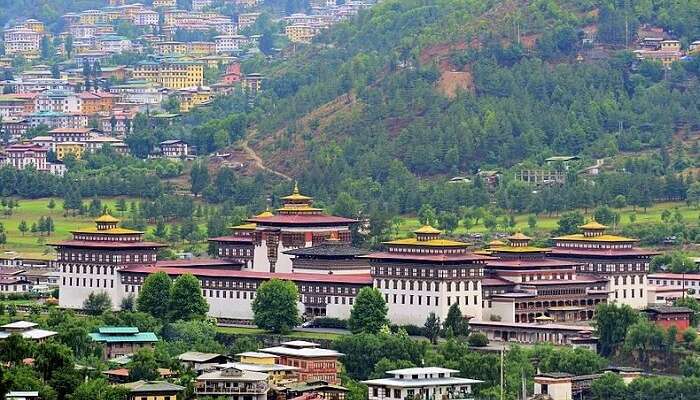 Haa Valley Is A Sweet Spot Tucked In Bhutan & A Must-Visit On The Northeast Trip Hike to one of Bhutan's oldest dzong, an ancient fortress built in the mid-fourteenth century. This five storey tall edifice is exemplary of the structures that were built back in the olden time and still stand today protected by double walls and a bridge. This is one of the best places to visit in Paro Bhutan. Do not miss the murals in the upper chapels of Zuri Dzong, one of which is dedicated to Zaa, the Buddhist protector. Locals believe that there is also a cave here where Buddha once meditated. The peak of this Dzong is another vantage point to enjoy the panoramic views of the Paro valley.
Suggested Read: Haa Valley Is A Sweet Spot Tucked In Bhutan & A Must-Visit On The Northeast Trip
8. Rinpung Dzong Monastery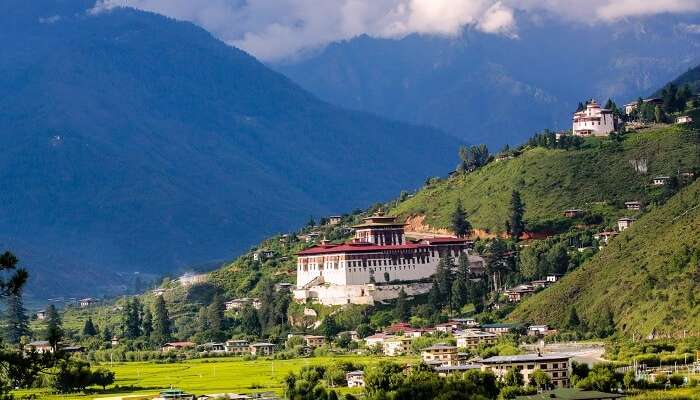 Paro Dzong or Rinpung Dzong Monastery is a site of beautiful Bhutanese architecture. It has been built with amazing precision, as the structures stand even today. One interesting aspect of these structures is that they are interlocked firmly without the use of nails! Rinpung Dzong which has been shortened for Rinchen Pung Dzong means 'Fortress on a Heap of Jewels'. This fort has in the past proved its worth by protecting Paro valley from Tibet invasions on numerous occasions. Today, it adorns rich wooden carvings, beautiful paintings, and statues of that era. You can click the most breathtaking snaps from Nyamai Zam wooden bridge, just below the Dzong.  Add this to your Paro sightseeing list.
Timings: 8:00 AM – 6:00 PM (Nov-Feb until 4.30 PM)
9. Drukgyal Dzong Monastery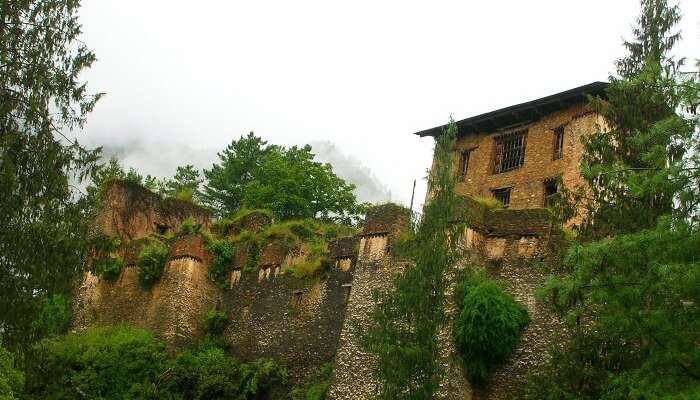 Once a fortress and Buddhist monastery, Drukgyal Dzong stood in ruins for quite some time after the fire of the 1950s. It is being rebuilt to restore it back to its original fame and prestige. Located in the upper part of the Paro district, this former fortress provides one with great views of the Chomolhari mountains.
Timings: 8:00 AM – 5:00 PM
Suggested Read: Bhutan In December: A Quintessential Travel Guide For An Exquisite Vacation!
10. Dasho Nishioka Chorten Museum
This museum is a tribute to the late Dasho Keiji Nishioka, a Japanese agriculture expert who helped Bhutan modernise its agriculture. The museum built in his memory is a great way of paying tribute to this unsung hero who helped the Bhutanese farmers gain knowledge about varied ways and tools of farming.
11. National Museum Of Bhutan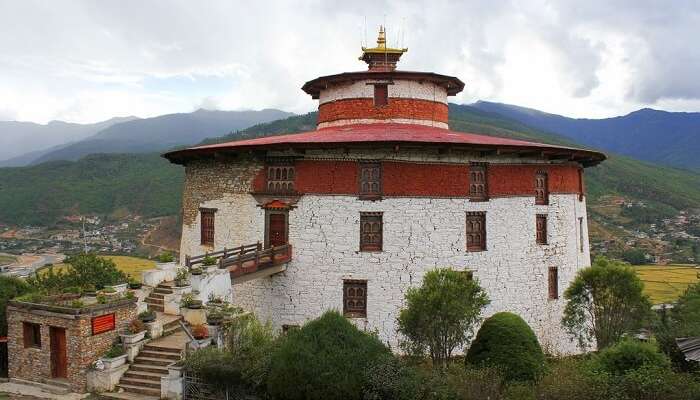 If you're hungry for more of Bhutan's myths and legends, make your way to the National Museum Of Bhutan and know more about this country's ancient glory. The museum is called Ta Dzong which means the watchtower. Shaped like a conch shell, the building is circular and has seven floors. This structure was reopened as a cultural museum in 1968 and preserves Bhutanese architectures, values, and lifestyles.
Timings:
April-October: 9 AM – 5 PM
November-March: 9 AM – 4 PM
Entry Fee: INR 25/-
Suggested Read: 12 Charming Monasteries In Bhutan Every Traveler Must Explore
12. Tamchoe Monastery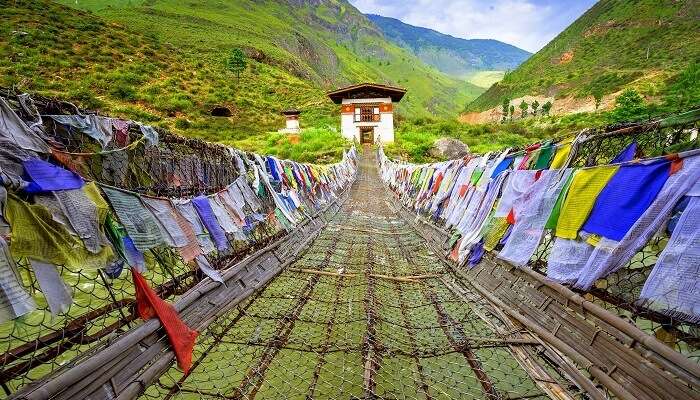 Also called Tachog Lhakhang, this monastery is built between Paro and Thimpu. This monastery which dates back to the 15th century is perched atop a small hill and was built by the great iron bridge builder, Thangtong Gyalpo. You can cross the hefty iron bridge which was once washed away in the flood of 1969 and restored back in 2005, and make your way to this beautiful temple.
13. Kyichu Lakhang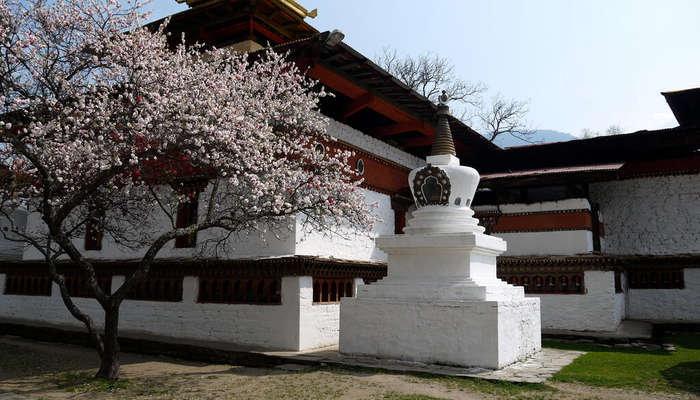 A beautiful monastery of great importance, Kyichu Lakhang is one of the best places to see in a trip to Paro. The Monastery is as old as 7th century. If you're looking for peace of mind & soul, then this is the place you should head to! The monastery has the blessings of major Buddhist saints. Besides praying here, you can also learn about Himalayan Kingdom.
14. Dungtse Lhakhang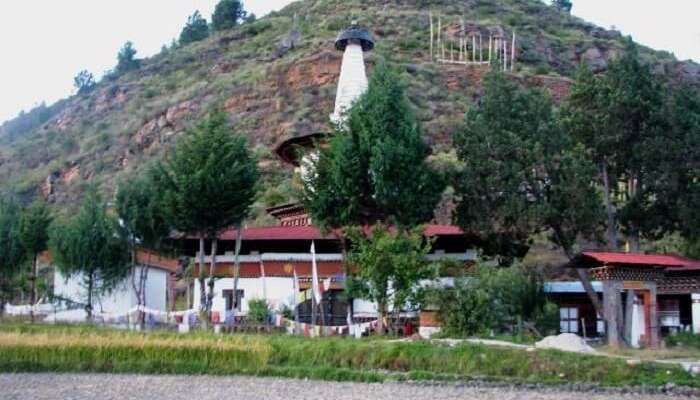 This 15th-century architecture completely reflects the religious beliefs of the Buddhism culture, this Buddhist temple was initially built to subdue an evil spirit. People visit this three storey temple which signifies the hell, earth, and heaven. The magnificent architecture of the temple and its rich history attracts a lot of travelers.
Timings: 9AM-5PM
Entry Fee: No Entry Fee
15. Dzongdrakha Goemba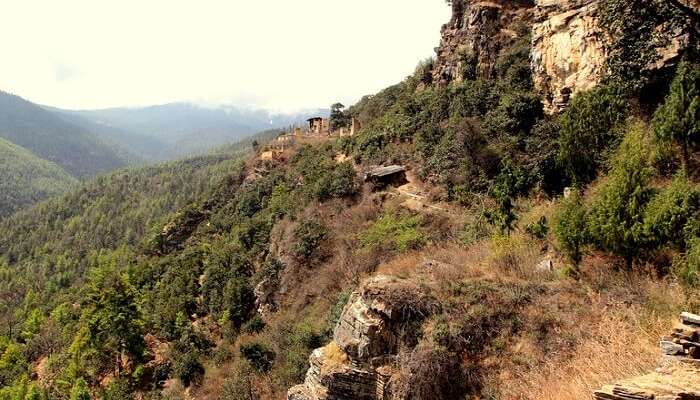 Settled at the peak of the Bondey village on the western side of the Paro valley, the Dzongdrakha Goemba is popularly known as Mini Taktsang. Despite its old facade appearance, this place attracts a lot of tourists every year. It comprises of four temples and it is believed to be blessed by Guru Rinpoche himself.
Timings: 9AM-5PM
Entry Fee: No Entry Fee
Further Read: 9 Best Hotels In Thimphu That'll Make You Want To Stay In The Happy Land, Forever!
Yearning already to feast your eyes on these beautiful sights of Paro? Book your trip to Bhutan with TravelTriangle and plunge into the serenity of the ancient monasteries, museums, and beautiful landscapes of Paro valley.
Frequently Asked Questions About Places To Visit In Paro
Q. How can I go to Paro Bhutan?
A. You can go to Paro Bhutan by air. There is an international airport in Paro that is conveniently located near many of the top tourist places in Paro.
Q. What is the best time to visit Bhutan?
A. October to December is the best time to visit Bhutan.
Q. Do I need a passport to go to Bhutan from India?
A. No, you do not need a passport to go to Bhutan from India. You simply need a valid photo ID through which you can acquire a permit for traveling inside Bhutan from their immigration office.
Q. Is Indian currency used in Bhutan?
A. INR 50 & 100 denominations are used in Bhutan.
Looking To Book A Holiday Package?
Book memorable holidays on TravelTriangle with 650+ verified travel agents for 65+ domestic and international destinations.
---
Comments
comments