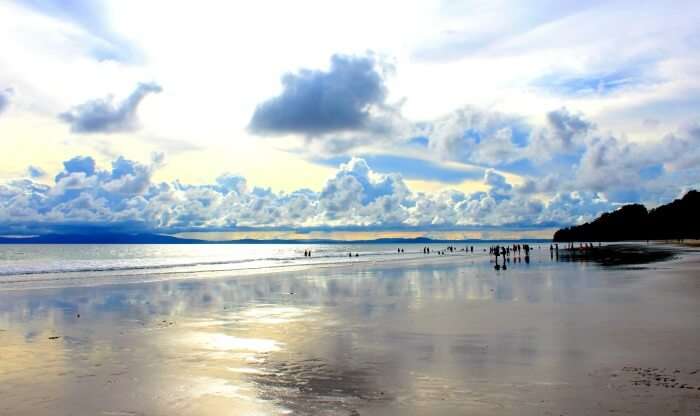 A traveler's wanderlust leads him onto a myth-busting Andaman solo trip. The 6 nights/7 days spent by Pranav island-hopping, left him mesmerized with the beauty and adventure this place has to offer. Read his take on Andaman as seen from the eyes of traveler out to prove the existence and the possibility of backpacking in an otherwise honeymoon-centric destination.
Predominantly, the Islands have been considered a top notch destination for a honeymoon or a family visit.I wanted to challenge this fact for myself and for other travelers who've refrained from venturing to Andamans on their own. I wanted to experience the beauty and the serenity of Andamans and I didn't want to wait till I get married or grow old.
Tips for Travelers
My experiences in Andaman are sure to help the travelers visiting Andaman for the first time. Although I have visited alone, the families can equally enjoy this place which has a lot to explore. Here goes my Andaman bagpacking experience with all the locations I covered.
Memorable Port Blair
The capital of Andaman and Nicobar Islands, Port Blair is nestled on the eastern side of the South Andaman Island. Port Blair often comes up to a pit stop for travelers going to see other scenic and less inhabited islands.
Time required: 1 day
Generally, Port Blair is a stopover or a changing point for most of the tourists coming to visit the Andaman Islands. However, a full day city tour should be sufficient to cover the important spots in the city.
Budget Accommodation: INR 700 to 2100/night
With plenty of options available in budget accommodation, despite the absence of hostels, a lot of locals have built multiple floors in their houses and rented them out as rooms. This can easily manage your Andaman trip cost especially if you are travelling solo.
Places to Eat in Port Blair:
Although there are a number of small restaurants where local seafood and South Indian cuisine is best served, still there are some of the renowned restaurants that should be on your list.
Icy Spicy – This is one is for all those looking for vegetarian restaurants in Andaman. I had some real nice North Indian food. They serve Chinese and Italian cuisines as well. It is located in Junglighat and a meal for two will cost around 300INR.
Annapurna – This one is another options for vegetarians in Andaman. They serve authentic South Indian and delicious North Indian food. This may cost a little higher for you but the taste absolutely worth it.
Ananda– Anyone who loves seafood like me, will certainly like this place. They serve local cuisine which I loved. Crab curry is a must try.
Places to Visit in Port Blair :
Port Blair was the first destination I visited and TravelTriangle made a perfect itinerary for me. It was a fun-filled day with amazing sightseeing plans.
Light and Sound Show at Cellular Jail (Kala Pani)
Cellular Jail, also known as Kala Paani, was a colonial prison now turned into a monument built in the British Rule of India to detain and exile dangerous and politically influential prisoners.
The beautifully choreographed light and sound show illustrate the struggles of the freedom fighters during the tough and testing times for our independence. Getting to hear about the stories of the sacrifices made by the martyrs for the country's freedom was a truly humbling experience for me and should be a part of your Andaman itinerary too.
Entry Tickets & Timings:
Adult: Rs.150/-  Children: Rs. 75/- (Children (For Hindi Shows at 5:15 PM & 6:20 PM)
Adult: Rs. 100/- Children: Rs. 50  (For Hindi Show at 7:20 PM)
Adult: Rs.50/- Children: Rs. 25/- (For English/Hindi Shows at 8:30 PM)
Visit the Anthropological Museum
It is a museum located in Port Blair dedicated to the rich and decorated tribal history of the Andaman and Nicobar Islands. The museum offers a rare insight into the otherwise protected tribal inhabited areas of the Andaman and Nicobar Islands.
Entry Fee: Rs. 10/-
Timings: Tue -Sun: 9am–1pm, 1:30–4:30pm (Monday Closed)
Must Read: 15 Things To Do In Port Blair That Will Urge You To Plan An Andaman Trip
Amazing Diglipur
Diglipur, a small and quaint town located in the North Andaman Islands. One can take a helicopter, ferry or a bus ride to Diglipur. I chose to cover the 300kms journey via bus which takes around 8 hours.
The bus ride was the slowest, yet, most adventurous means of travel to the North Andaman from Port Blair. The bus cuts through the entire landscape of South, middle and North Andaman Islands to reach Diglipur.
Suggested Read: Where The Land Romances The Sea: A Honeymoon Trip To Andaman
Time Required : 3 days
A must-visit place for off-beat travelers and nature lovers, Diglipur offers a peaceful and harmonious alternative to the somewhat commercialized and tourist centric locations in Andamans.
Budget Accommodation : INR 1300 to 2500/night
Due to its location being relatively far from the major tourist locations, the options for a budget stay are limited as mostly families and foreign tourists venture out to the far north.
Places to Visit in Diglipur
The beauty of Diglipur was much anticipated after 8 hours bus ride experience which became a lifetime memory for me.  And here is what all was stored in for me:
Kalipur Beach
Kalipur Beach is one of the lesser known beaches of Andaman. It is characterized by brown mud beaches and a good amount of rocky formations in and around the beach.
Kalipur beach is also famous for being a turtle nesting site, as it attracts many tourists during the December – January period, when hundreds of turtles descend to the Kalipur beach to lay eggs.
Ross and Smith Islands
It is important that the Ross and Smith Islands are not to be confused with the Ross Island near Port Blair.
After reaching Aerial Bay Jetty, I hired a private boat that took me for a day tour to the Ross and Smith Island. The boat takes approximately 30 minutes to reach the Ross and Smith Island.
The boat arrived onto the small sandbar that separated the Ross and Smith Islands. A special feature about these Islands is that there is a low tide during the day which makes a connecting path for both Islands and makes it appear like one Island and after sunset, the water comes up and separates the two Islets for the night.
The view on the beach is gorgeous and extremely scenic, it really left an impact on my mind. It is an ideal spot for photographers to capture some breathtaking views of the Andamans.
Saddle Peak
Another alternative for all nature and wilderness lovers is to hike the Saddle Peak. Located at 732m, it is the highest point in the Andaman Islands.
Once at the top, The Saddle Peak gives an incredible view of the lush green North Andaman coastline which stretches on till the eye can see.
Must Read: 18 Best Restaurants In Andaman That Prove The Island Has A 'Paradise' For Every Foodie!
---
Planning your holiday in Andaman but confused about what to do? These Andaman travel stories help you find your best trip ever!
Real travel stories. Real stays. Handy tips to help you make the right choice.
---
Fascinating Havelock Island
I boarded a Makruzz Ferry (a privately owned Ferry company for tourists) from Port Blair headed towards Havelock Island. After a ninety-minute ferry ride, upon our arrival, we were greeted by bright and illuminating sunshine sparkling on the white sand beaches.
The island is by far the most popular tourist destination in the Andaman Islands owing to its scenic beaches and turquoise blue water.
Time Required : 3 days
The jewel in the crown of Andamans. Havelock Island comprises of the once voted ' Best Beach in Asia-2004' & 'World's 6th Best Beach- 2004'- Radhanagar Beach. Having visited the beach once, it is very hard to resist another visit during the day or the next day.
Budget Accommodation : INR 700 to 2100 per night
A wide variety of accommodations is available on this island purely based on the demand and the annual footfall this island gets. Places ranging from shacks, homestays and guest houses are all available for a budget traveler going to Havelock Island.
Places to visit in Havelock
Havelock welcomes its guests with stunning beach beauty. I had heard a lot from my friends about Havelock and this was the day to see it all.
Elephanta Beach, Kalapathar Beach
I started by visiting the Kala Pathar Beach. It gets its name from the village that is situated close to the beach and also the rocks that are present on its white sandy beaches.
One can either go via land to cut across on the other side of Havelock or by a 20-minute boat ride from the Havelock Jetty. The beach is also famous for its lighthouse and snorkeling.
Radhanagar Beach
As soon as I reached Radhanagar Beach, I was awestruck by the grandeur and the enormity of the beach. Radhanagar stretches out both ways as far as the eye could see.
Once voted as the best beach in Asia, the soft and cushion nature of the sand on Radhanagar gave me a feel of walking on foam and occasionally even lying on it and taking in all its comfort and cool texture. Watching the sunset, with a slight wind blowing across the beach, albeit a partial one was absolutely blissful. I would personally recommend this to all the travelers going to Andaman.
Things to Do in Havelock
Now this is what I kept for myself with much excitement. Scuba Diving ofcourse is an out of the world experience.
Scuba Diving in Havelock
I had booked myself for a session of scuba diving with Scuba Wave by Barefoot. After my training, I went for a 60-minute dive with an instructor guiding me every step of my way due to my inability to swim. Spending those 60 minutes underwater was therapeutic.
After seeing a variety of fishes and an octopus, my scuba diving adventure came to end. I collected my pictures and video in my phone on my way out of the Scuba Diving Center.
Suggested Read: 14 Thrilling Water Sports In Andaman That All Adventure Enthusiasts Must Try
Serene Neil Island
An approximate one-hour ferry ride from Havelock Island took me to Neil Island. Yet another Island which was spoilt with natural beauty pretty much untouched by the human civilization. We arrived on the Neil Island Jetty which was adjacent to the Bharatpur Beach.
Neil Island is often considered by many in the Andamans as the half-brother to Havelock Island. Mostly because of the amount of tourism that Havelock gets in comparison with the minuscule amount of visitors Neil Island attracts.
Time Required : 2 days
Many visitors to Andaman might argue with this fact but Neil Island certainly deserves 2 days or a day and a half minimum for its serenity, beauty and blossoming flora and fauna.
Budget Accommodation : INR 500 to 1500 per night
With limited tourism, this Island offers a nice alternative for tourists who found Havelock expensive, overcrowded or commercialized.
Places to See in Neil Island
This was kept as the last destination for my solo trip to Andaman so that I can admire the beauty with serenity. This indeed was the most peaceful experience of all.
Bharatpur Beach
Located just 500m away from the Neil Island Jetty, Bharatpur Beach is the main attraction at Neil Island. With a variety of activities like glass boat tour, snorkeling, scuba diving and jet skiing, the area offers plenty of things to do coupled with its scenic backdrop of the beach.
Sunset at Laxmanpur Beach
Another hidden gem in Andaman that I got to witness by luck, was the Sunset at Laxmanpur Beach at Neil Island. Credit goes again to the amazing people of Andaman who recommend the best tourist spots regardless of their popularity and appeal.
The colors that the sunset left on the canvas were simply magical. A dash of orange with a burst of pink across the skies towards the west, as the sun was setting provided a memorable evening for the tourists present on the Laxmanpur Beach.
Highlights of Andaman
Seeing the bright and clean white sand beaches with aqua blue waters was a treat to sore eyes.
People were very welcoming and helpful. It's okay to trust strangers, people are very honest.
Tips for travelers
Take at least 10 days to visit Andaman as going from one place to another usually takes a lot of sunlight hours.
Planning well in advance will help in making your trip to Andaman cost better.
Plan your inter-island ferry travel carefully. You need to buy a return ticket before going to any island.
A short half-day visit to the Ross and Smith Island is a must.
Take adequate medicines for people with sea-sickness as most of the traveling will be done via ferries only.
Weather conditions can change very quickly. It is recommended to keep raincoats/jackets with you in a small backpack at all times.
Explore the serenity and the beauty of the Andamans For an experience unlike no other, Book your trip to Andaman Islands now!
---
People Also Read:
6 Days In Andaman Andaman In April Andaman Trip From Kolkata