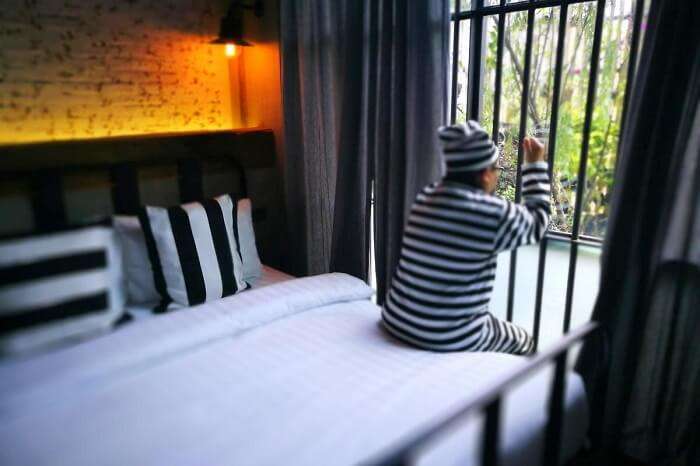 Bangkok is a very popular tourist destination because of all the amazing experiences it offers to its tourists. It is well-known for many reasons such as its lustrous skyscrapers and ancient shrines. Apart from this, Bangkok is also a very popular shopping destination with the hundreds of malls and street bazaars it has. Moreover, it is also well-known for its nightlife which is quite high-end and includes many great bars, clubs, and restaurants. Some theme parks and temples as well are very famous in Bangkok. Some very famous and ancient Wat is located here. Apart from all of these things, Bangkok also has some very popular and unique hotels. The Prison Themed hotel in Bangkok offers people a very unique experience for staying. If you want to opt for an unusual experience, then you can check out this hotel.
The Sook Station Hotel: An Introduction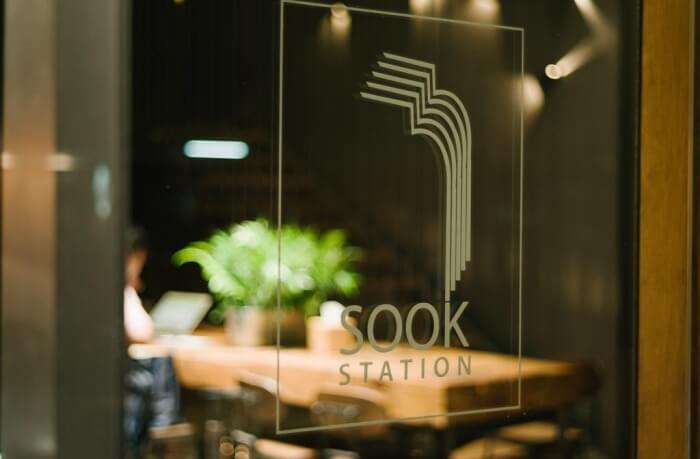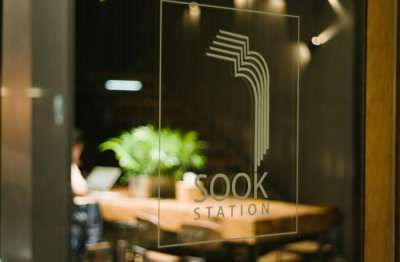 A lot of people usually look for luxurious hotels to spend their time. But for those who are looking for something out of the ordinary, this Prison Themed hotel in Bangkok is perfect for them! Japan tends to have corpse hotels and others have specific themes from movies but for those who want to know what the inside of a prison looks like, this is the place to stay, especially for those law-abiding citizens who will thankfully never see the inside of a real prison!
Location: 45-49 Sukhumvit 101/2 Alley, Khwaeng Bang Na, Khet Bang Na, Krung Thep Maha Nakhon 10260, Thailand
Starting price: INR 948
TripAdvisor Ratings: 3/5
Google rating: 4.7/5
Website
7 Best Attributes Of The Prison Themed Hotel In Bangkok
Here are the things that make the Sook Station Hotel in Bangkok irresistible and attract people from far and wide to come and stay at this paradise…and never leave!
1. History And Architecture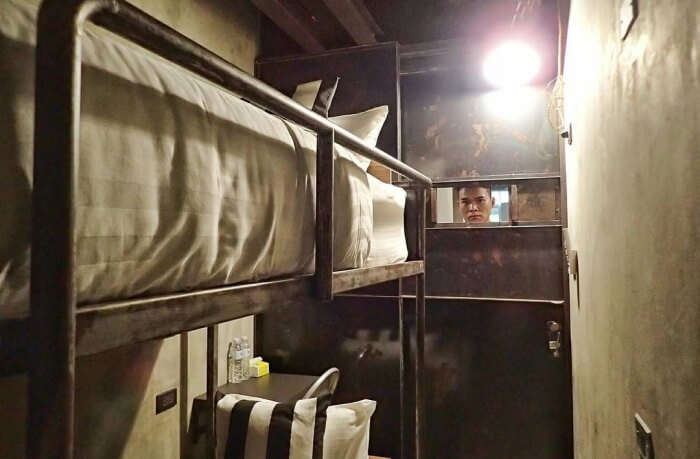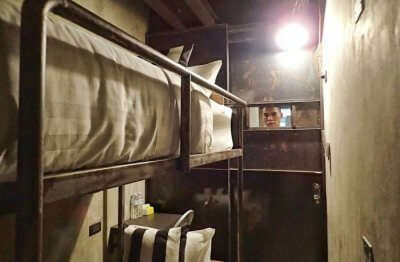 The owner Sittichai Chaivoraprug and his wife Piyanat Teekanavich started up this unique hotel which has a Prison Themed in the summer of 2018. They are both ardent fans of the drama based movie 'Shawshank Redemption' and the entire theme of the hotel is based on the movie. Tourists come from all over the world to experience this once in a lifetime opportunity.
The hotel consists of four floors and is enclosed with a fence topped with razor wire that encloses the perimeter. The hotel is for people who want to experience the feeling of a life behind bars. It is a strange but fun way to stay because the guest is given curfews as well as inmate items and the hotel replicates exactly that of a prison, except that they get to leave occasionally.
The guests are treated well but are also get a chance to experience what prisoners in Thailand would usually face. People hear the name and tend to think that the place is rather harsh. The hotel is actually just meant to entertain people especially since the people nowadays are all about social media and they are always looking for new things to post and show off about.
Must Read: Pratunam Shopping: A Guide To The Best Shopping Hubs In Bangkok!
2. Checking In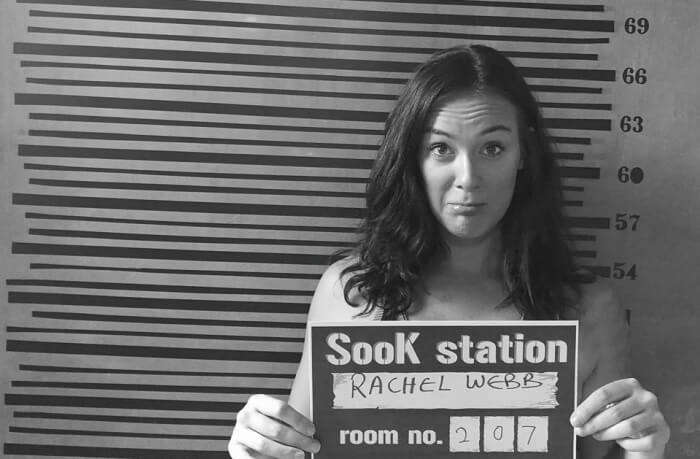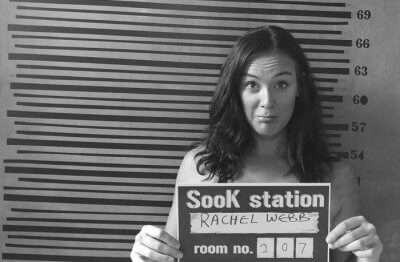 Each inmate or guest has to go through the process of checking in. In this process, they are made to stand against a height chart where a mugshot is taken. Thereafter, they are given an inmate number rather than a key which they can use to get in and out of their rooms. They will also be given striped black and white pajamas to wear in their rooms. They are also given instructions to return and be in bed by a certain time but those are light-hearted instructions. Guests are allowed to roam and check out the hotel as they please, however.
The room rates in the Sook Station hotel in Bangkok start at INR 3879 for a cell with two adults and bunk beds. The private rooms cost range from INR 4739 to 9893 for about 2-4 inmates. All rooms come with complimentary breakfast.
Suggested Read: Madame Tussauds Bangkok: The Most Interactive Wax Museum
3. The Cells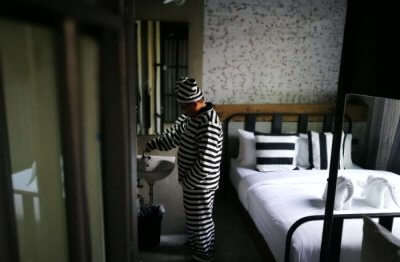 The rooms are about 8 meters in size and include metal doors and barred windows which actually offer great views! There are striped curtains covering the windows. The floors and walls consist of incomplete concrete material. There isn't much lighting and bare light bulbs hang from the ceiling. You can have your own room or you can share one with another inmate, where you get a bunk bed and are required to share a dimly lit communal bathroom. If you check in with your family, you will be able to get private quarters as well as a private bathroom.
You will not find any televisions or wardrobes. If you need to hang or store your clothes, you will have to hang them on wall hooks (pen hammers in the walls) which are the same as the one that Andy Dufresne hid away in his Bible in Shawshank Redemption. The hotel isn't grim because it offers much more to its guest that isn't a part of the theme.
Suggested Read: Sukhumvit Shopping: 6 Spots To Go On A Shopping Spree In Bangkok!
4. The Location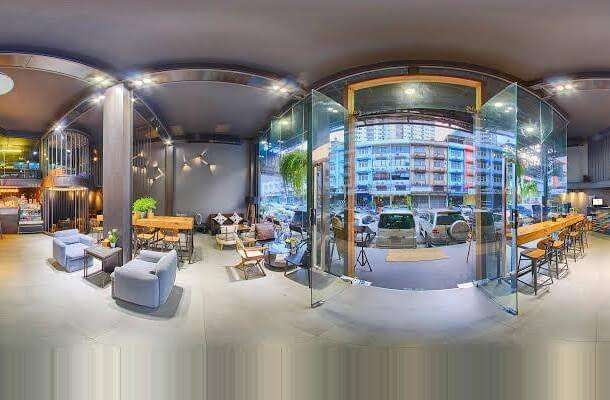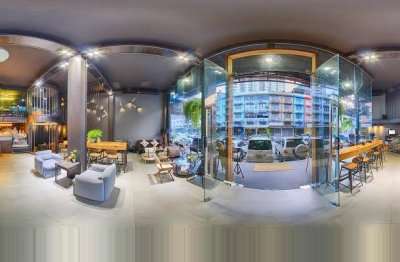 The prison-themed hotel in Bangkok is located in a unique spot in Thailand. The entire plan is to keep the inmates away from the crowds. The hotel is secretly located in the neighborhood of Udom Suk. People get here by taking a sky train which takes about 20 minutes to get to the South of the city and you can find the hotel located off Sukhumvit Road. It isn't like the inmates are confined to the premises but they are allowed to explore the bustling area of Udom Suk. The guests can experience authentic Bangkok away from the shady places that rip people off. Udom Suk is also famous for authentic Thai food if the guests wish to indulge.
Suggested Read: 17 Floating Markets In Bangkok That Exhibit Country's Preserved Culture
5. The Experience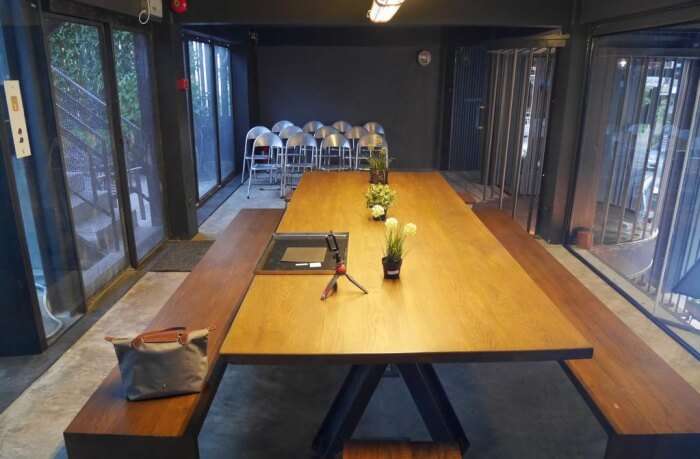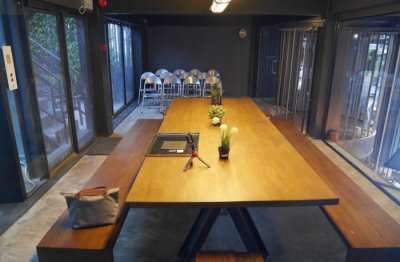 Sook Station hotel in Bangkok definitely doesn't offer a dull experience. Although the theme is unusual, it doesn't just stop there. The Thai word 'sook' actually means happiness and the theme is just for fun. It combines recreation as well as relaxation. The hotel also includes a beautiful terrace which is filled with fairy lights. There is a hot tub on the roof as well as a unique lounge area to relax. The terrace also has a unique combined working space which has internet, facilities for business and printing. The hotel has free WiFi, parking as well as a restaurant that provides delicious dishes.
Apart from all that the rooms also have super comfortable mattresses, fresh linens, and some rooms even have balconies or patios. You will also find random out of place teddy bears in different places. The Prison Themed hotel in Bangkok also has a rather famous coffee shop serves up some great items. You can get a fresh and strong cup of coffee here. The menu includes breakfast waffles, Western breakfast as well as some delicious Thai dishes such as stir-fry pork belly and tom yum.
Suggested Read: The Grand Palace: The Royal Haven Of Bangkok
6. The Best Room In The Hotel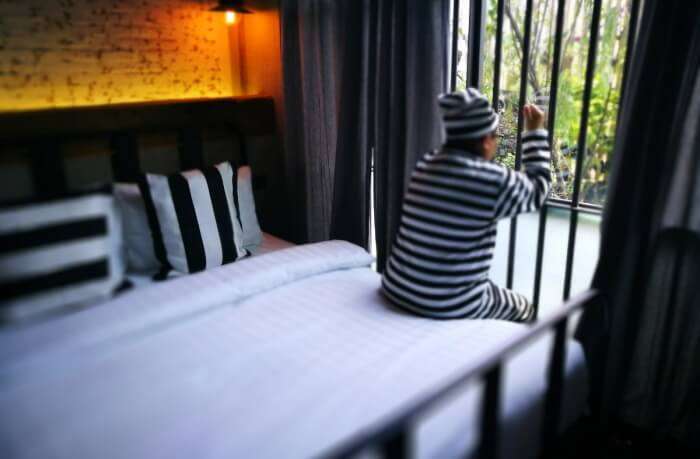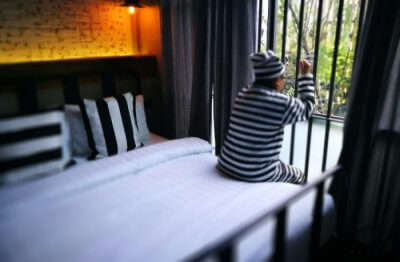 If you really want to experience true confinement in this prison-themed hotel then you can visit room 203 as there is absolutely no chance of escaping. The room is called 'darkness' and aside from being dimly lit with barely any space, there are also no windows at all.
For a better experience, the shared bathroom is installed with hanging lights and metal shower stalls. The shower stalls look dull too and have a kind of brown substance on them. The benches in the bathroom are dull and grey concrete slabs. Around the sinks, however, you will find sockets for you to use your appliances such as your hairdryer or hair straightener. The clothing is to be used all around the hotel and for pictures as well. All the different locations, lighting and features are great for photos.
The rooms have a tiny bedside table with a socket for you to charge your phone. However, the space in the room is definitely not wide enough for more than one person to walk in at a time, as a prison cell would be.
7. Checkout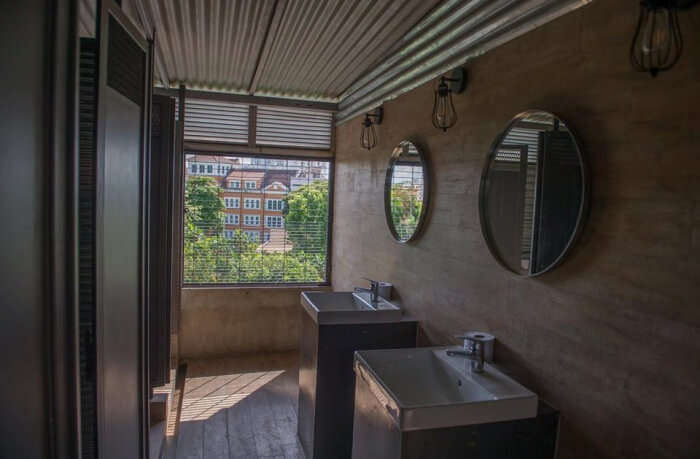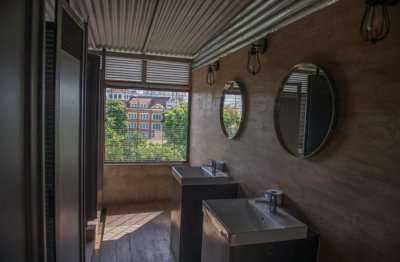 When it is time for an inmate to checkout or re-enter society, there are give a 'criminal record' which shows the duration of their stay and is also a reminder of their experience behind bars. Inmates who have gotten comfortable in their pajamas can take them home for about INR 1411. This unique experience definitely adds to the charm of this place!
Further Read: 6 Best Water Parks In Bangkok For Spending The Perfect Day With The Family
This hotel is an entirely unique place by itself. The special theme attracts people from all over the world to take a trip to Thailand . Apart from the unique and fun theme, the recreational activities and amenities that this hotel offers is nothing short of exceptional. If this got you interested in visiting the Prison Themed hotel in Bangkok, then why wait? Contact Travel Triangle and get ready to live a life of confinement… at least, for your vacation, that is!
---
Looking To Book An International Holiday?
Book memorable holidays on TravelTriangle with 650+ verified travel agents for 65+ domestic and international destinations.
---
Comments
comments