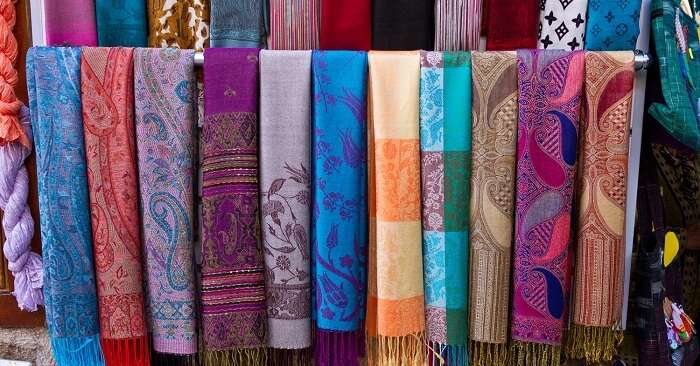 The picturesque town of Srinagar is a delight for all travelers. If you are a nature lover, photographer or an adventure junkie, Srinagar will never let you feel bored. Shopaholics, you don't need to worry as well because shopping in Srinagar is as exciting as any other activity.Srinagar boasts of many buzzing and bustling local markets, studded with shops selling all authentic Kashmiri products. Are you confused what to buy and from where? Let us help you here.
What to shop in Srinagar?
To pamper and entice the shopaholic in you, Srinagar in Kashmir has much to offer. From apparels to home décor, it's got something for everyone and the bargaining and stealing the best offer from the local markets makes Srinagar shopping all the more fun. If you wish to shortlist what to buy in Srinagar, here are some of the famous items one can pick.
Pashminas: Don't ever think of leaving Srinagar without buying real and beautiful pashmina shawls, stoles, sweaters, and jackets. The varied colors, designs and weaving pattern of real Pashmina apparels will surely spoil you with choices.
Kashmiri Tea: One of the most popular and high in demand shopping items in Srinagar is Kashmiri Tea. Though it is slightly different from the tea we have every day, but the varied flavors and fragrance of Kashmiri tea are truly hypnotic and enthralling. Be it Kashmiri Kahwa or salted pink tea or noon chai or oolong tea; every taste and aroma will make you fall for it.
Suggested Read: 15 Things To Do In Kashmir To See The Best Of This Heaven On Earth
Copper utensils and products: Srinagar is also famous for copper utensils and copper home décor items. Antique copperware like samovars and trays, figurines, bowls, jugs and serving spoons are some of the famous items for shopping in Srinagar.
Carpets: We don't need any effort to convince anyone about Kashmiri carpets. The weaving pattern, design, intricate work and color combinations are highly appreciated by everyone and have made this shopping item of Srinagar, globally famous.
Walnut wood products: Another famous shopping item in Srinagar is walnut wood products. You can buy varieties of carved wooden boxes, home décor items, tables, fruit baskets and jewelry box from different local bazaars.
Suggested Read: 8 Experiences That Make Winter In Kashmir Irresistible
Papier mache products: Srinagar is much famed for papier mache products. This is an intricate and delicate artwork made by using paper pulp as the main raw material. Every papier mache item is coated with lacquer to make it water resistant and durable. One can pick up various papier mache products like paintings, ornaments, coaster, candle stand, bangles, bowls, vases and trays from different local markets in Srinagar.
Spices: Last but surely not the least is Kashmiri spices. Almost all the local markets of Srinagar are dotted with shops selling varieties of common to exotic spices and the aroma of these spices is certainly refreshing and hypnotic. From Kashmiri red chilies, saffron to nutmeg, brown cardamom and star anise; everything is authentic and pure.
Must Read: Magical Colors Of Srinagar's Dal Lake That Change Every Season: In Pics
Where to shop in Srinagar?
Srinagar is the small piece of paradise on Earth, known for sparkling lakes, lofty mountains and green meadows. But along with all these natural elements, Srinagar is endowed with many buzzing local markets, that remain crowded throughout the year. To pick the best of Kashmiri products at the best rates, visit these amazing shopping places in Srinagar and get a feel of the real charm of the place. Just remember; bargaining is the mantra!
Lal Chowk: One of the most popular and oldest shopping places in Srinagar is Lal Chowk. Lined with shops selling woolen garments, copperware, silver jewelry and spices, Lal Chowk remains crowded with tourists and natives alike. You can also buy carpets brassware and walnut wood products from here.
Opening hours: 9:30 am to 8 pm
Polo View: Located just beside the polo ground, this is another famous shopping place in Srinagar. This is a sprawling street market and from traditional fabrics to ethnic handicrafts, you will get everything. This is the best place in Srinagar to pick souvenirs, knick knacks and varied papier mache products.
Opening hours: 9:30 am to 8 pm
Suggested Read: From South To North- This Family Trip To Kashmir Proves Why It Is A Winter Wonderland!
Badshah Chowk: Although you can find beautiful home décor, handicrafts and apparels in Badshah Chowk, the main attraction of this buzzing market of Srinagar are handwoven traditional Kashmiri carpets. Though the multi-colored design and pattern look fascinating, do not forget to bargain before settling for a price.
Opening hours: 9:30 am to 8 pm
Residency Road: Opening hours: 9:30 am to 8 pm
Situated close to Lal Chowk, Residency Road is heaven for tourist looking for a hearty shopping experience. From handicrafts to traditional Dogra jewelry, the shops at Residency Road sell everything, but the market is best known for shops selling dry fruits and spices. The aroma of the spices and dry fruits like saffron, pepper, cardamom, cinnamon, raisins, and apricots are immensely intoxicating and pulls maximum tourists there.
Floating market: Floating Market on the Dal Lake is one of its kind shopping places in Srinagar. This is the only floating market in India and thus is counted as one of the topmost tourist attractions of Srinagar. Local people sailing in small boats and selling fresh vegetables and flowers in surely a sight to behold.
Opening hours: 9 am to 6 pm
Suggested Read: 15 Places to Visit in Kashmir on Your Honeymoon
Kashmiri Government Arts Emporium: For those who fancy beautiful handicrafts, art pieces, traditional crafts and home décor; Kashmiri Government Arts Emporium is the best option for you. Located near Panama Chowk, besides Bahu Plaza Shopping complex, this Government owned and managed shop reflects the true culture and traditions of Kashmir.
Opening hours: 9:30 am to 6:30 pm
Zaina Khandal Road: Zaina Khandal Road is best known for copperware and utensils, which can be bought at fair prices. It is also one of the best places to visit in Srinagar for shopping for your near and dear ones. A wide range of copper utensils ranging from glasses, jug, bowls to trays, samovars and tashts are available here but make sure you negotiate the prices before buying a handful or in bulk.
Opening hours: 9:30 am to 8 pm
So next time, when you are here, make sure you have space in your luggage. These amazing shopping places in Srinagar will never let you return empty handed.
Further Read: 10 Things To Do In Srinagar That Will Make You Fall In Love With The Kashmiri Charm!
Frequently Asked Questions About Shopping In SriNagar
People Also Read:
Kashmir In January Shopping In Jammu Solo Trip To Kashmir
Comments
comments