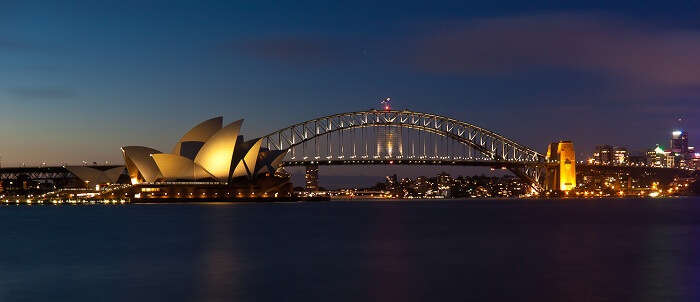 Sydney, the first colony set up by the British in Australia, has transformed from a brutal convict colony to the vibrant capital of the state of New South Wales. With millions of local and international tourists pouring in the city, Sydney has become one of the top 50 most visited cities in the world. Best Sydney tourist attractions range from romantic beaches and islands to the breathtaking wildlife sanctuaries to the mystifying museums and buildings.
Must See Tourist Attractions In Sydney
To save you the trouble of research, we have compiled a list of the most amazing tourist attractions in Sydney.
Cockatoo Island
Bondi Beach
Port Jackson
Manly Beach
Darling Harbor
Taronga Zoo
Sea Life Sydney Aquarium
Featherdale Wildlife Park
Museum Of Contemporary Art
Museum Of Sydney
Nicholson Museum
Art Gallery Of New South Wales
Fort Denison
Queen Victoria Building
Sydney Opera House
St George Open Air Cinema
Luna Amusement Park
Sydney Harbour Bridge
Hyde Park
Royal Botanical Garden
Chinatown
Chinese Garden Of Friendship
1. Cockatoo Island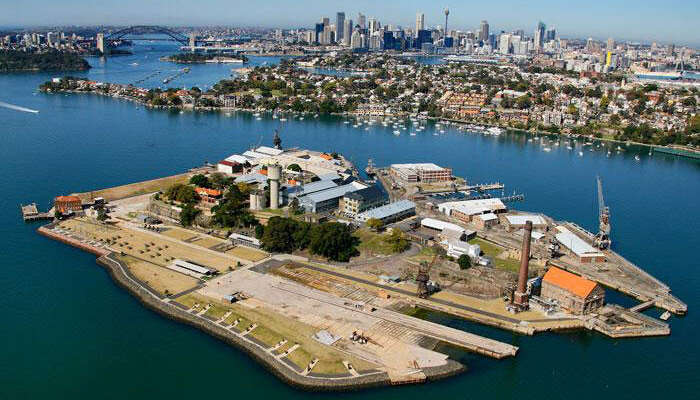 A short ferry ride from the Sydney's center will take you to Cockatoo Island – Sydney Harbor's largest island. This is from the list of top Sydney tourist places. An audio tour or a self-guided journey gives tourists an insight into the shipbuilding history of the island. It is the only Sydney Harbor Island where you can stay overnight in a luxury apartment or camp at the harbor's edge.
Do Not Miss: Tennis on the harbor, overnight camping, marine center, and the Island Bar
Getting There: There are regular ferries from the Circular Quay, Darling Harbor, and other inner harbor docks.
Tip: Though tourists have an option of staying overnight at luxury apartments, it is recommended to try the overnight camps in what Lonely Planet described as "one of the world's most spectacularly located campsites".
Must Read: 12 Most Beautiful Beaches In Australia
2. Bondi Beach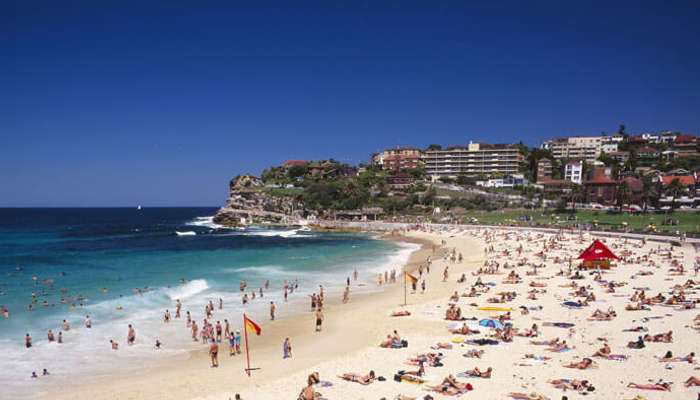 The turquoise waters, golden sands, and the lovely waves make Bondi beach one of the best Sydney tourist attractions at night. You can enjoy watersports, diverse shopping markets, exotic fine dining, buzzing nightlife, and soothing coastal walks. This is one of the best tourist places in Sydney.
Do Not Miss: Whale-watching, cliff-top golfing, shopping, surfing, sea-side water polo, Bondi to Coogee coastal walk, Flickerfest international short film festival, Ben and Jerrys' open air cinemas, and Bowl-A-Rama skateboarding competition.
Getting There: Well connected by trains and taxis, the nearest station is Campbell Pde Near Hall Station
Tip: Try attending the largest annual free-to-the-public outdoor sculpture exhibition – Sculpture by the Sea.
3. Port Jackson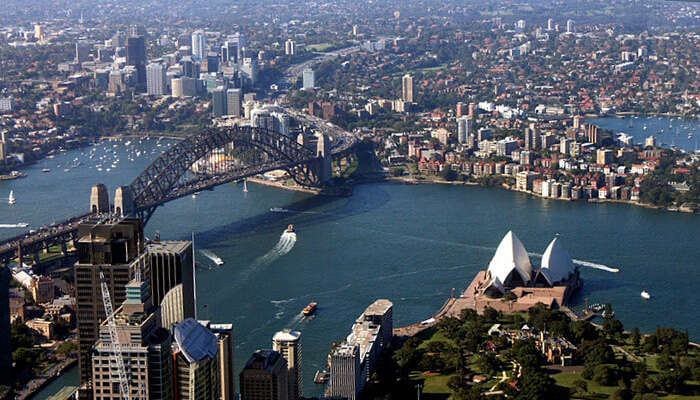 Wondering where to go sightseeing in Sydney? A natural harbor of Sydney, Port Jackson comprises the waters of Sydney Harbour, Middle Harbour, North Harbour and the Lane Cove and Parramatta Rivers. Within its vast boundaries it encapsulates the Sydney Harbor Sea Bridge, Opera House, several islands, wildlife sanctuaries, etc.
Do Not Miss: Sydney Harbor Bridge, Sydney Harbor National Park, Clark Island, Shark Island, Goat Island, Fort Denison, and Sydney Hobart Yacht Race
Getting There: Well connected by all modes of transport, its sea entrance (1.5 miles wide) is between North and South Heads, where naval and military stations are located.
Tip: Take the 24 hour/ 48 hour Hop-On-Hop-Off Sydney Tour Bus or the Full-Day Harbor Odyssey Tour and Cruise to have the entire tour of the Sydney harbor.
Suggested Read: Top 10 Indian Restaurants In Sydney Which Are Famous For Their Desi Flavours
4. Manly Beach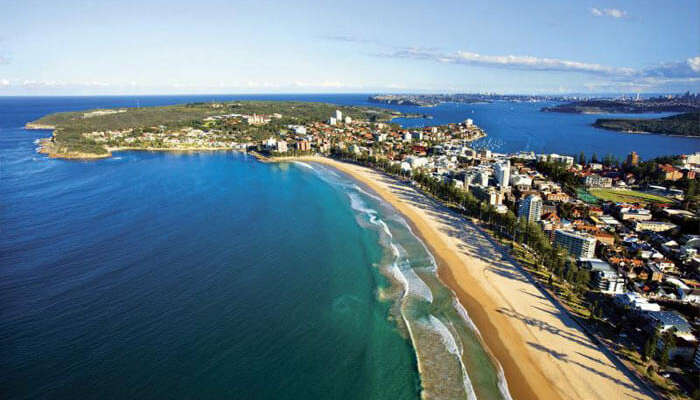 Situated among the northern beaches of Sydney, the Manly Beach was named by Captain Arthur Phillip after the confidence and manly behavior of the indigenous people living there. One of the first places to offer swimming and surfing, Manly doesn't fail to impress tourists with wide ocean beaches on one side and serene sandy harbor coves on the other. It is one of the best places to visit in Sydney.
Do Not Miss: Manly Art Gallery and Museum, Manly Ocean World, Manly Bike Tours, and Surfing
Getting There: Public ferries (30 minutes) or Private ferries (15 minutes) from the Circular Quay
Tip: If you are a surfing fan, visit in February when it hosts the Australian Open of surfing.
Suggested Read: Day Trips From Sydney: 7 Places To Visit When In The Heart Of Australia
5. Darling Harbor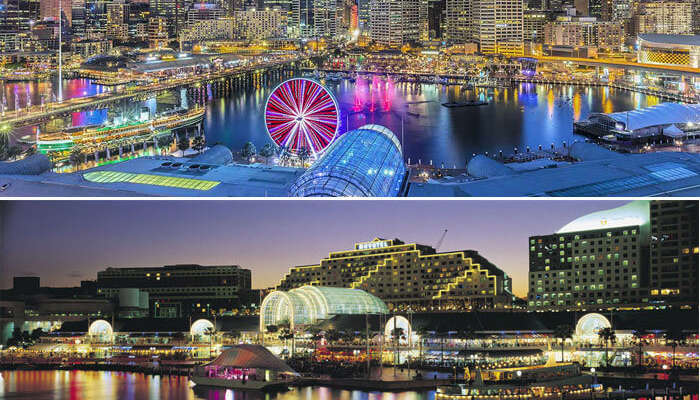 Amongst the long list of Sydney tourist attractions, Darling Harbor emerges as a true darling for people of all hues, ages, and genders. This waterfront pedestrian precinct houses shops, restaurants, museums, exhibitions, and entertainment venues and is one of the best places to visit in Sydney.
Do Not Miss: Madame Tussaud's, Wildlife Sydney Zoo, Sea Life Sydney Aquarium, IMAX and 9D theater, harbor jet boat rides, and Chinese Garden of Friendship for the couples
Getting There: You can arrive by train, bus, Metro Light Rail or walk from Sydney's CBD. Click here to know more.
Tip: You need not wait for occasions like New Year's Eve to see fireworks in Sydney. Darling Harbor celebrates most weekends in just the same way. Click here to know the fireworks' dates of 2021.
Suggested Read: 15 Scintillating Islands In Australia That You Must Check Out On Your Tour Down Under
6. Taronga Zoo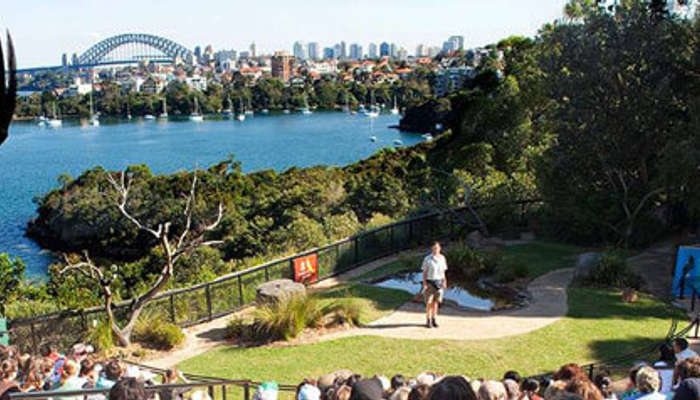 If you are looking for close encounters with wildlife and superb views of the Sydney skyline, you need not be at two different places. Amongst the tourist attractions in Sydney, the Taronga Zoo provides both to all its visitors. In addition to being a tourist attraction in Sydney, the zoo hosts corporate events, family functions, and even marriages!
Location: Bradleys Head Road, Mosman
Hours: Open on all days except the Christmas Day; 9:30 am – 5 pm (September – April), 9:30 am – 4:40 pm (May – August and New Year's Eve)
Entry Fee: Adults $44, Children (4 – 15 years) $22
Do Not Miss: Lemur Adventure Park, Koala Encounter, Seal Show, and Giraffe Enclosure
Getting There: Buses to zoo from Wynyard; Ferries from Circular Quay (12 minutes ride)
Tip: Check for availability and book a 'Roar and Snore' overnight zoo stay.
Suggested Read: 11 Things Not To Do In Sydney You Wish Someone Had Told You Earlier
7. Sea Life Sydney Aquarium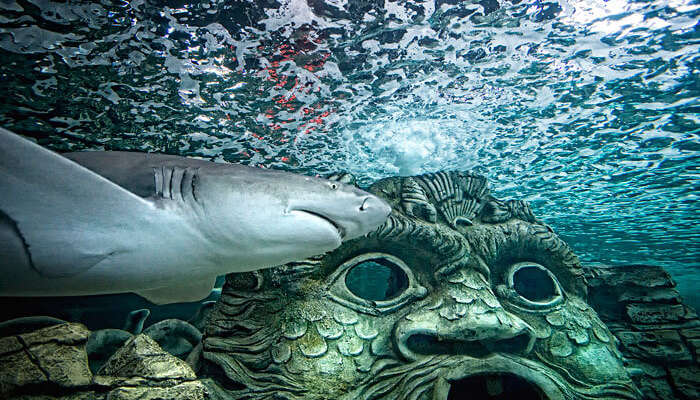 Home to over 13,000 aquatic animals from over 700 species, Sea Life Sydney Aquarium provides for a unique experience with its freshwater and marine aquatic environments.
Location: 1 – 5 Wheat Road, City Side, Darling Harbor, Sydney NSW 2000
Hours: 9:30 am – 7:00 pm, 365 days a year
Entry Fee: Adults $40, See offers here
Do Not Miss: Shark Reef snorkeling, Octonauts Zone, Dugong Island, Bay of Rays, Discovery Rockpool, and Glass Bottom Boat
Getting There: Ferries from Circular Quay leave every half an hour. Click to know more.
Tip: Located very close by is the Wildlife Sydney Zoo. So after a visit to the aquarium, head there.
Suggested Read: Australia Tourist Attractions: Do The Dare To Visit All These Places On Your Aussie Trip
8. Featherdale Wildlife Park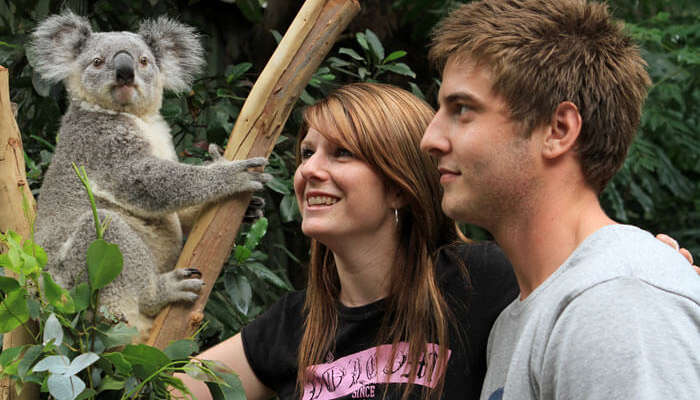 Boasting of a comprehensive collection of native wildlife, Featherdale Wildlife Park gives an opportunity to cuddle up to a Koala and hand feed Kangaroos and Wallabies. Many celebrities have visited Featherdale, including Leonardo DiCaprio, Gwen Stefani, Kristen Stewart, Robert De Niro, and Matt Damon.
Location: 217 Kildare Road, Doonside NSW 2767
Hours: Open on all days except the Christmas Day, 9am – 5 pm
Entry Fee: Adults $29.50, Children (4 – 15 years) $16; Book here
Do Not Miss: Face-to-face encounters with Wallabies, Koalas, Kangaroos, Emus, Bettongs, Little Penguins, Wombats, and many other endangered species
Getting There: A train to Blacktown, followed by a 10 min ride on bus #725 from the station drops you right outside the park gates.
Tip: At Blacktown, one can try indoor rock climbing at Climb Oz.
Suggested Read: These Horizontal Falls In Australia Are The Proof That Nature Is A One Crazy Conjurer
9. Museum Of Contemporary Art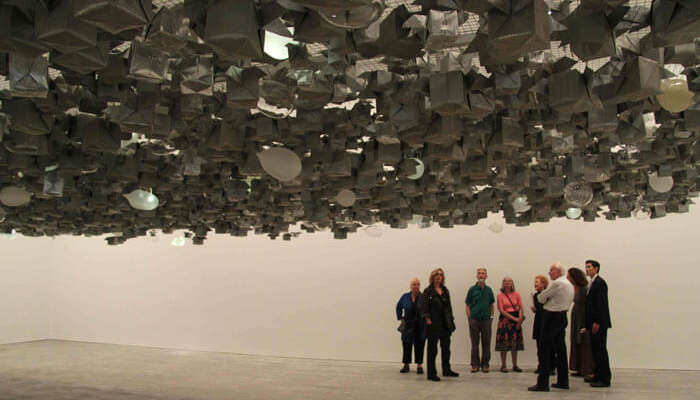 The Museum of Contemporary Art (MCA) in Sydney is an Australian museum dedicated solely to exhibiting, interpreting and collecting contemporary art.
Location: 140 George Street, The Rocks NSW 2000, Australia
Hours: Monday – Wednesday: 10 am – 5 pm, Thursday: 10 am – 9 pm, Friday – Sunday: 10 am – 5 pm, Closed on Christmas
Entry Fee: Free
Getting There: Catch a bus, train, or ferry from the Circular Quay
Tip: Visit the website to know the timings of the best exhibits of the day.
Suggested Read: 10 National Parks In Australia For A Utopian Experience Into The Wild
10. Museum Of Sydney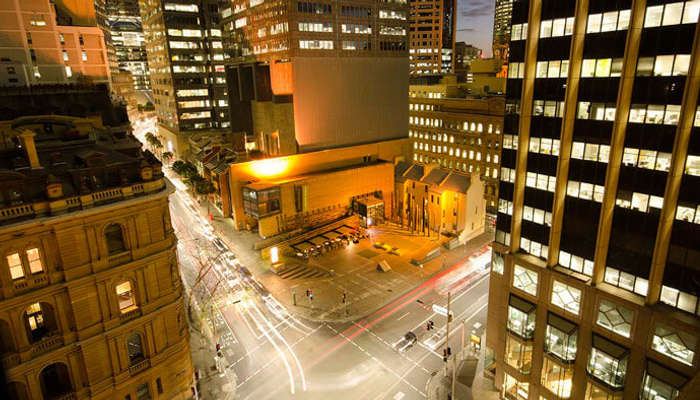 One of the prime tourist places in Sydney, the Museum of Sydney is built on the ruins of the first Government House, built in 1788 by Governor Arthur Phillip. Through objects, pictures, and digital media, the museum presents colonial and contemporary Sydney. A giant showcase of the goods and chattels recovered from over 25 archaeological sites depicts Sydney's convict era.
Location: Corner of Phillip & Bridge Street, Sydney NSW 2000, Australia
Hours: 10 am – 5 pm Daily, except Good Friday and Christmas
Entry Fee: Adults $ 10, Children $ 5
Getting There: Free CBD shuttle of route 555 stops on Bridge Street near Loftus Street, a 2-minute walk to the museum. The service operates Monday to Friday 9 am to 3.30 pm, weekends 9 am to 6 pm.
Tip: Susannah Place Museum, located at 58-64 Gloucester Street, is only 700 m away and must be visited along with the Museum of Sydney.
11. Nicholson Museum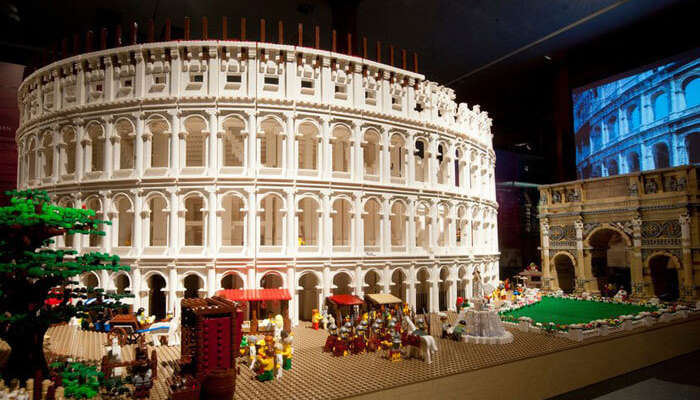 The fact that it features archaeological material from around the globe – Egypt, the Middle East, Greece, Italy, Cyprus and Mesopotamia – makes Nicholson Museum a major tourist attraction in Sydney and a must-see for ancient history geeks. And then there is the mummy of Padiashaikhet.
Location: Manning Road, Camperdown, University of Sydney, NSW
Hours: Monday – Friday: 10 am – 4:30 pm; first Saturday of each month: 12 noon – 4 pm ; Closed on public and university holidays
Entry Fee: Free
Getting There: Bus: 422 – 440
Tip: The Nicholson Museum has a stop with a wide range of books and museum merchandise.
Suggested Read: 10 Thrilling Festivals In Australia That Will Give You Major FOMO!
12. Art Gallery Of New South Wales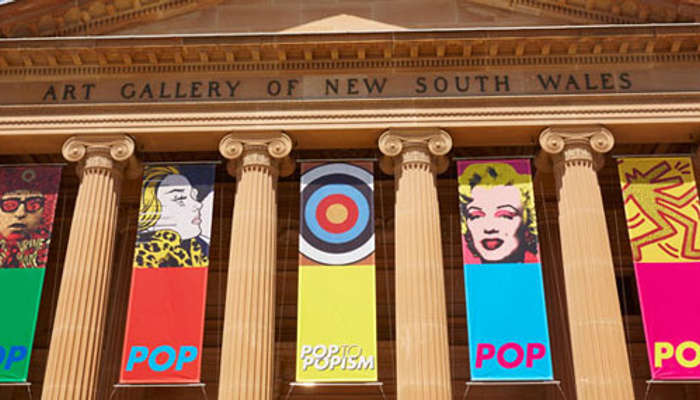 One of the most beautiful museums in the world, the Art Gallery of New South Wales is a collection of modern and contemporary works displayed in expansive, light-filled spaces. There are dedicated galleries to the arts of Asia, Australia, etc. Additionally, several temporary exhibitions are set up in this gallery.
Location: Art Gallery Road, The Domain, Sydney
Hours: Open daily 10 am – 5 pm, until 10pm on Wednesday
Entry Fee: Free
Getting There: St James and Martin Place railway stations are both about 10 minutes walk.
Tip: After browsing through the galleries, couples can relax at the café or visit the gift shop.
13. Fort Denison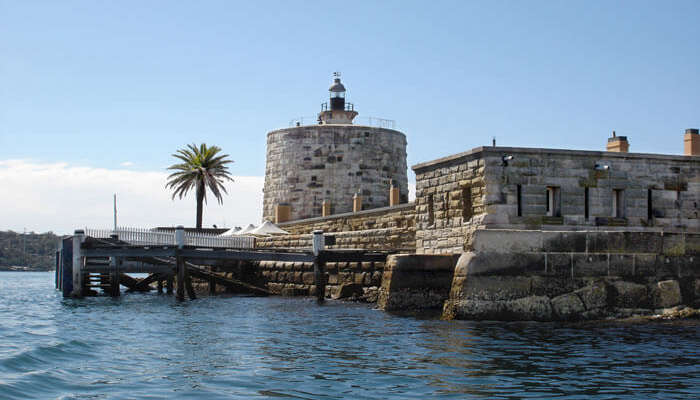 Also known as the Pinchgut Island, the Fort Denison is a former defensive facility occupying a small island located northeast of the Royal Botanical Gardens in Port Jackson. The automated tide gauge, foghorn, beacon, and channel makers make Fort Denison perfect for a harbor navigation facility.
Location: Port Jackson, 1 km east of the Sydney Opera House
Hours: Daily – 11.00 am, 12.15 pm, 1.45 pm and 2.45 pm (30 minutes tours)
Entry Fee: Adults $15.50; Children $13.50
Getting There: Water taxis and ferries from Circular Quay take 5 minutes only
Tip: Located close by are the Royal Botanical Gardens
Suggested Read: Best Hotels In Sydney: Perfect Stays For All Budgets!
14. Queen Victoria Building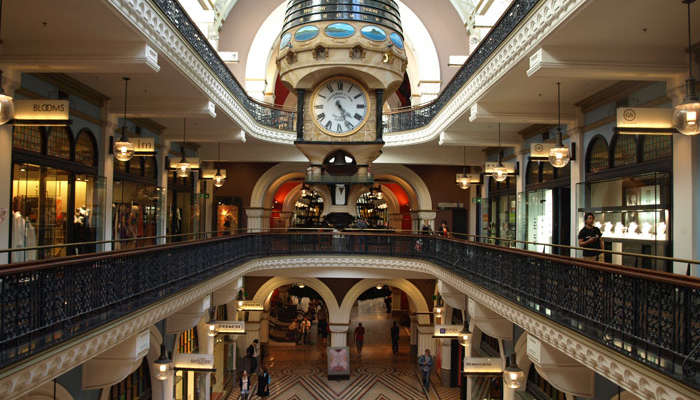 The Queen Victoria Building, or QVB as it is now affectionately called, was built in 1898 to provide employment to the many out-of-work craftsmen including stonemasons, plasterers, and stained window artists, in a worthwhile project. The QVB replaced the original markets and a concert hall, coffee shops, offices, showrooms, warehouses and a wide variety of tradespeople were accommodated. Today, the elaborate Romanesque architecture stands as a grand shopping mall with 4 levels.
Location: 455 George Street, Sydney NSW 2000
Hours: 9 am – 6 pm (Monday – Friday), 11 am – 4 pm (Saturday and Sunday)
Entry Fee: Fee
Getting There: Town Hall Station is the nearest train station and is accessible via the Lower Ground Floor. The QVB bus station is located directly behind the center on York Street.
Tip: Have some refreshments and coffee at the Queen's Café inside the QVB.
15. Sydney Opera House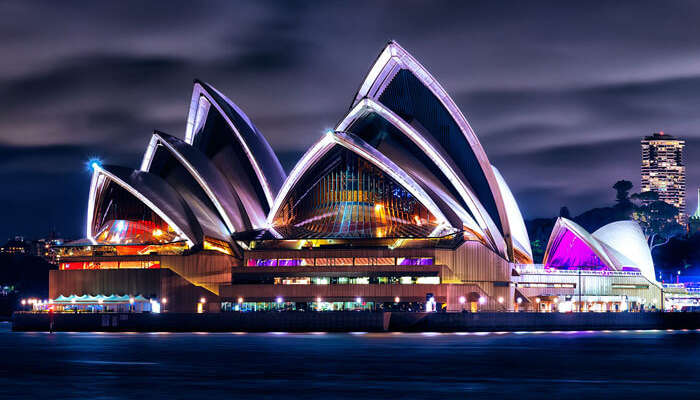 The most iconic tourist attraction for sightseeing in Sydney, the Sydney Opera House, is a multi-venue performing arts center in Sydney. Thanks to its soaring white roof, shell-shaped sails, and the red granite platform, the Sydney Opera House has been internationally acclaimed as an architectural icon of the 20th century and a UNESCO world heritage site.
Location: Bennelong Point, Sydney NSW 2000
Hours: Open daily, closed Christmas Day and Good Friday. Tours and event timings vary
Entry Fee: Tour and event prices vary with the performances lined up for the day.
Getting There: Circular Quay is a five minutes walk from the Sydney Opera House. Tourists can catch buses, trains and ferries to Circular Quay.
Tip: Go for a backstage tour that takes visitors backstage to see areas normally reserved for performers and crew members.
16. St George Open Air Cinema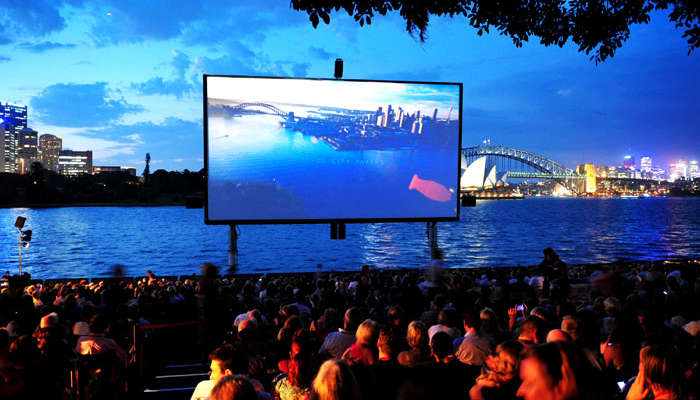 Be it with a group of friends or your love interest, St George Open Air Cinema is a great place to spend our evening. This classy summer-date-night venue shows current release films, premieres, and previews. From your allotted seats in the stadium, you can watch the screen rise, breaking the water surface, with the Opera House the Harbor Bridge, and the setting sun in the backdrop. A three-course meal is available with some amazing wines on the menu.
Location: Mrs Macquaries Rd, Sydney 2000
Hours: Gates open at 6:15 pm, films start at 8:30 pm, for limited number of days only.
Entry Fee: $30.00 – $40.00
Getting There: Mrs Macquarie's Chair is stop number 5 on the Sydney Explorer route.
Tip: Visit 'Mrs Macquaries Chair' nearby.
17. Luna Amusement Park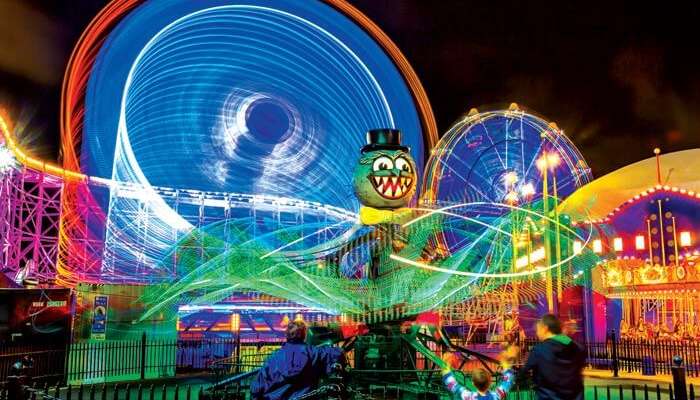 This amazing fun-park is one of the best places to visit in Sydney, especially if you have kids along. With the classy concerts at the Big Top, exotic cuisines at the Deck, and the spectacular rides, the Luna Park never fails to attract tourists.
Location: 1 Olympic Dr Milsons Point NSW 2061
Hours: Monday 11:00 am – 4:00 pm, Tuesday – Thursday Closed, Friday & Saturday 11:00 am – 10:00 pm, Sunday 10:00 am – 6:00 pm
Entry Fee: Entry to the park is free. For information on prices of rides, click here
Getting There: Accessible by car, ferries, train, and bus. Click here to check details.
Tip: Do-not-miss attractions include Big Dipper, Dodgem City, Spider, Wild Mouse, and Moon Ranger
18. Sydney Harbour Bridge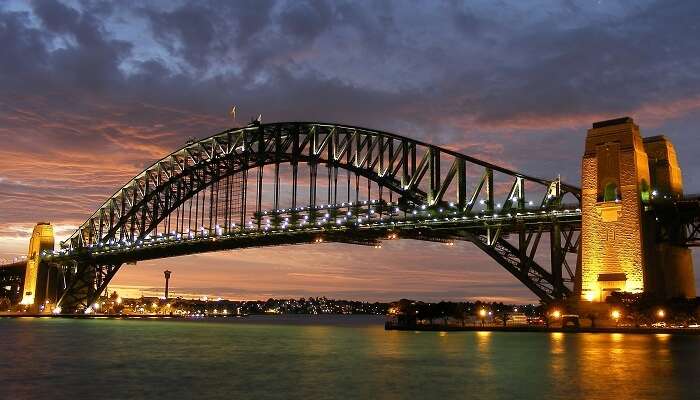 Also known as the "coat hanger", the Sydney Harbour Bridge is the world's largest steel arch bridge which is also an iconic symbol of Australia. This gigantic bridge connects the Sydney central business district and the North Shore. Just situated over the river, this place is a beautiful attraction in Sydney. The design idea of the bridge was taken from the Hell Gate Bridge located in New York City.
Location: Sydney Harbour Bridge, Sydney NSW, Australia
Best Time To Visit: After dusk the bridge looks beautiful and the lighting makes it ideal for a capture.
19. Hyde Park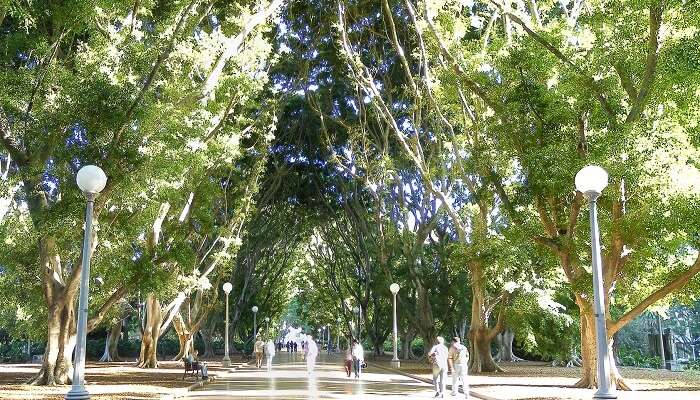 Segregated by the park street, Hyde Park is one of the oldest parks located in Australia. At the southern side, the park has some monuments and statues, the ANZAC memorial and the pool of reflection. While on the northern side there are theme gardens, Archibald fountain and other monuments.
Location: Elizabeth St, Sydney NSW 2000, Australia
20. Royal Botanical Garden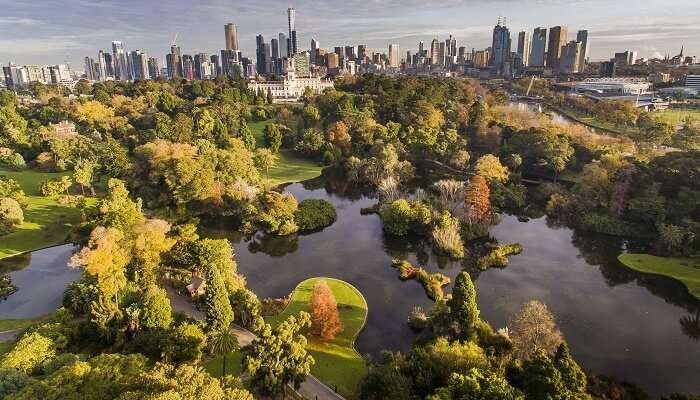 For the people who love to admire botany, the Royal Botanical Garden is the perfect place for them while in Sydney. Inaugurated in 1816, this botanical garden is one of the oldest scientific institution in the whole world and a haven for nature lovers.
Location: Mrs Macquaries Rd, Sydney NSW 2000, Australia
Highlights: A varied species of plants
Best Time To Visit: 9 AM – 5:30 PM
21. Chinatown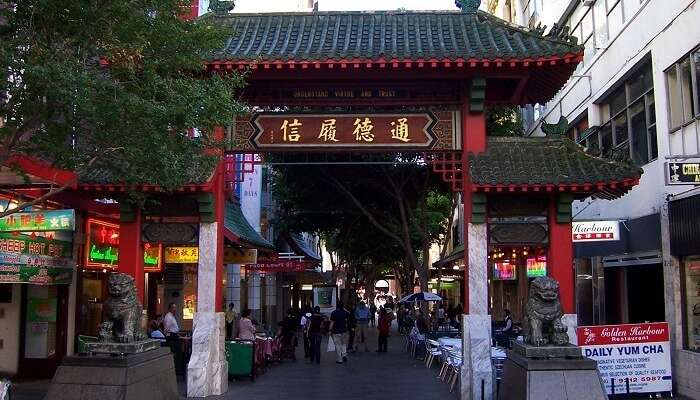 Feel like roaming in the streets of China at this Chinatown in Sydney. Reflecting the culture and traditions of China, this is an urban locality in the Southern part of Syney's business district. There are speciality stores around the streets of this part of the city where one can actually find art, crafts, tea sets, dinnerware and Chinese herbs.
Location: 82-84 Dixon St, Haymarket NSW 2000, Australia
22. Chinese Garden Of Friendship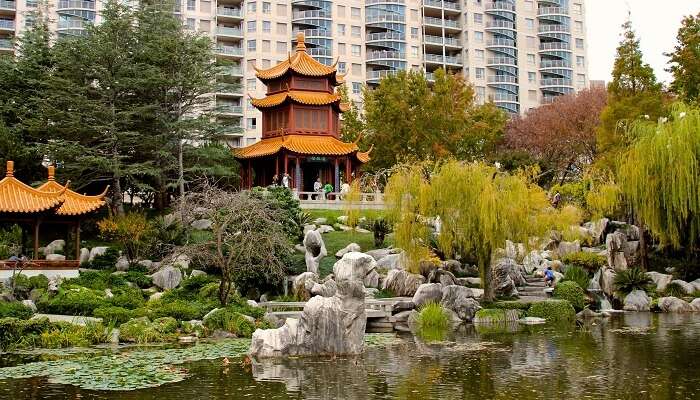 Escape from all the hustle bustle of the city and enjoy a peaceful time at this ornamental garden located at Darling Harbour. This walled Chinese garden is adorned with waterfalls, lakes, exotic plants, pavilions and hidden pathways. This secret garden is a great escape for the people who want to experience a rejuvenating vacation.
Location: Pier Street, Cnr Harbour St, Darling Harbour NSW 2000, Australia
Further Read: Make Your Honeymoon In Australia A Dreamy Affair With This Detailed Guide
So what are you thinking now? Are you already excited to enjoy a glimpse of these beautiful man-made marvels and museums which will take you back to a different era. Book your trip to Sydney with TravelTriangle and get amazing deals on customised packages!
---
Looking To Book An International Honeymoon?
Book memorable honeymoon on TravelTriangle with 650+ verified travel agents for 65+ domestic and international destinations.
---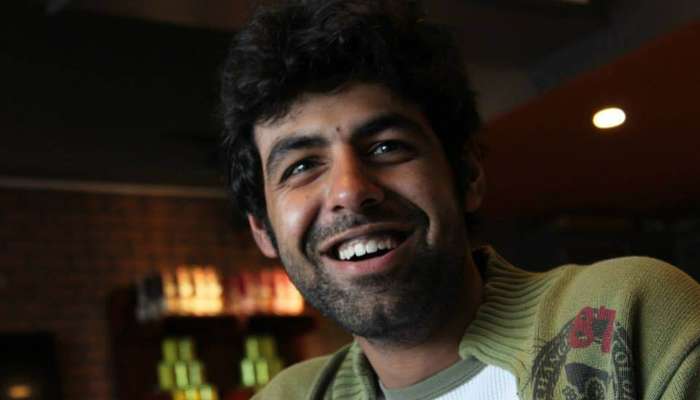 Comments
comments