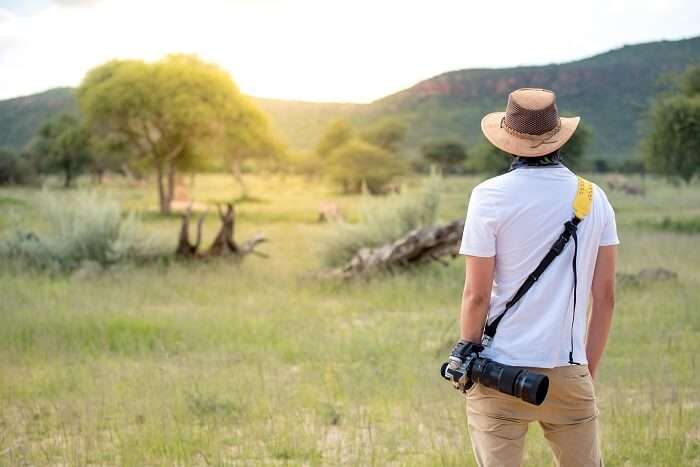 Before you visit any new country, it always helps to be prepared and know what's going to be in store for you on your trip, especially in a new country like Tanzania. That's why to help you on your trip, we have prepared a list of the top ten essential Tanzania travel tips that will make your vacation a lot safer and better. As they say, it's better to be safe than sorry!
Before we go on to the list of Tanzania travel tips, let's take a look at some things to know before going to Tanzania.
How To Reach Tanzania From India
The best way to reach Tanzania from India is by air. There are three major international airports in the country.
Julius Nyerere International Airport in Dar es Salaam

Abeid Amani Karume International Airport in Zanzibar

Kilimanjaro International Airport in Kilimanjaro
These airports are accessible from all major cities and airlines in India.
Must Read: Explore These 15 Best Places To Visit In Tanzania To Taste The Thrill Of An African Adventure!
Best Time To Visit Tanzania
There's never really a wrong time to visit Tanzania, but depending on what you are interested in seeing, there are three best times to visit this country.
June to October: Visit during this time o the year if you want to have the best wildlife viewing experience.
June and July: This is the best time to visit to get an opportunity of sighting the wildebeest migration.
January and February: The best season to watch the wildebeest calving is during these two months.
Now that we have covered the basic travel information about Tanzania, here are the top ten Tanzania travel tips:
1. Health Precautions
When travelling to a new country, it is advisable to be aware of what are the immune shots to be taken before travelling. Commonly, there are a few vaccinations that are recommended to be taken before travelling to the African continent.
· Yellow Fever
· Polio
· Typhoid
· Diptheria
· Hepatitis A
Along with this, you can also take tetanus and rabies shots as a precaution. It is recommended to take these shots at least 3 months prior to your travel and these can easily be done at your nearest clinic. Apart from the shots that we have listed, please do some additional research to find out of there are any recent diseases that are spreading and what are the vaccinations that should be taken as a precautionary measure for the same.
Suggested Read: Serengeti National Park: A Detailed Guide To The Greatest Wildlife Spectacle In Tanzania
2. Buy A Local Sim Card
Whether you're out there exploring the wilderness or in a city area, sometimes you need the help of the internet, no matter how much you try and escape it, to check maps, to use Google Translate, to check out some information, or for any other purpose. These are quite affordable and available in most stores in Tanzania, and they can be customized according to your requirements, whether you would like to be making calls or to just the phone for internet. There are also many customizable data plans that you can choose from.
3. Make Use Of The Railways
While most travellers travel from one place to another in Tanzania by hiring a private car with a driver, it can turn to be pretty expensive, and burn a big hole in your pocket. Not many tourists are aware of this, but the best Tanzania travel advice you can get, is that one can easily travel to most of the national parks, and even in and around Tanzania by trains, and not only is it more comfortable than sitting in a cramped up car where you won't even be able to stretch properly, but it is also way cheaper and you can spend all the money that you have saved up for something better!
Suggested Read: 10 Reasons Why You Should Spend Your Next Family Vacation In East Africa
4. Travel In Groups At Night
Though Tanzania is a very tourist friendly country, and the people are very warm and hospitable, there is a certain chance of falling prey to a bunch of local people who are looking to mug you and steal your wallet. Not only will you lose your money, but you will also lose your important documents like passport and other IDs, and what's worse, you may even be hurt. There especially if you're travelling to big cities like Pemba and Zanzibar, make sure to go around with some company after the sun sets.
Suggested Read: Tanzania In April 2022: 10 Experiences You Can Not Miss Out On
5. Don't Miss Out On The Beaches
While Tanzania is more popular for the green forests, the rich wildlife and the large expanse of nature, it is also home to some of the most pristine and clean beaches on the planet. So while planning a trip to Tanzania, make sure to pack enough sunscreen and carry your best swimsuits, and get ready to take a dip in some of the beaches of this beautiful country. Some of the top beach destinations in Tanzania are in the Pemba and Mafia Islands, which are easily accessible from Dar es Salaam.
Suggested Read: 10 Best Things To Do In Africa For The Traveler Who Wants It All
6. Pack Light If You're Planning To Travel Around The Country
This may be an overused piece of advice, but this really applies to a country like Tanzania where there is so much to see, and where you will be frequently moving from one place either by train or by a bush plane. If you're planning to do some hiking and trekking, make sure to bring comfortable hiking shoes and the necessary equipment. Also, since most of Tanzania is located at a higher altitude, make sure to bring some comfortable warm clothing with you.
---
Planning your holiday but confused about where to go? These travel stories help you find your best trip ever!
Real travel stories. Real stays. Handy tips to help you make the right choice.
---
7. Carry The Right Equipment For Photography
Most tourists who come to enjoy the beauty of nature in the Masai Mara or the Serengeti, make use of whatever camera equipment they have on them, but if you are someone who really wants to capture the essence of wildlife in this country, then make sure to carry a 200mm lens with you. Though the rent may be a little on the expensive side, and it might be a little heavier to carry around, the quality of the images you get will definitely make all the extra effort worth it.
Suggested Read: The Mightiest National Parks In Africa For The Love Of Wildlife And Adventure
8. Don't Miss Out On Mt Kilimanjaro
Mount Kilimanjaro is one of the star attractions in Tanzania, and yet many people don't opt for trying to climb it because they fear it may be too difficult for them to scale up the mountain. However, it is not as difficult as they say and can easily be done by most people. There are even guides who come along with you for the tour if you require, at a special price. However, if you don't want to climb up the mountain, you still must make it a point to visit this place and put up camp at the base of the mountain and stay there, even if it is just for a night.
9. Basic Essentials To Carry To Tanzania
If you are wondering what to take to Tanzania, here are the basic things to carry with you on your visit to this country.
· Carry your passport
· Carry all other important verification IDs
· Make sure to keep cash with you at all times
· Carry a universal adapter with you
· Carry warm clothes as the weather tends to get cold, especially at nights
· Carry sunscreen
· Carry mosquito spray
These are the basic essentials you need to carry with you before visiting Tanzania.
Suggested Read: 10 Spots For Snorkeling in Tanzania Every Underwater Enthusiast Must Visit
10. Tipping In Tanzania
When it comes to Tanzania, you don't have to think about it, as the people will come asking for tips themselves, even for the most basic things like taking a picture, so you must know when to say no to their requests. However, a basic 10-12% tip is normal to tip to drivers and restaurant waiters, so make sure to set aside a tipping budget on your plan.
Further Read: Kilimanjaro Trek: A Guide To Conquer The "Roof Of Africa"
Are you ready to pack your bags and head to this East African paradise following these Tanzania travel tips? If yes, then don't think much and enjoy your vacation at this wildlife getaway and also before that take a look at the customized international holiday packages of TravelTrianglefor that much awaited trip at budget-friendly prices.
---