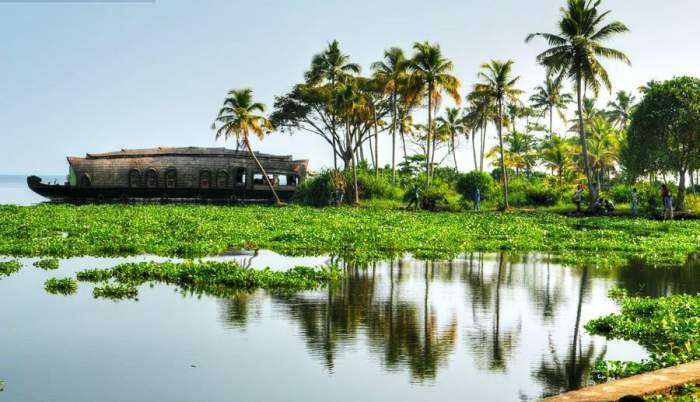 God's own country' is full of scenic and breathtaking views. But aside from these, there is a tonne to do when you enter the mind-bogglingly green landscape of Kerala. A melange of culinary experiences, the beautiful beaches, the serene backwaters, and the massage are not the only things to do in Kerala. This place has a lot more to offer.
37 Top Things To Do In Kerala India
Here's a compiled list of things to do in Kerala to make your holiday a memorable one. There is quite a lot to do and explore in God's own country. Now it is upto you as to which of these must-do things in Kerala do you wish to try first? 
1. Munnar – Watch The Neelakurinji Bloom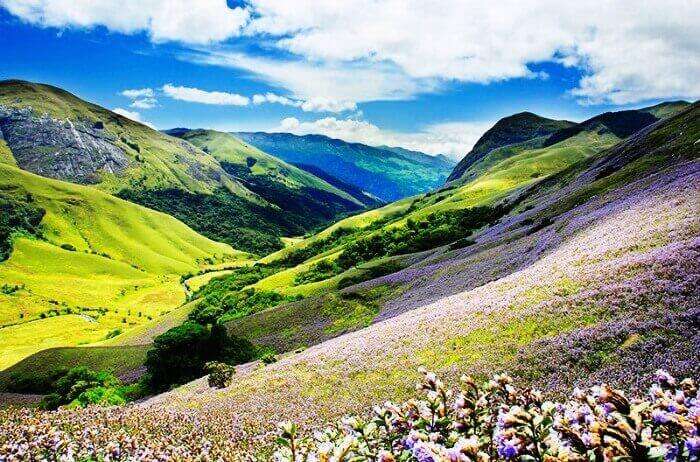 Eravikulam National Park is one the most frequented tourist attractions in Kerala because of Neelakurinji, which bloom once in 12 years and this rare view is a fascinating experience. Also see the Nigiri Thar, an endangered mountain goat while going on a trek to the peak of the hill. Tickets are for Rs 55 per adult and the park is closed in February and March. If you're wondering what to do in Kerala besides meandering through the tea estates and trying their flavours in a cup, exploring Eravikulam National Park is the perfect solution and one of the must-do things in Kerala for you! Plan a visit to Kerala in December and have a great time here!
Must Read: Top 28 Honeymoon Places In Kerala For A Bewitching Escape
2. Munnar – Try Varied Tea Flavors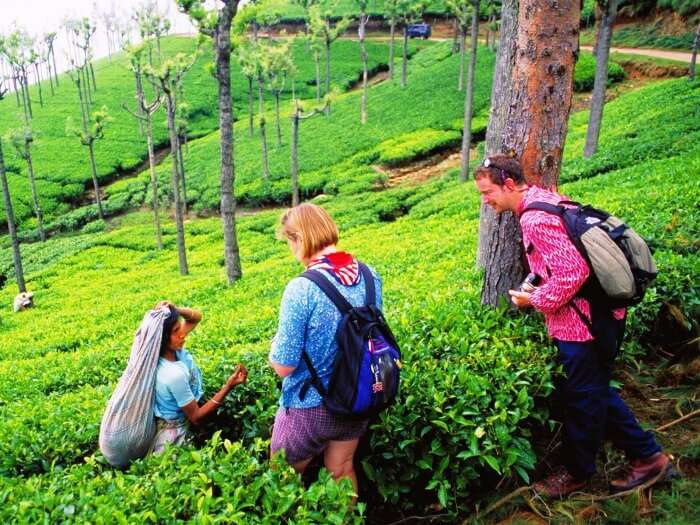 This little haven is a marvelous place to visit while in Kerala. Load up some locally cultivated tea in Munnar, 3 hours from Kochi. Visit the Kannan Devan Plantation Museum to witness tea-processing and taste different teas, one of the must do things in Kerala. You can also hire a jeep from Suryanelli (25 kms from Munnar) to visit the Kolukkumalai Tea Estate and a 100-year-old factory. Jeep rates vary from Rs 1200-2000. You can try various types and flavors of tea while exploring Munnar Tourist Places and carry home your favorite one from the museum's very own shop.
Suggested Read: Padmanabhapuram Palace: The Seat Of Royals & Kerala's Prominent Attraction
3. Alleppey – Stay In A Houseboat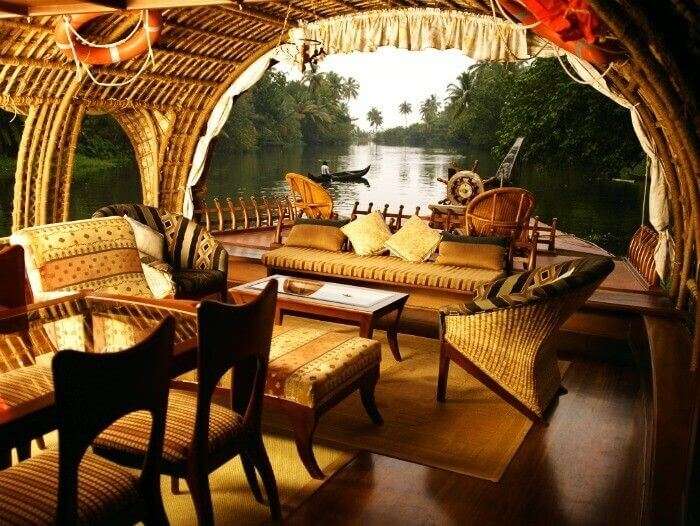 Alleppey tops in the list of places to visit in Kerala. And when you're there, don't miss out on the experience of sailing in a houseboat that happens to be one of the best activities to do in Kerala. There are many things to do in Kerala houseboat, like looking at the lush green landscape and being served a freshly prepared meal as you travel through the tranquil backwaters, which is just as amazing as it is made out to be. The boat accommodates the whole family and includes breakfast, lunch, dinner, and snacks. Prices vary from Rs 6500-11500 and it's better to call in advance and reserve in order to grab a less expensive deal.
Suggested Read: The Ultimate Alleppey Honeymoon Guide For Newly Wed Couples
4. Alleppey – Go On Shikara Rides

About 4 hours from Thiruvananthapuram, Alleppey offers some stunning views of the backwaters. Other than looking at the village life and the coconut trees, you will also see an array of birds. The double-deck boats give a 3-4 hour ride, one of the must do things in Kerala, without the expense of a houseboat and costs Rs 600 per hour. Love birdwatching and shikara rides? You must indulge in this fun activity at least once on your Kerala tour.
Suggested Read: Onam Festival: An Absolute Guide To Celebrate The Harvesting Season In Kerala
5. Alleppey – Watch The Snake Boat Race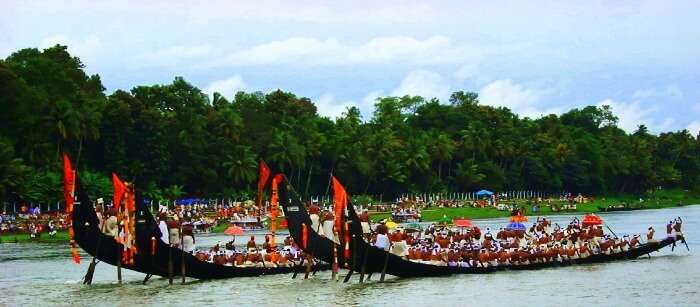 Watching the colorful Snake Boat races in Alleppey is one of the most amazing things to do in Alleppey, Kerala. Snake boat races are mostly held from July to September particularly during Onam festival, and witnessing this thrilling fest is one of the best things to see in Kerala. You can even rent a boat to look at the race from close-by and cheer for your favorite team as they all race by each other one by one. The closest station is Alleppey which is accessible from Ernakulam.
Entry fee: Buy online at Bookmyshow, or collect in person from any of the offices listed on the official website
Suggested Read: 20 Places To Visit In Kerala In December
6. Thekkady – Take A Spice Tour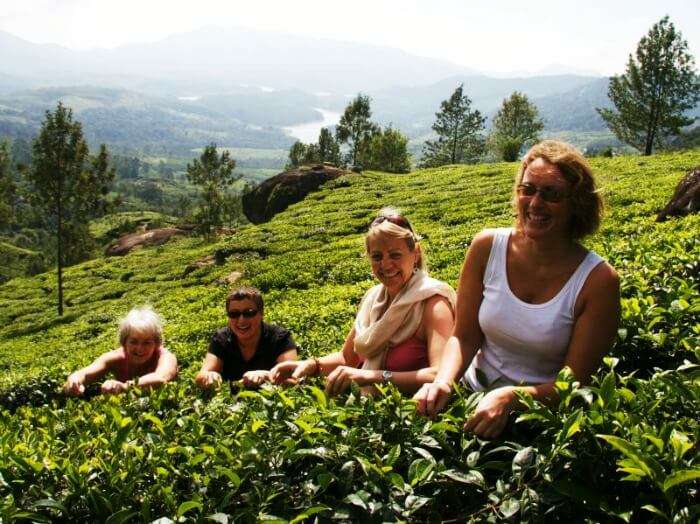 Take a tour of the spice plantations or gardens in Munnar, Thekkady or Wayanad. Taste some authentic black pepper, cardamom, cinnamon, and the exotic vanilla and explore the farms on a nature walk. It is one of the top activities to do in Kerala. Most hotels include these tours in their packages but you can visit on your own too, like Abraham's Spice garden in Thekkady which costs only Rs 200 to enter. You can also buy spices you like at subsidized rates from the workshop located in the spice garden itself.
Timings: 7 am to 6 pm
Entry fee: INR 200
Suggested Read: Food Paradises of Kerala : Go On A Gastronomic Joy Ride
7. Periyar Wildlife Sanctuary – Take A Jeep Ride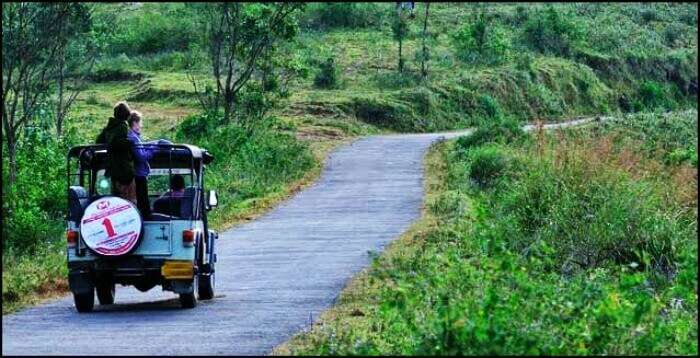 For one of the most fascinating activities to do in Kerala and its forests, Thekkady should be on the topmost list of places you are visiting in Kerala. About 190 km from Kochi, Thekkady is famous for its diverse forest cover, fauna, mammals and aquatic life. The Periyar jungle ride covers the views of the lovely Idukki town, Mullaperiyar Dam, the lush green vegetable farms, the sprawling vineyards and if you are lucky the endangered lion-tailed macaque. You can also combine this with an overnight camp in a tent or a treehouse, one of the top activities to do in Kerala. The cost for a day's trip is Rs 1800/person. If not jeep, you can also explore the park via a ferry ride in the Periyar Lake, which is going to be just as delightful.
Entry fee: INR 1800 for a day's trip
Suggested Read: 20 Tranquil Hill Stations In Kerala For A Rejuvenating Experience In Summer
8. Wayanad – Stay In A Treehouse

Next on our list of things to do in Kerala is staying in a Tree House. Get closer to nature and experience the fun of staying in a Treehouse at Wayanad, Munnar, Athirapally or Thekkady. You can indulge in activities like rappelling, rock climbing, nature walks and mountain biking. The tarrifs for tree houses start from Rs 10000. Don't miss out on this sweet opportunity to live your life-long dream of staying in a treehouse!
Suggested Read: 10 Most Offbeat Kerala Backwaters You Should Explore
9. Kodanad – Bathe Elephants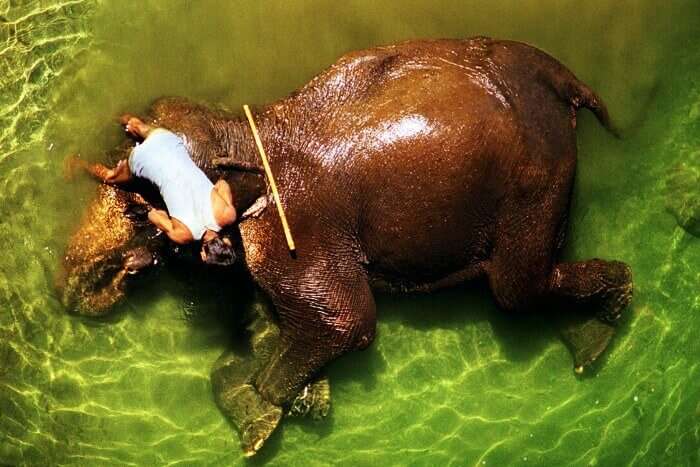 Can you imagine giving a bath to an elephant? Kodanad Elephant Sanctuary is one of the major tourist attractions in Kerala. 42 kms from Kochi, visit there for some exciting activities like elephant bath, elephant safari and elephant feeding and watching baby elephants too. The rates vary from Rs 350-1500/person depending on the time and activities involved. It's going to be one of the delightful things to see in Kerala to watch cute baby elephants play around and spray water on each other!
Suggested Read: 16 Resorts In Kerala Where You Will Yearn To Be With Your Sweetheart
10. Kumbalangi Integrated Tourism Village – Enjoy Village Life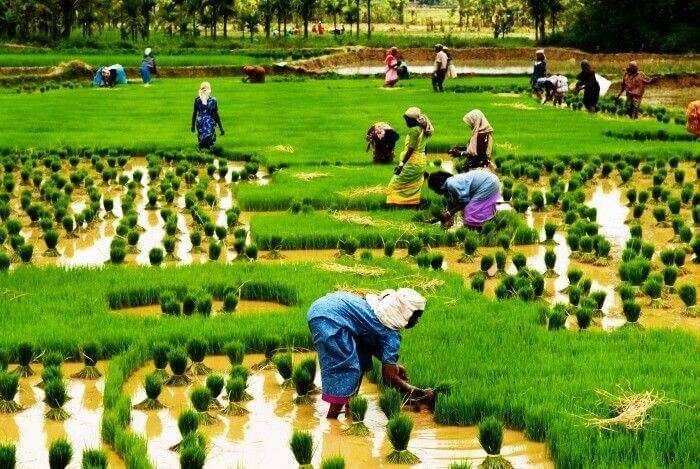 Have an authentic rural experience at Kumbalangi Integrated Tourism Village. Exploring the local paddy cultivation, canoeing in mangrove forests, fishing, crab farming are amongst the many activities in Kerala. Many homestays are available in the village which can be booked by visitors. The village is 14 km from Ernakulam Railway Station. It will thus be super easy for you to get there by a car on hire or a bus.
Suggested Read: Discover the Best Way To Observe New Year's Celebrations in Kerala
11. Veli Tourist Village – Have A Meal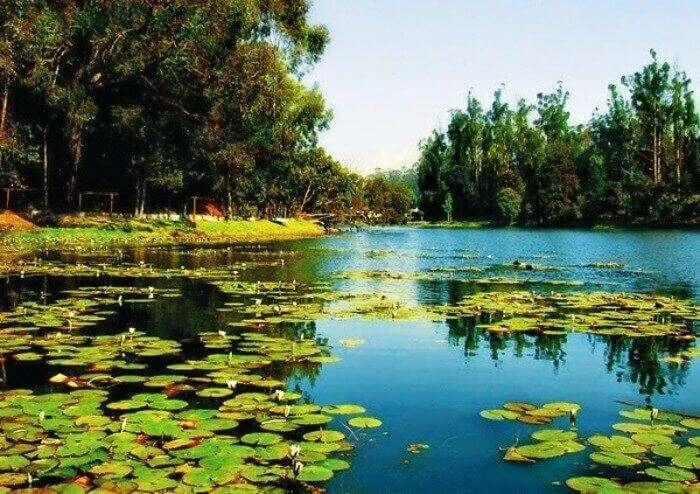 From all the places to visit on your trip to Kerala, exploring the Veli Lake and dining in the floating restaurant at the lake is an incredible experience. Paddleboat in the lake and check out the floating bridge that links the tourist village with the beach. Veli Tourist Village is located at a distance of 8 km from Thiruvananthapuram. You can simply hire a car, take a taxi, or ride in the bus to get to this serene little hamlet.
Suggested Read: 10 Incredible Indian Destinations Under 20k You Need To Explore This Year!
12. Wayanad – Visit A Coffee Plantation

Drink your cuppa joe where it gets made. Stay at a coffee plantation resort or homestay and it would include all the activities in Kerala like trekking, night safaris, campfire and plantation walks with rates starting from Rs 5000/night. Learn about the whole coffee making process from plucking the green coffee beans in the first step to finally getting that perfect brew in the last one.
Suggested Read: 8 Haunted Places In Kerala That'll Offer You A Glimpse Of The Devil's Playground
13. Fort Kochi – Marvel At The Architecture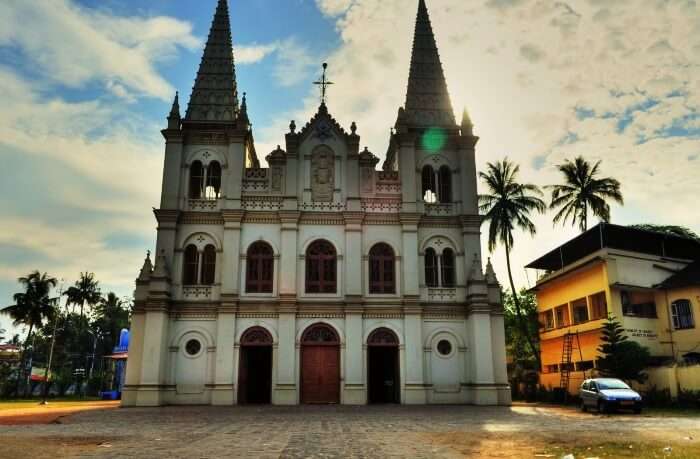 Fort Kochi is counted among the top Kerala attractions. With the influence of Arabs, British, Dutch, Chinese, and Portuguese, Fort Kochi has a lot of eclectic architecture to gawk at. Explore the place on foot or on a bicycle including the Jewish synagogue, Indo Portuguese museum, Chinese fishing nets, Santa Cruz Basilica, and Fort Kochi Beach that is one of the best activities in Kerala. You'll be enthralled with your visit to this fort that is located right on the beach, a queer phenomenon not many beaches and forts in the world offer. It is one of the best things to see in Kerala.
Timings: 10 am to 5 pm
Entry fee: INR 20 and free for children
Suggested Read: 14 Offbeat Places In Kerala We Bet You Didn't Know Existed
---
14. Kochi – Watch Theyyam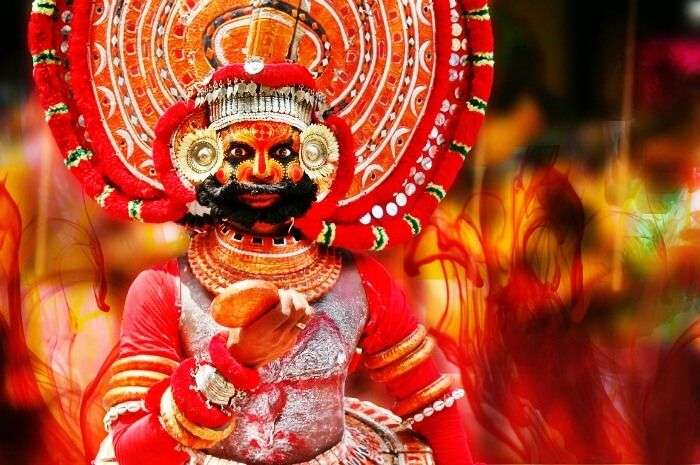 Do not come back without watching Theyyam that happens to be one of the life-changing experiences and activities in Kerala. One of the best things to see in Kerala is watching Theyyam. They are staged in various temples of North Kerala, usually in front of the village shrine. Watch this exceptional and beautiful dance form in the districts of Kannur and Kasargod or if you are lucky you can catch a performance in Kerala Museum at Kochi. Make sure you look up the dates of the events on Theyyam calendar online before you visit. Also, check the timings of the shows to make sure you don't miss out on any performance during your trip.
Suggested Read: Winter In Kerala: 11 Best Places To Visit For A Blissful Vacation
15. Kumarakom – Go Bird Watching

For all the nature lovers, Kumarakom Bird Sanctuary is must to be on your list of places to visit in Kerala. Spot rare migratory birds such as egret, heron, waterfowl, Siberian crane, while on a boat cruise. About 3 hours from Kochi, you can easily the destination by bus or taxis. Combine bird watching with a houseboat stay on Vembanad Lake to get the most out of the visit. November to February is the best time to visit this place as birds from various regions fly back to the Northern Hemisphere once their migration season is over, stopping at this marshy sanctum for respite. Kumarakom hotels and resorts make for great accommodation options.
Suggested Read: Kovalam In December: Explore This Touristy Seaside Town In Kerala
16. Varkala Beach – Swim In The Arabian Sea

Bathe in the medicinal mineral water springs in Varkala Beach and the salty ocean water on this beautiful beach. 50 km from Trivandrum International Airport, Varkala is best visited between December and March. It's among those very few beaches whose water has such therapeutic and healing properties. Swimming here is one of the popular things to do in Kerala. So, plan a trip to Kerala in March and have a great time!
Suggested Read: 10 Romantic Beaches In Kerala You Must Visit For A Soulful Vacay!
17. Athirapally Falls – Get Drenched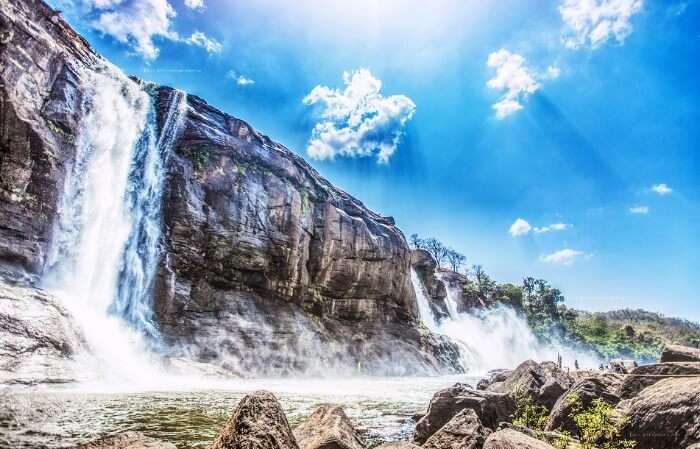 One of the many things to do in Kerala is the extraordinary, 80-feet tall, Athirapally Falls which are now called the Niagara Falls of India. 55 km from the Kochi International Airport, the waterfall is easily reachable by bus or taxis. The falls are most visited during the monsoons, from June to September when they're flowing in full force and are an absolute marvel to look at. Just make sure you keep the surroundings neat and tidy during your visit.
Suggested Read: 10 Luxury Resorts In Trivandrum That Beautifully Bring Out The Nature Of Kerala
18. Trivandrum – Eat Bananas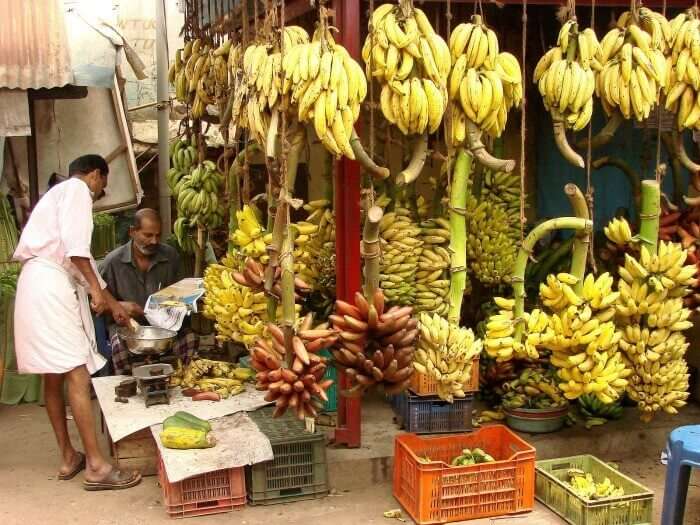 The variety of bananas found in Kerala are unparalleled in size, shape, and taste. Try the varieties from the local stores followed by their culinary counterparts including fried chips (upperi), steamed (puzhungiyathu) and fried in batter (pazhampori). In fact, Kerala's fried banana chips are popular all over the country and make an excellent snack to have with tea or coffee.
Suggested Read: 5 Amazing Zoos In Kerala To Witness The Captivating Wildlife In God's Own Country!
19. Kovalam Beach – Watch The Sunset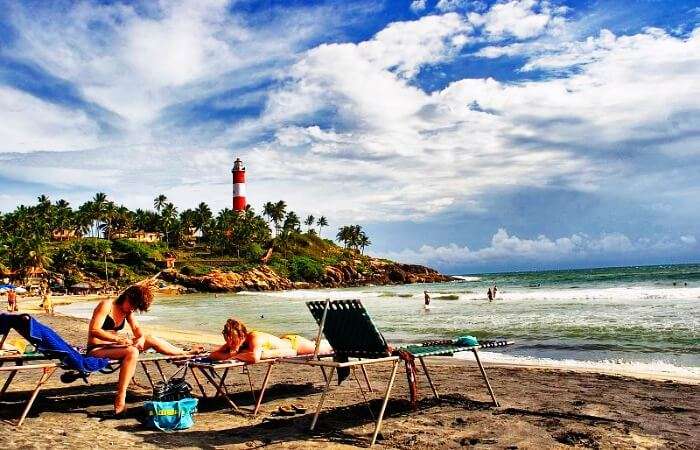 One of the many Kerala things to do is to watch the beautiful sunset at the Kovalam beach. It is one of the finest beaches in Kerala. About 16 km from Thiruvananthapuram, the star attractions here are the Lighthouse Beach, Hawah Beach and the much quieter Samudra Beach. The landmark lighthouse can be visited every day between 3 PM to 5 PM. A visit to this place will tell you why it happens to be the favorite spot for all photographers!
Suggested Read: 7 Dreamy Cottages In Vagamon For A Refreshing Break Amidst The Alluring Hills Of Kerala
20. Idukki – Bike Ride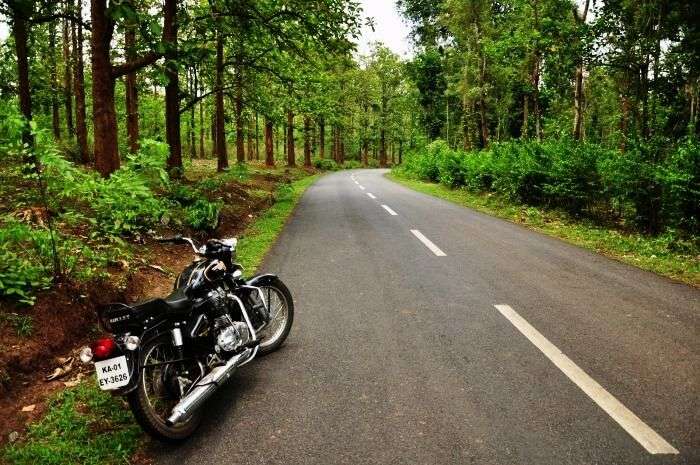 The winding roads up and down the hills are a pleasure, best experienced on two wheels. From Kottayam, you can take three routes to many places in Idukki. One of the best is the route via Pala (Kottayam-Pala-Thodupuzha-Kulamavu) to see the marvelous Idukki Arach Dam. A bike ride on this route is sure to rejuvenate your senses and give you an unbeatably thrilling experience in the blissful Kerala weather.
Suggested Read: Kerala Vs Himachal For Honeymoon: Which Is The Ideal Retreat For Newlywed Couples?
21. Ernakulam – Take A Train Journey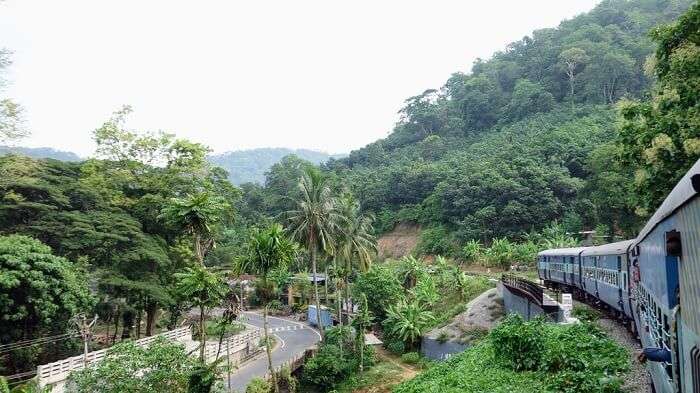 Image Source
If you're wondering what to do in Kerala to experience a mix of nature and adventure, we got you the perfect answer! Take the scenic train ride on the Ernakulam-Kollam-Trivandrum route to witness the true natural beauty of the state of Kerala. You'll be able to witness everything from the serene backwaters, pretty lakes, swaying coconut palms, to the enchanting tea gardens swishing past during your train ride.
Location: Ernakulam Town Railway Station
Ticket starting price: INR 140/-
Suggested Read: 10 Phenomenal Places To Visit Near Kerala For An Unforgettable Road Trip
22. Periyar Lake – Go Bamboo Rafting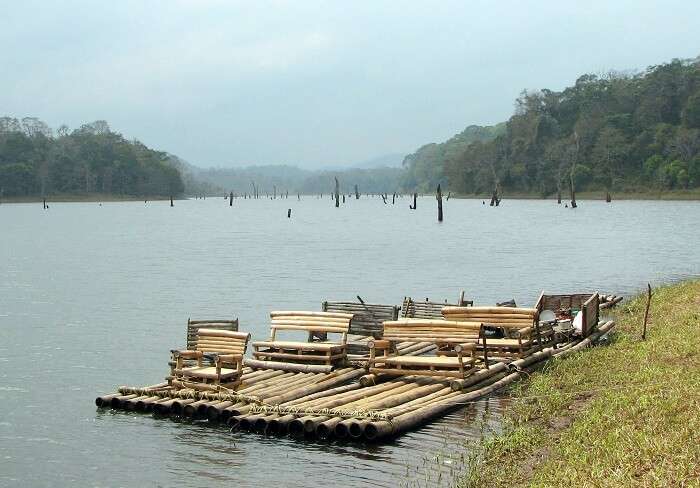 Image Source
The most famous forest reserve of Kerala has much more to offer than wildlife sighting and a ferry ride on the lake. The Periyar Wildlife Sanctuary offers the delightful experience of going bamboo rafting over the amber-hued Periyar Lake, which is undoubtedly one of the top things to do in Kerala, India for those looking for an offbeat experience. The ride shall take you through the sanctuary's wilderness and give you a chance to have an up-close and personal encounter with Kerala's flora and fauna, coupled with a little bit of hiking in the dense forest. You have a fair chance of spotting tigers and elephants at a close distance via the bamboo ride and the trek.
Charges: One group of two (minimum) to 10 (maximum) people @ Rs. 2800/- per person (Minimum Rs. 5600/- per trip)
Suggested Read: 6 Unusual Yet Exciting Things To Do In Ernakulam On Your Next Kerala Trip!
23. Varkala – Watch A Kathakali Performance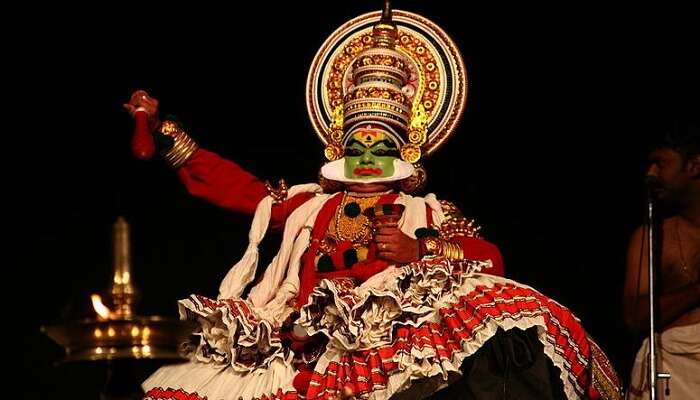 Kathakali is a traditional dance that is performed in the southern state of India. The dancers dress up in colorful costumes and portray ancient stories through postures and expressions. If you are tired with sightseeing then you can enjoy an enchanting night watching a Kathakali performance that happens to be one of the best things to do in Varkala. It is believed that this dance form emanated from the rivalry between two kings.
Suggested Read: Our 5 Days In Kerala Were Spent Exploring the Beautiful Place And Falling In Love With It
24. Iringal Crafts Village – Admire The Local Art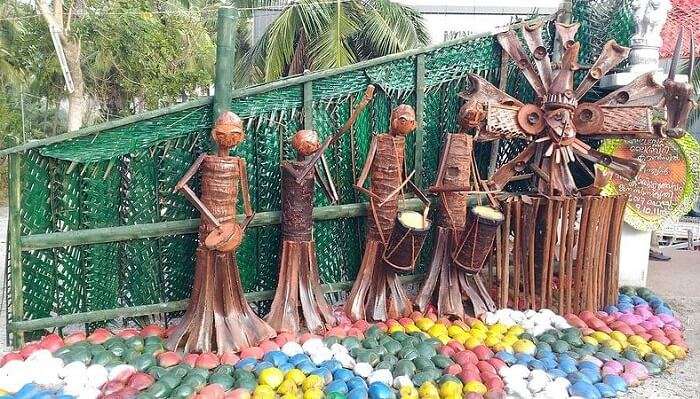 Nestled on the banks of the River Chaliyar, Iringal Crafts Village is sprawled in an area of 20 acres. Craftsmen and artisans here are always happy to display their products and also sell it to tourists. You will find art created with coconut shells, banana fibre, and other local materials that can be easily found in Kerala. Do not forget to buy some souvenirs as this will help the locals to survive and will also flourish Iringal handicrafts. 
Suggested Read: 15 Adventurous Water Sports In Kerala You Must Try While Touring God's Own Country
25. Mananthavady – Go For A Kalaripayattu Bout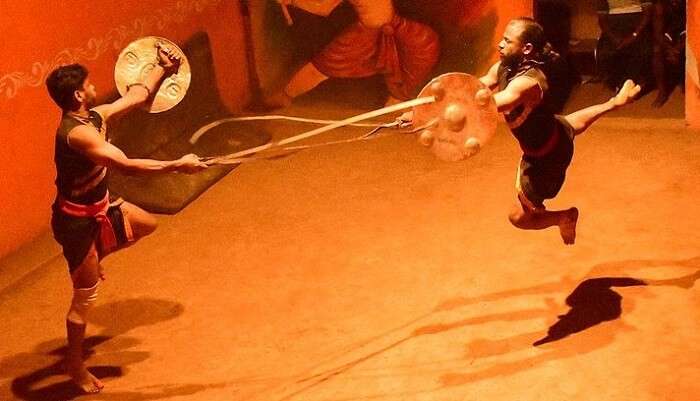 A form of martial arts, Kalaripayattu was invented in Kerala and is believed to be as old as 3000 years. The traditional form has degraded with passing years but is resurfacing in the form of fitness and dance routines. It is believed that Shaolin, the Chinese form of martial arts, was originated from Kalaripayattu. A show of the Kalaripayattu bout will take you through the history of Kerala.
Suggested Read: Kerala In March: 8 Places Which Are Perfect For Your Trip To South India
26. Chingoli – Indulge Ayurveda Session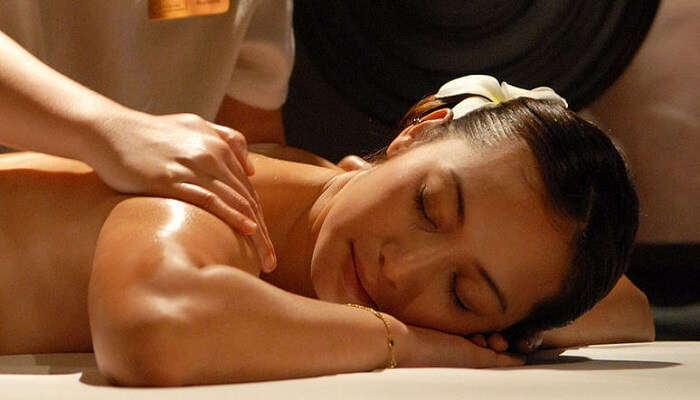 Any vacation to Kerala is incomplete without indulging in a rejuvenating Ayurvedic session as it is like gambling in Las Vegas. Kerala is full of Ayurveda resorts that offer a range of forms of natural treatment. They use natural herbs and oil to make a concoction that has the power to ease the tension in the body as well as relax the mind. Relive all your stress by getting a massage session in one of the resorts.
Suggested Read: 12 Homestays In Trivandrum To Experience The True Traditions Of Kerala!
27. Kollam – Take A Canoe Ride

If you want to explore the untrodden paths of Kerala then head to Kollam that offers tourists to indulge in a canoe ride. Canoeing gives the opportunity to admire the countryside, many villages, and some scenic marvels that will leave you awestruck. Paddling your way in the emerald waters of Kerala with your partner is the best feeling ever and one of the best things to do in Kollam that you might not want to miss.
Suggested Read: Kerala In October: A Guide To Relish This Soothing Weather In God's Own Country!
28. Malappuram – Take Part In Bullock Race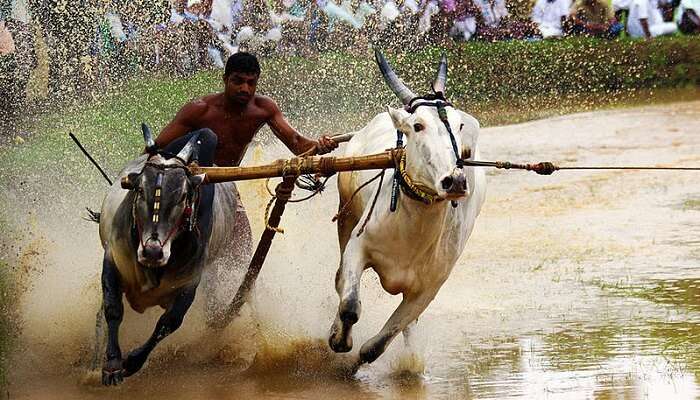 Out of all the things to do in Kerala, Bullock Race comes on the top of the list as it is exhilarating for people who have never witnessed it before in their life. Every year, people from nearby districts go to Malappuram to witness the bullock race. This is a kind of fun gambling that you can opt for in Kerala. So, make sure that you watch the Bullock Race in Malappuran as it is counted among the top things to do in Kerala. There are some pretty beaches in Malappuran too, that one can visit here.
Suggested Read: Kerala In January: A Guide For A Memorable Vacation In This Southern State
29. Beypore – Watch Skilled Workers In Action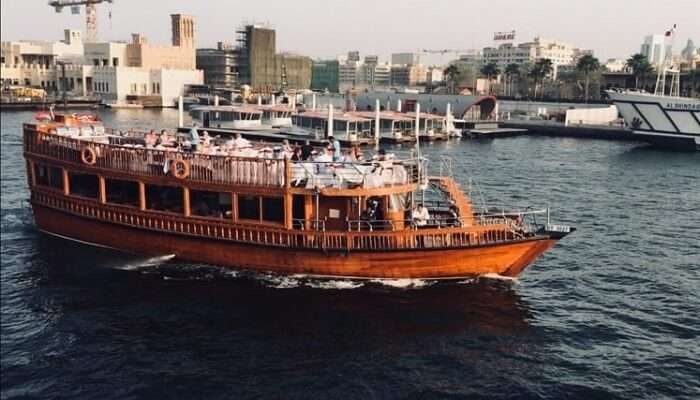 Situated near Calicut, Beypore is a small town in Kerala that is popular for its shipbuilding history and is believed to be around 1800 years old. You will be surprised to know that Arabia Dhows (Urus), huge ships, are made here and then transported to the Gulf. They are made so solid that for at least five decades they do not need major maintenance. Watch how skilled workers build these massive ships in Beypore by hands.
Suggested Read: 22 Best Places To Visit In South India In December
30. Vagamon – Paragliding Will Perk Up Your Adrenaline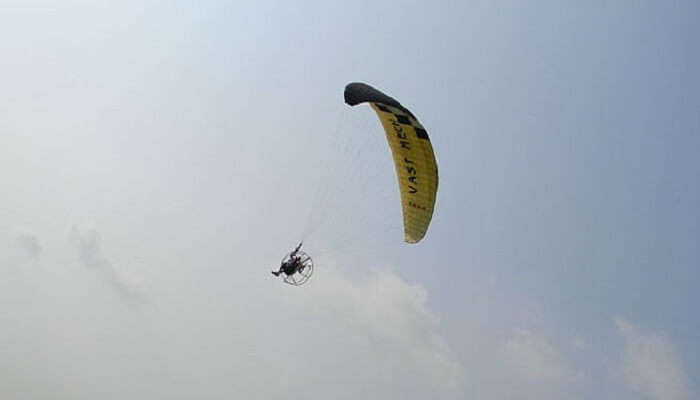 Famous for its tranquility, Kerala is a place that offers mesmerizing views of the hills and greenery. If you want to catch a bird's eye view of the whole state then opt for paragliding as it is one of the best things to do in Vagamon. If you are an adventurous person then this your chance to indulge in another exciting activity. But if you do not belong to this category then build up some courage and tick off this activity from your bucket list this year.
Charges: Approximately INR 3500
Suggested Read: 10 Majestic Photography Places In Kerala Which Are A Heaven For Everyone
31. Ambukuthi Hills – Unearth The Edakkal Caves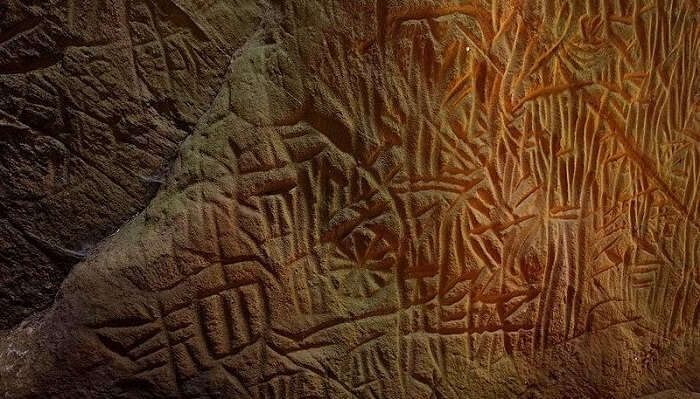 Tucked in the Ambukuthi Hills, Edakkal Caves are a must-visit place near Wayanad. These natural caves are home to pictures and drawings from the Stone Age and some are believed to be 7000 years old. A stroll in these caves will definitely teleport you back to the ancient times. Don't miss out on this chance to take a plunge in the history of this place and explore Edakkal Caves yourself. 
Suggested Read: 12 Festivals In Kerala To Experience The Rich Traditions Of God's Own Country
32. Jew Street – Go For A Peaceful Saunter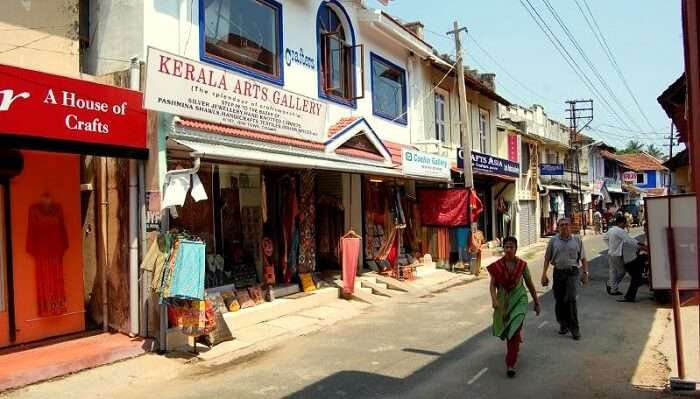 Jew Street in Kochi takes you back to the colonial period when the Jewish community used to live there. Although most of the Jews went back to Israel, they left their reminiscence in food and culture in this part of Kochi. The street is a treat for book and coffee lovers as the cafes give the chance to its guests to sip on some coffee while getting lost in a book.
Suggested Read: Kerala Group Tours: Find Your Reasons To Meet Like-Minded Strangers Here!
33. Marayoor – Traverse Through Sandalwood Forests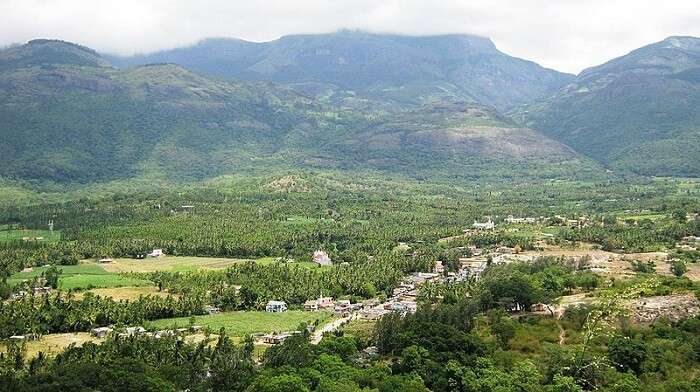 Just 40 kilometers away from Munnar, Marayoor or Marayur is a place in Idukki district which a nature lover's paradise. While exploring the sandalwood forests here, one can come across some rock paintings that can be dated back to the pre-historic era. Apart from this, you may also find some caves deep in the forest. To increase tourist inflow, a children's park has also been established for some fun and frolic activities. To reach this destination, you have to first get down at the Ernakulam station and then take a taxi to Marayoor.
Suggested Read: Kerala Cuisine: 21 Dishes That Make The State The King Of Culinary Art
34. Periyar Wildlife Reserve – Go For An Elephant Ride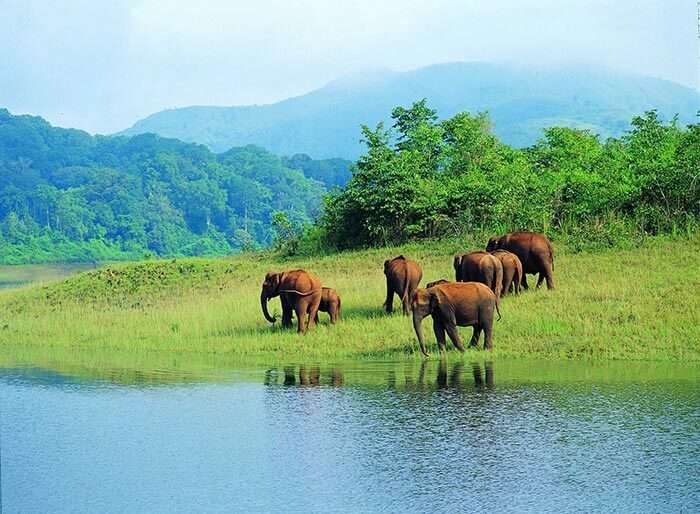 Any Kerala trip is incomplete without taking an elephant ride. So, whatever you are planning to do in the city, make sure that you visit the famous Periyar National Park in Kerala and opt for an elephant ride. This place reserves different species of birds and mammals among which tigers are the most popular residents. An elephant ride to the inside of this reserve will make you feel like a king as you will be witnessing the animals from atop this creature.
Charges: INR 100
Suggested Read: Kerala In November: Places And Events Not To Be Missed Out!
35. Bekal Fort – Take A Plunge Into History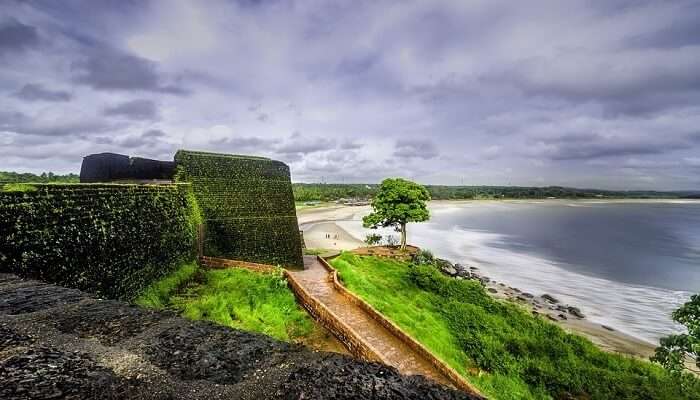 Counted among top Kerala attractions, Bekal Fort is one of the well-preserved forts which is located near Kasargod. In the early days, this fort served as the key spot due to its strategic location as it is in close proximity to Karnataka. Now, people visit this fort to learn about the tales & rulers and take a plunge in the history of the place. If you are a history buff and like to know more about a place then make sure that you include Bekal Fort in your list.
36. Kumarakom – Go Fishing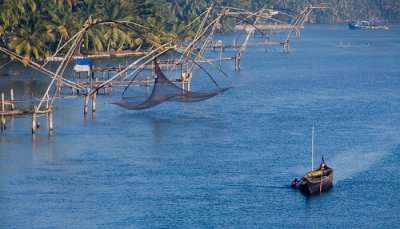 Image Credit: Jorge Royan for Wikimedia
Disclaimer: The image is for representation purposes only.
Fishing in Kumarakom is not just a livelihood now but has turned into to major tourist activities in the backwaters of Kumarakom. Due to this newly emerged demand from tourists, many travel planners and resorts now include fishing in the tour packages. Tourists can enjoy fishing using different methods like using bow and arrow, bamboo traps and nets. Not only this, one can also experience night fishing and interact with the local fisherman. It is indeed one of the best things to do in Kerala.
37. Sabarimala – Visit The Holy Town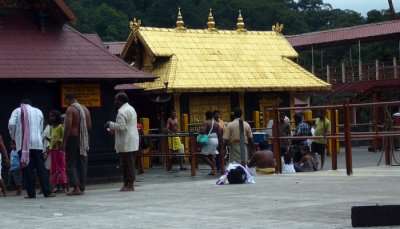 Image Credit: Sailesh for Wikimedia
Sabarimala is a temple town located in the Pathanamthitta district, Kerala. It is home to the famous Ayyappa Temple. Some of the other prominent places to visit here includes Vavar Shrine, Makaravilakku, Malikkappuram Devi Temple and Papa Ganpathy Temple. On your visit to Kerala, visiting these amazing pilgrimage sites is truly the best things to do.
There are many more things to do in Kerala, many more places to visit, to eat and explore a state so beautiful, but let's leave something for your next trip to Kerala, shall we? Till then, put these all in your itinerary and get ready to have the best time of your life on your beautiful vacation in God's Own Country!
Disclaimer: TravelTriangle claims no credit for images featured on our blog site unless otherwise noted. All visual content is copyrighted to its respectful owners. We try to link back to original sources whenever possible. If you own the rights to any of the images, and do not wish them to appear on TravelTriangle, please contact us and they will be promptly removed. We believe in providing proper attribution to the original author, artist or photographer.
Please Note: Any information published by TravelTriangle in any form of content is not intended to be a substitute for any kind of medical advice, and one must not take any action before consulting a professional medical expert of their own choice.
Frequently Asked Questions About Things to Do in Kerala
What should visitors do in Kerala?
The following are the best things to do in Kerala:
1. Experience the backwaters on a houseboat
2. Go for a traditional village tour
3. Get pampered by an Ayurvedic treatment
4. Attend cultural performances
5. Attend exquisite festivals
6. Sneak peek at the martial art forms, especially Kalaripayattu
What to avoid in Kerala?
Make sure that you avoid the following things while holidaying in Kerala:
1. Indulge in adventures without your supervisor
2. Drinking tap water
3. Wear warm or heavy outfits
4. Try to travel much in less days
5. Travel without medicines
6. Enter someone's place with footwears on
7. Travel without prior bookings
Which is the most beautiful place in Kerala?
Kerala is home to a number of hill stations and beaches which makes it one of the most beautiful destinations in South India. Some of the remarkable places to visit in Kerala are Alleppey, Munnar, Kovalam, Kochi Wayanad, and Kumarakom.
What is the speciality of Kerala?
Kerala is known for its mesmerizing beauty, its beautiful mountains and lush green hills, the curvy bends of the rivers, the thundering waterfalls, amazing beaches, and coffee/ tea gardens. The enchanting beauty of the place earned it the name "God's own Country".
What is the best time to visit Kerala?
The most suitable season to visit Kerala is during the monsoon when the weather is quite pleasant. You can plan your vacation in Kerala between June and August to enjoy the place to the fullest.
What is the climate of Kerala?
Kerala enjoys a tropical warm climate which usually ranges between 28 to 32-degree celsius. The temperature on the mountain ranges experiences a slightly colder temperature as compared to other regions.
How many days are enough for Kerala?
A maximum of 3 to 4 days is quite sufficient to explore the best of Kerala. However, you could easily spend more than a week in Kerala and wouldn't regret it.
What should I pack for Kerala?
Kerala has a warm temperature. Hence a pair of shorts and flip flops would be the ideal choice for clothing while visiting Kerala. If you want to go trekking, add a pair of walking shoes to your list.
What is there to do in Kerala in January?
January in Kerala is not that cold so you can do a lot of outdoor activities such as enjoying a houseboat cruise, visiting the Kalamachal, taking part in Pongal celebrations, and walking through the sandalwood forest in Marayoor.
Is it safe to plan a Kerala trip during Covid times?
You need to follow all the safety guidelines mentioned by the authorities carefully. Make sure that you are wearing proper masks while stepping out and maintain proper social distance. Ensure a hygienic environment for yourself and fellow companions and avoid visiting crowded places.
---
People Also Read:
Things To Do In Jammu Things To Do In Punjab Things To Do In Ladakh