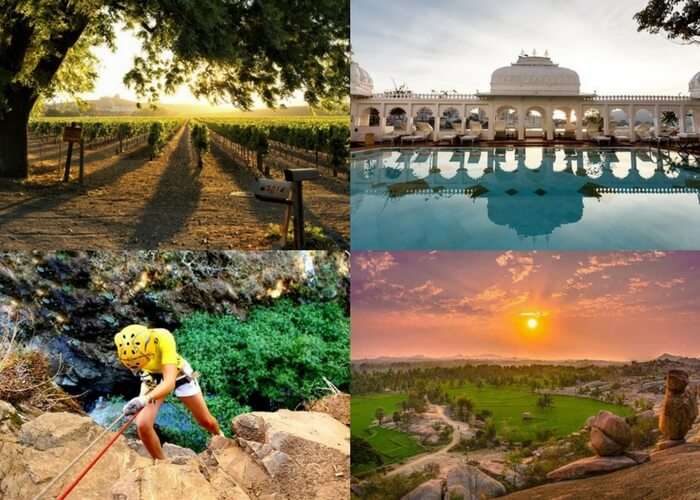 The best part of the week, weekends are meant for fun. And if your idea of fun involves long drives away from the city, you've landed at the right place. We all know how our cities can stress us out but thanks to nearby destinations which bless us with balance so we can come back with a saner mind. This blog features the best weekend getaways from top Indian cities, namely – Delhi, Chandigarh, Mumbai, Pune, Kolkata, Hyderabad, Bangalore, Chennai and Ahmedabad.
Right beside the name of the said weekend destination, you will find what it's famous for, so you quickly know which one to pick. Other than that, the list features important tourist information, including the destination from cities.
Top Weekend Getaways From Delhi & Chandigarh
 If you are planning for a weekend getaway from Delhi & Chandigarh then here are some of the amazing places for you. Delhi is a perfect weekend getaway to some of the historic places, mesmerizing hill stations and beautiful British & Mughal architecture.  Chandigarh is famous for its cleanliness, discipline, and beautiful scenic gardens.
1. Dharamshala: Nature, Hills and Culture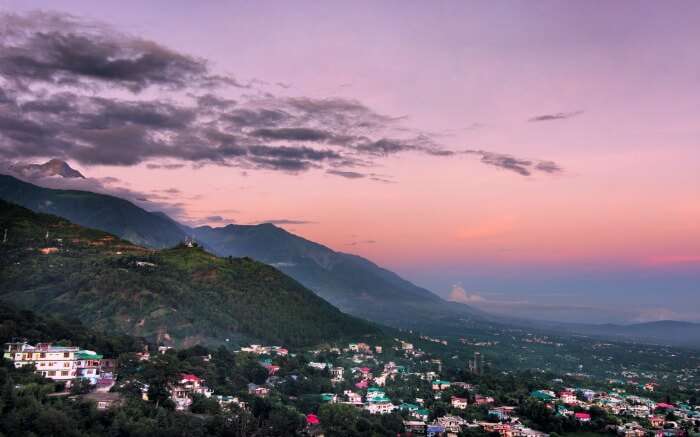 Dharamshala, the resident of great Dalai Lama, is the place to be if a refreshing weekend getaway is what you seek. This is among the first Tibetan townships of the country, and even today you can see the stunning blend of Indian and Tibetan cultures, coexisting to outshine. Other than culture, your trip to Dharamshala trip to Dharamshala will mesmerize you with nature's brilliance.
Distance from Delhi: 477 km
Distance from Chandigarh: 245 km
Must Read: 18 Best Places To Visit Near Agra For A Weekend Getaway In 2022!
2. Rishikesh: Adventure and nature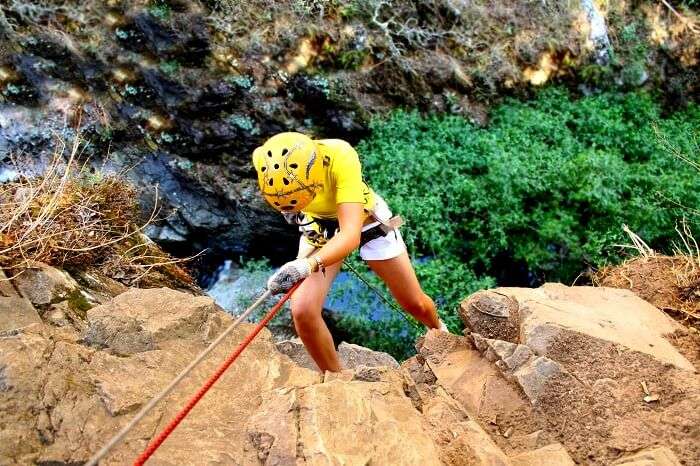 The Adventure Capital of India, Rishikesh was earlier known to be a pilgrimage spot, but today it's winning the hearts of youngsters too; thanks to the introduction of some of the best adventure activities in the country like river rafting, bungee jumping, cliff diving and so on. This place is perfect not only for adventure seekers but also for those who want to relax in a laid-back cafe looking over Himalayan views with the Ganges.
Distance from Delhi: 233 km
Distance from Chandigarh: 227 km
Suggested Read: 6 Best Resorts Near Rishikesh And Haridwar
3. Jim Corbett National Park: Wildlife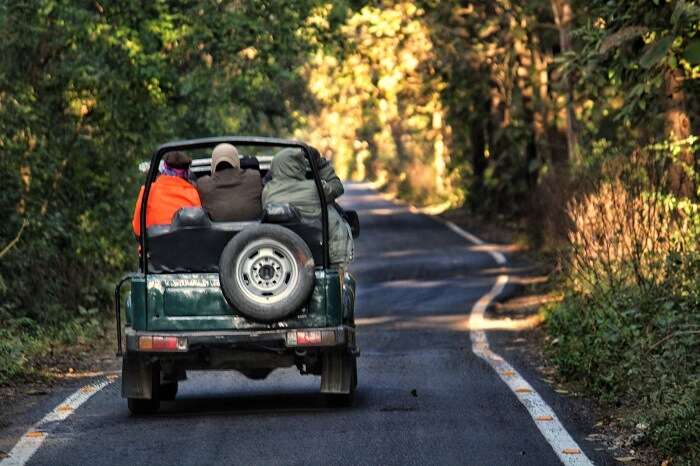 Jim Corbett National Park is known to be among the best places in India to spot tigers and indeed exotic wildlife. This is a paradise for bird-lovers, just take your binoculars or your zoom lens and you're ready for the roll. Thanks to many luxurious resorts on budget, Jim Corbett can also be your ideal staycation spot for a weekend. If you're browsing through weekend getaways tours from Delhi this will be featured as a highlight.
Distance from Delhi: 232 km
Distance from Chandigarh: 336 km
Suggested Read: 6 Quixotic Resorts Near Jim Corbett For The Most Memorable Stay In 2022
4. Agra: Heritage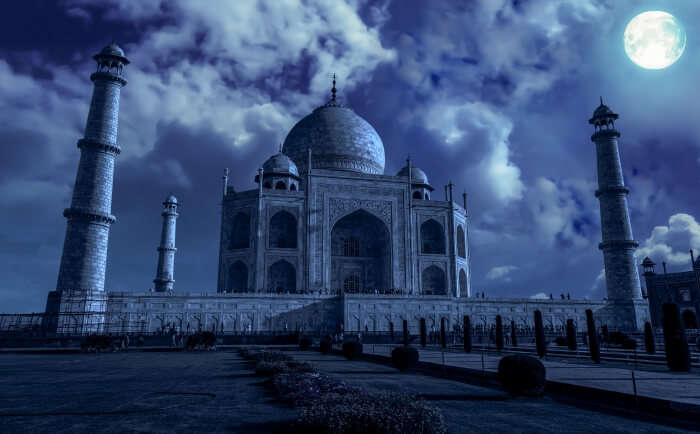 The City of Taj Mahal, Agra is a part of the great Golden Triangle Tour of India; which is preferred by foreigners seeking a peek of the heritage and history of India. This beautiful city will take you back in time, with not only its iconic attraction (Taj Mahal) standing as an epitome of love and architecture but also with other places like Agra Fort and Fatehpur Sikri. However, if the Taj Mahal is the key attraction you are visiting Agra for, it is closed on Fridays. So plan accordingly. 
Distance from Delhi: 214 km
Distance from Chandigarh: 460 km
Suggested Read: Pre-Wedding Shoot In Jaipur: 8 Instagram-Worthy Places You Can't Miss
5. Kasauli: Plan a romantic weekend

How about spending a weekend on a hill station away from Delhi's busy life? Kasauli is a small and beautiful hill station encompassed with buildings of British architecture. Kasauli is amongst some of the most stunning hill stations from Delhi. Plan a romantic weekend with your spouse to cherish the beauty of nature.
Distance from Delhi: 287 km
Distance from Chandigarh: 57 km
Suggested Read: 33 Best Resorts In Kasauli For A Tranquil Getaway In 2022
6. Nainital: Experience Serenity

Nainital is a small hill station which is the perfect place to experience serenity and calmness for one or two days. If you are an adventurous person then Nainital has in store for you some of the amazing fun-filled activities like paragliding, trekking in the mountains and boating in beautiful Naini lake. Come with family or friends and you will surely create some amazing memories with your loved ones.
Distance from Delhi: 305 km
Distance from Chandigarh: 448 km
Suggested Read: Trekking Near Nainital: 6 Treks That'll Show You The Best Natural Wonders
7. Dehradun: Explore The Scenic Beauty

A break from Delhi's stressful life is what some of you might desire of. Where to go is another question that might linger in your mind. Dehradun is a gorgeous place surrounded by mountains, a valley and an opportunity to be in the lap of mother nature. Dehradun is a perfect weekend getaway from Delhi as you will get to witness some of the superb places like robber's caves, café's and shopping places. Finest Weekend getaway destination that insists you explore the scenic beauty of the place.
Distance from Delhi: 255 km
Distance from Chandigarh: 170 km
Suggested Read: 20 Best Restaurants In Dehradun That'll Serve As A Paradise For Food Lovers In 2022
Top Weekend Getaways From Mumbai & Pune
Mumbai is a city of dreams where you will get to meet some of the famous Bollywood stars which is a treat to meet with. And if it's on your holiday then that serves as the icing on the cake. Pav Bhaji of Juhu beach, beautiful beaches and other picturesque locations add flavour to the boring life. Pune is a perfect destination for a weekend getaway with serene spectacular locations. Have a look at some of the splendid locations for Weekend getaways from Mumbai and Pune.
8. Kaas: Nature and botany

A perfect monsoon getaway beautified with flowers of different hues, Kaas is the Valley of Flowers of Maharashtra. Every year between September and October a barren plateau gets covered with different species of flora, making it a stunning sight to behold.
Distance from Mumbai: 276 km
Distance from Pune: 143 km
Suggested Read: 21 Hill Stations Near Mumbai To Soothe Your Senses On A Trip In 2022
9. Kaas: Nature and botany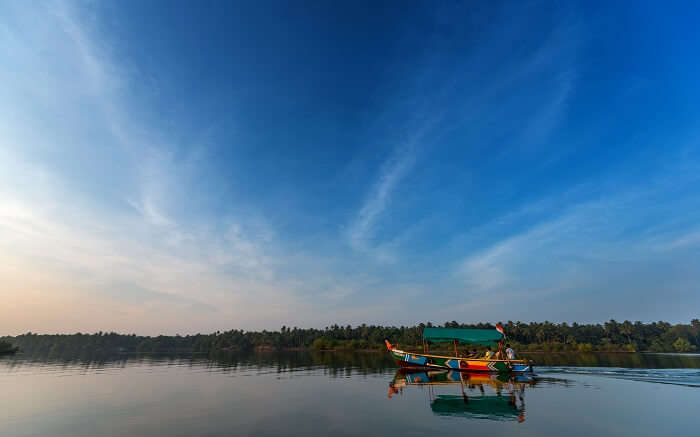 The only good place for a scuba diving opportunity in Maharashtra, Tarkarli is a beach paradise for those who seek peace, mouth-watering Malvan food and a balanced digital disconnect. You can choose to laze around at the beaches, try water activities, or maybe go on a food trail sampling delicious local delights. There's indeed so much to do in this laid-back locale.
Distance from Mumbai: 535 km
Distance from Pune: 392 km
Suggested Read: 17 Luxury Villas In Goa: Ditch Hotels For An Intimate Escape In 2022
10. Goa: Nightlife and fun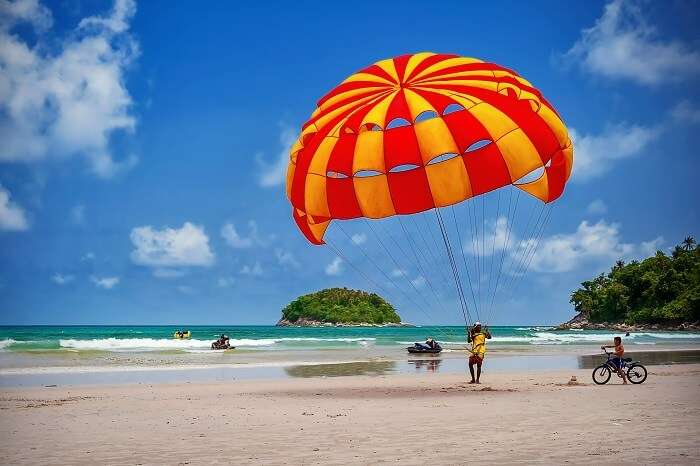 When we are talking about the best weekend getaways from Mumbai and Pune, Goa is the first thing that pops into our minds. This stunning beach state is number one in terms of nightlife, culture, adventure; you just name it! Whether you're seeking a family getaway or with friends, this pick will never fail you.
Distance from Mumbai: 583 km
Distance from Pune: 441 km
Suggested Read: 5 Places That Motivate You To Stay Sober In Goa
11. Nashik: Wineries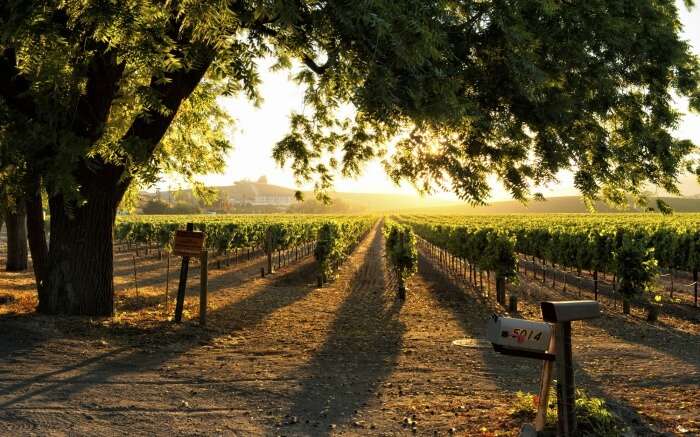 You shouldn't whine when you've got wine! Nashik is becoming the up and coming weekend getaway for the people in Mumbai and Pune. After all, all those picturesque vineyards and wine tasting sessions set this place apart. To make your experience grander, you have many amazing stay options, like the one by Sula itself. If you're planning, plan it around the buzzing SulaFest for the best of experiences.
Distance from Mumbai: 166 km
Distance from Pune: 211 km
Suggested Read: 19 Hill Stations Near Nashik That Offer A Rejuvenating Retreat In 2022
12. Vasai Fort: Experience the beauty of nature

Vasai Fort is one of the popular and widespread destinations for the filmmakers of Bollywood. Maybe you might be able to meet face to face with some of the Bollywood celebrities. That will surely be going to make your weekend memorable. Some of the famous films have been shot in Vasai Fort like Khamoshi, Aag directed by Ram Gopal Verma and many other films. This can be a sure shot win for your weekend getaway. 
Distance from Mumbai: 67 km
Distance from Pune: 194 km
Suggested Read: 50 Super Amazing Things To Do In Mumbai On Your 2022 Vacay
13. Matheran: Dive In Natural Exquisiteness

Matheran offers you some of the best scenic beauty encompassed in green cover, splendid views that will charm your mind, body and soul. Monsoons would be the most appropriate time to visit this place and if not during monsoons then at any time of the year. Come and spend some quality time with your family and friends for a weekend from Mumbai or from Pune. 
Distance from Mumbai: 53 km
Distance from Pune: 139 km
Suggested Read: 14 Amazing Places To Visit Near Matheran For A Happening Vacation In 2022
14. Diveagar Beach: Witness The Splash Of Water

Mumbai people keep on exploring places for their weekends and Diveagar beach is one of them. Throughout the year people from all over Mumbai and Pune dive into this place for their weekend trips. Some of the highlights of the beach are temples, mystic nature, seafood which relaxes and comforts the people from their stressful life. 
Distance from Mumbai: 193 km
Distance from Pune: 166 km
Suggested Read: 8 Best Attractions Near Diveagar Which Cannot Be Missed When In Maharashtra In 2022
Top Weekend Getaways From Kolkata
15. Sundarbans National Park: Nature and wildlife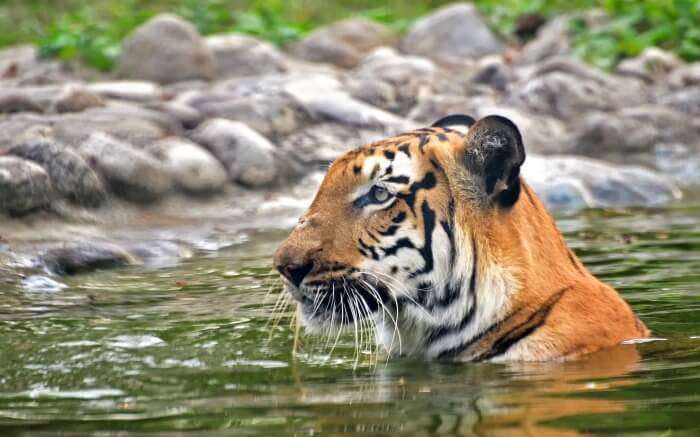 Sundarbans National Park is a UNESCO World Heritage Site, and being one of the most famous national parks in India, this place needs no introduction regarding its rich biodiversity. Bengal tiger, crocodile and leopard cat are just new names among the many animals that call this place their home. Needless to say, if you're a bird lover, there will be many sightings speaking directly to your heart.
Distance from Kolkata: 110 km
Suggested Read: 43 Outstanding Tourist Places To Visit In West Bengal In 2022
16. Digha: Beach

An ideal beach getaway for people in Kolkata, Digha Beach scores with its tranquillity and mesmerizing sunset. Even though it may get crowded, you will still be able to find your own lovely spot. And if you're an adventure seeker, Digha Beach will please you with a number of options in watersports, including jet skiing.
Distance from Kolkata: 184 km
Suggested Read: He Explored, Trekked & Sketched In Kheerganga- All @ Just INR 4,500/-
17. Kalimpong: Hill and nature

If you're a mountain child, Kalimpong is your own paradise. Flecked with buildings of the Colonial era, this hill station will bring peace to your soul. The famous Durpin Monastery is located here and is perched on a hilltop. Don't worry about the stay as you'll have plenty of options in that area.
Since it takes about 15 hours to reach Kalimpong from Kolkata, we'd suggest you go on a long weekend.
Distance from Kolkata: 624 km
Suggested Read: 17 Enchanting Road Trips From Kolkata You'd Love To Take In 2022
Top Weekend Getaways From Hyderabad
18. Badami: History

Though an offbeat historical getaway in the country, Badami will leave you bewitched with its ochre-hued ruins. The rock-cut temples of Badami narrate the legendary past and allow you to have a glimpse of the heritage that prevailed during the rule of Badami Chalukyas (540 to 757 AD).
Distance from Hyderabad: 431 km
Distance from Bangalore: 448 km
Suggested Read: 14 Mystical Places To Visit In Badami, Karnataka That Need Your Attention In 2022
19. Warangal: History and nature

With glistening lakes, rich biodiversity and heritage that melts your heart Warangal is among the top places to visit near Hyderabad without a second thought. Though a famous place for family getaways, this place is also becoming popular among college students. Whether you want to peek back to the olden era or want to breathe fresh air, this is the place to be. 
Distance from Hyderabad: 144 km
Distance from Chennai: 646 km
Suggested Read: 10 Churches In Warangal That You Can't Miss Visiting
20. Horsley hills: Calm your senses

When the name itself strikes a chord, what could you do? Horsley Hills acts as a saviour from the maddening humdrum of the city. The serenity of this place will calm your senses through and through. Trek to the hilltop for mesmerizing views, witness the wildlife of Koundinya Wildlife Sanctuary & Elephant Sanctuary; the possibility never seems to cease if you're on a weekend getaway.
Distance from Hyderabad: 533 km
Distance from Chennai: 275 km
Suggested Read: Here Are Top Things To Do In Horsley Hills For A Fun Vacation In Andhra Pradesh
Top Weekend Getaways From Bangalore & Chennai
21. Hampi: History

One of the most famous places to visit in South India, Hampi will make you believe in time travel, once you picture yourself like royalty in the erstwhile era. This is a UNESCO World Heritage Site, which served as a centre of the Hindu Vijayanagara Empire capital, back in the fourteenth century. This is a perfect place to witness the brilliance of local art and indeed a surreal landscape.
Distance from Bangalore: 352 km
Distance from Chennai: 705 km
Suggested Read: Guide To Hampi Temples: Relishing Ancient Era Temples And Historic Sites In 2022!
22. Puducherry: Beach And Culture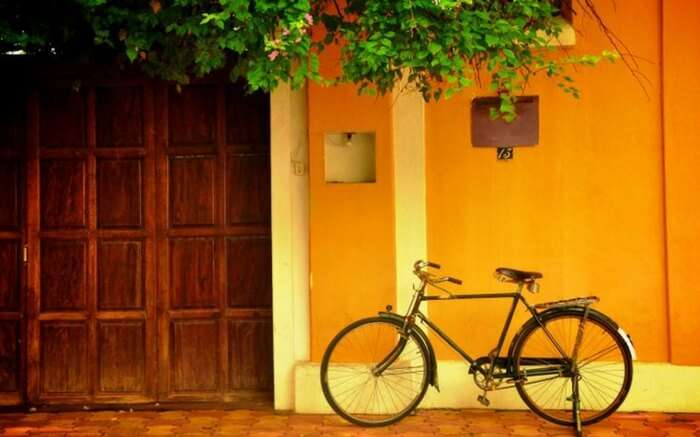 Puducherry or Pondicherry is the French Colony of India with brightly painted buildings and beaches that are picture-perfect. This is an ideal weekend getaway from Bangalore and Chennai for people wishing to witness iconic architecture, eat amazing French delights and indulge in various water activities, including scuba diving. This indeed is one of the best places in India for scuba diving.
Distance from Bangalore: 311 km
Distance from Chennai: 155 km
Suggested Read: 42 Best Places To Visit In Pondicherry In 2022: India's French Colony!
23. Mysore: Heritage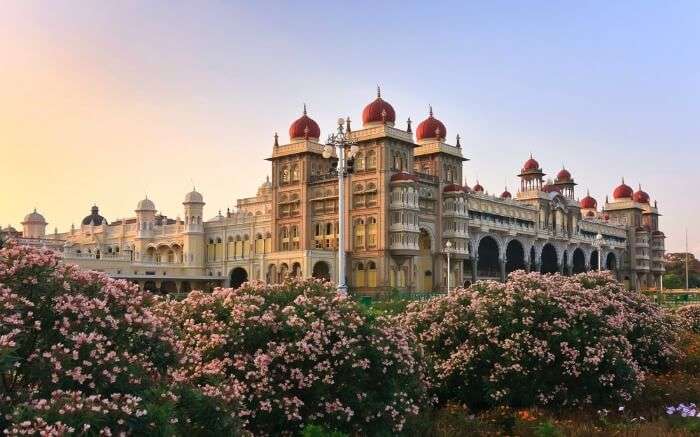 The city of royalty, Mysore pulls travellers from across the world, specifically from Bangalore and Chennai with its opulent Mysore Palace. Still serving as a royal residence, Mysore Palace stands as an architectural gem inspiring everyone. Other than the palace, there are many other places to visit in Mysore, such as Jaganmohan Palace, Mysore Zoo and Chamundeshwari Temple.
Distance from Bangalore: 149 km
Distance from Chennai: 482 km
Suggested Read: 20 Places To Visit Near Mysore In 2022 For A Great Vacation In Karnataka
24. Ooty: Hills And Nature

Its perfect location in the Nilgiris, year-round pleasant climate, dramatic views, and overall peace and quiet are what make it one of the most romantic places in Tamil Nadu. Ooty is a paradise in every sense with surreal landscapes, cloud-kissed hills, colourful botanical gardens, shimmering lakes, and vivid green tea plantations laid out like neat carpets over rolling hills! Other than treating visitors to a cool breeze infused with the aroma of tea and the sweetest views of hazy hills, it also lets them engage in activities like toy train rides, boating, trekking, mountain biking, and hang gliding.
Distance from Bangalore: 265 km
Distance from Chennai: 554.8 km
Suggested Read: 10 Best Hotels Near Ooty For A Relaxing And Peaceful Vacation
25. Coorg: Nature

Coorg lures people in with its verdant woods, perfectly pruned coffee plantations, winding roads, elegantly manicured gardens, secluded backwaters, and a plethora of flora and fauna. Tucked. Its mystical charm, soothing weather throughout the year, and mesmerizing views of coffee estates have earned it its place in the list of weekend getaways in Bangalore and Chennai. Other than coffee plantations, Coorg is also famous for its Buddhist temple, golfing arena, trekking tours, hazy jungles, and awesome avenues for bird watching.
Distance from Bangalore: 248 km
Distance from Chennai: 585.6 km
Suggested Read: 10 Awesome Places To Visit Near Coorg On Your Next Holiday To Karnataka
26. Wayanad: Hill and nature

Located amidst the Western Ghats, Wayanad is a beautiful hill station that allures travellers from Bangalore and even Chennai for weekend vacations. The place is often loved for its expansive lush green landscapes offering a relaxing stay for the tourists. The weather is just so pleasant all through the year. This beautiful destination is well connected by road for travellers to drive to.
Some of the most popular places to visit in Wayanad are Banasura Dam, Edakkal Caves, Pookode Lake, Wayanad Lifestyle Sanctuary and many more.
Distance from Bangalore: 275 km
Distance from Chennai: 613 km
Suggested Read: 20 Best Resorts In Wayanad For That Perfect Relaxed Getaway On A 2022 Trip
Top Weekend Getaways From Ahmedabad
27. Kutch: Culture

The white desert, Kutch is unlike any other place in the world; especially when it gets bejewelled with local Gujarati culture. This desert is white due to the salt residue. Every year during the winter season, the Tourism Authority of Gujarat organizes Rann Utsav, which is about folk performances, tented accommodation and of course many photo ops.
Distance from Ahmedabad: 401 km
Distance from Dwarka: 435 km
Suggested Read: 12 Places To Visit In Kutch In December For An Amazing Travel Experience
28. Udaipur: Romance

Udaipur is the Venice of East indeed. The city of lakes, Udaipur can actually be considered a weekend getaway from not just Ahmedabad, but also Jaipur, Chandigarh and Delhi, if you plan it well.
There is something magical about this city, its sunset, its narrow lanes, of course, the grand palaces and its people who welcome travellers with open arms. Whether you're on a shoestring budget or want to be treated like royalty in a five-star hotel, pick Udaipur without a second thought.
Distance from Ahmedabad: 260 km
Distance from Delhi: 662 km
Suggested Read: 38 Exhilarating Things To Do In Udaipur In 2022 For Tourists Of All Ages
29. Gir National Park: Wildlife

Gir National Park is counted among India's best national parks. Also known as Sasan Gir, this is where you get to spot Asiatic lions, Indian leopard, Golden jackal, and many others. Fret not about where you'll stay, you have many amazing resorts located at a safe yet close distance from the park.
Distance from Ahmedabad: 378 km
Distance from Dwarka: 282 km
Further Read: 46 Weekend Getaways From Delhi Under 5K To Take In 2022
Hope this list came as a helpful resource for you! So, which of these places are you visiting on your weekend? You can add these amazing places to your itinerary for your weekend getaway from top Indian cities and create some lifelong cherishable memories with your loved ones.
For our editorial codes of conduct and copyright disclaimer, please click here
Frequently Asked Questions About Weekend Getaways From Top Indian Cities
What are some good weekend getaways in India?
There are quite a lot of places in India where you can escape from the routine and enjoy a day or two in peace and nature.
1. Nashik
2. Hampi
3. Jim Corbett National Park
4. Dharamshala
5. Udaipur
6. Chail
Where can I go near Delhi this weekend?
Consider the places for your next weekend getaway near Delhi:
1. Agra, Uttar Pradesh
2. McLeodganj, Himachal Pradesh
3. Kasol, Himachal Pradesh
4. Pangot, Uttarakhand
Where should I go for a romantic weekend?
If you want to get all cuddly and lovey-dovey, here are some places that are perfect for couples:
1. Manali
2. Alleppey
3. Coorg
4. Udaipur
5. Pondicherry
Where can I go for peace in India?
If you are looking for peaceful getaways, then here are a few options that you can consider:
1. Auroville, Pondicherry
2. Silent Valley National Park, Kerala
3. Lansdowne, Uttarakhand
4. Orchha Madhya Pradesh
Where can I relax in India?
Here are some of the best places to have a relaxing vacation in India:
1. Rishikesh, Uttarakhand
2. Tosh, Himachal Pradesh
3. Gokarna, Karnataka
4. Pondicherry, Tamil Nadu
Which is the happiest city in India?
According to the last survey, Chandigarh has been declared as the happiest city in India.
How do you plan a romantic weekend getaway on a budget?
1. Choose someplace where you can drive by or get cheaper tickets for bus or flight.
2. Get deals on the hotel or resort you are planning to stay.
3. Or better, go camping in the jungle. You could bring your own tent and supplies.
People Also Read:
Weekend Getaways from Kolkata Weekend getaways from Mumbai Weekend getaways from Gurgaon
Comments
comments