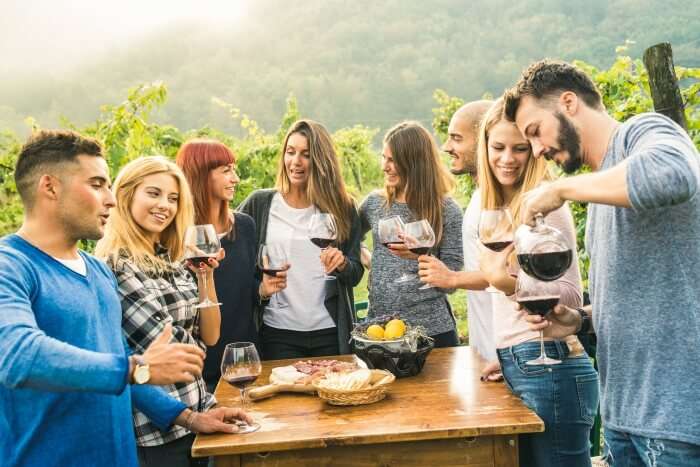 Paris, surrounded by little villages planted with vines is the center of the best French wine. Popularly known as the 'City Of Food', you cannot kick start your foodie instincts without tasting the wine of Paris. Wineries in Paris are the ideal places to savor and sample some of the most wonderful vintages from all over the country. The famous sparkling wine, champagne, is like an appetizer before a meal and is also considered as the national drink for celebrations. The wine growing centers even though less in number at present serve embellished and wistful purposes. You can visit Paris at any time of the year as it hosts wine tastings, exhibits, and courses year-round. Wine enthusiasts can sign up for a wine tasting in Paris if they want to learn more about the wine culture and the fresh produce of the country.
8 Best Wineries In Paris, France
Wine tasting in Paris is an opportunity one should not miss. If you want to witness the best wineries in Paris, here is a list of places you must visit.
1. Les Vignerons Parisiens

Being the first and only urban winery in Paris, one can not only buy wines at the cellar door but also take a tour of the cellar witnessing how wine is made from the reception of the grapes to bottling them. The wines in this winery are hand harvested by their team of pickers in biodynamic and organic wineries belonging to four growers in 'Visan' and 'Sabran' in the Southern Rhone. They have been working together for 15 years and are very particular as they make only one type of wine from one vineyard each. They don't believe in mixing of wineries or varieties and are very conscious about the authenticity. The winery tours are of 45 minutes and wine tasting classes of 2 hours. Les Vignerons Parisiens is located near the Metro way out 'Arts et Metiers'. If you are in Paris, don't forget to stop by it.
Address: 55 Rue de Turbigo, 75003 Paris, France
Opening hours: 11:00 AM - 1:30 PM, 3:30 PM - 8:00 PM
Must Read: 10 Incredible Ways To Ring In New Year In Paris
2. Le Baron Rouge

'Le Baron Rouge' is the popular local hangout for raw seafood lovers and for people who want to have a glass of wine that will not harm their budget. People gather here to take a break from the tiredness of walking around the market and shopping for stuff at the Marche d'Aligre. Although it is a small wine bar, customers crowd the place during winter weekends to have a taste of the fresh oysters. The oysters are complimented with a bit of lemon and a slice of bread. The wine here is poured straight from the barrel. The wine offered here can be termed as a bit "wild" as there are mixed remarks about the different varieties of wine. They range from "pretty good" to "what to do with the rest of the bottle." A lot of regulars hang out here and so you can feel a bit out of place. But the service provided by them is commendable and you can also ask for their recommendations as what to have there.
Address: 1 Rue Théophile Roussel, 75012 Paris, France
Opening hours: Tuesday – Thursday 10 AM -2 PM and 5 PM- 10 PM, Friday – Saturday 10 AM – 10 PM, Sunday 10 AM- 4 PM.
Suggested Read: Day Trips From Paris: Head Out To These 8 Places In 2022 For Invigorating Excursions
3. Au Sauvignon

Au Sauvignon is located around the corner from the renowned Hotel Lutetia. It has been owned and run by the same family since 1954. It is a small bar covered with glass. The wine bar has a cozy and chic appearance due to the high-end clientele and old-fashioned décor. Apart from its specialty in Sauvignon varieties of wine, the bar is also famous for the Beaujolais which is light and fresh reds. The place is famous for the wide sampling of some of the best wines. The premium wines are of the best quality but the regular wines offered there are also pretty good. The service offered by the staff members is warm, cozy and efficient. The food offered here is absolutely delicious. You will be amazed at the extremely varied selection of wine and cheese. The cheese plates are extraordinary and adding to that is the delicious tartines on Poilane bread.
Address: 80 Rue des Saints-Pères, 75007 Paris, France
Opening hours: Monday – Saturday 8 AM – 10 PM, Sunday 10 AM – 9 PM. Closed in August.
Suggested Read: 10 Paris Markets That'll Satisfy The Shopaholic In You
4. Le Baratin

Le Baratin is located in the 'Belleville' neighborhood in northeastern Paris. It is a small, noisy wine bar complementing its lively location. The bar menu features natural wine and Raquel Carena's personal brand of bistro cooking – sometimes light, sometimes heavy, but always heart-warming. Locals and visitors flock to this bar to taste its unique yet delicious food and wine. The wine cellar is one of the most famous cellars in Paris and is famous for its authentic varieties of wine. If you want to try your luck then visit the bar during lunch time. The dining room is harshly over lit during night-time but during the daytime, the sunlight reflects the beauty of the place. Food and wine lovers will surely climb the hill for this Belleville outlet. Also, the lunch menu for 19 euros is worth the price.
Address: 3 rue Jouye-Rouve, 75020
Hours: Closed Sunday and Monday; Open Tuesday-Friday for lunch and dinner; Open Saturday for dinner only
5. Le Verre Vole

This comfortable wine bar located a street or two from the stylish 'Canal St Martin' area is the heartthrob of the youthful food lovers. Proprietor Cyril Bordarier and gourmet expert Delphine Zampetti collaborate to offer a brilliant choice of wines, small and large cups. There's a decent choice of natural wines and antiques from small, up-and-coming vintners. The cooking is French and Spanish-motivated and dependent on the principle of simple excellent ingredients: try the great legacy tomato serving of mixed greens or container singed octopus; the cheddar and charcuterie plates are likewise phenomenal. The "cavistes" are constantly cheerful to prescribe wines from the racks to coordinate your dinner or sense of taste. The place is small so make sure to reserve several days ahead.
Address: 67 Rue de Lancry, 75010 Paris, France
Opening hours: Daily from 10:30 am to 2 am; kitchen open from 12:30 to 2 pm and from 7:30 pm to 10:30 pm.
Suggested Read: Move Over Paris! Ring In New Year In Nepal In These 15 Happening Ways In 2022
6. Frenchie Bar a Vins

Situated at the alley from Frenchie, 'Frenchie Bar a Vins' is a restaurant renowned for not offering reservations. This wine bar annex offers little plates at little costs, with a worldwide wine list including a lot of bottles available to compliment your pocket-friendly budget plans. You should try not to skip the house-smoked trout, one of head cook Gregory Marchand's trademark dishes. The bar can just accommodate 15 individuals, so in case you're hoping to be seated quickly, make sure to reach there by 7 sharp. The restaurant is a bit loud, chaotic and maybe also a bit uncomfortable for people who love quiet. The hustle bustle is due to the popularity of the restaurant. But the noise and chaos are well complimented by the delicious food and wine offered there.
Address: 6 rue du Nil, 75002
Opening hours: Open every day for dinner beginning at 6:30 pm
7. Fish La Boissonnerie

Fish La Boissonerie is located on the Western edge of the 'Latin Quarter'. This bar cum restaurant is the center of the 'American Community' in Paris. At this bar, the English language is much preferred over the French language. This bar cum restaurant is run by Drew Hare and Juan Sanchez. This wine bar cum restaurant is a paradise for wine lovers with different varieties of wine on the menu. The wine list is filled largely with organic and biodynamic wine and the cost is also reliable. The bar gives a cozy and warm feeling to the customers. One can stop by it for a quick glass or for a dinner at the bar. The bar cum restaurant in comparison to their sister restaurant Semilla is pretty gastronomic and a pocket-friendly bistro.
Address: 69 rue de Seine, 75006
Opening hours: Daily, 12:30-2:30pm and 7:30-10:45pm
Suggested Read: Enjoy The Best Of Nature At These 10 Best Parks In Paris
8. Musee du Vin

Musse du Vin is a museum situated among limestone pits from the Middle Ages that once filled in as basements for a religious community. The historical center's collections include in excess of 200 articrafts and also offers informational boards on how your most loved white, cognac, rose, and red champagne are brought to fruition. Generations of vintners, winery bosses, coopers and wine specialists have kept on refining their methods to deliver the most renowned wines. This site pays tribute to their professions, while likewise showcasing conventional and now and again mixed instruments, a considerable lot of which are never again utilized today.
After viewing and gathering information about the collections, guests are given a glass of wine from the museum's very own vineyard, Chateau Labastiaie, situated in southwest France. The historical center is likewise furnished with three vaulted basement rooms that fill in as an eatery where supper, as well as wine and cheddar tasting, are offered as advertised.
Address: 5, square Charles Dickens, Rue des Eaux 75016 Paris
Opening hours: The museum is open Tuesday through Sunday, 10 am to 6 pm. Closed Mondays and certain French bank holidays.
Further Read: 6 Lakes In Paris You Should Definitely Go For A Picnic Under The Sun
Paris with all the nature's ambrosia in the store is a perfect holiday spot for wine lovers. One can gather information about varieties of wine and how they are made from the wine regions near Paris. So, if you are a wine lover then plan your trip to France and experience the beautiful wine culture in Paris. You'll gain some memories worth remembering.
---
Looking To Book An International Holiday?
Book memorable holidays on TravelTriangle with 650+ verified travel agents for 65+ domestic and international destinations.
---