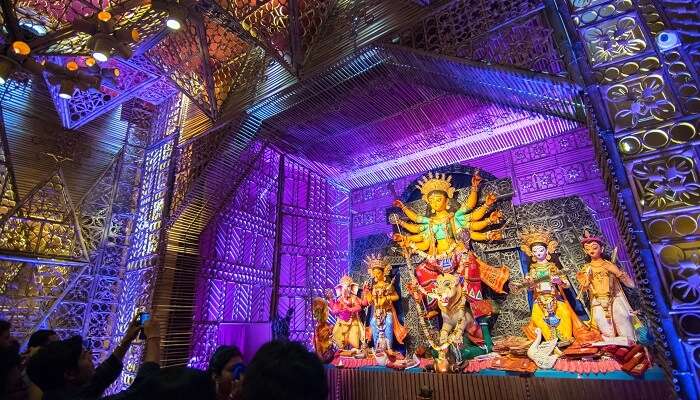 October is a month of vibrant festivals and bountiful celebrations. Starting from Navratri puja, the festive mood lingers on till Diwali and Bhai Dooj. The huge number of festivals in October in India makes it a joyous month when spirits are high, lots of family time is on the cards, and meals are nothing short of a feast.
Have a look at this list of the festivals in October and plan a holiday in India accordingly. But before that, take note of the dates of these festivals in 2022!
Top 13 Festivals In October In India To Celebrate This Year
From the traditional and religious festivals to the centuries-old folk music and art festivals, there are plenty of celebrations that take place in the country. Here is a list of a few of the many Autumn festivals in India that are celebrated together. 
Navratri
Dussehra
Durga Puja
Mysore Dussehra
Diwali
Mannarasala Ayilyam
Ramnagar Ramlila 
Bathukamma 
India Art Festival
Samsara Himalaya Yoga Festival
Rajasthan International Folk Festival 
Marwar Festival
Ashwa Poojan 
Religious Festivals In October In India
Here are some of the best and famous festivals celebrated in the month of October all over India with much grandeur and joy. 
1. Navaratri – Nine Nights Of Fasting And Celebration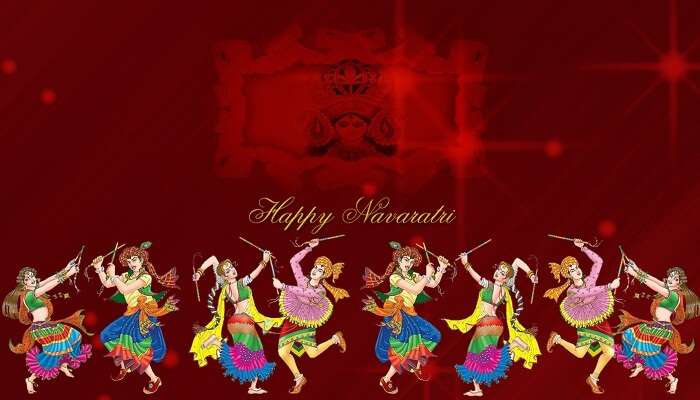 Navratri – a nine nights long celebration – is one of the most observed festivals in October, seen mainly in northern part of India and Gujarat. While the people of the northern states follow a religious fasting regime, those in Gujarat showcase a more vibrant fiesta. Every year people get engrossed in the highly enthralling Dandiya & Garba dances to honor and worship Goddess Amba in nine different avatars.
Key Attractions: Women is dazzling traditional lehenga-choli are seen dancing to the beats of Garba and celebrating with authentic Gujarati cuisine like Mandavi Paak, Singoda ki Kheer, etc.
Dates For Navratri 2022: 26th September – 5th October
Where: North India and Gujarat
15 Festivals In November In India That Call For An Early 2022 Winter Vacay
2. Dussehra – Victory Of Good Over Evil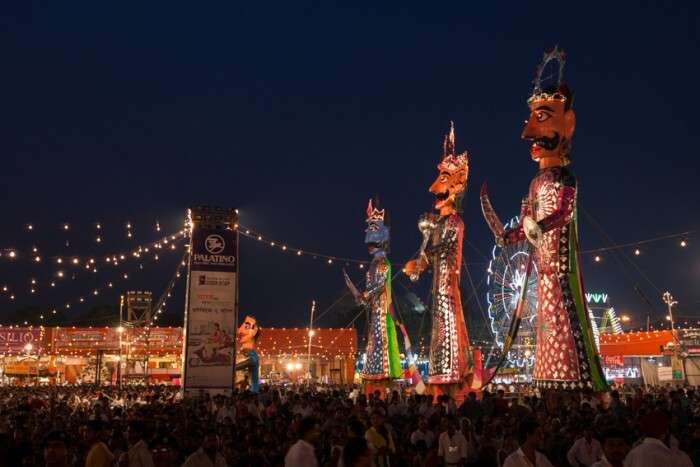 Dussehra is celebrated pan India with utmost joy and delight. This is one of the most popular festivals in October in India and marks the demise of Ravana, Meghnath, and Kumbhakarna. It is also popular as Vijaya Dashami. Along with Navratri, Ramlila is enacted for nine days and the 10th day – Dussehra – is celebrated with the enactment of Ravan Dahan.
Kullu Dussehra: Kullu (Himachal Pradesh) is also well known for Dussehra celebration with its international folk festival, phool yatra, Kullu fair, and Naina Devi fair. The 10 days' affair is also regarded as one of the popular festivals in October in India and is celebrated with international folk festival, Naina Devi fair, Kullu fair, and phool yatra.
Key Attractions: Burning of effigies of Demon king Ravana, Kumbhakarna, and Meghnath
Dates For Dusshera 2022: 5th October
Where: All over the country
Dussehra In India: 10 Places To Welcome The Best Celebrations In 2022
3. Durga Puja – Religious, Cultural, And Gastronomic Delight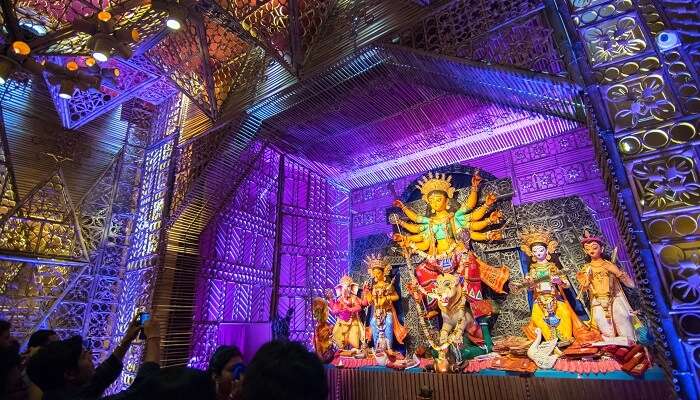 Durga Puja is among the most important festivals in October in India, celebrated by the Bengalis all over India. The gala affair engrosses the people with grand celebrations. Pandals are set up in every locality and Durga idol is worshiped there. People in their best attires go for pandal hopping (even during midnight) and extravagant feasting.
Key Attractions: 10 armed Durga idols, loud chants, and sumptuous food at the pandals
Dates for Durga Puja 2022: 1st October to 5th October
Where: Kolkata and other metropolitan cities
Festivals In Darjeeling: 8 Popular Celebrations On Queen Of The Hills In 2022
4. Mysore Dussehra – One Of The Popular Festivals Of South India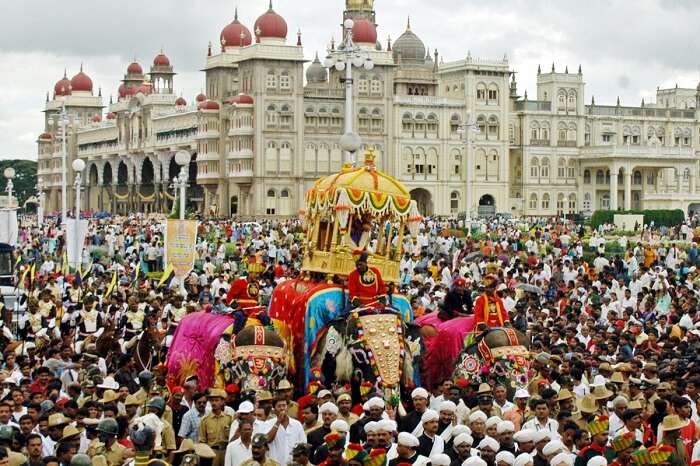 Mysore Dussehra, also known as Nada Habba, is an age-old festival celebrated in Mysore. Here, the gala victory of Chamundeshwari over Mahishasura is celebrated with grandeur. The last day is marked with a royal rally with a decorated elephant carrying the worshiped idol. Needless to say, this festival lights up the town of royalty and makes it look even more spellbinding. If you're planning a trip to Mysore this year, make sure you visit it in October and attend this festival.
Key Attractions: Elephant rally
Dates For Mysore Dussehra 2022: 26th September – 5th October
Where: Mysore
10 Festivals In Jammu And Kashmir: A Peek Into The Rich Kashmiri Culture (2022)
5. Diwali – The Festival Of Lights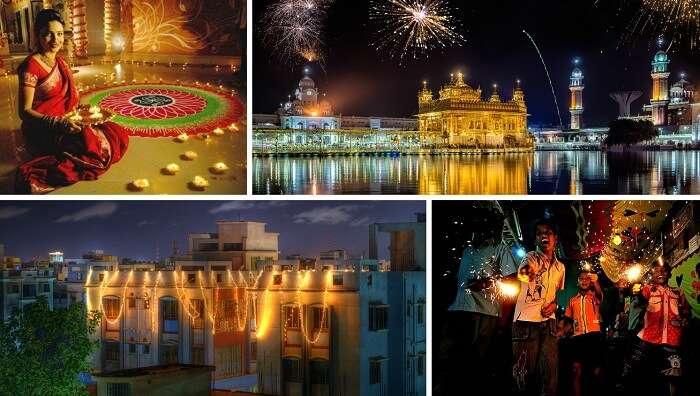 Diwali – the Festival of Lights – is one of the most celebrated festivals in India in October and November. It's one of the major events in October that are celebrated throughout the nation.
Celebrated by almost all communities throughout India, Diwali celebrates the return of Lord Rama, Lakshmana, and Devi Sita after 14 years of exile. The houses and streets are decorated with lights, diyas, and rangolis. People perform pujas, burst crackers, and distribute gifts on the occasion.
Key Attractions: Bustling crackers and beautifully decorated homes with clay diyas, candles, & strings of colorful LED lights
Date For Diwali 2022: 24th October
Where: Pan India
8 Union Territories Of India And Their Mystic Beauty
---
Planning your holiday but confused about where to go? These travel stories help you find your best trip ever!
---
6. Mannarasala Ayilyam – Regional Traditions Of Alleppey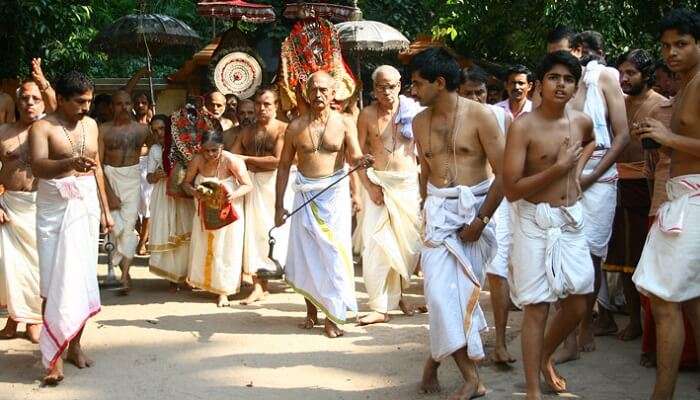 Mannarasala is a temple dedicated to the serpent Gods in the Alappuzha district of Kerala. Interestingly the temple has a woman priestess. Ayilyam festival is one of the less popular festivals in India. However, it is celebrated in the region with grandeur and delight. So, make sure your Kerala trip itinerary included a visit to this festival as while it may not be very famous, it is surely a celebration of its kind.
Key Attractions: Rally with serpent idols, incense sticks, & prayer hymns
Date For Mannarasala Ayilyam 2022: 16th November
Where: Mannarasala Sree Nagaraja temple in Alappuzha District, Kerala
36 Most Famous Festivals Of India You Must Experience In 2022
7. Ramnagar Ramlila – A Narrative Of Ramayana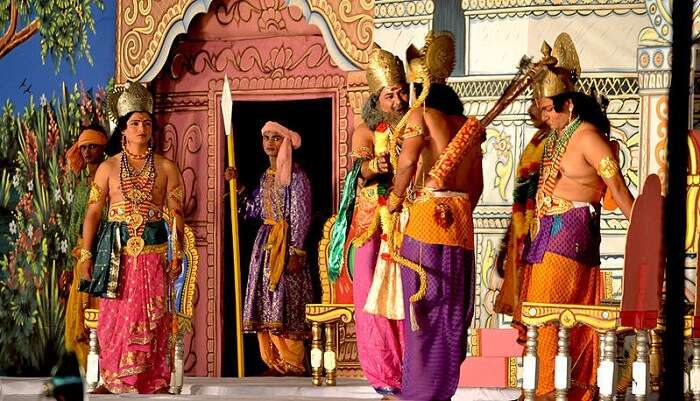 Image Credits: Ankit Gupta for Wikimedia Commons
Whoever follows the festivities and the mythological stories of the Hindu culture knows the importance of Ramlila. Ramlila is a theatrical performance that narrates the tale of Hindu epic Ramayana and takes place all over the country during the time of Dussehra. It is among the famous festivals in October in India that is celebrated by the Hindus. The oldest one is Ramnagar Ramlila that has been up and running for almost 200 years now. The beauty of this festival is the extravagant sets, the performance that takes place against the banks of River Ganga in Varanasi, and the intense feeling that the artists manage to develop.
Key Attractions: The narrative tale of Hindu epic Ramayana
Dates For Ramnagar Ramlila: NA 
Where: Varanasi, Uttar Pradesh
15 Offbeat Places In South India 2022 That Will Make You Go 'WOW' With Natural Beauty!
8. Bathukamma – Celebrate Life With The Southerners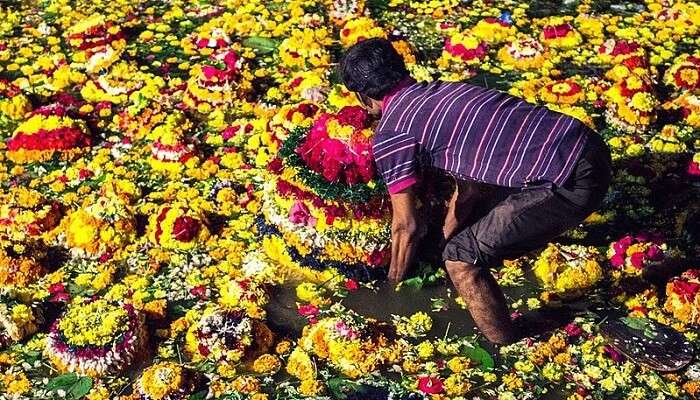 Image Credits: Ailiajam for Wikimedia Commons
Famous in the state of Telangana in the southern part of the country, Bathukamma is a festival that takes place around the same time as that of Navaratri. This is a flower festival that is devoted to celebrating life and Goddess Maha Gauri. For those who wish to celebrate the happiest festivals in India can consider being a part of Bathukamma. Celebrating the incarnation of Goddess Durga that is known to be a life-giver and the Goddess of womanhood, this town goes gaga over various shaded flowers. There is a temple tower structure that is completely built using flower arrangements. It is a celebration like no other.
Key Attractions: Women singing old folk songs and procession of the Bathukammas on the last day
Dates For Bathukamma 2022: 25th September
Where: Telangana
Longest Rivers In India: Know About The Important Water Bodies Of The Country In 2022!
Folk & Cultural Festivals In October In India
These are some of the best art and cultural festivals which are celebrated with much vigour throughout the country. 
9. India Art Festival – The most contemporary art fest in India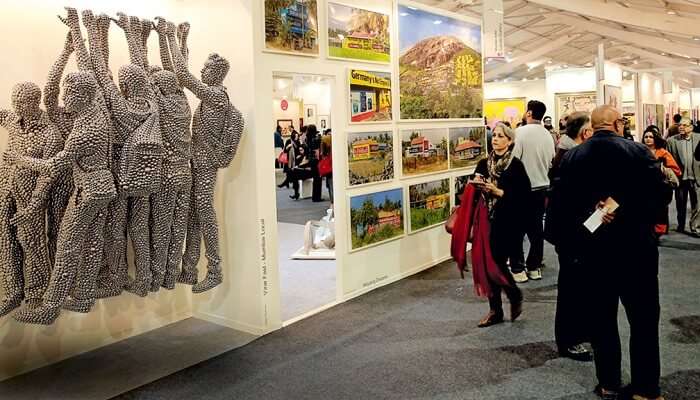 India Art Festival is a contemporary art festival where art buffs, art buyers, connoisseurs, history freaks, publishers, and critics gather for seminars and exhibitions. The objective is to provide a platform for social and business networking in the field of art and culture. One of the most popular cultural festivals in India, the India Art Festival showcases excellent pieces of art.
Key Attractions: Artworks of artists, painters, and sculptures
Dates For India Art Festival 2022: 28th Apr – 1st May
Where: New Delhi
Discover 6 Incredible Rain Forests In India For A Memorable Wildlife Adventure In 2022!
10. Samsara Himalaya Yoga Festival – Melodies Of Peace & Good Heath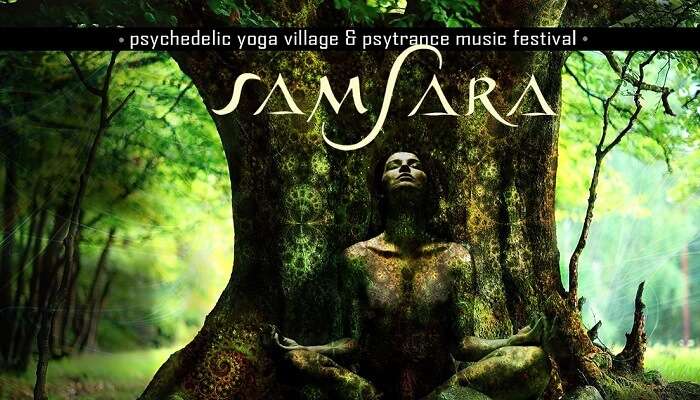 Conducted by Arya Marga Yoga, Samsara Himalaya Yoga festival is a grand annual event. It is one of the most stunning festivals in October and is meant for yoga enthusiasts and music admirers. People from all over the world with similar interests join in for the celebrations. Enthusiasts assemble at this festival to be a part of the therapeutic and evolutionary arts of sound and vision healing by skilled professionals.
Key Attractions: Interaction with Yoga, Qigong & Tai Chi trainers, Reiki experts, professionals of Ayurveda, and acupuncture specialists
Dates For Samsara Himalaya Yoga festival 2022: To be announced
14 Vibrant Festivals In August In India: Save The Dates To Rejoice In 2022
11. Rajasthan International Folk Festival – Celebrate TheArt & Culture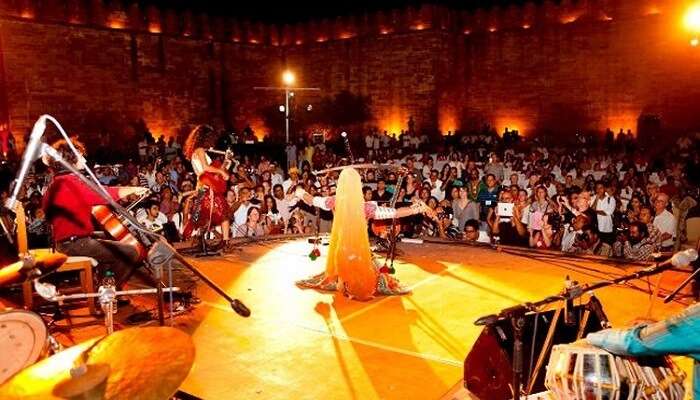 Jodhpur RIFF or the Jodhpur International Folk Festival is one of the fascinating cultural festivals in India. It is celebrated in Mehrangarh Fort of Jodhpur and patronized by Gaj Singh of Marwar. It is an international cultural gig that showcases Rajasthani traditional folk dances, music, and artwork. The event has been declared as the People's Platform for Creativity and Sustainable Development by UNESCO.
Key Attractions: Incredible concerts and folk events
Dates For Rajasthan International Folk Festival 2022: 25th March  -30th March
Where: Jodhpur, Rajasthan
14 Most Unusual Beaches In India That Will Make You Fall In Love At First Sight In 2022!
12. Marwar Festival – Explore The Colors Of Courage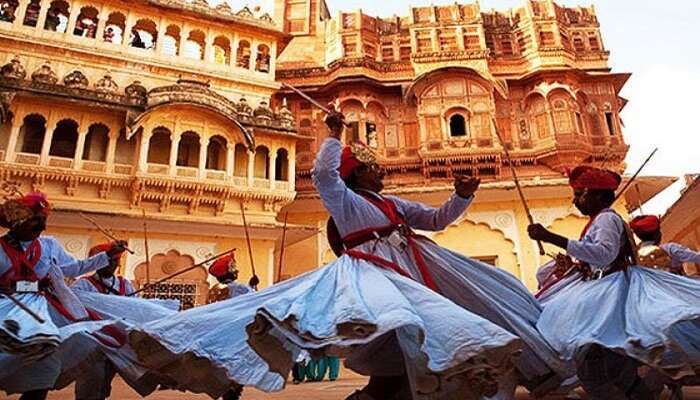 Maand is one of the most colorful Indian festivals in October. It is celebrated during Sharad Purnima for two days. Maand festival showcases traditional forms of dance and music that reflect passion and gallantry of the Rajasthani rulers. Music and dance performances are held in Umaid Bhawan Palace, Mandore, and Mehrangarh Fort. The festival enhances the beauty of these forts and it is definitely a sight worth witnessing!
Key Attractions: Horse riding, magic shows, puppet shows, Camel Tattoo Shows, and Horse Polo
Dates For Maand festival 2022: 12th October – 13th October
Where: Jodhpur, Rajasthan
14 Most Unusual Beaches In India That Will Make You Fall In Love At First Sight In 2022!
13. Ashwa Poojan – Horses Are Warriors' Best Friend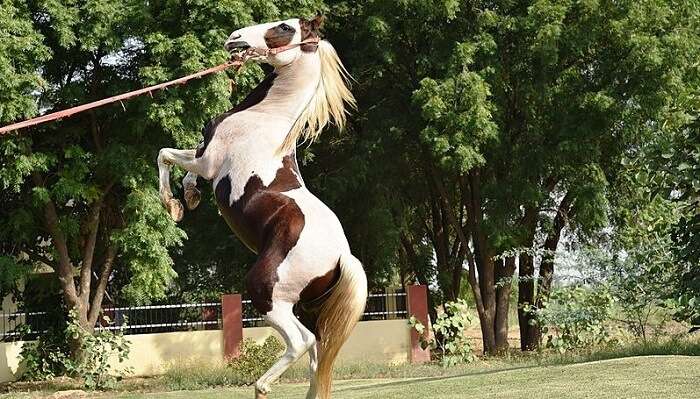 Image Credits: Scmehta64 for Wikimedia Commons
Ashwa Poojan is among the unique and lesser known Autumn festivals in India. This pooja is carried forward by the Royal Families of Mewar that reside in Udaipur. Ashwa Poojan is the festival where the Horses are worshipped by Mewaries on the last day of Navaratri. The festival is celebrated to honor the relationship that a warrior and his horse has. Rajasthanis have witnessed tons of battles where their rides have turned out to be the best support. The Royal horses are worshipped by the head of the Royal Family and the performance of the palace band accompanies it.
Key Attractions: Drool-worthy cuisine of Rajasthan
Dates For Ashwa Poojan: October
Where: Udaipur, Rajasthan
Scuba Diving In India: Explore The Breathtaking Underwater Universe At The 14 Best Spots In 2022
Are you excited to indulge into these festivals and enjoy a time like never before exploring the culture of the country? Then save the dates of these festivals in October in India and plan a family holiday in India. Do not forget to share your experiences with us.
Disclaimer: TravelTriangle claims no credit for images featured on our blog site unless otherwise noted. All visual content is copyrighted to its respectful owners. We try to link back to original sources whenever possible. If you own the rights to any of the images, and do not wish them to appear on TravelTriangle, please contact us and they will be promptly removed. We believe in providing proper attribution to the original author, artist or photographer.
Please Note: Any information published by TravelTriangle in any form of content is not intended to be a substitute for any kind of medical advice, and one must not take any action before consulting a professional medical expert of their own choice.
Frequently Asked Questions About Festivals In October In India
Which festival comes in the month of October?
Some of the best festivals in October in India are Navratri, Mysore Dussehra, India Art Festival, Diwali, Samsara Himalaya Yoga Festival and Marwar Festival.
What are the key attractions of Marwar festival?
One of the most colourful festivals in India in October, Marwar festivals key attractions include horse riding, magic shows, camel tattoo shows, puppet shows, and horse polo. Happening in Jodhpur, Rajasthan this is one of the best places to visit in October in India.
Which festival comes in the autumn season?
The most awaited autumn festival in India falls in late October and early November. It is Diwali, the festival of lights which is widely celebrated by people all over India.
What is Gadbade festival?
Gadbade festival is celebrated in Haryana on Sharad Purnima which falls in the month of October or November. On this particular day, the moon is brightest in the entire year.
Which are the famous folk and cultural festivals celebrated in India in October?
The famous art and cultural festivals celebrated throughout the country in October are India Art Festival, Rajasthan International Folk Festival, Samsara Himalaya Yoga Festival, Marwar Festival.
Which are the popular religious festivals celebrated in October?
Dussehra, Mysore Dussehra, Mannarasala Ayilyam, Diwali are some of the best and famous festivals celebrated in October in India.
Which festival is on 24 October?
24th of October has been celebrated as United Nations Day since 1948. In 1971, the United Nations General Assembly recommended that this day be observed by the Member States as a public holiday.
What celebrations are in spring in India?
Vasant Panchami, Khajuraho Dance Festival, Goa Carnival, Gangaur, Holi, Vasant Navaratri are some of top celebrated spring festivals in India.
---
Looking To Book An International Holiday?
---
People Also Read
Festivals In April Festivals In September In India Festivals In July In India
Comments
comments