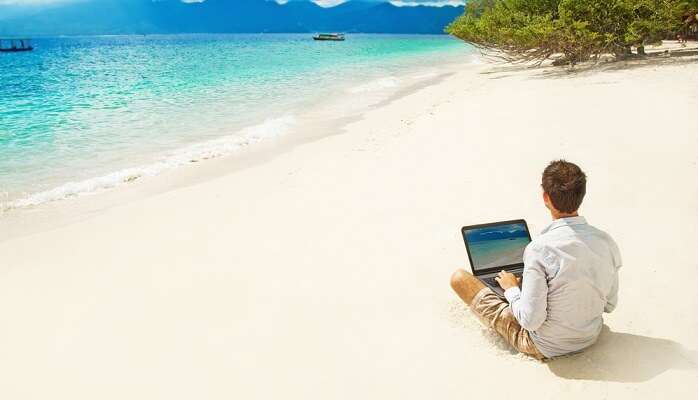 Workation is a buzzword that means vacation that allows you to work while incorporating elements of leisure. Many leisure destinations have adapted to this new concept and have become work goals in India. Relaxingly working on your laptop admiring the beautiful view in front has become the new code for a stable working life. It's the perfect retreat for remote workers and freelancers. Here are some of the workation destinations in India where you think out of the box and bring imagination into reality.
1. Mumbai

The city of dreams is the commercial capital of India. The splendour of the city and the traditional structures have something for everyone. It is packed with cultural hotspots, golden beaches and pretty bistros to relax and unwind. One can witness a vibrant atmosphere in Mumbai at night. Moreover, it is safe for women to venture out as the city never sleeps. Mumbai will indeed serve as one of the fun workation destinations in India and it should be on your travel list if you love to explore.
2. Bir

Bir in Himachal Pradesh is a wonderful place in the majestic Himalayas, offering you a calm, quiet and lush place to work and relax. You can discover Bir at its best by walking the narrow streets admiring the beauty around you. Bir is known as the paragliding capital of India. Here you can try paragliding or explore monasteries to experience Tibetan culture. Take a full day to soak up the scenic surroundings of Bir and enjoy being at one of the most serene workation destinations in India.
Romance In The Hills: 15 Best Honeymoon Destinations In Himachal Pradesh
3. Darjeeling

Known as the Queen of the Hills, Darjeeling is a scenic hill station located in the northern part of West Bengal, nestled between Nepal, Tibet, and Bhutan. Surrounded by the Himalayas, this beautiful place is always up to soothe your senses. This is the perfect workation destinations in India for an unforgettable work time experience, where you can spend time admiring the scenic peaks and sipping delicious tea as you work.
Why Visiting Darjeeling In Monsoon Is The Best Travel Decisions Ever
4. Udaipur

One of the top Workation places in India, Udaipur is popularly known as the "City of Lakes". It is located in the royal state of Rajasthan and is officially the capital of the Kingdom of Mewar. Udaipur has a rich cultural background with a great past. This city has a traditional aura that is aided by picturesque scenery and architectural grandeur. The happiness of working remotely in Udaipur cannot be described in words. A swim in the blue waters of Lake Pichola in the middle of the Aravallis will refresh you and allow you to work in a lively environment.
5. Masinagudi

Masinagudi is a beautiful hill station located in the Nilgiri region of Tamil Nadu. It is the perfect place to enjoy the blooming nature. The main attraction of Masinagudi is the Mudumalai WildLife Sanctuary. You can enjoy bird watching and go for a private jungle safari here. This will be one of the perfect workation destination in India for anyone who loves to get away from the chaos of the city and wish to choose a quiet getaway to focus on work.
20 Places To Visit Near Mysore For A Great Vacation In Karnataka
6. Shillong

Shillong is a picturesque hill station in Meghalaya, often referred to as the "Scotland of the East". It is nestled among pine forests, lush trees and delightful waterfalls. Shillong has a pleasant climate throughout the year, which means it's a great place to escape the scorching heat. This place is also the music capital of our country and hosts many music festivals all year round. If you want to take a break from socializing and peacefully focus on work then Shillong will definitely serve as one of the most peaceful workation destinations in India.
7. Coorg

Coorg, also known as the Scotland of India, is amongst the perfect co-working places in India to relax, rejuvenate and work in peace. It's famous for its stark views, diverse wildlife, top-notch coffee, and Kodavas, the ethnic warriors of Coorg. It is also one of the most pollution free places in India that makes it a flawless workation destinations in India. This mountain station is called Kashmir of South India and with such a compliment, one doesn't need more reasons to visit the place.
10 Awesome Places To Visit Near Coorg On Your Next Holiday To Karnataka
8. Dharamshala

The popular mountain town of Dharamshala is indeed a gem of Himachal Pradesh. It offers a serene escape from the hustle and bustle of the city. Dharamshala is a place to live in harmony with nature and enjoy the waterfalls and stunning glaciers. Dense forests of pine, oak and rhododendron trees, its trails are sure to leave you with a peaceful atmosphere. Locals' warm hospitality and simple life make the city on this incredible hill all the more inviting. If you are planning to work away from home in India this is one of the best workation destinations in India for you.
9. Goa

Goa, a state located in the west of India, is one of the most wonderful, beautiful and favorite tourist destinations in India. If you are a beach lover, bewitching workation in Goa is what you need. The roaring waves, sun-kissed beaches, and enthralling churches of Portugal influence will inspire your inner creative thinker to be more productive at one of the coolest workation destinations in India. Immerse yourself in the magic of clear blue water and feel the waves gently touch your feet. Enjoy the delicacies of Goa and take time to work and relax.
8 Most Amazing Places To Visit In Goa In December
10. Varkala

Varkala, a municipality in the Thiruvananthapuram district of Kerala, is one of the best workation destinations in India as it meets all modern needs and also has a number of fantastic lakes, beaches and forts to visit when not working. Its Papanasam Beach is famous for a natural spring that is believed to have medicinal and healing properties. This place also offers excellent tourist accommodation and is fast becoming a popular health resort with many Ayurvedic massage centres.
Besides the aforementioned places, there is numerous best workation destinations in India. So, take some time out and rejuvenate yourself by visiting these places. Make your work time more fun while soaking up the magical views of these destinations. Check out the best tour packages offered by travel triangle and experience a wonderful vacation while working.
For our editorial codes of conduct and copyright disclaimer, please click here.
Frequently Asked Questions about Workstation Destinations in India
Which are the best workstation places in India?
There are numerous Work away from home places in India. Some of the best ones that you can plan to visit include Goa, Jaipur, Varkala, Dharamshala, Neemrana Fort, Lansdowne, Darjeeling, Udaipur, Mumbai, and more.
Is it safe to travel in India during Covid?
The tourism industry is slowly reopening, and you can visit most of the places in India and more. But don't take our word for it, just make sure you travel in a small group and keep refreshing the latest guidelines for Covid. Having said that, your safety is always in your hands.
Which are the best beaches in Goa where I can enjoy working?
The top beaches in Goa where you can focus on work while enjoying the majestic views include Candolim Beach, Calangute Beach, Baga Beach, Benaulim Beach, Varca Beach, Cavelossim Beach, and more.
Which are some essentials one should keep while travelling?
Some of the most important travel essentials to keep during your travel include backpack, credentials, power bank, mosquito repellant, phone charger, toiletries, water bottle, mini first-aid kit, and enough cash.
Which are the best places in India where I can enjoy adventurous activities while working?
Some of the best places in India to enjoy are:
Goa - Beaches and water activities
Himachal Pradesh - Trekking, paragliding, skiing and rafting
Kerala- Surfing, rafting, scuba diving etc.
Coorg- Trekking, river rafting and Jeep safari