Turkey, is an amalgamation of culture, nightlife and the best cuisine – the trans-continental country is where different continents combine and create a magical land to explore and unravel. Turkey is all about culture revival, a stunning coastline to experience the beach life or sip on a cocktail while witnessing the most surreal sunset or taking a hot balloon air ride in the most scenic landscape. Amogh decided to tick this destination off his bucket list with his better half and share this land of paradise with her to jot down a 7 days honeymoon trip to Turkey where they had the best time of their life! Let's have a closer look at their surreal experiences on their 7 days trip to Turkey and what their itinerary looked like.
The reason I chose this destination because it simply is full of splendid beauty and so much culture to explore. Turkey is an offbeat destination with a combination of ancient culture and modern architecture to marvel at. Each day and each city in Turkey has something unique to offer, the distinct variety of places to see were a catch for me and I decided to take a 7 days trip to Turkey.
Details Of Our Turkey Itinerary For 7 Days
Trip Type: Honeymoon
Cost: INR 68,630
Duration: 7 days
No. of people: 2
Inclusions: Breakfast, Lunch, Guide, Sightseeing, Transfers, Airport transfer
Exclusions: Dinner, Travel insurance, Visa, International flights
Travel Agent From TravelTriangle: White Rabbit Holidays
Day-Wise Itinerary Of Our 7 Days Honeymoon Trip To Turkey
Day 1: Arrival and cruising the Bosphorus river
Day 2: Visited beautiful mosques in Istanbul
Day 3: Visiting Cappadocia
Day 4: Hot Air Balloon Ride
Day 5: Visited Ephesus (old city)
Day 6: A visit to Cotton Castle
Day 7: Departure
This Is How You Can Impress Your Soulmate On Valentine's Day In Turkey!
Weather In Turkey In July
Turkey in July can be slightly hot and humid with average temperatures hovering around 28 degrees Celsius. With a potential of humidity, it can be slightly warner during the day, but pleasant in the evenings with the sea breeze. Turkey is at its best during the warm gatherings of summer and experience a quintessential sunset with your loved ones. The estimated maximum temperature in Turkey in July would be 34 degree celsius.
Best Experiences On Our 7 Days Honeymoon Trip To Turkey
Know about how we planned our trip and what activities we did there which made our few days away from home a truly memorable experience.
1. Cruising The Bosphorus River




We were awed by a surreal cruise experience in the night on Bosphorus river. We enjoyed a wholesome meal on the cruise which includes the delicious authentic Turkey cuisine. To witness the scenic beauty of Istanbul amidst mouth-watering delicacies was an unforgettable experience on our first night.
2. Admiring The Beautiful Mosques In Istanbul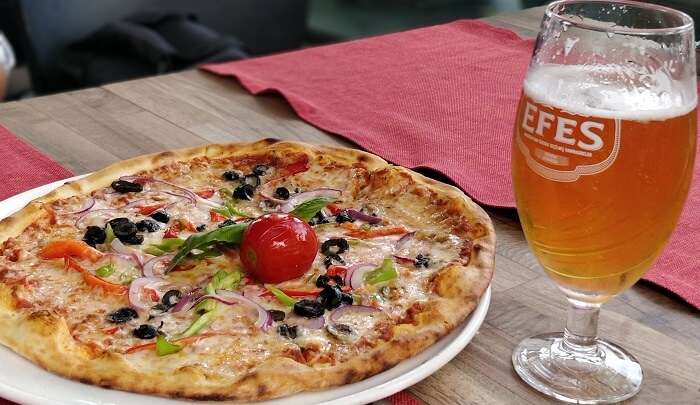 We spent a day exploring the wonderful architecture of Istanbul – we were simply amazed by the intricate details and vibrant colours of the mosques. Istanbul is a treat to the eyes with rich culture and heritage to explore. All attractions can easily be covered on foot and even if you want, you could take the local transport which is good as well.
Celebrate 2022 Christmas In Turkey And Make It Merry With These Fantastic Experiences
3. Hot-Air Balloon Ride In Cappadocia






We were absolutely spell bound by the gigantic balloons and the whole experience of being thousands feet above in the air as we slowly glide upwards to witness panoramic views of Turkey. Cappadocia is famous for unqie rock formations and hot air balloon rides that are plenty. The vast mountain ranges and the fairy chimneys at Goreme were absolutely insta-worthy. In the day we covered a short hike in the mountains and ended the day by sipping local wine on our terrace whilst breathtaking views of the city.
4. Visited The Beautiful Town Goreme





In the evening we took a leisurely stroll in Gorem, a beautiful town located in the Cappadocia region of Central Turkey. The town boasts stunning cave churches, an open air museum and frescoes from 10th to 12th centuries.The town was painted in hues of yellow and it looked straight out of an ancient fairy tale movie with caves.
Turkey Visa For Indians: How To Apply In 2022, Requirements And Tips
5. Visiting Ephesus – Old City Tour




Ephesus is the ancient city of Turkey where we witness the ruins that reflect centuries of old history of Turkey, from classical Greece to the Roman empire. We took a stroll along the paved path, baths and monumental relics that took us back in time. In the evening we enjoyed a stroll on the sea side and went bar hopping!
6. Visited The Cotton Castle – Pamukkale




Pamukkale is the magical cotton castle that has white rocks looking like soft cotton with sparkling blue water streaming through them as hot water springs! This was a surreal sight to witness and the most unique wonders of nature I had ever witnessed. It is a natural site in Turkey which is basically carbonated water flowing through rocks to make it look shimmering and snow-white in colour.
9 Handy Turkey Travel Tips To Make Your Vacation Memorable And Hassle-free
7. Shopping At Grand Bazaar



As the name suggests, it the grandest mall in Turkey that has everything from electronic products to apparel and classy decor. It is a great place to buy souvenirs from, spent a half day in the mall and ended our night with the Bosphorus cruise where we got lucky enough to spot Dolphins.
Best Time To Travel To Turkey
The best time to travel to Turkey would be during the months of April, May, June and October. July and August are considered to be the hottest months in Turkey that observes a maximum temperature of 40 degree celsius. Turkey is at its peak during October as it's slightly chilly and spt for sightseeing tours and excursions.
What To Pack For Turkey 7 Days Trip
A trip to Turkey in July means it's going to be slightly hot and humid. The average temperature hovers around 28 degree celsius, so you could plan on taking light wear clothes to keep your body cool. These are some of the items you must carry on your trip to Turkey in July:
Hat
Sunscreen
Walking shoes
Stole (dupatta) since many mosques would require that
Our Experience With TravelTriangle
Our experience with TravelTrianle was really good, everything was made hassle-free and we had an amazing trip. From sightseeing to our accommodation everything was arranged effortlessly and was top notch. Out stay at the hotel was very good and the staff was very hospitable. Cheer to team TravelTraingle!
7 Days In Turkey That Gave Me And My Mom All The Time And Togetherness We Needed!
Amogh's 7 days honeymoon trip to Turkey seemed surreal with lots of amazing experiences to be shared as travel stories later. If you want to experience this paradise with your better half or your loved ones as well, what are you waiting for? Plan a hassle-free trip to this trans-continental land that is a mix of culture and scenic landscape and experience the trip of your life!
Common Queries For 7 Days Honeymoon Trip To Turkey Trip
What food is available in Turkey?
Known for its authentic cuisine, these are the few famous food items of Turkey – Iskender Kebab, Manti, Mezze, Baklava, Shish Kebab, Turkish Apple Tea, Gozleme and Karniyarik.
Is there a specific season to visit Turkey?
You can visit Turkey all year-round. However, Spring and Fall is the best season to travel.
Is English spoken in Turkey?
Turkish is the official language of Turkey. However, english is a widely spoken language.
Is Turkey safe to travel?
Yes, turkey is safe to travel and spend a vacation in.
Is Turkey expensive to visit?
No, Turkey is not expensive to visit, you can plan a stay for 7 days within a budget.