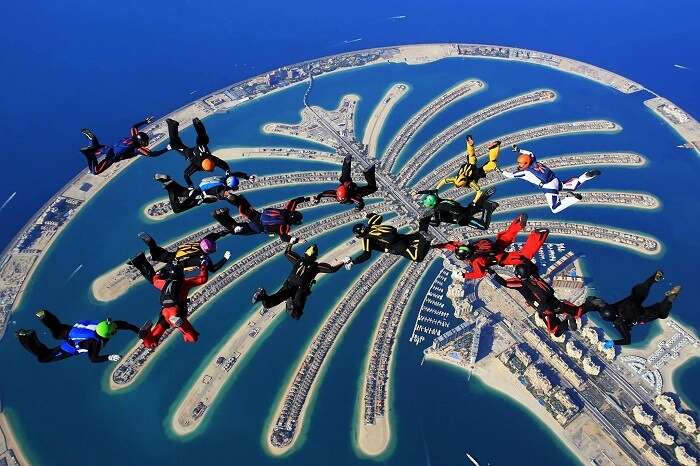 If you're planning an adventurous vacation this summer, you better start taking notes. So many new adventure spots have opened up in the last few years that you shouldn't miss out on. The old all-time favorites are equally great, such as the fabulous desert safari. Apart from this, the world's longest zip line at Jebel Jais is an adrenalin kicker of the highest caliber. Check out more such amazing adventures around the world.
12 Amazing Adventures Around The World
If you're the kind who appreciates fun vacations with loads of adventure thrown in, you'll want to check out our list of the 12 most amazing adventures around the world:
1. East Africa
When you're considering adventure vacations, don't forget to include East Africa in your itinerary. It's the home of thousands of gorillas, elephants, and lions. East African safaris are great fun. There are a number of huge national parks where these glorious beasts roam free. Of course, you cannot hunt any animals in East Africa, but you can shoot a number of pictures and videos of them. If you want to enjoy a walking safari, you can sign up for one in Zambia, where they are still allowed. Check out the incredible Victoria Falls where 546 million cubic meters of water falls over the edge every minute.
2. Whistler Mountain
For the outdoorsy sports fan, there's no place better than the Whistler Mountain in Canada. During winters, the mountain has excellent ice slopes where you can go ice-skating, dog sledding, skiing, tobogganing, and much more. The Whistler Mountain is just what you need to kick your adrenaline into hyperdrive. It is touted to be one of the best places for adventure travel by many online publications.
Must Read: 15 Rivers Of The World: Soak In The Mesmerizing Sights Around The World
3. Ras Al Khaimah
Ras Al Khaimah's latest addition to the world of adventure is one of the best adventure activities in the world. The Jebel Jais zipline is currently the world's longest zip line, certified by the Guinness World Records. Put your safety gear on and get ready to plummet from the top at speeds of 150kph, taking in the fabulous views of RAK as you zip past.
4. Australia
Australia is one of the coolest places to visit when you're longing for adventure. Australia's sprawling outback is fabulously rugged, offers varied landscapes and is full of incredible flora and fauna. You can enjoy 4WD driving, trekking, camping, snorkeling, billybong hunting, wildlife watching, and camping with the aboriginal people. There's no end to the amount of fun you can have in this wild countryside.
Suggested Read: 20 Weird, Strange Islands Of The World You Should Visit In 2022
5. Iceland
Iceland is a volcanic arctic region, with mild summers and cold winters. The incredible 3,700 miles of coastline is surrounded by wide grassy basins, volcanic mountains, and glacial lakes. It's the perfect place for hiking along fields covered in purple lupines, interspersed with numerous peaks, cliffs, and waterfalls. Apart from this, there are a huge number of hot springs in this largely uninhabited country. The aforementioned reasons make it a trekker's and an adventurer's paradise.
6. Patagonia
Patagonia offers miles and miles of spectacular mountains and steppes scenery. The Torres Del Paine National Park offers adventure activities like horse riding, trekking, and mountain bike. Apart from this, The Atacama Desert offers spectacular moonscapes and the Southern Hemisphere's largest geyser field. The Lake District's beautiful volcanoes, forests and lakes, and the lovely volcanic Easter Island are a sight to behold.
Suggested Read: 10 Marvelous Rock Formations In The World Which Will Leave You Mesmerized!
7. Scandinavia
Imagine going dog sledding, with your sled driven by five beautiful huskies! Travel the routes taken by ancient travelers, passing traditional settlements along river coasts. The 6,000-foot peak Oxstindarna, Norway's highest peak is a climber's dream. Fish in a fresh, untouched lake and explore Sweden's untouched birch forests. Stay in cozy farmhouses and enjoy the incredible hot springs.
8. New Zealand
New Zealand is one of the most magical places to travel. The fun part is enjoying the cool breezes from the deck of a boat or a kayak cruising the backwaters and the coasts. Climb the string of mountain peaks and rugged rocks in the country's South Island. Enjoy the views from the mountain tops and breathe in the unpolluted air. The incredible landscape of New Zealand and its many climbing opportunities definitely make this country a must-visit for fun and adventure lovers.
Suggested Read: 20 Famous Bridges In The World That Are The Icons Of Modern Architecture
9. Masai Mara
The Masai Mara's wildlife safaris are a class apart. If you're into wildlife, then do visit the Serengeti National Park in Tanzania. You can enjoy watching lions, rhinos, elephants, leopards, and buffaloes – hailed as the 'African Five'. Apart from taking wildlife safaris, you can explore the national parks, trek for miles, mingle with various indigenous tribes, and so much more.
10. Chiang Mai
Thailand's Chiang Mai is an unmissable destination for adventure travel. This city is perfect for some wildlife exploration and elephant safaris. Sample the delicious native foods, such as banana coconut pudding in the hot afternoons. Go bamboo rafting in the river. Explore the Chiang Dao Caves and discover their mysteries. Near the caves, there lies a village where you can marvel at 'Karen Long Neck Ladies' – women who deliberately extend their necks, like certain African tribes, with metal neck extenders.
Suggested Read: 8 Best Red Sand Beaches Around The World To Add A Twist To Your Beach Vacay
11. Great Barrier Reef
At the Great Barrier Reef, you can enjoy miles and miles of diverse flora and fauna, plus a million fun activities. There's a myriad of things to do, like diving, snorkeling, sailing, exploring the many reef islands, and helicoptering over the Reef. The Great Barrier Reef is a rich, diverse ecosystem that begs to be explored both under and above water. Now that's a heck of an adventure!
12. Dubai
This desert safari in Dubai is one of the most adventurous things to do in the world. You'll be taken to the desert via the most scenic routes in a luxury 4WD. Once you're in the desert, you can sit back on silk cushions in a huge decorated Bedouin tent wearing native clothing. You can pursue the most amazing adventures around the world in Dubai like dune bashing, sand boarding, quad biking, camel riding, dune sliding, and more. The fun part is the cultural package and a full buffet dinner. Bon Appetit!
Further Read: World's Dangerous Airports: Where Take Off And Landing Could Be A Matter Of Life & Death
If you have a penchant for adrenaline, make a beeline for these 12 amazing adventures around the world. You can choose the kind of weather, landscape, and level of habitation that suits you. If you want to explore lonely stretches, we've got you covered. There's a myriad of manmade adventures in the world for you to pursue, so don't waste any more time in contemplating and book a world trip now!
Priya is an avid travel writer who specializes in adventurous travel writing. Her blogs give deep insight into various tourist places and act as a perfect travel guide for someone who is traveling to a place for the first time. 
Comments
comments