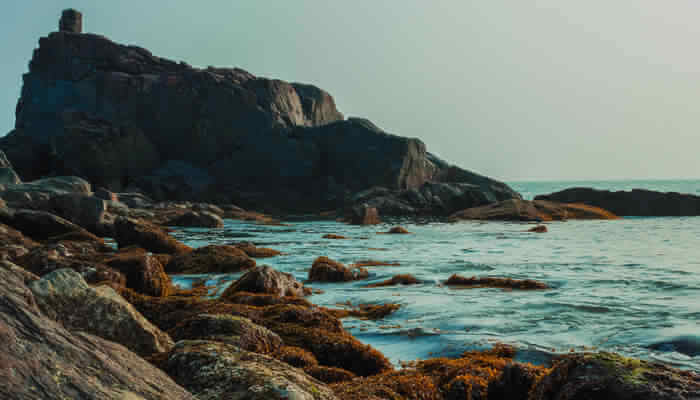 Beaches are breathtaking, aren't they? But, if you are anywhere near Belgaum, which is a popular city in Karnataka, chances are that you can explore several beaches that are located around. But, because not many are aware of them, these spots are quite underrated but equally enthralling as well. For those who have a few days off of their schedule and can plan a small getaway, we would suggest that you opt for these amazing beaches near Belgaum, if possible. To help you plan your trip better and without complications, we sorted through some of the best options around Belgaum and listed them below for you to go through it.
20 Best Beaches Near Belgaum
As we mentioned before, several popular beaches near Belgaum are worth the visit. If you are planning, go through the list below to check which one is the most feasible one for you to indulge in.
Calangute Beach
Tarkarli Beach
Devbagh Beach
Malvan Beach
Om Beach
Murudeshwar Beach
Kumta Beach
Ganpatipule Beach
Kodi Beach
Maravanthe Beach
Guhagar Beach
Malpe Beach
Hedvi Beach
Divar Island
Karwar Beach
Dapoli Beach
Alvekodi Beach
Benaulim Beach
Baga Beach
Canacona Beach
1. Calangute Beach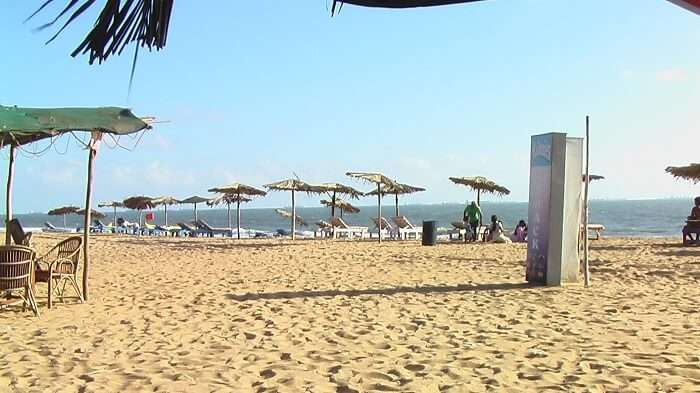 Calangute is known to be Queen of Beaches and is one of the prettiest beaches near Belgaum. Calangute beach is a popular beach and a lot of people come to visit this place. Goa is also the place where you need to be. The state is not just for parties and nightlife and beaches but so many more things. If you want to catch a break and take a quick trip, then you need to visit Calangute Beach. Goa is more than just a party state but you can actually capture the essence of all the beaches and their histories. If you are not in for crowded beaches, then you can visit a few resorts in Goa that have private beaches.
Distance from Belgaum: 34 km
Must Read: 14 Mystical Places To Visit In Badami, Karnataka That Need Your Attention In 2022
2. Tarkarli Beach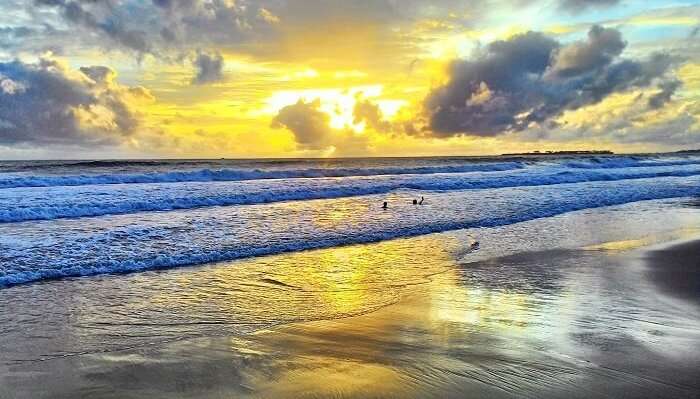 Tarkarli Beach is known for its famous placement in the confluence of the river Karli and the Arabian Sea. It is one such place where there is a clean atmosphere and there is clear water. The beach has pristine white sand that is completely breathtaking and there are numerous water sports available near the beach. It is a must go place if you are looking for a quick getaway.
Distance from Belgaum: 108 km
Suggested Read: 21 Historical Places In Karnataka Every History Buff Should Visit In 2022
3. Devbagh Beach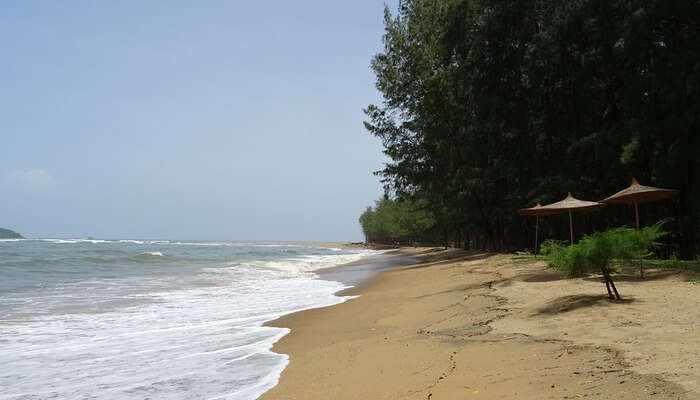 Devbagh beach is known to be one of the beautiful beaches near Belgaum and it is actually a perfect place to enjoy the sun and the white sands. This beach is a confluence of the Karli River and the Arabian Sea and is popularly known as Devbagh Sangam.
Devbagh Beach also surrounds the Tarkarli beach and is known for its geographical placement. This is one of the nearest beaches to Belgaum and is one of the less explored beaches and you can also call it a virgin beach. This beach is also famous for seagulls which are aquatic birds. They are often spotted here. You will love this beach for a lot of adventures that take place like snorkeling, banana boat rides, water scooter rides, kayaking, parasailing, and speedboat rides.
Distance from Belgaum: 81 km
Suggested Read: 7 Major Airports In Karnataka For A Safe & Joyful Trip In The Air
4. Malvan Beach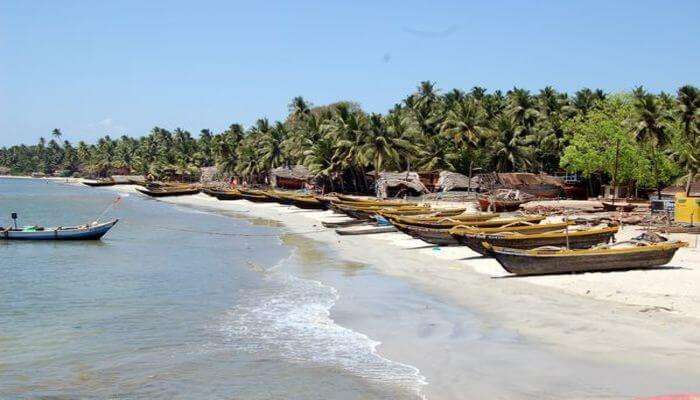 Malvan is a place straight out of an international movie and it is one of the most buzzing with life on the beach. Malvan is one of the commercial beaches near Belgaum and there are good seafood food joints near the beach. One of the best beaches you can ever go to and the whole vibe is friendly. Apparently, a marine park was supposed to be developed there but it is still under development. You can enjoy activities like scuba diving here.
Distance from Belgaum: 111 km
Suggested Read: 10 Awesome Places To Visit Near Coorg On Your Next Holiday To Karnataka
5. Om Beach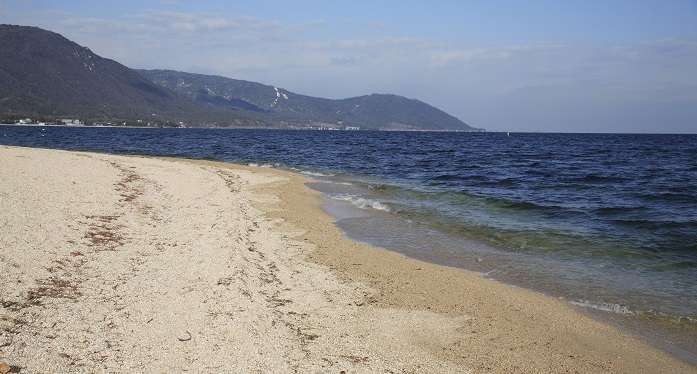 Gokarna has a few well-known beaches like Om Beach, Kudle Beach. Om beach is named so because it is shaped like the auspicious Om sign. It has beautiful shacks and you can have a lot of fun on the beach. It is a perfect getaway spot for all your stress break needs. There is Om beach resort near Om Beach and you can book a stay here for having the best activities to do here on this beach. There are activities like Scuba Diving, Snorkelling, etc.
Distance from Belgaum: 108 km
Suggested Read: 7 Things To Do In Tumkur That Are Worth Taking A Trip To Karnataka
6. Murudeshwar Beach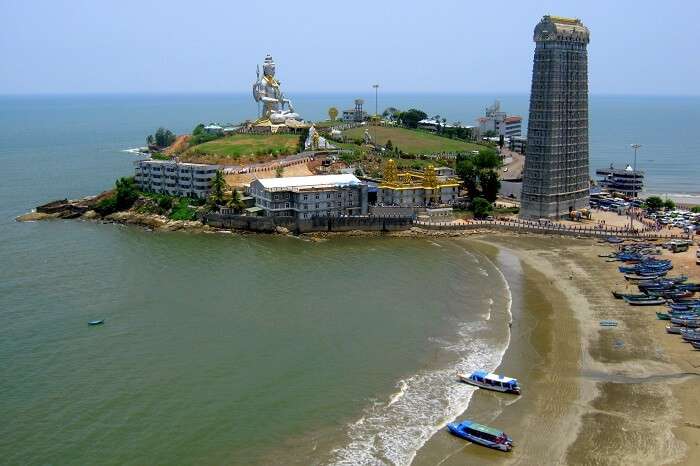 Another one of the popular beaches near Belgaum that is worth the visit is Murudeshwar Beach. This place is known for its famous Lord Shiva temple and the religious tranquility around. But the place is also known for its beach. Murudeshwar Beach is some of those beaches in India that offer water activities like Scuba diving. This beach is visited by more than a thousand people in a year and also, you can do some unique activities like bird watching and boating. This is certainly one of the best beaches to visit in the whole of Karnataka
Distance from Belgaum: 159 km
Suggested Read: Shopping In Karnataka: Pamper Yourself And Shop At These 10 Spots In The State!
7. Kumta Beach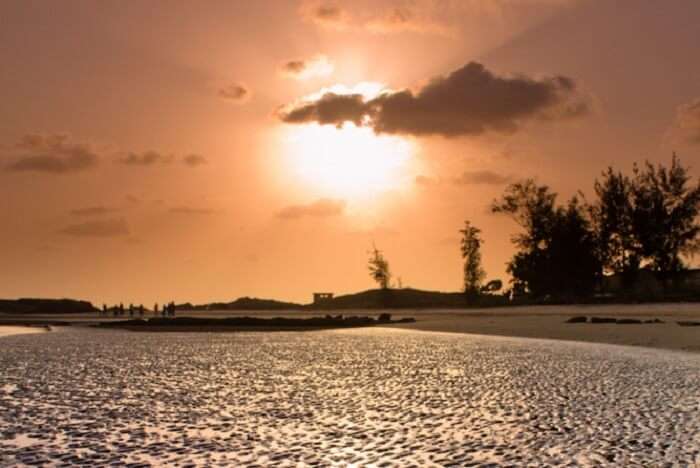 Kumta beach is not one but is a combination of five different beaches. They are the Vanalli Beach, Mangodlu beach, Kadle Beach, Bada Beach, and Nirvana beach. This is one of the unexplored beaches near Belgaum. The most famous thing to do over here is the trek from Kumta beach to Gokarna beach. You will be trekking through beaches and the hilly terrain where you will be walking through some famous and scenic beaches in India. These beaches are also known to be virgin beaches where they are not frequented by humans much.
Distance from Belgaum: 122 km
Suggested Read: 9 Museums In Karnataka: Top Creative Spots With A Rich Heritage
8. Ganpatipule Beach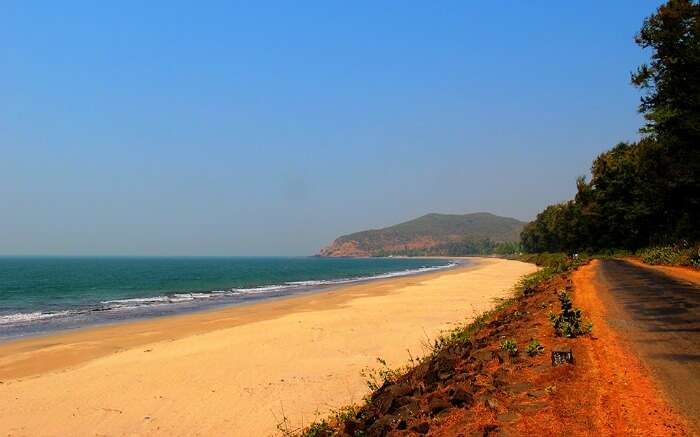 Ganpatipule beach is a holiday spot that you dream of as there are so many activities you can do like pedal boats, kayaking, banana boat rides, jet-skiing, snorkeling, scuba diving, and motorboat rides. You can also lay back on the recliners with some music and sip on some coconut water to detox yourself. This is one of the best beaches near Belgaum where you can meditate too because of the iconic Ganapati Temple nearby. This beach is known for its rocky terrain, clean sand, and also some refreshing ambiance.
Distance from Belgaum: 197 km
Suggested Read: 10 Haunted Places In Karnataka: Are You Ready To Challenge Your Soul?
9. Kodi Beach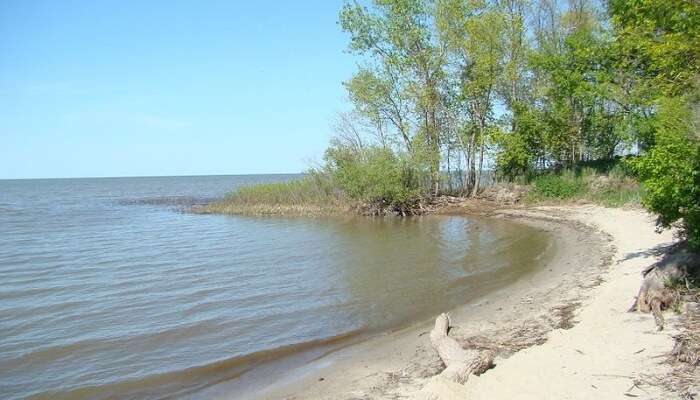 While Kundapur is located 200 km away from Belgaum, you have to visit Kodi Beach. Kodi beach is one of those beaches near Belgaum that is famous for quite a few activities like swimming. This place is an Estuary because there is a river Suvarna that meets the Arabian Sea. There is a complete crab population here and it is more than the human population that visits this beach. Thus, you know how secluded this beach is going to be. There is a restaurant that faces the beach and you can eat delicious food here when you are hungry! A great place to relax and spend some time with your friends.
Distance from Belgaum: 213 km
Suggested Read: 25 Stunning Places To Visit In Summer In Karnataka For A Relaxing Retreat In 2022
10. Maravanthe Beach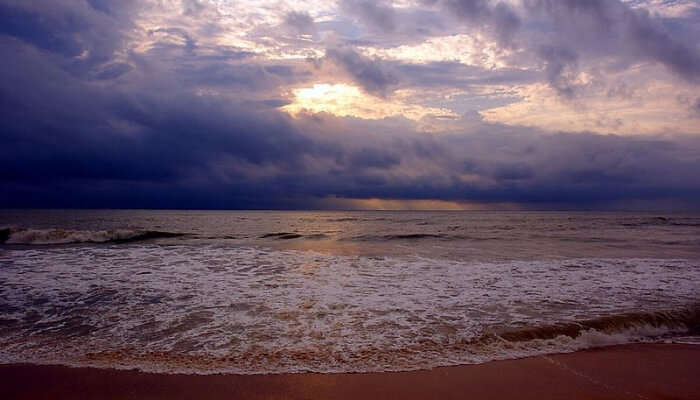 Maravanthe Beach is just 12 km away from Kundapur and is one of the must-see beaches near Belgaum The NH1 passes at a close distance of 100 m from the shoreline and you can see that there is the Arabian Sea on one side and Souparnika River on the other side. There are quite a few activities that you can do in Maravanthe Beach and they are scuba diving where you can get a glimpse of coral reefs and the marine life which is full of deep-sea creatures. The water is safe for swimming too mostly because the tides are quite gentle. You can do walking at sunrises and sunsets and also do some meditation and yoga!
Distance from Belgaum: 202 km
Suggested Read: Karnataka Cuisine: 22 Popular Karnataka Dishes For A Flavorful Culinary Journey
11. Guhagar Beach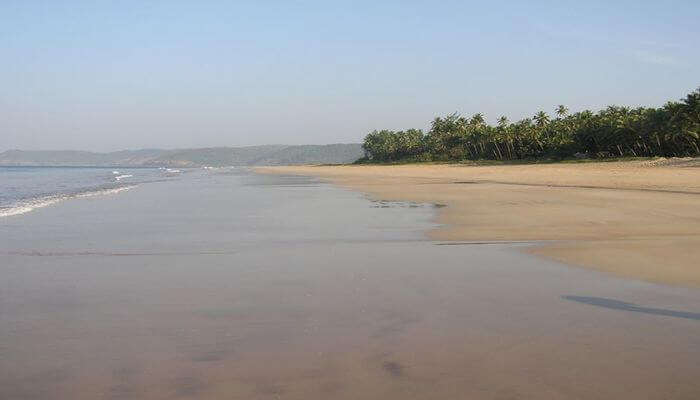 In the central area of Chiplun, it is known as Markhandi. In history, when Chhatrapati Shivaji Maharaj took over Konkan, he won the Gowalkot Fort in 1660. He then renamed it as Govindagad. And for all those who are visiting Ratnagiri, you have to go see Chiplun. Guhagar beach is one of the unexplored, virgin beaches near Belgaum – which is less commercialized and not crowded by tourists. It is a perfect getaway from the fast-paced life and is quite amazing when you wish to catch a break from the stress around.
Distance from Belgaum: 240 km
Suggested Read: Ecotourism Found New Meaning As Karnataka Unveiled 30 Foot Tall Canopy Walk
12. Malpe Beach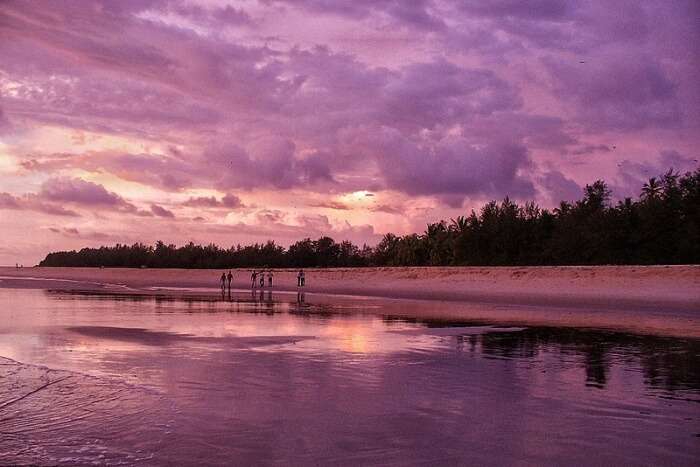 Udupi is not only a small and humble town but it has some of the beautiful beaches. Malpe beach was once the port on the Karnataka coast and then was a very interesting place. Did you know that Malpe Beach is the first fully enabled Wi-Fi enabled Indian beach? This was an important port and it was also a fishing harbor in the state of Karnataka. This place is a beautiful holiday destination and you can really enjoy the natural beauty. The place is quite popular and while you are there, try out the authentic food that they have which is quite famous across the world as well.
Distance from Belgaum: 246 km
Suggested Read: 15 Top Hill Stations In Karnataka In 2022 To Rejuvenate Yourself
13. Hedvi Beach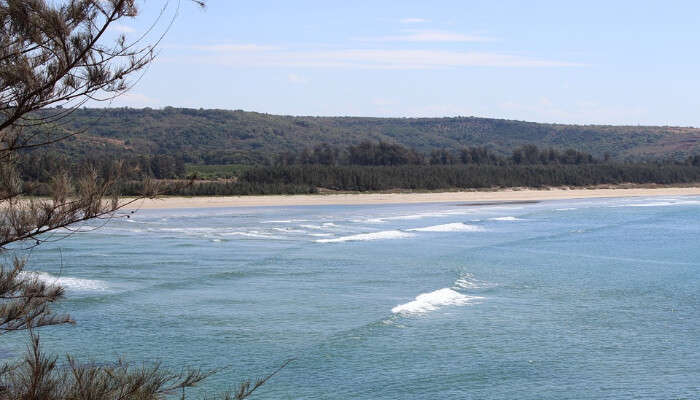 Hedvi Beach is a bay of dark sand and the shoreline is far from everything. You do not even get good cell reception here but that its beauty. One of the remote beaches near Belgaum, Hedvi beach's cove stretches between the Guhagar and the Velaneshwar white sand beaches which is at the end of the popular Uma Maheshwari Temple.
There are milky waves that wash onto the shore and it is a tranquil beach that has mythological references. Hindu Gods like Lord Ganesh and Goddess Lakshmi visited this beach. Hedvi Beach is one of the ancient ones in existence and is quite rare. There is a rare phenomenon where the rocks have been graded by the sea and that has resulted in a 20 feet deep ridge or gorge which is 1-2 feet in width.
Distance from Belgaum: 248 km
14. Divar Island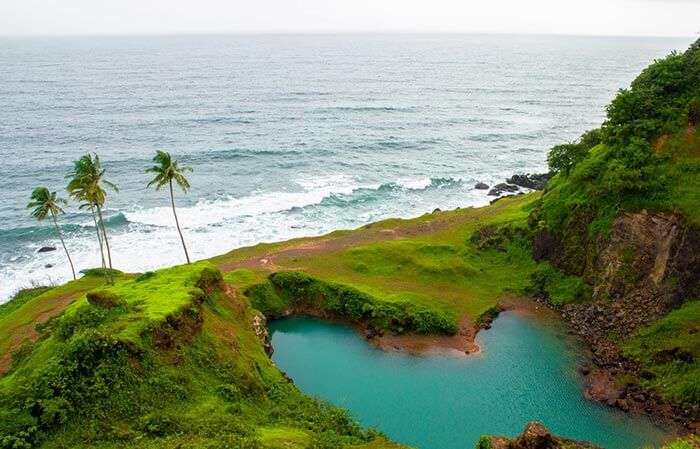 On the bank of the Mandovi River in Goa, Divar island is home to a unique culture and scenic beauty. The place has ruins of age-old monuments and temples of religious significance. While not a sea beach, Divar island is riverine that you shouldn't miss in Goa. The place is accessible through a 3 hours drive from Belgaum. The place is surrounded by marshy waters and crisscrossed with quaint single road lanes. The place offers a lovely languid exploration that is highly recommended for nature lovers.
Distance from Belgaum: 100 km
15. Karwar Beach 169 km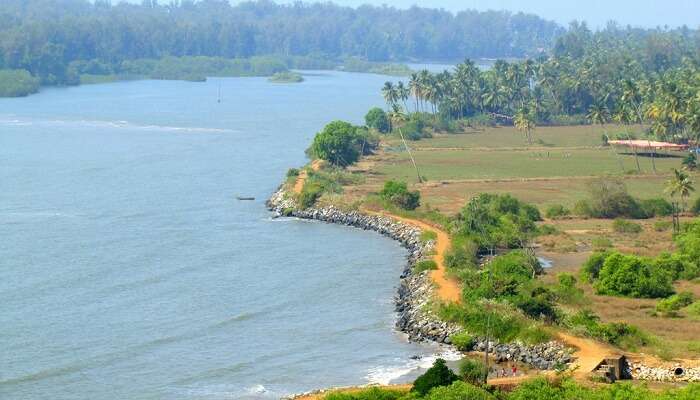 Another one of the nearest beaches to Belgaum is Karwar Beach. The gorgeous unblemished beach is located on an island near Goa, where you can indulge in various watersports and scenic beauty. Also known as Rabindranath Tagore Beach, the beach is filled with palm groves and smooth white sand. It is the perfect destination to just relax and unwind. The island is also home to INS Chapal Warship Museum.
Distance from Belgaum: 169 km
16. Dapoli Beach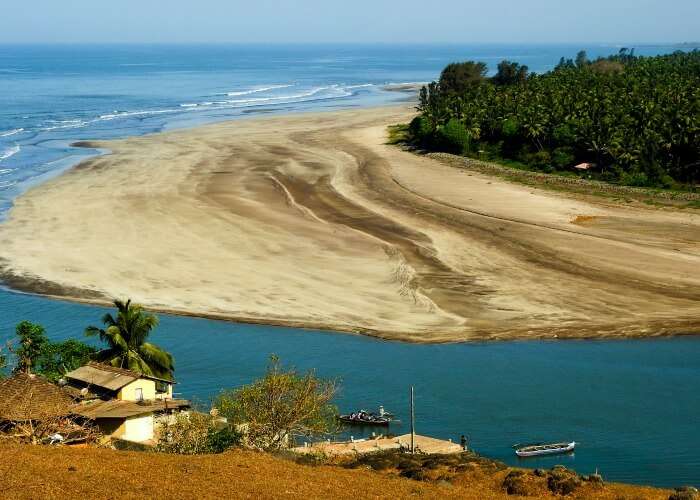 Hidden away from the bustling city, Dapoli is a quaint town near Ratnagiri situated some 215 km away from Mumbai. The beach here can prove to be perfect for a day trip from Belgaum. Some 7 to 8 hours drive away from the city, the beach town offers scenic views and a laid back vibe that is ideal for a quick vacay. Apart from lazing in the beach where you can also explore the sea forts and the hot springs, temples and caves scattered across the beach town.
Distance from Belgaum: 278 km
17. Alvekodi Beach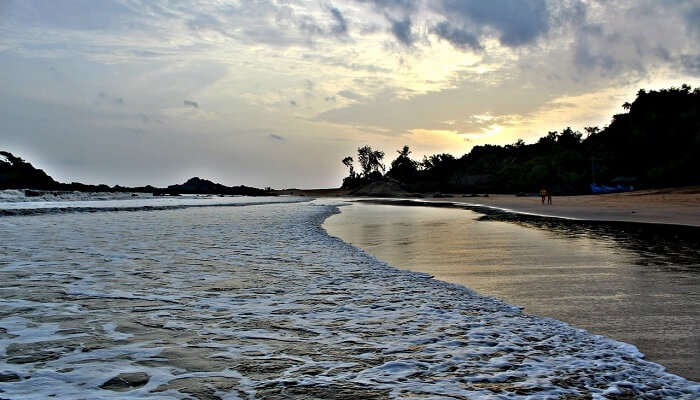 Alvekodi beach is one of the most offbeat beaches near Belgaum you can visit. It is a lovely seashore hidden away in the village of Alvekodi in Karnataka. To reach you'll have to trail through a long winding way in the midst of agricultural fields and reach an unexplored and untouched beach that has white sand and lush coconut groves. The beach is close to an old run-down lighthouse that makes the whole scenery only more surreal. Witness a mesmerizing view of the sunset over the horizon at the beach which is perhaps the most stunning part of the scenery.
Distance from Belgaum: 223 km
18. Benaulim Beach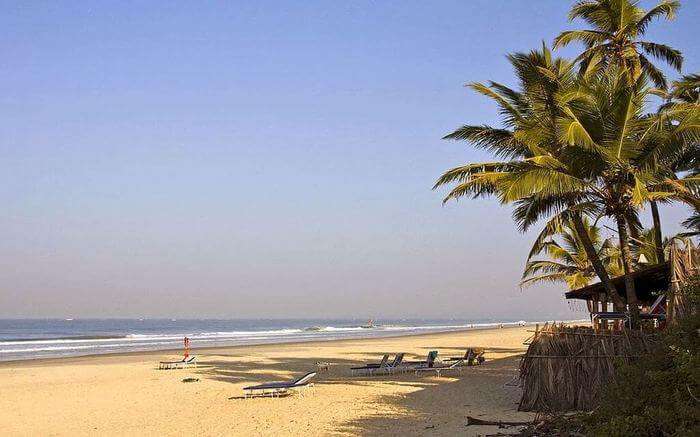 Benaulim Beach is one of the most tranquil beaches in Goa and is a great destination for a road trip from Belgaum. It will take you around 4 hours drive from the city on a scenic route to reach this beautiful beach. Located 30 km away from Panjim, the beach is perfect for relaxation. It stretches over soft white sand, surrounded by lush palm groves. The scenic beach is perfect to witness the sunset over the horizon.
Distance from Belgaum: 132 km
19. Baga Beach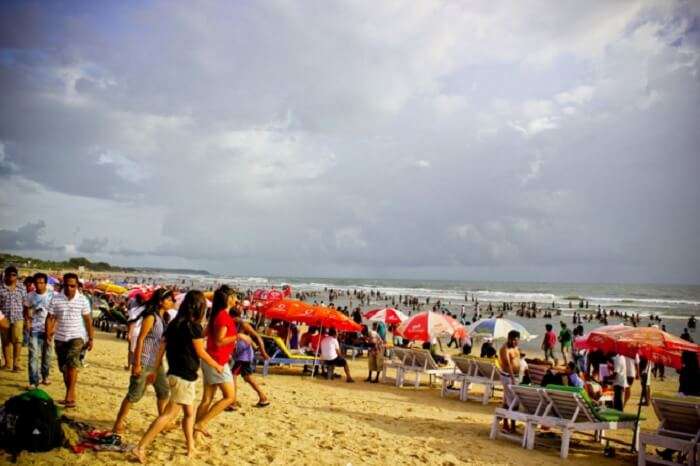 Baga beach is one of the most popular beaches located in North Goa. It is a bustling beach with a lot of fun activities and shopping options. Get in the mood to party as you dive down on a scenic 4 hours drive from Belgaum to reach Baga. The beach is great for watersports such as jet skiing, surfing, banana boat rides, parasailing and more. The shacks on the beach offer delicious food and drinks and the nearby pubs and nightclubs are great places for partying.
Distance from Belgaum: 116km
20. Canacona Beach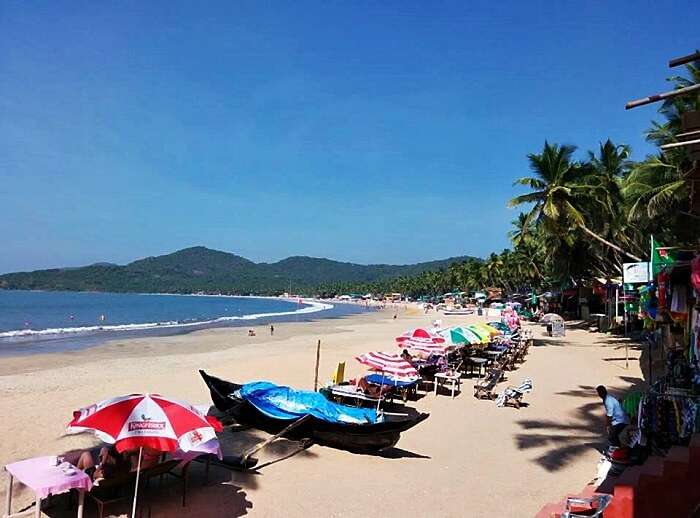 This south Goan beach is a great example of the quintessential south Goa beaches. Peaceful environs, beach chairs to relax and amazing shacks that offer great food and drinks. Canacona beach is also known as Palolem beach and is 4.5 hours drive away from Belgaum and is a great option for a day trip. Enjoy different water activities here including snorkeling, diving, kayaking and more while enjoying your day here.
Distance from Belgaum:146 km
Further Read: 30 Amazing Places In India To Celebrate New Year 2022!
When it comes to beaches near Belgaum, these are some of the most important ones. While you are planning for the trip, it is best suggested that you do so beforehand and have a solid itinerary planned that can further help propel your trip forward. It is suggested that you take the timeout and explore the options and see which beaches are worth the visit, depending on the kind of time that you have on hand. So, plan a trip to Karnataka and feel the thrill.
Disclaimer: TravelTriangle claims no credit for images featured on our blog site unless otherwise noted. All visual content is copyrighted to its respectful owners. We try to link back to original sources whenever possible. If you own the rights to any of the images, and do not wish them to appear on TravelTriangle, please contact us and they will be promptly removed. We believe in providing proper attribution to the original author, artist or photographer.
Please Note: Any information published by TravelTriangle in any form of content is not intended to be a substitute for any kind of medical advice, and one must not take any action before consulting a professional medical expert of their own choice.
Frequently Asked Questions About Beaches Near Panjim
What is Belgaum famous for?
Apart from being surrounded by beautiful beaches, the other reason that Belgaum is famous for is because of the city of Kittur which holds a lot of historical significance for the place.
What is the distance between Belgaum and Bangalore?
The distance between Belgaum and Bangalore is 505 km which is quite a lot. You should take either trains or flights if you want a comfortable journey without any complaints whatsoever.
Which river flows through Belgaum?
Given how Belgaum and the surrounding spots are surrounded by lakes and rivers, it is important to know which ones flow alongside it. It is the Tungabhadra river that flows through Belgaum.
Is there an airport in Belgaum?
Belgaum does have an airport known as the Belgaum Airport. Belagavi Airport but only has limited flights coming in and out, so you do need to plan accordingly.
How can one travel from Belgaum to Goa?
Belgaum to Goa is a very common plan people make. There are trains available for the journey that you can take but make sure to make the bookings beforehand as only two trains are commuting.
Is visiting Belgaum safe?
Visiting Belgaum is completely safe and has been for the longest time. It is surrounded by peaceful areas and hasn't had any severe crime records, which is pretty amazing too.
Is it best to make the bookings in Belgaum beforehand?
Since more and more people are getting to know about this spot, it isn't surprising why making the bookings beforehand is a better option in comparison to the other way around.
Is taking a road trip to Belgaum safe?
Road Trips around that side is safe, provided that you do have all the necessary safety precautions handles out well. But, for the most part, it is completely safe and doesn't inflict any sort of risk at all.
---
People Also Read:
Beaches Near Munnar Beaches Near Alleppey Beaches Near Coorg
Comments
comments