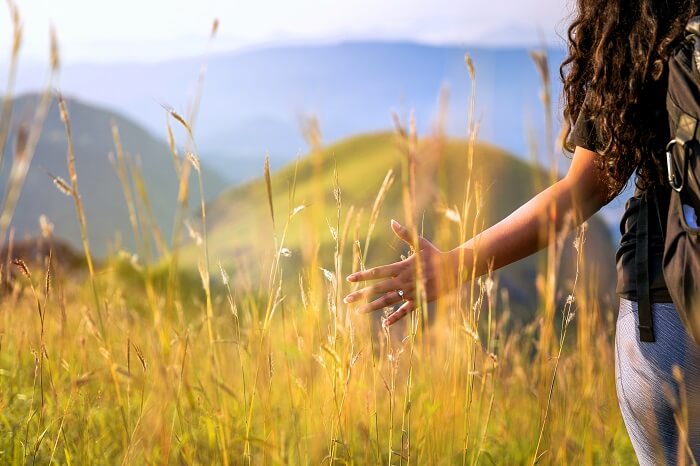 Looking for the best places to visit near Bangalore in summer for fun and relaxation? We got you covered!
From enchanting attractions, pretty little hamlets, to hill stations boasting of gorgeous views and soothing weather, there are a lot many places near Bangalore. If you're looking for perfect and picturesque destinations near the Garden City to beat the heat this summer, there's no reason why you shouldn't visit these gems! Just take your pick, rope in some good friends, and ride away to one of these amazing places to see near Bangalore in summer.
Best Places To Visit Near Bangalore In Summer
If you live in the Indian Silicon Valley and looking for a picturesque getaway, here are some of the nearest places to see near Bangalore in summer:
Bandipur: 220 km
Masinagudi: 245 km
Bheemeshwari: 10 km
Sakleshpur: 221 km
Dandeli: 460 km
Anthargange: 67 km
Nandi Hills: 61 km
Hogenakkal Falls: 128 km
Yelagiri: 158 km
Yercaud: 215 km
Nagarhole Wildlife Sanctuary: 226 km
Chikmagalur: 245 km
Coorg: 264 km
Ooty: 278 km
Wayanad: 283 km
15. Bandipur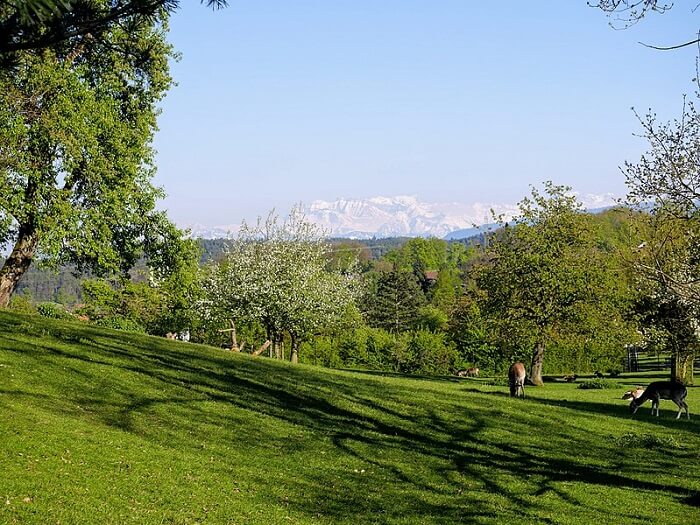 Watch a deer silenty grazing in the green fields of Bandipur. The place is blessed with phenomenal scenic beauty. Bandipur is a home to rich wildlife where you will find elephants, hornbills, deers, pythons, sloth bears. Bandipur National Park is a dedicated site for the Project Tiger. So, you can spot canines here too. If you are looking for quaint spaces amdist nature, then Bandipur it is.
Things to do: Bird watching, visit Bandipur National Park
Distance from Bangalore:
Travel time: 220 km
Suggested Read: Summer In Bangalore: 5 Cool Ways To Beat The Heat
14. Masinagudi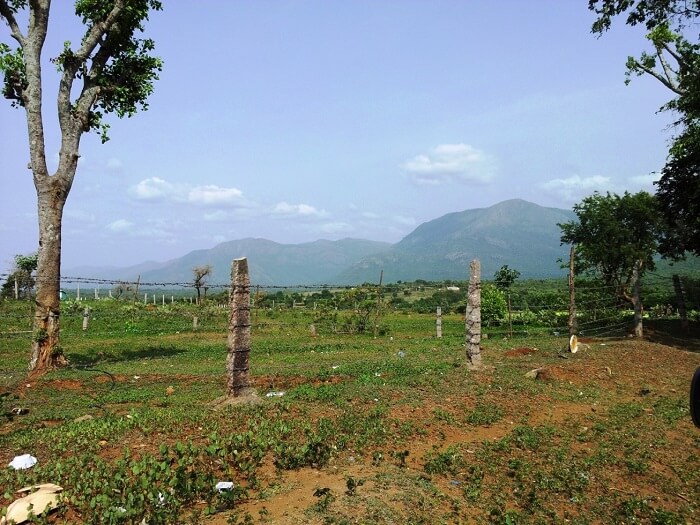 Take a break from your fast-paced life and head to Masinagudi which is famous for its lush vegetation and an abundance of wildlife. Be mesmerized with the alluring vistas and stunning nature when you are in Masingudi. There are a lot of things to do here apart from appreciating nature. Explore the hidden trekking trails, visit Mudumalai National Park, or watch how tea is processed. This is a nice place to relax if you are looking for quaint places around Bangalore to get away.
Things to do: Bird watching, elephant riding safari, trekking
Distance from Bangalore to Masingudi: 245 km
Travel time: 5 hours
13. Bheemeshwari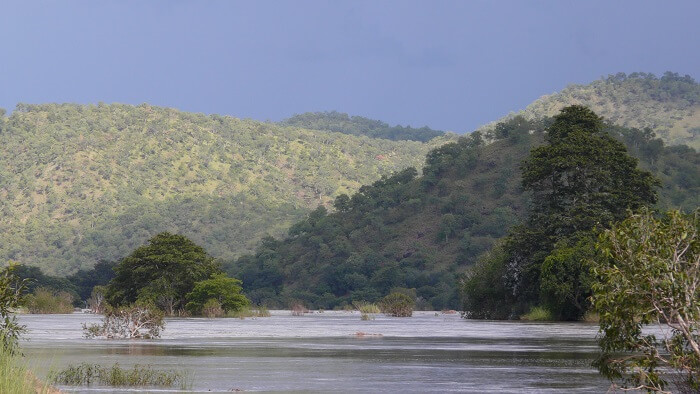 Blessed by nature, Bheemeshwari sits by the River cauvery and is a haven for nature-lovers. Find a huge variety of flora and fauna here like the Mahseer fish, elephants, deer, crocodiles and a myriad of bird species. If you want a laidback vacation, this place is perfect to relax and appreciate the beauty of nature. You can also do a number of adventure activities and give an adrenaline boost to your veins.
Things to do: Trekking, kayaking, ziplining
Distance from Bangalore: 10 km
Travel time: 33 min
Suggested Read: 8 Best Amusement & Water Parks In Bangalore That Are Perfect For A Refreshing Day Out
12. Sakleshpur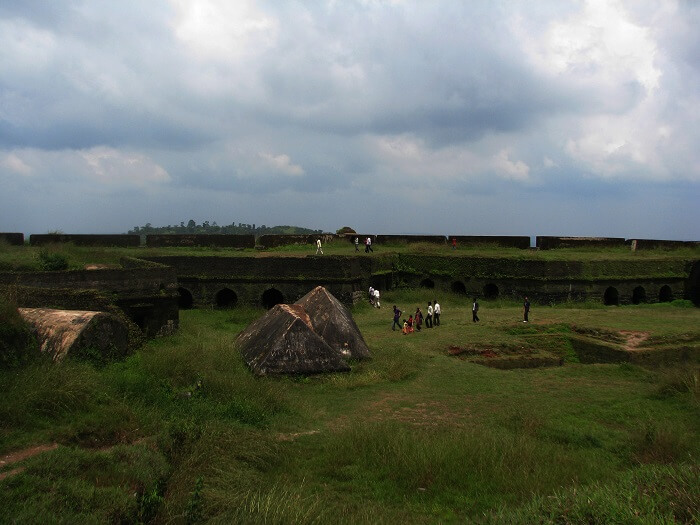 A hotspot for adventures, Saklesh is a 2-day road trip from Bangalore. Its verdant greenery and charming landscapes will take your breath away. Breath in the salubrious air amidst the peaceful environment and surprise your lungs that are accustomed to adulterated air. Enjoy sniffing the bittersweet aromas of coffee and spice plantations around. Also, make a point to visit Manjarabad Fort and Bisle Ghat on your Sakleshpur getaway.
Things to do: Visit coffee & tea plantations, camping, homestay experience
Distance from Bangalore to Sakleshpur: 221 km
Travel time: 4 hours
11. Dandeli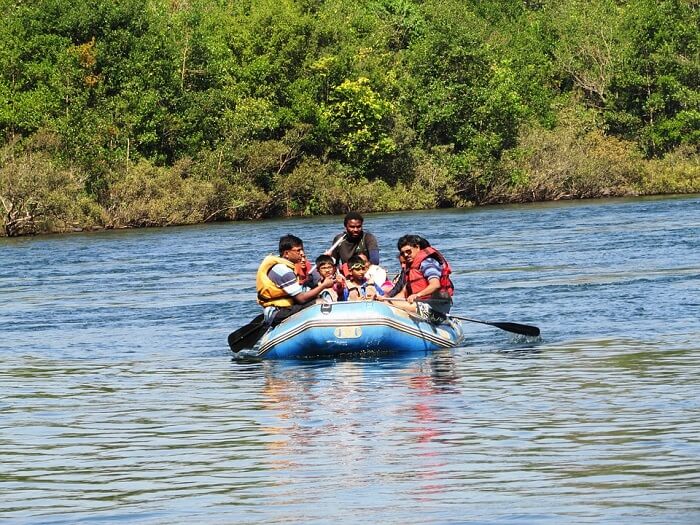 If you want to enjoy river rafting, Dandeli is the place where you should go. Enjoy the high currents of the mighty Kali River. However, be careful of the crocodiles in the water. You can enjoy camping overnight by the river and have a bonfire with your friends. There is even a wildlife sanctuary where you will find a variety of wildlife like tigers, panthers, and bears. Lush with greens, you are going to love being disconnected from the rest of the world.
Things to do: River rafting, camping and bonfire, wildlife sanctuary
Distance from Bangalore to Dandeli: 460 km
Travel time: 8 hours
Suggested Read: Bangalore May Soon Get Its Own 'Times Square'
10. Anthargange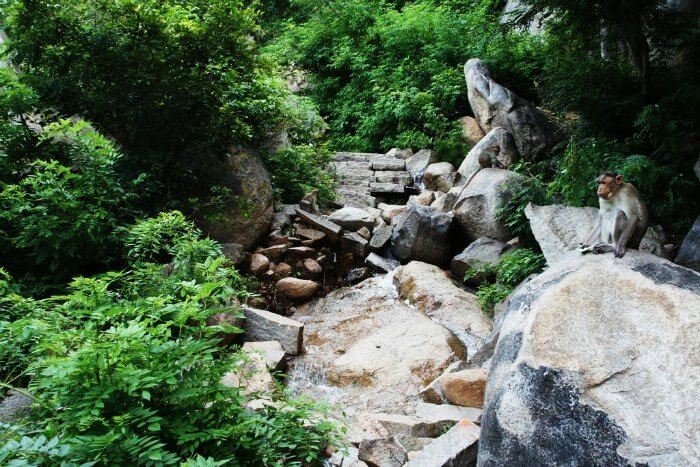 Number 1 on our list of best places to visit near Bangalore in summer, Anthargange is essentially an unexplored and beautiful hill haven. This place has some fascinating caves formed by rocks and is an ideal place for adventure seekers who can go for trekking, rock climbing, and caving here. It's also a great place for those who like to find thrill in exploring dark, mysterious caves.
Things to do in Anthargange: Trekking, caving
Distance from Bangalore to Anthargange: 67 km
Travel time: 1 hour 45 mins
Must Read: 20 Fabulous Places To See In A Day Around Bangalore
---
South Weekend Holiday Packages On TravelTriangle
A trip to South India has a lot to offer – from tranquillity of forests to charm of sizzling beaches and from lost kingdoms to chills of a hill station. Visit Kerala, Coorg, Ooty, Mysore, or Kodaikanal. Book holiday packages inclusive of airport transfers, cab, resort, sightseeing, and meals.
---
9. Nandi Hills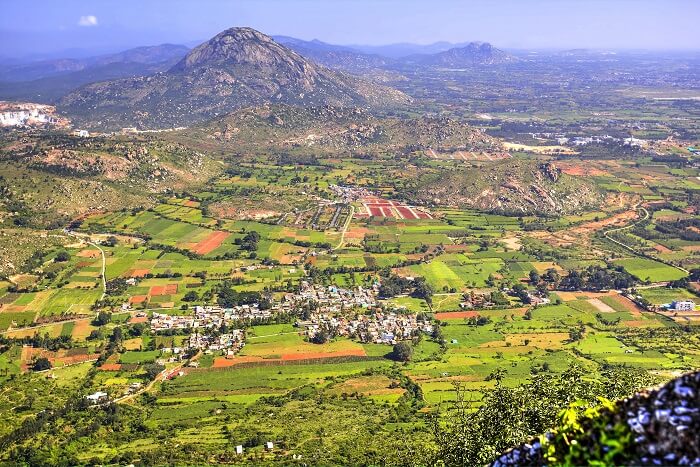 Nandi Hills, or Nandidurga, is a famous weekend getaway near Bangalore. Popular for trekking, this ancient hill fortress derives its name from the mesmerising statue of Nandi (the bull) sitting right at the doorstep of the Yoga Nandeeshwara Temple. It's also famous for its splendid views of the sunrise that it offers to nature lovers. It is one of the best places to visit near Bangalore in April. When here, one should definitely visit the summer palace of Tipu Sultan.
Things to do in Nandi Hills: Trekking, paragliding, cycling
Distance from Bangalore to Nandi Hills: 61 km
Travel time: 1 hour 30 mins
8. Hogenakkal Falls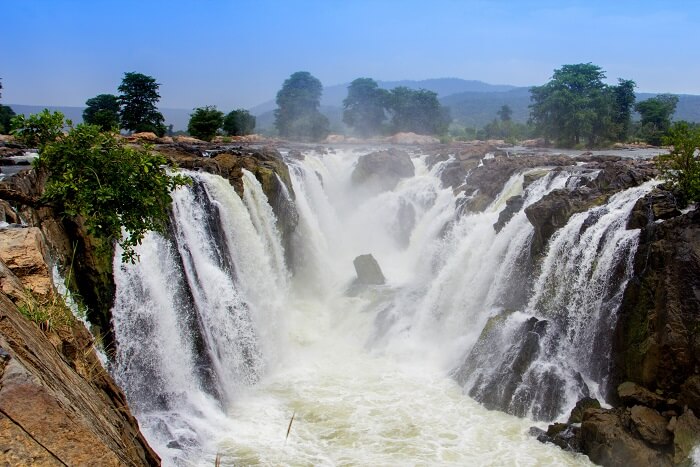 If you come to Bangalore and do not visit Hogenakkal Falls, you'll forever regret that decision! One of the most beautiful places to visit near Bangalore during summer, Hogenakkal Falls are one of the oldest waterfalls in the world. It's the point where the Cauvery river splits into multiple streams creating breathtaking waterfalls. Sometimes referred to as the 'Niagara of the East', this place is perfect for a joyful coracle ride from one end of the water to the other. When here, one must also check out the nearby Melagiri hills. Many famous Indian movies like 'Roja' and 'Raavan' have been shot here.
Things to do in Hogenakkal Falls: Coracle boat rides, medicinal baths, trekking
Distance from Bangalore to Hogenakkal Falls: 127.5 km
Travel time: 2 hours 15 mins
Suggested Read: 10 Hill Stations Near Bangalore For The Summer Of 2017
7. Yelagiri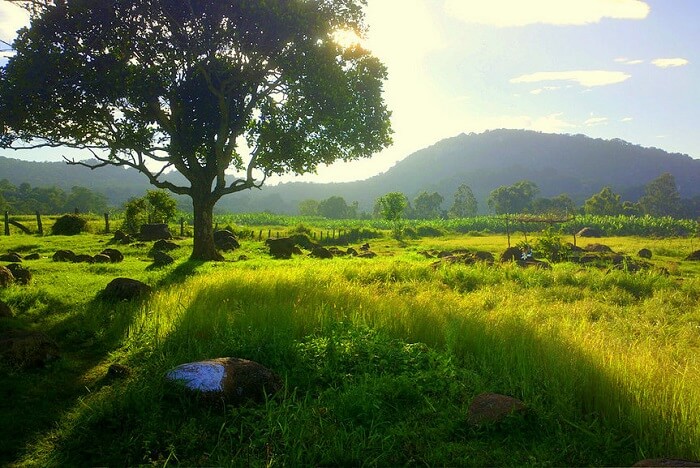 A small hill station in the Vellore district of Tamil Nadu, Yelagiri is a quiet and gorgeous destination for spending relaxed weekends. Enriched with a great terrain for hiking and trekking, and replete with charming attractions like a telescope house, the Punganoor Lake, and the Nilavoor Lake, Yelagiri is amongst the best places to visit near Bangalore in summer. It's the best picnic spot near the city for families with kids and honeymooners offering complete relaxation and peace.
Things to do in Yelagiri: Paragliding, trekking, boating, shopping
Distance from Bangalore to Yelagiri: 158 km
Travel time: 3 hours 10 mins
6. Yercaud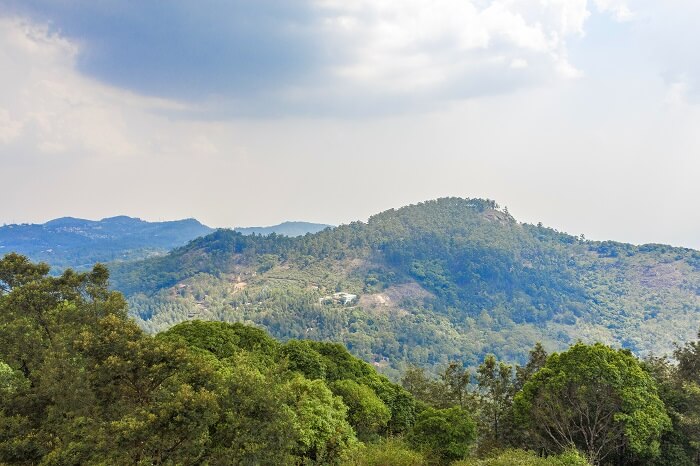 One of the best places to visit near Bangalore in May, Yercaud is an immensely peaceful and scenic hill station that is ideal for a refreshing weekend getaway from the city. Nestled among the Shevaroys Range of hills in the Eastern Ghats, Yercaud is frequented by honeymooners and nature lovers owing to its unmatched beauty and tranquil environment.
Things to do in Yercaud: Boating, trekking, spice plantation tours, cave exploring
Distance from Bangalore to Yercaud: 215 km
Travel time: 4 hours 30 mins
Suggested Read: The Ultimate Weekend Getaway Destinations From Bangalore
5. Nagarhole Wildlife Sanctuary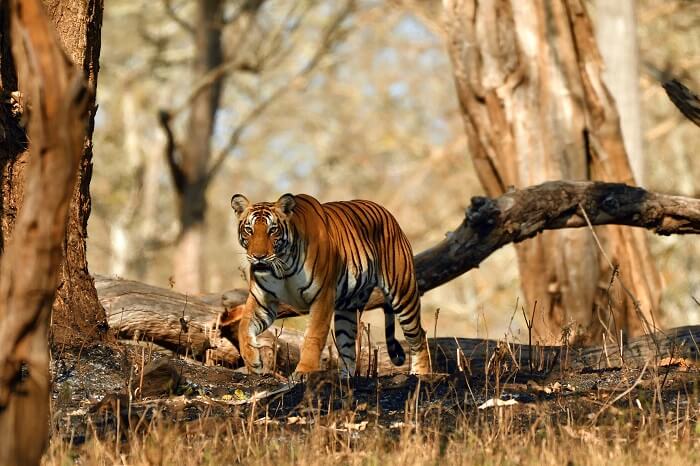 Also known as the Rajiv Gandhi National Park, the Nagarhole Wildlife Sanctuary is a delightful abode of nature and adventure that has been declared as a UNESCO World Heritage Site. Adding to the scenic wonder of this place are the Western Ghats and the Brahmagiri Hills. Without a doubt, the Nagarhole Wildlife Park makes up for one of the best places to visit near Bangalore in summer.
Things to do in Nagarhole Wildlife Sanctuary: Bird watching, wildlife safari, trekking, wildlife photography
Distance from Bangalore to Nagarhole Park: 226 km
Travel time: 5 hours
4. Chikmagalur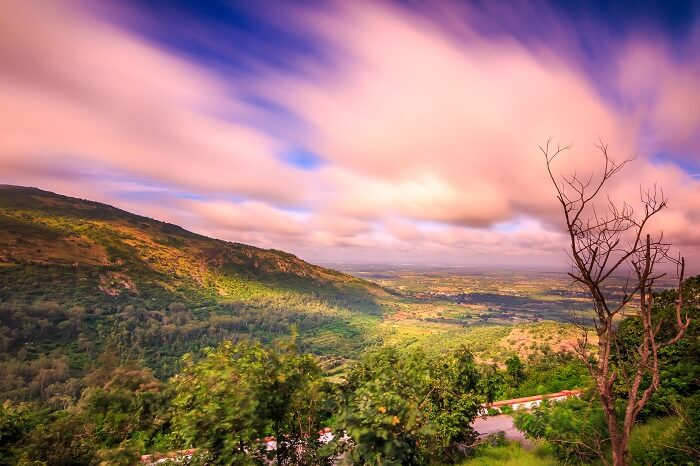 With tough mountain trails, white coffee blossoms, and sparkling mountain streams, Chikmagalur is a trekkers' delight! What's more, the dramatic sights of rivers like Bhadra and Tunga originating in Chikmagalur are a sight for sore eyes. Apart from trekking and energizing oneself with nature's bounty, travelers like to visit the many beautiful monuments of this serene hill station. The likes of these include the Kodandarama Temple, the Jamia Mosque, and the St. Joseph's Cathedral. No wonder it's a top pick among all the cool places to visit in summer near Bangalore.
Things to do in Chikmagalur: Trekking, camping, coffee plantation tours
Distance from Bangalore to Chikmagalur: 244.5 km
Travel time: 5 hours 30 mins
Suggested Read: 10 Off-The-Wall Weekend Destinations Which Every Bangalorean Must Try
3. Coorg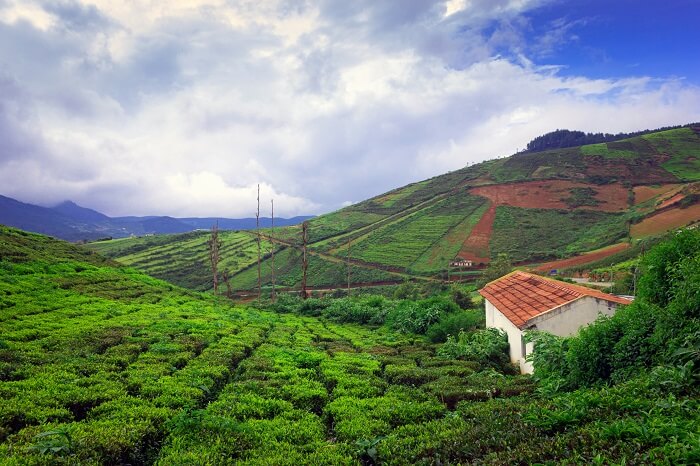 Coorg is among the most popular and beautiful hill stations near Bangalore that lures people in with its lush green woods, perfectly pruned coffee plantations, serpentine roads, rocky terrains, well-laid gardens, and a plethora of flora and fauna. Located at a considerable height so that it can provide stunning views of mist-laden hills, the picturesque town of Coorg has earned its place on the list of the best places to visit near Bangalore in April.
Things to do in Coorg: Golfing, trekking, coffee plantation tours, bird watching
Distance from Bangalore to Coorg: 264 km
Travel time: 6 hours
2. Ooty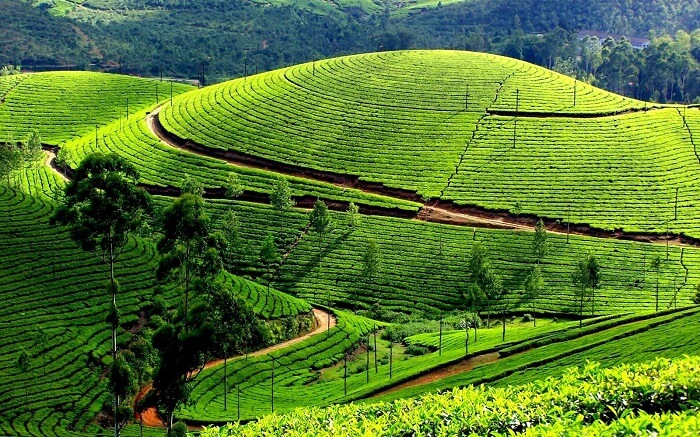 There's a reason Ooty is considered as one of the most romantic honeymoon places in Tamil Nadu! This popular hill town near Bangalore is one of the best places to visit near Bangalore in May owing to its stunning location, blissful climate, dramatic views, and overall peace and quiet. Located near the famous Nilgiri hills, Ooty has the most magnificent landscapes with cloud-kissed hills, colorful botanical gardens, shimmering lakes, and rolling tea gardens.
Things to do in Ooty: Nilgiri toy train rides, boating, mountain biking, hang gliding
Distance from Bangalore to : 278 km
Travel time: 6 hours
Suggested Read: You Don't Need To Skip Office To Visit These 10 Amazing Places Near Bangalore
1. Wayanad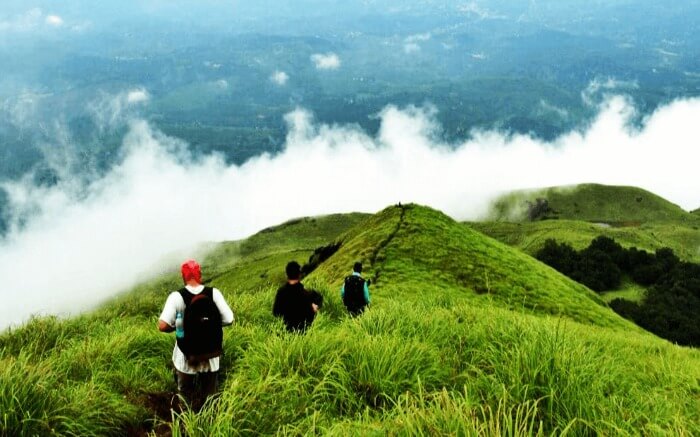 Wayanad is another stunning hill station tucked away in an enchanting part of Kerala and surrounded by the glorious Western Ghats, lofty ridges, and crystal-clear lakes. Home to mighty forests and deep valleys that bestow this place much of its paradisiacal charm, Wayanad contributes majorly to making Kerala the God's Own Country! Located a mere 6 hours away from Bangalore, this little piece of heaven on earth serves as an idyllic weekend holiday destination for travelers, which is why it is one of the most fascinating places to visit near Bangalore during summer.
Things to do in Wayanad: Trekking, high rope traversing, kayaking, canoeing, paintball, raft building, caving
Distance from Bangalore to Wayanad: 282.5 km
Travel time: 6 hours 20 mins
Further Read: Guhantara Resort Bangalore: Witness India's First Underground Cave Resort
Bangalore is blessed with a huge number of getaways around. If you are already living in Bangalore or going there for a visit, put these nearby places on your itinerary to have a splendid time on your holiday. So, which of these best places to visit near Bangalore in summer will you be gallivanting away to first? Plan a trip to Karnataka and let us know in the comments below.
Frequently Asked Questions
Q: What are the places to visit near Bangalore for 2 days in summer?
A. Wayanad, Ooty, Coorg, Chikmagalur, and Yercaud are some of the best places for a 2-day trip from Bangalore.
Q: What are the best places to visit near Bangalore at night?
A. Devanahalli, Nrityagram, and Innovative Film City are some of the best attractions to explore at night near the city of Bangalore.
---
Looking To Book A Holiday Package?
Book memorable holidays on TravelTriangle with 650+ verified travel agents for 65+ domestic and international destinations.
---
Comments
comments