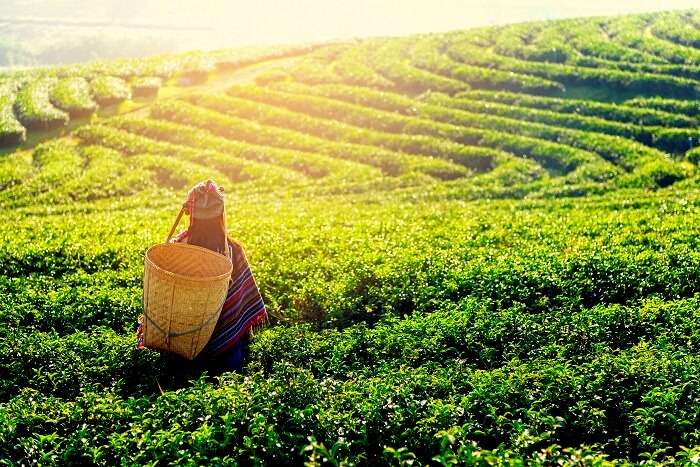 The land of Bengal Tiger, West Bengal is well-known for its breathtakingly beautiful hill station, Darjeeling. Tucked away in the hills, Darjeeling is renowned for its toy train, Buddhist monasteries, tea industry, the backdrop of Kanchenjunga and pleasant weather. Once a summer capital of West Bengal when the Britishers ruled, Darjeeling will make the perfect destination for your summer vacation. The city looks mystical in summers and will offer you picturesque view and thrilling activities which will add the 'extra' to your ordinary vacation.
As soon as summer arrives, people tend to escape the plains and head to the hills. If you are longing for a holiday in the mesmerizing hills, then you should head to Darjeeling in May as the city will provide you the much-needed break from the summer heat. The city has a lot in store for all avid travelers and adrenaline junkies. To help you plan a terrific summer vacay, here is a detailed guide which you ought to go through before you set out on your mission to beat the summer heat and have some fun!
Weather In Darjeeling In May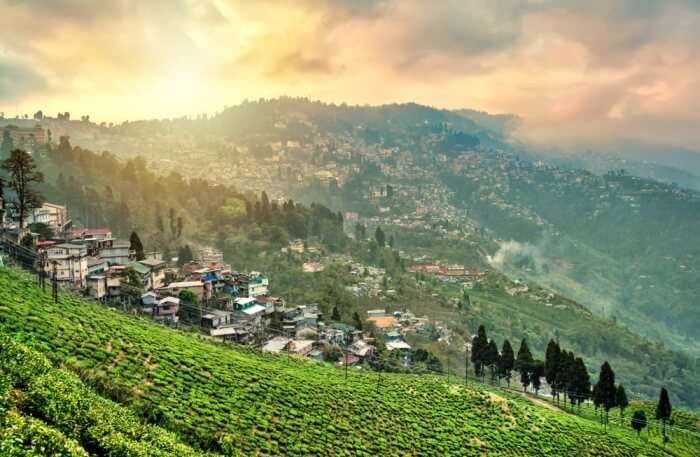 Wondering about Darjeeling temperature in May? Summers in Darjeeling starts in April and ends in June and the best time to visit Darjeeling is in the month of May. Darjeeling climate in Darjeeling in May is all about a lively and fun vacation for all those who are looking for relief from the scorching summer heat. Darjeeling's weather in May 2023 will be a little warm in the day time but breezy in the morning and evening. The temperature will vary from 19 degrees Celsius to 11 degrees Celsius.
Top 10 Things To Do In Darjeeling In May
Enough about the Darjeeling weather in May and summers, let's find out what all you can do on your holiday in Darjeeling in May 2023? Darjeeling is one of the most beautiful hill station there is. Do not forget to carry your cameras. Here is a list of all the fun activities and you must take a look at them!
Trekking: Adventurous Trails Await You!
White Water Rafting: Add Thrill To Your Trip!
Paragliding: Conquer All Your Fear!
Mountain Biking: Witness The Beauty Of Lush Green Mountains!
Toy Train: Travel In Style!
Tea Gardens: Plan A Stay
Ropeway: Glance At The Miniature City Below
Shopping: Splurge Without Guilt
Delicacies: Indulge In The Authentic Cuisine
Jeep Safari: Explore Singalila National Park
1. Trekking: Adventurous Trails Await You!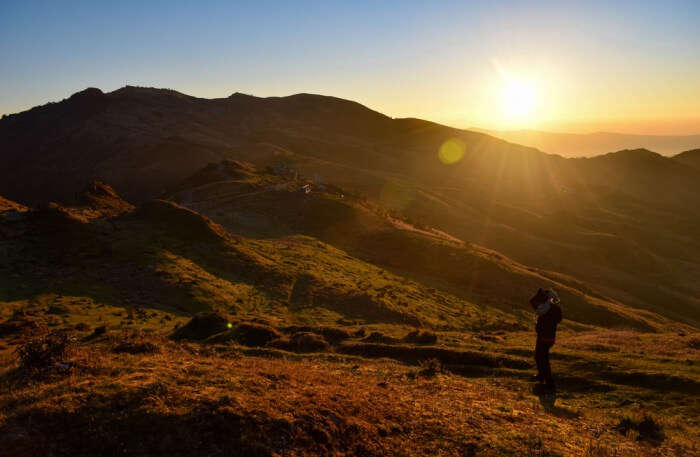 This one is for all those who crave for thrill and adventure. Trekking in Darjeeling will surely become your favorite if you head on the trails amidst the stunning hills. There are many treks you can enroll in but the best ones are the trek to Rohini and the Kamala Falls trek. The Kamala Falls trek will take you on a journey where you can witness the marvelous waterfalls, Shiv Temple, Kalijhora Bridge and you can also take a dip into the lake. A visit to Darjeeling is incomplete if you don't explore the tea estates in the city. The Rohini trek will take you through the tea estates where you can soak in the aroma of authentic tea. Choose the trek which you find enticing enough and go have fun amidst nature.
Must Read: 5 Villas In Darjeeling That Are Like Paradisiacal Homes Amidst Lush Greenery!
---
Looking To Book A Holiday Package?
---
2. White Water Rafting: Add Thrill To Your Trip!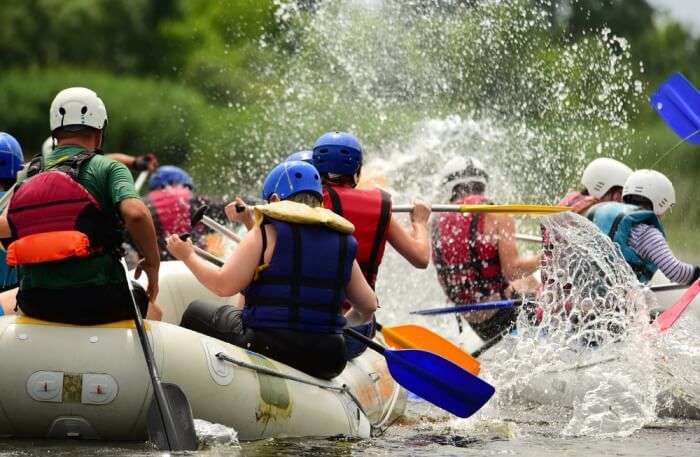 Rangpo is located in Sikkim and it will take around 2 hours to reach it from Darjeeling. If you want to try rafting then you must head Rangpo as traveling is all about exploring new places. Get ready to experience rafting in the River Teesta and Rangeet, Darjeeling. Whether you are a beginner or an expert, White Water Rafting will surely please the adrenaline junkie in you. Rafting is an activity which you can enjoy in summers and which will make your trip to Darjeeling in May enthralling for sure.
Suggested Read: Why Visiting Darjeeling In Monsoon Is Among The Best Travel Decisions Ever!
3. Paragliding: Conquer All Your Fear!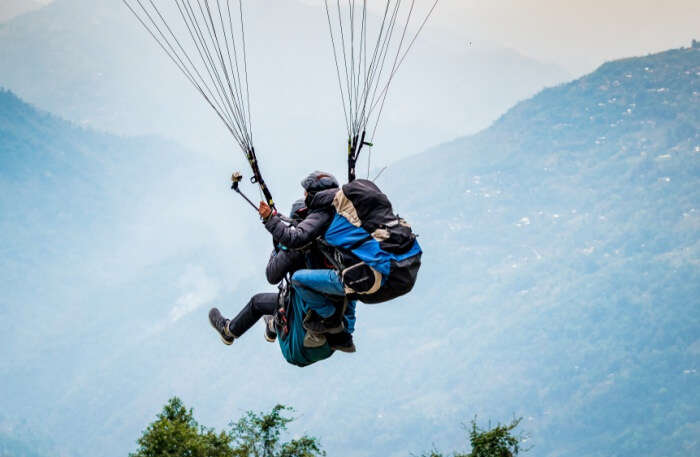 Who said you can only witness the lush green hills and tea estate of Darjeeling on foot. Go soak in the impressive views by engaging in paragliding. Your flying trip will take around 10 to 30 minutes and in these minutes you can experience true bliss. The best time for paragliding is in the month of May as the climate is perfect. So, if you are visiting Darjeeling in May, this experience ought to be on your list.
Suggested Read: Darjeeling In December: Here's Why Wanderers Love Hills More In The Winters
4. Mountain Biking: Witness The Beauty Of Lush Green Mountains!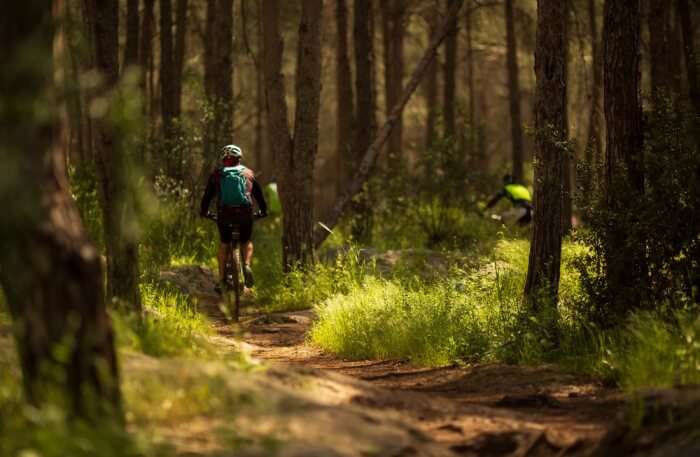 One of the best things to do in Darjeeling in May is to go for Mountain biking. If you are a thrill seeker then you should definitely try it once. You can look for a mountain biking organizer and enroll with them. They have different packages according to the level you are at. If you need an easy route for biking they will help you with it. Get ready to have an amazing experience!
Suggested Read: 26 Scenic Tourist Places In Darjeeling
---
Planning your holiday but confused about where to go? These travel stories help you find your best trip ever!
---
5. Toy Train: Travel In Style!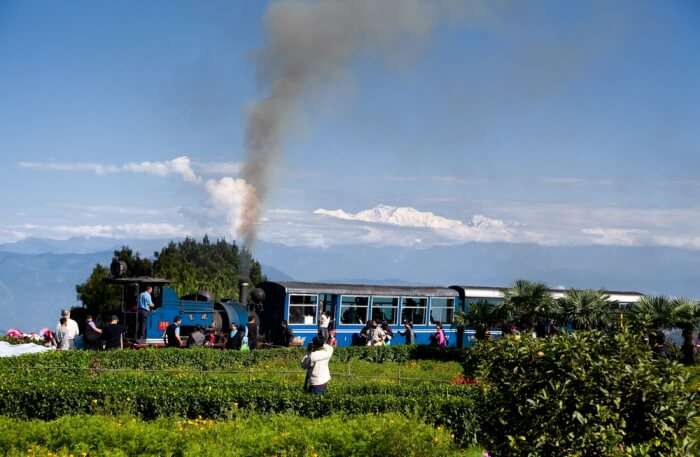 Whether it's summers or any other season, if you are in Darjeeling you must take the toy train ride of the Darjeeling Himalayan Railways. This train is a heritage transport and you should not miss this ride for anything else in the world. Go take this ride and get ready to savor the pretty landscapes of this pristine hill station.
Suggested Read: Trekking In Darjeeling: Top 9 Trekking Routes For An Thrilling Holiday In The Tea Hills
6. Tea Gardens: Plan A Stay    
One thing that is a must-add for Darjeeling tour in May are the sprawling tea gardens. Darjeeling is a city that has the fragrance of tea plantations spread in every nook, leaving one in awe. Since tea gardens are extremely close to the hearts of the locals, taking a tour around the tea gardens is a must. But what if we tell you that you can do a lot more than that. There are tea estates that give one an opportunity to stay in the heart of the aromatic greens of Darjeeling. There are numerous comfortable lodgings that will make the experience special. Be it a mansion exuding colonial vibes or a pocket-friendly stay, guests and travelers are spoilt with the choices here. 
Suggested Read: 15 Places Near Darjeeling: Your Next Stop For A Supreme Holiday Experience
7. Ropeway: Glance At The Miniature City Below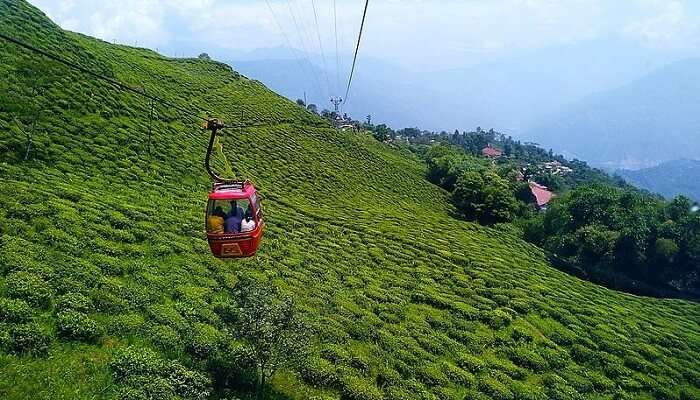 Another thing that is a must-try in Darjeeling in May is the ropeway. Just imagine witnessing the stupendous views of the perfectly manicured tea plantations, rolling grasslands, and lush green jungles down below. These scenic views take away the breath of the spectators. Rangeet Valley Cable Car is the service provider for Ropeway in this North Eastern magical town. The cable ride commences from Singamari at 7000 ft and goes all the way down till Singla Bazaar. This 45-minute ride makes every moment in Darjeeling worth every penny spent. 
Suggested Read:  Paragliding In Darjeeling: A Guide To Help You Have An Experience Of A Lifetime!
8. Shopping: Splurge Without Guilt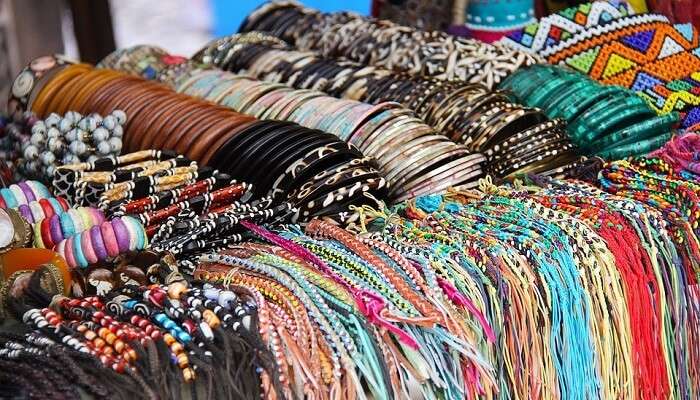 Image Credits: Sharonang for Pixabay
Darjeeling is a hill station that has something hidden for everyone. From the lively local markets to the streets full of vendors, shopping in Darjeeling is a different experience on its own. The most famous local markets in Darjeeling are Chowk Bazaar, local's favorite, and the Mall Road, a tourist's escape. There is a lot that you can find hidden in these street stalls. This is a treasure trove for beautiful jewelry, authentic and spectacular kitchenware, woolen clothing, and the handicrafts that showcase the local craftsmanship to a great extent. When in Darjeeling, one should not forget to spend some money on the famous tea and the prayer flags that are readily available. 
Suggested Read: 6 Resorts Near Darjeeling That Will Fill Your Soul With Tranquility And Peace!
9. Delicacies: Indulge In The Authentic Cuisine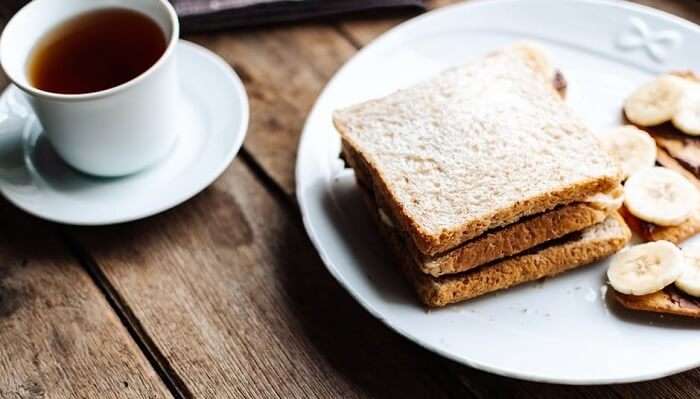 Image Credits: Ummy Ummy for Pexels
For those who prefer devouring the local dishes made with centuries-old recipes that leaves one drooling. There is no dearth of eateries, food joints, and restaurants on the floors of Darjeeling and hence is heavenly for the foodies out there. There are enough dishes that are a part of the cuisine in Darjeeling that one can easily take a food tour. There is a blend of Tibetan and Nepali cultures that one can taste in the bites of this hill station. Kwati, Aaloo Achar, Sel Roti, Pork Curry, Thukpa, Gundruk, Aaloo Tama, Dal Bhat, Sekuwa, Gobi, and Keema are a few dishes that one should not miss out on their tour to Darjeeling in May. 
Suggested Read: 7 Fanciful Picnic Spots Near Darjeeling That Are All About Fun!
10. Jeep Safari: Explore Singalila National Park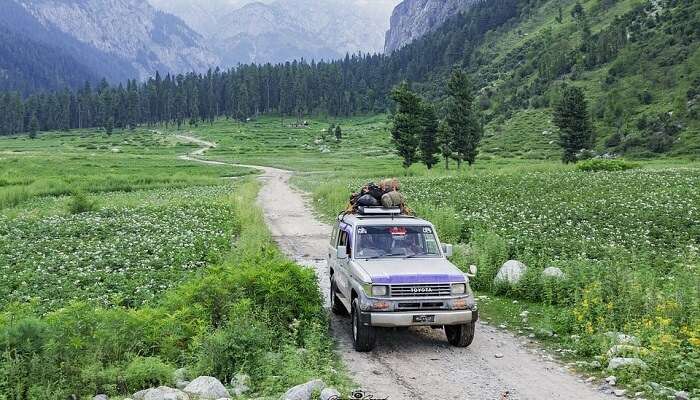 Image Credits: Dilshad for Pixabay
Darjeeling is home to an exotic wildlife that are worth witnessing. Singalila National Park is one location in Darjeeling where travelers can opt for Jeep Safaris and explore the jungles of this beautiful town, scouting for the majestic wildlife. This National Park blankets stunning Rhododendron Forests and a valley filled to the brim with vibrant orchids. This is the place where one can witness the beautiful species of flora and fauna in Darjeeling. Singalila is home to the rare Red Pandas and the Himalayan Black bear that one should surely spectate on their trip to this hill station. It is nothing less than a paradise for nature lovers and thrill-seekers out there in the world. 
Suggested Read: Darjeeling Vs Gangtok: Which Destination Offers Bliss At Its Best?
What To Pack?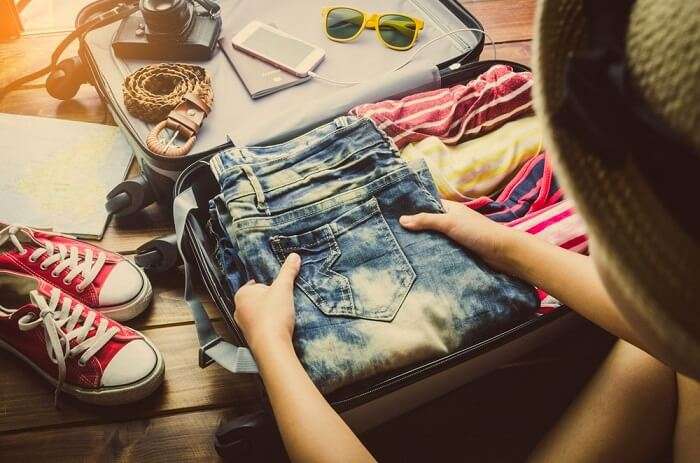 Darjeeling in the month of May has a pleasant climate. The maximum temperature can go up to 19 °C and the minimum is 11 °C. You can pack cotton clothes for the day time and carry a stole or a jacket for the night as the temperature is low. Don't forget to carry cash and necessary items like medicines, comfortable shoes, and sunscreen. The hotels where you will stay may require a valid identity document and you must carry your passport and tickets.
Further Read: 15 Resorts In Darjeeling You'd Never Want To Leave From
These are all the exciting things that you can do in Darjeeling in May. A trip to Darjeeling should definitely be on your bucket list as this city is truly a paradise for all travelers. The city offers charming views, aromatic tea, and a pleasant atmosphere. Already excited? Don't wait, get packed, pick this handy guide and leave right away for an amazing holiday!
Frequently Asked Questions About Darjeeling In May
Is May a good time to visit Darjeeling?
The best time to visit Darjeeling is in the Month of May. When the summer is hot and humid in the entire nation, Darjeeling has a cooling breeze.
What are all the adventures things you can do in Darjeeling?
When it comes to adventure, it is quite common to imagine some things that are experienced in certain places. However, adventure in Darjeeling is somewhat different. Mountains are at high altitudes that give the real thrill of mountain biking and trekking. Parasailing and rafting in the gorgeous Darjeeling give the unique experience.
What is Darjeeling famous for?
Darjeeling is especially famous for its climate and environment. It is the cool place in India, where Summers are awesome. Nature here is bestowed so much with the high mountains and floral & forestry treasure. Besides nature, the place has a tiny train which even amuses the adults.
What should you take along with you while traveling to Darjeeling?
Darjeeling is quite a cool place. So you should carry the clothes accordingly. Carry the clothes that are easy to dry and also the jackets that are cozy and warm.
What is the thing or spot in Darjeeling that must not miss?
Do not miss traveling through the toy train in Darjeeling. However, traveling on a toy train is fun and the experience is so unique.
What is the best time to visit Darjeeling?
Darjeeling is a destination that can be visited all year long. However, if you have a season preference, there are ideal months. Those who wish to visit in summers can go from April to June, while October to December are best winter months.
What are the top things to do in Darjeeling?
There is no dearth of things to do in Darjeeling with the top ones being trekking, shopping, riding a toy train, paragliding, visiting the monasteries, and more.
What is special in Darjeeling?
This emerald green town is famous for its orchids, lush green tea gardens, pine forests, and the charming toy train.
---
Looking To Book An International Holiday?
---