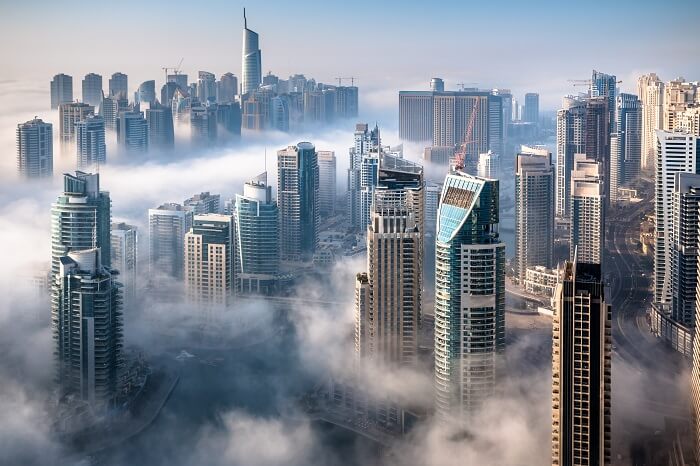 Dubai in June, undoubtedly, is hot! But then it's the same in any other month, give or take a few degrees. The benefit of visiting the king of the Emirates in June is that you won't find armies of noisy tourists buzzing around, and won't have to stand in long queues at ticket counters of the famous attractions of Dubai. The city will be all yours! And if that's not enough an advantage for you, how does cheap flight and hotel rates sound?
The Weather In Dubai In June
While the afternoons are hot and dry, the evenings are cool and pleasant in the Middle East. The average Dubai temperature in May June is around 32°C with a light breeze prevailing at all times. It's also the perfect temperature for water sports or swimming at the beaches in Dubai.
Why Visit Dubai In The Month Of June
Dubai is, thankfully, one of those amazing destinations where everything touristy worth seeing and exploring in indoors. Home to some of the greatest man-made architecture in the world, it has everything to keep you off the hot and humid streets and inside air-conditioned interiors whose luxurious settings and mind-blowing ambiance will make you want to stay more and more!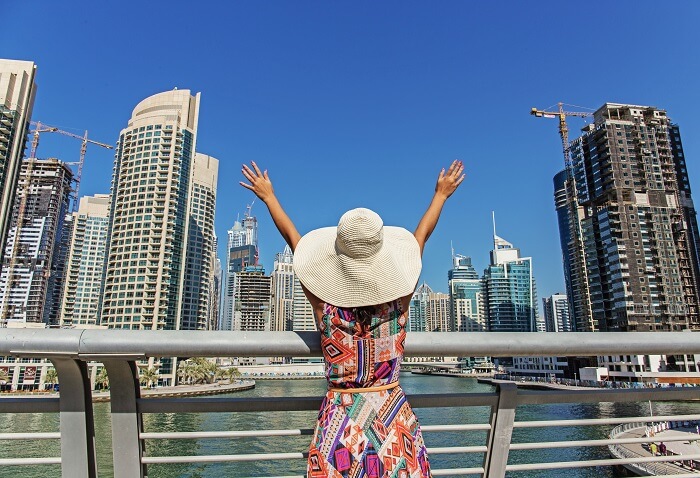 The fact that everything from flights to hotels is cheap during this time goes on to prove how awesome your trip to Dubai is going to be! And the crowd-less tourist spots and beaches will definitely be a cherry on the cake! Another wonderful reason is the exciting Dubai June events that you'll get to attend courtesy the Ramadan festivities. From fabulous discounts in malls, delicious feasts, to workshops and retail therapies, there's no end to the fun you'll have at the Emirates in June.
Things To Do In Dubai In June
Here's what you can do here in June:
10. Play With Snow At Ski Dubai Snow Park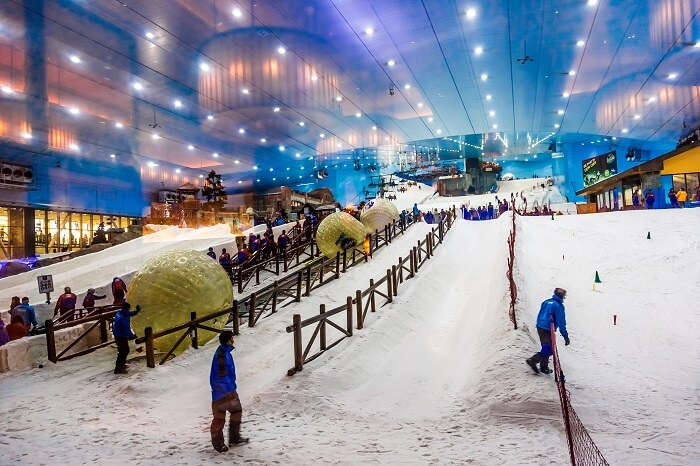 Suggested Read: 10 Best Indian Restaurants In Dubai For Desi Flavors
Yup, you read that right! At the Ski Dubai Snow Park, the first ever indoor ski resort in the Middle East, you can play with snow and enjoy gondola rides inside a massive mountain-themed area. If you wish to indulge in a number of snowy rides and even meet penguins in Dubai, this is where you need to go when visiting Dubai during the month of June. How better to beat the heat than rolling around in heaps of fresh crisp snow all afternoon!
Location: Mall of the Emirates
Entry fee: Starting at INR 4,600/- per person
9. Go Deep Sea Diving At Dive Atlantis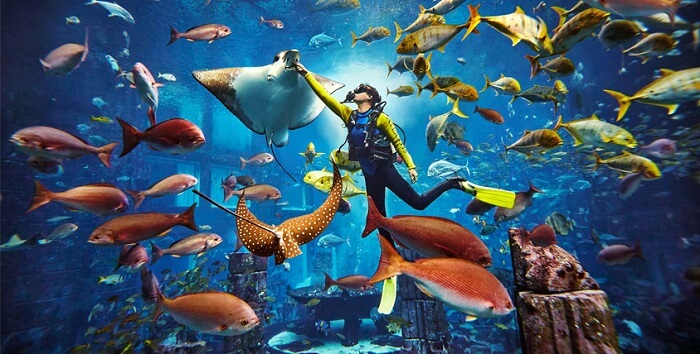 Image Source
Dive Atlantis is part of the renowned luxury hotel Atlantis The Palm and offers a variety of courses as per difficulty level for divers to choose from. It's the favourite spot for all divers as it gives them a chance to interact with over 65,000 marine animals. The guides are well experienced and will make sure you get the best experience of witnessing the colourful world deep into the Middle Eastern ocean.
Location: The Gulf
Average cost: INR 3,500/- per person (depending on the course opted for)
8. Gorge On An Iftar Feast!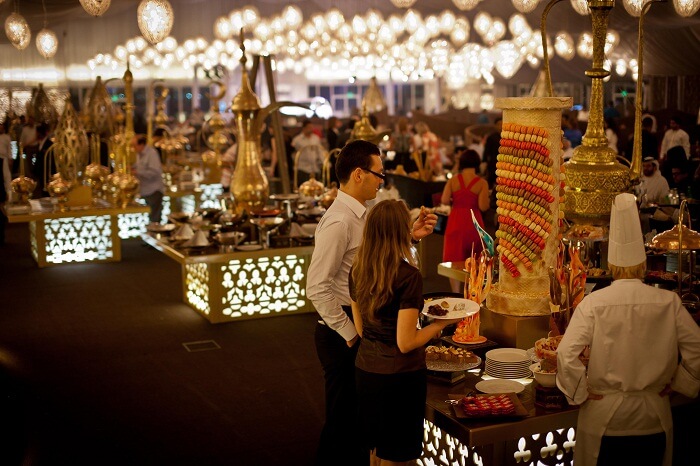 Suggested Read: Dubai Miracle Garden: A Virtual Tour To World's Largest Flower Garden
Iftar is an occasion celebrated across Arabia during Ramadan with endless enthusiasm and joy. Emirati cuisine is one of the best in the world, no doubt! But one gets to experience it on an enormous scale in Dubai in June during Ramadan. Many hotels host all-you-can-eat feasts during this time, serving traditional Arabic and Emirati dishes like slow-cooked lamb, rice, and sweets made out of dates.
You can also relax with friends and try Iftar cuisine served at the various Ramadan tents set up by beachside hotels in Dubai. At hotels like The Atlantis and Jumeirah Beach Hotel, people can dine, smoke shisha, and even play board games inside Iftar tents.
Other hotels hosting Iftar feasts: Four Points by Sheraton, The Palm, Crowne Plaza Dubai Festival City, Al Bustan Rotana, Sheikh Zayed Road, Anantara Dubai The Palm Resort & Spa
7. Watch The Dubai Fountain Show From Atop The Burj Khalifa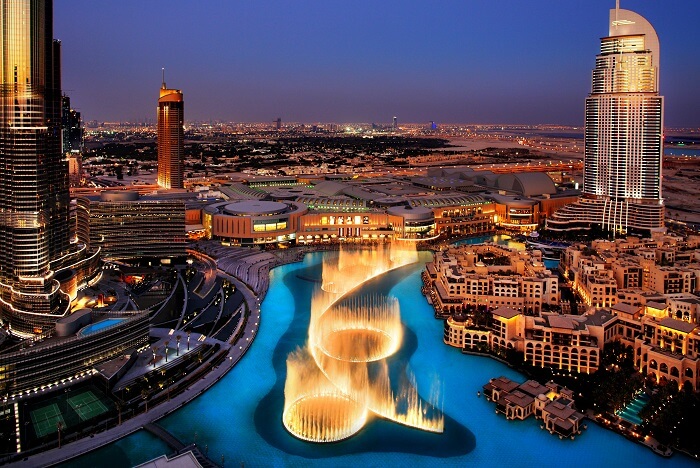 Located right outside the famous Dubai Mall at the base of the iconic Burj Khalifa, Dubai Fountain features the world's largest choreographed fountain system. This 'dancing water show' is a popular site for locals as well as tourists at night, stopping people in their tracks the moment it commences! It jets water streams as high as 150 meters in the air where each multi-coloured and illuminated jet sways in sync with various musical numbers from around the world, making it a breathtaking sight to behold.
The best one is the evening show that begins after sunset and takes place every 30 minutes until the final performance at 11 PM.
6. Visit The Aquarium And Underwater Zoo At Dubai Mall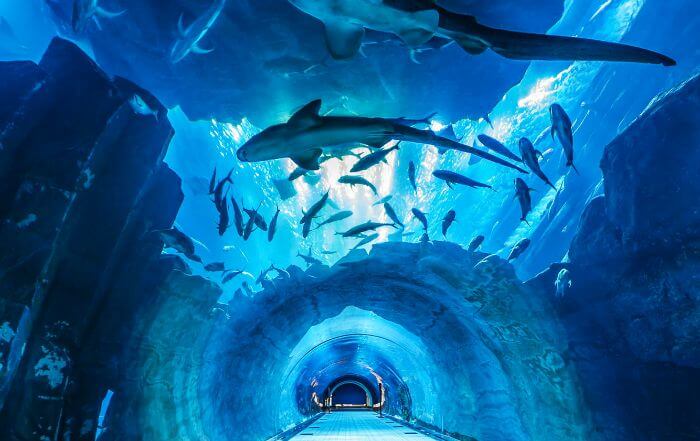 Suggested Read: These Sleeping Pods In Dubai Mall Will Add Comfort To Your Luxury Shopping Experience
Another thing to do on your Dubai vacation in June is to witness thousands of aquatic animals in the world's largest suspended aquarium. Comprising of over 140 species of sea creatures like sharks, stingrays, and Sand Tiger sharks, this aquarium on the ground floor and the underwater zoo on the second offer a unique experience of being up close and personal with marine life.
Location: Dubai Mall
Main attractions: 48-metre Aquarium Tunnel, Rocky Shore Living Ocean, UAE Night Creature
Timings: 10 AM – 11 PM on Sundays and Wednesdays
5. Thrill Out At The Aquaventure Waterpark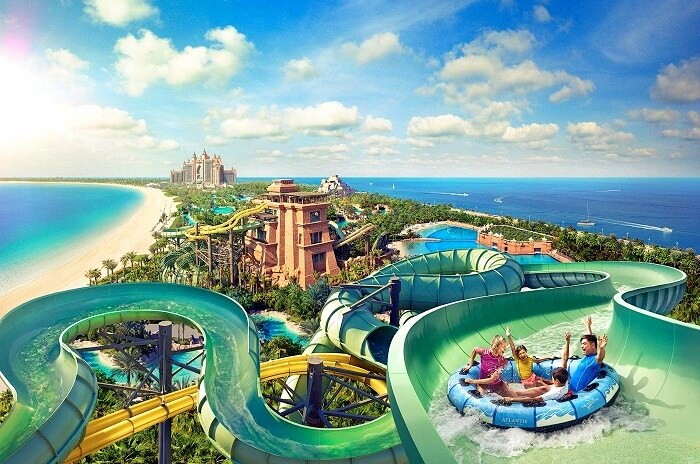 Enjoy the many record-breaking rides and slides at Aquaventure Waterpark, a part of Palm Atlantis Hotel, to get an adrenaline rush soaring through the roof. Other than thrilling rides and fun water attractions, this waterpark gives visitors a chance to watch sharks and rays as well as relax on the private beach of the hotel. Overflowing with fun and frivolity, this 17-hectares of unique rides and slides in unlike any other in the world and a must-visit on your trip to Dubai in June 2018.
Location: Atlantis The Palm
Timings: 10 AM – 6 PM
Website
4. Shop At The Extra Radiant Night Markets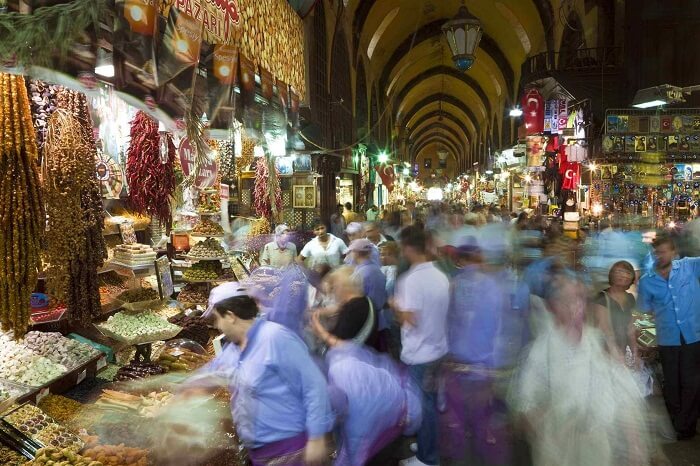 Suggested Read: 20 Best Places To Visit In Dubai At Night For A Vacation In Starry Landscapes!
Dubai's nightlife gets all the more charming during Ramadan. While the streets may be quiet during the day, the nights come alive with festivities, lights, and laughter. The night markets turn into an illuminated and colourful hub of activity selling some amazing Eid goodies like food items, lanterns, home decor, clothes, and more, especially during the last 10 days of the festival. The best of the lot is the Ramadan Night Market at Za'abeel Hall World Trade Centre.
3. Attend The RWAQ Ramadan at The Walk JBR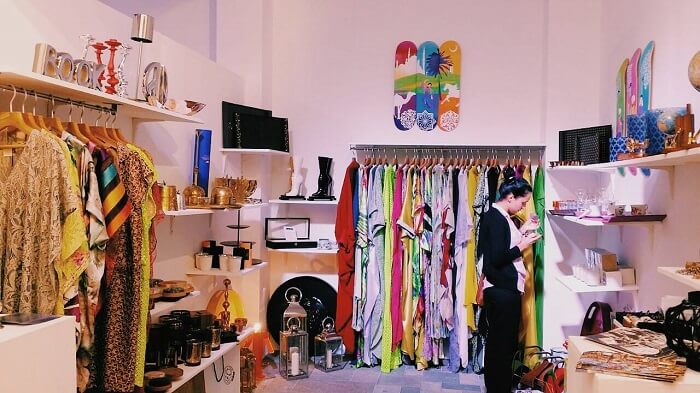 Image Source
Wish to experience the glitzy side of Ramadan in Dubai, then get to the RWAQ Ramadan at JBR the Walk. A lavish mix of art, food, and shopping, this interactive event offers visitors a unique look at the festival of Ramadan. Also, the Ramadan gallery and workshop are sure to blow your mind! The event will be one of the best Dubai June events offering fusion delicacies, retail therapies, art installations, F&B options, and exhibitions inspired by Arabian culture.
Location: The Walk at JBR, Murjan and Sadaf
Timings during Ramadan: 7 PM – 2 AM
2. Explore Mosques Draped In Glittering Ramadan Lights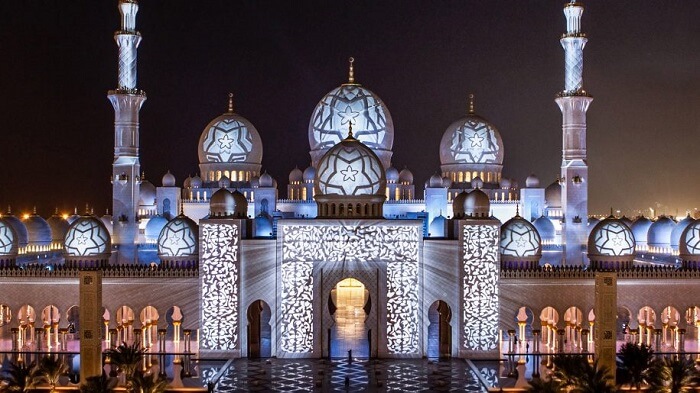 Suggested Read: 10 Dubai Travel Tips To Help You Make The Most Of Your Perfect Holiday
The mosques of Dubai and Abu Dhabi are undoubtedly gorgeous. But add to them a sweet little Ramadan touch and Voila! Abu Dhabi and Dubai mosques during Ramadan not only offer an excellent platform to understand the religious value of the festival, but also overwhelm people with exteriors wrapped with twinkling lights! Though you can easily enjoy the lit views of mosques like Imam Hussein, Al Farooq Omar Bin Al Khattab, and Khalifa Al Tajer, nothing would be able to beat the breathtaking sights of the ultra-grand Jumeirah Mosque in Dubai, and Sheik Zayed Mosque in Abu Dhabi!
1. Dine & Sail Away On The Dhow Cruise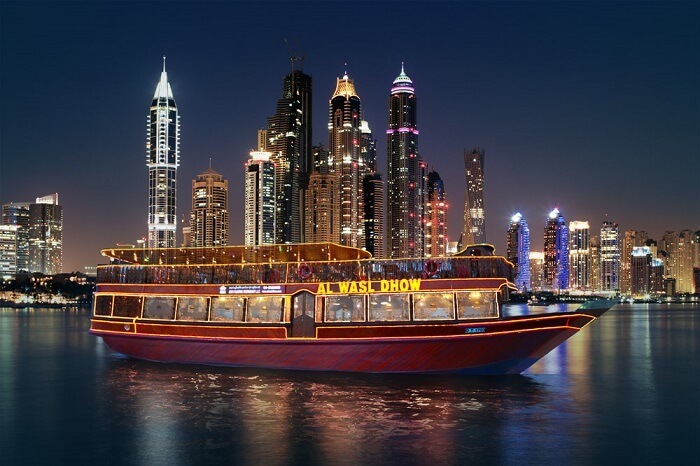 Do you know what's better than cruising the Dubai Creek on a lavish boat? Well, it's cruising the Dubai Creek on that boat during the month of June! Offering a large share of unmatched luxury while you engage in a dreamy dinner and stunning views of the lit Dubai cityscape from the deck, the traditional Dhow Cruise is unlike any other.
This famous cruise turns all the more attractive when it's not crowded with tourists, when you can enjoy its undivided luxuries, ambiance, and entertainment like a rich Sheikh of the Middle East!
Location: Dubai Creek
Average cost: INR 25,300/-
Tips For A Dubai Vacation In June
Carry hats, scarves, sunglasses, and loads of sunscreen
Pack light coloured cotton clothes
Carry water during your sightseeing tour and keep yourself hydrated at all times
Fill your water bottles in the hotel itself as packaged water in expensive in Dubai
Don't drink, smoke, dine, or even chew gum in public
Dress appropriately. Laws regarding dress codes are stricter during Ramadan
The local markets like Meena Bazaar are closed during day time on Fridays
Bars are open only post sundown and are way quieter during Ramadan
You won't find any Belly Dance performances in Desert Safari during Ramadan
Further Read: Special Dubai Pass: Travelers Can Now Enjoy Cash-Free Access To Major Attractions & Tours!
Dreaming of visiting Dubai in June? We bet you are! Got any more tips and tricks for enjoying Dubai during this time? Let us know in the comments below and start browsing Dubai packages in June for a whole lot of fun and excitement at this Emirati gem!
Comments
comments