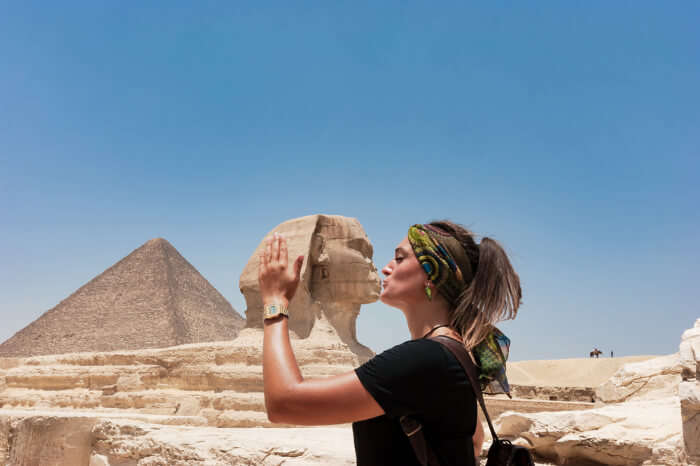 Egypt, a country celebrated for its impressive Nile, glorious monuments, sand-covered tombs, ascetic pyramids, Pharaonic temples, and everything you need to embrace the love of traveling. Once you are in Egypt, the enticing deserts and flourishing delta, Valley of the Kings in Luxor where the tomb of Tutankhamun was exposed, the Egyptian Museum in Cairo, exotic beaches, and the warm-welcoming people will make you want to come here more often and embrace the never-ending enthralment of the country. Egypt will never be poured out of its fascination. The luring sightseeing of Dendara, Edfu, Lake Nasser, and the masterpieces of Ramses II's at Abu Simbel, trekking into the desert while exploring the outlines of Roman trading colonies will never be enough for an enthusiastic traveler. To sum up, Egypt is a complete gem for an explorer. But here are a few Egypt travel tips that you must keep in mind whenever you are planning to step into the wonderland of Egypt.
13 Important Egypt Travel Tips
It is highly recommended to virtually explore the place before you actually visit it, here are some Egypt travel tips that you may find worthy while traveling to the mighty Egypt. Here are the top Egypt travel tips 2022 and you will surely find these useful if you are traveling to this beautiful country anytime soon :
1. Travel Insurance
If you are set for your first trip to Egypt, you'd want to make sure you have made a firm investment regarding your health by procuring an affordable and a flexible travel insurance policy. This policy will cover you up in case of a stolen bag, missed/delayed flights, medical facilities in case you suffer an injury. It is always better to be safe then bewail.
2. Hire a Tour Guide
It is very important that you hire a tour guide as traveling to Egypt may seem like a cherry but the reality is a complete different story. Once there, you'll have to manage your accommodations, transportation, your sightseeing and every other little detail. Even if you have planned it well, there would be a loose end. Thus, to be sure you have a great trip, it would be better to hire a tour guide to help you through.
Must Read: 9 Most Magnificent Egyptian Monuments That Will Put You In A Trance On Your 2022 Trip
3. Be an expert in haggling
It doesn't matter if you're in Egypt you won't have to negotiate. What to expect in Egypt while shopping here – lot of premium added by the shopkeepers if they sense you are not a local. The skills of haggling and negotiating are one of the most primary and major assets you must possess. Everything is worth negotiating in the country so you don't have to worry about anything. Negotiating is common in Egypt, making bargain a necessary skill.
Suggested Read: A Trip To Egypt? See What All To See And Do For The Best Holiday Experience
4. Bring your own Toilet Paper
Most of the restrooms in Egypt do not have toilet papers, it's really hard to find. The toilets hold a built-in bidet spray nozzle for those who do not have any toilet paper with them. But it is safe to carry your own toilet supplies before using the restrooms in some other country. Take at least enough of them to carry on through the day. This is one handy Egypt packing tips that you will surely find useful.
Suggested Read: A 4000 Year Old Tomb In Egypt Has Just Been Opened For Public & It'll Leave Your Mind-Boggled!
5. Use UBER in Cairo
Cairo supports the system of Uber in the city. If you operate through a new Uber account, you can get your first free ride up to 70EGP in Egypt. Though taxis are available at every spot, it is still better to use an Uber ride whole moving around the city freely and comfy.
6. Watch out for Scammers
Image Source
If you have a tour guide, you are good. However it would be wise if you are wary of who to trust in a foreign land. Regardless of what country it is, deceptions happen everywhere. All you need to do is to figure out who is faking it and who is genuine. One way to be safe is to communicate with the locals.
For instance, if someone approaches you and asks you to come visit his shop and asks for "baksheesh" (tip), simply avoid them by telling them, "La, shukran" (thank you) and walk away. They won't run after you but it's better to avoid them.
Suggested Read: 20 Things To Do In Egypt In 2022 That No Travel Guide Will Ever Tell You About
---
Planning your holiday but confused about where to go? These travel stories help you find your best trip ever!
Real travel stories. Real stays. Handy tips to help you make the right choice.
---
7. Enquire about the prices
Anything you buy, be it water, food, souvenirs, clothes, or anything, make sure you ask for their prices before making a final purchase. Haggle a bit if you think the price of an item is a bit high. Communicate with the locals and find out the exact prices.
8. The Metro System in Cairo
The metro system in the Cairo city is an amazing experience. Note that this metro system is the first of the two metro systems in the entire Africa. Make sure you explore one of the finest metro systems in Africa.
Suggested Read: 17 Mystical Places To Visit In Egypt In 2022 That Will Make You Pack Your Bags Right Away!
9. Wear comfy shoes
While exploring the beautiful lanes of Egypt, you wouldn't want your feet to get swampy or achy. It is recommended to wear comfortable shoes or sneakers while walking. The streets of Cairo and many other cities in Egypt are messy and it's better to wear something comfortable so that you won't get hurt.
10. Be careful while walking
It is highly important to watch your step while exploring the city of Cairo as the cities in Egypt are not well-maintained. It is mandatory to watch while walking. Give it some time and allow your tour guide to help you pass through.
Suggested Read: Newly Discovered 4,400-Year Old Tomb In Egypt Is Stealing Giza's Thunder Big Time
11. Stay Hydrated
You don't have to drink tap water as nobody in Egypt drinks it. You'll have to purchase a lot of water bottles on your trip. You'll need it to drink, brushing your teeth and washing your face. The heat is extreme all the time so you probably have to pour some of it on your head as well. As you are a traveler, you'll be charged from 4 to 10 EGP for a big water bottle. But if you end up haggling with the shop owner, you can buy it for 2 to 2.5 EGP.
Mingle with the Locals, eat where they eat- The best way to mingle with the locals is to eat at street stalls and restaurants where it is filled with locals. If you see an empty restaurant during the day time, avoid it. Instead, walk into a place filled with the locals, even if it is a street stall. The plus point is you'll get to talk to the locals and eat great food which is highly affordable. There is no point in wasting money dining in expensive restaurants when you can get the most scrumptious meal at a street stall.
12. Behave like a resident
It doesn't matter if you're from any foreign land. If you behave like a local, the street is yours. The traffic in the cities might be intimidating to you at first. But you have to maintain your calm and walk like a local resident. Cross the streets with confidence and if ever you need help, don't hesitate in contacting a tourist police, though you won't need it.
13. Respect the culture
Highly mandatory. It is better to do a little research about the dress codes and cultures before arriving to Egypt. A vast number of travelers arrive in the country and dress like a native resident. This attracts unwanted attention, gazing, and the worst of all, physical advances by a few Egyptian men. If you wish to blend in, all you have to do is to avoid hurting the sentiments of the people and their culture. Dressing carefully will prove to be the best. Here is a little guidance-
For women
Make sure you have your knees and shoulders covered all the time.
Carry a scarf to cover your hair with you while visiting mosques and other religious spots.
Remove your shows while entering a temple or a mosque.
If you happen to visit a mosque and you have nothing to cover your shoulders, legs and hair, you need not to worry as the staff is very cooperative. They will provide you an oversized robe.
It is okay to wear bikinis and other swimwear at the resorts on the Red Sea.
If at some point of your travel you feel discomfort or something that bothers you, you are free to ask any local woman to help you out.
For men
It is alright to wear shorts while exploring the city but it is advised to carry a pair of longer pants or jeans for your evenings or when you visit somebody's home or you happen to visit an event.
Do not wear sleeveless shirts, tank tops and gym clothes as these dresses are not acceptable.
For the nights, light and comfy clothing are fine to do.
You can wear swimming trunks and other swimwear at the resorts. You can also carry on with the swimwear while wandering around the town in the Red Sea.
Further Read: 10 Best Honeymoon Places In Egypt For A Romantic Stint By The Pyramids In 2022
While Egypt is one of those countries in the world to visit for a highly rich travel experience, it is highly recommended to follow the above mentioned steps while entering into the premises of a foreign land. Plan a trip to Egypt soon and live some of the most captivating moments of your life.
---
Looking To Book A Holiday Package?
Book memorable holidays on TravelTriangle with 650+ verified travel agents for 65+ domestic and international destinations.
---