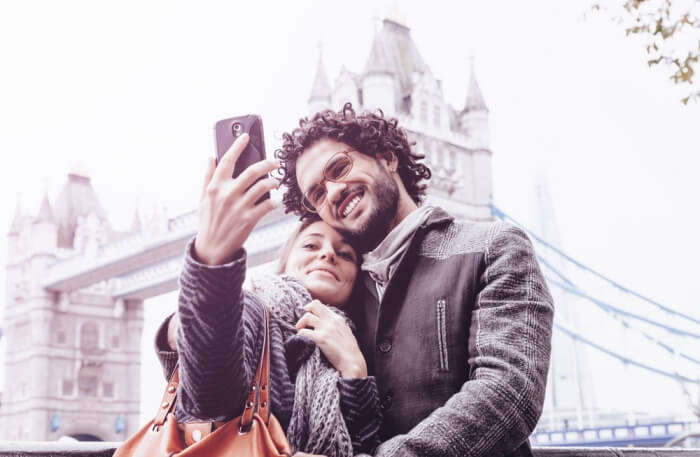 Romantic, historical, and inspiring in nature, there has been no city in the world that has been able to surpass the charm of the ever-dazzling London. From the high-rising buildings, to classic architecture, from endless shopping spots to fascinating museums, and from entertaining parks to lively pubs, this city will make sure that there is never be a dull moment on your honeymoon in London.
Why A London Honeymoon?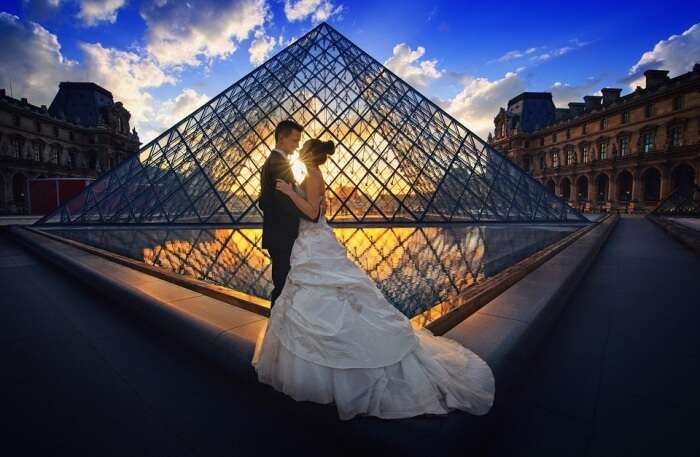 Every bit of London feels like being covered in royalty. From the architectural marvels to the astounding museums, London has its own way of charming the couples.
Set in the heart of Great Britain, this capital city serves as a unique honeymoon destination which attracts a lot of newlywed couples due to its royalty and trend-setting culture. Be it a nature getaway, a romantic escape, or an adventurous holiday, the city has a unique surprise for every couple who are looking forward to explore London for honeymoon.
Suggested Read: 40 Romantic Things To Do In London For A Trip For Two In 2022!
Weather In London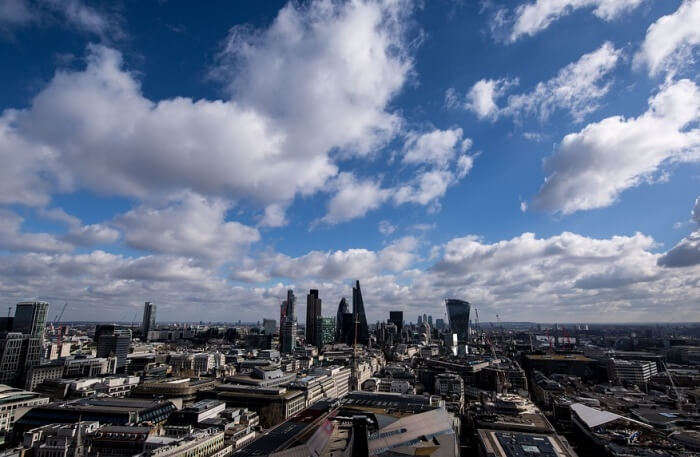 Image Source
It is very rare when people in London have to face extreme climate. The wonderful city can be explored all round the year and the climate for most of the days remains moderate.
Spring: The spring season spans from the months of March to May and an average temperature ranges from 11°C to 15°C.
Summer: The months from June to August marks the arrival of summertime and the average temperature fluctuates from 18°C to 30°C.
Autumn: London enjoys a mild weather during the Autumn season which prevails from the months of September to November and an average temperature ranges from 11°C to 15°C.
Winter: Despite the freezing temperature that varies from 2°C to 6°C, London comes alive during the winters from December to February.
Suggested Read: 10 Historically Significant Castles Near London You Must Visit When Exploring The City
Best Time To Visit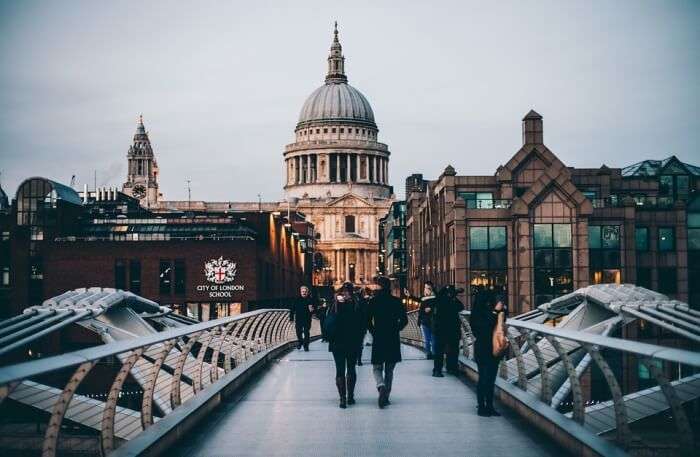 Though the best time to visit London for honeymoon is from the months of June till September, the total cost of traveling for the couple may increase as this happens to be the peak season as well. Alternatively, the couples who're willing to explore the city of London amidst less crowd and more privacy, can visit this charming place from the months of January to March as well.
Ideal Duration
It is a different story altogether that the newlyweds don't feel like leaving London at all. However, for those couples who are in search of exciting London honeymoon ideas, an ideal duration of 4 days and 3 nights would work wonders for the love birds.
Average Budget Per Day Per Couple
While planning a honeymoon in London, it is a must to consider the necessities including average accommodation, meals, local transfers, sightseeing and miscellaneous expenses. Therefore, a breakup of an estimated expenditure per couple per day has been listed below: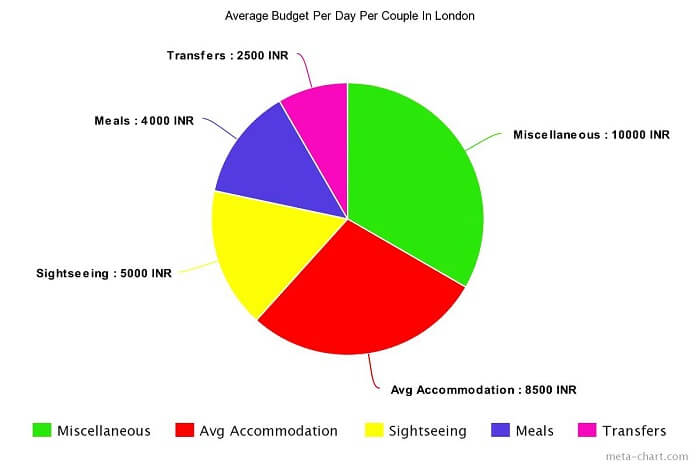 Flights (Round Trip): INR 70,000
Average Accommodation: INR 8,500 to INR 10,000 per night (standard double-room)
Average Meal For Two (Lunch & Dinner): INR 4,000 to INR 5,000 (Without Alcohol)
Local Transfers: INR 2,500
Sightseeing: INR 5,000
Miscellaneous: INR 10,000
An average budget per day per couple on a London honeymoon would be INR 30,000 only.
Please Note:
Flight rates have been excluded from the average budget as the rates may change depending on the departing destination of traveler.
Average flight rates have been mentioned based on bookings done 45 days prior to the date of departure.
For accommodation, an average prices has been mentioned wherein the taxes have been excluded.
Also, the lower limit has been considered to calculate the average budget per couple per day.
How To Reach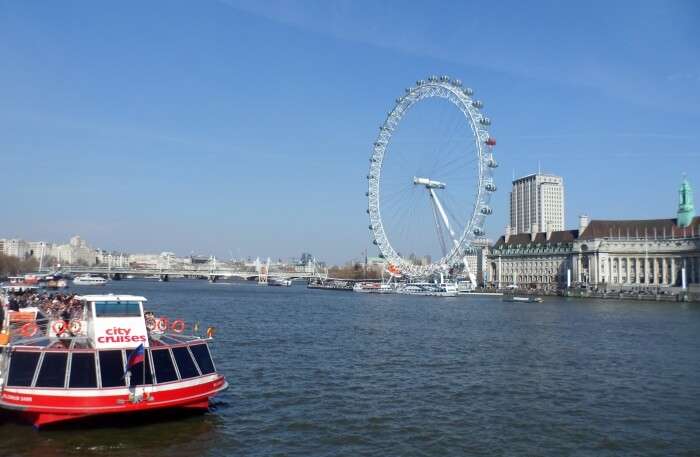 Image Source
London has five stunning airports that connect it to almost every popular city in the world. Out of all the five, Heathrow, Stansted, and Gatwick happen to be the most busiest airports in London.
Couples from India can take any leading flights like that of Air India, British Airways, Jet Airways, and so on to get to London via the London Heathrow Airport. Alternatively, there is British Railways Network and numerous bus services for travelers who're willing to arrive in London from neighboring cities.
Getting Around In London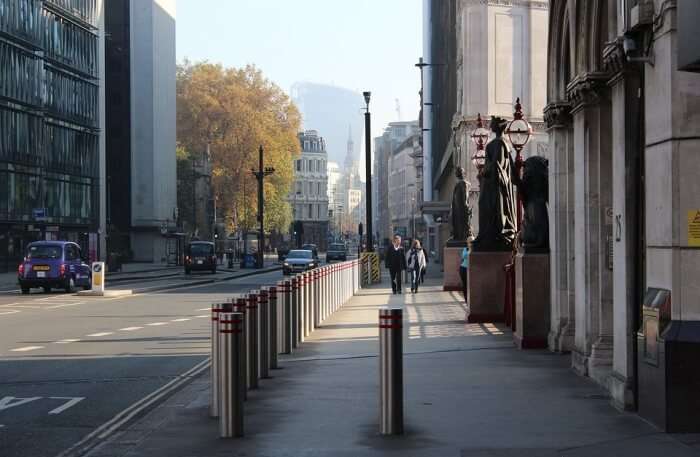 Image Source
Couples usually love to walk and relish every bit of this city full of old-world charm. However, the alternative modes of transport are also considered to be cheaper, faster, and better.
Walking: People usually love to walk through the gorgeous streets of London and it is the most romantic way to explore the city with your soulmate.
Double-decker Buses: The most fun and entertaining way of exploring the city is to find yourselves a seat on the second level of the famous double-decker buses.
The Tube: One of the most popular modes of transportation is that of the Tube which an underground system to get around the city.
Rent A Car: You'll be spending double the amount and energy on renting a car. You not only end up paying the rent but also the parking charges which are quite high in London. Also, renting a car in London is equal to getting stuck in traffic jams for hours.
Taxi: For your own convenience, you can always find a taxi on any and every street in London.
Suggested Read: 10 Best Indian Restaurants In London That Will Awaken The Gastronome In You!
Packing Essentials For Honeymoon In London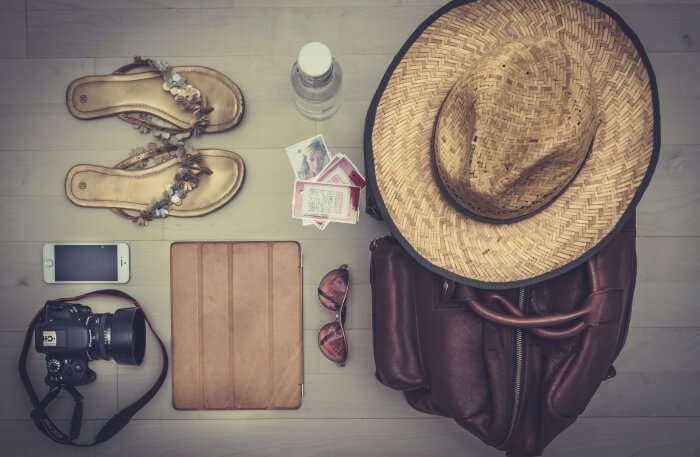 Image Source
As much as you're allowed to enjoy the freedom, it is very important to follow the etiquettes in London. Hence, make sure you do not step out of your house without packing these essentials for honeymoon in London.
Keep your flight tickets, two sets of photocopies, passport, visa-related information, international driving license, and hotel information in place.
Spread out your cash in different pockets and different bags for emergency purposes.
Do not forget to take your power-converting adapter, charger, camera, charging cord, power bank, tripod, USB cable, headphones, portable speakers, iPad, etc.
Stay close to travel apps and google maps while exploring the city.
Clothes: Jacket, tops, formal dress, partywear, shrugs, hats, shirts, trousers, blazers, cardigans, boots, and a pair of heels for your date night are a must.
A pair of sunglasses are a must while traveling to London.
Carry woolen caps, scarves, earmuffs, and gloves, in case you're visiting in winters.
Last but not the least, don't leave without packing an umbrella as it can rain in the peak season as well.
---
Planning your honeymoon but confused about where to go? These honeymoon stories help you find your best honeymoon trip ever!
Real honeymooners. Real stays. Real opinions to help you make the right choice.
---
Must-Visit Places In London
A honeymoon trip is done right when the places to be explored are unique, and enticing. Since the Big Ben, London Bridge, and the London Eye are quite popular attractions, here are few romantic places to visit in London which are truly a must for a magical experience.
1. South Bank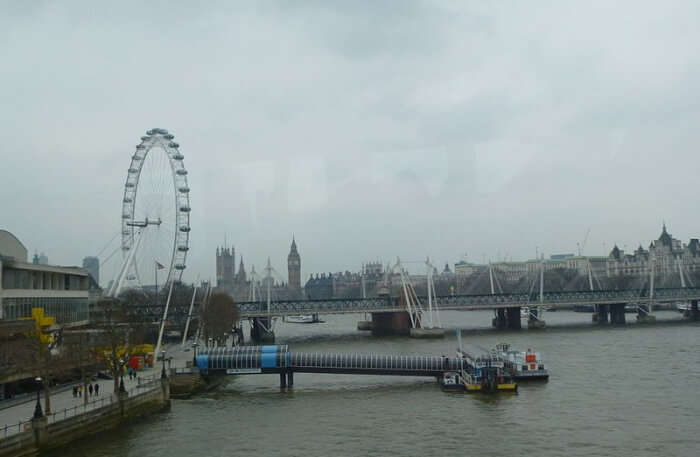 Image Source
Much famed to be the cultural heart of London, it is a must for every couple to witness the ever-vibrant charm of South Bank.
One has to experience how it feels to be in a place where the world comes alive. Be it theatre performances, events & exhibitions, cultural festivals, shopping, restaurants, or bars, South Bank offers everything that you can ever ask for, with a touch of romance.
2. Painshill Park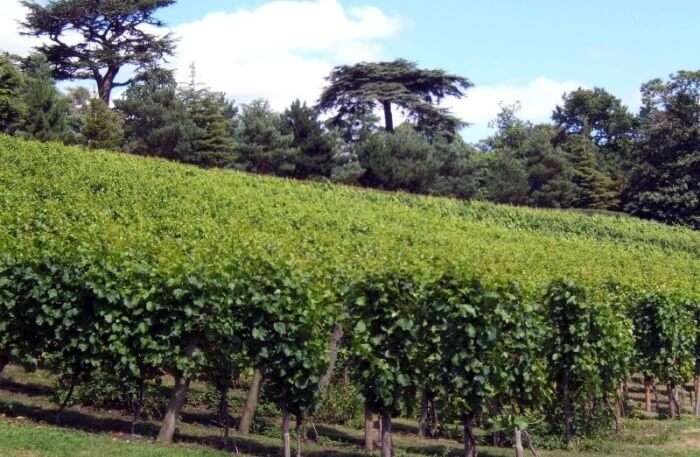 Located at a distance of about 45 minutes from London, the famous Painshill Park is a 18th century garden which was built during the 1738 and 1773. The park encompasses a Turkish tent, a beautiful lake, an old Chinese bridge, an ancient Gothic temple, a destroyed abbey, and a magnificent grotto. The crystal grotto is a must visit masterpiece which houses fascinating crystal formations.
Location: Portsmouth Road, Cobham, Surrey
Timings: 10 am to 6 pm (All days)
Entry: INR 550 per adult
3. St Paul's Cathedral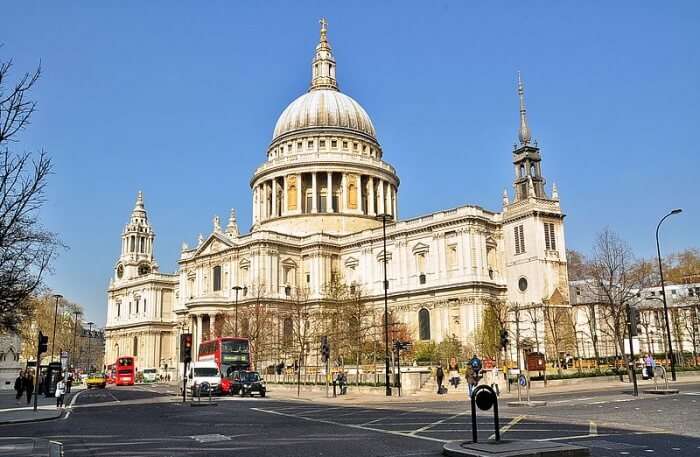 Standing tall at a height of 111 metres, St. Paul's Cathedral is the most well-known landmarks of London. Perched at the highest point of Ludgate Hill, the unique English Baroque and the Renaissance architecture of the church attracts a millions of visitors from all over the world. Though it is one of the famous attractions, it is a must for every couple to witness the inspiring interiors and decor of the church. Visit the website here for entry details.
Location: St. Paul's Churchyard, London
Timings: Monday to Saturday – 8.30 am to 4 pm
Romantic Things To Do In London
1. The Gordon's Wine Bar: Say Cheers To New Beginnings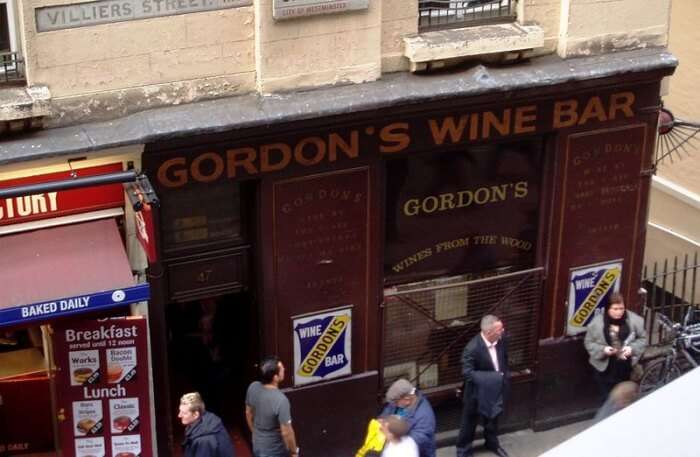 Established since 1890, the Gordon's Wine Bar is much famed to be the oldest wine bar in London. Located under the streets of Covent Garden, the whole setting of the bar has been carved out of tunnels and caves. Offering a wide range of selected wine, Gordon's Bar serves as a perfect place for that mandatory date night on your honeymoon.
Location: 47 Villiers St, London
Timings: Monday to Saturday – 11 am to 11 pm and Sunday – 12 noon to 10 pm
Cost For Two (With Wine): INR 4,100
Suggested Read: Visa-Free EU Travel: What UK Tourism Wants In The Next 2 Years Of Brexit Talks
2. London's Eye: Fall In Love With The Evening Sky

There is no better way than enjoying a ride on the famous London's eye to relish the real taste of London from a height of 135 meters. Soaking in the best of skyline views during sunset, enjoy a glass of champagne with your soulmate as you enjoy your romantic evening.
Location: Lambeth, London
Timings: 10 am to 8.30 pm (All days)
Fast Track Entry (With Champagne Experience): INR 2,700 per person
Suggested Read: A Tour Around The Windsor Castle In England Will Show You How To Live Life Queen Size!
3. Witness Magical Views From The Shard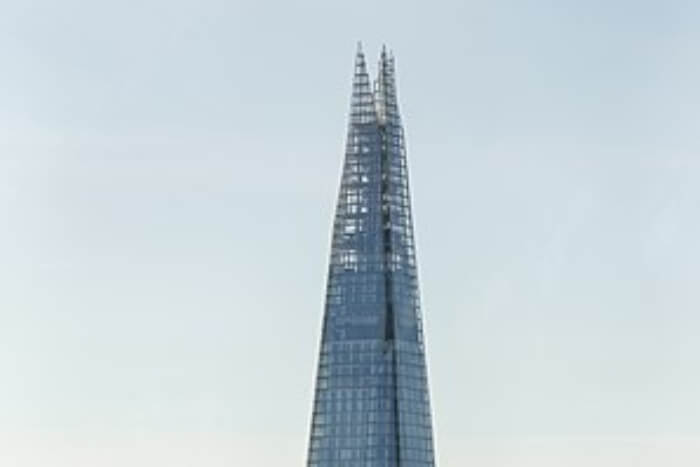 Image Source
Scale new heights with your better half at the tallest building structure of the Shard in London. Relish the 360-degree panoramic views of the London skyline like never before from Shard. Whether you want stay, drink, or dine, do it in style at the magnificent Shard.
Location: 32 London Bridge St, London
Height: 306 metres
Must Experiences
1. Dinner Date At The Searcy's Restaurant In Gherkin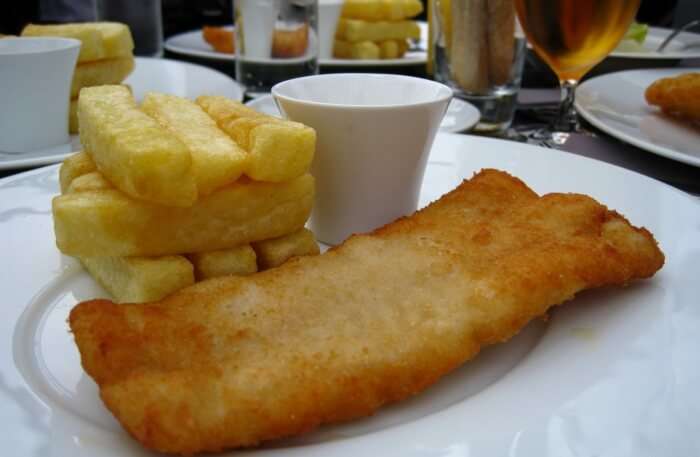 Image Source
Located at the 39th floor of the famous Gherkin, you can stay assured to be awestruck forever post witnessing the thrilling aerial views of London. Considered to be one of the best fine dining restaurants and cocktail bars, celebrate your special occasion at the most stunning place in London.
Location: 30 St Mary Axe, London
Timings: Monday to Thursday – 12 noon to 2.30 pm; Friday – 12 noon to 2.30 pm and 6 pm to 9 pm; Closed on weekends
Cost For Two: INR 9,850 (With Alcohol)
2. Explore The Richmond Hill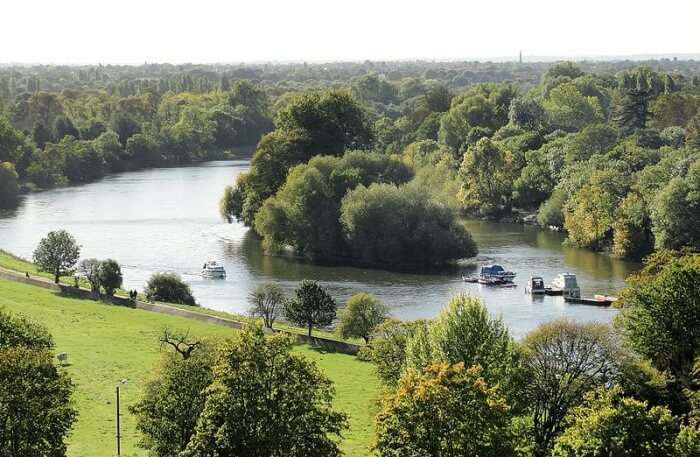 Inspiring everyone's imagination to be beyond beautiful, Richmond Hill is an elevated hill set in the heart of London. Much famed as a popular tourist attraction in the city, Richmond Hill is the only place that offers astonishing views that are even protected by the law. You heard that right!
3. Cruise The Little Venice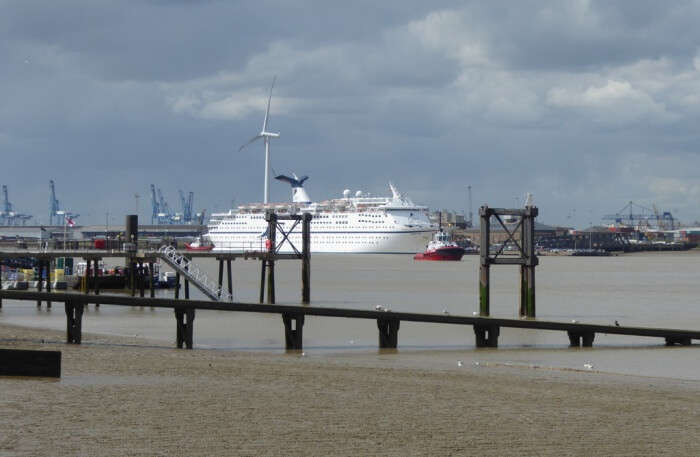 Located in the northwestern London, cruising on the tranquil waters of the famous canal in London is a must experience for every couple. Considered to be a peaceful getaway away from the hustle and bustle of the city, enjoy a ride on one of the vibrant, and colorful houseboats for a delightful experience.
Where To Stay
1. Hotel Indigo London – Tower Hill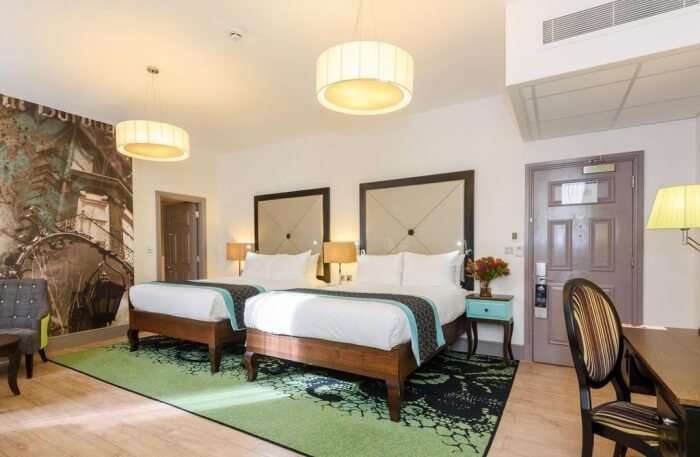 Image Source
Located at a distance of just two minutes from the Tower of London, Hotel Indigo features luxury rooms which are tastefully designed for the honeymooners. Chocolates, beverages, and services of a mini bar in every room are on the house.
Address: 142 Minories, London
Price/Night: Starts from INR 8,200 (double-sharing basis & tax excluded)
Google Ratings: 4.5/5
Website | Reviews
Suggested Read: Delhi to London By Road: These 3 Indian Super Moms Drove Across 17 Countries in Just 95 Days
2. The Rookery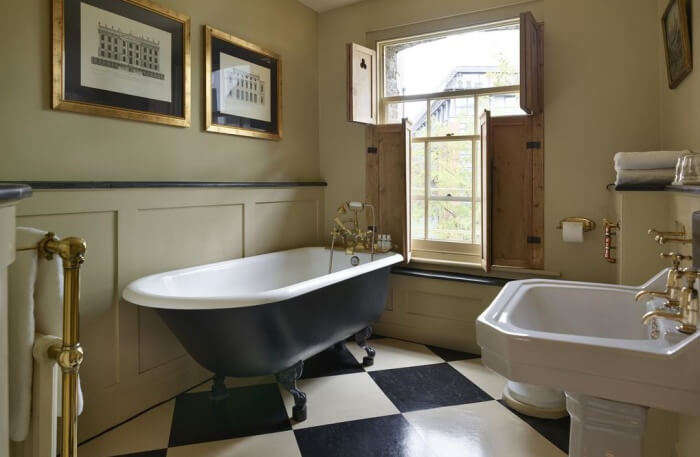 Image Source
Situated just two minutes away from the tube station of Farringdon, Rookery is a chic, quirky, and a modern hotel that has treasured its roots from the 18th century, safe and sane. From ornate decor to antique fittings, treat yourself to the royal ambience of the Rookery Hotel.
Address: 12 Peter's Ln, Clerkenwell, London
Price/Night: Starts from INR 12,000 (double-sharing basis & tax excluded)
Google Ratings: 4.6/5
Website | Reviews
3. Leman Locke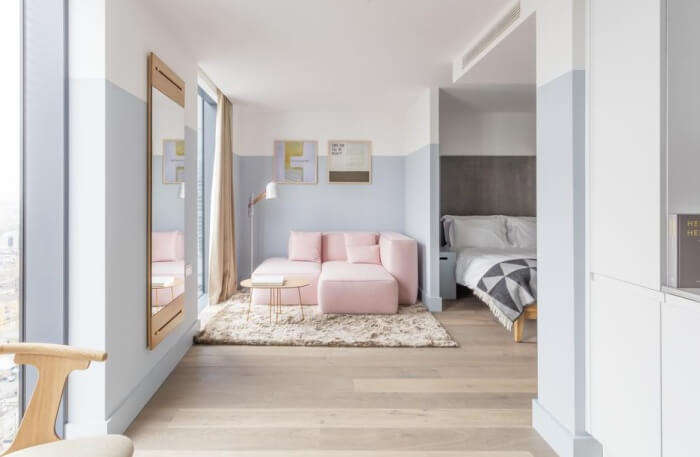 When style meets elegance, the result is just as brilliant as the Leman Locke Hotel. Located in the heart of Shoreditch, the well-equipped rooms with all the modern amenities of Leman Locke Hotel makes sure that the honeymooners feel at home.
Address: 15 Leman St, Whitechapel, London
Price/Night: Starts from INR 10,000 (double-sharing basis & tax excluded)
Google Ratings: 4.5/5
Website | Reviews
Where to Eat
1. Berners Tavern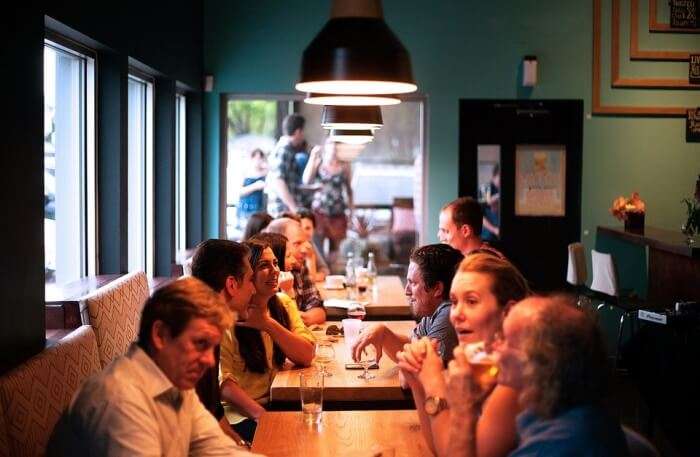 Image Source
Modern, stylish, and sophisticated is what Berners Tavern is all about. Relish the delectable British cuisine in a private dining room and let the chef do the magic.
Address: 10 Berners St, Fitzrovia, London
Timings: Monday to Friday – 7 am until midnight; Saturday to Sunday – 9 am until midnight
Zomato Ratings: 4.3/5
Cuisines: French and British
Average Meal For Two: INR 8,000 (tax excluded)
Website | Reviews
2. Clos Maggiore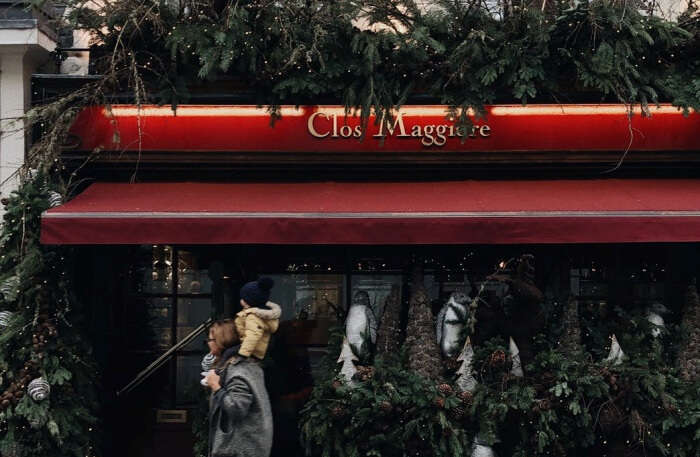 Image Source
Recipient of the world's most romantic restaurant, the interiors of Clos Maggiore are adorned by the cherry blossoms that are in full bloom and glory. Enjoy a candlelit dinner and we're sure that your experience here would work like pixie dust of love and romance on your honeymoon.
Address: 33 King Street, Covent Garden, London
Timings: Monday to Saturday – 12 noon to 2.30 pm and 5 pm to 11 pm; Sunday – 12 noon to 2.30 pm and 5 pm to 10 pm
Ratings: 4.6/5
Cuisines: French and Seafood
Average Meal For Two: INR 6,500 (tax excluded)
Website | Reviews
3. Hakkasan Mayfair

Image Source
The Chinese cuisine offered by this Michelin-starred restaurant is as delicious as great is its decor, traditional architecture, and the whole romantic ambience. Do try some mouth-watering dim sums, selected wines, and creative cocktails.
Address: 17 Bruton Street, Mayfair, London
Timings: Monday to Friday – 12 noon to 4.45 pm and 6 pm to 12.30 am; Saturday to Sunday – 12 noon to 12.45 am
Ratings: 4.8/5
Cuisines: Chinese
Average Meal For Two: INR 9,800 (tax excluded)
Website | Reviews
Suggested Read: 15 Best Places To Visit In Scotland In 2022 On Your Next U.K. Trip!
Tips For Future Honeymooners

ATMs can be easily located all across London
All the major credit cards are accepted in London
Make sure you exchange your money at the post-offices wherein there is no commission charged for exchanging foreign currency
Do a double check before tipping at any restaurant in London as the service charge is already included in the bill
If you happen to visit during the spring season, then make sure you do not step out without an umbrella as it can rain anytime in spring
Further Read: 10 Historic Churches In London That You Must Not Miss On Your UK Tour In 2022
Fascinating isn't it? Customize your own international honeymoon package with TravelTriangle and get ready to begin your journey of a lifetime in the land of culture, love, romance, and perfection!
Disclaimer: TravelTriangle claims no credit for images featured on our blog site unless otherwise noted. All visual content is copyrighted to its respectful owners. We try to link back to original sources whenever possible. If you own the rights to any of the images, and do not wish them to appear on TravelTriangle, please contact us and they will be promptly removed. We believe in providing proper attribution to the original author, artist or photographer.
Please Note: Any information published by TravelTriangle in any form of content is not intended to be a substitute for any kind of medical advice, and one must not take any action before consulting a professional medical expert of their own choice.
Frequently Asked Questions About Honeymoon In London
Is London a good place for a honeymoon?
Every corner of London oozes out romance and there can be no other place to spend time with your partner other than here. Situated by the Thames River, London has all the best possibilities to enjoy for the people who are planning to go for a honeymoon in London.
What can couples do in London?
If you're visiting London for a honeymoon, then here are the best places to visit – the London Eye, Buckingham Palace, Little Venice, Hyde Park, Aqua Shard.
What is the most romantic restaurant in London?
Bleeding Heart, Clos Maggiore, Kitty Fisher's, Ember Yard, Galley, Bob Bob Ricard are some of the best romantic restaurants in London.
What can the couples do on a nice day in London?
People have various options to spend a nice day in London which includes taking a trip on the London Water Bus, explore the Horniman Museum, take a view of the Emirates Air Line, or explore the fascinating Southbank Book Market.
Where can the couples stay in London?
Covent Garden, Kensington, Westminster, Soho & Leicester Square, Oxford Street, East End are some of the best neighbourhoods where couples can find beautiful locations to stay in London.
What are the best things to do in London for free?
If you're traveling on a budget and on a honeymoon in London, then places like National Gallery, British Museum, Greenwich Park, Borough Market and Museum of London are the attractions which can be visited without paying any fee.
---
Looking To Book Your Honeymoon Package?
Book memorable honeymoon on TravelTriangle with 650+ verified travel agents for 65+ domestic and international destinations.
---
People Also Read