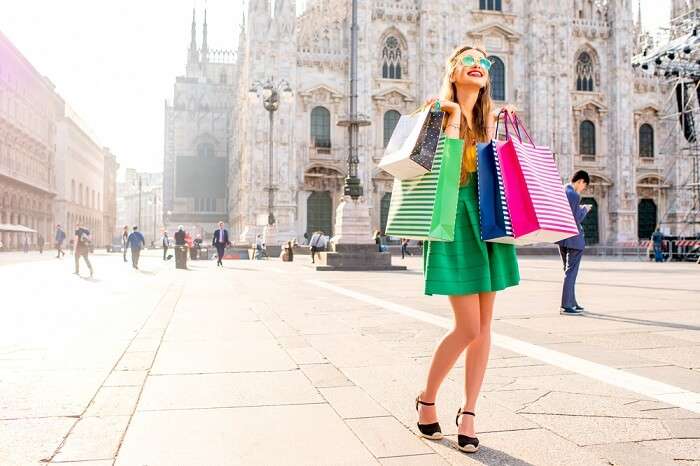 Shopping in Milan is on another level. Italy's fashion capital is where every shopaholic would love to visit. Bustling Milan shopping malls, lines of independent stores selling clothing hot off the runway, fine jewelry and antiques, designer wear at discount prices, one-of-a-kind items that can only be found at flea markets – you could quite literally shop till you drop and still come back for more!
10 Best Places To Shop In Milan
If you're planning an Italian holiday, you absolutely can't leave shopping in Milan Italy off the list. Take a look at these amazing streets and stores to see just what awaits you on your Milan shopping adventure!
1. Via Monte Napoleone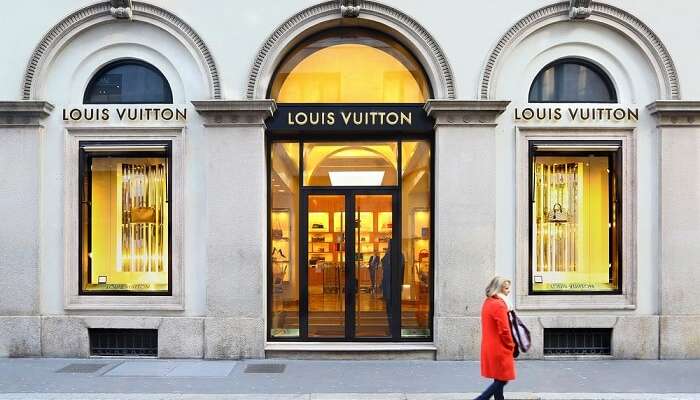 First on our list of where to shop in Milan is Via Monte Napoleone, widely considered the most exclusive and luxurious shopping street not just in Italy but the world. It's home to boutiques and stores stocked with designer items the likes of which will leave you salivating! Gucci, Armani, Prada and D&G are just some of the names to find in this street located in the famous Quadrilatero della Moda shopping district.
What to Buy: Designer clothing, fine Italian shoes and luxury accessories from Italian and international brands
TripAdvisor Rating: 4/5
Location: Via Monte Napoleone, 20121 Milan, Italy
Suggested Read: Our Romantic Trip To Europe Was No Less Than A Second Honeymoon
---
Europe Holiday Packages On TravelTriangle
Explore the most beautiful places to visit in Europe, from Paris to the Venice canals and from the Greek islands to the Swiss alps. Book customized packages by expert agents on TravelTriangle. Inclusive of airport transfers, cab, resort, sightseeing and meals. Best holiday experience Guaranteed. Book Now
---
2. Via della Spiga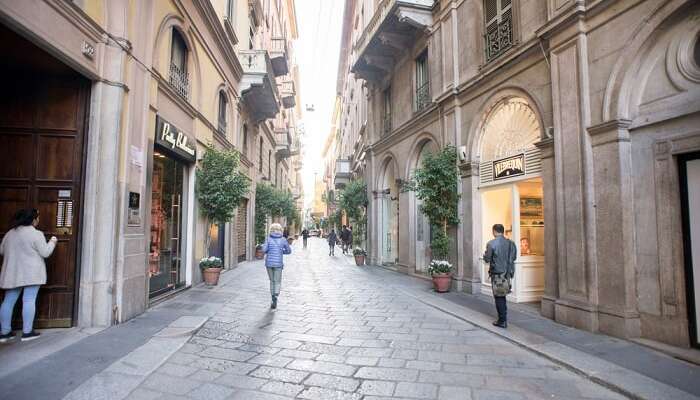 Via della Spiga is another popular shopping street in Quadrilatero della Moda and like Via Monte Napoleone, it's home to high-end boutiques and shops. This Milan shopping center is closed to traffic so you can stroll, window shop, buy your heart's desire and intersperse it all with breaks at trendy cafes!
The elegant street boasts beautiful old buildings with Neoclassicist elements and touches of Baroque. You'll probably spend half the time shopping and the other half photographing them!
What to Buy: Designer wear from brands like Cavalli, D&G and Armani
TripAdvisor Rating: 4/5
Location: Via della Spiga, 20121 Milan, Italy
Suggested Read: 12 Places To Visit In Milan That'll Walk You Through Its Cultural Past & Rich Heritage
3. Corso Buenos Aires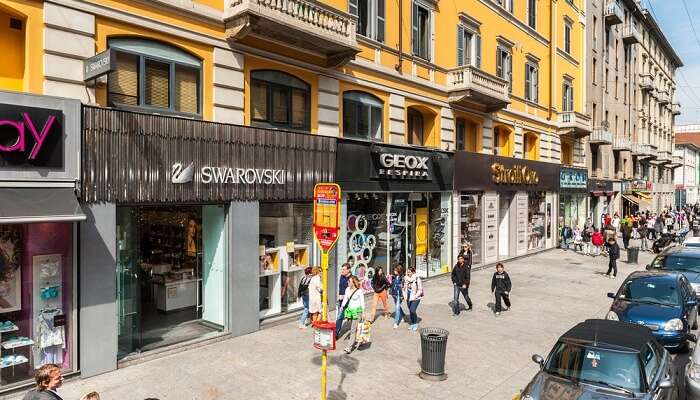 Where Via Monte Napoleone is the place to go for upscale fashion buys, Corso Buenos Aires is the hub for high street purchases. Milan boutique shopping from brands like Zara and H&M are what you'll find and you can go all-out shopping for your favorite fashions.
There are hundreds of shops and outlets here, many of which are housed in gorgeous 19th and 20th century style buildings. As you stroll through the street, take time to admire the beautiful art nouveau structures and stop to enjoy delicious Italian coffee.
What to Buy: High street clothing from brands like H&M, Zara and Nike
TripAdvisor Rating: 4/5
Location: Corso Buenos Aires, Milan, Italy
Suggested Read: Cultural Tourism: 20 Cultural Cities In The World That Cannot Be Surpassed By Any Other!
4. Corso Vittorio Emanuele II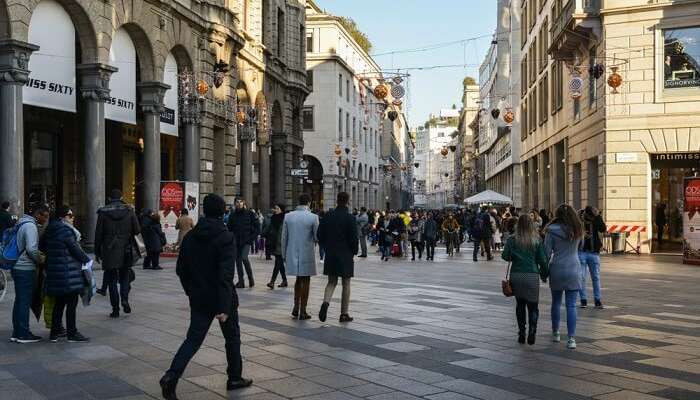 Cheap shopping in Milan may seem like a dream what with all the exclusive boutiques dotting the streets. But, Corso Vittorio Emanuele II is a wonderful place because you can find great buys. Granted, they may not be dirt cheap but there are plenty of options. It's a vehicle-free zone too. High street and mid-range brands jostle for space so that you have your pick of choices from names like Mango and Zara.
The lively street is also peppered with buskers, cafes and gelato parlors. You'll also find La Rinascente, a huge Milano shopping mall filled with household items, clothing and accessories. Be ready to splurge a little as the store also has upmarket brands!
What to Buy: Clothing, footwear and accessories from flagship stores
TripAdvisor Rating: 4/5
Location: Corso Vittorio Emanuele II, 20121 Milan, Italy
5. Via Dante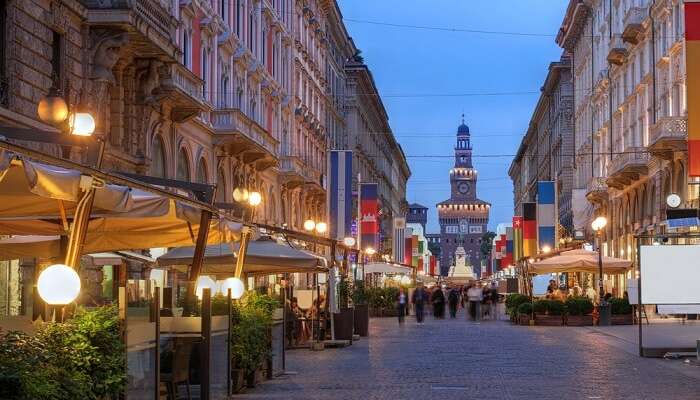 Elegant Via Dante is often times more known for its beautiful buildings dating back to the 18th and 19th centuries but it does have a selection of upscale shops that you'll want to explore. The pedestrian street has a mix of them including chain stores and gift shops. The real highlight are the restaurants and bars, however, so be sure to check them out.
What to Buy: Italian souvenirs and home décor items
TripAdvisor Rating: 4/5
Location: Via Dante, 20121 Milan, Italy
Suggested Read: 2020 Day Trips From Milan: 8 Places To Visit From Milan For A Rejuvenating Escapade
6. Via Torino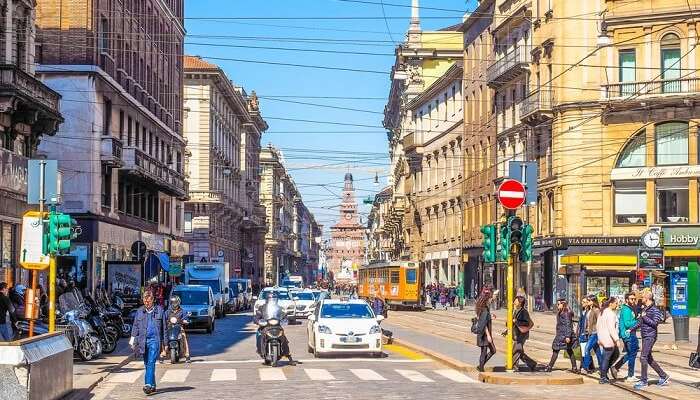 Via Torino is one of Milan's oldest streets and although the buildings certainly testify to this, the trendy shops on display are anything but. The young dominate and you'll see many of them shopping for clothes, footwear and accessories at bargain prices. But it's not all fashion stores here; they sit alongside others selling cosmetics, home décor and furniture so it's quite the one-stop place for people looking for an assortment of items.
What to Buy: Clothing, accessories and home decor
TripAdvisor: 4/5
Location: Via Torino, Milan, Italy
7. Via Brera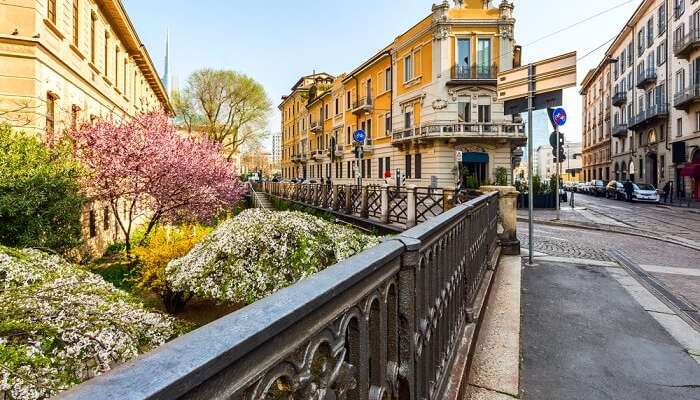 A delightful boho-chic district for the discerning shopper, Via Brera is where you should come to for fine jewelry, antiques and art. You can also find boutiques selling designer wear. Like many of Milan's shopping districts, bistros and bars provide a welcome escape when you feel like you're all shopped out!
The district is also home to Olfattorio Bar à Parfums, a shop where you can personalize your fragrance, and Pinacoteca di Brera, a public gallery of Italian paintings.
What to Buy: Antiques, jewelry and personalized perfume
TripAdvisor: 4.5/5
Location: Via Brera, 20121 Milan, Italy
Suggested Read: In Pictures: 35 Most Beautiful Cities In Europe That Will Make You Want To Take The EuroTrip Now!
8. DMAG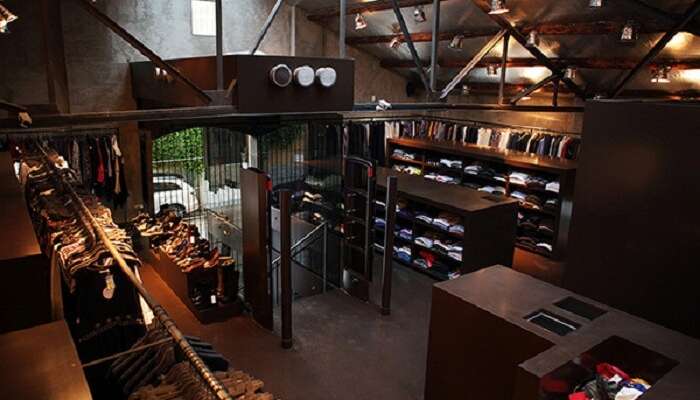 Image Source
Next on our Milan shopping guide is DMAG, an outlet with a boutique feel and one of the city's most popular such stores. It has several outlets scattered in the city with almost 3,000 national and international brands. Don't expect to find items at bargain prices, however; the products will set you back even after a discount. Still, it's a great place to find designer wear at lower costs. Some of the names you can find are Givenchy, Valentino and Yves Saint Laurent.
What to Buy: Designer wear at much lower costs
TripAdvisor: 3.5/5
Location: Via Alessandro Manzoni 44, 20121 Milan, Italy
9. Fiera di Sinigaglia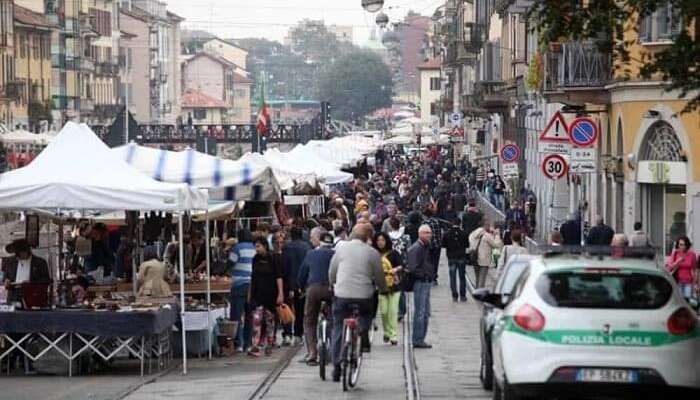 Image Source
It may not be the most elegant but if you're hoping to go shopping in Milan Italy for cheap, Fiera di Sinigaglia can save you a pretty penny. It's a hugely popular flea market that draws everyone who loves hunting for one-of-a-kind items and designer cast-offs. You can find anything here and that's no exaggeration! Jewelry, used clothes, out-of-print books and collectors' items are everywhere you look.
When you're not shopping, you can head to one of the many food stalls and grab a snack. People-watching is a great way to pass the time too as the market attracts a very diverse crowd. It's been around since the 19th century and is the oldest such market in the city. It's open every Saturday.
What to Buy: Everything from clothing, old records and books to art and souvenirs
TripAdvisor: 3.5/5
Location: Alzaia Naviglio Grande, Milan, Italy
10. Cormano Flea Market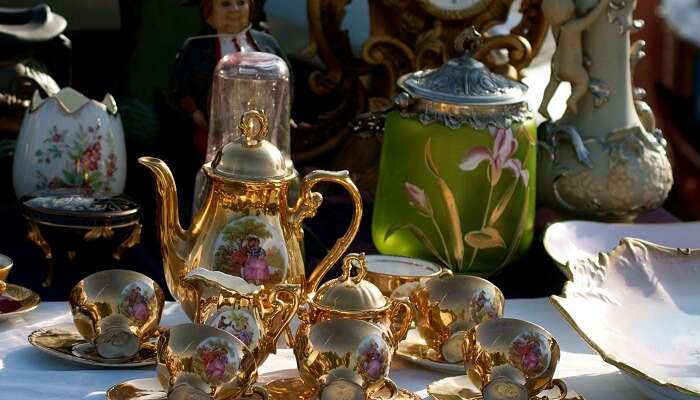 Cormano Flea Market is massive and it will take you days before you can explore every corner! It's one of the Europe's largest flea markets and is stocked with pottery, household goods, books and furniture. You can also find imitations of brands. But what you should be looking for is silk as Cormano has long been known for its silk industry and there are some exquisite fabrics to be found. Get here early, though, as the market is open for only a few hours from 6am to 1pm on Saturdays.
What to Buy: Silk, pottery and household items
TripAdvisor: 4/5
Location: Via Europa, 11, 20032 Cormano, MiIan, Italy
Further Read: Day Trips From Milan: 8 Places To Visit From Milan In 2020 For A Rejuvenating Escapade
Now that you know all about the hottest Milan shopping places, it is time you book that Europe holiday for real and explore what the city has to offer. And just in case, if you're already planning or will be planning a holiday, do book a Europe Tour Package from TravelTriangle and enjoy a personalized holiday.
Frequently Asked Questions About Milan Shopping
Q. What is famous for shopping in Milan?
A. Milan is known for its upgraded fashion and there are streets which are lined up with all the big names in the fashion industry. Everything ranging from clothing to art and souvenirs, designer wear to jewellery; you can find in Milan. The Milan style caters the needs of both men and women. The experience of shopping in Milan is quite and vast and extravagant.
Q. What is the main shopping street in Milan?
A. Corso Vittorio Emanuele II is one of the busiest and most famous shopping streets in Milan.
Q. What are some of the best things to do in Milan?
A. Shopping tops the list of famous things to do in Milan. Other than that below are the other best things to do:
1. Spend some quality time at Santa Maria delle Grazie church
2. Try aperitivo – a relishing drink
3. Stroll through the peaceful and gorgeous parks on Milan
4. Go boating in Milan's Canals
Q. Which are the best places for budget shopping in Milan?
A. Armani Megastore, Navigli and Calzaturificio di Parabiago are some of the budget shopping places in Milan. Explore these markets and show off your bargaining skills here.
Q. What are the best buys at Cormano Flea Market?
A. Pottery, household goods, silk and furniture are some of the best things to buy at Cormano Flea Market. It is one of the Europe's largest flea market.
Q. Is Milan expensive?
A. Milan is particularly not a tourist city and the only reason people visit this place is because it is famous for fashion and also the business capital. Hotels and hostels are quite expensive in Milan which also depends on the time of the year.
Q. What is there to do in Milan for 2 days?
A. These are some of the best things to do in Milan for 2 days:
1. Explore Milan Cathedral in the night
2. Discover Cathedral's rooftop terrace
3. Galleria Vittorio Emanuele II
4. Ride the Old tram next to the Teatro alla Scala.
5. Explore Montenapoleone, the best shopping street.
Q. Is Milan safe for tourists?
A. While Milan is considered quite safe, there are some of the areas which are considered dangerous and there are frequent cases of theft and pickpocketing.
---
Looking To Book An International Holiday?
Book memorable holidays on TravelTriangle with 650+ verified travel agents for 65+ domestic and international destinations.
---
Comments
comments