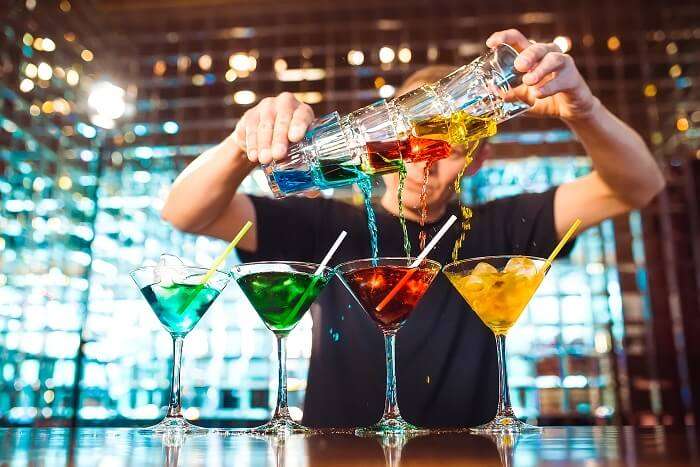 The nightlife in Kolkata can be described as diverse, vibrant, and inviting. In the recent years, the city has earned its reputation as the cultural capital of India, and rightfully so since the city has a thriving party scene. In addition to some amazing bars, clubs, pubs, and lounges, many fine art performance academies host weekly cultural programs that make for a delightful evening for those who aren't a fan of loud music and smoky interiors.
Bars In Kolkata
Although there are many bars in Kolkata here are some of the best ones for you to spend time and have a drink or two with your loved one or just to chill with your friends.
1. Perfect Place In Town (PPT)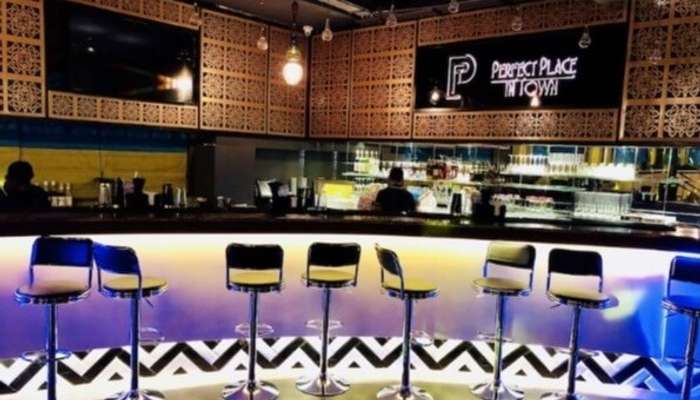 True to its name, it's an impeccable place to hang out with your friends or colleagues after a long day at work. One of the newest bars in Kolkata, this gem serves the most delicious cocktails and mocktails, has a huge dance floor, offers amazing views of the city from its rooftop setting, and even serves delish Jain food. Don't forget to try the Risotto, Chicken Tikka Pizza, and Veg Augratin when here.
Location: 9th Floor, E2-3, Stesalit Towers, Sector 5, Salt Lake, Near RDB Cinemas
Timings: 12 noon to 12 midnight
Cost for two: INR 1,500/-
Suggested Read: 17 Super Romantic Places In Kolkata For Couples Hit By Cupid's Bow In 2019!
2. The Park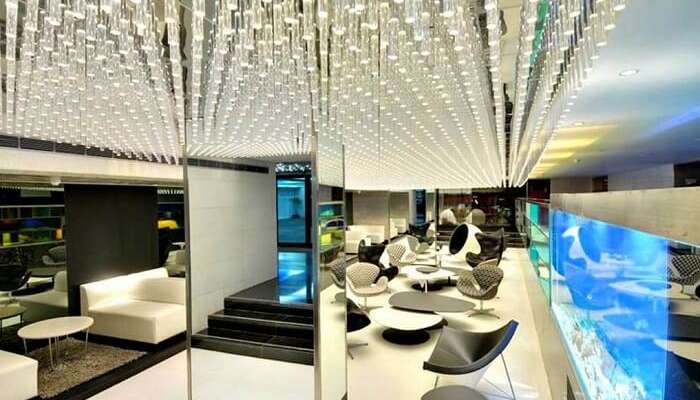 Image Source
There are numerous places to visit in Kolkata at night, but we suggest you start with the famous Park Street area, more specifically The Park Street Hotel. There are three venues at the Park, Someplace else an English Style Pub, Tantra a stylish lounge and Roxy an upscale cocktail bar.
Location: Park Street Area
Timings: 12 noon to 12 midnight
Cost for two: INR 900/-
3. Backstage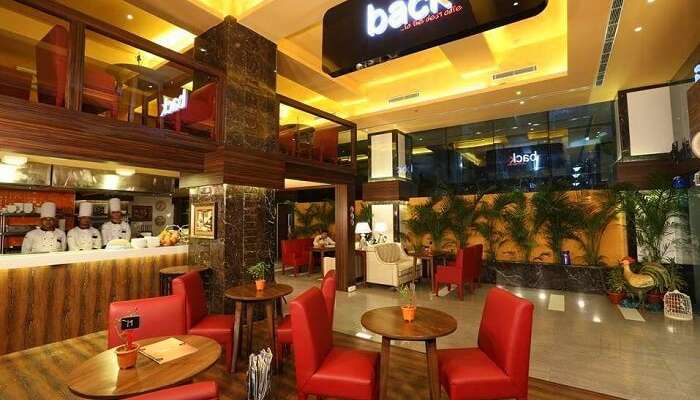 If you are a fan of the disco era and rock music, then Backstage is the place for you. The place is usually packed during the weekends and has n excellent drinks menu. As far as nightlife in Kolkata goes, this place is numero uno.
Location: Salt Lake City, Kolkata
Timings: 12 noon to 12 midnight
Cost for two: INR 1800/-
Suggested Read: 20 Best Places To Visit In Kolkata That Reflect The City's Artistic & Architectural Grandeur
4. The Junction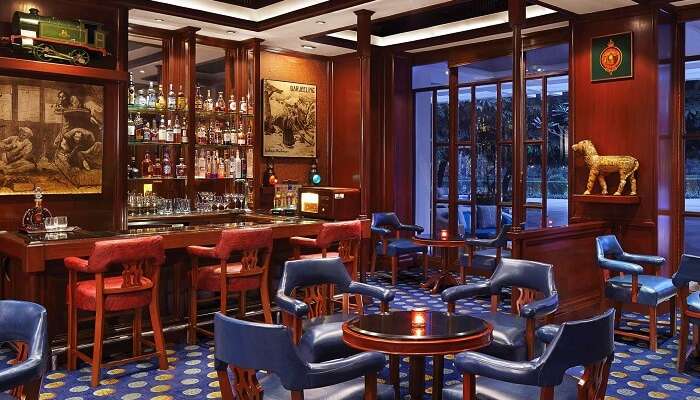 Image Source
Salt Lake City is another popular place to visit in Kolkata at night. Although, not as popular as the Park Street, there are some excellent places here for the nocturnal kinds.
Location: Salt Lake City, Kolkata
Timings: 11:30 AM to 12 midnight
Cost for two: INR 4200/-
5. Shisha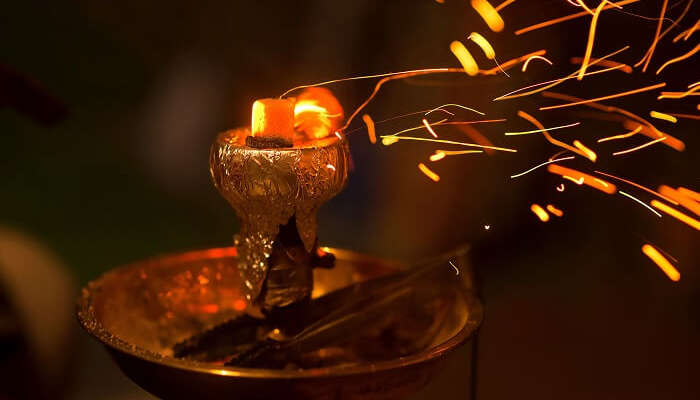 This ghetto-styles stock exchange bar is another example of the fine nightlife in Kolkata. The drinks here are priced according to demand, making it a truly unique bar in the city. Drinking games and talented DJ's keep the patron entertained.
Location: Camac Street Area
Timings: 3 PM to 12 midnight
Cost for two: INR 1500/-
Suggested Read: 21 Best Things To Do In Kolkata: Know What Makes It The City Of Joy
6. Aqua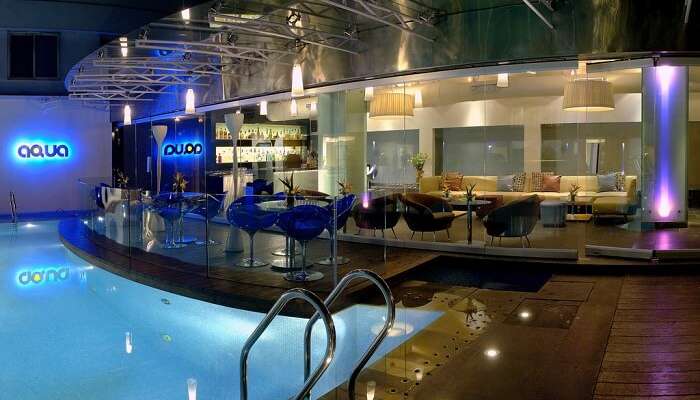 Image Source
Aqua is another popular nightlife spot in Kolkata complete with a sexy poolside location, groovy tunes, hookahs and double-decked outdoor and indoor seating.
Location: Park Street Area
Timings: 10:30 AM to 12 midnight
Cost for two: INR 3000/-
Clubs In Kolkata
Here are some of the best clubs in Kolkata to have the best of Kolkata's nightlife experience. Just dance the night away and groove to the beats.
7. UG Reincarnated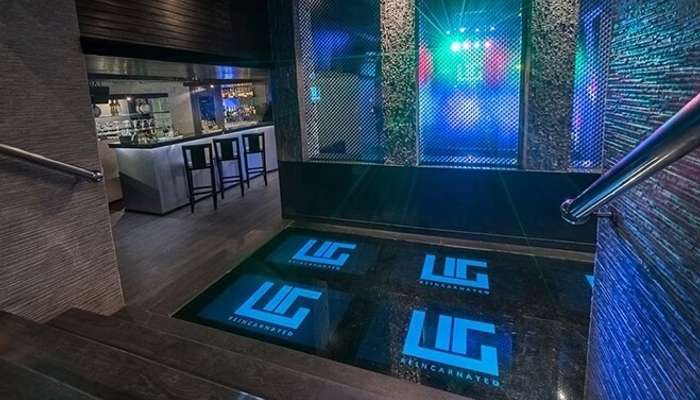 There are many nightclubs in Kolkata, but UG Reincarnated is the best amongst the lot. The venue got a facelift in 2015 and now boasts of a 40-foot-long bar, private lounging area, 3D -Laser light and a laser screen curtain. UG Reincarnated is a veteran when it comes to nightlife in Kolkata and is also a pioneer when it comes to modern technology and trending venues.
Location: AJC Bose Road
Timings: 8:30 PM to 11 PM
Cost for two: INR 1300/-
Suggested Read: 15 Best Romantic Restaurants In Kolkata For A Date To Remember!
8. Tollygunge Club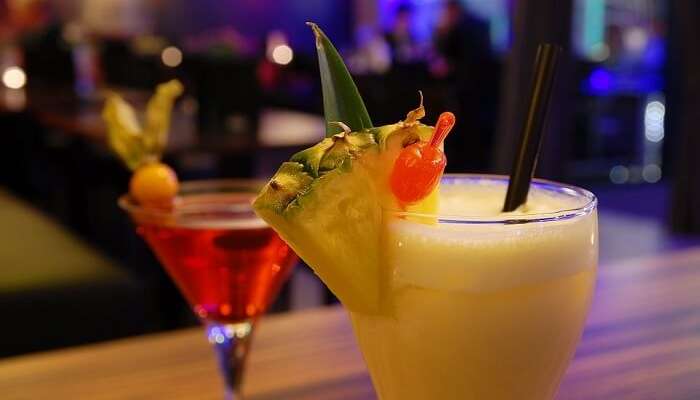 Image Source
Tollygunge is perhaps the most exclusive nightclub in Kolkata as its open to member only. Kolkata has a very strong club culture especially of the kind that caters only to private members, among those that are still around Tollygunge is the most famous.
Location: 120 Deshpran Sasmal Road
9. Roxy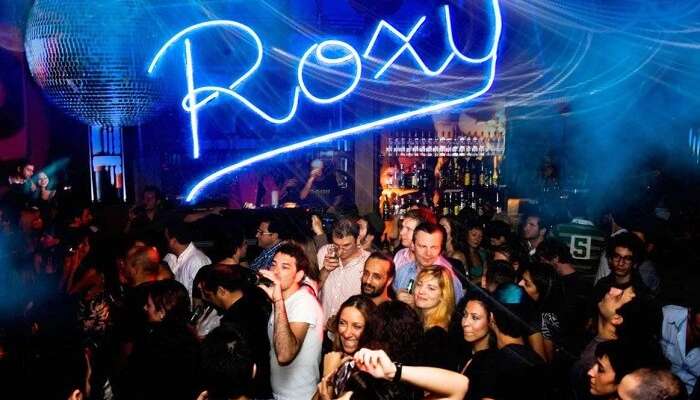 The shining armour of the Park Street Kolkata nightlife is the famous dance club aka Roxy. The club embodies a 60's style glamour complete with mood lightings, brick walls and the best dance floor in the city.
Location: Park Hotel
Timings: 5 PM to 2 AM
Cost for two: INR 2500/-
Suggested Read: 16 Surreal Hill Stations Near Kolkata For A Rejuvenating Weekend Getaway
10. Nocturne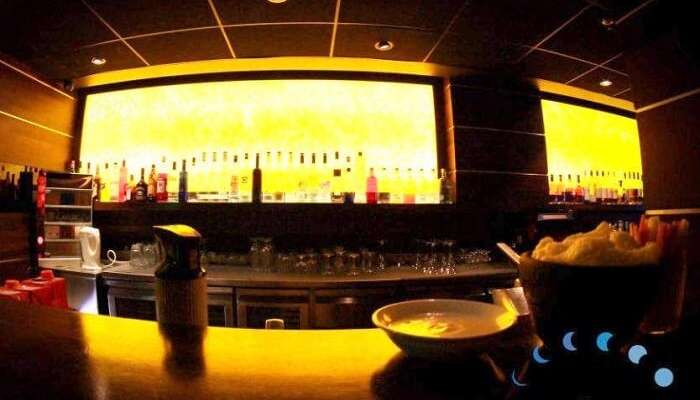 Image Source
This hip new nightclub is a rage amongst young party goers. With multiple sections, a separate lounge level, dance floor, hookah bar and underground coffee shop, Nocturne is a fine example of the nightlife in Kolkata.
Location: Theatre Road, Kolkata
Timings: 6 PM to 12 midnight
Cost for two: INR 2000/-
11. The Myx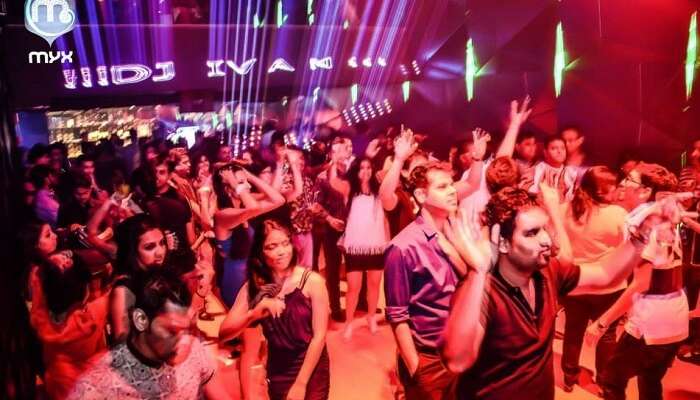 This penthouse nightclub is a rocking venue with a mix of everything including but not limited to party, music, delicious food and an amazing crowd.
Location: Park Street Area
Timings: 8 PM to 12 midnight
Cost for two: INR 2000/-
Suggested Read: 10 Enchanting Road Trips From Kolkata That'll Make You Wish The Journey Never Ends!
12. Club Boudoir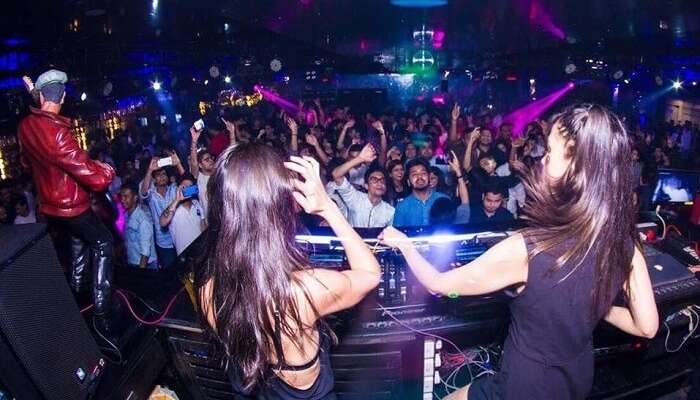 Image Source
A branch of Dubai, legendary French inspired club, Boudoir is a 6000 square feet venue with a 25-foot-long bar. The club is the winner of the 2017 edition of the Times Food and Nightlife Award and hosts a ravishing ladies light with unlimited drinks every Thursday.
Location: Theatre Road, Kolkata
Timings: 6 PM to 12 midnight
Cost for two: INR 1500/-
Live Music In Kolkata
If you are a fan of live music and it feels like the best thing that has happened to mankind then these places are for you. Have a surreal experience. 
13. Calcutta School of Music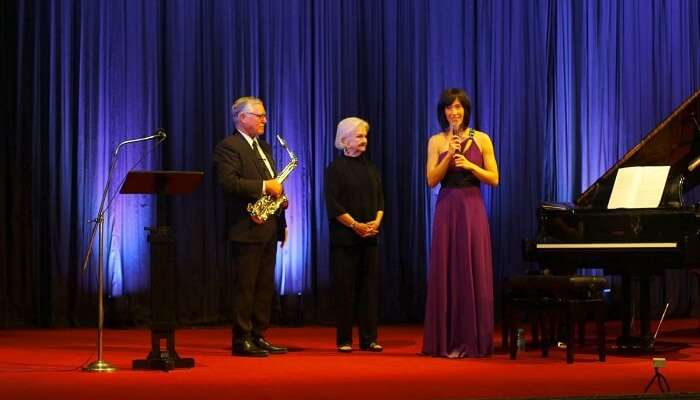 Another great place to visit in Kolkata at night is the Calcutta School of Music. On Friday nights the academy hosts many cultural programmes where musician perform a variety of genres including but not limited to classical jazz etc.
Location: 6B Sunny Park, Kolkata
Suggested Read: The Floating Market Comes Up In Kolkata Selling A Range Of Grocery On 114 Boats
14. Academy of Fine Art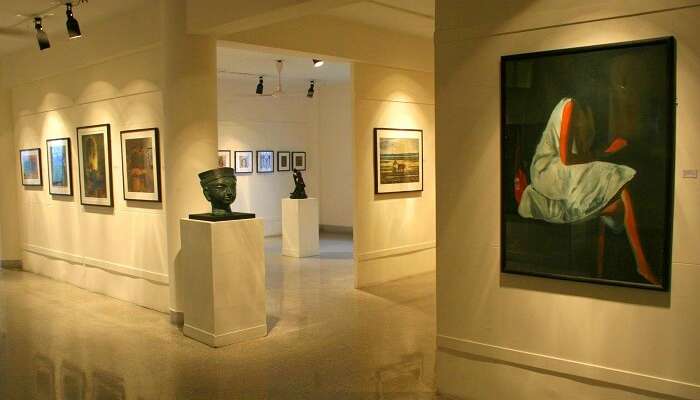 Image Source
An ideal destination to enjoy the famous Kolkata nightlife, especially if you enjoy live music. This is also a great place to meet new people if you are new to the city, singles are not excluded here.
Location: No. 2 Cathedral Road, Kolkata
15. Someplace Else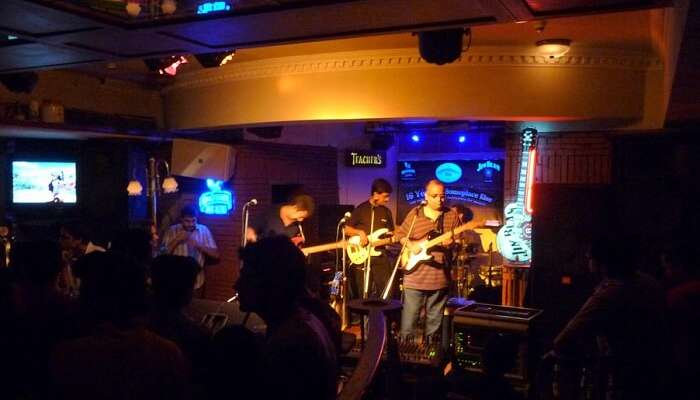 Image Source
Kolkata prime rock music venue Someplace Else is a haven for those who enjoy live contemporary music. The venue host performance but popular local bands on a regular basis as is conveniently located inside the Park Street Hotel.
Location: Park Hotel
Timings: 4:30 PM to 2 AM
Cost for two: INR 2400/-
Further Read: 9 Historical Places In Kolkata That'll Walk You Through City's Artistic & Architectural Grandeur
So, here is our pick of the best clubs, pubs, lounges and bars that make nightlife in Kolkata amazing. We hope you have a great time exploring each and every one of these on your trip to West Bengal.
Frequently Asked Questions About Nightlife In Kolkata
Q. Where can I go at night in Kolkata?
A. There are many fun and unique things you can do in Kolkata at night. You can take a Midnight Heritage tour, go on a long drive on Vidyasagar Setu, watch the sunset at Prinsep Ghat, venture out on a Ghost Walk, or enjoy the beauty of the Howrah Bridge. Other than this, you can also grab a drink or two at any of the great bars in Kolkata, sing and dance to your heart's content at a karaoke club, or enjoy a late-night dinner date with your better half!
Q. What can we do in Kolkata this weekend?
A. There are plenty of things to do in Kolkata over the weekend. You can take an insightful tour of the Marble Palace, take your kids to the Nicco Park for some exciting rides, go over to the amazing Science City, go boating in the Salt Lake for a peaceful afternoon with your near and dear ones, or engage in the several activities offered at Victoria Memorial. There also are plenty of hill stations near Kolkata that you can visit over the weekend.
Q. Is Kolkata safe at night?
A. Absolutely! Kolkata is one of the safest cities in India, and women can venture out late at night without a worry in the world. In fact, Kolkata is known to be way safer than a lot of other Indian cities, especially for women. However, one should always be careful with their belongings no matter which city or town of the world they are in.
Q. Is Kolkata costly?
A. West Bengal is one of the most affordable states in India according to Mercer's Annual Cost of Living Survey conducted in 2018. This also means that Kolkata is not at all costly for tourism as well as for living. Be it food, stays, transport, to sightseeing, you won't end up spending a lot when you're here.
Q. How can I reach Mayapur from Kolkata?
A. It's pretty easy to reach Mayapur from Kolkata using the reliable and convenient Howrah Railway Station. You need to take a train to Nabadwip Dham from Howrah Station, which will take you just 3 hours. Once you get down here, you can simply take a rickshaw to the Mayapur Ghat from where you can get on a boat to cross the Ganga and reach Hular Ghat in Mayapur on the other side. Here, you can just take a rickshaw to get to any of the charming attractions you wish to visit in Mayapur, including the famous Mayapur Chandrodaya Mandir of ISKCON.
Q. Which is the safest city in India?
A. There are many cities in India that are pretty safe. Surat, Jaipur, Mussoorie, Chennai, and Hyderabad are some of them.
Q. How can I visit Kolkata in one day?
A. There are many things that you can do to spend a day at Kolkata. If you are short on time you can just plan on visiting the important landmarks such as Victoria Memorial, Dakshineswar Kali Temple, Salt Lake City, Santiniketan and more.
People Also Read:
Nightlife In Hyderabad Darjeeling Nightlife Nightlife In Shimla
Comments
comments