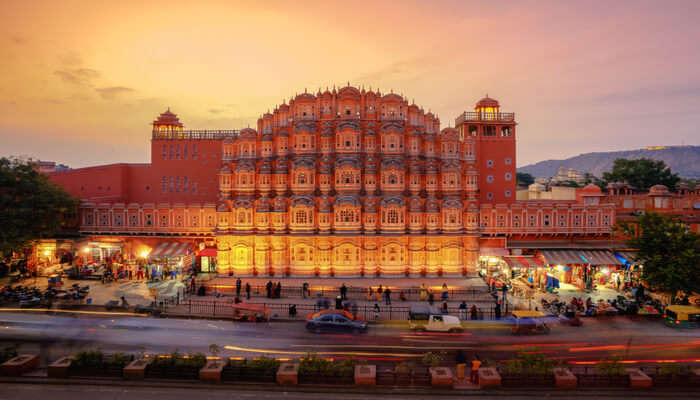 Rajasthan, the state of magnificence and grandeur, has always been popular among the tourists because of its vibrant lifestyle and the subtle amalgamation of culture and history. However, these are not the only things, which enhances the actual charm of the royal state. There are a lot of other things that make Rajasthan one of the best travel destinations in India and its nightlife is one of them. However, experiencing a vibrant nightlife in Rajasthan does not mean you have to hop around bars and dance in clubs. There are numerous other things which you can do when the sun has gone down. Here are a few ideas that can help you with it.
9 Kinds Of Nightlife In Rajasthan
Here's what all you can do to enjoy the culture-rich and glitzy nightlife in the Indian state of rajasthan. Most of them experiences are free and more enjoyable than loud discotheques or overcrowded bars and pubs.
1. Light And Sound Shows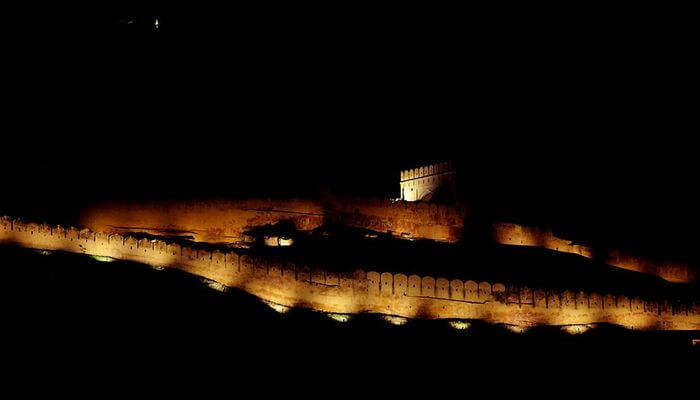 The stunning play of lights along with harmonious melodies highlights the true charisma of Rajasthan's cultural and historical background. Udaipur City Palace is one of the best places in Rajasthan that can help you to savor this amazing activity. The light and sound show, which is shown here every day during the nighttime, narrates the glorious history of the Mewar region in Rajasthan.
If you want to enjoy more of it, then you should also make sure to watch the light and sound show at Amber Fort in Jaipur. It is a 50-minute show, which tells the story about the historical background of the pink city. So, if you want to know more about the history of your country and enjoy the essence of the best nightlife in Rajasthan, then make sure to attend at least one of these shows.
Best places: Amber Fort in Jaipur, Udaipur City Palace
Must Read: 9 Best Places To Visit Near Sikar To Get Closer To The Rajasthani Roots
---
Rajasthan Holiday Packages On TravelTriangle
---
2. Jal Mahal At Night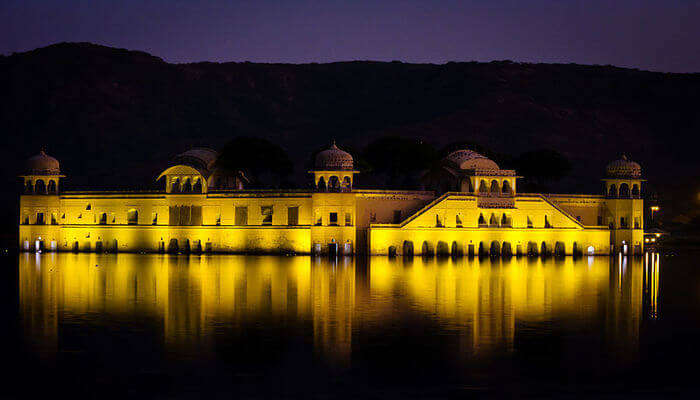 The world-renowned Jal Mahal in Rajasthan is situated on the serene Man Sagar Lake. While during the day, this exquisite piece of architecture looks somewhat inanimate. At night, it completely comes alive when its dazzling lights reflects wonderfully on the calm water of the lake. This is one of those glorious sights of Jaipur, which can only be enjoyed during the night. So, if you are looking for some activities that can help you to relish the real essence of nightlife in Rajasthan for couples, then take a walk around the lake and click some amazing pictures by using the enthralling sight of Jal Mahal as your background.
Location: Jaipur
Suggested Read: 14 Places To Visit Near Alwar For An Enriching Rajasthan Trip
3. Traditional Puppet Shows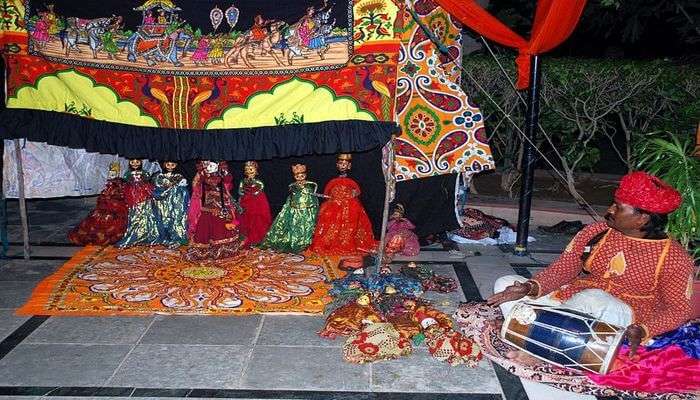 Known as an epitome of the rich cultural heritage of Rajasthan, the puppet shows are quite popular in the royal state. The puppet shows are considered as an integral part of the tradition and culture of Rajasthan. Therefore, no matter which part of the state you are currently staying in, you can always get access to these shows. However, if you want to have the best experience, then you would have to either visit Bharatiya Lok Kala Mandir in Udaipur or the Rupayan Sansthan of Jodhpur. Most of the puppet shows generally take place during the night. So, if you are thinking to enjoy a calm and peaceful nightlife in Rajasthan for family, then make sure to attend one of them.
Best places: Rupayan Sansthan (Jodhpur), Bharatiya Lok Kala Mandir (Udaipur)
Suggested Read: Find Out The Best Places To Visit In Sikar: Rajasthan's Hidden Gem!
4. Chokhi Dhani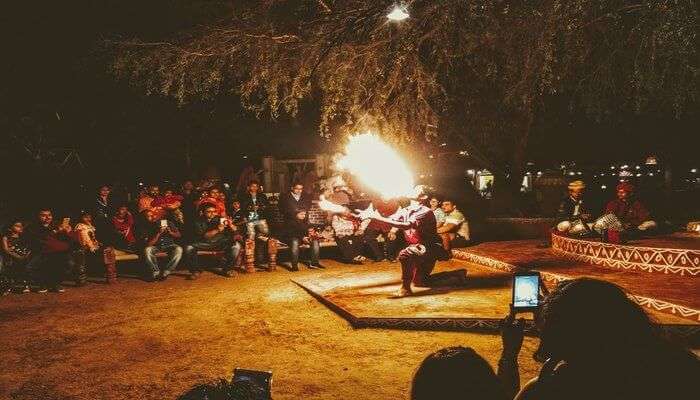 Chokhi Dhani is a paradise for all those who wish to immerse themselves in the rich and diverse culture of Rajasthan all at once. Loctae donly a few kilometers away from the main city of Jaipur, this cultural resort-cum-park hosts a number of specially curated activities and exhibits to offer visitors the feel of touring the rural parts of Rajasthan. From native women making local snacks in small huts to magicians showing old yet fascinating parlour tricks, there's so much to do and see here that one visit won't be enough.
Location: Near the city of Jaipur
Suggested Read: Explore Top 13 Things To Do In Sikar: The Magnificent Desert City Of Rajasthan!
5. Udaipur Night Walk Tour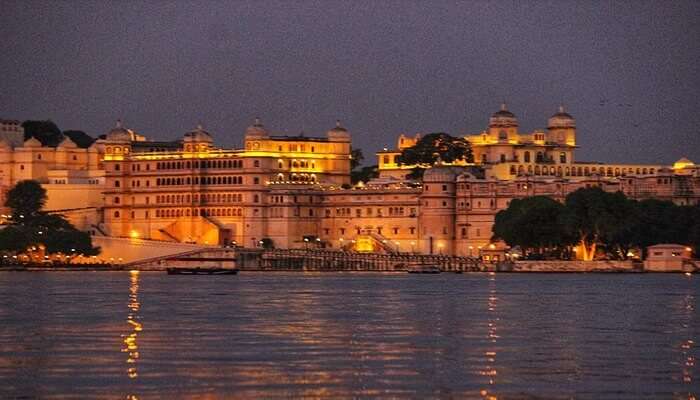 The appeal of any town comes alive during nighttime and, if it is a cultural city like Udaipur, then your chance of exploring another side of beauty increases by a mile. However, to discover this, you need to opt for the Udaipur night walking tour. This two-hour tour will help you to savor not only the regal charm of the city but also the alluring view of the structures and attractions. On this walking tour, a professional guide cum storyteller will accompany you and help you to understand the historical importance of the attractions like Maharana Pratap Statue. Get to the Aravali Vatika by 7 P.M if you want to experience the actual essence of nightlife in Rajasthan for family.
Location: Aravali Vatika (Udaipur)
Suggested Read: Popular Cafes In Bikaner To Hangout With Your People On A Rajasthan Trip
---
Planning your holiday in Rajasthan but confused about what to do? These Rajasthan travel stories help you find your best trip ever!
---
6. Camping In Jaisalmjaisalmer
Spending some special moments with your loved one and celebrating a special nightlife in Rajasthan for couples can be done at the same time if you opt for camping in Jaisalmer. By camping in the serene Thar Desert, you can not only savor the sensuous charm of the place but can also click some memorable photos. The camps in the desert also offer sumptuous foods, such as Tikka Dastori, which will make your trip more memorable. If you choose to opt for camping in Jaisalmer, then you can also light up a campfire outside your tent and enjoy the beautiful starry night.
Location: Thar Desert, Jaisalmer
Suggested Read: 15 Places To Visit In Rajasthan In January Which Has Something More Than Just The Palaces!
7. Cycling Around Nahargarh Fort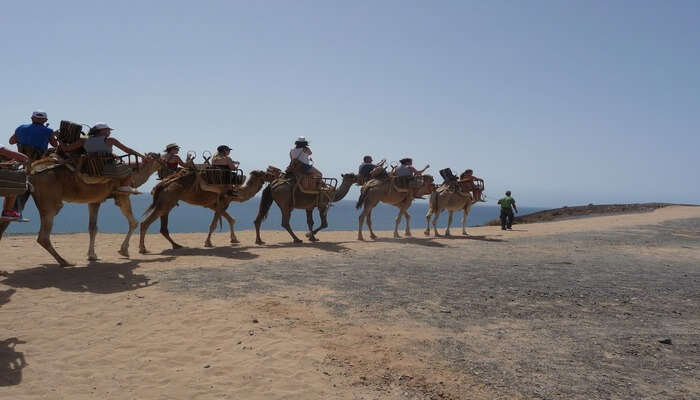 Cycling around the humongous Nahargarh fort can help you enjoy some real thrills. Along with enjoying the cool and serene evening breeze, you will also get the rare chance of watching the visually enthralling skyline of the city of Jaipur. Later, you can visit the Padao Restaurant located nearby and enjoy its delicious culinary delicacies. Try and do this in a group to make you don't get lost. Along with cycling, if you want to enjoy the natural beauty of the city too, then you can come a little bit early here, during the afternoon. This way, you can relish the charm of the magical sunset from the fort.
Location: Nahargarh Fort, Jaipur
Suggested Read: Get The Rajasthani Bohemia On! 17 Amazing Shopping Places In Jaipur To Explore!
8. Bar Hopping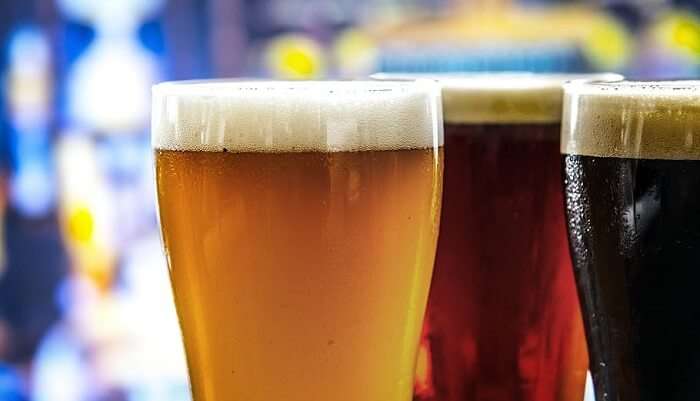 If you want to explore the western vibe of this place, then you would have to go to the bars and pubs. When talking about the best pubs in Rajasthan, the state comes with an overabundance of choices. Among these, the Bar Palladio in Jaipur and Pulse the Bar in Jodhpur are quite popular among the tourists. Both of these places offer excellent quality drinks and snacks at a very affordable price. However, if you are thinking to experience a sober nightlife in Rajasthan, then you can visit Café Sheesh Mahal in Jodhpur. Along with tasty pancakes, this place also serves exquisite coffee, which coffee drinkers will surely enjoy to the core.
Best places: Trophy Bar (Jodhpur), Bar Palladio (Jaipur), Pulse the Bar (Jodhpur)
Suggested Read: 7 Places To Visit Near Rajasthan For A Cultural Holiday Experience
9. Movie Nights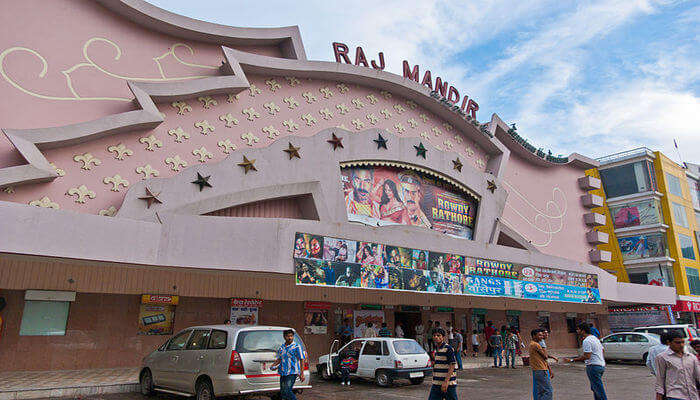 The two things, which unite everyone in our beautiful country, are Bollywood and Cricket. Therefore, if you are traveling to Rajasthan with your friends, then make sure to plan a movie night with them. There are numerous movie halls located here and there in Rajasthan, which can provide you with an amazing experience.
Among these, the Raj Mandir Cinema Hall is known to be the best. It has almost 1300 seats in it, which makes it one of the biggest theaters in the world. Along with exclusive films, this hall also shows some of the old movies during special days. Therefore, if you and your friends are classic movie lovers, then make sure to stay updated with the movie hall's listings.
Best places: Raj Mandir Cinema Hall (Jaipur), Ankur Cinema Hall (Jaipur), Carnival Cinemas (Jodhpur)
Further Read: Monsoon In Jaisalmer: A Guide To See The Best Sights Of The Golden City Of Rajasthan!
So, which of these awesome experiences of nightlife in Rajasthan are you going to try first? Make sure you try all of them for an intense cultural and royal experience of this Indian state with your friends and family. And don't forget to write to us about your vacation in Rajasthan once you're back!
Frequently Asked Questions About Nightlife In Rajasthan
Is Rajasthan great for parties?
Yes, Rajasthan is known to be an excellent place for celebrating and partying with the numerous night clubs and pubs present around the state.
Do the nightclubs in Rajasthan serve alcohol?
Yes, almost all the pubs in the royal state of Rajasthan serve alcoholic beverages.
What is the best time to visit Rajasthan for enjoying its nightlife?
If you are traveling to Rajasthan for touring purposes, then it is always better to go there during winter. However, if you only want to savor the nightlife of the state, then you can come here almost any time of the year.
What is the best way to enjoy the nightlife in Rajasthan?
When talking about nightlife, the royal state of Rajasthan offers its tourists with a plethora of choices. You can either hop around the clubs or can visit some of the tourist attractions, such as Hawa Mahal, during the night. However, if you have an adventurous soul, then you can also opt for cycling around the Nahargarh Fort.
Which is the best nightclub in Rajasthan?
Make sure to visit the Pulse the Bar in Jodhpur and Bar Palladio in Jaipur.
Where can I watch the sunset in Rajasthan?
Visit the Nahargarh Fort and Chandlai Lake to catch divine views of the sunset.
What is the best place for spending a good nightlife with family?
Watching puppet shows or the statue circle are great places for enjoying the nightlife in Rajasthan with family.
---
People Also Read:
Nightlife In Bangalore Nightlife In Mumbai Nightlife In Chandigarh