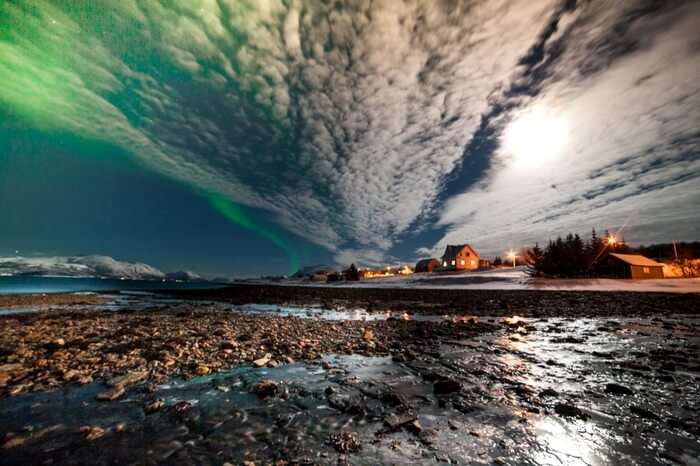 Listening to stories and getting fascinated by them is such a waste of time. The world is in offering; the more you see it, the more you soak in. And there are pictures that enchant you and inspire you to travel. It's strange how a mere glimpse of them conjures up the globetrotter in you and turns you into a storyteller!
Presenting a collection of astonishing photos straight from the archives that will inspire you to travel!
Asia
1. Kangtega Peak, Nepal

Travel, stop, behold the glory, move; life was never so adventurous and fun. At 6782 meters, Kangtega expedition will change your life forever!
2. Door to hell, Turkmenistan

A fire that never ceases!
3. Kyaiktiyo Pagoda, Burma

Kyaiktiyo Pagoda, where the golden rock is perched atop the world.
4. Hang En, Vietnam

Hideout? No, it's a cave, the world's third largest cave.
Must Read: A 2022 Compilation Of 59 Weirdest Places Across the World You Should Stop By
5. Cappadocia, Turkey

Ride the hot air balloon, coz this is the moment of a lifetime you've been waiting for!
Suggested Read: 7 Enticing Things To Do In Cappadocia For The Adventure Seeker In You
6. Zhangye Danxia Landform, China

Those colors that you are watching now are the result of natural weathering and erosion of the red sandstone!
Europe
7. Glass Igloo & Northern Lights, Iceland

Watching Northern Lights from a glass igloo is a moment that travelers, especially the honeymooners, dream of.
Suggested Read: 28 Offbeat Honeymoon Destinations In The World For 2022 Trip You'd Have Never Heard Of!
8. Trolltunga, Norway

Know what it is like to stand with your arms stretched upwards on this jutting piece of beauty.
Suggested Read: 14 Strange and Unconventional Retreats For The Ultimate Wanderer
9. Grand Canal, Venice

Try Gondola ride, one romantic ride of a lifetime!
Suggested Read: In Pictures: 18 Most Beautiful Canal Cities In The World
10. El Caminito del Rey, Spain

Pinned along the narrow gorge in El Chorro, this dreadful walk requires balls!
11. Kjeragbolten (The Hanging Stone), Norway

Just hang in there & enjoy the panoramic view of the world.
Suggested Read: In Pictures: 25 Riskiest Spots Across The Globe That'll Instill Fear In You Instantly
12. Ice Cave, Iceland

When you walk the ice in a cave completely made of ice!
Suggested Read: Also In Alaska: The Wondrous Mendenhall Ice Caves Of Alaska
Africa
13. Cango Caves, South Africa

The limestone cave which is has been colonized by bats.
14. Capetown Tandem Paragliding, Cape Town

Catch the complete view of Cape Town exclusively!
15. Bloukrans Bridge, South Africa

It's 216 meters, take a jump from the highest commercial bridge bungee in the world.
16. Table Mountain Aerial Cableway, South Africa

5 minutes of flight into the clouds.
North America
17. Volcanoes National Park, Hawaii

The confluence of two extremes, fire & water!
Suggested Read: 20 Weird, Strange Islands Of The World You Should Visit In 2022
18. Grand Canyon, Arizona

The red color that never indicated you to stop.
Suggested Read: Unravel The Mystery Of Gandikota: The Grand Canyon Of India
19. Niagara Falls, New York

A view that one mustn't miss in a lifetime!
20. Yosemite National Park, California

Giant sequoia trees, tunnel view and endless vista, that's Yosemite National Park for you!
South America
21. Machu Picchu, Peru

So precise, so well aligned, and offering a vista like none other.
22. Salar de Uyuni, Bolivia

Presenting the world's largest salt flat. At 11,000 sq km, Salar de Uyuni is one giant mirror.
23. Iguazu Falls, Argentina

Largest system of waterfalls in the world that marks thee border of Argentina and Brazil.
Suggested Read: In Pictures: The Most Interesting Borders Between Countries Across The World
24. Las Lajas Sanctuary, Colombia

Church inside a canyon.
Australia
25. Broome camel safari, Western Australia

Image Source
Ride a camel by the sea.
Suggested Read: Australia Through 20 Breathtaking Pictures
If this doesn't give you a kick, nothing ever would!
Further Read: 11 Mysterious Places Around The World You Will Not Believe Actually Exist