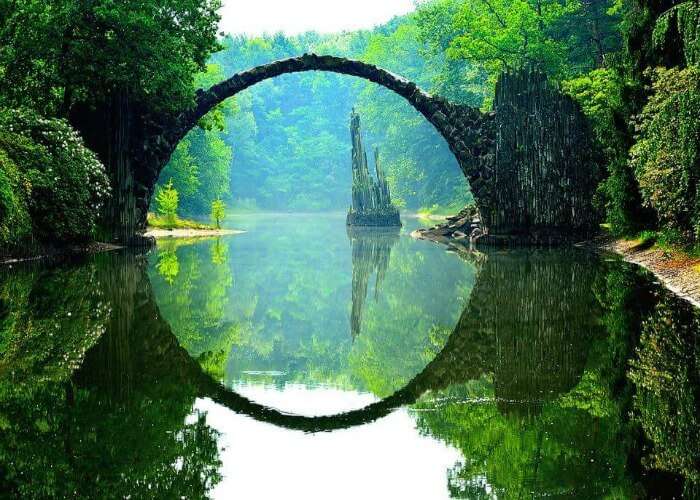 Where words fail, pictures do the trick. And in this blog, you require the pictures to understand the baffling beauty and sublime grace of some of the strangest places on earth. We have carefully shortlisted 50 weirdest places across the world based on human interactions with these destinations. We bet you will be rushing to change your bucket list just about now. Take a look at the most bizarre destinations in the history of the world. You will be taken in by shock, awe, surprise; in a nutshell, the entire spectrum of human emotions.
50 Weirdest Places Across The World
The world we live in is a very interesting place. Each place on this Earth has its own unique features. Some features are not just unique but can also seem weird to our human minds. Here are 50 weirdest places across the world that are a must-visit:
1. Salar De Uyuni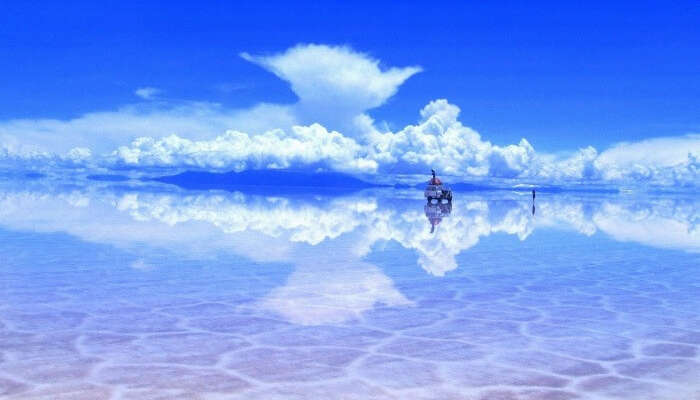 Located in the Potosí and Oruro departments, this is the world's largest salt pan and one of the strange places in the world. And when a thin film of water gathers on the surface it is also the world's largest natural mirror. The best sight of this space can be observed from the central Incahuasi Island. Salar De Uyuni is the remains of a prehistoric lake that dried off and left behind void space of bright-white salt, rock formations, and cacti-islands. This place harbors large flocks of beautiful pink flamingos that can be seen grazing in the water. The best time to visit this place is in the months of July and October.
Location: Bolivia
---
Looking To Book An International Holiday?
Book memorable holidays on TravelTriangle with 650+ verified travel agents for 65+ domestic and international destinations.
---
2. Lake Natron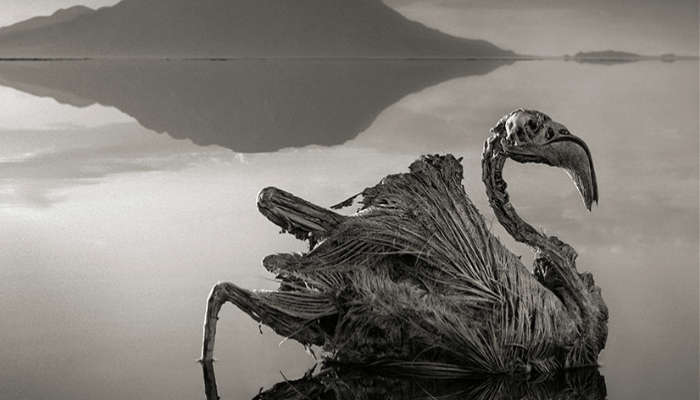 Looking for some weird places in the world? How about this terrifying lake? Animals that die in this African lake are turned into statues, through calcification. The presence of huge volumes of sodium bicarbonate ensures they turn into mummies. And because of the high alkaline collection, the lake looks red in color. This is the reason why this lake is also known as the 'Petrifying Lake'. In spite of all these conditions, it is grazing ground for the Lesser Flamingos. Fancy a dip? Don't even think about it!
Location: Tanzania
Must Read: 15 Best Places To Celebrate New Year 2020 In The World
3. Die Rakotzbrück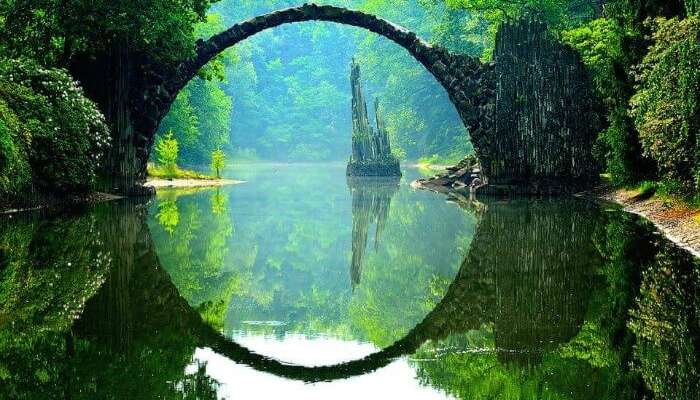 The Die Rakotzbrück bridge constructed in the 19th century is famed for its unique construction accuracy, with the bridge and its reflection merging into a complete and perfect stone circle, no matter where you see it from. Spooky! Probably this is why the bridge is also known as the 'Devil's Bridge'. It seems that the makers of the bridge emphasized more on its aesthetics than its utility. Both the ends of the Rakotzbrücke have thin rock spires installed, to make it look like natural basalt columns, which commonly occur in many parts of Germany.
Location: Altes Schloß 11, 02953 Gablenz, Germany
Suggested Read: 10 Castles In Germany That Look Straight Out Of A Fairytale
4. Spotted Lake Khiluk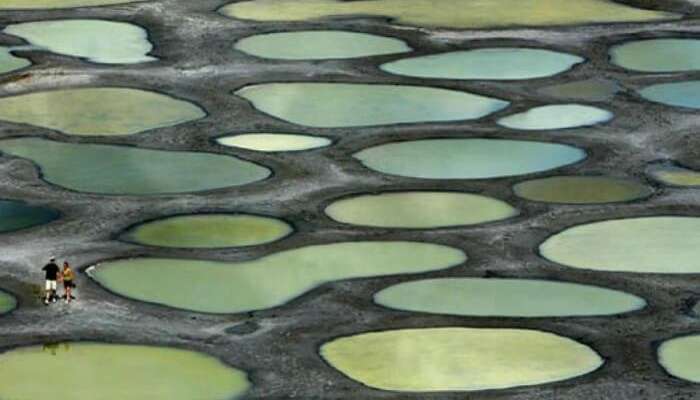 Spotted Lake Khiluk is the most mineralized lake in the world. The lake is spotted with 365 separate pools arranged in a strange mosaic-like pattern. Each of these spots holds a unique and highly concentrated chemical content and is said to cure different diseases. Definitely one of the nicer strangest places in the world.
Location: Northwest of Osoyoos, British Columbia
Suggested Read: 13 Popular Food Festivals Around The World For Your Unconditional Love For Food
5. Slope Point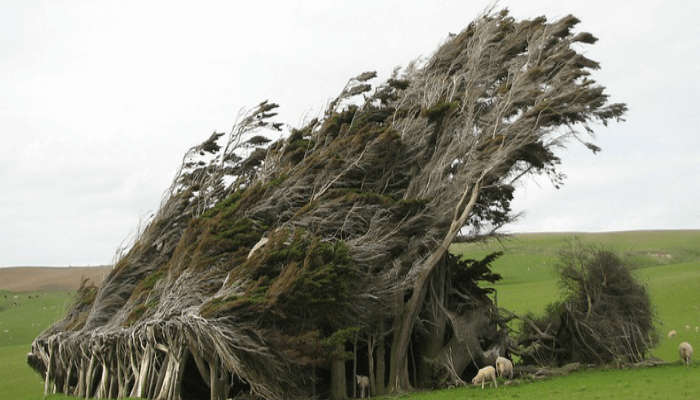 Slope Point is the South Island's southernmost point . The forest here is home to trees that are permanently twisted and windblown thanks to the intense Antarctic gusts. Windy much? This is one of the windiest strangest places in the world. The sight is all the more intensified by the rugged cliffs, eroded by the strong winds and time. The place is used for sheep farming, though there are no houses around. Another highlight of this place is the AA signpost that is installed here showing the distance to the Equator (5140 Km) and the South Pole (4803 Km).
Location: New Zealand
---
Planning your holiday but confused about where to go? These travel stories help you find your best trip ever!
Real travel stories. Real stays. Handy tips to help you make the right choice.
---
6. Dead Vlei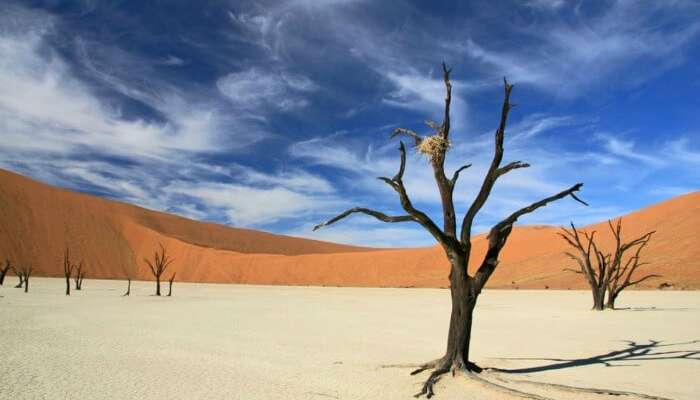 The name Deadvlei means 'dead marsh' and the place is also known as 'Dooie Vlei'. It is a sun-blackened dead forest in a white clay pan which is basically a dried oasis. The lack of water forces the roots of trees to come outside looking for moisture. The struggle is real! The place is surrounded by rust-orange giant sand dunes that form a contrasting backdrop. This place is also said to be surrounded by the highest sand dunes in the world.
Location: Namibia
7. Underwater Park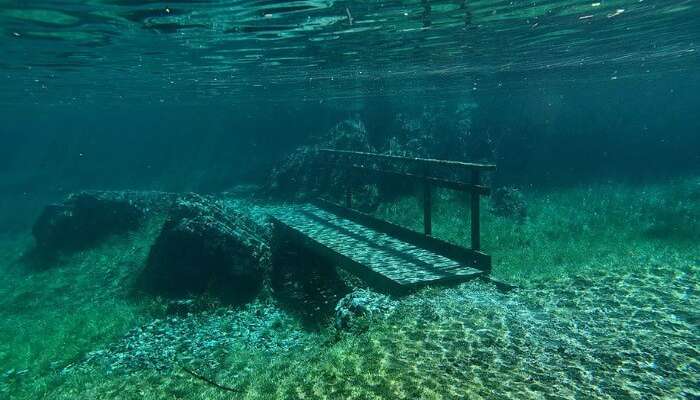 This list won't be complete without some underwater beauties. One of the world's strangest places, located in the Green Lake in Tragoess, this is not just a gimmick, but a genuine park that goes underwater during spring. After all, the scubadivers do need to rest and relax. It is considered as one of the most fabulous waters to dive in around Europe due to the rarest natural phenomenon. Have you booked your tickets yet?
Location:Austria
Suggested Read: Pics Of 25 Most Stunning Landscapes Around The World That Fit Every Bucket List
8. Eternal Flame Falls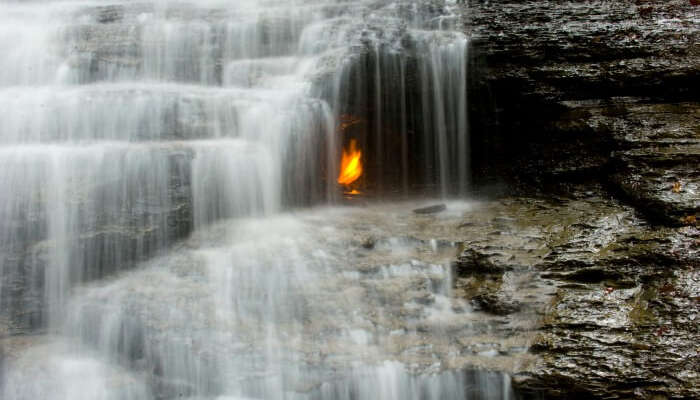 The Eternal Flame Falls is a quaint waterfall located in Shale Creek Preserve, which is a section of Chestnut Ridge Park in Western New York. A small item at the waterfall's base emits natural gas. Interestingly, it can be lit to produce a flame. This flame is visible all year round. It can be extinguished and must occasionally be re-lit. The flame is fueled by natural gases and burns bright right under a waterfall.
Location: New York, the US
Suggested Read: Top 10 Michelin Rated Restaurants Around The World You Must Dine At In 2020
9. Tunnel Of Love
A section of industrial railway in Ukraine, this green leafy tunnel seems like something out of a fairy tale. It is known for being a favorite place for couples to take morning or evening strolls. If you're planning to surprise your significant other on Valentine's day, ditch the usual trip to Disneyland and book your trip to Ukraine. You will not be disappointed by everything that Ukraine has to offer. The beauty of the Tunnel Of Love will astound you.
Location: Ukraine
10. Christ Of The Abyss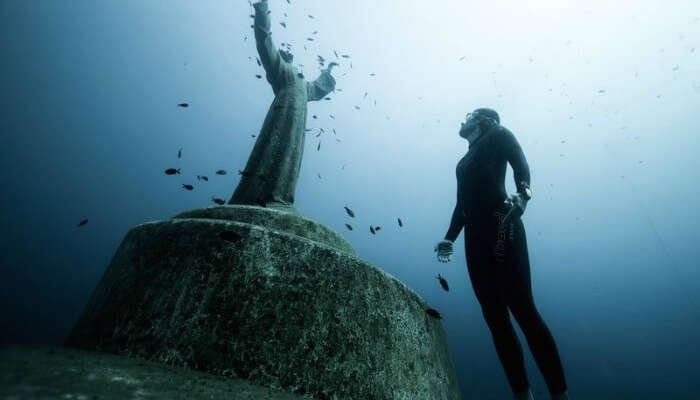 This is 2.50 meters, you read that right, it is a 2.5 METRES TALL bronze statue of Jesus Christ, which is under water. A favorite place for deep sea divers, and definitely one of the most mysterious places on earth underwater. It is a submerged bronze statue of Jesus Christ by Guido Galletti. The original copy of the same is located in the Mediterranean Sea, off San Fruttuoso, between Camogli and Portofino.
Location: Italy
Suggested Read: 20 Unusual Honeymoon Destinations Not Meant For Ordinary Couples
11. The Silfra Rift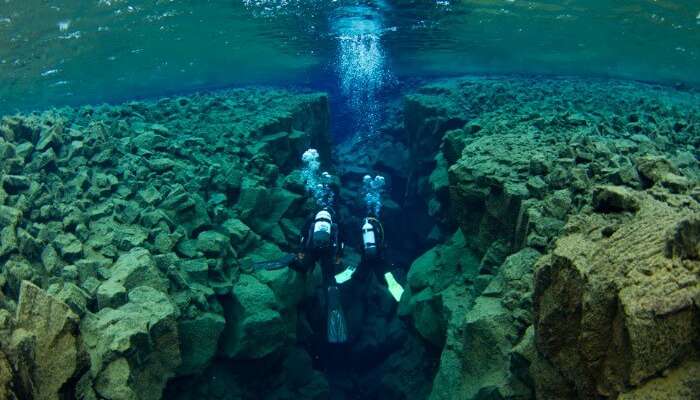 The Silfra Rift separates two continents and two tectonic plates, namely the North American and Eurasian plates. It occupies an area of approximately 600 by 200 meters. It is touted to be one of the most unique phenomena on Earth. Snorkeling is Silfra Rift is one of Iceland's awesomest experiences. Make sure to indulge in it on your trip to Iceland. You will be blown away by the the beauty of this natural marvel. Prepare to be bedazzled.
Location: Iceland
12. Caño Cristales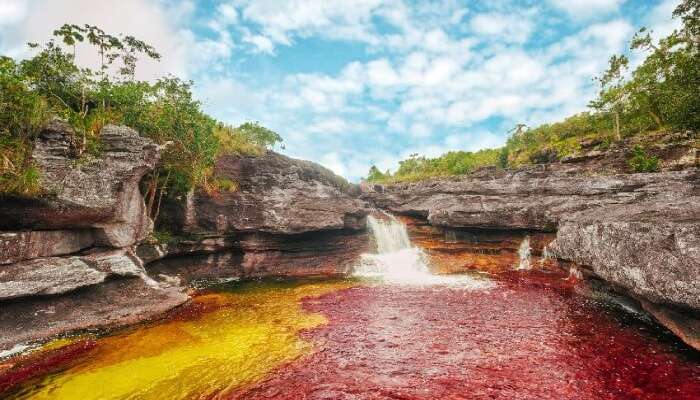 In the summer months, this Colombian river turns red. Actually, the river bed is covered by a unique species of plant, and that is what turns red. Another one of those mysterious places on earth underwater. The river is commonly called the "River of Five Colors" or the "Liquid Rainbow". It has been called the most beautiful water body on Earth. You can make a time lapse here of the water cascading down the rocks.
Location: Colombia
13. Jellyfish Lake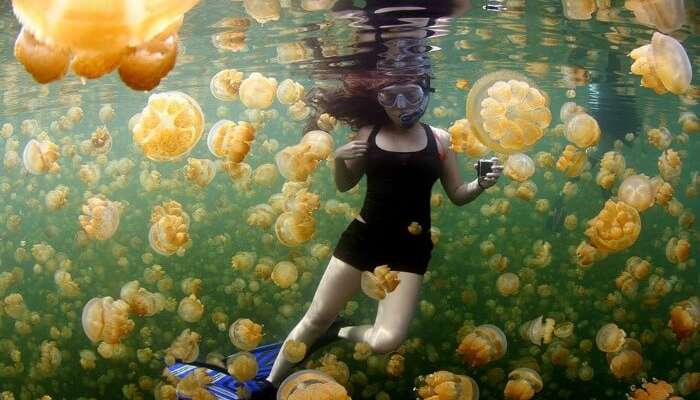 There are 70 marine lakes located in this region. What makes Jellyfish Lake stand apart from the rest is that it contains jellyfish. Too many of them! It was closed for public in 2012 owing to the diminishing population of jellyfish in this lake. Scientists assumed that it was the end of this beautiful lake. But the population of jellyfish grew in the recent years and it has once again been opened for the public. Cool, right?
Location: Palau
14. Blood Falls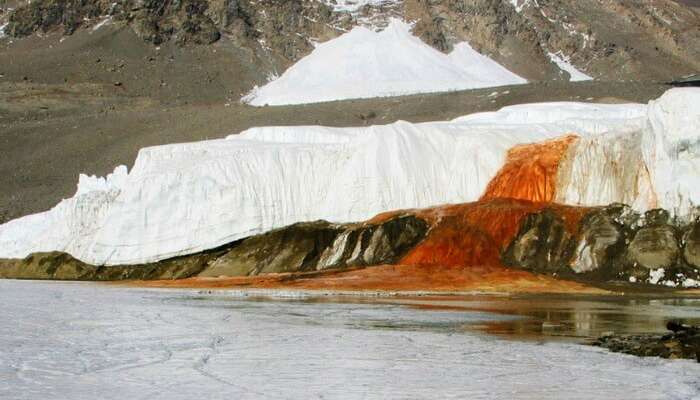 Amidst the unending whiteness of the snow, Blood Falls provides a creepy relief. The water is red in color due to the presence of huge amounts of Iron. Definitely makes the list of the strangest places in the world. According to Forbes, the mystery surrounding Blood Falls has been solved. According to the researchers of University of Alaska, the red coloring is due to "oxidized iron in brine saltwater, the same process that gives the iron a dark red color when it rusts."
Location: Antarctica
Suggested Read: The Ultimate Guide For The Trips To Antarctica: Get Ready For A Voyage Of A Lifetime
15. Painted Hills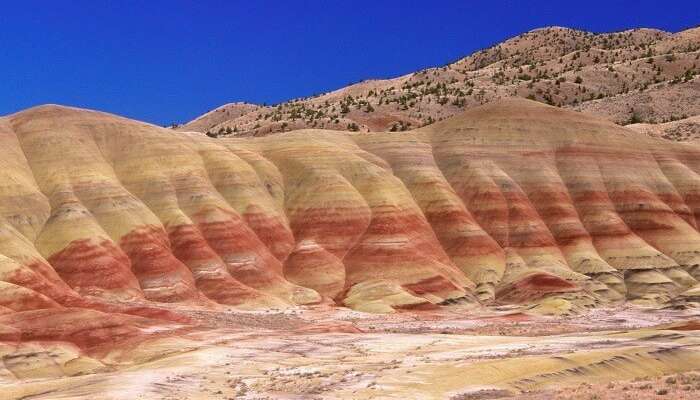 How often do you come across a place and are simply left awestruck by its beauty? Painted Hills is one of those places. Don't believe us? Book a trip to Oregon right away and see for yourself. We promise you will change your mind. At Painted Hills of John Day Fossil Beds, the presence of minerals stain the hills in myriad hues. The ever changing light and moisture levels affect the yellows, reds, golds, and blacks.
Location: Oregon, the US
16. Confluence Of Rhone And Arve Rivers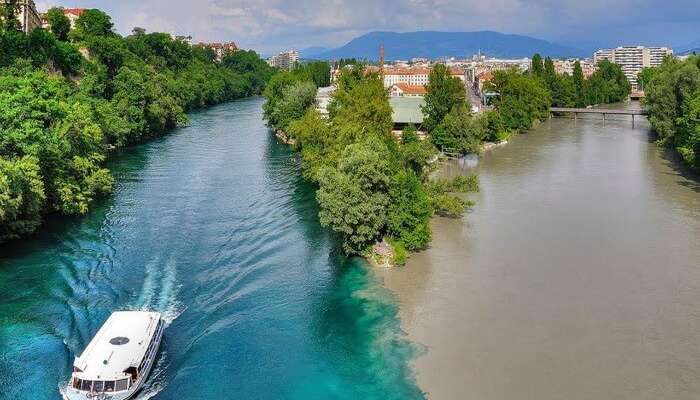 There is a defined contrast between these two rivers of Switzerland; one is blue and the other brown. They never fully mix due to the difference in density. They mix in Geneva, which is situated in Switzerland. It is hard to walk by this beautiful marvel of nature and not feel overwhelmed by whatever nature has to offer us. Go ahead and Google search this place to check out beautiful photographs of this place. You will be blown away.
Location: Switzerland
17. Sea Of Stars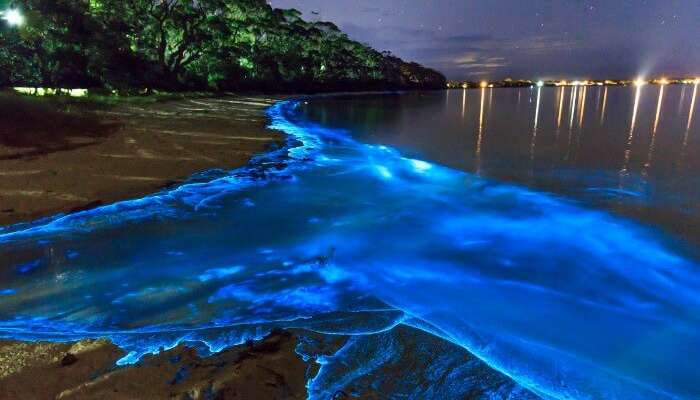 Bioluminescent sea plankton that shines bright blue during the night makes the sea area at Vaadhoo Island look like the Sea of Stars. The sea of stars of Vaadhoo Island Maldives attracts millions of tourists every year. The tourist footfall seems to be only increasing after the sea was featured in far and few Bollywood and Hollywood films. The Maldives is listed as one of the cheapest destinations in the world, so what's stopping you from seeing this sight?
Location: Maldives
Suggested Read: 25 Pristine Places To Visit In Maldives For An Amazing Vacay In 2020!
18. Huashan Mountain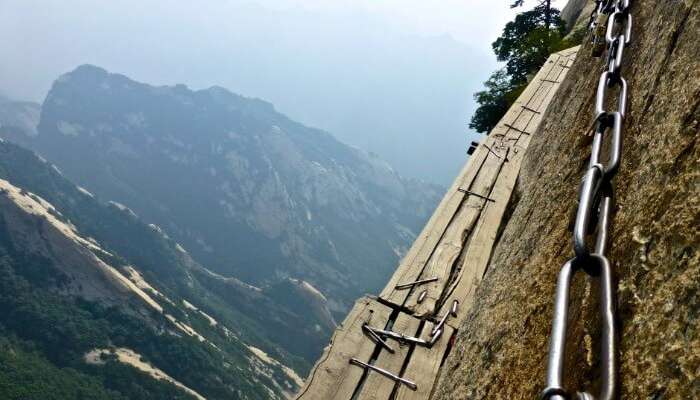 Location: China
What's weird about Huashan Mountain, you say? Well, look closely On the end of this treacherous death-defying trail in China is a mere tea house, but this Mount Huashan Plank Walk in the Sky is famed for its adrenaline raising effects. It is known as the Road to Heaven. Would you walk the plank here, at one of the strangest places on earth? Let us know in the comments section below. Tag your friends and get going.
19. Nelson Lakes National Park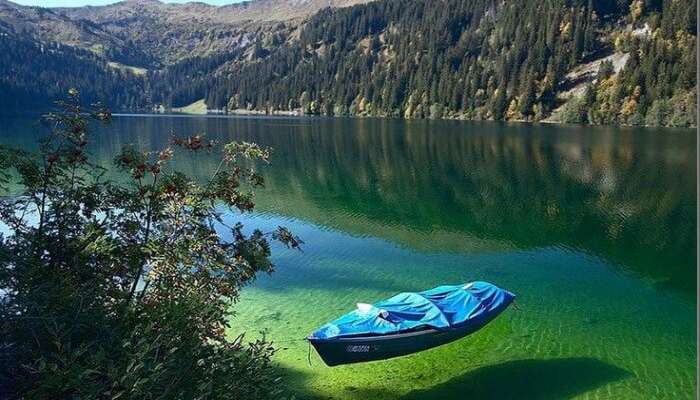 Do you get extremely excited about jungle safaris and walking tours of the national park in general? This one might just surprise you with its quirkiness. There is an interesting Blue Lake at the Nelson Lakes National Park. What's so weird about it? How about the fact that this is a lake so clear that you can see all the way to the bottom, and can't even make out the depth. Go ahead, visit it. We dare you. Don't blame us for your mind being blown to smithereens.
Location: New Zealand
20. Giant Crystal Cave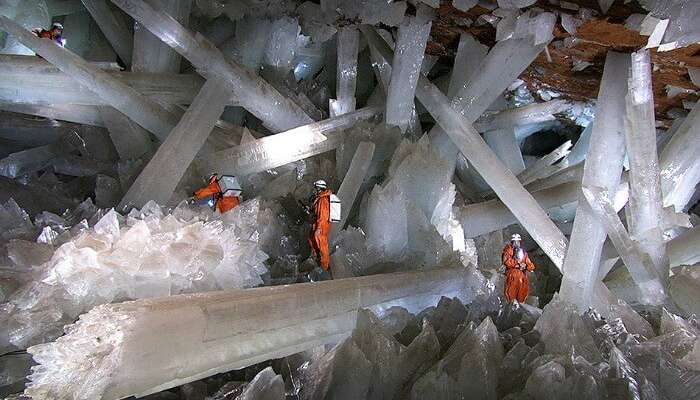 Giant Crystal Cave at Naica Mine is also one of the weirdest places on the Earth. Deep down in the bowels of the Earth, these huge shiny mineral pillars are enough to make you feel claustrophobic. This mammoth structure has been growing underneath Mexico for more than 500,000 years. It makes for an exceptional case study on how organisms survive in extreme heat and humidity. All nature lovers must visit this place at least once.
Location: Mexico
21. Vinicunca Rainbow Mountain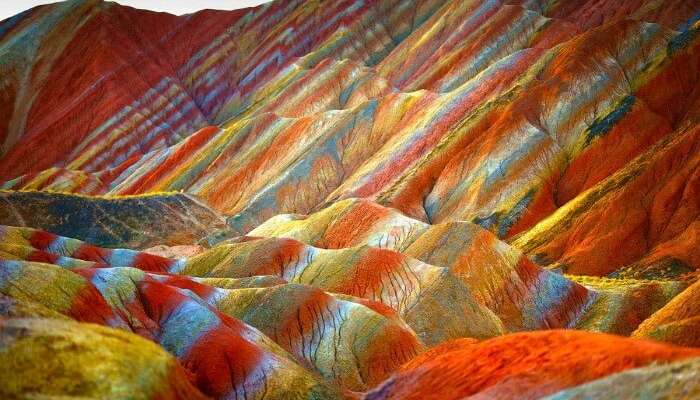 Covered in wide lines of pastel blue, intense red, green, pink and yellow. There are currently no scientific explanations for this phenomenon. Often referred to as Vinicunca or Montaña de Siete Colores, Rainbow Mountain is a colorful peak in Peru. It is extremely difficult to reach, we will not lie. But the strenuous effort is worth the trek. The sights that you will behold from the top of the mountain will dazzle you. Are you ready to do this?
Location: Peru
22. Yonaguni Monument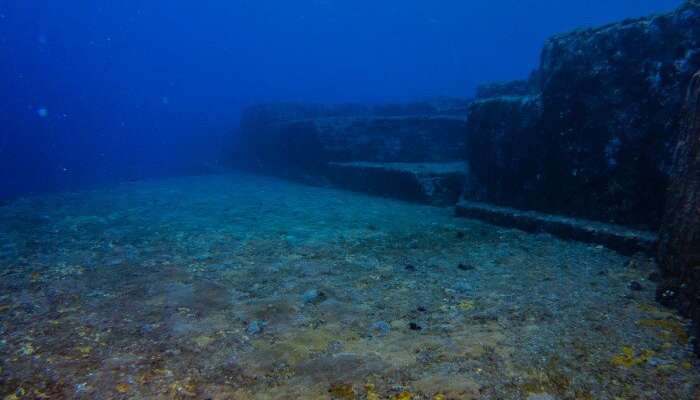 Scientists have only been able to confirm that this monument underwater in Japan is five thousand years old. It is still not confirmed if it is natural or manmade. Theorists say that it could be alien-made. Which theory do you believe in? If you believe in the former, you probably are of the school of thought that renders the existence of unicorns impossible. Jokes apart, visit this region for a day full of mysterious adventures.
Location: Japan
Suggested Read: Cherry Blossoms Are In Full Bloom And So Is The All New Spring Flower Cruise In Japan
23. Crooked Forest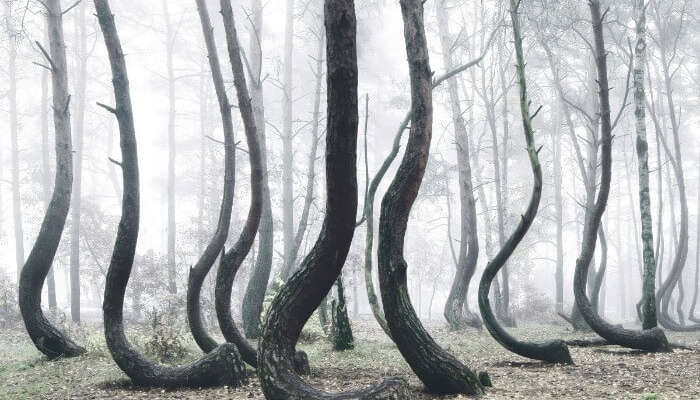 Came across any oddly-shaped pine trees outside Nowe Czarnowo near the town of Gryfino, West Pomerania? Welcome to the most bizarre place on Earth. Very few people visit this region, so why you happened to be there is a mystery in itself. In an otherwise normal forest in Poland, full of straight trees, there is this collection of curved trees, for which there is no scientific explanation. One of the world's weirdest places, indeed.
Location: Poland
24. Pink Sands Beach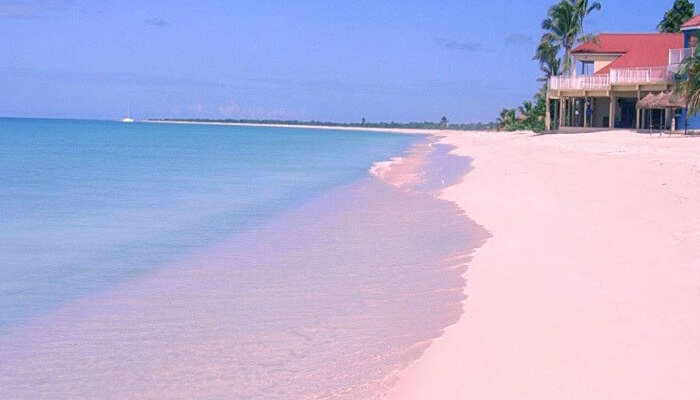 The sand at this beach is pink in color due to the presence of certain minerals and planktons. According to recent scientific research, the pink hue comes from foraminifera, a microscopic organism that actually has a reddish-pink shell. The sand is a mix of coral, shells, and calcium carbonate. Only a few pink sand beaches exist in the world. The rarity of these beaches adds to the charm and mystery they hold among the human population.
Location: The Bahamas
25. Richat Structure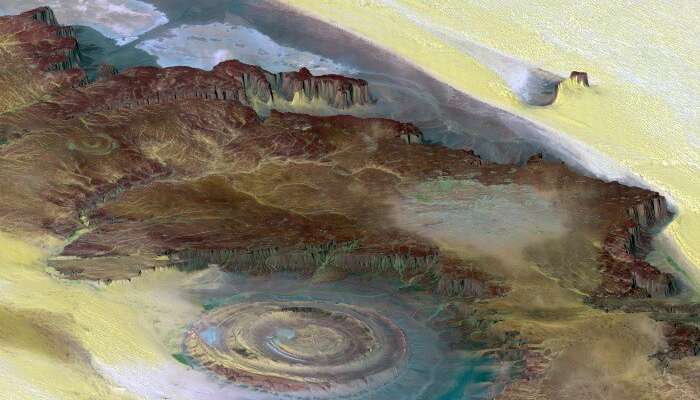 With a diameter of almost 30 miles, this is a structure in the deserts. One of the most unique places in the world, it looks like a massive fossil. Or maybe an alien spaceship landing strip? It is a prominent circle-shaped structure smack in the middle of Mauritania. You can get to the destination from the quaint desert town of Ouadane in the west-central part of Mauritania in western North Africa. Make sure to pack according to the weather of the region. Keep a lookout for the weather.
Location: Mauritania
26. Great Blue Hole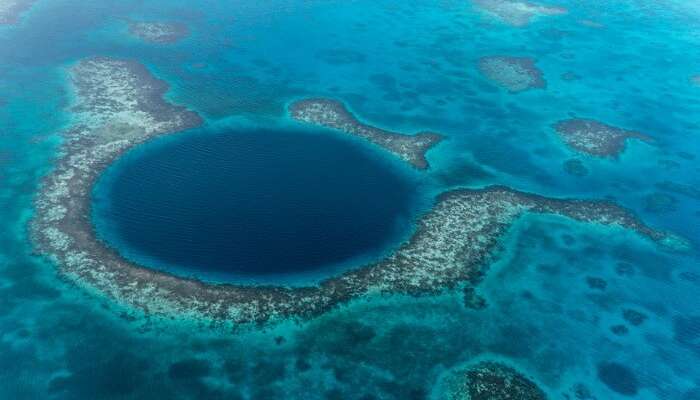 A gigantic natural submarine sinkhole! No one knows the depth of the sinkhole. The Blue Hole is a popular spot for freediving. You will be amazed at the power this sinkhole exudes. It is also touted to be the most dangerous and deadliest spots in the world by experts. We suggest you exercise caution in this area. It has claimed the lives of many divers in the past. Do not be reckless and take care of yourself and your fellow divers.
Location: Belize
27. Dead Sea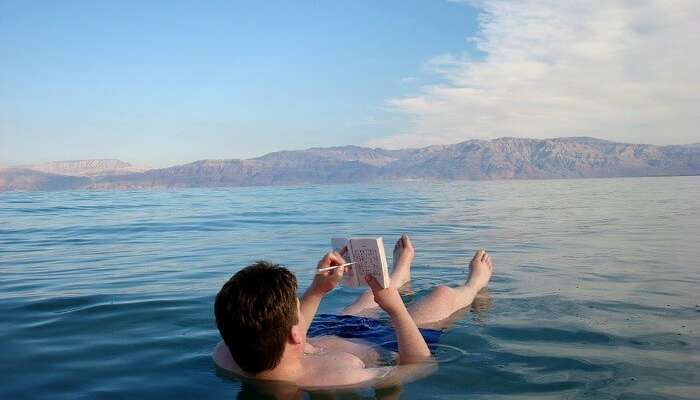 Can't swim? No problem! The Dead Sea, a salt lake, will ensure you can float without any effort, due to the high volume of salt and other minerals in the water. The Dead Sea is 10 times as salty as the ocean, with a salinity of about 34%. Just a disclaimer, if you open your eyes while in its water, it will sting quite a bit. It is inhospitable. Interestingly, in the Greek Era, it was inhabited by savage tribes. Visit the site to know more awesome facts.
Location: Jordan
Suggested Read: Dead Sea In Jordan Is A Traveler's Paradise In The Middle-East
28. Lake Retba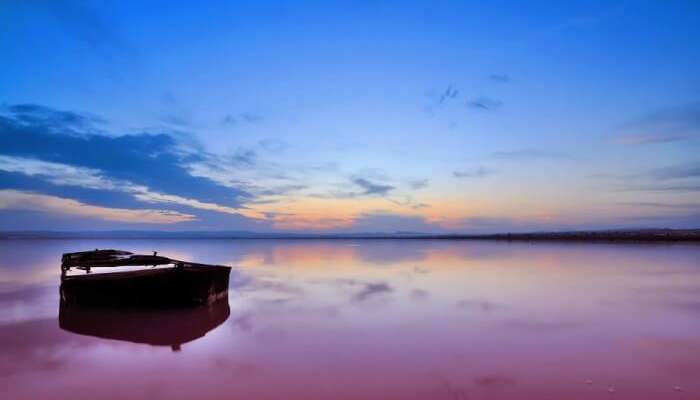 Ever seen a lake that's pink in color? That's what is weird here, thanks to the presence of certain planktons and minerals. It is located some 30 kilometers northeast of Dakar. The reason behind the water being pink is the huge presence of Dunaliella salina algae in the water body. It is known for its high salt content, up to 40% in some areas. It will surely catch your eye in Senegal. Swimming in this water is safe, so pack your swimsuit and head here.
Location: Senegal
29. The Wave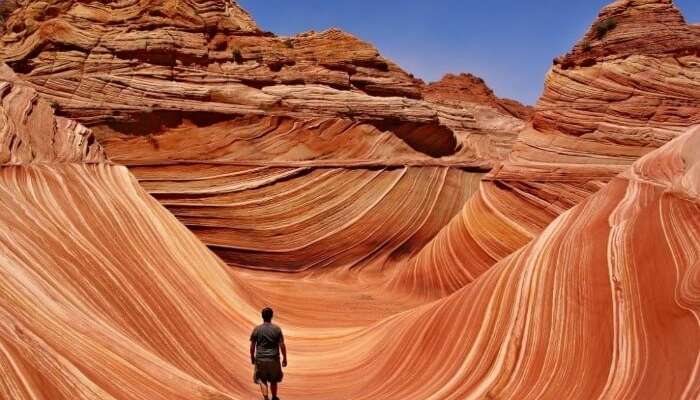 The Wave is a sandstone rock formation located near the northern border Arizona shares with Utah. It is a dreamlike world of swirling colors and psychedelic patterns. The rock formations are said to be from the Jurassic era. In an effort to preserve the natural beauty and integrity of this natural site, there are no signages for hikers. You have to find your way in and out of this site. Sounds like a challenge. Who is up for it?
Location: Arizona, the US
30. Mt. Kelimutu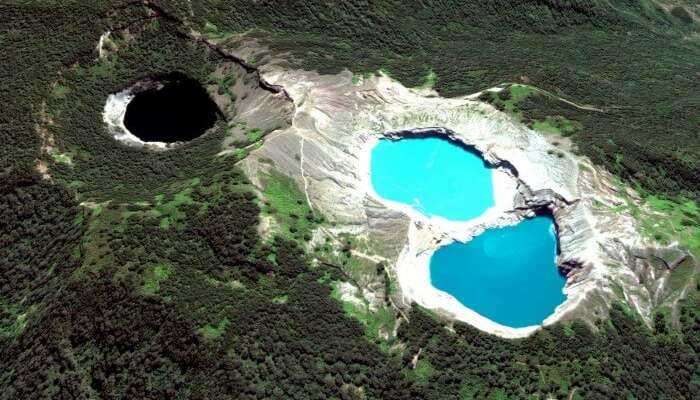 The result of a volcanic eruption, this wonder is home to three separate lakes, all of the different colors – black, blue, and turquoise. Weirdly, at the summit of Mount Kelimutu summit, there are three crater lakes in three different colors, and those colors change all the time. If this isn't the most bizarre thing that you have read this week, we don't know what is. It is often times blue. Make sure to stop by this lake and tell us in the comments section below which color it was when you saw it.
Location: Indonesia
Suggested Read: 10 Picturesque Largest National Parks In The World That Will Leave You Amazed!
31. Al Naslaa Rock Formation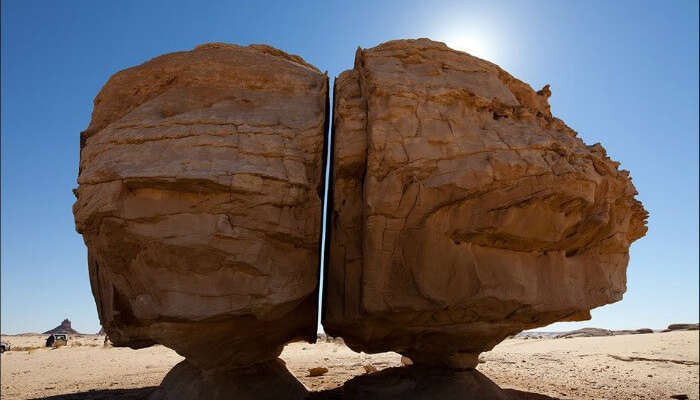 There are many natural occurrences that can bewilder the traveler. This is one of them. This little slice of perfection. See the uniform slit between the flat faces of these two standing stones? Al Naslaa is one of the most photogenic petroglyphs in the area. Its natural shape is a big mystery that no one has been able to solve yet. Make sure you embark on a holiday to Saudi Arabia to catch a sight of this natural structure.
Location: Saudi Arabia
32. Mendenhall Ice Caves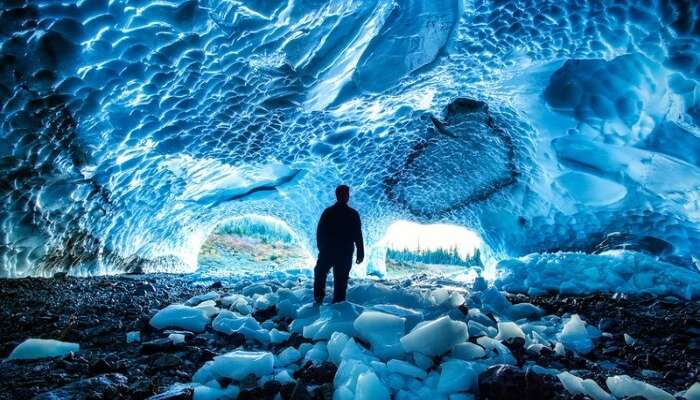 The different shades of blue in the ice crystals inside these caves is a natural phenomenon that has left scientists baffled for years. As global warming is on the rise, there is a chance that these ice caves might be affected. Geologists are doing everything possible in their capacity to save these ice caves from becoming extinct. The glacier was named Auke (Auk) Glacier by naturalist John Muir for the Tlingit Auk Kwaan band.
Location: Alaska
Suggested Read: The Wondrous Mendenhall Ice Caves Of Alaska
33. Fingal's Cave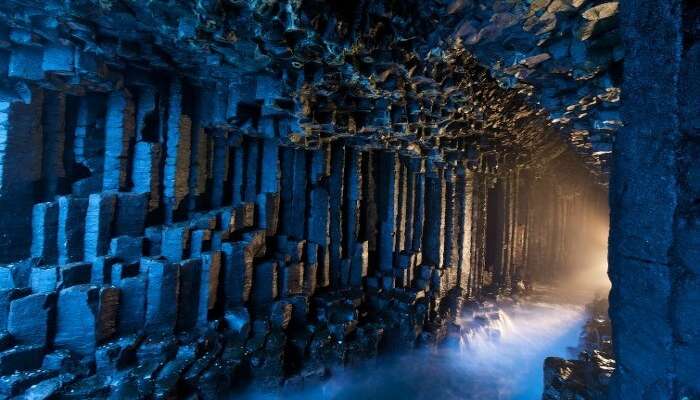 As a rule, caves are round in shape with round rocks, right? Wrong! Take a look at these symmetrical square caves. These caves are situated on the uninhabited islands of Staffa in Scotland. Except for researchers and scientists, people don't usually visit these caves. But you can still look at this photograph and admire the bounties of nature. Doesn't this strike as beautiful to you? The cave has a large entrance and is filled by seawater.
Location: Scotland
34. Ruby Falls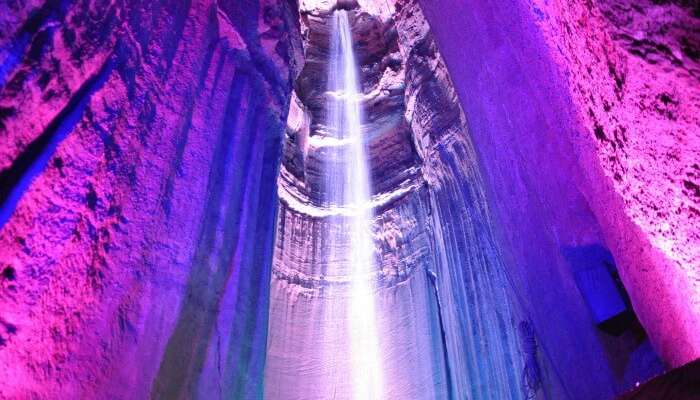 A 145-foot high underground waterfall that is illuminated to create this lovely purplish hue. It is located within Lookout Mountain near Tennessee. They have existed for millions of years. Ruby Falls Cave features prominent cave formations like stalactites and stalagmites, columns, drapery, and flowstone. The caves were opened to the public only recently, so make sure you don't miss out on a trip to this destination.
Location: Tennessee, the US
35. Oneuli Beach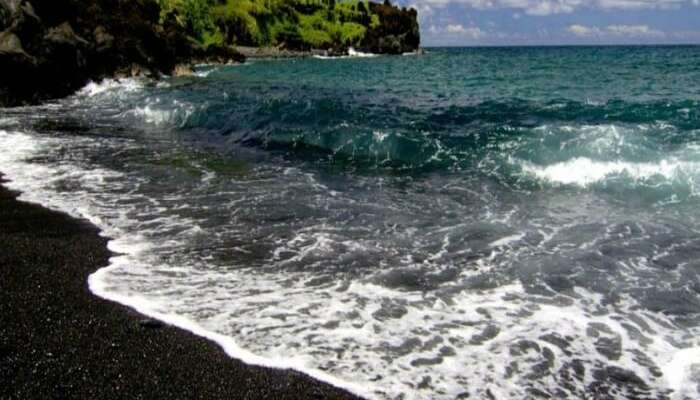 A remarkable beach that boasts of pitch black sand due to volcanic activity in the past. If you know how to swim or snorkel, you will have the time of your life here. If you don't, you can train with certified instructors first and then take a dive into this beautiful black sand beach. You will not regret a visit to this destination. We promise you will be blown away.
Location: Hawaii, the US
36. Marble Caverns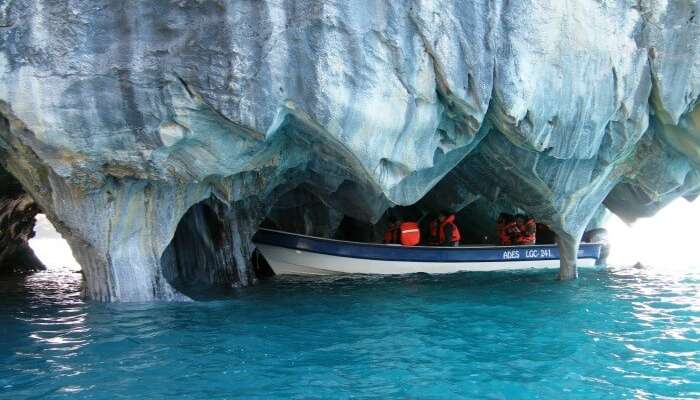 The Marble Caverns of Carrera Lake have amazingly smooth and cool caves of marble. The water is clear enough to see deep down to the bottom. The Marble Caves, Marble Chapel, and Marble Cathedral are an unusual geological formation in the General Carrera Lake or Lake Buenos Aires (as it is popularly called) located in Patagonia. Hop on a ferry and take a trip to these unusual marble formations. Don't forget to get your camera with you.
Location: Chile
37. Nyaung Ohak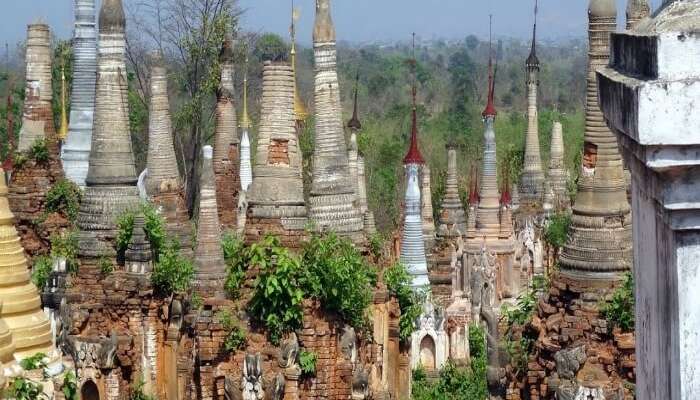 Myanmar may not be the most popular destination, but it definitely features on the list of places you should visit once before you die. Here is why. Myanmar houses Nyaung Ohak, which is a beauty in its own right. A surreal jungle-village of over 1000 crumbling temples is hard to come by elsewhere. This destination is covered in greenery. It is a sight to behold. Getting to Nyaung Ohak involves an exciting boat ride.
Location: Myanmar
38. Iguazu Falls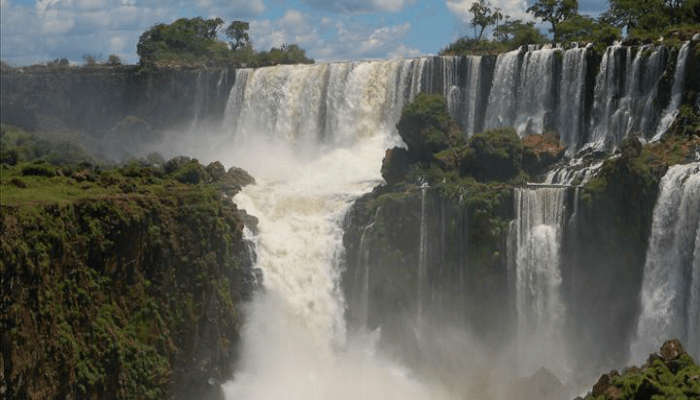 One of the widest waterfalls in the entire world. Iguazu Falls will give Niagra Falls a run for its money. The falls divide the river into the upper and lower Iguazu. The power of the falls was not utilized until the construction of Itaipu Dam. It is a dam built jointly by Paraguay and Brazil. It was completed in 1991. If cascading waterfalls mesmerize you, plan a visit to this beautiful destination and prepare to be blown away.
Location: Brazil
39. The Doorway Railway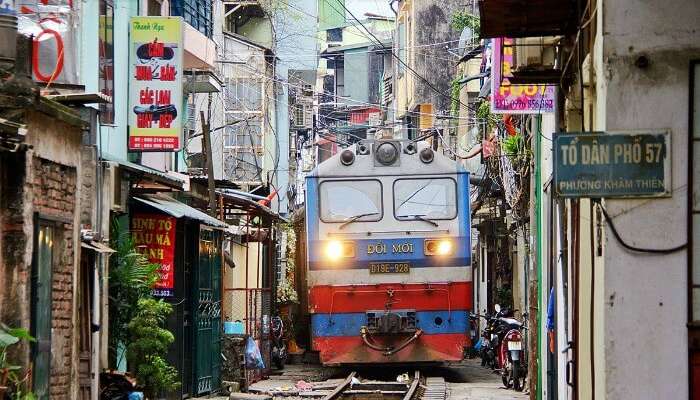 The Doorway Railway of Hanoi is a railway line passes inches away from the doorsteps of shops, through the residential neighborhood and commercial area of Hanoi. There's a street in Hanoi, Vietnam where a speeding train passes straight through twice a day. If you're in the way of the train, you are supposed to press tight into the adjoining wall or duck into a nearby cafe to escape being killed. You can feel the iron resonate against your skin. Sounds terrifying, right?
Location: Vietnam
Suggested Read: 10 Best Beaches In Vietnam For Some Sun, Sand And Surf!
40. Koekohe Beach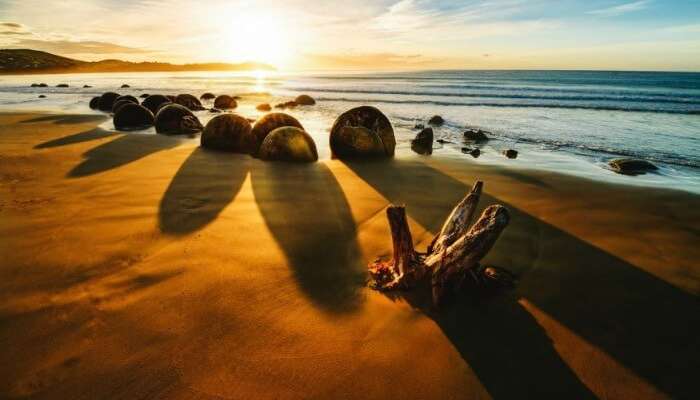 Unusually-giant boulders dot the eroded Otago coastline along a stretch of Koekohe Beach. Scientists are unable to explain what is expected to be a natural phenomenon. They are unusually large and either occur scattered in the region or in clusters. Though the beach faces erosion now and then, the rocks refuse to change their structure and remain firmly cemented in the ground. This is a must-visit site for nature lovers.
Location: New Zealand
41. Monolith Of Uluru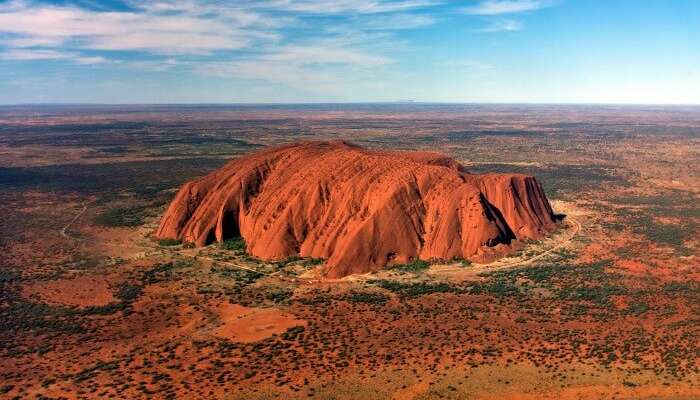 This is a single rock. One single, gigantic rock, which is a mountain in itself. With a height of 348 meters and a circumference of 5.8 miles, this is the world's largest rock and one of the weirdest places on earth. While the rocks surrounding it eroded, it stood its ground to become the longest surviving Monolithic rock structure. If this rock doesn't inspire you to keep hustling in life and staying true to all the promises you made to yourself, we don't know what will.
Location: Australia
42. Mount Roraima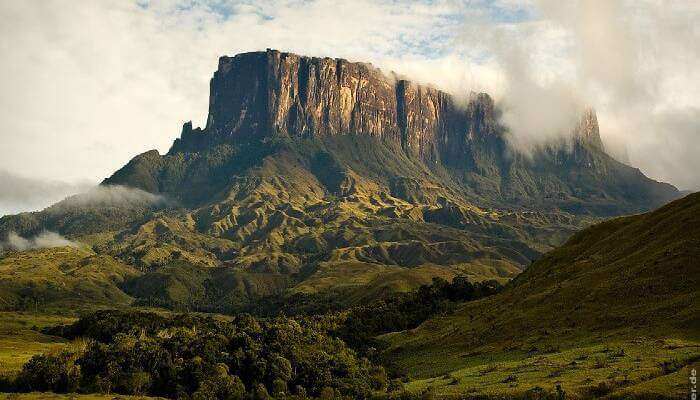 An enormous surreal flat top mountain said to be one of the most mysterious, with an abundance of unusual plants and animals. Welcome to one of the weirdest places on earth. This is the highest mountain in the Pakaraima chain. It is furthermore, the highest point in Venezuela. The mountain's highest point is named as Laberintos del Norte. Hire a tour guide and trek these mountains to marvel at nature's wonders. Don't forget to take your friends along.
Location: Venezuela
43. Danakil Depression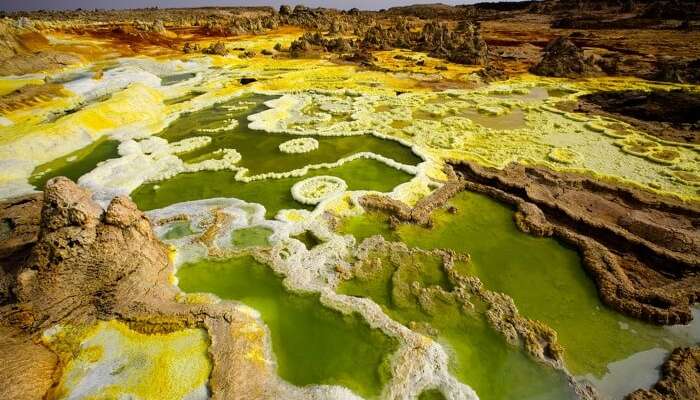 These are not your average run-of-the-mill pools; these are actually acid pools. Even what looks like land are brittle crusts of salt and sulfur. Totally one of the strangest places on earth. The tectonic plates underneath the Danakil Depression continue to move, even after millions of years. Scientists believe that if the movement doesn't cease, the land will drop further below the sea level. Won't that be a sight to behold?
Location: Ethiopia
44. Travertine Pools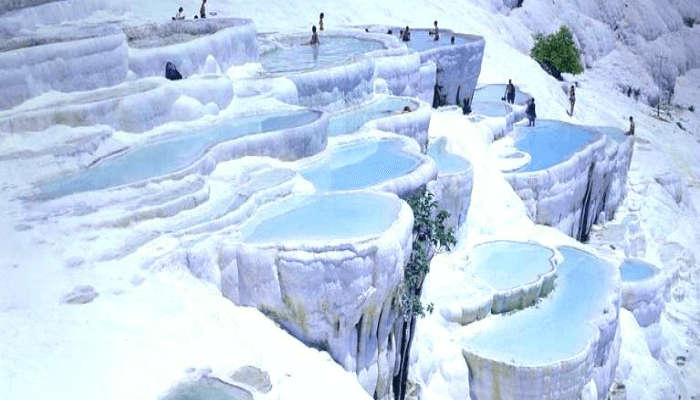 A group of small pools that result from calcium carbonate deposits. Looks cold, but these are actually pools of warm water, fed by an underground spring. The area is immensely famous among the locals and the tourists alike for the carbonate mineral left by flowing water, which lends this natural site the name "cotton castle". This place in Turkey is a sight to behold and we recommend you to stop by there on your trip to the region.
Location: Turkey
Suggested Read: 23 Reasons Why You Should Never Visit Turkey
45. The Giant's Causeway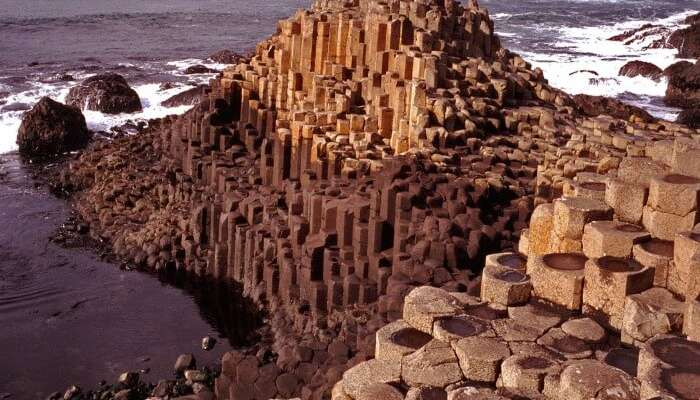 The result of an ancient volcanic eruption, these are perfectly straight rocks jutting out of the sea. Around 60 million years ago, this place was subjected to intense volcanic eruptions. As the lava cooled and the smoke enveloping the region disappeared, people found pillarlike structures jutting out. They were amazed and began researching the origin of the Giant's Causeway. To date, scientists are perplexed by the firmness of these rocks.
Location: Ireland
46. Pancake Rocks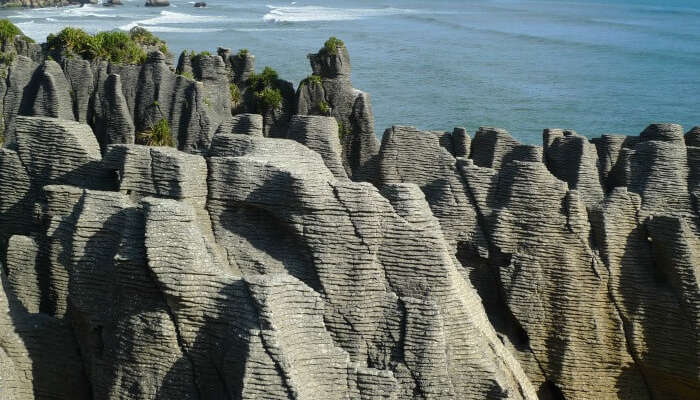 The thousands of layers of sandstone and limestone accumulated on the ocean floor has given shape to these stacks of pancake-like rocks. The Pancake Rocks are reachable by a number of walkways winding through the rock formations, parts of these wheelchair-accessible and others carved into stairways up and down the rock faces. Make sure to visit this place on your trip to New Zealand. Prepare to be bedazzled by this natural wonder on Earth.
Location: New Zealand
47. Lencois Maranhenses National Park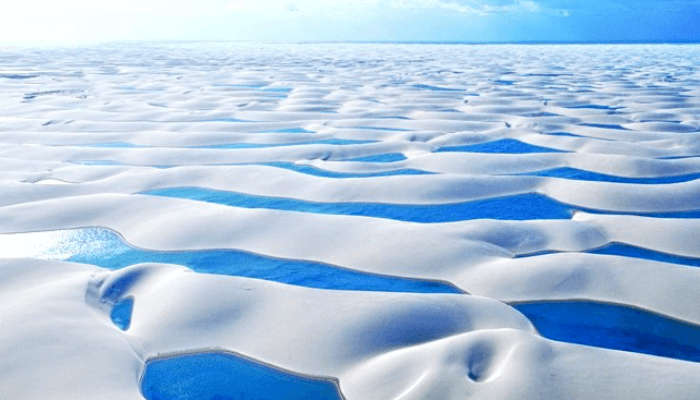 Lencois Maranhenses National Park is a protected area in Brazil. There is a reason why this place has a special status in the country. Although it deceptively looks like a desert, this national park of Brazil has many small pools bordered by the sandy dune-like structures. Have you ever come across white sand dunes on your desert trips? If your answer is no, pack your bags and head to Lencois Maranhenses National Park.
Location: Brazil
48. Red Beach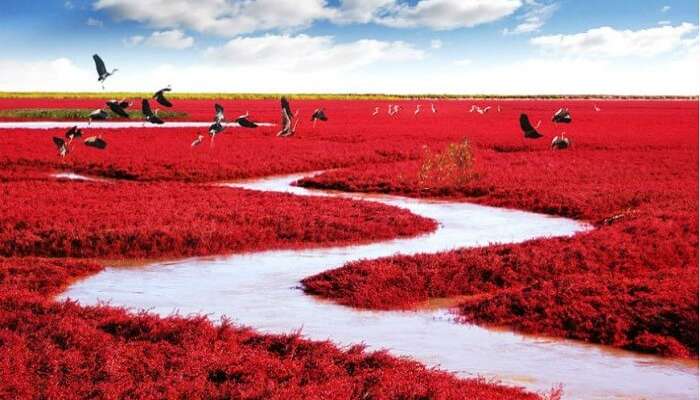 Red beach is famed for its red-hued sand. It is a renowned tourist attraction. The place receives a tourist footfall of tens of thousands of people each year. The tourists seem to be in love with this place. Every year in autumn, The Red Beach in Tianjin, China comes alive with Suaeda salsa, a red colored plant that thrives well in salt water. The entire beach blooms red, leaving only thin strips of sea visible. Make sure to come here with your friends and get a photograph for your Instagram.
Location: China
Suggested Read: Visit These 10 Uninhabited Islands For A Trip Of A Lifetime In 2020!
49. The Seven Giants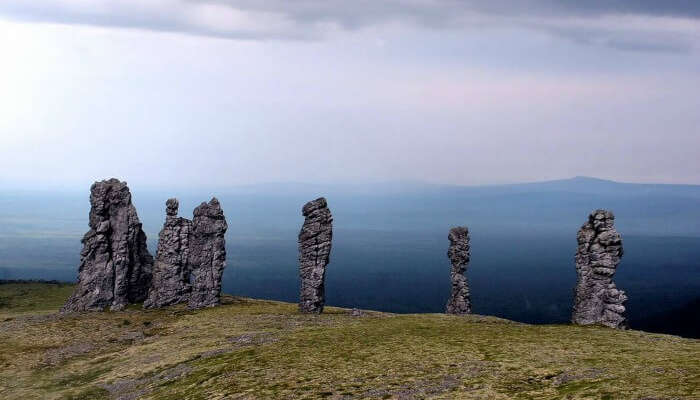 Locally known as the Seven Strong Men of Russia or The Little Mountain of the Gods, these behemoth stone pillars, created by frost and snow over many years, are a mystery as yet unsolved by science. You will find seven rock formations here. Their heights vary from 30 to 42 meters. Behold them and get lost in the divine wonders of nature. We dare you to book a ticket to this region. You'll be amazed at the sight in front of you.
Location: Russia
50. Cat Island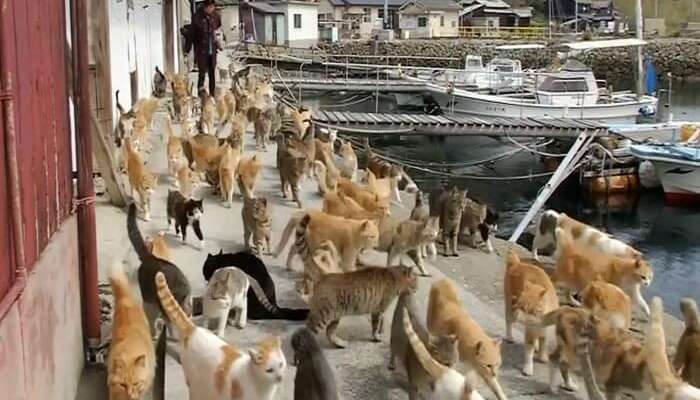 An island that is home to a mere 100 humans, and thousands of cats. The locals love the living situation though. For a dog-lover like me, this is one of the strangest places on earth. Cat Island is located in a remote region of Japan that goes by the name of Ehime Prefecture. Here, the cats outnumber human beings by a ratio of 10:1. People were introduced to combat rodents on fishing boats but remained on this island. They procreated and thus, the human settlement flourished.
Location: Japan
Further Read: 12 Weird, Strange-As-Fiction Islands Of The World
So, what do you think about this list of 50 weirdest places across the world? Do you think they are worth visiting? Did we miss out on any? What is your opinion on the aforementioned destinations? Any place that you think is not bizarre or quirky enough? Any place that you'd love to visit solo or with a group of friends? Don't wait. Book your world trip with TravelTriangle now! You will not regret this trip, we assure you.
Frequently Asked Questions About Weirdest Places Across The World
Q. Which is the strangest place in the world?
A. Here is a list of the top strangest places in the world:
1. Bermuda Triangle
2. The Great Pyramids of Giza
3. Stonehenge
4. Easter Island
5. The Nazca Lines
6. Angkor Wat
7. Teotihuacan
Q. Which is the most interesting place in the world?
A. Some of the most interesting and unbelievable places in the world are:
1. Salar de Uyuni – Bolivia
2. Huacachina – Peru
3. Grand Prismatic Spring – Wyoming, USA
4. The Door to Hell – Turkmenistan
5. Northern Lake Baikal – Russia
6. Chamarel Earth – Mauritius
Q. Which are the weirdest city names in the world?
A. Here are some of the weirdest city names in the world:
1. Santa Claus, Indiana
2. Idiotville, Oregon
3. Intercourse, Pennsylvania
4. Ding Dong, Texas
5. Cut and Shoot, Texas
6. Saint-Louis-du-Ha! Ha!, Quebec
7. Hot Coffee, Mississippi
8. Two Egg, Florida
9. Cookstown, Oklahoma
10. Eighty-Eight, Kentucky
Q. Which are the most dangerous places in the world?
A. Here are some of the most dangerous places in the world:
1. Snake Island, Brazil
2. Danakil Desert, East Africa
3. Sahel, North Africa
4. Oymyakon, Russia
5. Mount Sinabung, Indonesia
6. Skeleton Coast, Namibia
7. Lake Nyos, Cameroon
8. Lake Natron, Tanzania
9. Bermuda Triangle, North Atlantic
10. Mailu Suu, Kyrgyzstan
11. Manaus, Brazil
12. Dallol, Ethiopia
13. North Sentinel Island, India
Q. Which are the weirdest places in the US?
A. You will find numerous weird places in the US in terms of their architecture, nature, spook level and quirk. Here are a few of the weirdest places in the US that are kind of a must-visit.
The sandstone waves in Arizona colored in orange, purple, and red are as alluring as they are hypnotizing. It puts you in wonder how nature is so amazing. You may not believe but there is Thor's well in reality in Yachats in Lincoln County, Oregon. There is a fountain of gurgling ocean tides by the sea but don't plunge in because nobody knows how deep it is. You will also find a house in Rockport, Massachusetts made entirely out of newspaper. Everyone knows about Area 51, of course, bt o one knows what is inside it.
Q. Which are the weirdest places in London?
A. For starters, there is A Clown Gallery and Museum where you will find clown dolls, clown portraits, and clown costumes on display. Creepy much? Then there is Dennis Severs House that will give you a glimpse of London that was hundreds of years ago. Check into the oldest prison in England, the Clink Prison Museum and discover the historical graveyards – The magnificent Seven, where famous historical figures like Karl Marx are buried.
Q. Which are the weirdest places on google maps?
A. The sprawling Swastika designs in Kazakhstan were spotted on Google Maps that date back to 2,000 years ago. There is an island-in-a-lake-on-an-island-in-a-lake-on-an-island in the Philippines where no man has ever stepped foot. A phantom island popped up on Google Maps in 2012 located northwest of New Caledonia.
Comments
comments