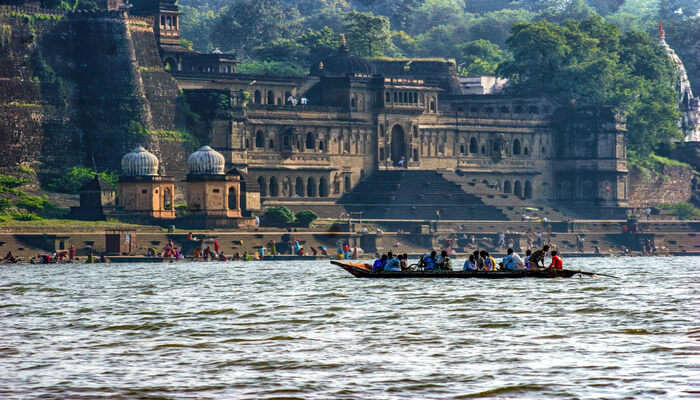 Maheshwar is a very beautiful town in Khargone district well situated in the central part of India, Madhya Pradesh. It is visited by an endless number of tourists throughout the year and is said to blanket many magnificent places in and around which are worth visiting. It is widely known as a perfect tourist destination. There is a huge number of pilgrims travelling up here in search of self-realisation and in pursuit to attain inner peace. The below-mentioned places are some of the most popular places to visit in Maheshwar which have earned their name and reputation amongst several for their charm and beauty in diversity.
Top 7 Places To Visit In Maheshwar
There is no dearth of places to visit in Maheshwar and that is exactly what makes it a popular choice among travelers. Take a look at this list of all the best places that one should surely visit at least once!
1. Holkar Fort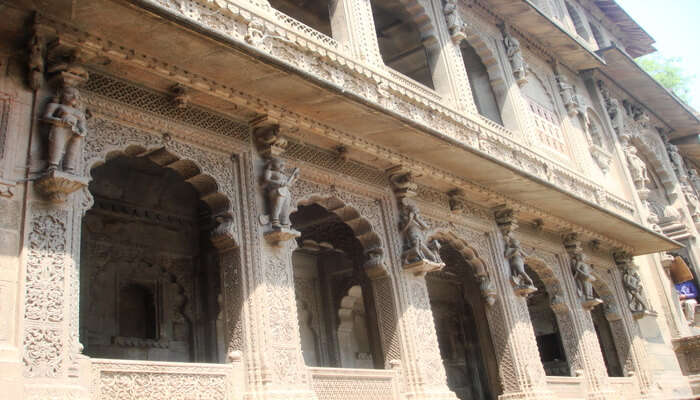 Image Source
This magnificent fort was once used to be an adorable and very beautiful palace of Rani Ahilyabai Holkar hence the name Holkar Fort was inherited from there. It is also popularly known as Queen's fort. Before it was converted into a guesthouse, it was once known to be the administrative headquarters of Rani Ahilyabai. In the present day, this fascinating property is managed by the son of the last Maharaja of Indore, Prince Shivaji Rao Holkar. This wonderful creation is known to be the zenith of the Maratha architecture as it is not every day when we get so fortunate to witness such a piece of art and talent. The visitors who wish to come here can be rest assured to catch a glimpse of the ancient times as this palace is reputed and recognised for bringing the history back to life in its own surprising and charming manner.
Must Read: 8 Fascinating Things To Do In Chopta With Family On Your Uttarakhand Getaway In 2020
2. Mandleshwar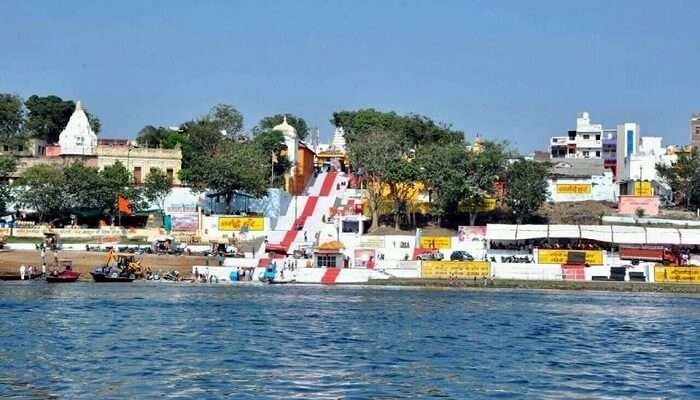 Mandleshwar is one of the most beautiful towns in the entire region, located in the Khargone district of Madhya Pradesh, and is also popularly mentioned as Mahishmati which was its initial name. This splendid city was the capital of southern Avanti during the rule of King Kartavirya Arjun. Being a famous tourist destination, it is also known for its temples, fort and mesmerising bathing Ghats. Visitors are recommended to buy sarees from the town which are very popular for their floral designs not just in the city but throughout the country. The architecture of the forts and temples resting here are for sure worth praises as they are so unique yet undoubtedly breathtakingly beautiful. The name Mandleshwar means the home of Lord Shiva hence it is also visited by many pilgrims in search of inner peace and salvation. Several Bollywood movies including Ashoka and Tulsi were shot here which adds some more reasons for the tourists to explore the place. Being a perfect blend of art and spiritual values, this city is for sure the best tourist destination to be visited with friends and family.
Suggested Read: Top 8 Chopta Hotels Offering A Perfect Stay In 'Mini Switzerland of India'
3. Rajwada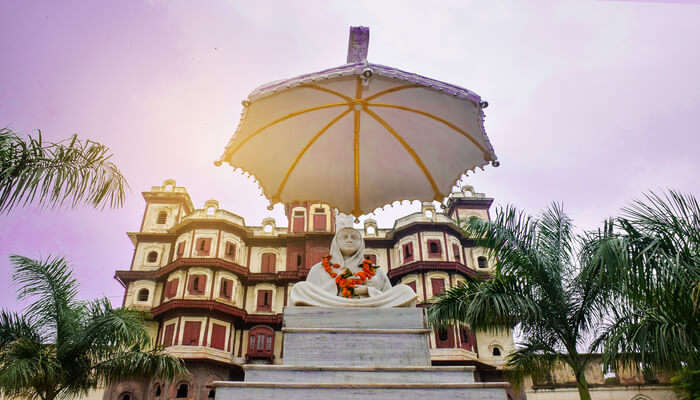 Image Source
This mesmerising architectural wonder is said to be constructed by none other than Rani Ahilyabai Holkar who is known to be India's most powerful and fearless female leader. This has to be a perfect tourist attraction to be visited with friends and family and this place makes you believe that if there is a heaven then it shouldn't be much different than the magnificent yet peaceful Rajwada. As one of its fascinating features, the said edifice not only displays the Maratha architectural styles but surprisingly it also boasts the designs which are known to be inspired by French and Mughal trends. There are a lot of things to be explored here in Rajwada but one of the major attractions of this beautiful monument which attracts an endless number of visitors here has to be the statue of Rani Ahilyabai placed right at the entrance. Any visitor who has been to Maheshwar has for sure visited this beautiful paradise known as Rajwada which has been offering its sincere services and charm since ages.
Suggested Read: 11 Fabulous Places To Visit In Pauri For Your Next Adventure In Uttarakhand
4. Narmada Ghat
Image Source
Out of many places which are constructed by the great and famous queen Rani Ahilyabai, Narmada Ghat has to be the best amongst all. It is quietly resting on the banks of river Narmada and is sincerely known, reputed and appreciated for its beauty and calmness by almost everyone who has been here. It is yet another off-beat destination in the mesmerising town of Maheshwar known to attract a huge number of visitors throughout the year. It is surrounded by lush green environs and also owns its high values in spirituality. Visitors with friends and family have always found it a perfect spot for picnicking. Being spiritually acclaimed and owing to its rich historical heritance, Narmada Ghat is often crowded by a huge number of visitors who would desire to witness the calmness and charm that it has to offer.
Suggested Read: 12 Jyotirlingas In India To Visit In 2020: See The Spiritual Side Of The Country
5. Jaleshwar Temple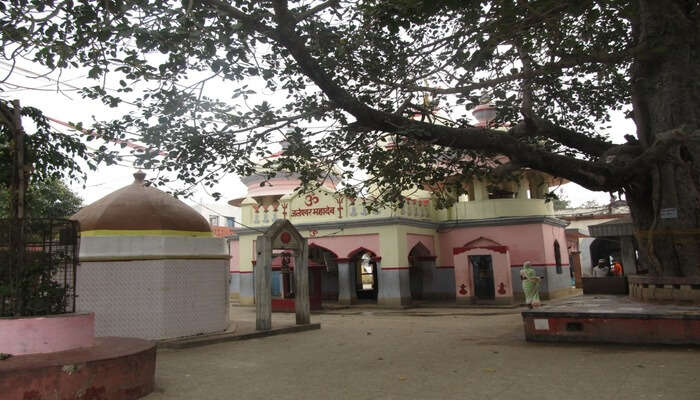 Image Source
Lord Shiva, known as the third god in the Hindu triumvirate is said to have many benevolent and fearsome forms. Through centuries, many followers have been seeking his blessings and are known to be the supreme of gods as per Hindu religion and mythology. Jaleshwar Temple has to be one of the most beautiful temples in the entire region which is a sincere tribute to him. This beautiful temple was built to honour the limitless, unstoppable, invincible and unchanging Shiva. The location and the beautiful touch of divine make this great temple a wonder on its own. At times there are long queues right outside the temple which happens to be pilgrims who had come to visit the temple seeking Lord Shiva's blessings. It is recommended to all the visitors who are planning to visit this beautiful town Maheshwar for not to miss exploring this heavenly Jaleshwar Temple.
Suggested Read: Shopping In Gwalior 2019: The Land Of Chanderi Silk & Handicrafts
6. Khargone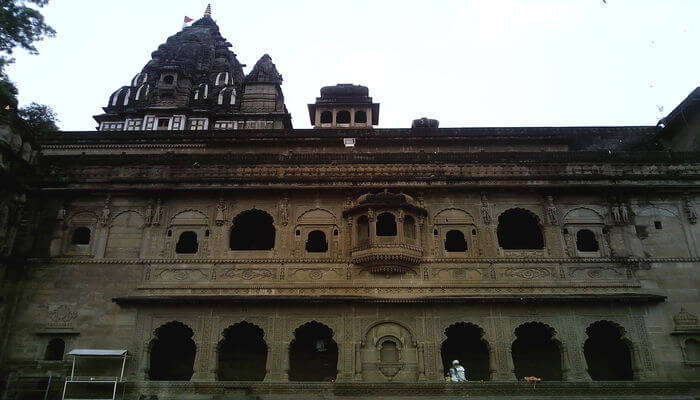 Image Source
Khargone is known to be the 24th biggest city in Madhya Pradesh which is well situated on the banks of Kunda River. The city is known for its culture of diversity. The very famous and sacred Navagraha Mandir, a Hindu temple built to honour the navagrahas or famously known as the nine planets are located here. Some of the other attractions here include Ahilya Fort, Rinmukteshwar Mahadev Temple and Pandarinath Temple. Dating back to ancient times, the city was then known to be the capital for Malwa during the Maratha Holkar reign. If you are travelling with friends or family, it is mostly recommended to travel during the festive season to witness and experience the best that Khargone has to offer. The festivals here display a beautiful picture of the local people's cultures and their way of living.
Suggested Read: Top 7 Things To Do In Jabalpur That Would Test Your Adrenaline Limits
7. Kasrawad
Image Source
Kasrawad is for sure the best place to visit while you are exploring the beautiful city of Maheshwar. Especially for shopaholics, this shall certainly be their haven. All the incredibly beautiful sarees found here are fabricated with unique designs like their borders, checks and stripes are somewhat different than what the other places have to offer. It is also known to be a spiritually sound place and this town for sure is rich in historical significance as it was the capital of Kush's province (Son of Lord Rama). The visitors are seen to be visiting throughout the year however it is said that the best time of the year to be here is during winters. There is an amazing and much-anticipated fair that takes place here during the cold winter time that goes by the name Gangaleshver Fair which has earned a lot of fame and reputation for being fun and delight in itself.
Further Read: 10 Best Places To Visit In Jabalpur That Would Make You Want To Stay In 2019
Maheshwar, a very beautiful town in the heart of Madhya Pradesh is widely recognised for its charm and magnificent hospitality. With an extensive number of places to visit in Maheshwar, this city is a blend of beauty in art and architecture. It is known for its spiritual values and significance. So, if you are searching for a perfect vacation spot then your search can come to an end right here in Maheshwar. Without a doubt, it is a great idea to plan a family vacation to Madhya Pradesh and visit Maheshwar.
Frequently Asked Questions About Places To Visit In Maheshwar
Q. Is Maheshwar worth visiting?
A. Yes, Maheshwar is worth a visit due to its beauty in diversity. It was known to be a perfect holidaying destination for visitors with friends or family. It is also known to be a haven for pilgrims owing to its spiritual values and significances. 
Q. Where is Maheshwar located?
A. Maheshwar is a very beautiful town in Khargone district which is located in the central part of India, Madhya Pradesh. It is resting graciously just about 91 km from the commercial capital of the state, Indore.
Q. What is the best time to visit Maheshwar?
A. The climate in Maheshwar is extreme in summers and winters both hence the best time to travel here is considered to be between October to March.
Q. What is Maheshwar known for?
A. Maheshwar is known to be the temple town of Madhya Pradesh. It is said that those seeking a path in spirituality can find the divine intervention here. It is also considered to be a haven for those who love shopping. The sarees found and sold here are for sure the best that you can get in the entire country. Some visitors would visit the place only for shopping purposes.
Q. Which are the best places to visit for couples in Maheshwar?
A. Khargone and Kasrawad are the two names which are always highlighted when we need to quote the best places for couples to explore here in Maheshwar.
Q. Which are the best things to do in winters?
A. Though the mornings and nights are quite cold, weather throughout the day remains excellent which gives the visitors a lot of rooms to explore the town pretty well. Ahilya Fort, Holkar Fort, Rajwada and Khargone can be very well visited here during the winters. 
Q. How is the climate of Maheshwar?
A. Besides the rainy season is quite oppressive and mostly cloudy and the dry season as decently clear, Maheshwar experiences hot year around. The climate is just excellent and it can make the visitors feel quite comfortable to travel throughout the year.
People Also Read:
Places to Visit In Mathura Places To Visit In Meghalaya Places To Visit In Konkan
Comments
comments