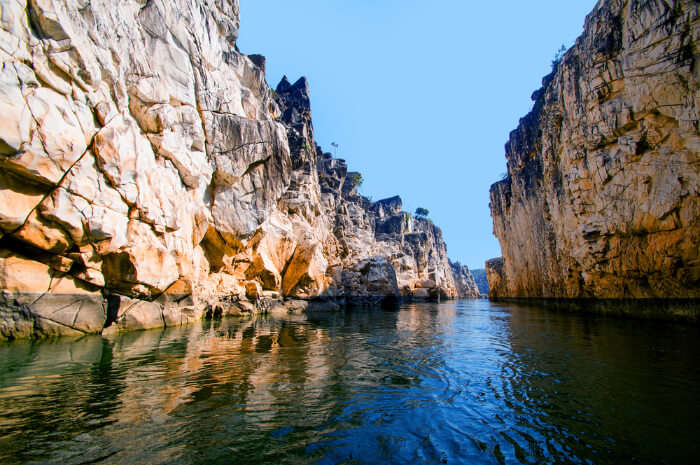 Jabalpur, the awesome city in Madhya Pradesh is known for its education hub, sweets, and the recent IT park developments. It also has numerous interesting places that are not known to many but are appreciated by the locals. Jabalpur holds within itself an ancient and historic heart. It also has temples and national parks that exhibit the flora and fauna lifestyle perfectly. It is filled with tourist spots that have different stories to tell and are some of the best places to visit in Jabalpur, Madhya Pradesh.
The Top 10 Places That You Should Visit In Jabalpur
Madhya Pradesh gathers a lot of tourists every year. Jabalpur is a city in Madhya Pradesh which shines as the most popular city for tourists because of its wide variety of unique spots serving different views, visuals and stories. Here are the top 10 places in Jabalpur that you should not miss if you are in Madhya Pradesh.
1. Kanha National Park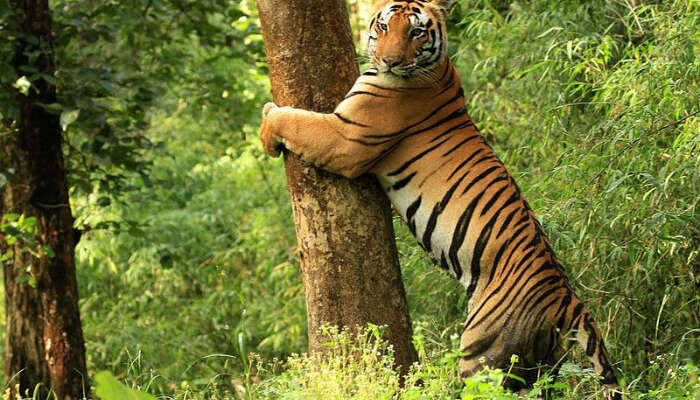 The beauty of the wildlife cannot be seen through laptop and phone screens, real-life sightings are important. That is why even though Kanha national park is not situated in Jabalpur but its mere distance from the city makes it a must visit the place. Kanha national park is a royal Bengal tiger reserve where you can also find jackals and wild pigs. It offers a safe safari for families and provides a decent number of animal sightings.
Timings- 8:00AM-10:30PM
Must Read: Kanha National Park: Off To The Home Of Jungle's Fiercest Predator
---
Looking To Book A Holiday Package?
Book memorable holidays on TravelTriangle with 650+ verified travel agents for 65+ domestic and international destinations.
---
2. Madan Mahal Fort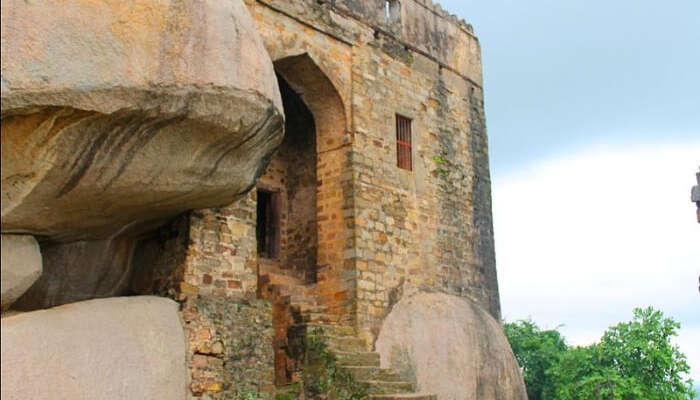 Madan Mahal fort is the ancient quarters of the Gond queen Rani Durgavati, thus acquiring the local name rani Durgavati fort. It is one of the best places to visit in Jabalpur with family. The fort stands at 500 meters tall and has regular architectural capabilities but has unique passageways, underground routes, and sharp turns. It is specially made to adjust complex and heavy martial threats. The stables and war rooms are further proofs that this fort is a building made for combats and to counter unnecessary attacks from the enemy
Address- Gurudev Colony, Jabalpur, Madhya Pradesh 482001
Suggested Read: 16 Tourist Places In Madhya Pradesh That You Should Be Visiting In 2019
3. Gwarighat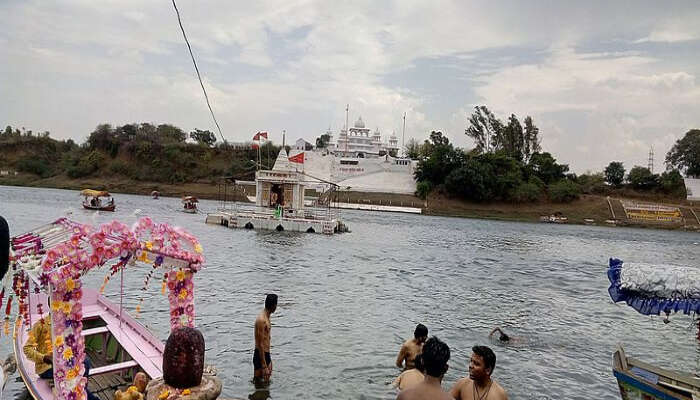 Gwarighat serves as a famous ghat of Maa Narmada. Its presence is made more special because of the half-submerged temple. The water does not stop the temple's devotees from offering daily prayers and holding beautiful aartis in the evening. The prayers are to Maa Narmada and is attended by a huge number of people. The adrenaline rush felt while singing hymns of praises makes this place as one of the best places to visit in Jabalpur with friends.
Suggested Read: 10 Honeymoon Places In Madhya Pradesh Every Couple Should Visit
4. Chausath Yogini Temple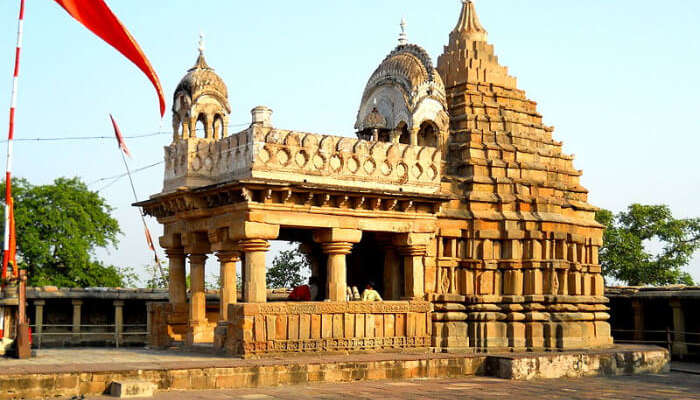 Chausath yogini temple can be admired if you are ready to climb 150 steps. The temple is mainly dedicated to Maa Durga and is considered one of the oldest heritage sites. The devotees also pray to Lord Shiva and offer their intersessions to Maa Durga's yoginis, her female attendees. The architecture is simple and bears a similar style of the Khajuraho temples. The temple receives majority of couples who come to seek blessings for their future from Maa Durga. It is one of the best places to visit in Jabalpur for couples.
Address- Bheda Ghat, Bhedaghat, Madhya Pradesh 483053
Suggested Read: Khajuraho Temples: All About The Sensuous Sculptures!
---
Planning your holiday but confused about where to go? These travel stories help you find your best trip ever!
Real travel stories. Real stays. Handy tips to help you make the right choice.
---
5. Dhuandhar Falls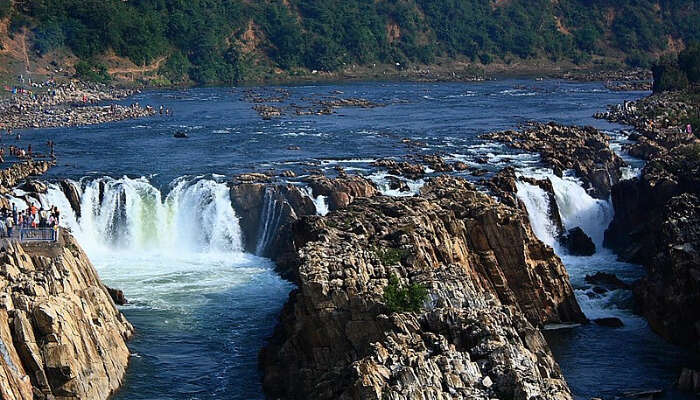 Dhuandhar falls is the best place to visit in Jabalpur. The fall is so widely sought out because of its unique fall and smoke sequence. The falls are at a height of 30 meters and emit smoke because of its water vapors. It is situated at Bhedaghat at Narmada river. The size of this popular site has prompted a cable car service that takes you from one side of the river to another. The falls are beautiful beyond explanation and should not be missed if you are visiting or passing by Jabalpur.
Address- Jabalpur, Madhya Pradesh 482003
6. Marble Rocks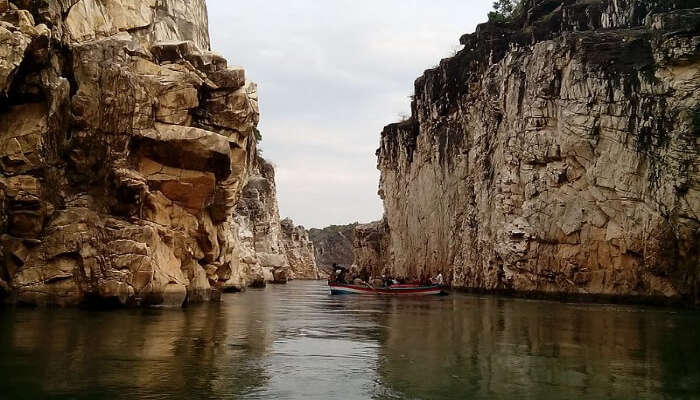 Bhedahat also houses another popular Indian tourist site, the marble rocks. These rocks have river Narmada flowing right from their edges which has resulted in an 8km gorge. Earlier, this gorge was not very deep and had monkeys jumping from one rock to another, thus earning the name, bandar kudni. However, the softness of the rock has widened the gap creating carious cliff-like rocks.
Address- Narmada River
Suggested Read: 7 Mystical National Parks Of Madhya Pradesh
7. Balancing Rock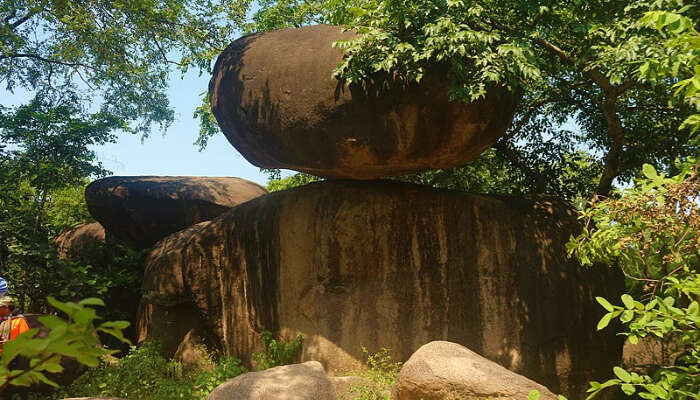 Jabalpur's balancing rock is a gift of mother nature. It is a geological formation in which it appears as if a rock is being balanced on another rock. The rock that appears to be balanced is proportionately sized as the base rock. The balancing rock of Jabalpur has not crumbled even by the influence of rain, storm, seasonal erosion and dry weather. It has also survived a 6.9 magnitude earthquake. It is situated near the Madan Mahal fort and is a roadside tourist spot.
Address- Ratan Nagar, Madan Mahal, Jabalpur, Madhya Pradesh 482001
8. Dumna Nature Reserve Park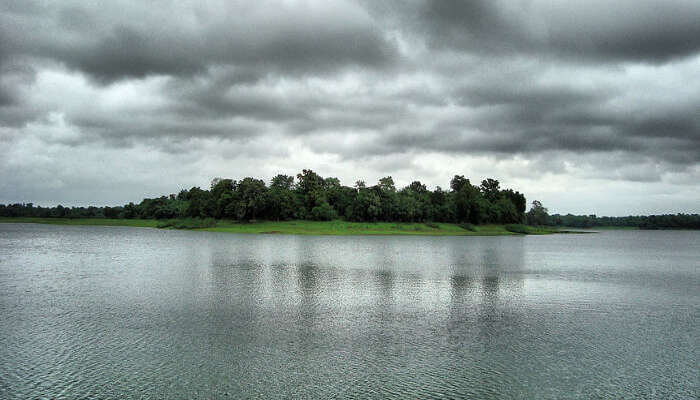 Dumna nature reserve park is quiet and a beautiful ecotourism site. It is a home to chital, wild boar, porcupine, jackals, and many species of birds. The reserve is also famous for its Khandari dam that was built in 1883. The perfect combination of wildlife and tourism is a reason enough to give it a visit and capture its beautiful essence.
Address- Airport Road, Near IIITDM, Jabalpur, Madhya Pradesh 482005
Suggested Read: 5 Enchanting Tourist Places Near Indore To Experience The Magic Of Madhya Pradesh
9. Bargi Dam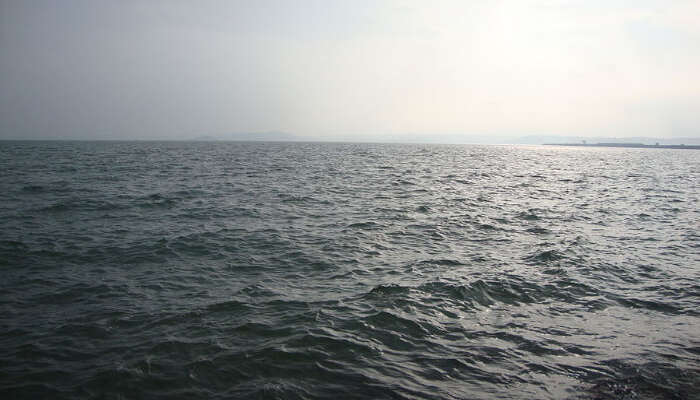 Bargi dam was one of the first dams built on river Narmada. It stands at a height of 70 meters and a good tourist spot. The dam also allows boating and will take you as close the safety distance states. The restaurant near the dam offers great service and food with reasonable pricing.
Suggested Read: 6 Best Restaurants In Ujjain That Treats You To The True Flavours Of Madhya Pradesh!
10. Rani Durgavati Museum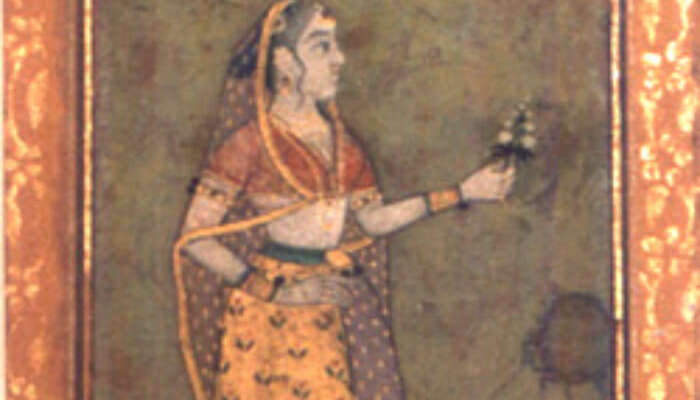 Rani Durgavati was a brave Gond queen who had fought the Moghuls and kept them away from her region. That is why her name is still in the hearts of all the people in Jabalpur. Rani Durgavati Museum has been built to honor, learn and retell her valiant stories and describe her glorious and successful war stories and strategy. This is a knowledgeable museum that will prove to be worth your time.
Address- Napier Town, Jabalpur, Madhya Pradesh 482002
Further Read: 10 Best Places To Visit In Madhya Pradesh In Summer For A Soothing Trip
Jabalpur is a city filled with so many more gems. It also has forts that are shrouded with various mysteries and stories that fill people with explanatory awe. It also has places near Jabalpur within 100km and 200km that should not be ignored for an awesome experience in Madhya Pradesh. One should visit this place to see and sense the beautiful city with their eyes and breathe in the fresh air of flora fauna. Are you still sitting at home bored or are you one of those people who think that they have seen everything in India? Plan a trip with your friends and family and explore the wonderful city of rocks.
Frequently Asked Questions About Places To Visit In JAbalpur
Q. Is Jabalpur a metro city?
A. Yes, Jabalpur city comprises of an area known as Jabalpur Metropolitan and is known for purveying a unique blend of urbanisation and cultural beliefs.
Q. What is the old name of Jabalpur?
A. During the ancient times, Jabalpur was known as Tripuri and is believed to be the capital city of The Hayahaya rulers. The place also played a significant role in Mahabharata. The current name is inspired by the name of a renowned saint, Jabali Rishi who used to stay here during the reign of 'Gond' rulers.
Q. What can I do in Jabalpur?
A. There are numerous things to do in Jabalpur that will surely give you an adrenaline rush. You can explore the National Reserves, go for trek, boating, sightseeing, bathing in waterfalls, etc.
Q. What is the famous food of Jabalpur?
A. Jabalpur is famous for its sweets. So whether you are willing to eat Kalakand, Jalebi, Malpua, Poha, Rabdi, and Khoya ki rabdi, Jabalpur is one place that offers you the best sweet delicacies you will rarely find in other parts of the country.
Q. Is Jabalpur safe?
A. Jabalpur, known as the cultural capital of Madhya Pradesh is comparatively less safe than other cities of India. The crime rate of the city is 21.3% and the 32.8% of rape cases. It is advised to ignore strangers while holidaying in Jabalpur and avoid indulging in arguments.
Q. What should I buy in Jabalpur?
A. If you have a love for sarees, then Jabalpur is truly a delightful place for you. If you are going for shopping in Jabalpur then don't forget to check out the amazing collection of Maheshwari Sarees, and Chanderi Sarees here. You can also buy other popular things of Jabalpur like sweets, terracotta artefacts, toys, god idols, ornaments and accessories, etc.
Q. Is there any museum in Jabalpur?
A. Yes, there are three museums in Jabalpur, out of which Rani Durgavati Museum is the most popular one. This museum was constructed in the year 1964 in the memory of the Queen Durgavati. The other museums in Jabalpur are Educational Museum in the college of agriculture and Archaeology Department Museum.
Q. Is Jabalpur famous for art and culture?
A. Jabalpur is known as the cultural capital of Madhya Pradesh. The places is well known for its crafts and unique designs and has been luring art and culture lovers to this interesting place for centuries.
---
Looking To Book An International Holiday?
Book memorable holidays on TravelTriangle with 650+ verified travel agents for 65+ domestic and international destinations.
---
People Also Read
Places To Visit In Bhopal Places To Visit In Jaipur Places To Visit In Indore
Comments
comments