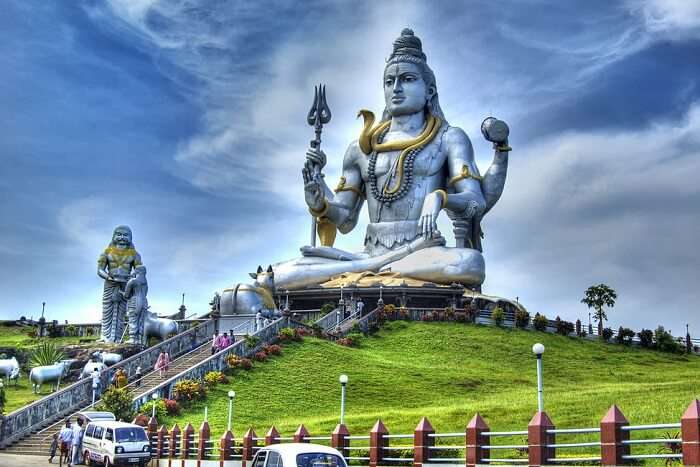 Murudeshwar is a beautiful beachside pilgrim town of the Indian southern state of Karnataka. Murudeshwar, which is the other name of the Hindu God Shiva, truly lives up to its name and has the world's second tallest statue of Lord Shiva. Located alongside the Arabian Sea, there are numerous beautiful places to visit in Murudeshwar owing to the fact that this seaside town attracts tourists from far and near.
20 Best Places To Visit In Murudeshwar
The town has a divine feel to it. The temples are tranquil and the beaches serene. Here is all the best places to visit in Murudeshwar. This town surely has plenty to offer for every kind of traveller. There is something for everyone in this divine place. Take a look at this list mentioned below and mark your favourites.
1. Murudeshwar Temple: The Most Religious Attraction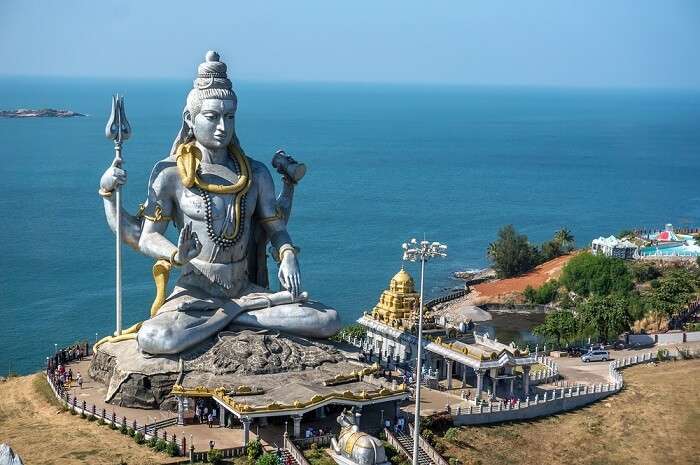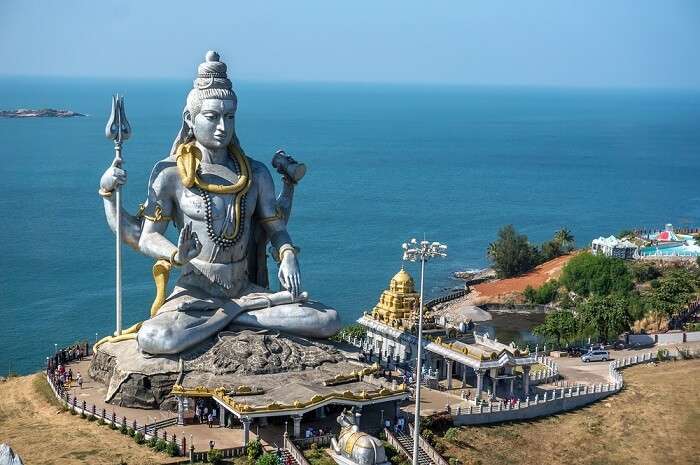 Murudeshwar temple is a top tourist location as it has the world's second tallest statue of Shiva standing high at 123 feet above sea level. It is one of the best places to visit in Murudeshwar. Located on the hill of Kanduka Giri, the temple is surrounded by the sea on all three sides and its lofty statue is a great site to view. The temple is also famously known as the Kethappa Narayana temple and has a 20-storey tall gopuram, which is a gatehouse tower. Pilgrims flock from all over the country for a view of this alluring sculpture.
Location: Murudeshwar Temple Main Road Murdeshwar Bhatkal Taluk, Murdeshwar, Karnataka 581350
Famous For: Second tallest statue of Shiva
Things to do: Visit Lord Shiva Statue, visit Gopuram, visit Yana hike
Entry fee: No entry fee
12 Things To Do In Murudeshwar For A Relaxing Holiday In Shiva's Coastal Abode In 2022
2. Mirjan Fort: The Historic Marvel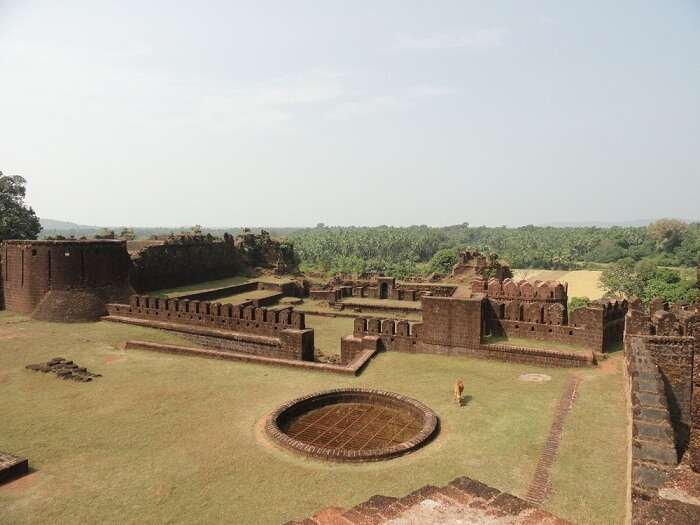 Mirjan Fort is a beautiful live example of our valiant history when it comes to the best places to visit in Murudeshwar. Spread over an area of 4.1 hectares, this historical beauty is a land where battles were fought in the 16th and 17th centuries. Later when the Britishers arrived they captured and used this fort as their armoury. Legend says that the pepper queen of India, Rani Chennabharadevi, got it constructed in 1608-1640 A.D. This beautiful castle-like fort has been declared as a protected monument by the Archaeological Survey of India.
Location: Talluk, Mirjan Fort Road, Mirjan, Karnataka 581333
Famous For: History, structure
Things to do: Visit Om beach, visit Mahabaleshwar temple, visit half-moon beach
Entry fee: No entry fee
3. Netrani Island: The Escape From Crowds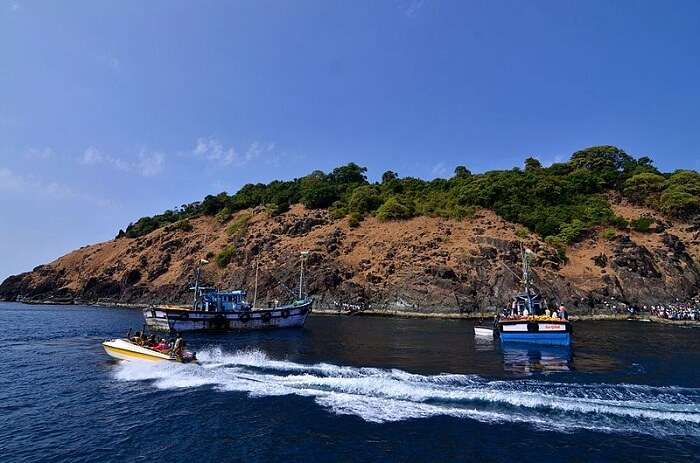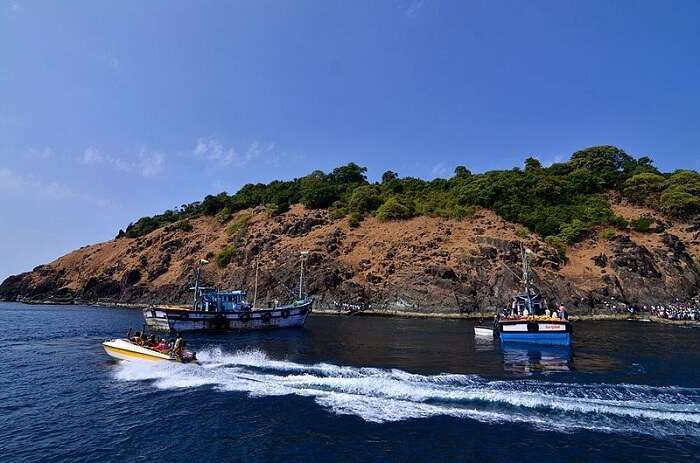 Netrani, a beautiful coral island tucked in the Arabian sea, is just an exciting 19 km boat ride away from Murudeshwar. These blue waters of this heart-shaped island of Netrani are ideal for scuba diving. It is amongst the best Murudeshwar sightseeing spots as it is has a rich variety of marine diversity including corals, triggerfish, parrotfish, eels, butterflyfish, and shrimps. Enjoy snorkelling and scuba diving and catch sights of orcas land whale sharks here.
Location: Bhatkal Taluka, Karnataka
Famous For: Heart shape of the island
Things to do: Scuba diving, snorkelling and diving activities
Entry fee: NA
20 Temples In Karnataka That Are All About Grandeur That You Must Visit In 2022
4. Statue Park: The Nature Escape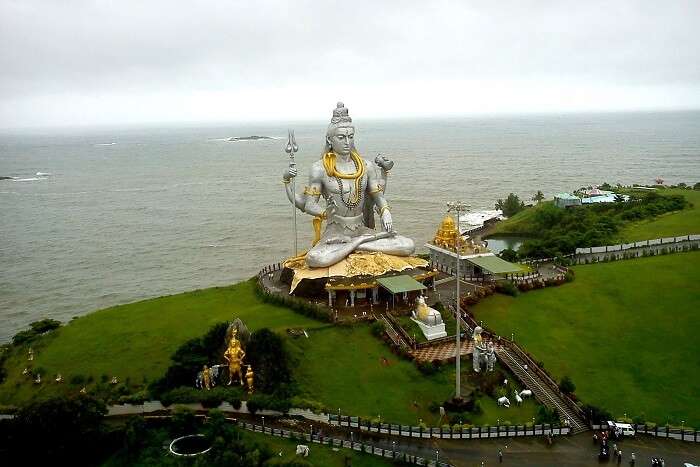 The Statue Park in Murudeshwar is a beautiful place to spend some quality time at. The lush green lawns provide the perfect location to view the majestic Shiva statue. The positive vibes and energy in this place would leave you fresh and energized. The park is adorned with other beautiful stone sculptures and a man-made waterfall which is a pretty picnic spot. All the nature lovers and photography fanatics would love this park for sure. Sit in the lawns and soak in the divinity of the aura around.
Location: Murdeshwar, Karnataka 581350
Famous For: The stone sculptures, man-made waterfall
Things to do: Visit Murudeshwar temple, visit Rajagopuram, visit Idagunji temple
Entry fee: ₹150 for adults and ₹90 for children
5. Murudeshwar Beach: The Tranquil Vibe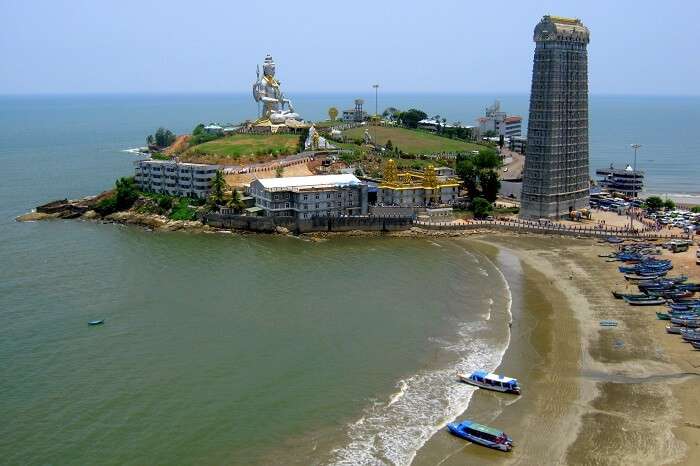 The serene beach of Murudeshwar faces the blue Arabian waters on one side, while the hills and mountains cover it in the background. It is one of the best places to visit in Murudeshwar. It is a perfect escape for tourists to enjoy the cool waters splashing across the shores. The swaying coconut trees add to the charm of this scenic beach. You can also indulge in the delicious local flavours of the town at the small shacks near the beach. Gorge on the local cuisine and relish the various coconut dishes, rice preparations, and lip-smacking fish curries.
Location: Murdeshwar, Karnataka
Famous For: Arabian sea, coconut trees
Things to do: Boating, Kayaking, Surfing
Entry fee: NA
Scuba Diving In India: Explore The Breathtaking Underwater Universe At The 14 Best Spots In 2022
6. Apsara Konda Falls: The Magical Attraction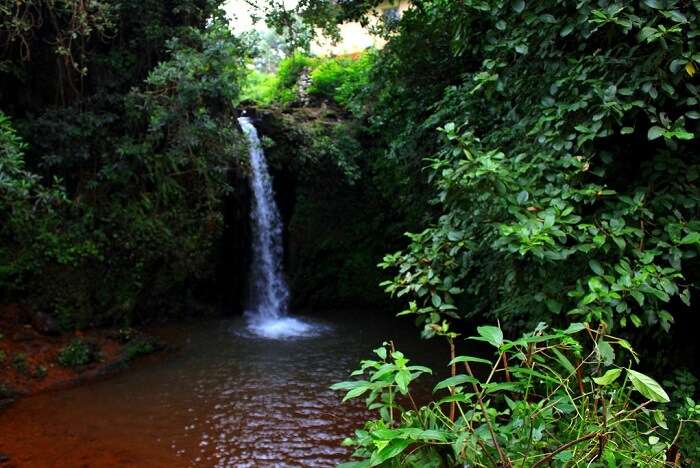 The Apsara Konda falls are a beautiful spot frequented by tourists that happens to be one of the most enchanting places to see in Murudeshwar. It is amongst the best places to visit around Murudeshwar. Located at a distance of a mere 20 km from the main town these falls are a scenic sight amidst the lush green forests. The falls face the sea and the water which gushes from a considerable height into the pond below makes it look like a pretty lagoon. The dense green forested surroundings, the beautiful pond, and the hills mesmerize all its visitors.
Location: Apsara Konda Road, Apsara Konda, Karnataka 581342
Famous For: Lush greens, clear blue waters
Things to do: Visit west coast adventures, visit Murudeshwar temple, visit the statue park
Entry fee: No entry fee
7. Murudeshwar Market: The Shoppaholics' Heaven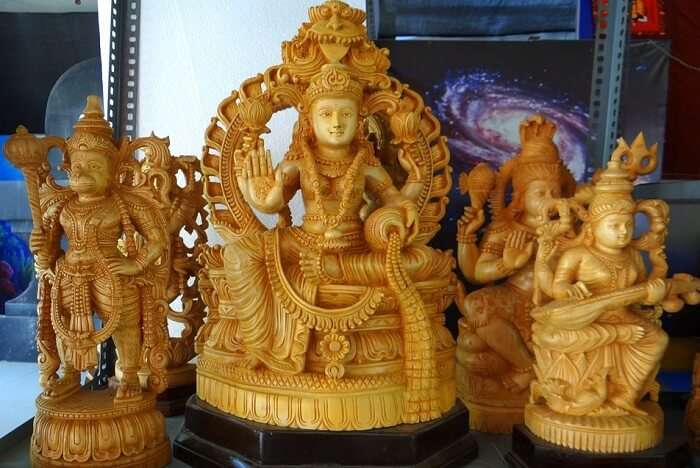 The temple city of Murudeshwar has a variety of beautiful statues of idols to shop. The temple road is adorned with tiny shops where you can buy souvenirs, handicrafts, wall hangings to jewellery boxes, and home decor items. The town is an abode of colourful unique idols and there are endless items you can find to take back from here. You can also buy an indigenous piece of jewellery and add it to your list of assets while you grab a jewellery box here.
Location: Murudeshwar
Famous For: Jewellery boxes, home decor, wall hangings, souvenirs
Things to do: Shop for souvenirs, idols and wall hangings
Entry fee: NA
8. Murudeshwar Fort: The Architectural Marvel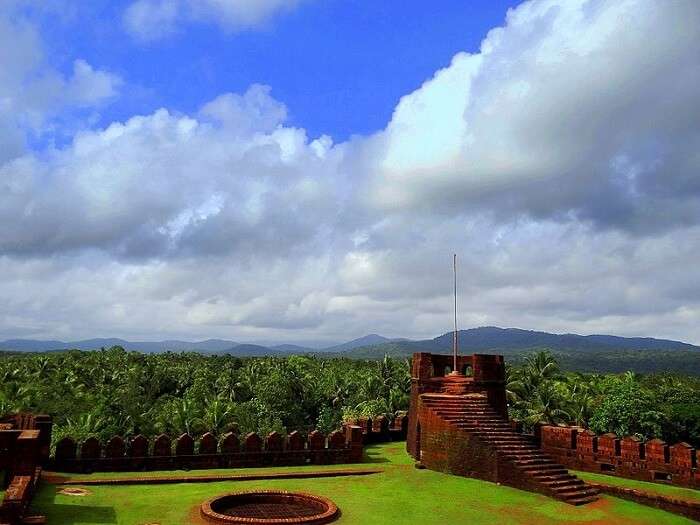 The mighty fort of Murudeshwar is believed to be a construction of the Vijayanagara period. The glorious past of our country is reflected in these structures which stand tall even today. The fort has its roots in the ancient period of the Vijayanagara kings and is said to have been renovated by the ruler of Mysore, Tipu Sultan. This picturesque structure is located behind the temple complex of Murudeshwar and can be easily reached by autos and taxis.
Location: Murdeshwar, Karnataka 581350
Famous For: The Vijayanagara period
Things to do: Visit Mirjan fort, visit Murudeshwar beach, visit Netrani island
Entry fee: No entry fee
9. Jali Beach: The Peaceful Land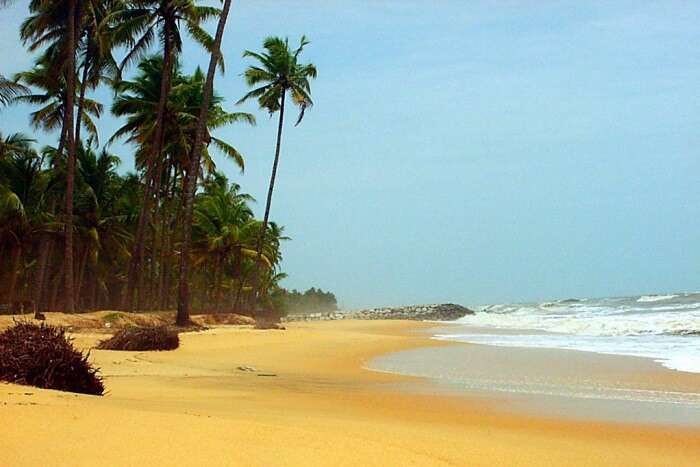 Located in the quaint fishing town of Bhatkal is the serene beach of Jali. Away from the crowded areas and pollution, quiet roads would lead you to this clean, pristine beach. Relax under the shade of the tall coconut trees or take a walk along the coastal shore as this quaint town charms you with its serenity. The trekkers can find some trekking trails along the rugged coastline of this beach. The place greets all its visitors with loads of warmth and wholehearted hospitality.
Location: Jalikodi Rd, Jalikodi, Bhatkal, Karnataka 581320
Famous For: Fishing, relaxing
Things to do: visit Bhatkal lighthouse, visit Murudeshwar beach, visit statue of Lord Shiva
Entry fee: NA
8 Best National Parks In Karnataka For The Wildlife Enthusiasts To Explore In 2022!
10. Basavaraja Durga Fort: The Structural Beauty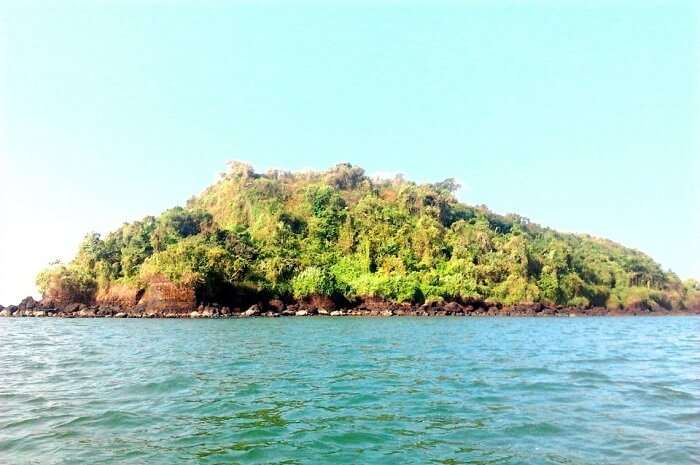 Another attraction amongst Murudeshwar tourist places is the island fortress of Basavaraja located in the Arabian Sea off the Honnavar Taluk coast. This is another structure belonging to the Vijayanagara period. The fort is located at 50 m above sea level on an island that expands over an area of 19 hectares. The fort which is now abandoned on the inside still has strongly fortified walls all around and retains eight ruined mounted guns. Enjoy the site of this old fort along with a Hindu temple located on the island here.
Location: Honnavar Taluk, Karnataka, India
Famous For: Fortified walls, Hindu temple
Things to do: trekking, visiting Basavaraj Durga Fort, boating
Entry fee: No entry fee
11. Kollur Mookambika Temple: The Spiritual Essence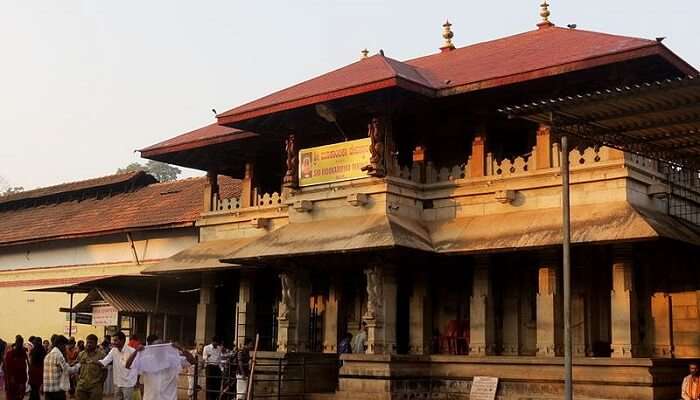 One of the most spiritual tourist places in Murudeshwar is the Kollur Mookambika Temple. Sitting in the valley of the Kodachadri Mountain Peak, Kollur Mookambika Temple is considered one of the seven Mukti Stalas that were created by Parashurama. This belief has led to an emergence in the significance latched to this spot and hence, led to an increase in the number of pilgrims that visits all year long. Dedicated to Goddess Parvati, this temple got its name from the famous legend that believes that the Goddess killed a demon with the Chakra and that is what got the temple this name. It is surely one of the must-visit places in Mukteshwar.
Location: Kollur, Udupi District
Famous For: Famous for one of the seven Mukti Stalas
Things to do: visit Garuda Guha, visit Kodachadri, visit Kudajadri Hills
Entry fee: No entry fee
10 Murudeshwar Hotels That'll Make Your Whole Trip Worthwhile

12. Idagunji Ganapathi Temple: The Pilgrims Refuge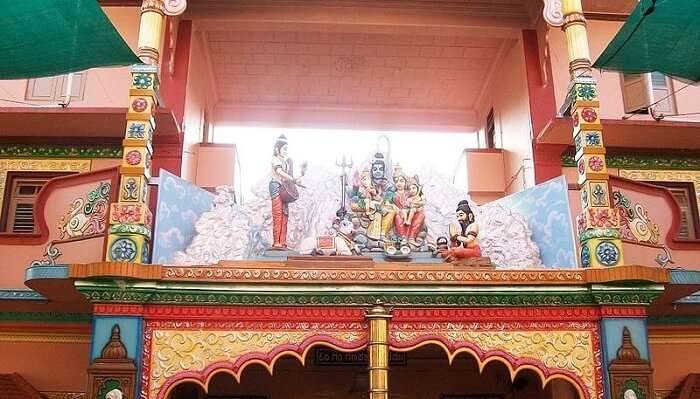 Another one of the religious tourist places in Murudeshwar is the famous Idagunji Ganapati Temple. As per the legend, it is said that Lord Ganapati himself stayed in this place which was earlier known as Kunjaranya. It is also believed that initially, this place was of penance selected by ancient Rishis. It is one of the major and significant pilgrim centres and is dedicated to Lord Vinayak who can be seen in a standing pose. Well, that's a rare sight, eh?
Location: Idagunji Road, Idagunji Katri, Karnataka 581423
Famous For: Statue of Lord Vinayak in standing pose
Things to do: visit Eco beach, visit Apsarakonda waterfall, visit Murudeshwar temple
Entry fee: No entry fee
13. Gokarna: The Beachy Land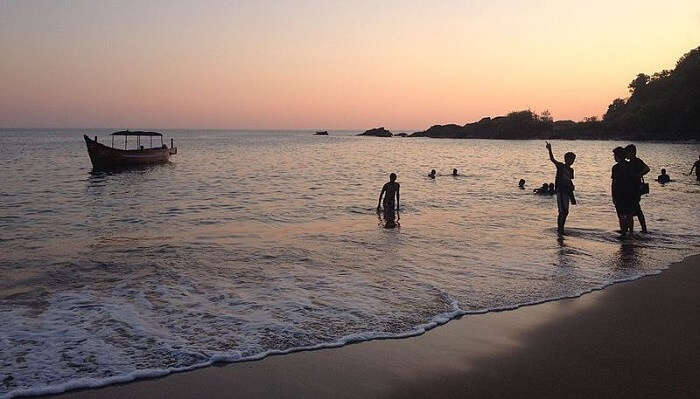 Emerging as one of the famous Murudeshwar sightseeing. Especially amidst the younger generations, Gokarna is now often compared to the famous Beach land of India – Goa. Ranging from pristine beaches and crystal clear waters to pleasant weather and beautiful temples, this destination has got it all. The tranquillity and peace that reeks from this town are surely unmatchable and that is what makes it a must-visit. It is amongst the famous places to see in Murudeshwar.
Location: Karnataka
Famous For: Tranquility, serenity
Things to do: Parasailing, jet ski, scuba diving
Entry fee: NA
14. Maravanthe Beach: The Serene Spot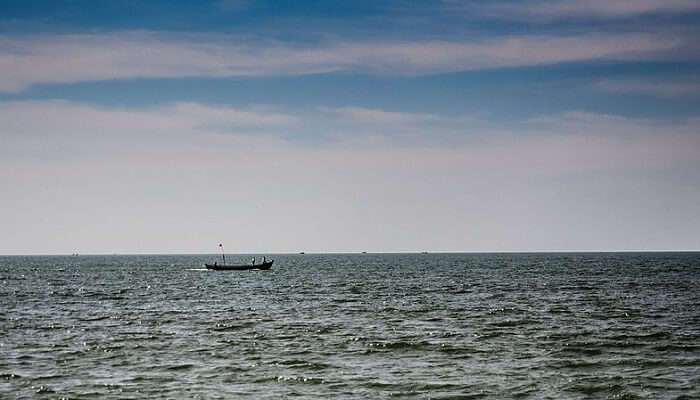 A significant part of Murudeshwar sightseeing, Maravanthe Beach is truly an alluring sight to behold. This destination offers stunning views of the mountainous backdrop that are nothing but the famous Kodachadri Hills. The beach gets lit up at night and the lights reflect on the calm waters of the beach. This site is something that soothes the souls of spectators. The water is also safe for swimming, which is a plus. It is one of the famous Murudeshwar tourist places.
Location: Maravanthe, Karnataka
Famous For: Swimming, strolling around
Things to do: Boating, scuba diving, snorkelling
Entry fee: NA
15. Kudumari / Chaktikal Waterfalls: The Enchanting Location
One of the most magical places to visit in Murudeshwar, Kudumari waterfalls is a magnificent and enchanting waterfall that is sitting in the lush green forests of the Chaktikal village. This waterfall gives daredevils a chance to satiate their inner souls and trek through the dense forest from Chaktikal. This trek is often considered not safe for regular visitors, hence, make sure that you travel with all the precautions and preparations when visiting the 300 ft tall waterfall.
Location: Karnataka 576228
Famous For: Trekking
Things to do: trekking, boating, mountaineering
Entry fee: No entry fee
10 Best Homestays In Gokarna For A Stay Amidst Beauty & Bliss

16. Bhatkal: An Ancient Port Town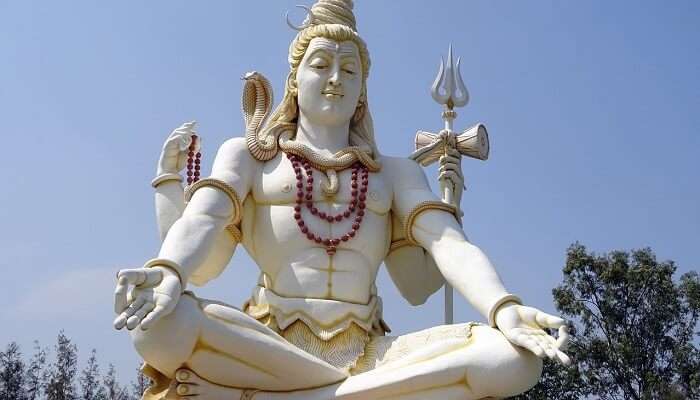 Image Credits: sarangib for NeedPix
Among the intriguing places to visit in Murudeshwar for the historical buffs is an ancient port town that takes one back in time. With its floors covered in the temples that adorn the structural beauty from the times of Vijayanagar kingdom, Bhatkal is a spot to not miss out on. Bhatkal is a port town that has witnessed innumerable kingdoms invading and several hundreds of battles won and lost. This town possesses a rich heritage and has exactly that to offer to travellers. There are some of the most beautiful Jain temples to witness the town that are the finest architectural examples of ancient times.
Location: North Canara District, Karnataka
Famous For: Temples, history
Things to do: visit Shri Chitrapur Math, visit Bhatkal Beach, visit Bhatkal Light House
Entry fee: NA
15 Top Hill Stations In Karnataka In 2022 To Rejuvenate Yourself
17. Baindur: Historical Vibes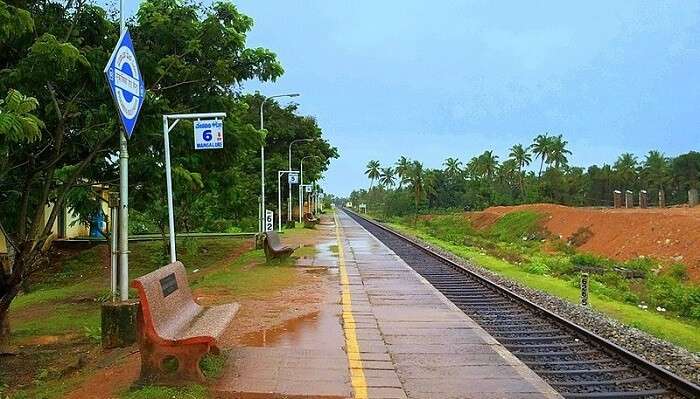 Image Credits: Dj7777 for Wikimedia Commons
A few kilometres from Murudeshwar is another tiny historical town with some more stunning temples. Acting as a magnet for those seeking to embrace the essence of spirituality, Baindur is definitely the place to be. Apart from the temples, one thing that this town is known for is the pristine beach that leaves one in awe of nature. Offering the perfect blend of man-made and natural marvels, this town leaves no stone unturned to offer an experience that one tends to remember. Be it seeking blessings at the marvellous temples or going for a swim, there's plenty to do in this beautiful town.
Location: Udupi, Karnataka
Famous For: Beach, temples
Things to do: visit Ottinene beach, visit Someshwara beach, visit Sri Seneshwara temple
Entry fee: NA
Monsoon In Karnataka: Here's 15 Places You Must Visit During Monsoon
18. Koosalli Waterfalls: The Magical Natural Marvel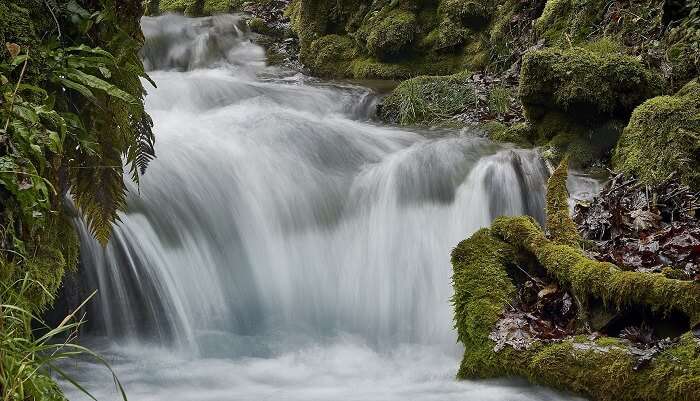 Image Credits: Nordseher for Pixabay
Waterfalls exude magic that one cannot compare to any other natural marvel that is offered to humans on this earth. The refreshing scent, tranquil vibes, and the de-stressing nature of the falls leave one in awe of its magnificence. Dropping from the height of 380 feet is a 6-step fall named Koosalli Waterfall that is perfect for those who seek a blend of nature and adventure. In order to reach the falls, one needs to pass through the dense forest, indulge in some rock climbing, and trek along with the tails. It is better to avoid this during the monsoon season as trekking can get highly dangerous. It is for sure one of the most beautiful places to see in Murudeshwar.
Location: Koosalli village, Kundapura, Karnataka
Famous For: Nature, rock climbing
Things to do: visit Kudumari falls, visit Shri Mookambika temple, visit Ottinene beach
Entry fee: No entry fee
19. Kodachadri: A Perfect Hilltop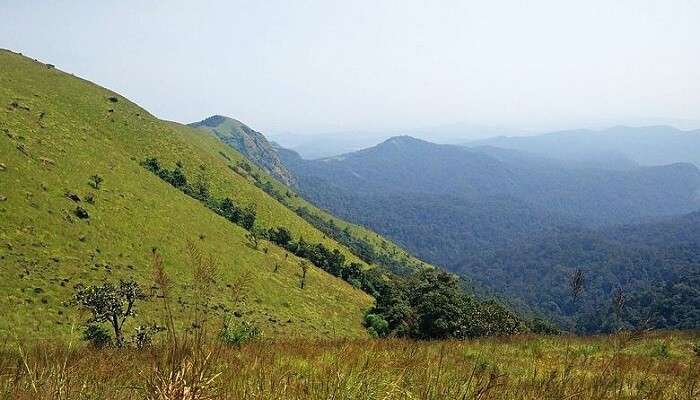 Image Credits: Azam148 for Wikimedia Commons
Kodachadri is a mountain peak that is situated a few kilometres from Murudeshwar in the Western Ghats of Karnataka. This is another natural marvel that is among the perfect places to visit in Murudeshwar for those who seek to escape to the lap of mother nature and at the same time, indulge in some adventure activities. The hilltop also has several tales latched to itself. It is believed that Shankaracharya meditated at this very hilltop all those years back. The trek to Kodachadri commences from Nagodi village and is among the famous adventures for both locals and tourists.
Location: Shivamogga District, Karnataka
Famous For: Trekking
Things to do: visit Kudajadri hills, visit Garuda Guha, visit Veerabhadra Swamy Shrine
Entry fee: NA
13 Churches In Mysore You Should Definitely Visit During Your Karnataka Tour
20. Arisina Gundi Falls: Enjoy the stunning view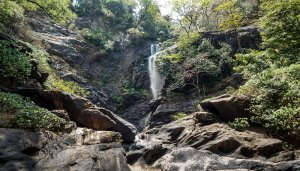 Image Credit: Vinay Bhat for Wikimedia
Located at a distance of 63 km from Murudeshwar, this waterfall is located inside the Mookambika wildlife sanctuary and it comes under the restricted area. One has to trek for about 2 km in order to reach the waterfall. Offering some of the most stunning views, this waterfall tops our list of Murudeshwar tourist places.
Location: Kollur Udupi, Udupi – 576220, Near Mookambika Wildlife Sanctuary
Famous for: Stunning view
Things to do: visit Bannerghatta National Park, visit Kollur Mookambika Temple.
Entry fee: No entry fee
4 Best Resorts Near Murudeshwar For Those Who Love A Seaside Vacation
Now that you know all about this beachside pilgrim town of Murudeshwar, book your trip to Karnataka with TravelTriangle and relax at Lord Shiva's coastal abode with your loved ones. Make sure you add these places to visit in Murudeshwar to your bucket list.
For our editorial codes of conduct and copyright disclaimer, please click here.
Frequently Asked Questions About Places To Visit In Murudeshwar
Why is Murudeshwar temple famous?
Murudeshwar depicts the name of God Shiva and it is popular for the second largest Shiva statue in the world. The places to visit in Murudeshwar will be memorable as you can experience the second tallest statue of Lord Shiva.
What is the distance of Jog Falls from Murudeshwar?
Jog Falls is located 90 kms away from Murudeshwar.
What is Murudeshwar famous for?
Murdeshwar is a small town in Uttara Kannada district in the state of Karnataka. It is famous for being a religious town.
What is the best time to visit Murudeshwar?
The best time to visit Murudeshwar is between October to May. Maha Shivaratri is celebrated in the months of February and March which attracts devotees from all across the world.
How can I reach Murudeshwar?
The nearest international airport and railway station from Murudeshwar is located in Mangalore which is 153 km away.
How far is Murudeshwar from Goa?
Goa is 191 km away from Murudeshwar and takes around 5 hours by road.
What can you buy in Murudeshwar?
You can buy religious idols, souvenirs, handicrafts, jewellery boxes, and home decor items in Murudeshwar.
---
People Also Read
Places to Visit in Rajasthan Places to Visit in Mount Abu Places to Visit in Palakkad